Scratching under Sayulita's surface
To learn more about a place, it helps to stay a bit longer. Furthermore, if one visits multiple times then a diverse perspective can be had. In fact, living here through various seasons deepens the insight.
For us, scratching under Sayulita's surface is more possible due to the angles of approach mentioned above.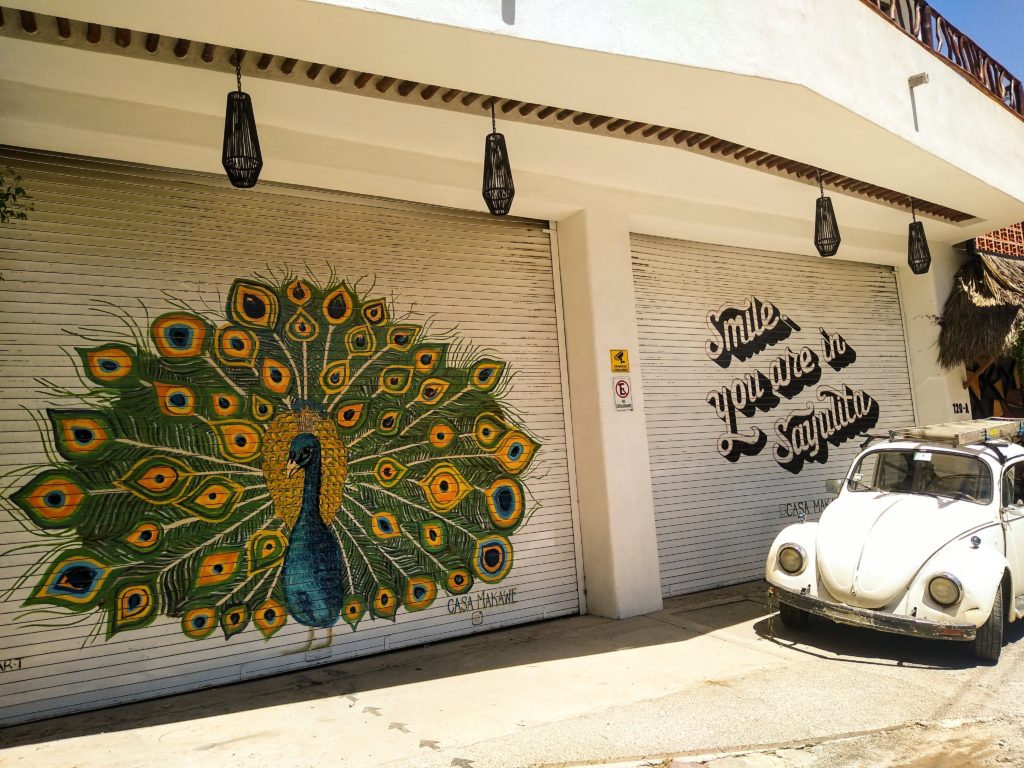 The draw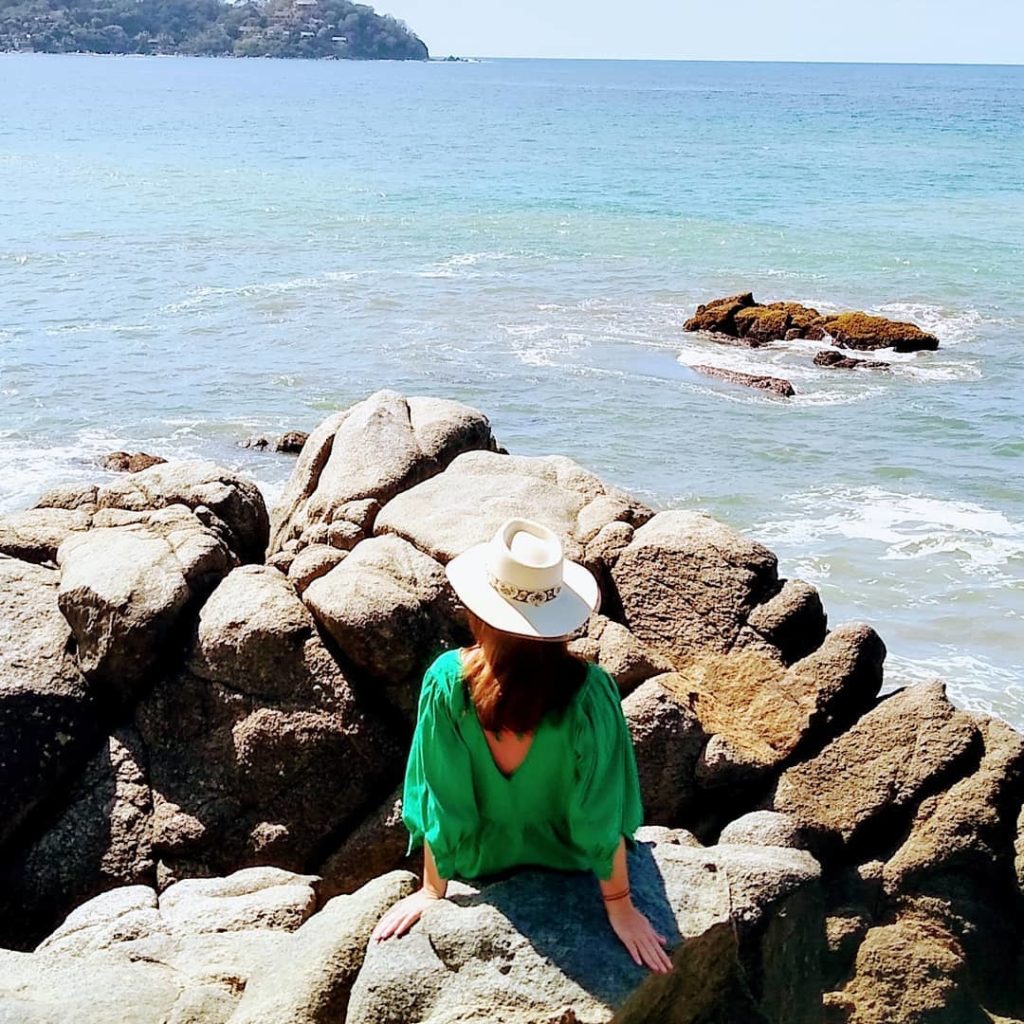 Sayulita is undoubtedly a very special place.
It's the reason we came back again after all.
You've got the sunny weather all year round, albeit you do get thunderstorms and rain in August/ September.
However, this is mostly in evenings, with still so much more time to spend relaxing during the day at the beach.
Some furry friends join in for a spot of sunbathing too!
The buzz – Scratching under Sayulita's surface
The weather isn't the only thing. There's a certain vibe in Sayulita, which draws you in with its local community, whether that be Mexican locals or expats.
There's a vibrancy of lively markets, hip swaying music, independent artists, delicious crusine, happy pets, surfers, skateboarders, the beach, and much much more!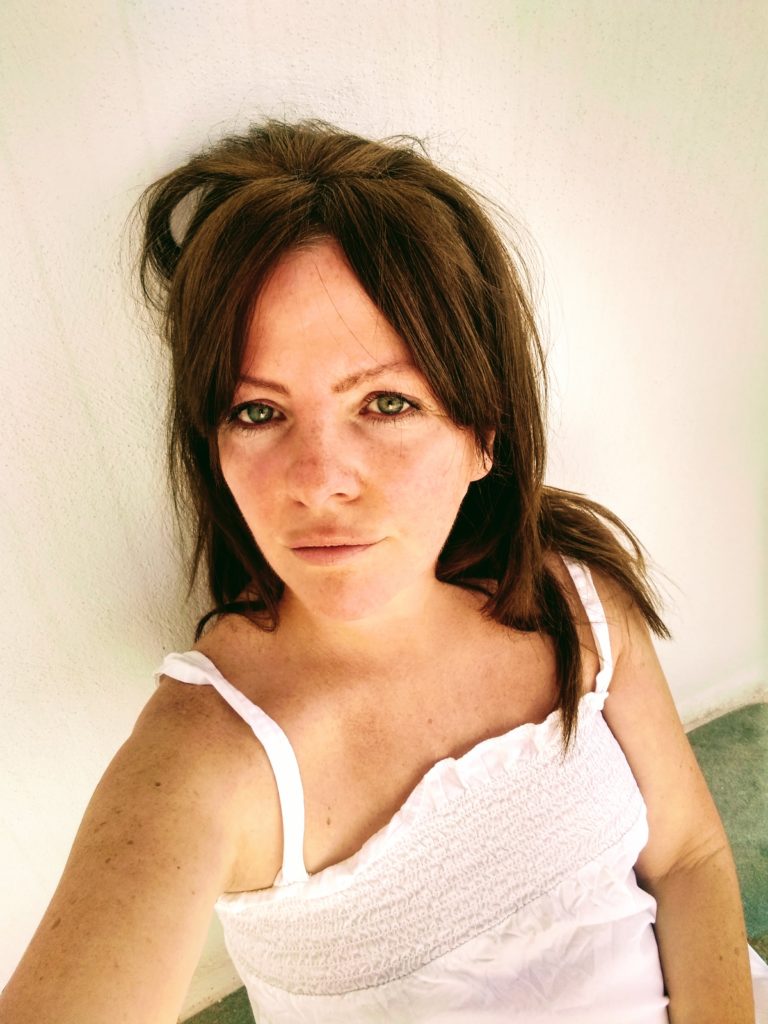 Keep scratching under Sayulita's surface to find it. The boho vibe is hip and mellow most of the time. However, truthfully when the weekend crowds descend it can be pretentious and tacky. Sayulita is then turned into a mini Ibiza.
Most days you can feel really blessed to be living here and we are happy we found this hidden gem of Sayulita in Mexico.
Economy
In a world of madness, Sayulita is mainly unaffected. Infact, some locals joke, 'What's Covid?' Furthermore, you have to be scratching under Sayulita's surface when living more like a local.
Bars, restaurants, shops are still bustling.
Even when scratching under Sayulita's surface, it's still okay to visit a restaurant or bar every now and then.
Gotta be social!
Nonetheless, its important to frequent local shops for everyday items and join in. It definitely helps with improving on the lingo. We are lucky to be a few feet from a delicious fruit and vegetable market. There are no shortages here and we can buy fresh everyday. It's not cheap like parts of Asia. Yet, cooking for ouselves has certainly reduced our costs.
Mexico is one of the few countries in the world that has not had crazy, decronian, extended lockdowns.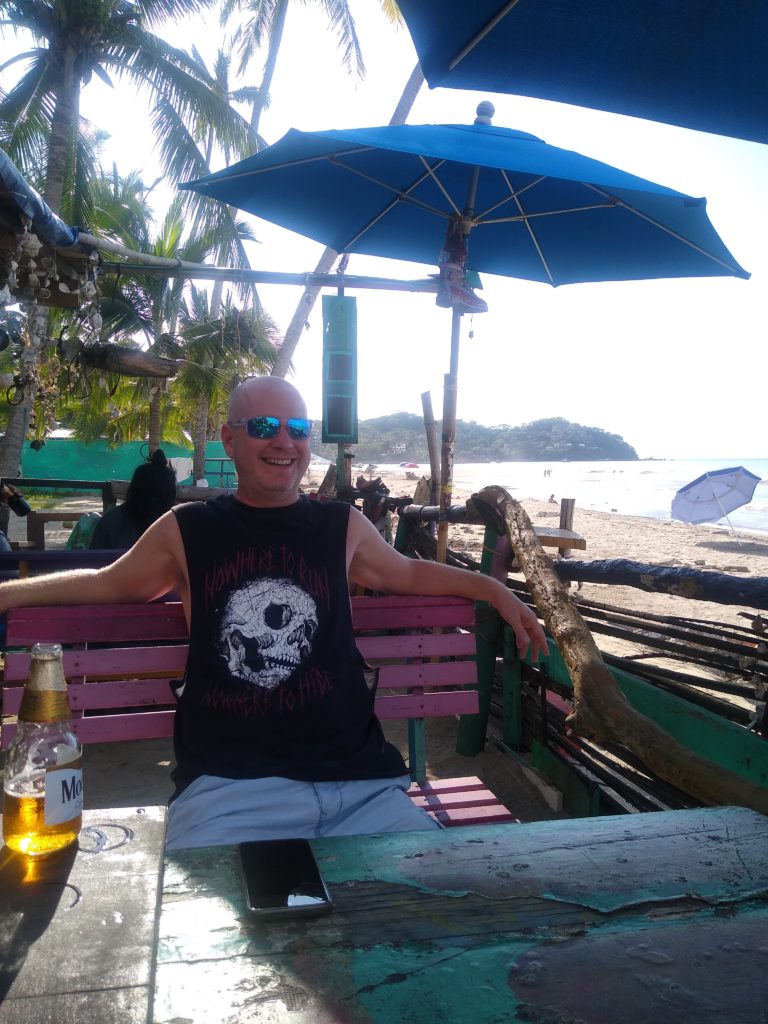 Infact, it's economy is thriving even more as it is attracting a higher volume of tourists, who didn't even think of visiting Mexico before, wanting to give it a try.
Since staying longer term in Sayulita, we have found other little gems we like to spend time, such as Cava Bar.
Decorated with natural materials, it's a chilled out bar to watch the world go by.
The girl behind the bar, also makes delicious Margaritas! (two for one after 3pm)
Our scratching under Sayulita's surface unearthed another great find in Yah Yah Cafe.
They do delicious breakfast and lunches, as well as the most devine hot chocolate!
Staff are friendly and the atmosphere relaxed.

Fancy a cool down? Check out La Fuente for some delicious flavours of your favourite ice-cream. They also do yummy smoothies and savory snacks. It is right beside the bus station!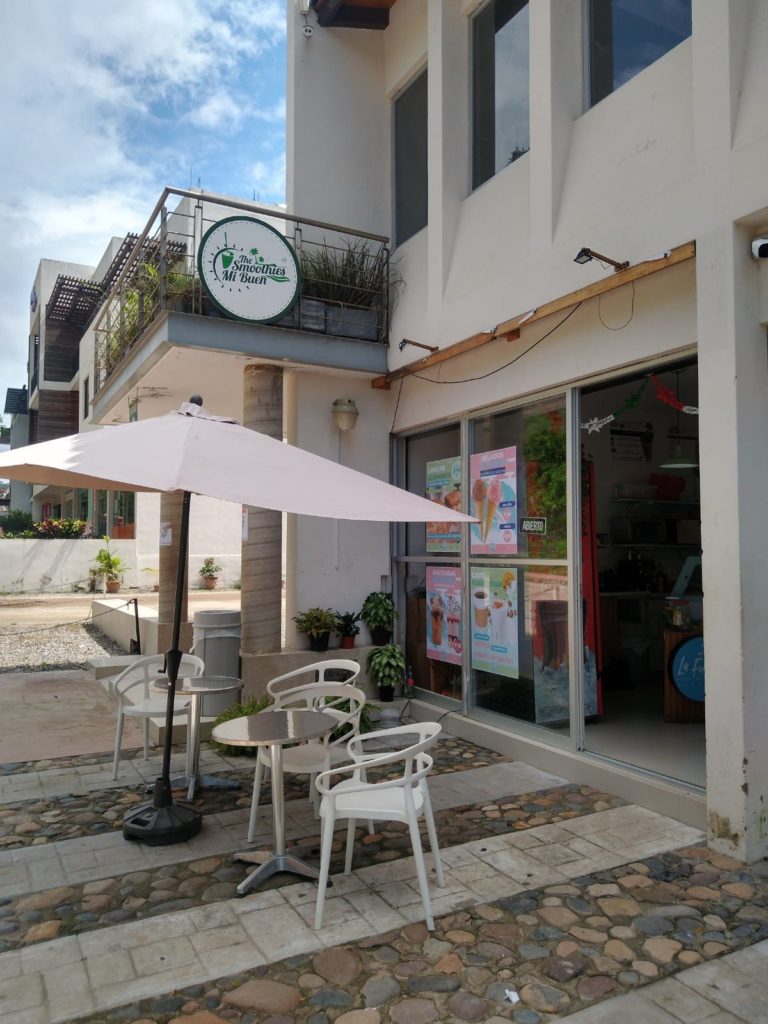 Different rules – scratching under Sayulita's surface (and Mexico)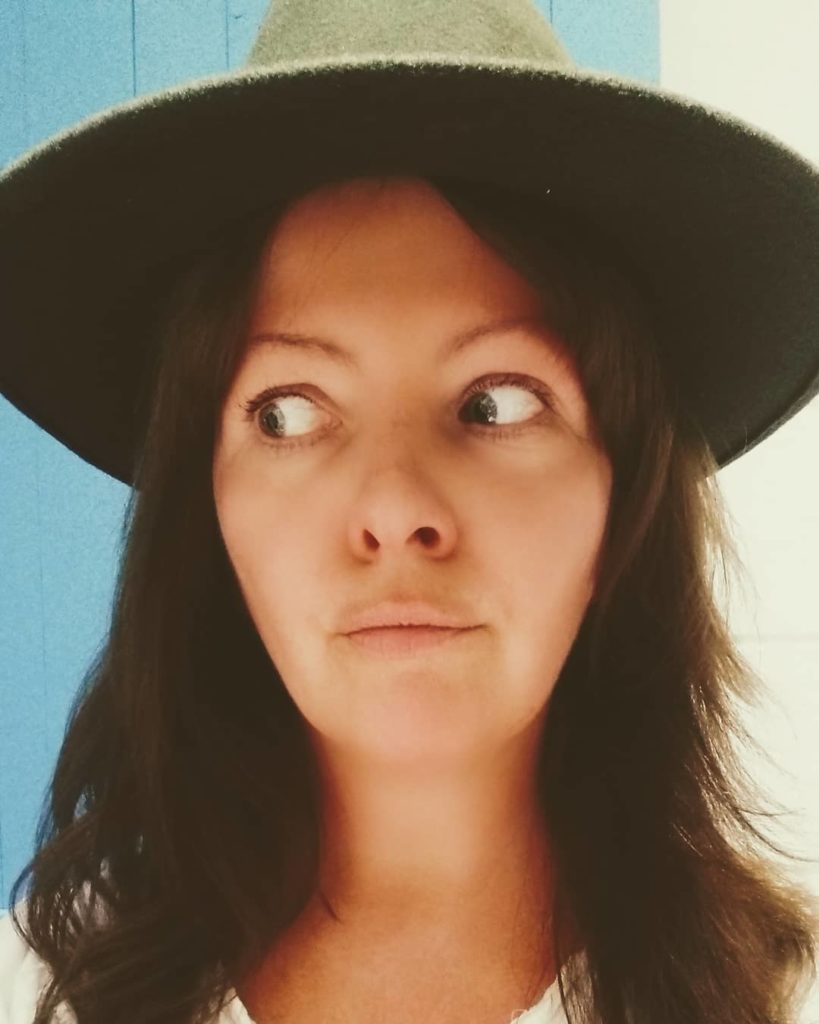 Off course there are states in Mexico that are different and have their own rules. Traveling throughout Mexico, other than Sayulita, to Tulum, Cancun, Holbox, Acapulco and Mexico city we didn't see any really strict rules, as no one was locked down completely. Only in Mexico city were the majority wore masks. Mexico city also suffered more with tourism, as most attractions were closed.
Cancun was heaving in bars and nightclubs.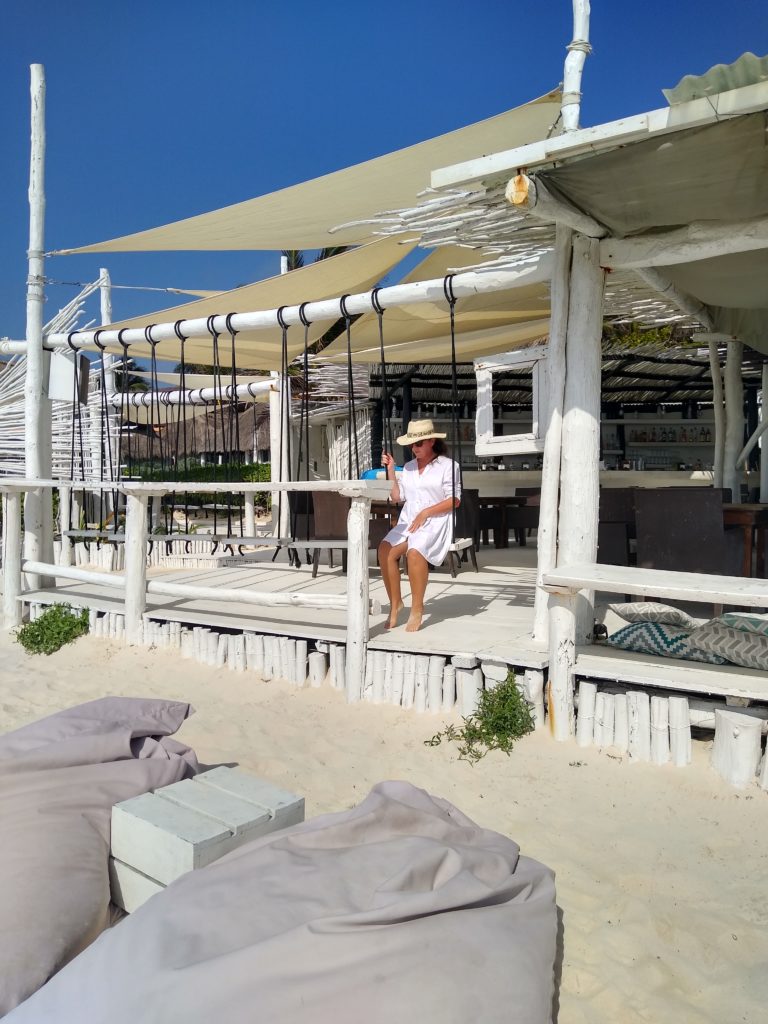 Tulum was buzzing in the streets, bars and restaurants too. We appreciated the white sandy beach of our hotel to chill out on in the day.
After we had left Tulum we heard of a George Floyd, style attack by police on a tourist. It shook the town up. Locals and tourists were equally horrified. This is not a regular occurrence, but it give the mainstream media what they wanted. The lady who got murdered by the police, off course deserved recognition of this horrible cruelty and I hope her family get the justice they deserve.
Holbox, a more sedate place was open and busy. Although a handful of bars preferred table service, while a higher percentage wore masks.
When people heard we were in Acapulco their eyes widened.
'So dangerous'! They said.
In reality, it was all pretty normal to us, except some wearing masks and temperature checks at supermarkets!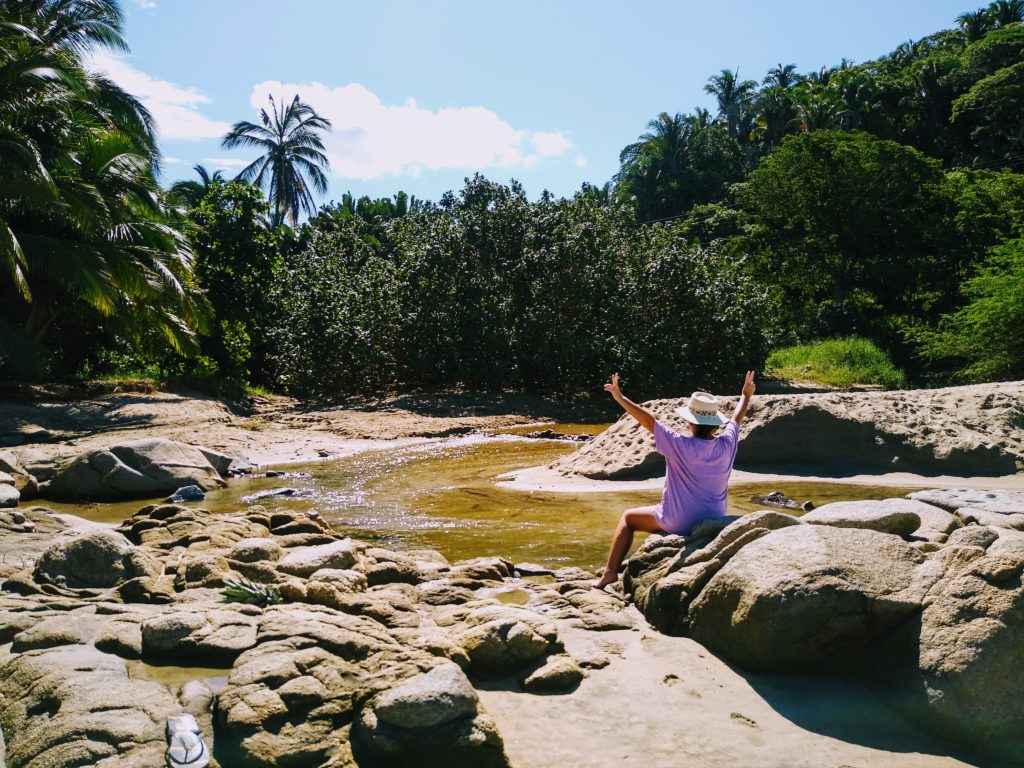 Sayulita comes out top though. It has more natural, raw beauty than even that of Tulum, with more of a chilled out, hippy vibe.
Propaganda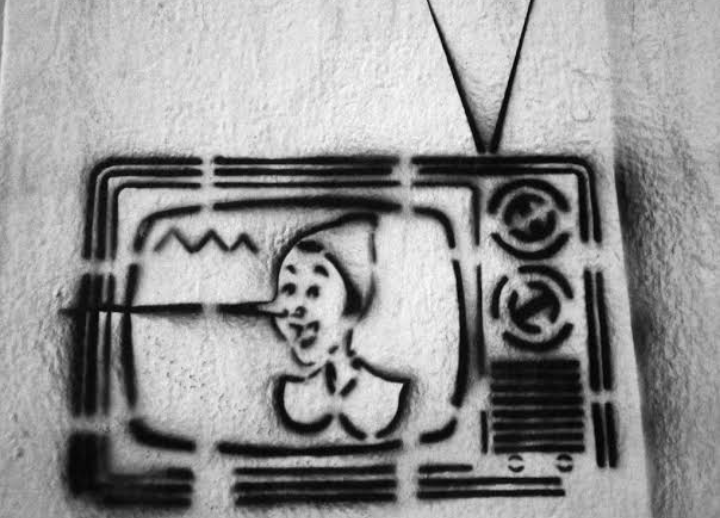 People who have never been to Mexico, warn people of dangers they've heard about the country on mainstream media, like BBC, although I prefer to call it British Bullshit Cartel! And, then you have CNN, Corrupt Nonsense Network! Their job is to ramp up the fear regardless of subject. When talking about Mexico, they like to make you think the worst, like shootings and kidnapping! Cartels, gangs, terror groups etc exist the world over. They are all amateur compared to the tyranny being shown by many of the world's governments these days.
Anyway, they couldn't be further from the truth and certainly like to cause a propaganda campaign against Mexico.
The truth is, Mexico is like anywhere else in the world. It depends were you go. Every country has their issues. Mexico is less dangerous than many parts of anywhere else in the world. Just keep away from the dodgy parts and dodgy people and you'll mostly be fine! We grew up in a war zone in Belfast and managed to survive.
Scratching under Sayulita's surface – see what can be found?
Unfortunately things can happen, even in the most 'safe feel' place. Living in a town, can have you scratching under the surface. In all honesty, it can offer you the chance to see the warts and all picture that you otherwise wouldn't necessarily see as a tourist. In reality, 'perfection' doesn't exist anywhere in the world.
Unsavoury bits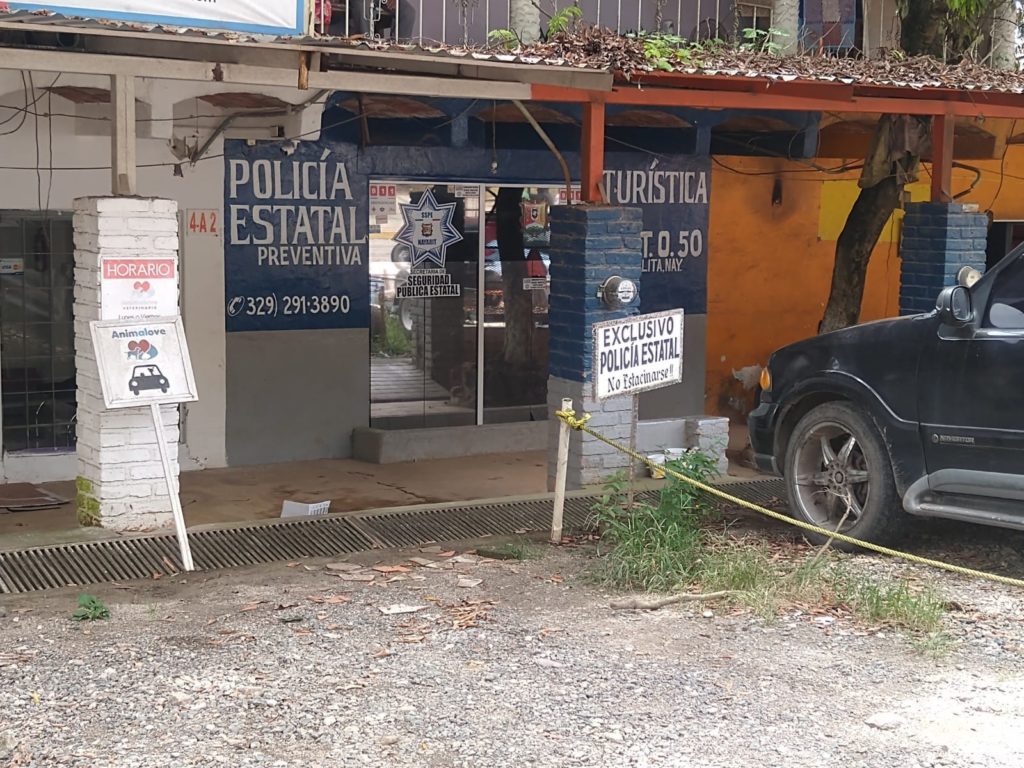 Scratching under Sayulita's surface, it's not hard to see that there are drugs floating about among tourists and locals. Whether that's dealing or buying them.
Drugs
Watching two tourists girls barely standing, in broad daylight one afternoon, we saw it first hand how badly drugs were affecting them. They were emaciated and vunerable as they hung around with some unsavoury characters. Just to be clear, we've seen this kind of thing in European countries too, as well as the UK. There drug of choice was Ketamine apparantly. It can be bought off street dealers or in a pharmacy.
Like anywhere in the world, keep away from trouble, avoid drugs, dodgy people, trust your instincts and use common sense.
The Pharmacy menu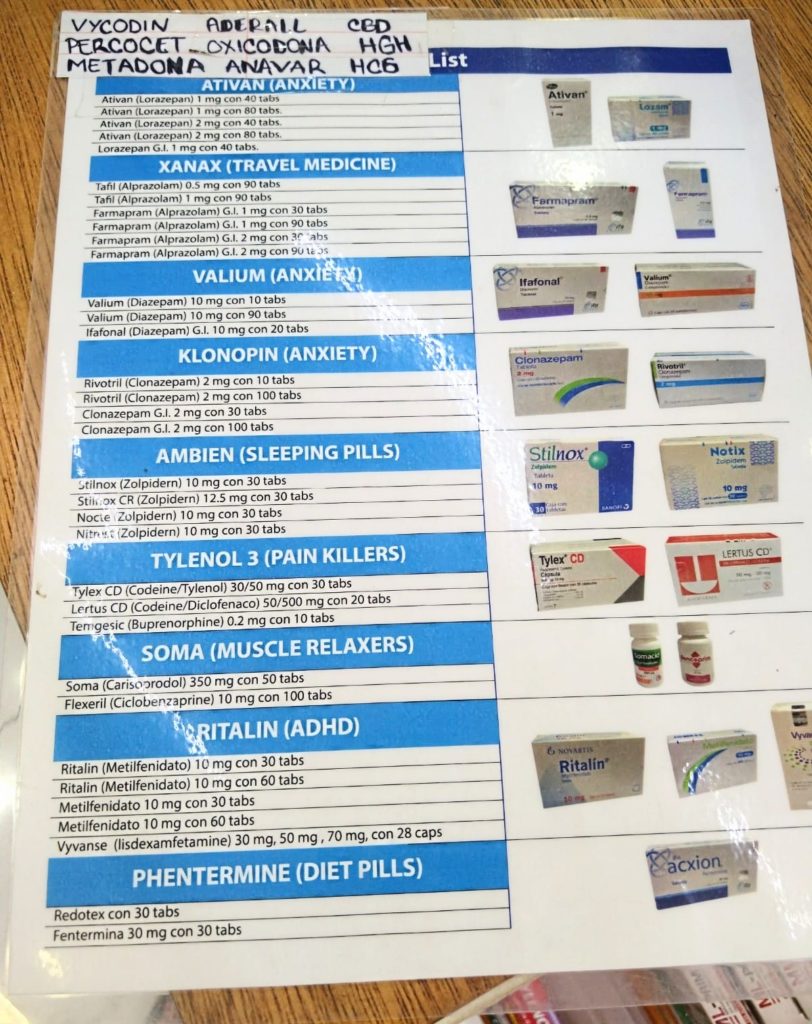 When looking for an antiseptic cream in a pharmacy, we shouldn't have been surprised to be offered a menu pulled out from under the counter. To our amusement, it had all sorts on it, such as uppers and downers, anti depressants, sleeping pills, diet pills etc. To add to the amusement and astonishment, you could buy one and get one free!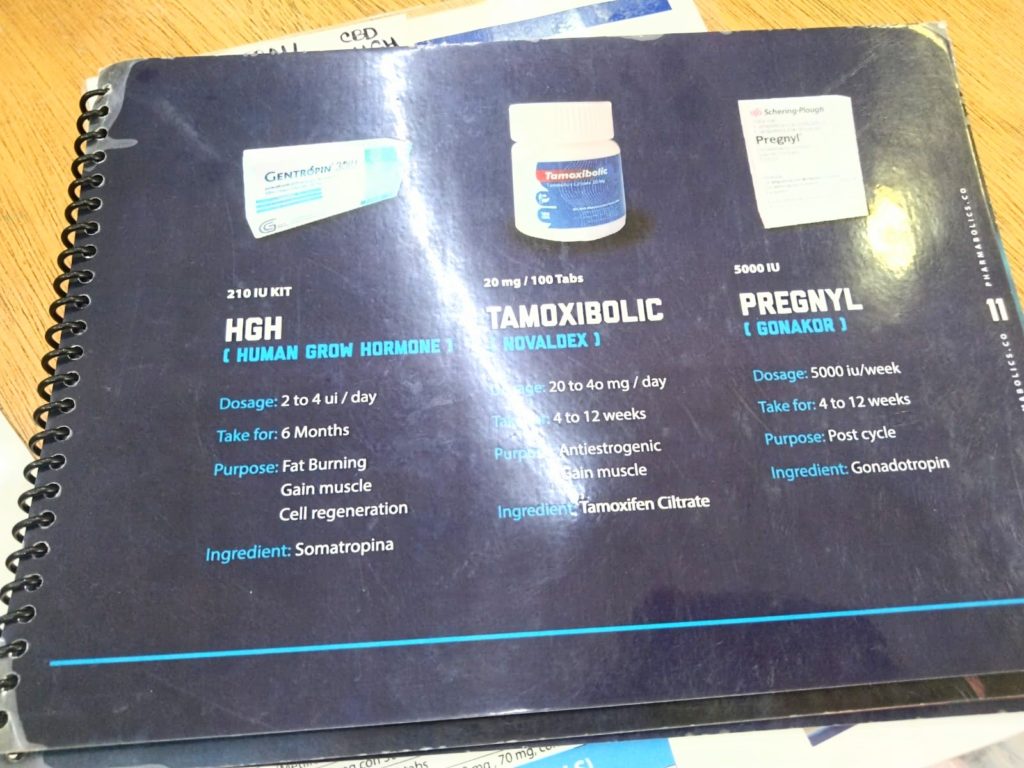 It appears you don't need prescriptions from doctors in Mexico. Just wander in and ask for what you want. Mexico isn't the only country like this.
Life savers
It's also amazing to see you can buy the wonder drug Ivermectin in all pharmacy's. Doctors worldwide who have went against 'protocol' have saved so many lives from Covid 19 using ivermectin, but outrageously got struck off. Alarmingly hospitals / government banned it resulting in millions of unnecessary deaths. Even GPs had to sign a disclosure that they would not provide it to patients. In some countries, Australia to name one, doctors can even get jailed for providing it! Even so, some of those same governments are now allowing jabbed people to receive it. Is that logical?
Check out Professor Dolores Cahill and Dr Anne McCloskey's discussion in link below.
Ivermectin, a long established and safe medicine that has won a Noble prize, can be effective in combating COVID-19. In fact, when used early can keep patients from progressing to the hyper-inflammatory phase of the disease. It can even help critically ill patients recover.
Some states in India have treated covid 19 successfully with Ivermectin. At around £3 a packet, big pharma wouldn't make much, so queue the jabs! The government prefers to desperately push for the covid injections, which unfortunately many are dying from or have had severe side effects. We do not know the long term outcome, since these injections are still in trial until 2023 at least.
Random attack
Unfortunately, one evening, Knox got randomly attacked. The street was deserted. Could it have been an attempted robbery, until the perpetrator saw myself and a friend coming along up the street? Was he spooked when he saw us? Indeed, when he did, he took off on a waiting moped. I guess, if you are scratching under Sayulita's surface, you will hear other stories of similar attacks. It can happen in any town or city.
Luckily, Knox got away with superficial cuts and bruises, although it could of been a lot worse, since he was punched on the head and fell to the ground.
Theft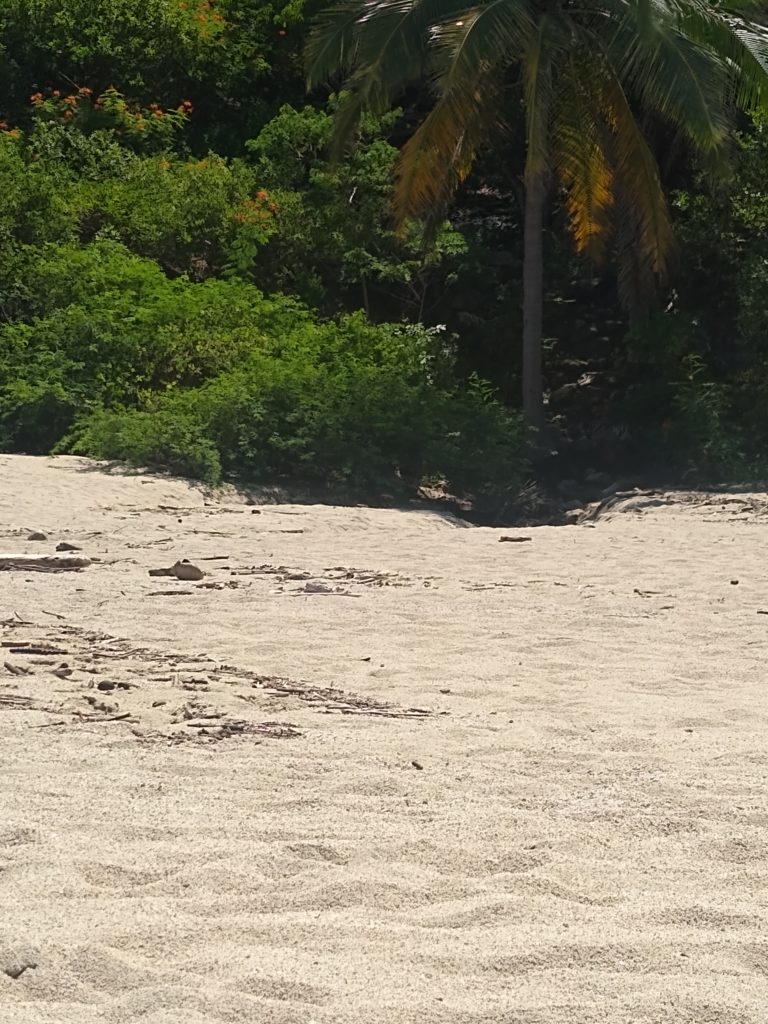 Reading Sayulita People'sFacebook page, you will come across warnings and stories of theft happening. This is mostly thugs grabbing an opportunity when you aren't looking. It's usually easy to pass on items like phones or wallets they steal. Hearing one story on Sayulita people, the local girl explains that when she tripped unexpectedly, the perpetrator noticed the opportunity and ran off with her bag which had fallen to the ground!
Be aware, when you're at the beach or a restaurant etc, never leave your bags or valuables unintended. Some thief's have been known to hide behind the trees at the beach, then pounce when you aren't looking!
Hospitality
We have met some lovely people. Mostly workers. Personally, however I think it would take a long time for a Mexican to trust you enough to invite you into their home, or even meet for a drink.
They are not like the Irish or even Indians who would invite you in for a cup of tea or want to meet for a drink the next weekend, because the craic was ninety the first time they met you!
A complete stranger in India would invite you to their wedding. We've lost count of how many weddings we've been to in India! Moreover, that was invites to events of all religious backgrounds.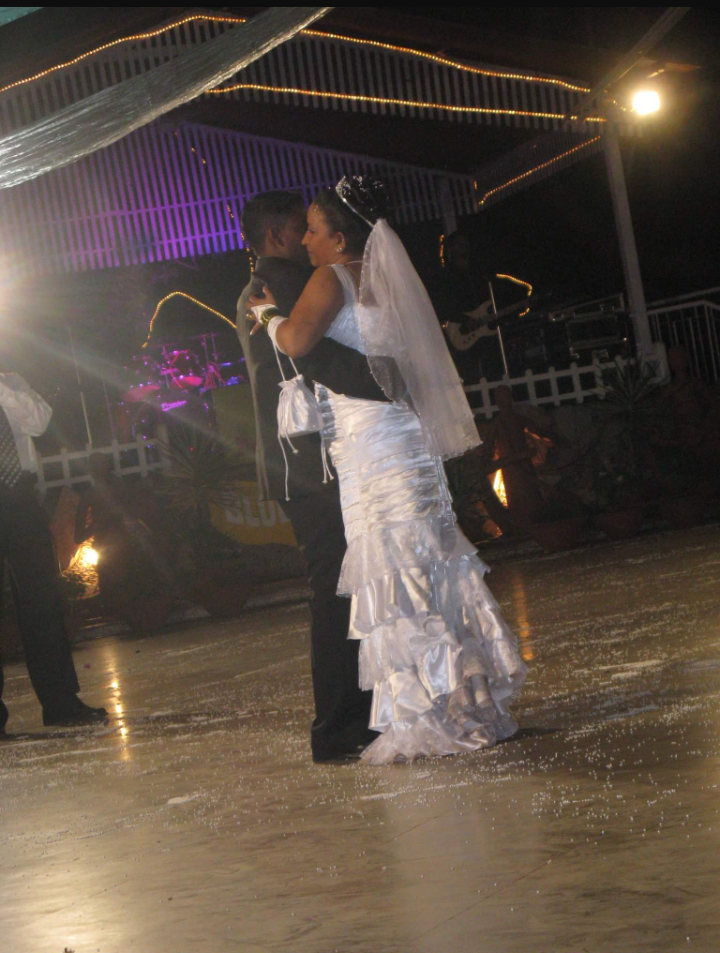 Rubbish
The Sayulita community tries to do a good job of keeping the town clean and tidy. Unfortunately, you will have people who just don't care and dump their rubbish anywhere.
It's sad when you see on the beach or Street, beer cans or plastic discarded as people are to lazy to lift it and put it in the next available bin.
Scratching under Sayulita's surface is about positive action too. Sayulita has a new environmental event coming up, which will hopefully continue weekly.
Volunteers can grab some trash bags, gloves, rakes and meet at 5pm at Frente al Punto beach club for a community beach sweep followed by an environment education discussion.
After sunset there is music by DJ Nix and dinner/ drinks by Frente al Punto.
Contact: eco.amo.sayu@gmail.com for more information and to learn how to get involved.
Street sellers
The ones, walking around selling at night, are mostly children. They could be selling anything from jewelry to flowers. We can't help but feel they are left vunerable out by themselves so late at night.
And whether you buy anything or not, a friendly face and a small amount of peso's will be gratefully accepted.
Dogs life
Firstly, Sayulita is extremely pet friendly.
You'll see pets never leaving the owners sides, travelling with them on motorcycles and carts wherever they go.
It's amazing to see how the dogs are so used to the ride, being trained from puppies or just basically trustworthy.
However, as we have learned from Sayulita Animals, there are animals unwanted or uncared for.
It's definitely not as bad as the likes of India, where there are scores of dogs on the streets and beaches needing help, but there is a need in Sayulita for more forever homes.
If you're in Sayulita for a while, fostering a dog in need can help massively. Or even better, help to get that dog adopted!
New homes
We adopted Stagger Lee above. Unfortunately because of only our temporary stay in Mexico, we couldn't take him, no matter how much we wanted to!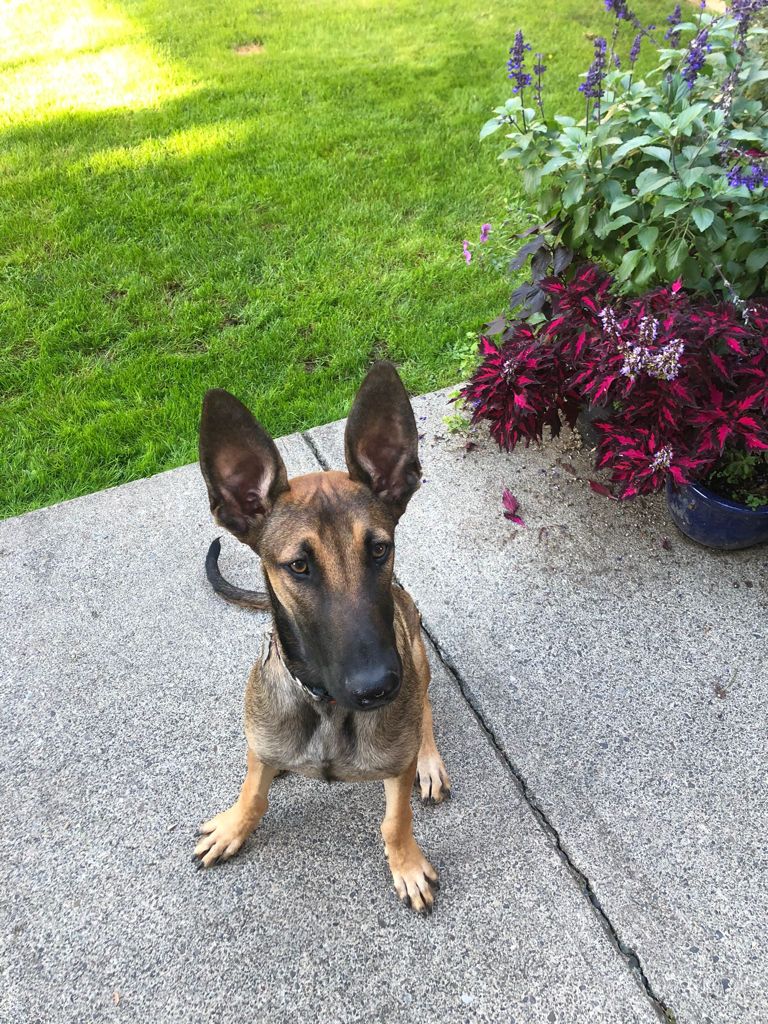 He is one of the lucky ones though, who found in his young years, his forever home, far away in Canada.
We our very fortunate as his new family send us regularly updates and photos.
Watch your step – or you may be more than scratching under Sayulita's surface!

Be careful of your step, as pop hopes and large holes in roads and footpaths aren't uncommon.
Like in Costa Rica, sometimes you will see a bright coloured bucket hanging off it, to notify you of the danger! It is rudamentry but effective.
Murky
During rainy season, on most roads you will basically be walking through murky puddles and streams ankle deep.
Infact this year the actual river us at it's highest in approximately a decade. The water formed waves as it traveled ferociously through the banks of the river and into the ocean but also spilled over the sides, entering into neighborhoods causing damage.
Best to take your flip flops off and embrace it, or if you're lucky enough get someone to give you a piggyback. Thanks Knox lol
Parties
Mexicans love their music and it's loud! It's not unusual to have a car park up on the road. Swing the door open and blare the stereo full blast. These people are not only teenagers, they're mostly in their 50's! It's even worse when it's in full swing at 3am.
Construction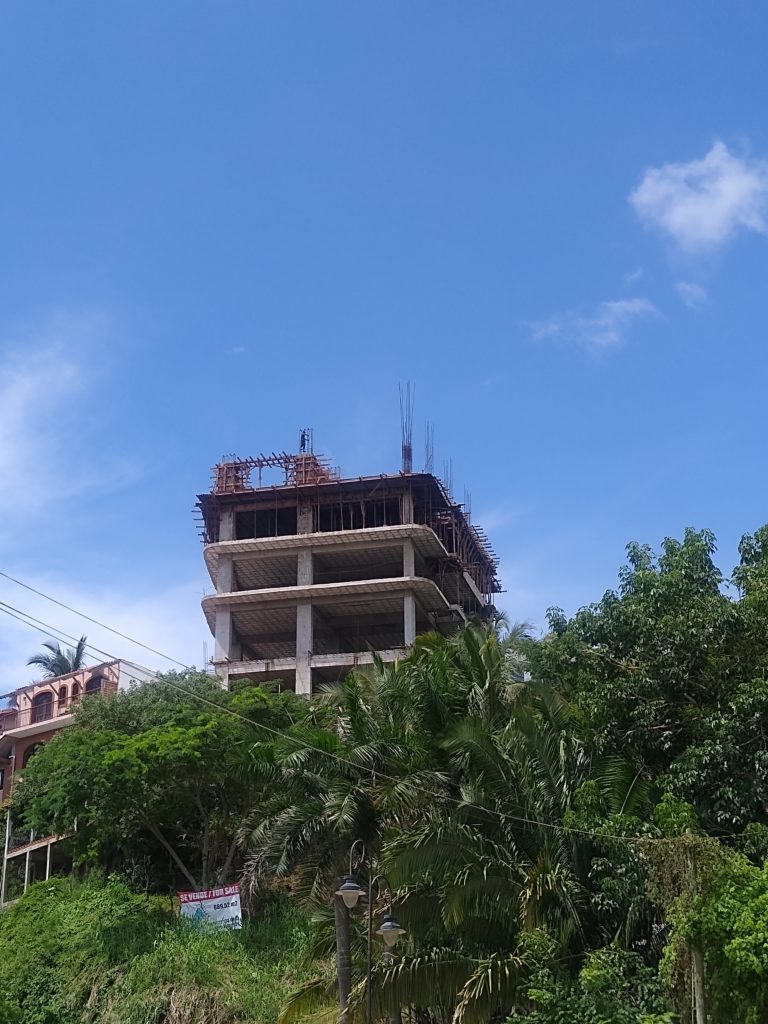 Buildings are popping up on almost every spare space in Sayulita. Which means construction is big business and occuring everywhere.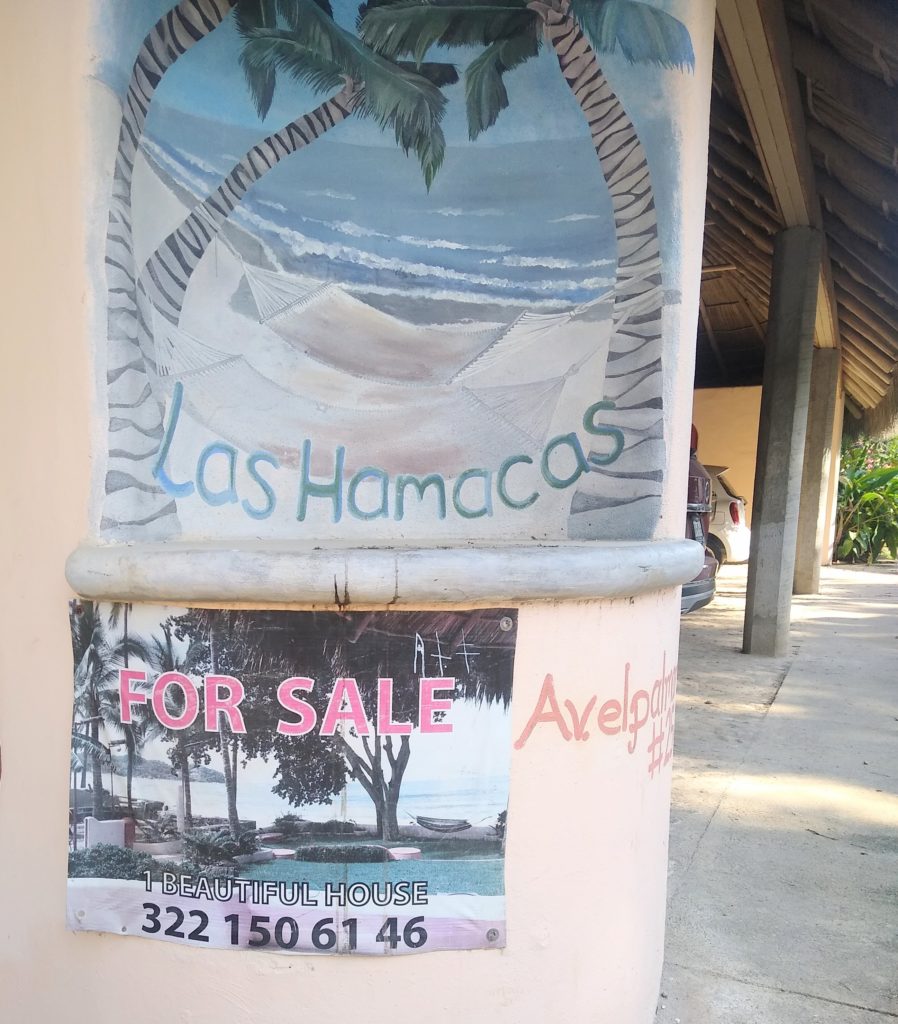 Sayulita may be busy now, even for low season, but if things continue to grow at a rapid speed, it will unfortunately lose its charm and become saturated.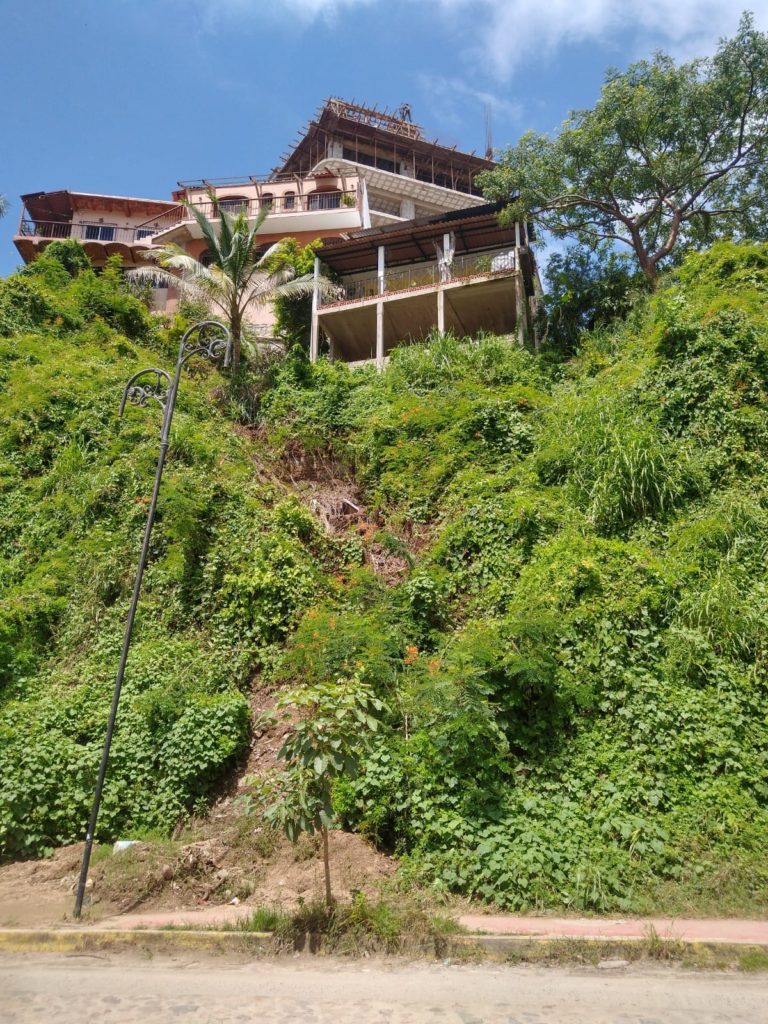 Although, some houses are very tempting and pretty I must say! You will find many built on precarious edges!
Houses aren't cheap here due to the rich American clientele coming over the years, prices have rocketed into the millions.
Racism
Unfortunately it happens. Most Mexicans are friendly and accommodating, but you will come across a few bad apple's.
You can hear some abuse by locals on Sayulita People Facebook page. They blame tourists for the rubbish, the polluted rivers, the drugs and prostitution. Calling most of the expats hippies or use explicit language towards them.
First hand
We personally have come across it ourselves in a particular bar. When the barmaid threateningly yelled at us she was Mexican! This all started when she accused us of not having respect for the street sellers. Hardly did she know that we were friendly with the young guy, as he we had met him on several occasions. Her assumptions led to a tirade of abuse towards us being foreigners and non Mexican, as she downed another drink from behind the bar.
She basically did not like foreigners and tarred us all with the same brush. After giving the bar lots of business over the months, it's sad to say, after that incident, we will avoid it like the plague.
This is life I guess. Not everyone is going to be kind. But that's issues they've got to work out in their own mind. We all learn from our mistakes eventually and maybe she will to.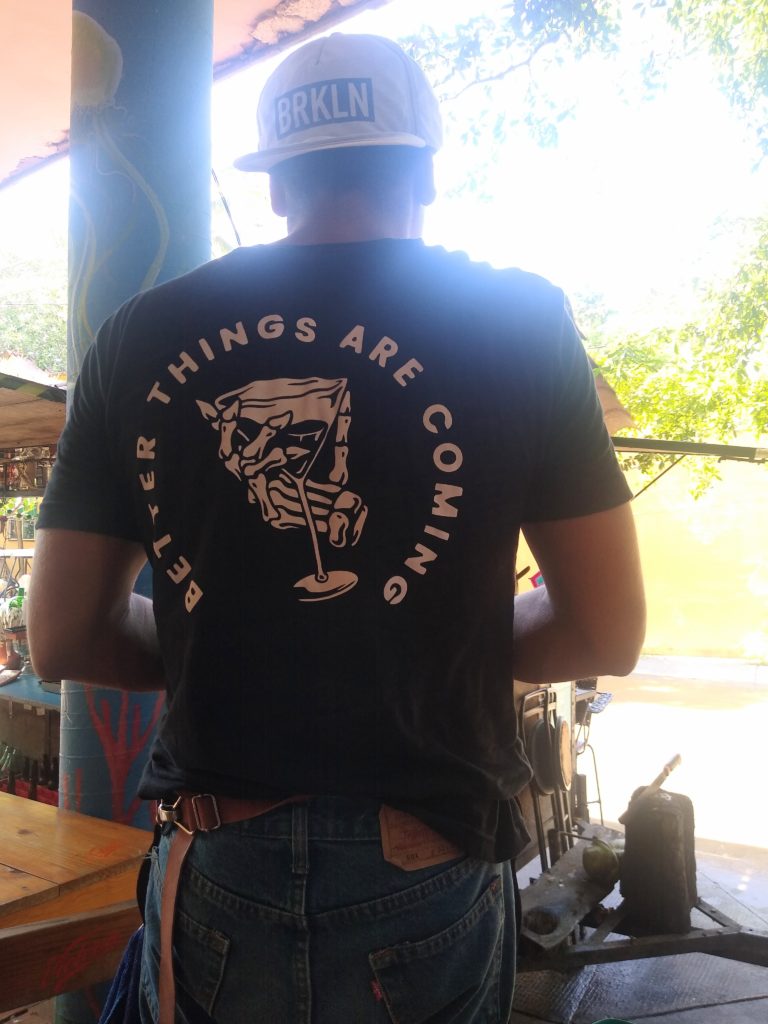 Would we recommend Sayulita? Absolutely! Come see this little bohemian bubble for yourself and immerse yourself in the culture and quirkiness of the locals and visitors alike.
Update on hospitality:
Just as we were about to publish, our landlady advised us that the neighbors were having a big party to celebrate their daughters Quinceanera.
This is a 15 year olds passage into woman hood. We were advised it was going to loud and late lol, but we did get offered to pop in!
Everyone was dressed in their finery including some huge frilly frocks which reminded of the colourful big gypsy weddings in Ireland.
The festivities included food and music. It was interesting to see a more traditional side of Mexico and we loved watching the choreographed waltz performed by the Quinceanera and her Court.
A taste of the local
Beethoven's, our doggy friends digs, Lalo's do refreshments so you can cool down and quench your thirst. At only 20 pesos a beer, it's a bargain!
They also serve up local crusine, such as fish and meat dishes. Since we are both veggies, we stick with the liquids!
Other local places along the AV Revolucion is Bien Venidos Al Trabajo.
Don't let the look of it put you off, with its shabby, minimalist decor, as the beers are reasonably priced and come with slices of lime, salt, cucumber and a bowl of nuts!
A Duke box in the corner will keep you entertained. Only 10 pesos for 5 songs!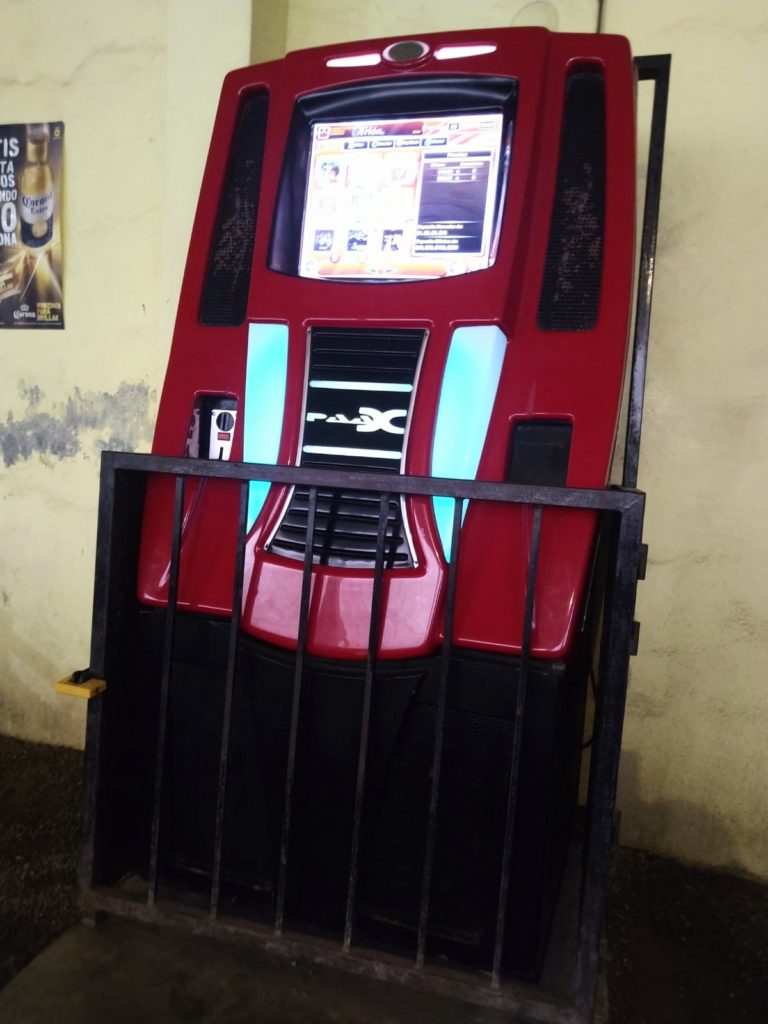 We have to admit we weren't sure how to take the establishment at first, as it reminded us of some dodgy digs in Northern Ireland. However, we got out alive, so it was a bonus lol.
However don't judge a book by it's cover, as José Manuel Mora, the owner is Sayulita's Delegado, to a term lasting four years. He is passionate of making Sayulita a better place.
When you see him, shout 'Mora!' as all the locals do. He stands out from the crowd in his white cowboy hat and fine western shirt.
Davalu
Locally owned by Oswaldo, with a mix of locals and tourists.
Non pretentious entertaining with
80s type bands playing mostly rock ballad's.
It also serves traditional Mexican food such as burritos and tacos which comes with a side of French fries or mashed potatoes. The mash potatoes were delicious and just as good as Knox's.
Oswaldo is a positive character and displays his sunny, spiritual outlook with many thought-provoking tattoos, such as 'Don't worry be happy' and 'Believe in yourself'.
Mauricio and Marlene part of the Davalu team also deserve a mention due to their cheery demeanor!
There is also lovely bird song at sundown and pleasant views looking down over the plaza.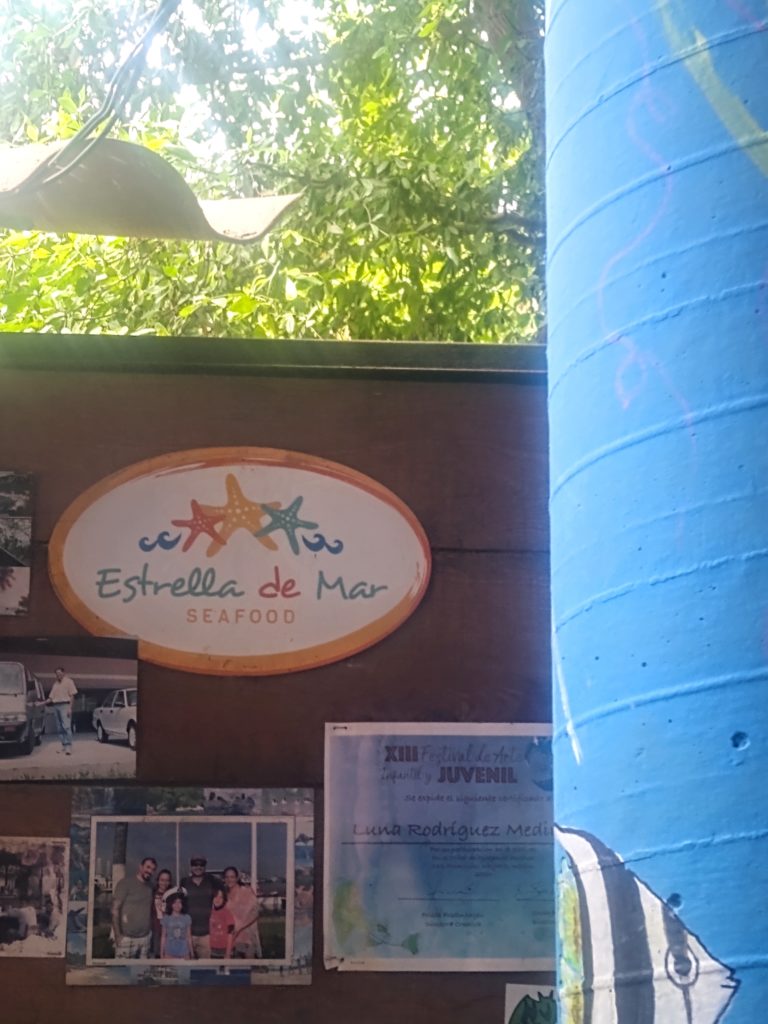 Estrella de Mar – A lovely homely welcoming vibe. Staff and owners are friendly and off course their dogs are a bonus, especially Boss, the 18 month old big dope!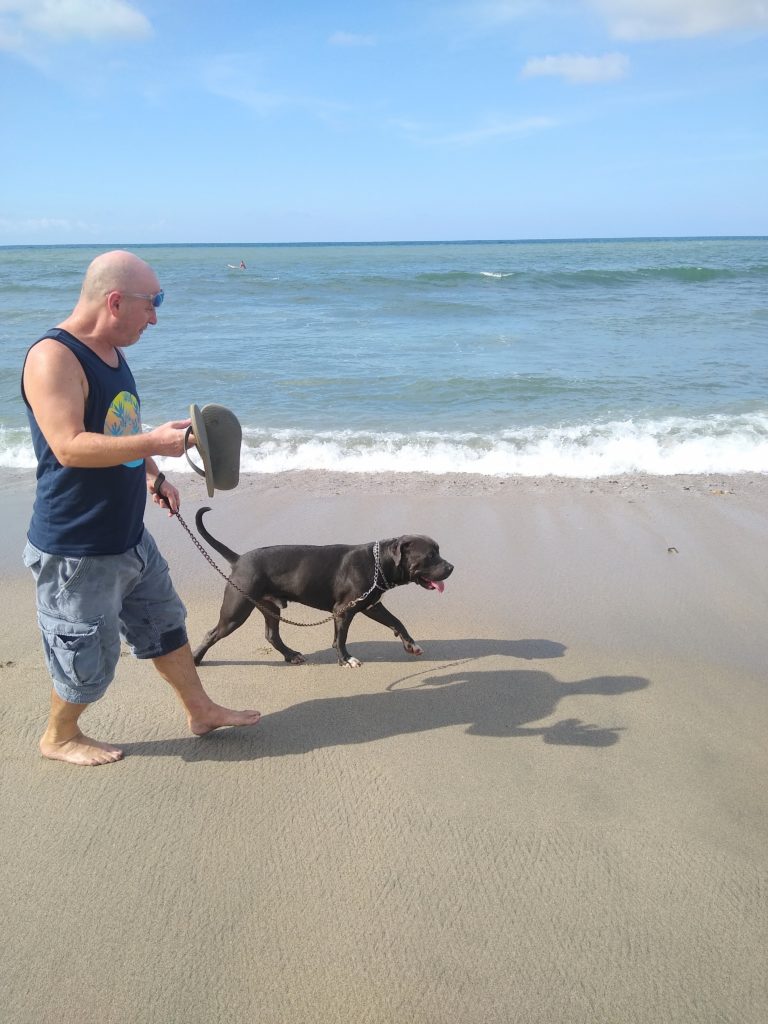 We love taking him for a walk along the beach. He sure gets the attention and many step out of the way. Hardly do they know he's a big softy. Infact when we teased him with howling sounds, he hid under the table! Lol
They also do seafood food, but since we are vegetarian, we only use it for a cheeky vino Blanco or beer!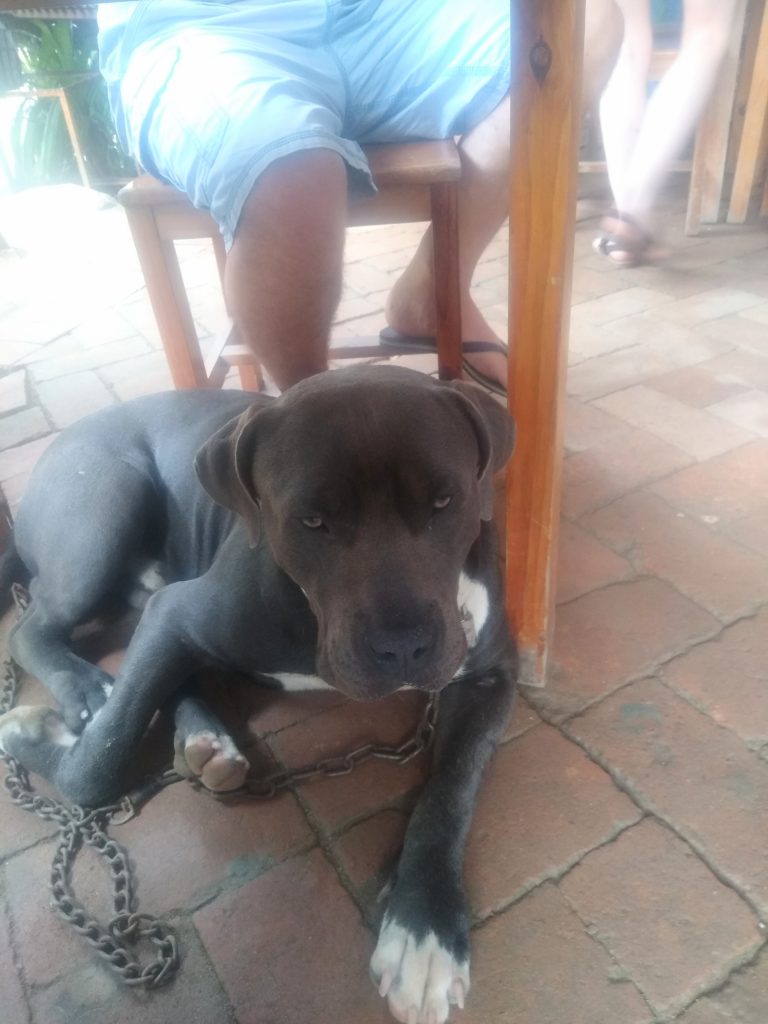 If you liked reading, you may like to read about Sayulita part 1 Freedom and Temptation or Life at Sayulita beach – Hola again for a while