Brasov – Transylvania, bears and The Count.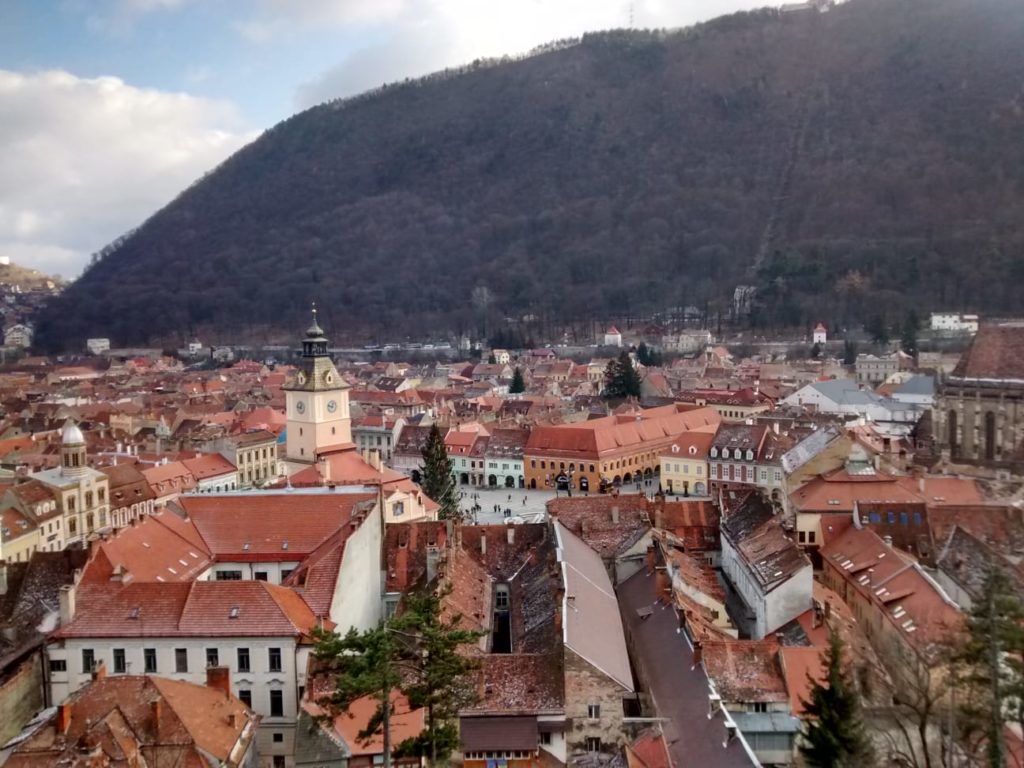 There is a different feel to Brasov than Bucharest. The place is more calm and charming. A Medieval walled town that loves to accept the weary traveller into a Transylvanian heart.
Traffic is less aggressive than every man for himself in Bucharest. We hired a car from Bucharest to drive the 2 and a half Hours to Brasov. Drive carefully and keep your eyes on the road at all times. We have driven in places all over the world and Bucharest had to be one of the worst, un-friendliest, to motor in.
Once you get out of the city, traffic thins and is a more relaxed drive. Heading into the Carpathian Mountains the snow started to fall, leaving a dusting of white on the tall trees as they stretched up the slopes. It all added to the atmosphere as we headed towards deeper, rural Romania and it's Transylvanian legends. I could almost hear the howling wolves!
Brasov, encircled first by the mountains, and then by its walls, is a show piece of gothic, baroque and renaissance architecture. The old city is very picturesque, and the snow made everywhere you looked so charming and quaint.
Brasov serves as a great base for exploring the Transylvania region and of course the count himself at Bran Castle!
What to see: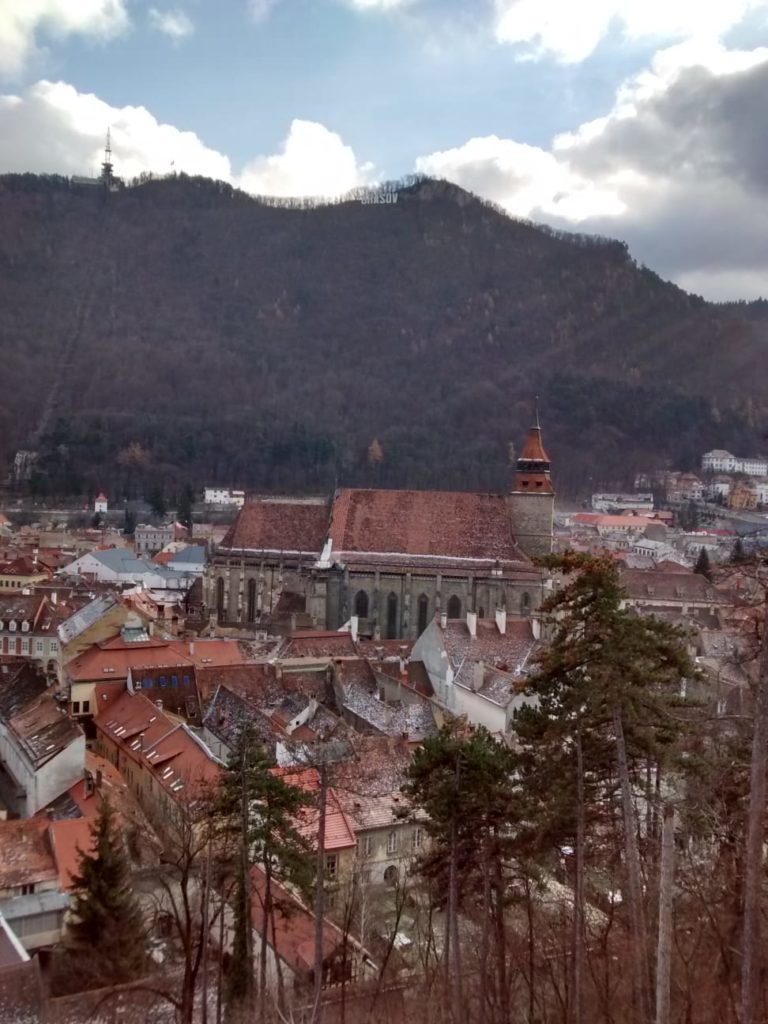 Cetatea Râșnov:
A historic landmark in Romania. Cetatea Rasnov is a well preserved medieval fortress, with excellent views across the city from the very top. It's a nice walk, however if you prefer you can take a cable car up. Address: Strada Cetății 17, Râșnov Romacril 505400
Tâmpa:
The Tampa mountain is almost surrounded by the city and worth the hike for the stunning views over the city, which is mostly covered in limestone. You can take a cable car to the top if you aren't into the hike. See the giant, Hollywood style, Brasov sign.
City Walls
If you don't fancy a hike up the mountain, you can stroll along the city walls. There are some paths to vantage points that still give good views of the old town.
The Black Church:
It is Romania's largest gothic church. Also known as Biserica Neagră, The Black Church inside is adorned with an interesting array of carpets on the walls. It's conveniently only a few steps from the main square of the city. Address: Curtea Johannes Honterus 3
Irish pub?
Yes, we get everywhere lol. A bit of craic was had at the local Irish pub, complete with road signs on the wall, where the music was good until the karaoke started. "king of the road" had to be sung!
Outside of Brasov
Libearty Bear Sanctuary:
Is the biggest brown bear sanctuary in Europe. We were glad we took the 25km drive up here. It is set in 160 acres of pristine hazel and oak forest dedicated to preserving Romanian bears. It was heartbreaking to see though. You need to go with a guide. They do tours in both Romanian and English. The guide talked a small group of us through the past of each bear, who all had names. Some bears were still traumatized at what they had experienced and would never fully recover. My heart couldn't take it. Other bears seemed happy to be now 'free' after years or decades of confinement.
Libearty Bear Sanctuary does amazing hard work with the bears. It's a must do when visiting Romania. Make sure you check with them before you go, as it needs to be arranged and there are only a small group of people allowed in at one time. The tour lasted for approximately an hour. During that time you will watch a short film about the rescued bears.
They also have some rescued wolves as their habitat has dwindled greatly due to human incursion.
Address: Address:F DN 73A km 6 – near the entrance in Zarnesti from Rasnov, Zarnesti 500075
Bran Castle (Dracula's castle):
Ah I 'vant' to bite your neck! Brans castle was high on our bucket list. The dramatic, 14th-century castle, former residence & alleged legend of Count Dracula inspiration.
The November chill bit at us as we walked the snowy paths, of the huge, impressive grounds, staring up at the spookily, imposing Bran castle, full of intrigue and history.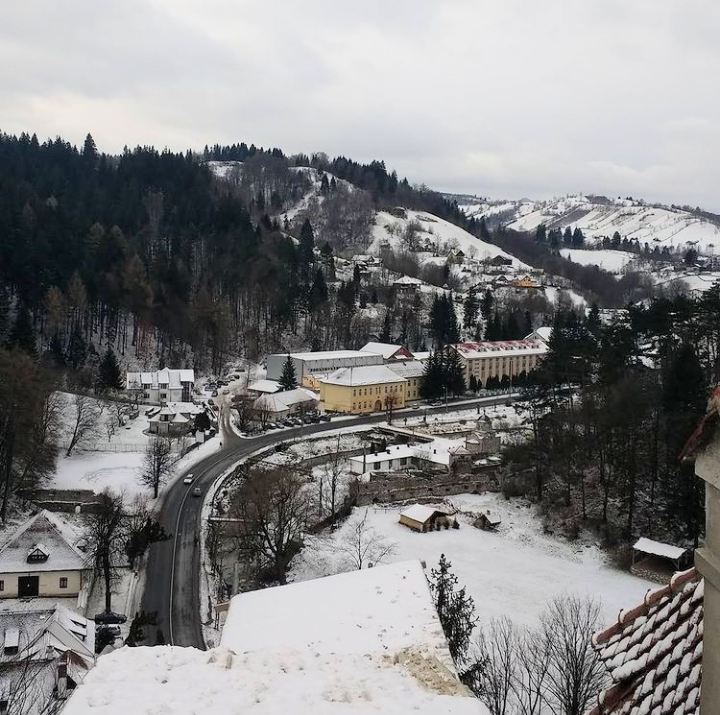 Bran Castle was really like something out of a fairytale with the snow falling all around it. The castle is furnished with interesting exhibitions.
We highly recommend Bran castle! It is a 25 kilometres southwest drive of Brașov. Strada General Traian Moșoiu 24, Bran 507025
Check out our other Romanian Trip Bucharest!