Santorini
Santorini, a Cyclades island in the south Aegean with an explosive history, we stayed in Kamari on the east coast.
Getting to Santorini and Practicalities
Travel
The two main ways to get to Santorini from Athens is by ship or plane. We chose to fly, but a web search will bring different sea and air options.
Volotea was our airline of choice for this trip due to flight times and price – Athens to Santorini flights, 40 mins, one way.
We took a taxi from Santorini airport to Kamari. Easy to get once leaving the terminal and takes about 10/15 mins.
Santorini accommodation
We choose accommodation in a small hotel near the sea called Sea and Sun Villa. A simple, clean, modern room was all we needed.
The beach in Kamari is dark volcanic sand/pebbles and, for us anyway, not a great place to lay out sarongs. We deliberately chose a place to stay that had a great terrace so we had ample space and time to enjoy the sun and the warm evenings with an aperitif.
Scooter rental
There are lots of local places to hire a vehicle (car, scooter, ATV etc) and we picked a scooter from the agent below our room, Papus Rent a Car. Saddled up, we did a wee tour of the Island.
Santorini Scooter tour
Thira and Oia
The main town of Thira is small and hugs the cliff. It lies on the west of the archipelago, and like Oia to the north, surveys the damage done over 3600 years ago during a massive volcanic eruption. The watery caldera offers tourists the fantastic vista from their traditional white washed and blue edged boutique hotels, chic restaurants, cafes, and galleries. It really is delightfully peaceful and calm – for now.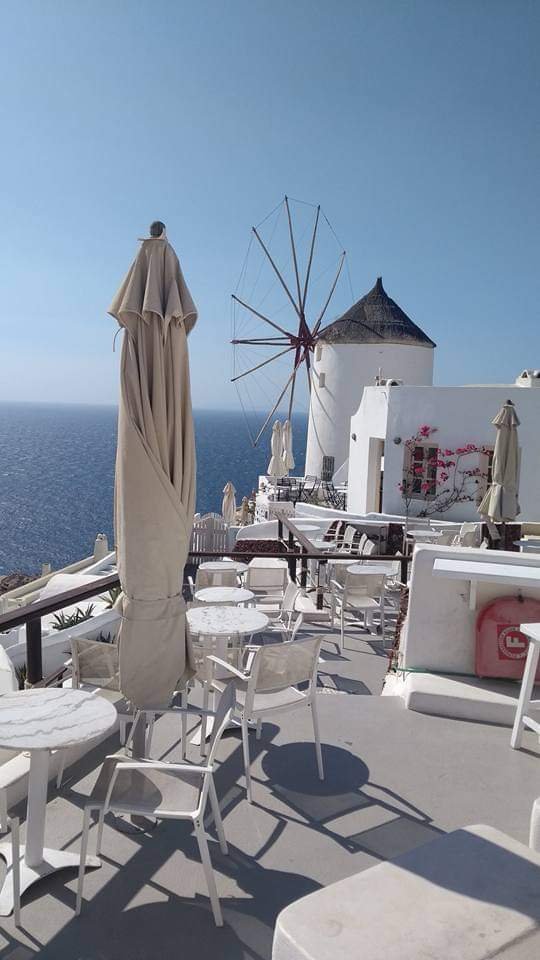 The volcano basically blew itself up, scattering debris and ash for hundreds of miles, and is credited for possibly collapsing the Minoan civilization in Crete and the myth of Atlantis. Indeed, there was a definite chance that a huge tsunami occured in one of the biggest recorded eruptions ever.
Akrotiri Lighthouse
Being high up, and relatively exposed, the winds can make riding a scooter a bit of an adventure in itself. We hung on for dear life as we headed up to the Akrotiri Lighthouse, on the Southwest tip of Santorini, for more great views of the caldera. It's just coming up on 130 years old and has done plenty of protecting for seafarers sailing the Aegean. For a tourist, it's position gives a great vantage point for stunning sunsets. We just enjoyed the scene under a pastel blue sky and a hot sun.
Ancient Thera
A landmark archeological site on the island. High up in the hills, the remains are mainly floor plans of previous civilization that are important to the local history.
Kamari
A small town and a great spot for a bit of craic. We enjoyed the Irish bar; as you generally would, a few nice meals, and some great wines looking out to sea. The promanade is lined with cafes, restaurants, and boutique stores.
A very relaxed and easy going pace of life. We enjoyed our stay in Santorini. It was a lovely stepping stone to our main destination in the Cyclades, Mykonos.
Check out our other Greek destinations: Athens, Mykonos, Naxos