Italy
Day 11: Time trial.
The buzzer went, or in my case the cockerel's chuckle (my phone alarm), and we were off. Time was early but not too ungodly. Today, though, was one of the few times on our trip when we had to be on schedule and one always feels a bit of a sweat on. Our prep was fine and we arrived at the station with plenty to spare. We boarded the train bound for Genoa and waved au revoir to Monaco and subsequently France as we crossed the border into our Italian adventure.
The train ride was coastal scenes zipping past and tunnels. An issue arose with Miko's all Europe SIM as it stopped working as soon as we were in Italy. The loss of signal, as we dipped regularly into darkness, made life very difficult trying to rectify the issue. It would have to wait. At least mine worked in case we needed it.
Surprisingly, we arrived in Genoa pretty much on schedule just after 11am. We then could have ran around a bit swapping modes of transport to get to the airport but settled for the easy way and grabbed a cab. At the airport we picked up our rental, a tiny, tinny Fiat Panda, compared to the Captur, that was adequate for our needs. While waiting for the car, I tried to call Miko's French network again but kinda expectedly only got French speakers who couldn't or wouldn't speak English. The conversation was way beyond my French capabilities. It was frustrating getting the "Computer says 'Non'" attitude. Again, it would have to be left until later as we had to be on the road. Finally we were back under our own steam again and heading south.
The delightfully colourful villages of Portofino and the Cinque Terre lay ahead. Vehicle access to Portofino is extremely limited so we parked up at Santa Margherita Ligure to catch a ferry that would dock at the heart of the romantic village. We had made good time but still had a short wait for the next sailing. We decided to have a refreshment at a marina cafe and I tried Bouygues again. After a few attempts, I got someone who spoke a bit of English and was prepared to converse with me. She talked me through some settings changes and tried some changes on her system but all to no avail. She said she would get someone to call me back.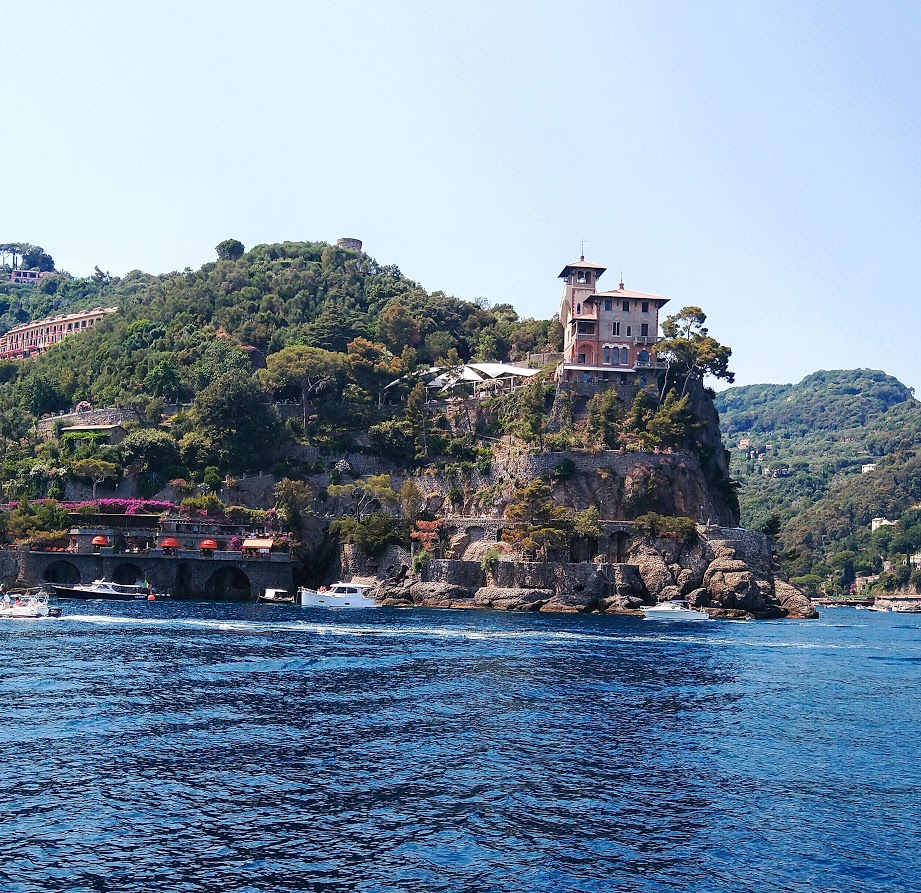 Our boat sailed out into the blue past the small yachts and pleasure craft and along the lush green coastline. Large cliff top villas and a few super yachts overlooked the approach to the colourful harbour. The decorative houses in hues of yellows, pinks and rich terracotta made this a photographer's paradise. It really is a stunningly beautiful village enhanced by the popular mode of arrival as people's faces are illuminated by its charm. Yes, the ferry is a bit crowded but one can fade them out and imagine arriving on an expensive craft.
Once landed, we left the crowds behind and climbed the steep steps that would lead to the cliff top path. This would bring us to the lighthouse that protected sailors rounding the peninsula. A small café allowed for light refreshments on our walk before we returned to the harbour. The raised position, here and along the way, allowed for some gorgeous shots of fishing port and surrounding coastal paths. It was another small dream ticked off the list as we breathed in our idyllic setting.
The rush for the return ferry was a bit more frantic as we realised we could catch an earlier one than expected. We made a dash down the last bit of the path and the steep steps and ended up getting there with time to spare. We were satisfied with this side trip and our decision not to stay a night here but head further down the coast into the "Five Towns". The Cinque Terre is a string of renowned fishing villages that lie along the same stretch of coast. Their colourfully decorated buildings set into the steep rugged background and connected to each other by clifftop paths.
We chose the one furthest south, Manarola, as our stop off point but we still had to get there. It was 6pm by the time we were off the ferry and heading on our way. Hunger was gripping after a long day with an hour and a half drive still to go. We decided to stop to get takeaway pizza on the way with the best option being to stop at La Spezia, about 15-20 mins away from Manarola. At the time we didn't realise how "Best" the option was until we arrived at our room for the night. The atmosphere in Pizzeria Capolinea was very authentic Italian. The open kitchen, with its brick ovens to the left as you enter, gave a heat and bustle to the place while the charming simplistic interior stretched back so people could dine in. It was busy with locals. There were no airs and graces. It was just uncomplicated and passionately done well. Even with that, it was just take away pizza and my mind was on getting to our abode for the night. We managed to find a parking spot at the closest car park to the village, gathered our stuff, and walked down to the church square at the top of the village. My prep work, looking on Google maps, meant I had a good mental picture of where to go to find our apartment. We climbed the stairs and happily entered. Time was getting on and now we were so ready to eat. I cracked open a tinny and took a bite of pizza. Mama Mia, it was delicious. Actually, it was beyond delicious. It just happened to hit number one spot in an instant. It was, and still is, the BEST pizza I have ever tasted and I've eaten plenty in my life.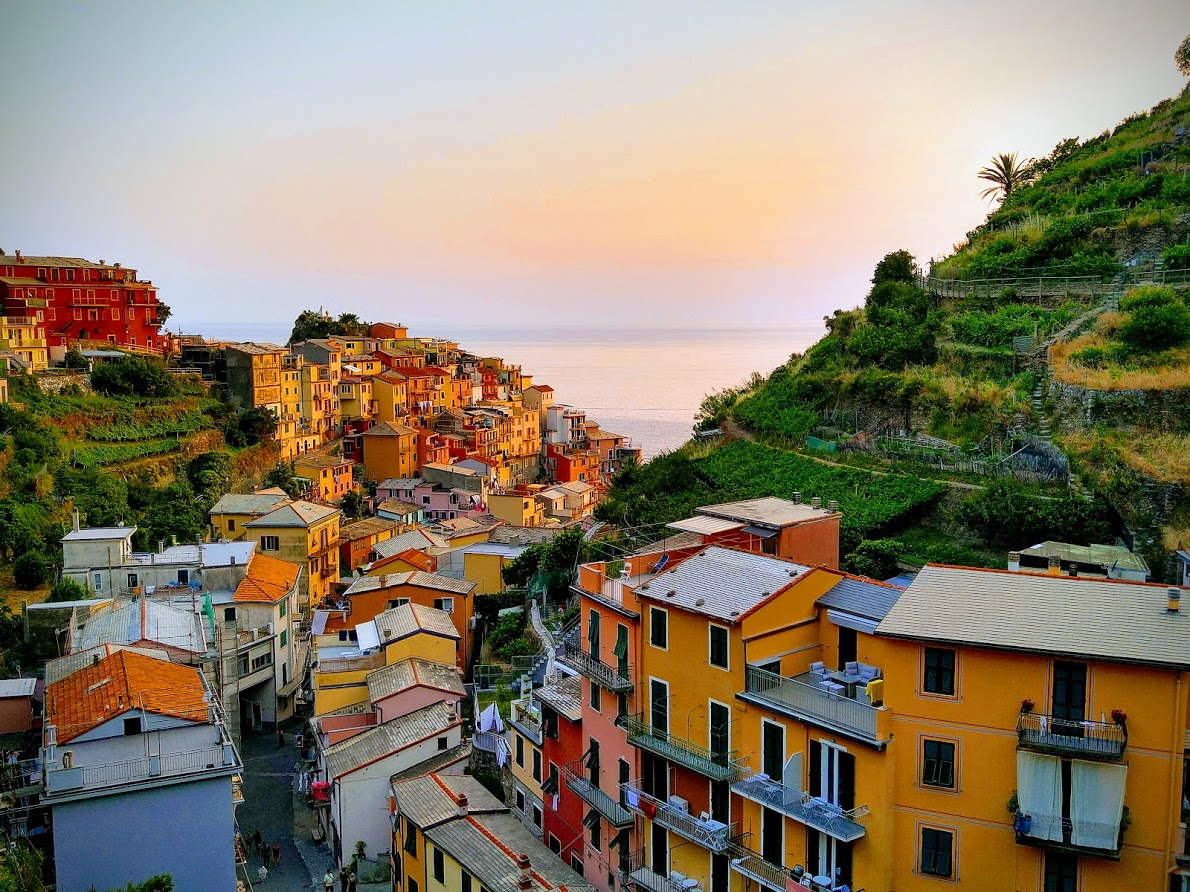 The evening was drawing in and the light fading fast as I looked out the window. Lemon and orange trees grew in the plot below while the picture from our room was a beautiful vista down the valley, through the village's main Street, to the sea. The old apartments and houses, with traditional shuttered windows, were all painted in yellows, pinks, reds, lilacs, and oranges contrasting delightfully with the deep greens of the steep hills that came down to meet their backs and the blue summer evening sky. A mixture of subsistence farming was evident as vines, veg, fruit and olive trees, and all sorts grew in what difficult available space they had. The noise of water falls could be heard tracing a path to the Mediterranean. The place was idyllic yet this was normal for the residents. I watched over the rooftops, noting little glints off the silver revolving chimney top fans that caught the last rays of the setting sun. As the tourists traipsed through the streets matriarchs expertly hung and folded sheets over the balcony clothes rail.
After dinner we took an evening stroll. Firstly, we wanted to make our way up to get some panoramic photos. We climbed the stairs cut into the terraces and it was easy to see that the vines and other produce was hand worked as no machinery would be able to access the hillside's stepped terraces. I could envisage the hard manual labour that must go into producing a crop here and the extra satisfaction it brings when sipping on the local wine. Going up was certainly a good workout for our soft tourist calves and thighs. We joined the upper path in darkness and I was wowed and dazzled by the firefly display literally a couple of feet in front of me. The wonder of nature never ceases to amaze. Our path brought us along across the top edge of the village and afforded us warm views of the lit up buildings that we would then descend back down to. We followed the main Street down past the tight, twisting, alleys that led off to the inner workings of the village. The place was alive with restaurants and cafes all the way down to the cramped little harbour and the small fishing vessels that were moored in it. A group of teenage boys boisterously passed us, slightly drunk, ecstatic that school was finished for the summer and in some cases, it seemed, for good. A group of four village elders gathered on a bench near the church and chortled with each other in expected animated Italian fashion. The charm of the place enchanted me and, even though our stay was brief, I was glad that I heard the village calling us.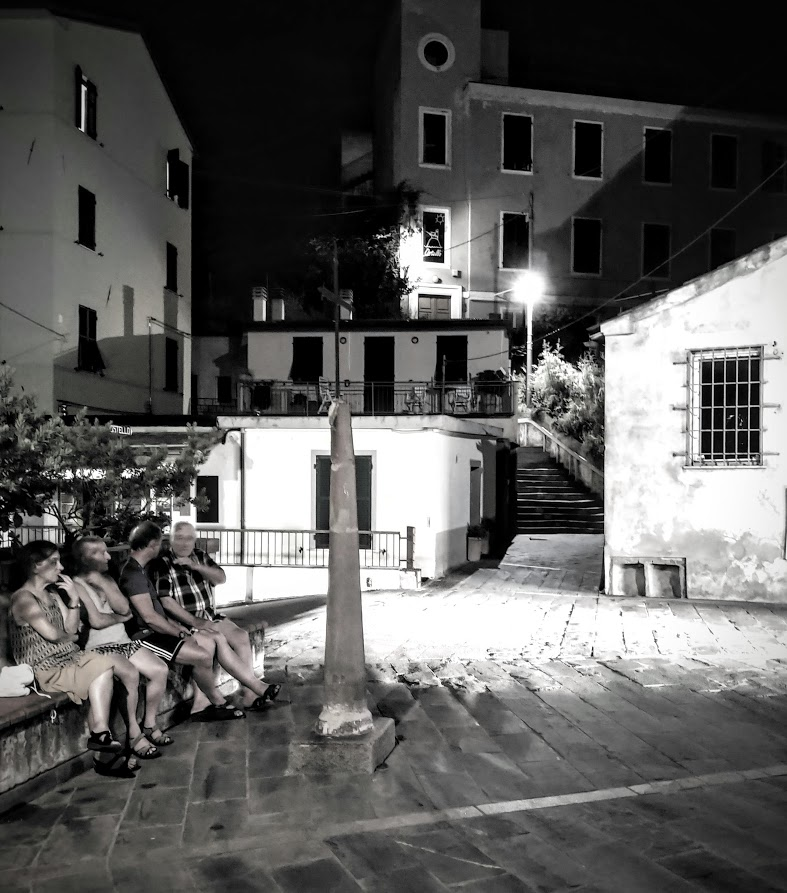 Day 12: Classical leanings
Once more the dazzling sun warmed our morning and delivered vibrant colours to intoxicate our minds. After our frenetic pace yesterday, it was enjoyable to have a more leisurely start today. I nearly started a riot at the Carrefour supermarket by unintentionally bunking the considerable queue at the self service desk. It was all a bit more chaotic as opposed to across the border in France. I was fooled by the local system and what looked like a sporadically used self service station in a central position being free most of the time. It turned out, in fact, to be a central payment kiosk for those wishing to pay cash. They would go to one self service machine, put through their items, and then receive a receipt. This receipt would then bizarrely be brought to the central kiosk to scan in and make payment. The receipt was then required to be scanned in to open the exit gate of the self service area. Much ado about nothing and we were glad to get out of there alive.
It was only a 100km drive to Pisa and we made good time. I was delighted to get a great parking spot in a central location near a little vegan eatery that we had scouted online. The heatwave was still washing across Europe and the temperature here was sweltering as it hit the high 30s centigrade. Our lunch was delicious and we felt refreshed as we went out to see the main local attraction. It was actually great to see this iconic tower up close and enjoy its stonework and architecture. I was surprised to see just how much it had leaning tendencies and was happy to let others queue to go up inside of it. We did take some of the obligatory photos of holding up / pushing it back poses that took an age to get right without the crowded interference. It was hilarious the shapes people got into to get their photo just right. Maybe we were tourist barbarians but we were happy with what we had seen in Pisa and decided to get back under way towards our base for the next 3 days in Florence.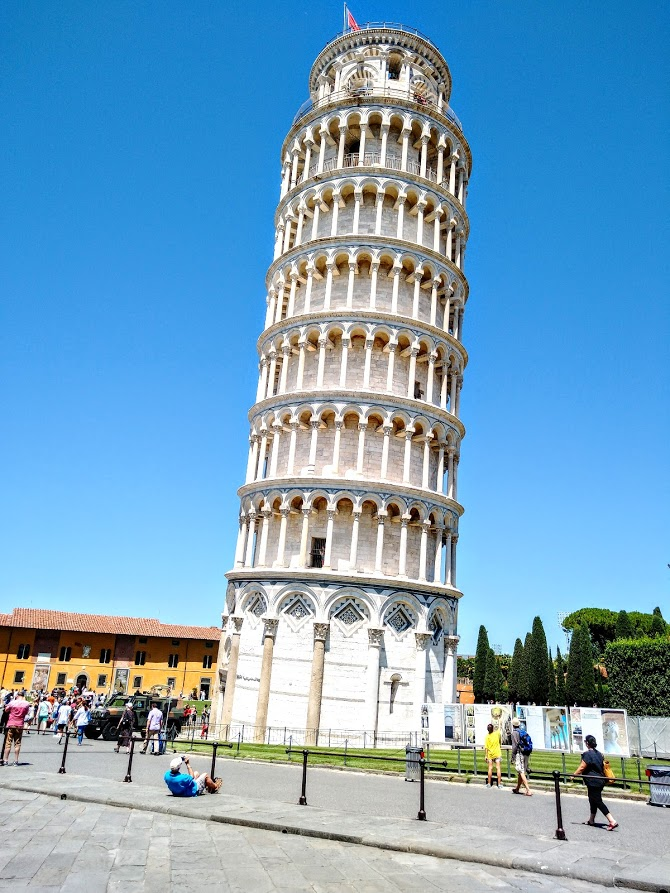 Like with all our accommodation, we had studied and searched for something that would really suit us and the need for that night. We had spied this villa and fell in love with it and it's surroundings as it gave a real reflection of expectations of what a classical Tuscany location and stay should be about. Even with all that in mind, we were still blown away on arrival by what we saw. The old monastic villa and gardens sat secluded on the hill overlooking Florence's centre and were stunningly beautiful. The entrance hall was cool and calm yet the welcome was warm and inviting. A smiling Matteo quickly checked us in and showed us to our room. I went with him and the bags up the antiquated lift that looked like it was installed over a hundred years ago. Miko took one look at it and said "No, I'll take the stairs" and was directed up the stone staircase to meet us there. The lift worked as it should but I have to say it was the first and only time that I used it myself.
While delighted upon entering our exquisite high ceilinged, spacious room designed with subdued grandeur in mind, with its baroque furniture and gilded edges, it was the spectacular view from the shuttered windows that really stole the show. The sun shone on a large patio courtyard that led down from the back stairs of the villa. Beautifully manicured, Renaissance style, gardens of trimmed hedges, bright flowers, ponds, fountains, walled paths adorned with decorative urns and shaded verandas developed out along a walkway of cypress trees and surrounded by acres of olive and other fruit trees. The elegant gardens and stylish villa were magnificent and alluring in its peacefulness. We eagerly grabbed a glass of Tuscan red for me and sparkling prosecco for Miko as we lounged the late afternoon away in our enchanting environs. Such a romantic setting and a joy for us to behold as we plotted our next couple of days.
As often has been the case, our food options were limited. We had a few ideas for dinner but accepted the advice of our driver into town. For us it was a poor choice. Even after stressing heavily about being vegetarian and being assured that the dishes would be delivered as such, we were served a vegetarian gnocchi laced with chunks of ham. It was very disappointing and frustrating. An expected delectable Italian meal, on a par with one we had in Milan previously, fell flat and we left the restaurant to traipse around this part of the city. It was late and our options were limited and we settled for an edible but average pizza and salad. We headed back towards the hotel and stopped in a Scottish bar and a little wine bar on the way. There were a few drunken chats with randomers as we made our hill walk through the ancient streets. As usual on such occasions, a 20 min walk took about an hour and eventually we flopped into bed after another long day.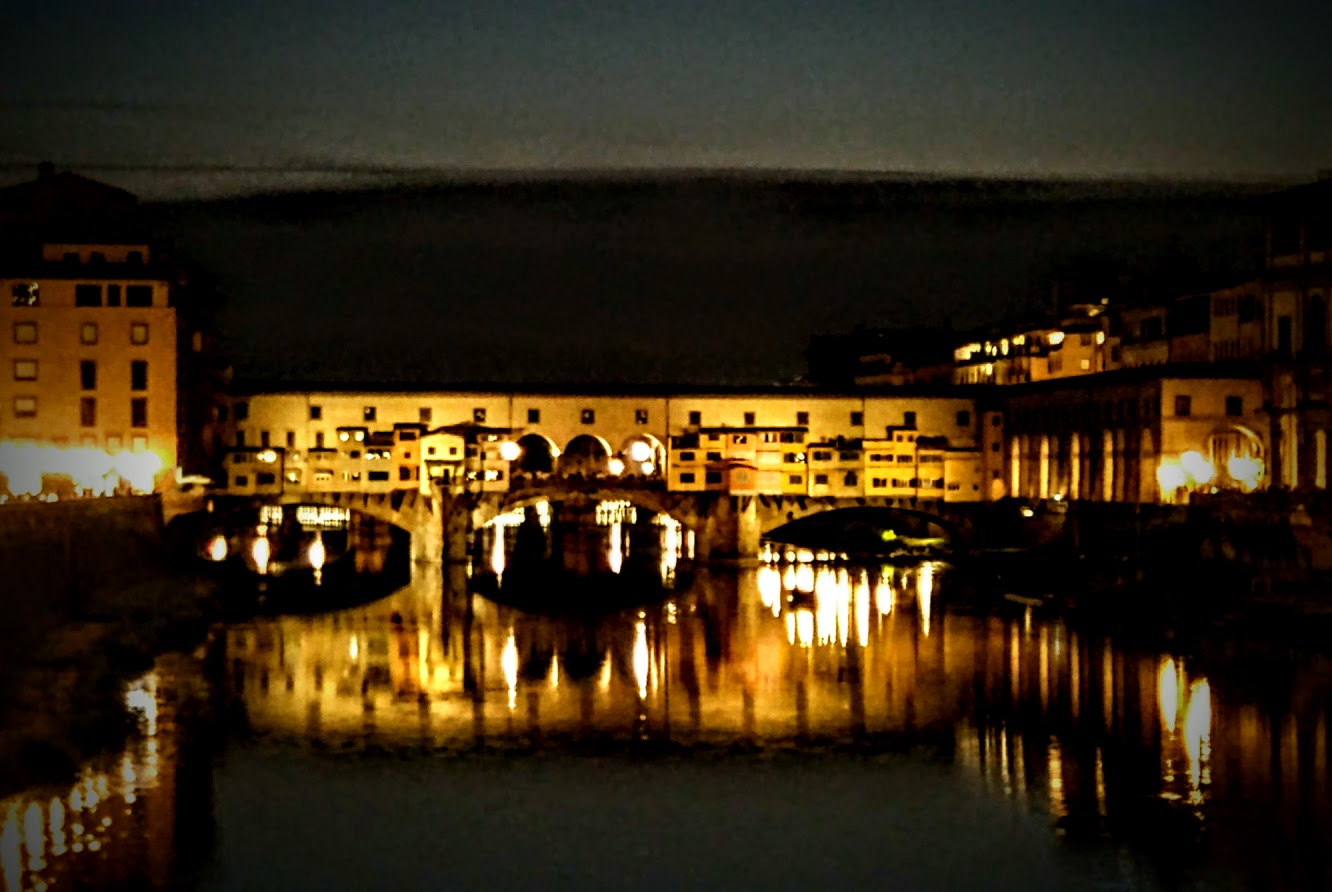 Day 13: Life is Fine.
I'm shocked I didn't remember before the trip and sod's law enforcement meant the realisation came in, not once but twice, when it was too late. Let me backup and explain.
We had a lazy, hungover morning, as we lounged in grandeur. The reality was that we had some chores to catch up with. When we eventually got ourselves together we packed up the car with laundry and headed for Florence centre where Google had noted a handy launderette. Of course we could have taken the hotel's free shuttle but thought it was easier to drive ourselves. I dutifully followed the Sat Nav, concentrating on good driving in a strange city, through the narrow streets of the old town and found our destination okay. Parking was more difficult, but after a couple of Laps around the block, I nabbed a spot within the free white lines right close to the launderette. All was good until a nagging thought chipped away at my happiness. All the cars around me had permits in the windscreen indicating residents. The nag became an alarm bell that rang in my distant memory as the parking signs displayed notice of parking for residents only.
In fairly recent previous years, I have been in Milan and Rome and it is this fact, with the reading done in preparation for these trips and deciding on driving or not, that left me surprised that I didn't remember. I had been trapped by the dreaded ZTL ZONE! Feck, I could have screamed because, not only was I sat right in the middle of Florence's traffic reduction zone with little way to escape the error and consequently a Fine of somewhere between €50-80 plus the rental administration fee, I had also driven into the centre of Pisa to get my great parking spot round the corner from the Tower. Drat and double drat 🤦‍♂️😱
At least our clothes were clean! 😂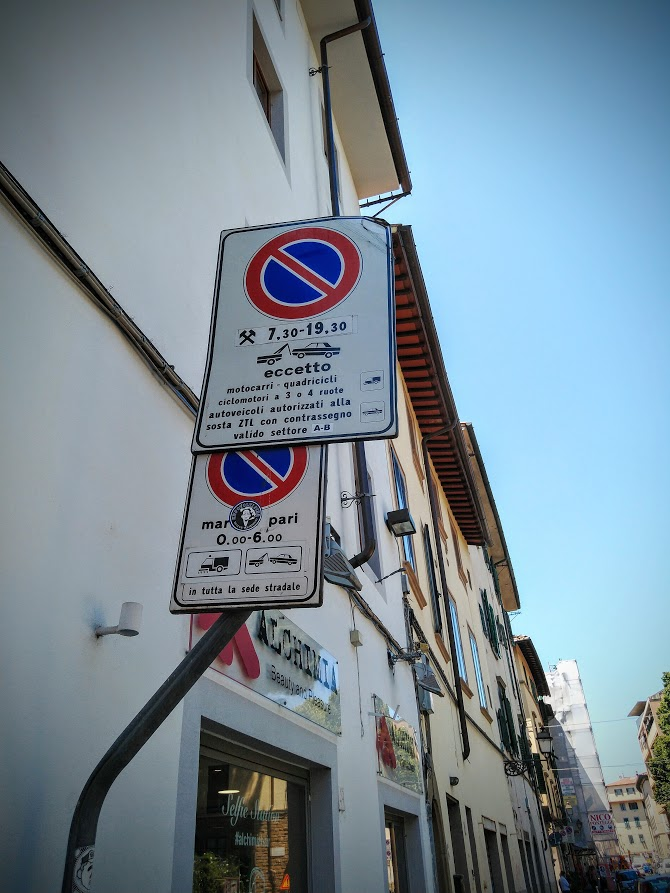 We deposited the car back at the hotel after our harsh lesson learnt. After, we shuttled ourselves back to the centre and spent our afternoon swimming through the crowds of the medieval Ponte Vecchio and the rest of Florence's wide and narrow streets.
The city really is an eye-catching, historical treat with its classical style and large open piazzas adorned with Roman statues alongside modern sculpture and centuries old turreted official government buildings. The fabulous cathedral, with its various stylish influences from Gothic to Renaissance, was decorated in rust and green colours amongst the stone work, geometric shapes, friezes, frescos and towered towards the clear blue heavens. The 40° heat was sweltering and pit stops were required for ice-cream and a beer or 2.
Last night's food fiasco meant we planned better and had a couple of options. We plumbed for a takeaway from an actual vegetarian restaurant. So much less stress than having to ask about ingredients, cooking methods, and then praying the truth has been told. The delicious salads, quiche, pie, and a dessert of tangy lemon tart would make a sumptuous meal in the surroundings of our palatial abode. We looked forward to an early night and had the delight of finally getting Miko's Europe wide SIM to fecking work in Italy. APN settings and APN protocol was where the issue lay. I was able to work it out myself as I'm still waiting to hear from the head office of the network provider.
Day 14: Prancing Horses and Raging Bulls.
We rose early. A sparrow joined breakfast in the patio and garden off the main dining room. A regular occurrence, me thinks. The scene, the food, the ambience, and the sparrow were all delightful. Life felt so exclusive.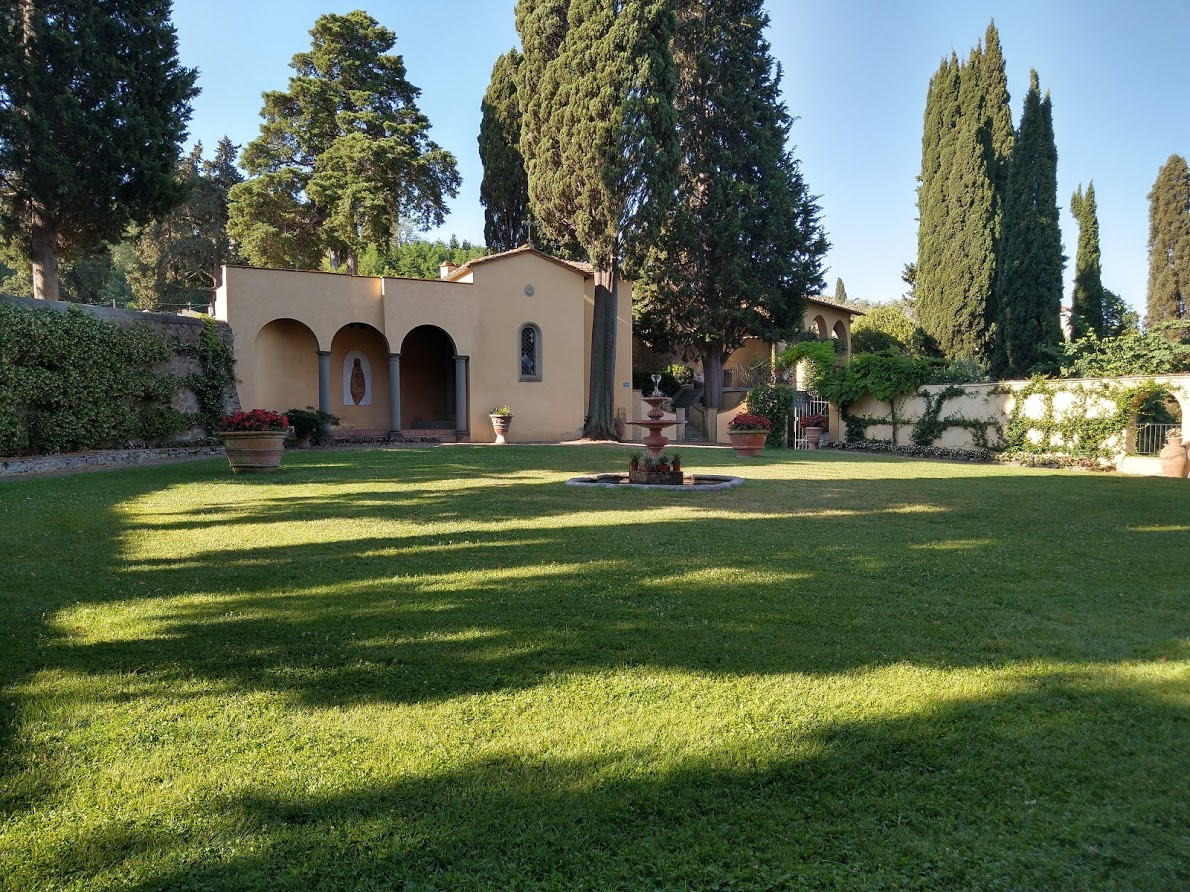 From our Florence base, I revved up the engine of my Panda for a day trip to Maranello. I was a tad excited, especially after having driven a Ferrari a few days ago. The couple of hour jaunt brought us into the pretty sleepy Italian town, which was decorated all around in homage to it's illustrious focal industry. We did the drive past the famous factory gates before heading to the museum.
Comparing the ambience between here and the visit to Le Mans and the museum there, Ferrari seemed full of its own self-importance. Indeed, including the needless paid parking, it engendered a kind of air of desperation for people to notice how special it was. A bit of a shame really as the cars were gorgeous and well worth the visit. If they had just followed Le Mans lead and been a bit more cool about it then the atmosphere would have benefited from it.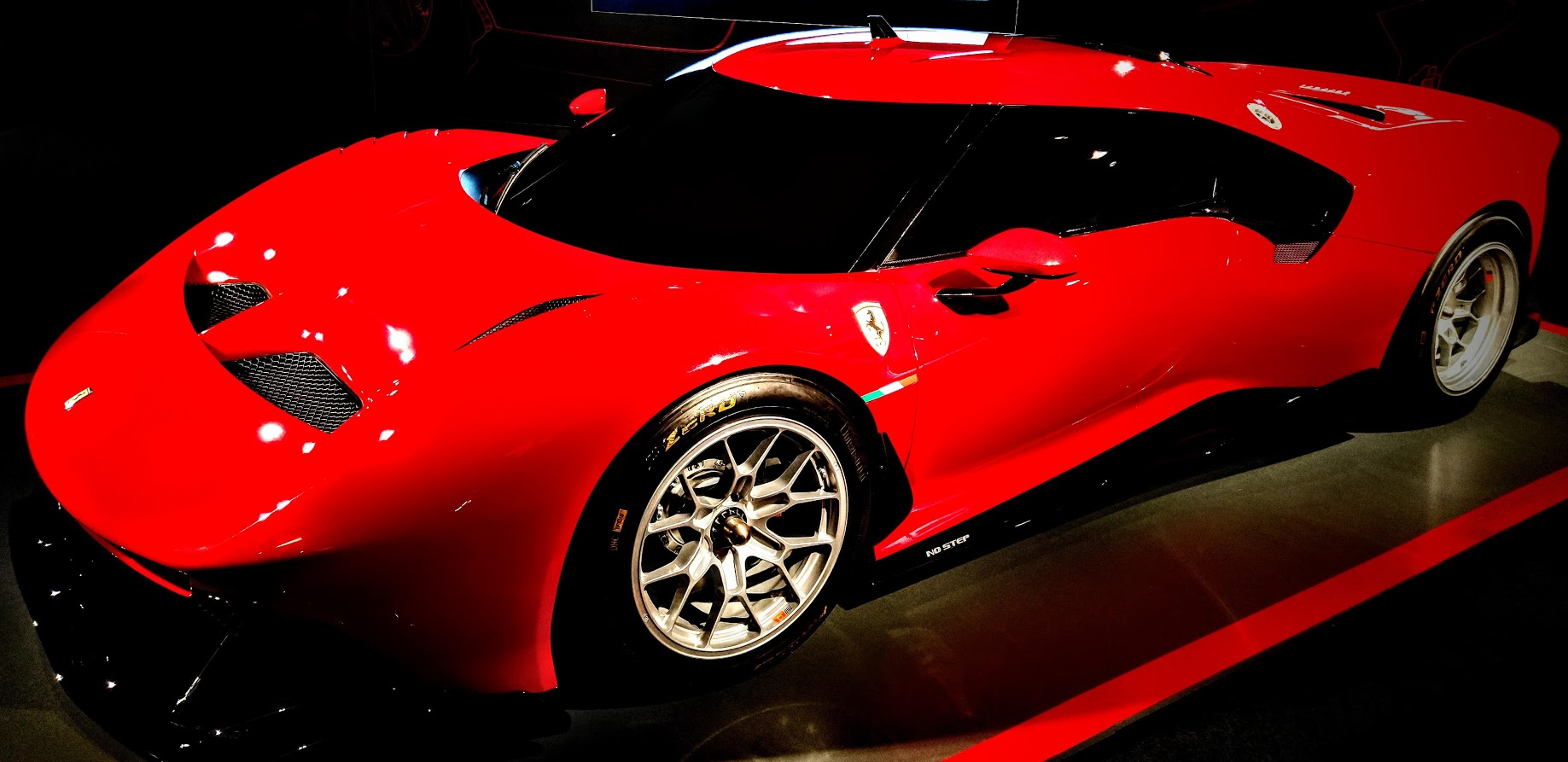 The wow factor was there as I dived into the sea of red. Hugely recognisable machines like the GTO, which is similar to Magnum's 308 GTS, and the F40 brought me back to my youth while newer monsters like the La Ferrari and the P80 left jaws open and delivered excitable oohs from the onlookers. The F1 room brought a circle of successful racing models, through the eras, together in one splendid exhibit. There was, though, always the sell; 'get your photo taken in a Ferrari' and a gift shop with merchandise all for prices that you would nearly have to mortgage your home for. It kinda lacked the friendly feel.
We took ourselves off to the Lamborghini factory, which was only a few miles away at the other side of Modena, for a quick look outside. Not an awful lot to see really as we weren't for doing the museum tour. We did stop at a local café, across the road, where a few sleek Huracans were parked outside. The sharp edges and raw, raucous, animalistic style appealed to a different type of person than the smoother, more refined Ferrari ideal. They were cracking looking jaw droppers.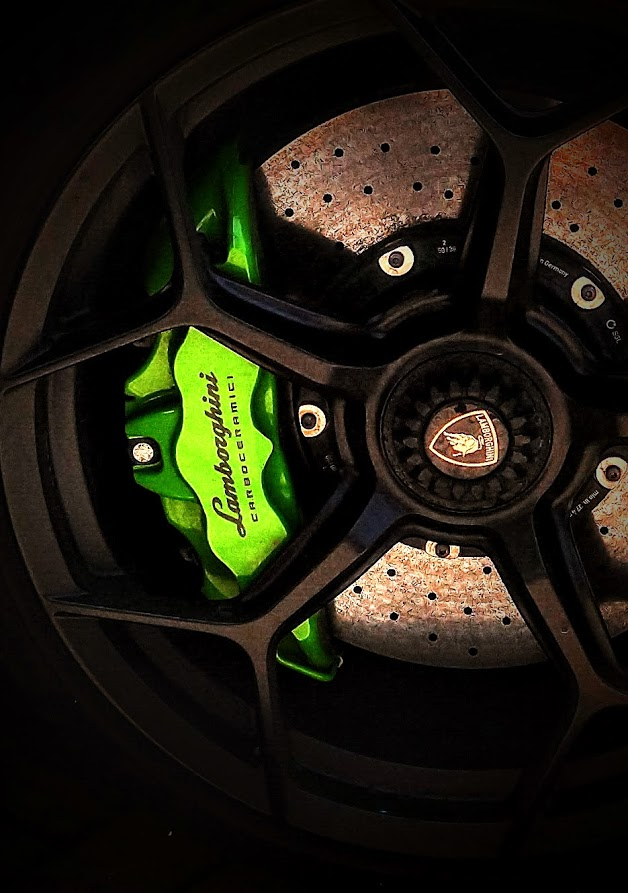 Satisfied, we headed back to base. Our large gardens, sunshine and a glass or two were calling as it was time to down tools in the late afternoon. The weather was scorching and we loved it. A pool would have been lovely but we coped. We basically had the gardens to ourselves so I lounged in shorts and not much else, while Miko remained somewhat more modest, and enjoyed a glass or two of wine from the quirky self pour machine that offered a decent choice of local Italian wines. Miko worked with the tripod and phones, or managed me doing the donkey work, to take some together snaps to showcase round the world to our friends at a click.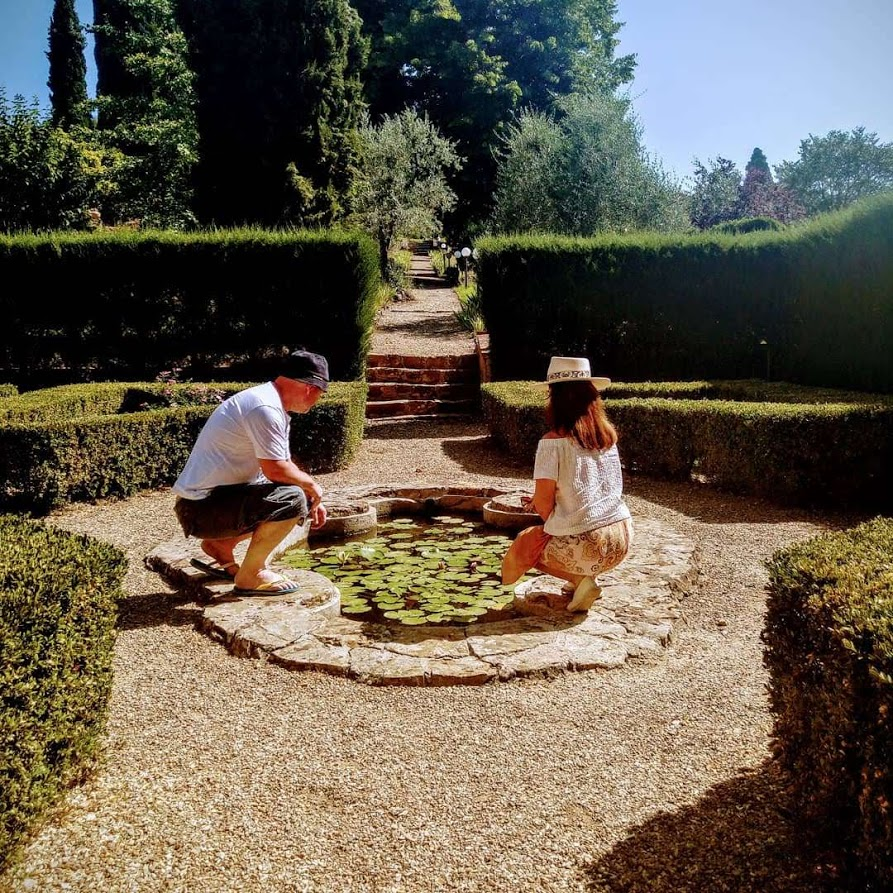 Florence definitely rose up to the vegetarian challenge in the end. We got ready after our afternoon drinks and shuttled into the city centre. Our homework brought us to Brac, a lovely earthly bistro that was compact and charming. It was certainly popular as the buzz of chat flowed in harmony with the background music. We had managed to get a booking, not at all easy at late notice, and clambered onto the counter seats. The friendly staff were on song as they whisked themselves about the restaurant, blending a relaxed informal vibe, as they served and conversed with their clientele. We chatted to a young Indian couple, sat next to us, and we regaled each other with tales of their homeland, one of our favourite destinations, and travels across the world. The drinks flowed as we washed down the simply delicious food and the time flew.
Florence was soon to be behind us and we needed to catch the 10pm, and last, shuttle back to the hotel. Once there, we had a nightcap in the bar where we chatted with an English couple, Mark and Julie, while Frederico, the bar man, kept us entertained. He was such a nice guy and we really took to Florence and Tuscany as a whole. It made our hearts warm with joy and wonderment and that wasn't just about the drink. Frederico chatted about his home and how beautiful it was even through its many problems. You could see he missed it but work was hard to come by on the island. Younger people migrated to the wealthier parts of Italy to get work and for better pay. It left Sicily with a social imbalance that was difficult to see being rectified anytime soon. Out of the neglect and political corruption across the whole country, the south and particularly Sicily bore the brunt of it. I loved the openness and sincerity of conversation like this. It brought realism to our travels. It was more than a holiday to us as we wanted to understand some of the issues facing individuals in the places we drove through. The midnight hour struck and the ball was over. Time for bed as we had a flight to catch the next day. After three days of letting it all hang out, the bags would have to be squeezed shut again.
Day 15-20: The Godfather of Island life.
With great drinking comes banging heads and crawling out of our foetal positions in bed. We scrambled around our room in the morning, downing as much rehydrating water as possible, as we struggled to finalize our packing. It was a different show today as we had got used to not having to shut the bags properly while the car lugged them around. Precision squeezing and maximum use of space meant for stretched stitching on our rotund bags. Breakfast was hard to swallow but our stomachs managed to hold. I felt much more like myself by the late morning when we had to leave. Our tyres scrunched over the loose stones as we bade goodbye to Villa Agape.
Mis-directions, either down to fuzzy thinking on the part of the Satnav, the Italian road authorities, or my brain (I'll settle with a mix of all three) caused a few wrong turns on our journey to the airport but we still got there in good time. A multitude of proof photos and the car was dropped off without a fuss. A run of the mill flight was followed by more photos and a much larger car to pick up in Palermo. We were going to travel in comparative luxury compared to our trusty we nipper of a Fiat Panda. There was certainly more solidity to the body and punch to it's motor.
So after a couple of weeks on the road, Sicily would be our base for the next 6 nights. Time to down tools and relax a bit around the refreshing pool of our boutique hotel as we settled into the chilled out pace of our small town surroundings in Castellammare del Golfo. Beyond the pool, the sea view was easy on the eye. Quiet enough as we lapped up the rays but still too busy for Miko's liking lol. Only a private pool would satisfy the Queen. Still it was great to just lounge for a while. The road trip had been fantastic and this was a planned charging port to refill and set for the final stages.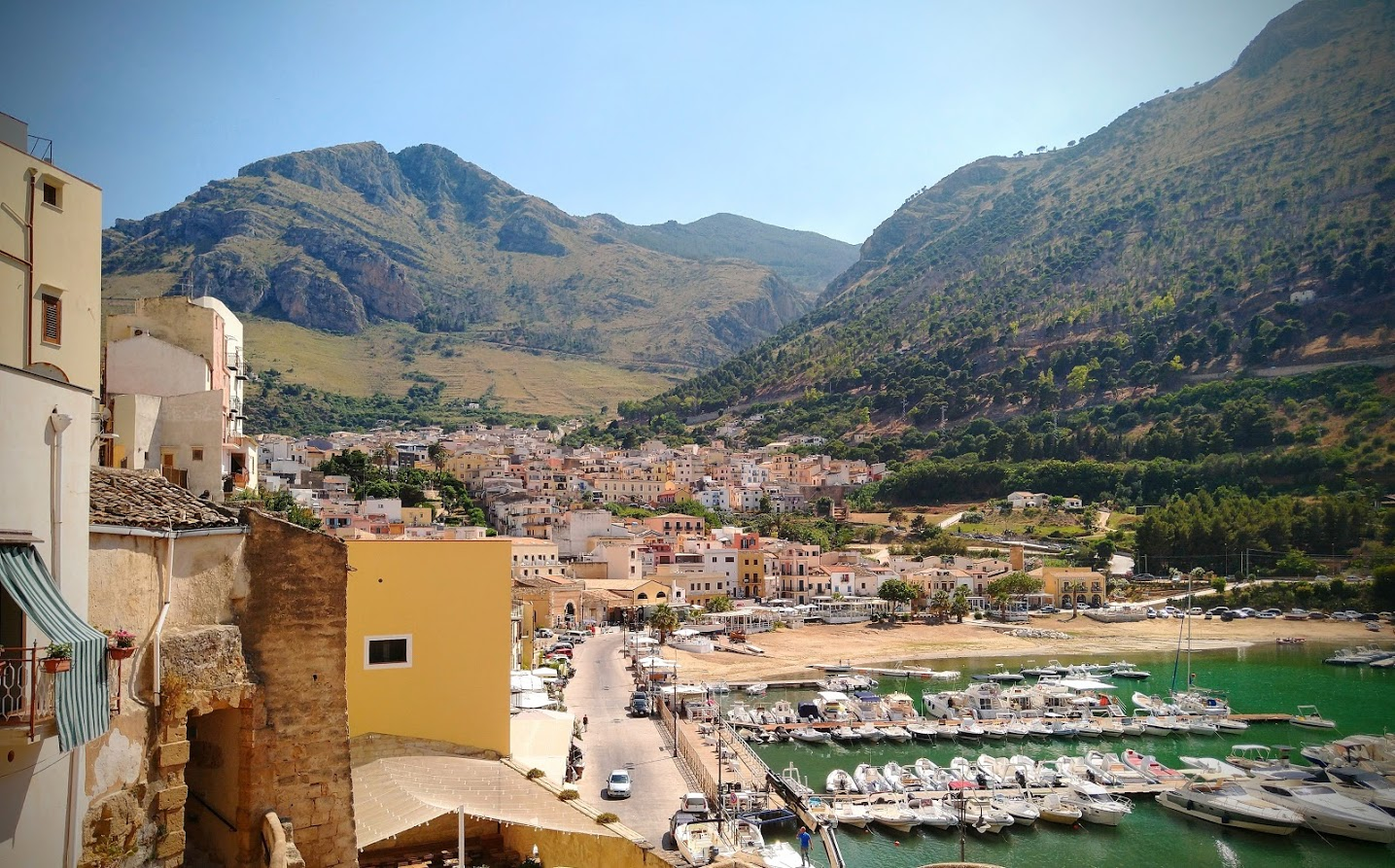 I'm glad to say, we didn't just anchor and not explore at all. Sicily is a bigger island than I realised when we first decided to venture there all those months ago in the planning. It takes a few hours to drive from our North Western base over towards the tiny village of Savoca in the East. Most long journeys, within developed countries, consist of mile after mile on the motorway. This was no different until we took a wee detour into a town to use an ATM before heading inland and up the hills to Savoca. The seaside town was a bit shabby but looked after itself in a workmanlike fashion. Unremarkable and distant in style and ambience to the tight, well kept streets of Castellammare with its lively shops, restaurants and bars in an affluent and ambient setting. Castellammare, with its old town and new, was more carefree and, while not pristine, was generally neat and tidy for the outsiders who would visit for the season. There was a rugged edge to the town where I stopped to get cash. The buildings were a tad dusty and grubby with faded paint work to tie in with the battered pickup trucks that ventured to the town's petrol stations and bigger shops before retreating back up the hills to their country setting.
That rural setting was where we were headed now. Savoca is a small village set in the hills and one would expect it to be a bit rustic, sleepy and faded as if part dream. Not Savoca though, with Bar Vitelli at its centre, being a magnet for the movie buff and wealthy beyond its neighbours due to the influx of tourist dollars delivered by Hollywood and Coppola's romanticisation of the local mafia in the Godfather trilogy.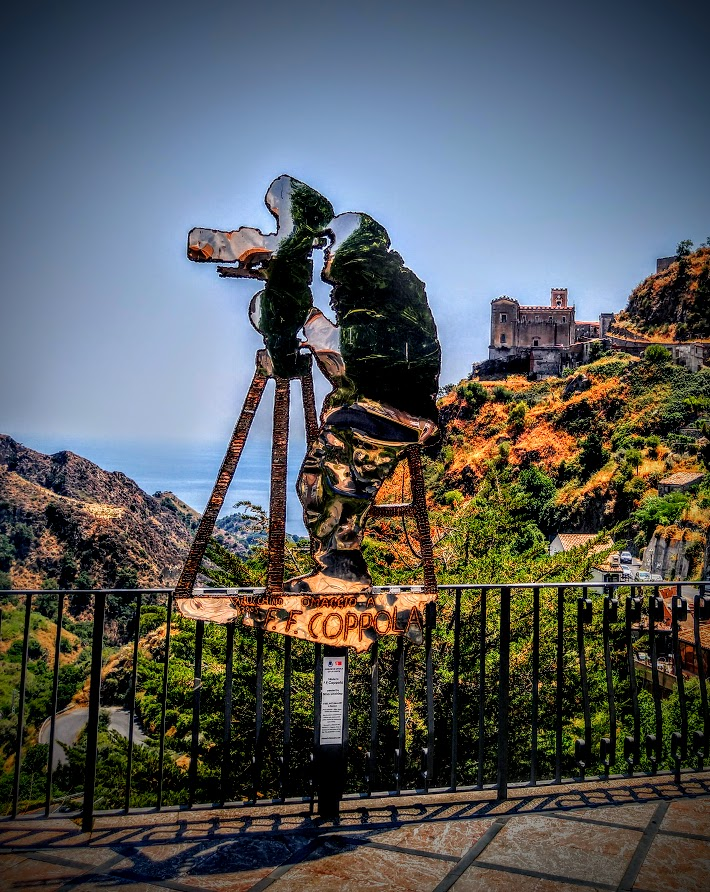 Zipping tours in classic fiat 500s encouraged visitors to spend, spend, spend on the Italian idle. The impact of the actual mafia can be seen in villages and towns across the island. Rundown buildings; dilapidated plaster on the walls with bedraggled colours worn by years of financial neglect, rickety balconies; with rusty wrought iron balustrades, potholed roads, and corrupt local councils that syphoned money away from the needs of the community. Yet family and community can be strong. Each sleepy village we trundled through had a quaint homely atmosphere to it. Potted plants proffered cascading leaves from apartment balconies to show life and care for their small piece of territory. The cosmetic exterior may have needed a touch up but the nutrition was delivered within the home. I liked it. It reminded me of rural communities in Ireland in the 1980s when life was more of a struggle but pride remained beneath the surface. People are tough and the spirit can be difficult, sometimes impossible, to break.
There is less of a mafioso influence now, although it is still there, as the central Italian government cracked down on the main protagonists towards the end of the 20th century but years of systematic abuse in Sicily, and indeed the whole of Italy, will take a while to recover from. The town of Corleone, a recognisable name no less, was the hotbed of mafia activity back in the 70s, 80s and 90s and, as the name suggests, an inspiration for Puzo, and therefore Coppola, and his tale. The museum there, very difficult to actually get access to, tells the real story of murder, brutality and heartache for the communities affected by the local gangsters who went international. In-between Savoca and Corleone, a distant drive by the impressive and volatile Mount Etna, haloed by a plume of white cloud in its menacing, regal glory, reminded me of the futile nature of humans fighting for dominance over each other and our insignificance in the universal scheme of things. The power we use to build is the same power that we lord over things in our destructive path and there is no equality in how we arrogantly distribute it.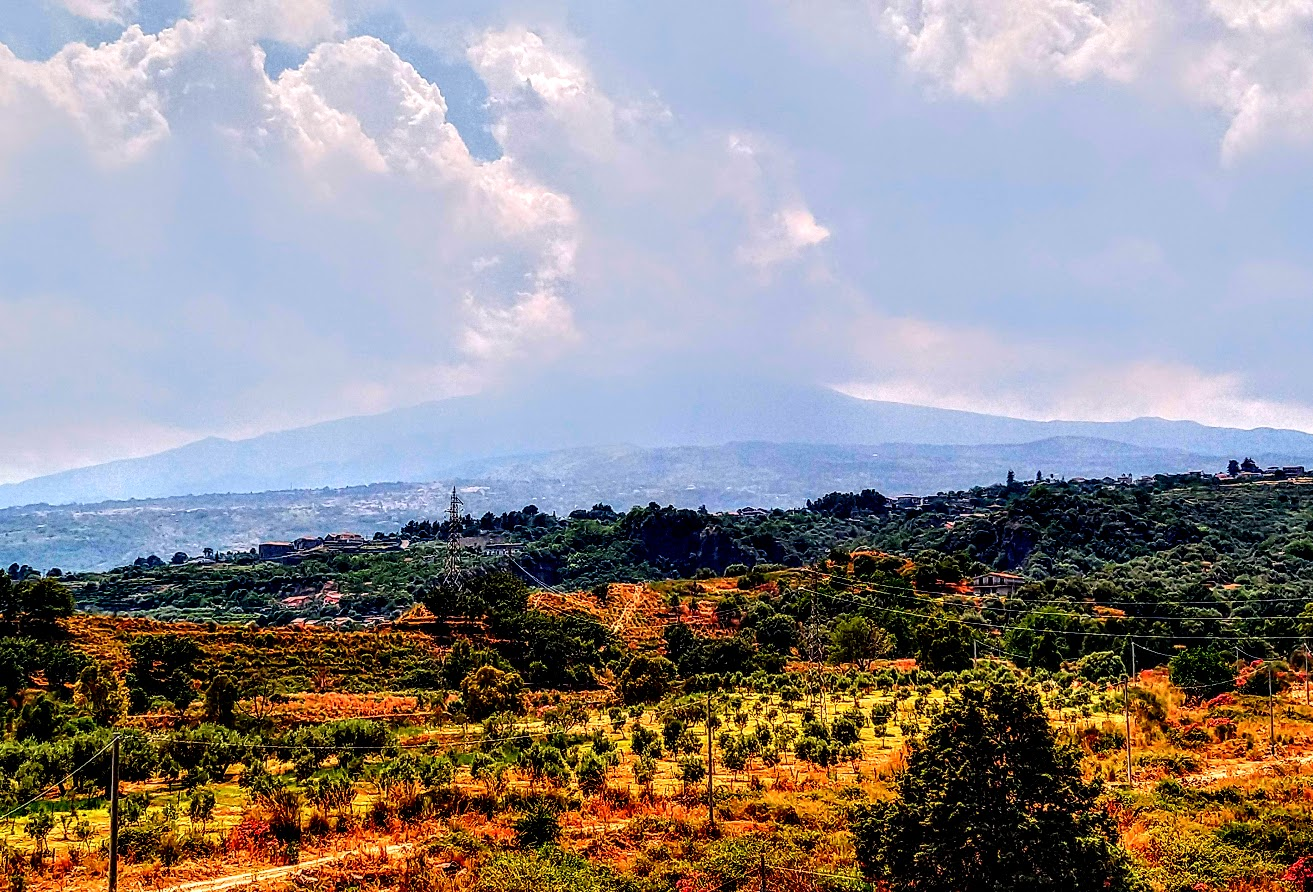 Lengths of the pool quietened my mind and refreshed my soul after the long drive. The day had been fascinating and the evening would show us great local hospitality in a party atmosphere. The town's folk were out in force, and in a festival mood. Mama Cocha, at the top of Corso Bernardo Mattarrella, was a great place to enjoy our pizza and drinks, and put us right in the heart of the action. A stage had been rigged in the small square outside the Chiesa Maria. Our interest was piqued, even more so when the sound check reverberated around us. We were delighted to have stumbled upon a free, open air, gig, featuring local artists and an internationally renowned Nirvana tribute band (Nirvanna); the next best thing to the impossibility of seeing Kurt back from the dead. We were both delighted, but I was especially over the moon with Nirvana being one of my favourite bands. I rocked out in true grunge style, dancing with the locals, as the electric riffs and drum beats blasted their way out of the sound system to blow the minds of the gathered throng. The atmosphere was fantastic and jovial, with the beer and wine flowing in copious amounts.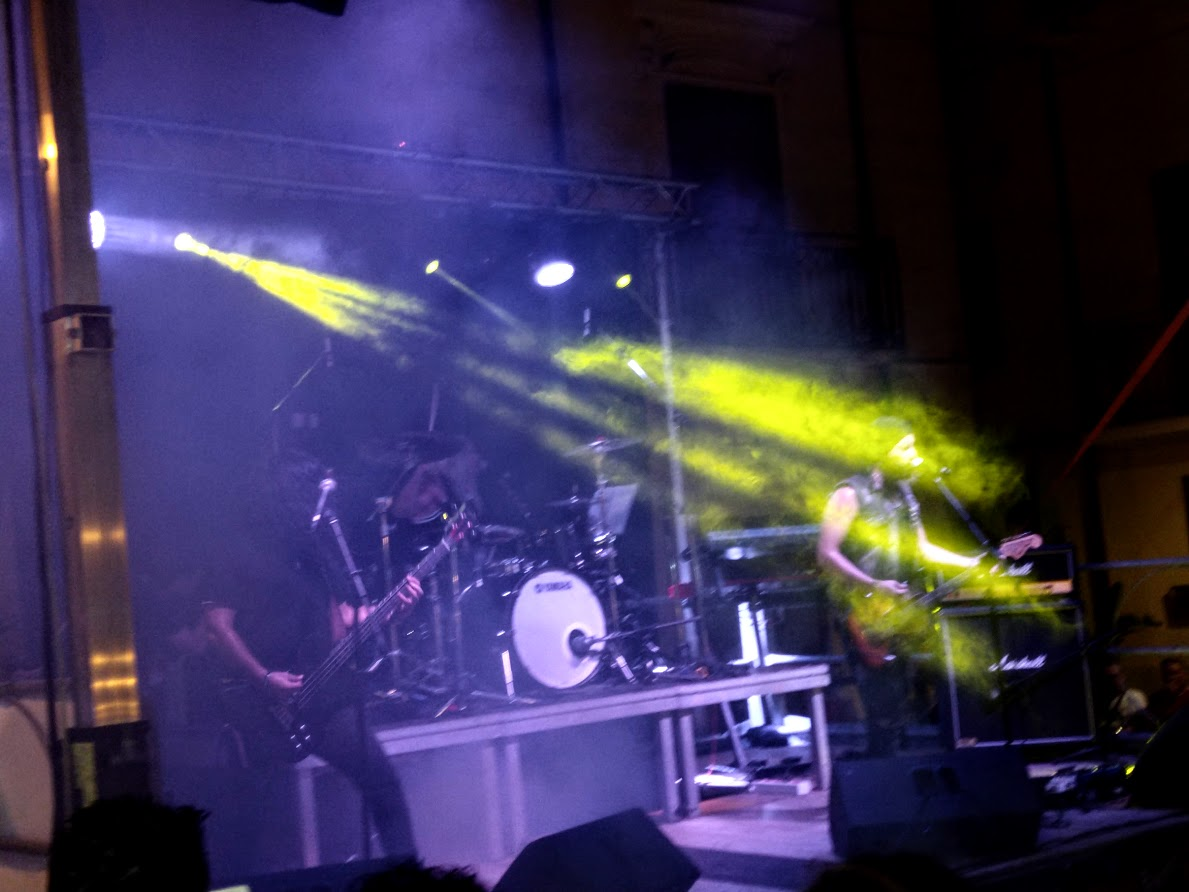 "Where did you sleep last night" grabbed Miko's soul, as it is one of her favourite songs, while I bounced about, with plenty of the locals, as Nirvanna banged out "Territorial Pissings" as the finale of the encore. I was sweating and exhausted, yet exhilarated and alive. When the gig finally died down, we sat and chatted with Gianclaudio di Pasquale and his friends. The band members joined in and the craic was great. As usual, a lot of rubbish was talked, but all in good humour, as we touched subjects like football, family, and very lightly on politics and the influence of the Mafia. We crashed into bed well past 3am after stumbling back to our rooms in a very merry state. The whole evening, and show, had been a brilliant insight to Sicilian life. We were made to feel so welcome by our hosts. It was definitely the highlight of our island visit.
Lazy days were punctuated with lie ins, simple breakfasts, mornings lounging by the pool; although one morning was disturbed by some photo shoot – with an eejit posing and prancing about for the camera, afternoon walks, drinks outside Grains; our local across the road serving lovely Sicilian ales and beers, and quiet dinners; especially the deliciously upmarket, yet relaxed vibe, vegetarian cuisine that we ate in L'Antica Granerio. The island life was cool and easy going. These days were needed to recharge, and we appreciated the forethought to put them into our itinerary, but we did look forward to getting on the road again. Further adventures lay on the horizon, with long thought of dreams, images, and aspirations formulating into a reality. We were super excited.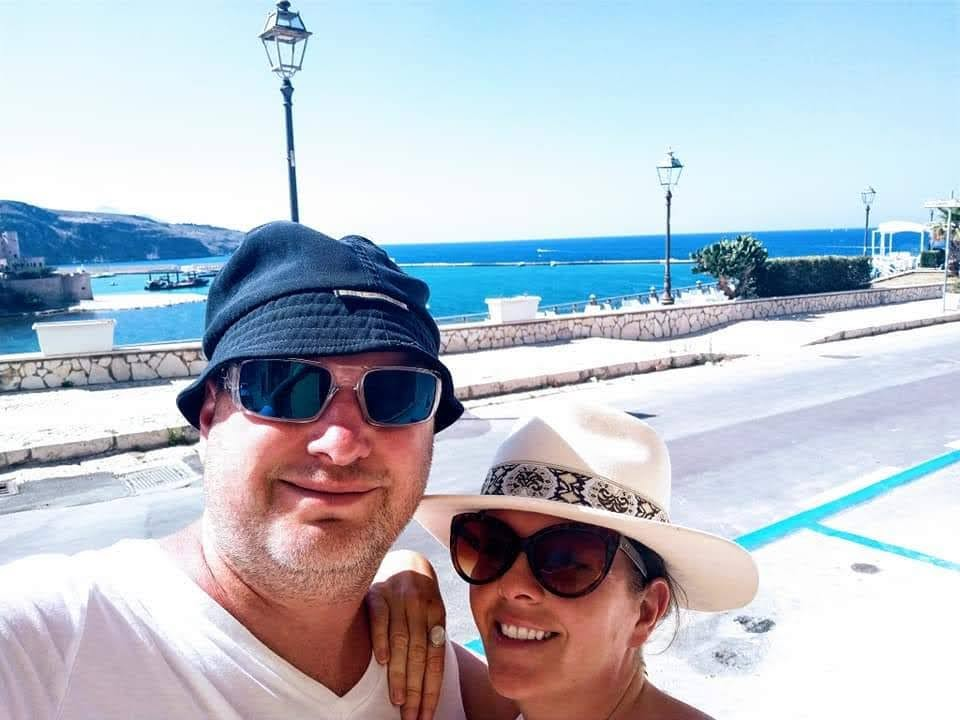 All journeys, though, have hurdles and challenges. Avis/Budget, our France car hire company, threw a big whammy up on our day of departure from Castellammare. Due to some queries, being answered when I rang, I ended up booking (months ago) the hire over the phone for the agreed, published, price of £176.65. my bank charge showed that Avis had taken £560 from my account. WTF screamed my mind. I processed the information and my thoughts raced to the issues at pick up. (See day 1)
I then spent the morning trying to connect with the company. Finally I got through and spoke with someone. I explained the issue and seemed to be getting somewhere. He stated that I had been charged for an upgrade and I explained that I hadn't had one or any extras etc. I explained that they had scammed me and about the car they initially tried to give me etc. He went to speak to his supervisor for advice and authorisation. He came back a few minutes later and said that a refund was due. This was a quick admission of guilt and I thought that it would all be rectified within a few mins. Unfortunately, it wasn't. The guy started to calculate the refund and came up with €230 or something of the ilk. I stopped him in his tracks and explained that Avis took £560 from me when the hire total should have been £176.65. That left £383.35 to be refunded, approximately €430. It was quite a difference.
He tried to refute this a bit so I emphasised my point. He said all he could do was note it in the case and someone would get back to me. I asked could he not speak to his supervisor, like he had before, and organise the correct refund. No was the answer. I asked could I speak to the supervisor. Again, no was the answer as he said he had opened a case and someone else would contact me. I asked him his name and he hung up on me! Anyway, I contacted my bank and spoke with Claire, Dispute team, and started the cogs for a dispute resolution through my bank. Unfortunately, instead of getting to sit in the sun on our balcony before checkout, I had just used up an hour on the phone and frustratingly didn't seem to have gotten very far.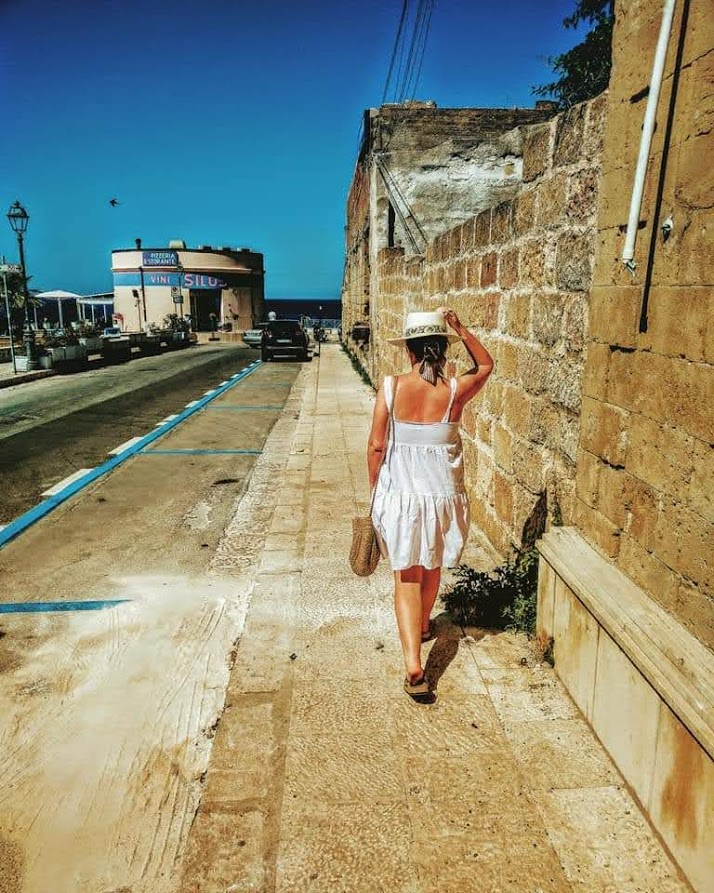 Palermo reminded us a bit like a small Indian city. It was hot, dusty, a bit run down and dilapidated in quarters, and was full of crazy drivers paying little heed to traffic laws. It was no wonder that the majority of vehicles were inexpensive, aged, and generally a bit beat up. There was definitely an edge to the place. Life was chaotically busy while incorporating a heat induced laze to its character. As summer gripped, inhabitants definitely sought the shade on the dusty sidewalks.
Sometimes to understand a culture's way of life you have to see how they deal with death. We nervously parked up our hire car in a tight space, praying that those closest to us would take care not to neglectfully prang the new bodywork, and headed underground into the Catacombe dei Cappuccini. Certainly a cool way to spend the next hour. Miko was a bit freaked out by how open death was on display here, although we have visited other catacombs in Paris and Rome before. Skeletons and mummies, some dressed in finery; befitting their wealthy stature, others covered in sackcloth; I can only assume due to passing while closer to the bread line. The corpses were situated in various poses. Generally, either lying down or strung up vertically, akin to a ventriloquist's dummy preparing for action. Some of the faces looked peaceful while others struck a chord with Munch's scream. There was a certain peace to the place and I found the experience fascinating. I would maybe draw the line at spending the night with this silent population, though, as I'm sure my conscious psyche would develop the shadowy scene into a spook fest 😱.
Back walking with the living, we checked into our disappointing hotel. The initial allocation of a dingy, dull, and depressing room was quickly switched to another that was at least brighter. It certainly wasn't the best of our choices on this trip. We settled before heading out for a stroll and an early dinner. Flower Burger delighted us with a simple multi coloured vegan feast to finish our Sicilian adventure. An early night would hopefully revive us for the final stages of what had been a wonderful road trip.
Day 21: Choosing blind
Unless one has been to a destination before, then it's difficult to fully appreciate the lay of the land. Little things can get missed during the planning stage when picking accommodation, and where that place is situated. We are pretty meticulous when surfing through web pages to look at rooms and styles to suit our ideals. Wipeouts can happen on arrival but we try and keep them to a minimum. There are a few more of the times, when things are good and close to what one thought one was choosing, but something is askew to various degrees. Definitely acceptable rather than being any type of disaster. It's just a case that things would be done differently if there was a next time.
I enjoyed half an hour of sun introspection before checking out. The mundane of a hassle free car drop and security check-in in a terminal building that lacked any sort of coolness was completed. We then encountered the flyers, non disastrous, dread. The flight was delayed. It was only an hour and a half, but the significance would mean a later than anticipated arrival. We would deal with it.
As the late afternoon turned to evening, we drove south from Naples. We were back in a tiny car, which would prove to be a godsend. Our little hotel was close to Sorrento, or so we thought, and we would now arrive as the light was fading. I followed the directions given through my phone map. The route climbed and then climbed some more. Nestled in the hills, way above Sorrento, we finally arrived shrouded in mist. I have to admit, the view was delightful as lights in the bay started to twinkle on. The room was lovely, with a wee private veranda, as expected. It was just a bit further from Sorrento than we imagined. We knew there was a shuttle bus, mentioned in the listing, but didn't realise how limited the timings were. New learnings and all that.
I love reasons to go out and survey my new surroundings. It was too late to get a shuttle into town. I was too tired to be annoyed to drive there and back. A web search showed me the closest pizza joint, only 5 mins drive down the road. That'll do, after we checked some reviews. My expectations were exceeded by the style when I arrived. Zipping into a tight parking spot on the main road by a crossroads village. A simple, family run, eatery provided a real rural Italian feel. It's authenticity undiluted by movie moguls. Papa sat behind the cash desk, smiling at me: intimating his lack of English (I was ashamed to know no Italian), and animatedly calling for the attention of his, I assume, granddaughter. They couldn't have been more helpful and gratefully took my pizza order, with all my questioning about being vegetarian lol. I must exasperate some people😂. Even the friendly dog loped over for attention, flopping on his back for a good tummy rub. For the whole experience, and tasty food, "that'll do" was an understatement.
Day 22: Capri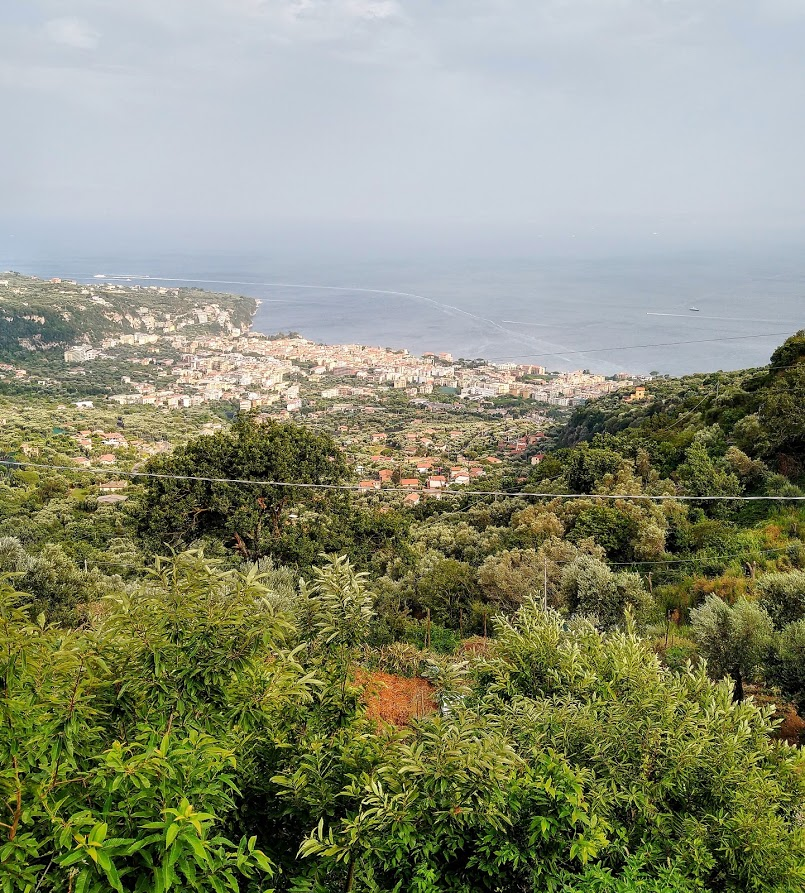 In the morning the mist had lifted. The hazy sun illuminated a beautiful green, bushy vista down the hillside towards a mix of pastel coloured walls and terracotta roof tiles of the buildings crowding together at the coast. This was the distant Sorrento, which would be our ferry's cast off point on its short voyage. First we had to get there. Mild frustration arose as we were rushed onto our shuttle bus at the allotted time just to be trundled down the road to the sister hotel and a pickup there. No rush for these guys it would seem. Nonetheless, we made the ferry in good time after the 25 minute drive down the winding roads.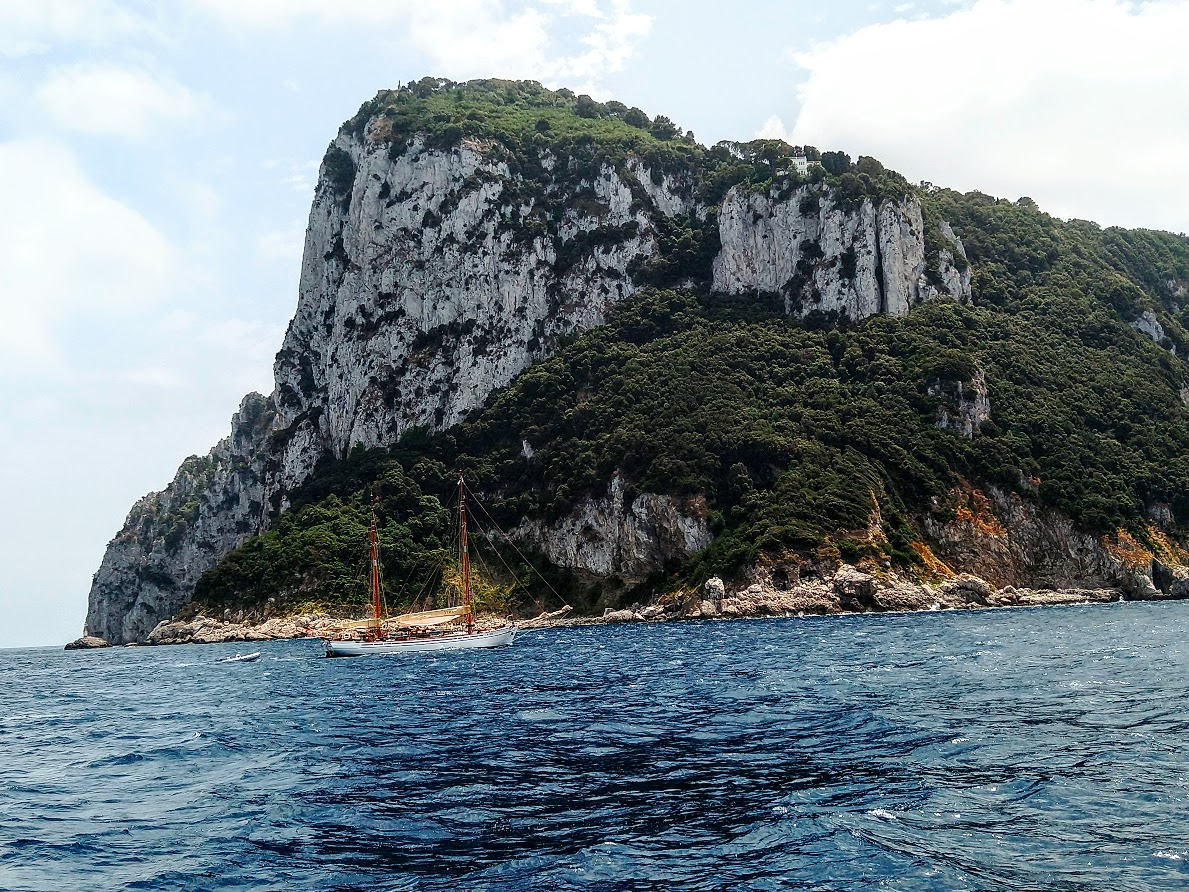 As we chugged out into the bay, the mind wandered and dreamed at the sight of passing super yachts. This was not on the scale of Monaco but the wealth was dripping in exuberance. Anyway, Miko brought the style to our water taxi tub, looking resplendent in her backless, white playsuit and colour coordinated classic fedora on top her ribbon tied tresses. Capri was a long anticipated desire for Miko to visit and she was elated to finally step onto the island's hallowed, exclusive shores.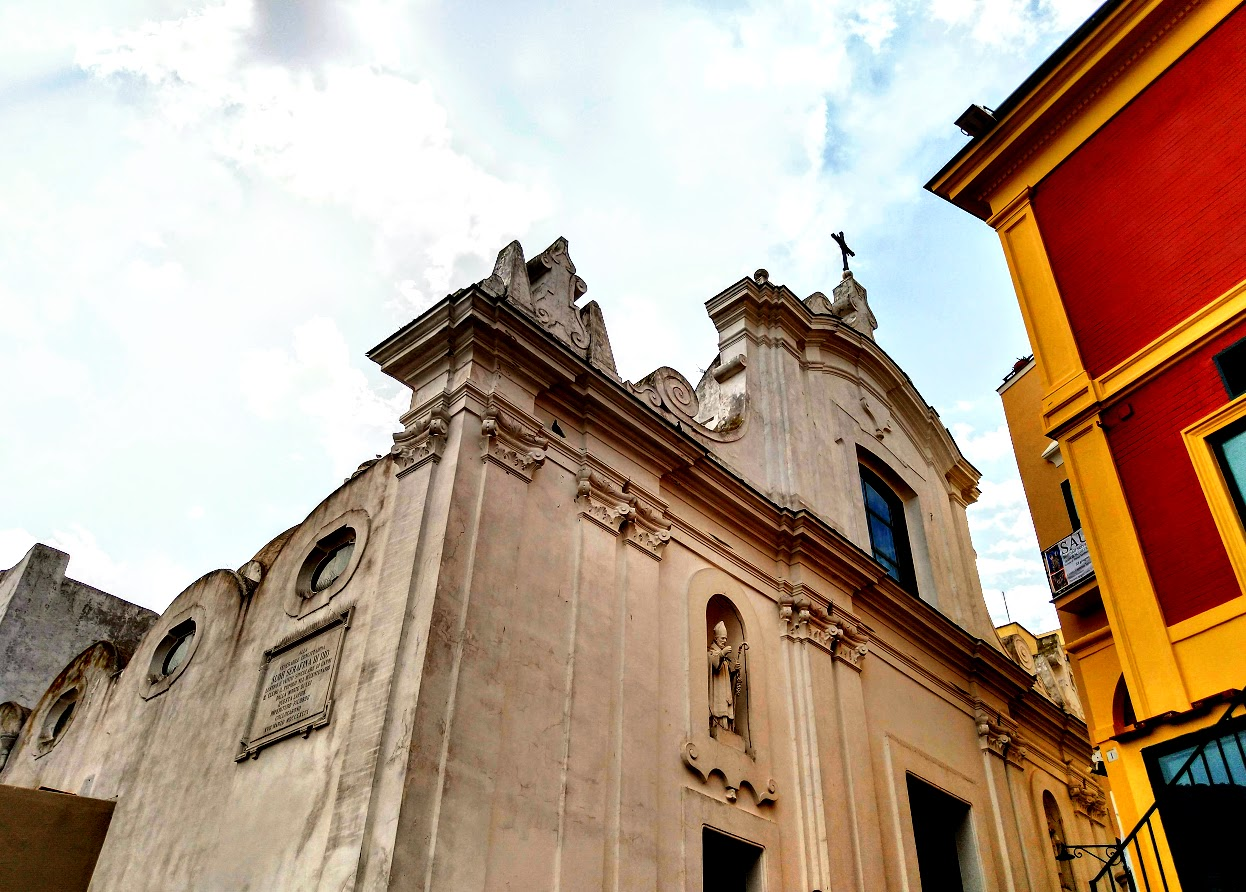 Crowd's rushed for the taxis and the funicular used to transport the excursionists up the hill from Marina Grande to the piazzetta of Capri town. I directed Miko away from this, armed with the mobile map, and made for a self propelled ascent. I hadn't done my homework! I knew how Miko detested public transport and being squeezed in like sardines on smelly buses. We continued to climb. Even in the mid morning sun, partly shrouded by clouds, the early summer heat and humidity became a dripping factor. Step after step had the sweat lashing from us. Miko wasn't amused. We were sweltered. I tried to take solace in the wonderful views that we were being afforded but, when I extolled this point, Miko was only getting more wound up. At the top she was ready to burst, feeling spoilt in her finery. Indeed, I was a bit flustered too. Sitting under the aircon in a smart cafe brought the temperature down. A couple of drinks later, a few laughs, and balance was restored. We were good to go again.
We ventured on another walk, this time a downhill stroll, to Piccolo Marina. We chilled on a small beach, even amongst the sunbedded throng, I changed into my swim shorts for a quick dip. A cheeky gull youngster sidled close and got some morsels from our leftover breakfast croissants. With a bit of bravado, it hopped onto the orange and white striped bed directly in front of us and pressed for more. I was surprised at how close it let us come, even to the point of basically taking food from our hands. This wee critter wasn't fazed and seemed to enjoy the photos we managed to capture. I left Miko and the gull to it and stealthily traversed the large, smooth pebbles of the beach to climb on the concrete jetty. This was an easier route to the water, avoiding the continued trials of a rocky underfoot, as I was able to plunge right into a level that was already a couple of meters deep at the jetty's end.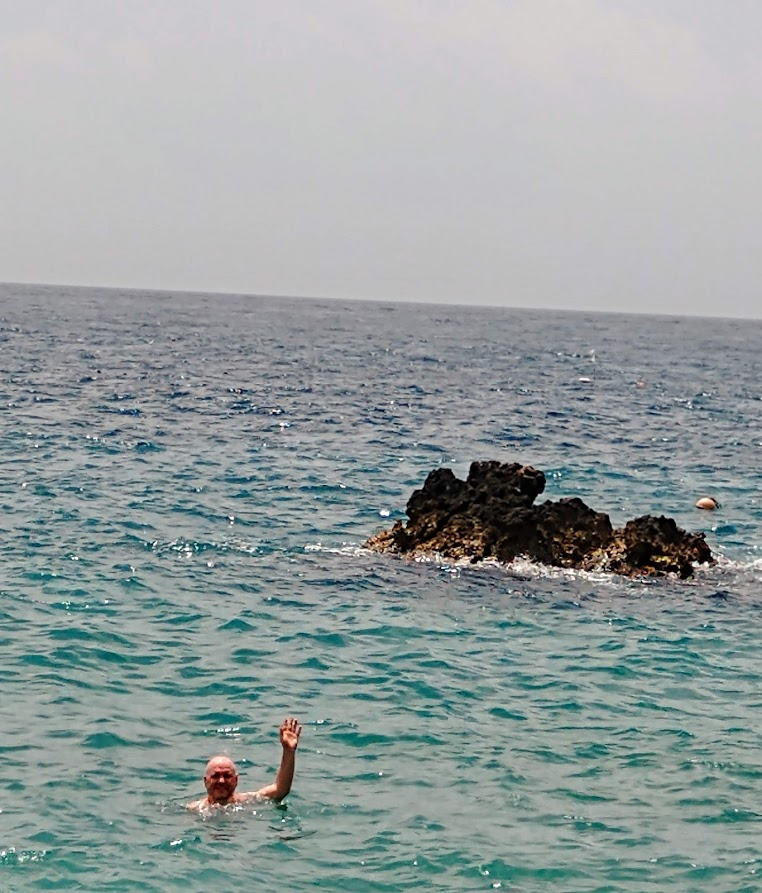 The clear water was refreshing and washed away any remnants of the earlier hill climb fiasco. As I was drying off in the sun, a jumped up, polo shirted, beach club guy approached to say we were on a private beach, owned by the restaurants, and that we needed to buy a ticket. We'd had our fun anyway, so declined the offer, then upped and left. A cool, stretched, open top taxi whisked us back to the port. The white body work contrasting garishly with the lipstick red interior. No sweat this time. I'd learnt a valuable lesson as we travelled in style. To catch the 2pm ferry.
The annoyance of the restrictive hotel shuttle became further apparent when we docked back in Sorrento around 2.30pm. I called to see if we could get picked up. Unfortunately, I was told that the next shuttle wasn't until 5.30pm and no flexibility in that. We'd had an early start so wanted to get back to the villa to relax and get ready for dinner. Our options were to wait for the next local bus at €2 each or a €60 taxi ride. The bus came within 20 mins or so and we got back up the hill. We had to get off at the hotel down the road that left a precarious walk along a tight, pathless, road to our Villa. Not the safest of returns.
We had a chat with Rosa, part of the management, about the situation and the dangerous walk between the hotel and the Villa. She stated that they don't advise guests to walk between the two. She had little answer when I pointed out the restrictive nature of the shuttle left no option. Indeed we wouldn't be ready for the 6.20pm shuttle to bring us to town for dinner so we had to settle for the next one, 2 hours later, and a return at 11pm. This gave us 2 hours for a rushed dinner, a quick drink, and a stressful run to catch the shuttle at the allotted place and time. Different from the relaxing stay we had envisaged. Oh well, life goes on.
Day 23: Limoncello chilling.
Life was good as I sat in the sun on our veranda. Yesterday, we came to the conclusion that staying in or closer to Sorrento town would have been a better move. Today, we changed that altogether as we explored the Amalfi coast and were absorbed by its charm.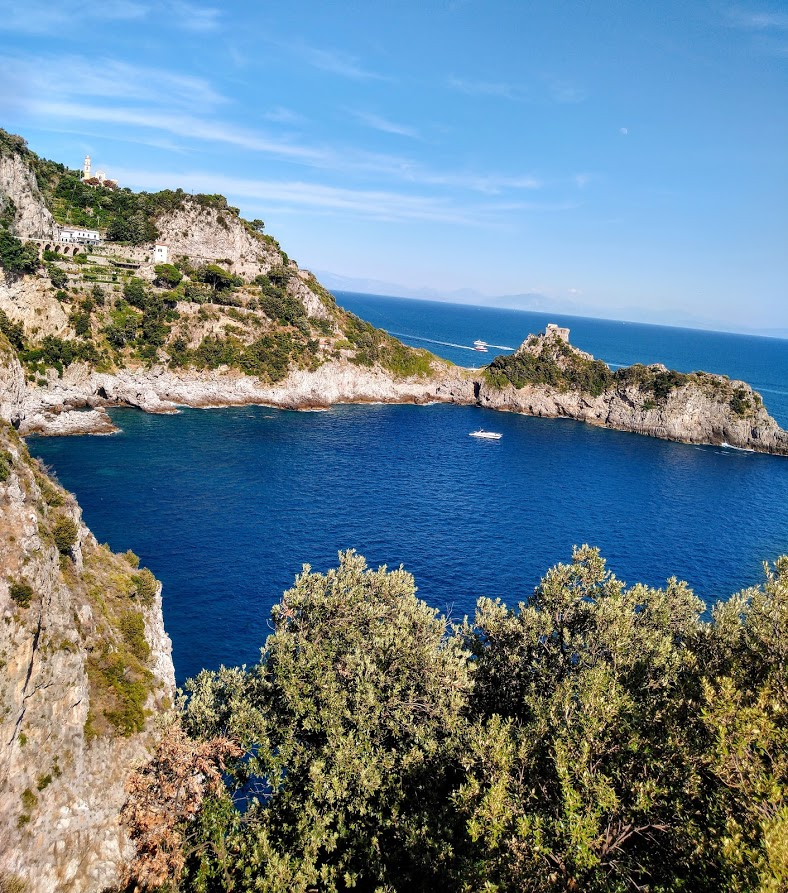 Our tiny car fitted perfectly as we clung to the tight, twisting, clifftop road that had fabulous vantage points at every corner, and in between. The quaint villages, rugged little fisherman's jetties; accessed by steps gouged into the rockface, houses glued to slightly more acceptable inclines to get the best views out over the sea, sailing and other activities giving life to the shimmering Med….. The list of beautiful sights, sounds and smells could go on. The coastal route was stunning.
The parked cars, cramped head to toe against the side barriers, announced our arrival at the first scheduled stop, Positano. The vivid, kaleidoscopic town spread below us, embracing the hillside; elegantly relaxed, as we descended towards its vibrant hub. In the blazing sun, we chose to pay to avoid trekking down. Lesson learnt from Capri 😂. Still we had reservations as we pulled into the covered Garage Mandara. We were directed to stop, get out, and hand over the keys by the "irked with tourists who don't comprehend my job" attendant. The mild exasperation showed as I took a few photos of our little runaround before acquiesenting to his request.
"It'll be okay?" I asked.
"Yes, yes yes" came the rankled riposte as the attendant had a glint in his eye and a cheeky grin.
The whole valet parking at a garage was new to me in the tight spaces of Italy's underground car parks. I went with the flow and allayed Miko's worries as I pocketed the receipt.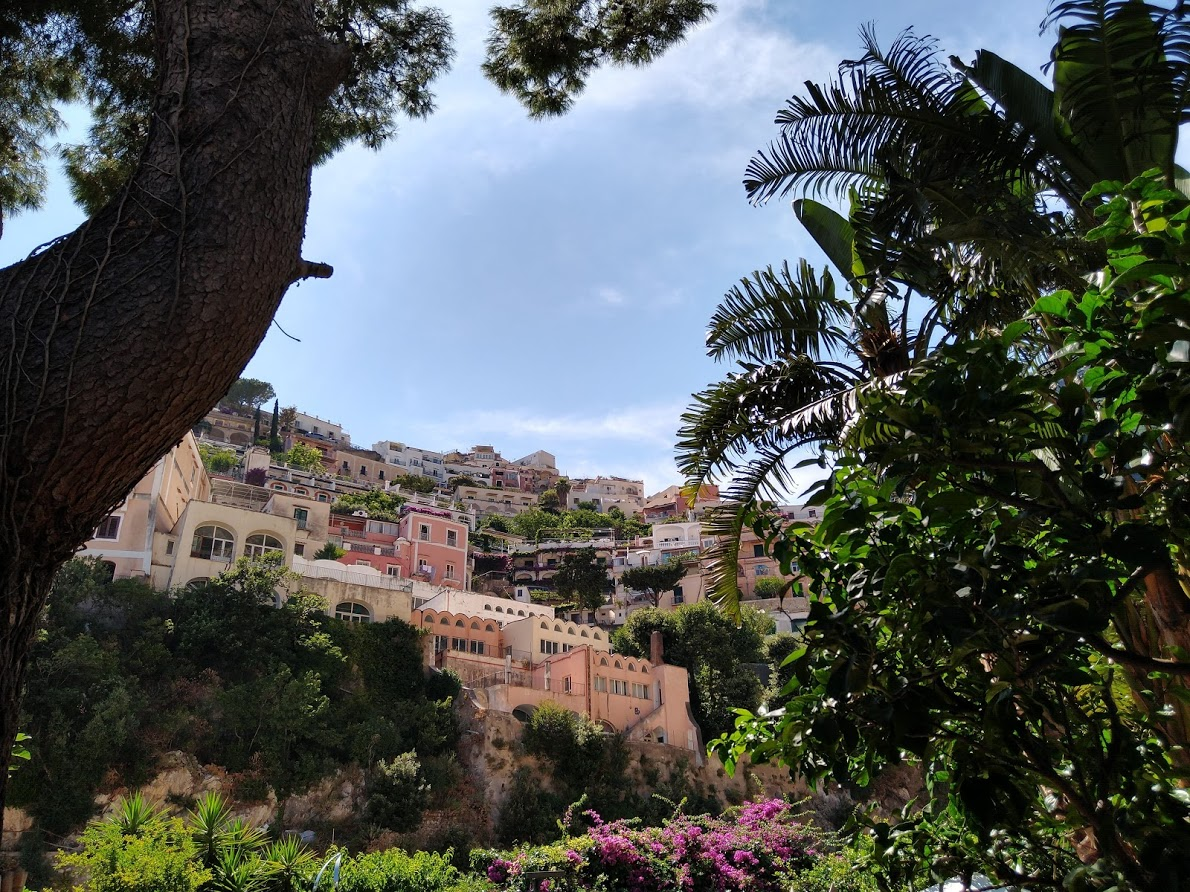 Filled with chic boutiques, local collective art galleries; one tastefully set in a villa with manicured gardens, nicnac sales, tasty bakeries, cafe bars, and lots of Limoncello 🍋. The stone paved streets were a maze meandering through the town, a joy to amble along, as we browsed, peeked, and explored the local wares. The chapel bells rang as newlyweds flowed out, surrounded by a jubilant entourage. Trestle work, supporting ample Bougainvillea trees, created a natural tunnel, along with the walls of a shop on one side and voluptuous bushes on the other, to shape wonderful photo ops for the delighted party. I was hot in my shorts and t-shirt so I can only imagine what the fully suited and dressed couple must have felt like. I think their joy probably overrided any thoughts of the heat for now. The warren was animated with the business of living.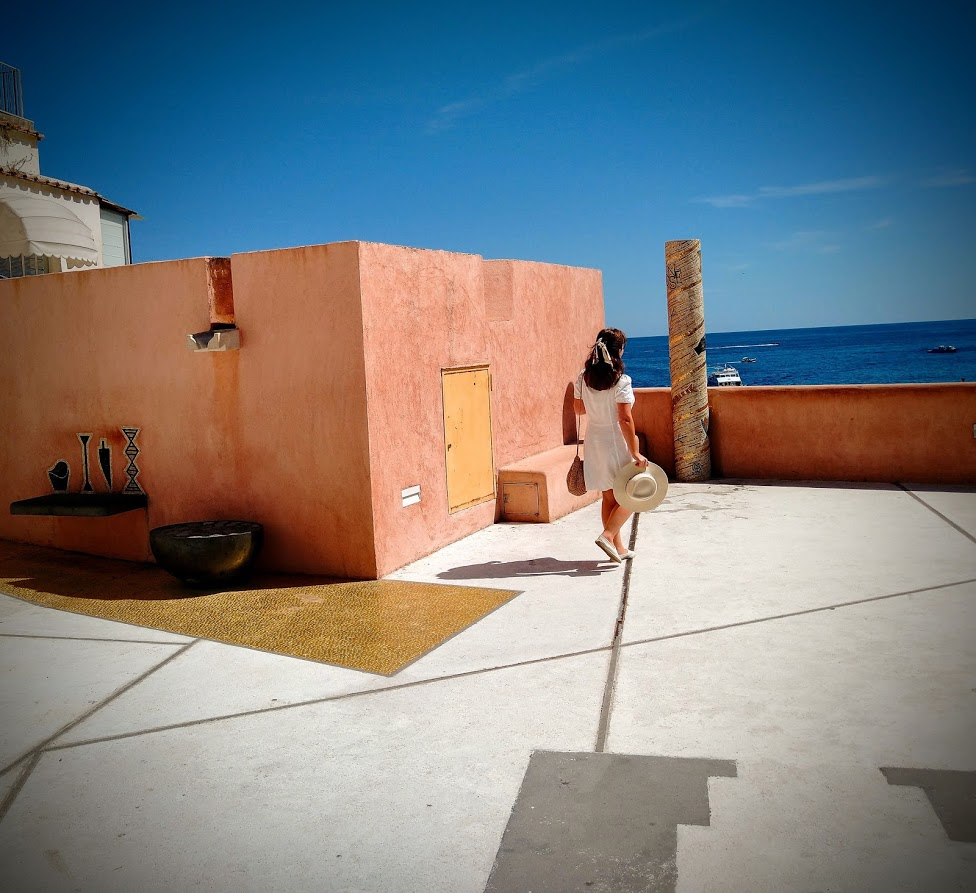 As the town met the sea, the beach was packed with beds, umbrellas, rules, tackiness and lots of revellers. It wasn't the place for a relaxing chill but I wasn't concerned. I had come for the view above as I turned and faced what was akin to a bustling theatre, rows of viewing galleries heaped on top of each other in a steep incline, all focused on the stage below and it's daily shenanigans. Buildings in lemon and orange, whites and pink, created an impressive charm that would draw one into its dramatic allure. Our show would go on to Amalfi and I was thankful that the car had been well directed in and out of its parking space 😂.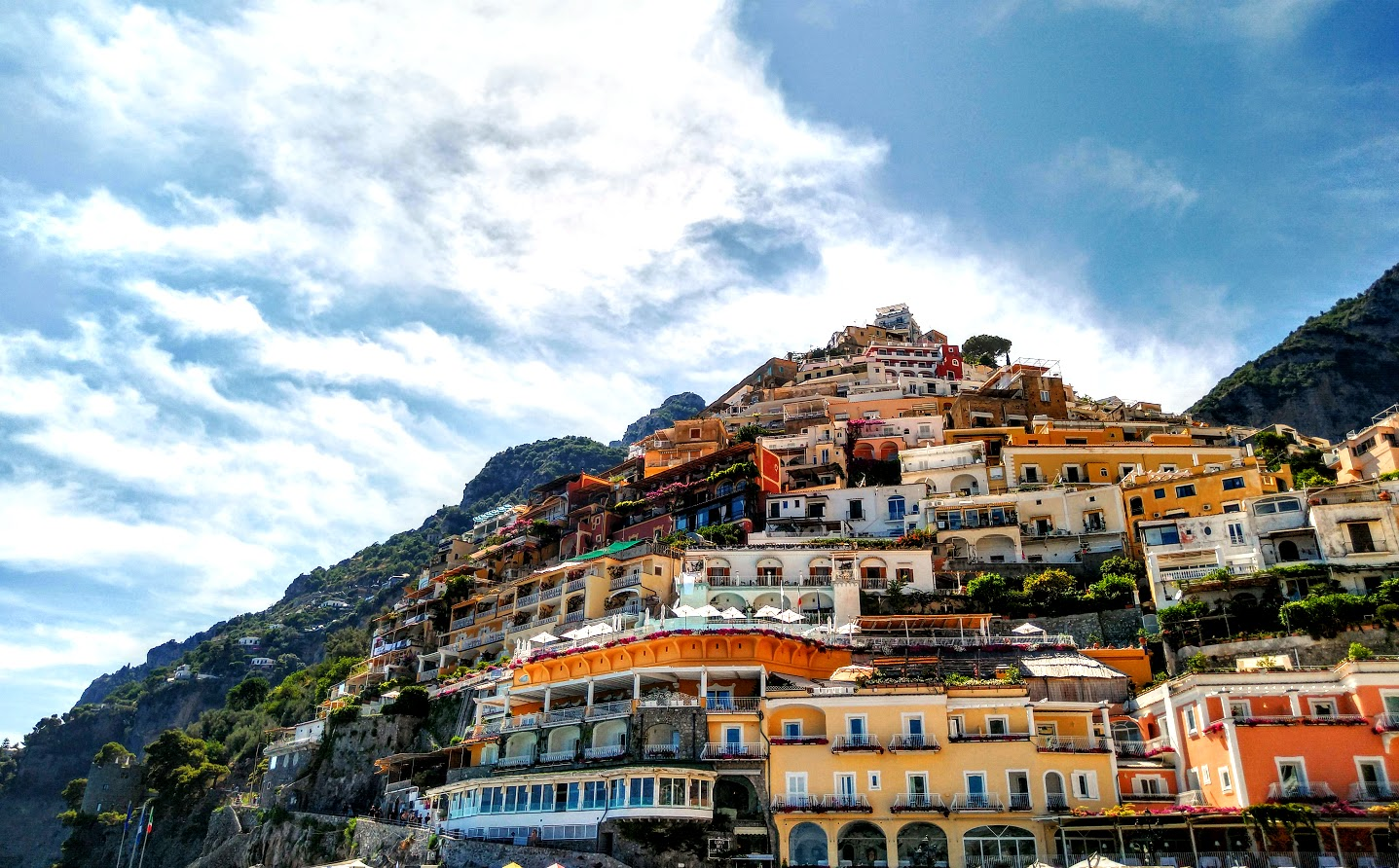 Lemons as big as rugby balls, well mini ones anyway, were creatively stacked outside small stores in medieval Amalfi. The square's fountain depicted a female generously supplying water through her nipples as the town's imposing church viewed imperiously from atop a grand set of steps throned with happy snappers and their poses. We ambled by, heading up the hill, passing souvenir and trinket shops; all showing as many of their wares as possible. With only hand luggage for the flight back to Ireland, we were restricted to what we could buy. As lemons were so important to the area, we purchased a few gifts of lemon soap and of course small, bottled, quantities of Limoncello.
Through the narrow, twisting, sometimes covered, wizened passages we came across Donna Stella's terraced restaurant, decorated with intertwined lemon trees; enticed to grow across the overhead trellis to create a pretty unique dining experience. Donna, the engaging and shrewd matriarch of the business, managed to fit us into the busy schedule. The hum of conversation and relaxed music drifted among the tables as the enchanted patrons ate and drank the atmosphere as much as the delicious food. Our gnocchi in pesto with cherry tomatoes, caprese salad and delectable pizza was washed down with freshly squeezed orange juice. Our last leg loomed as we discussed our exciting next couple of days. We were unanimous that, if we were to return to the area, the Amalfi coast would be our choice ahead of our Sorrento base. Living and learning this had been pretty enjoyable.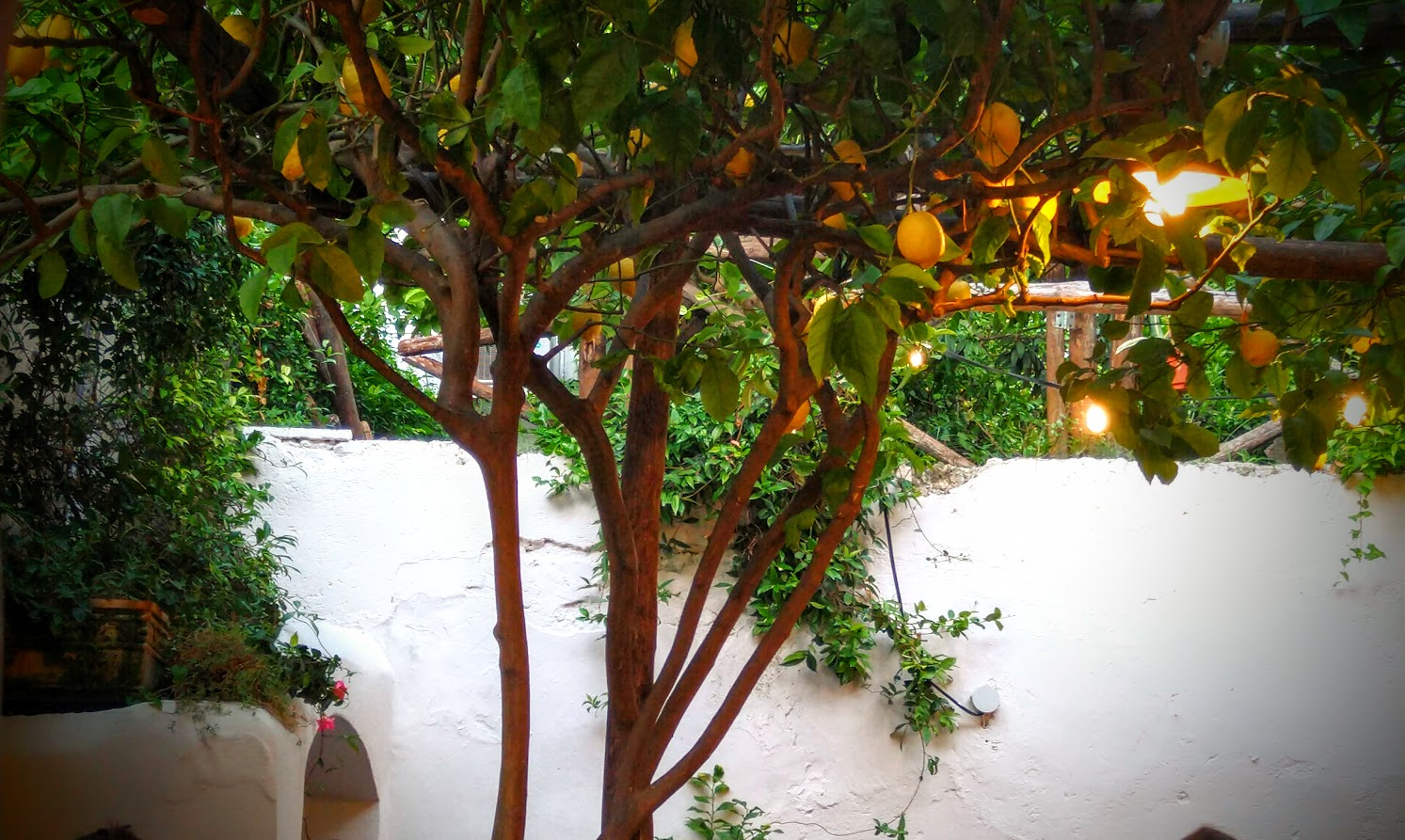 Day 24: Explosive history and red carpet Naples.
The sun shines bright, with a temperature heading towards 30°+, and we are ready to depart by 9am. I'm excited. I was denied studying history in school when GCSE topics were chosen. I was pushed, by a head teacher, to follow an advanced mathematical path instead. That worked out well as I failed miserably. History gripped my mind and I should have pushed back. I loved geography too, not so much the socioeconomic side, but more the explosive side of plate tectonics, earthquakes, and VOLCANOES. There was history to be had here also. We'd study and watch videos about famous eruptions such as Krakatoa or reasons for island group design like Hawaii. My mind would wander, delving into the horror with fascination while understanding the draw of fertile lands that would have anybody living so close to these volatile monsters. They give life yet take it away in a ferocious instant, wiping the slate clean, and leaving little trace of the prior existence of those caught in the destructive path.
Today I would flesh out the pictures and imaginings from the classroom, and through the years of documentaries, at one of the most famous eruptions of them all. Vesuvius, and one of its victims – Pompeii. A fiery capsule of history, ironically, frozen in time. As much as i was thrilled at the day ahead, I was also mindful of the tragedy that afforded us the opportunity to experience a large slice of Roman life so fantastically preserved. Respect for the thousands that perished, buried under millions of tons of volcanic ash belched from the angry Vesuvius, was an imperative part of our wanderings through this ancient landscape. By all accounts, it would be near impossible to see everything at Pompeii in one visit. This had as much to do with the baking sun, beating down mercilessly on the crowds that lacked shelter, as it did with the sheer size of the town. We did our homework and sketched out a plan of what was top of the list to see. This would give us a good personal tour with the aim to avoid the large assemblies led by guides with their coloured flags, umbrellas, or whatever they chose as a group identifier. We garnered enough facts, insight and tales online to satisfy our curiosity. My mind is like a sieve so I'd likely forget most of the facts proffered anyway.
We motored through the masses at the bottlenecked entrance before making our way to the main square. We'd been to Rome and ancient sites in Greece and have both been very impressed how new life has been built on top of the ancient way. I think the difference here is the volume, all in one place, of superbly preserved streets, buildings; covering normal ways of life such as retail, restaurants, takeaways etc akin to ours now, as well as an array of artifacts, and of course casts of citizens' and their pets final moments paused forever at the point of suffocating submission to the ferocious precipitation of scorching fallout and pyroclastic surges from the blasting inferno that engulfed their too late attempts at escape. I was astounded and enthralled at the chance to walk in ancient footsteps and almost step through a gateway to a reality thousands of years old. It was an easy crossover for the imagination.
Walls still stood tall, gardens were well manicured, murals maintained colour, and passers by were still reminded that a particular house was well guarded by large black dogs as alluded to by a dramatically fierce and delicately brutish mosaic inlaid at the entrance hall of the "House of the Tragic Poet". A popular tabby cat lounged in the shade of the mystical "Villa of the Mysteries", sat on the outskirts of town, that would have been quite a palatial mansion for hedonistic parties. Even the throng of people visiting Pompeii gave the city that lived in air of hustle and bustle. At night the ghosts would quietly slip in through the shadows and resume their eerie residence. 3 hours flew by but it was exhausting and thirsty work. We had more to do through the day so we bid the experience a respectful farewell and headed to the source of the tragedy. It was time to climb a volcano.
Okay, there's a cheat. We drive up most of it to a staging post. Here you can walk up to the next staging post, and entrance shack, but most pay a euro or so for a minibus ride. I blame time constraints for taking the easy way up to here lol. Miko was zonked from the earlier exertions, as well as being nervous about parking on an active volcano that had been sleeping for 75 years, and dozed in the car 😂. To make up for my laziness to this point, I quick marched as I climbed the last 800 meters, feeling the burn but exhilarated at the same time. Vesuvius dominates the skyline from all around incorporating Pompeii, Herculaneum, coastal towns, hillside villages and a distant Naples. This protagonist is an ominous reminder, to the 3 million local residents, of the devastation that can be wrought from nature, being completely out of the control of the people of this world. The peace will not last, and the longer the dormant duration, the greater the fear that when the eruption finally explodes the more cataclysmic it will be. For now, the ancient god sleeps, and gives life through the provision of such a nutritional soil so as to encourage folk to encroach on its fertile surrounds. A perfect trap.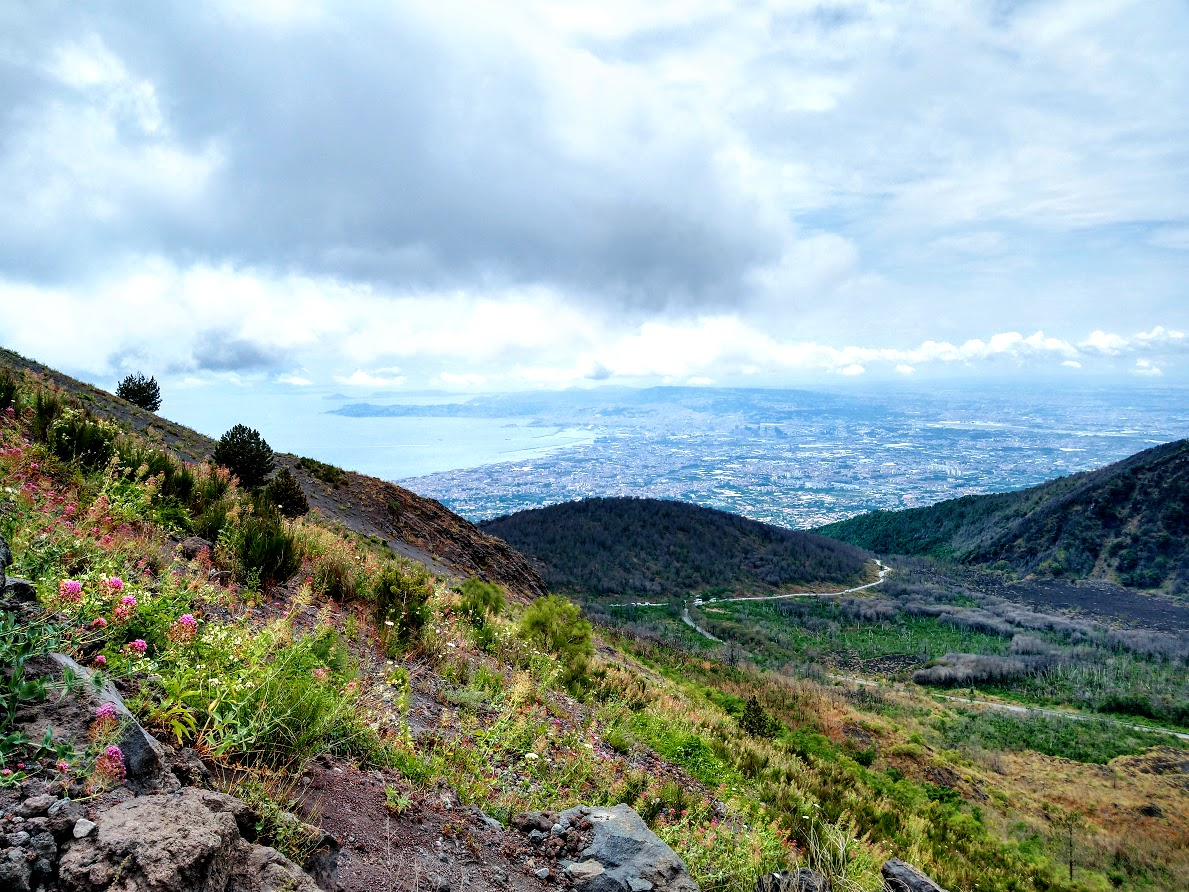 With the happy crowds you wouldn't have thought this quiet mountain, with its gravelly volcanic rock path and a scenic mixture of rocky faces, dried and withered trees; like scraggly fingers poking from the earth to reach for the sky in a dying pose, to lush green foliage with wild mountain flowers was a death trap waiting to happen. I had assured Miko that the scientists would be all over the data and ready to alert locals and tourists alike if there was any sign of pressurised life bubbling and cooking towards the surface. Evacuations would be well in progress long before anyone got near the bottom, nevermind being able to peer over the rim and into the moonscaped cone where the magma firework stew continued to be contained within the plugged caldera. My passion to visit such geological monstrosities satisfied, on this occasion, I made good my escape from the jaws of this sleeping giant.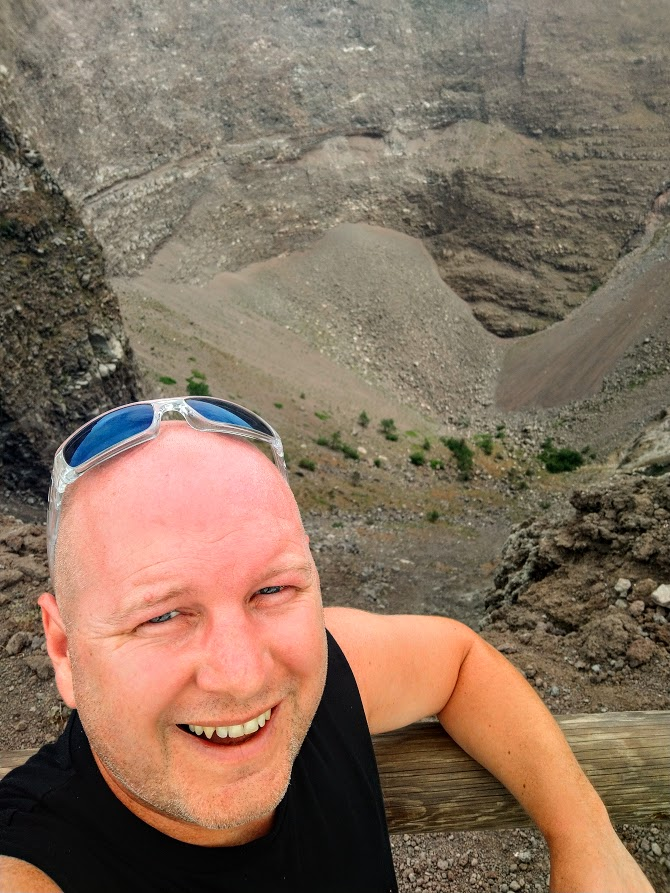 As stated before, planning for such a trip is extensive. We have to put in place so much from flights, route, destinations, sightseeing, car hire, and accommodation. Little nuances in timings and interpretations arise while hurdles have to be overcome. Our flight back to the UK was in the early evening so we scoured the internet for suitable accommodation that would allow for a late check out. We weren't keen on waiting around all day with stuffed bags in tow. We were happy to pay for the privilege of staying comfy in our room. We chose the Mercure in central Napoli as they seemed to offer this. We emailed the query to them first to ensure that this would be suitable and got a guaranteed confirmation that it would be so. I booked the hotel and noted our intentions in the instructions. All good, or so I thought, until a response came from the hotel that said our late checkout was subject to availability. I hit a brick wall when trying to say that it had been guaranteed. This is where we don't take things lying down. When you're particular in wants and needs, and ask the correct questions while waiting for agreeable responses, then it is right to pursue when the plan gets sideswiped. A bit of to and fro and a message to the manager cleared things up. She confirmed what had already been confirmed and, as a gesture of goodwill, she would now wave the late checkout fee. This was more than we expected and we really appreciated it. To our mind that was the end of the matter.
Making sure I checked to avoid any possible ZTL 🤦‍♂️, I pulled up to the hotel. Parking was pretty non existent but I managed to pull into a layby off the main road and dashed in as Miko waited in the car. There was a couple sat at the baroc style check in desk being looked after by two reception staff. I stood back, looking dishevelled, and patiently waited for my turn. One of the reception team smiled and asked if I was okay. I explained that I was here to check-in so she asked my name. When I gave it, I thought she had been struck by lightning as she burst into excited action.
"Oh, Mr Moore, so great to see you. Let me get you checked in." Allasandra, the duty manager, flapped and fussed. She dropped what she was doing with the other guests, who looked bemused, and came directly to me. I was astounded.
"Great to be here" I smiled beatifically. "I have my car parked awkwardly, is there any better place to park so we can get checked in and then I can return the car to the hire company?"
"Come on out and let me see if I can help" she rushed out to help.
The car was parked on an illegal space outside an attended garage but Allasandra had a word with the attendant and we were quickly sorted and ready for check in. The smiles continued as our tousled selves wheeled our ragged cases into the hotel. We enthused about our fantastic yet draining day as a way of explanation for our unkempt appearance. The welcome was warm as she revealed an upgrade to one of their privileged rooms. Miko and I looked at each other with silent, unexpected, delight. With the pleasantries and documentation done, Allasandra personally showed us to our balconied room looking out over the wide thoroughfare of Via Agostino Depretis. The room had plenty of charm and was well stocked with an overflowing fruit bowl containing fresh strawberries, grapes, nectarines, apricots, bananas, etc while regional cookies were also on show. The bed was complemented with robes and slippers. All stuff we've had in other hotels but this was such a surprise here. It felt like anything was possible and that our hosts would do anything in their power to ensure we had a lusciously pleasing stay. The intoxicating hospitality invigorated us to get our glad rags on and go out to dinner.
After I had returned the car, I showered and we took photos in our robes with glasses of prosecco before heading to the marina. We indulged in a delicious vegan menu at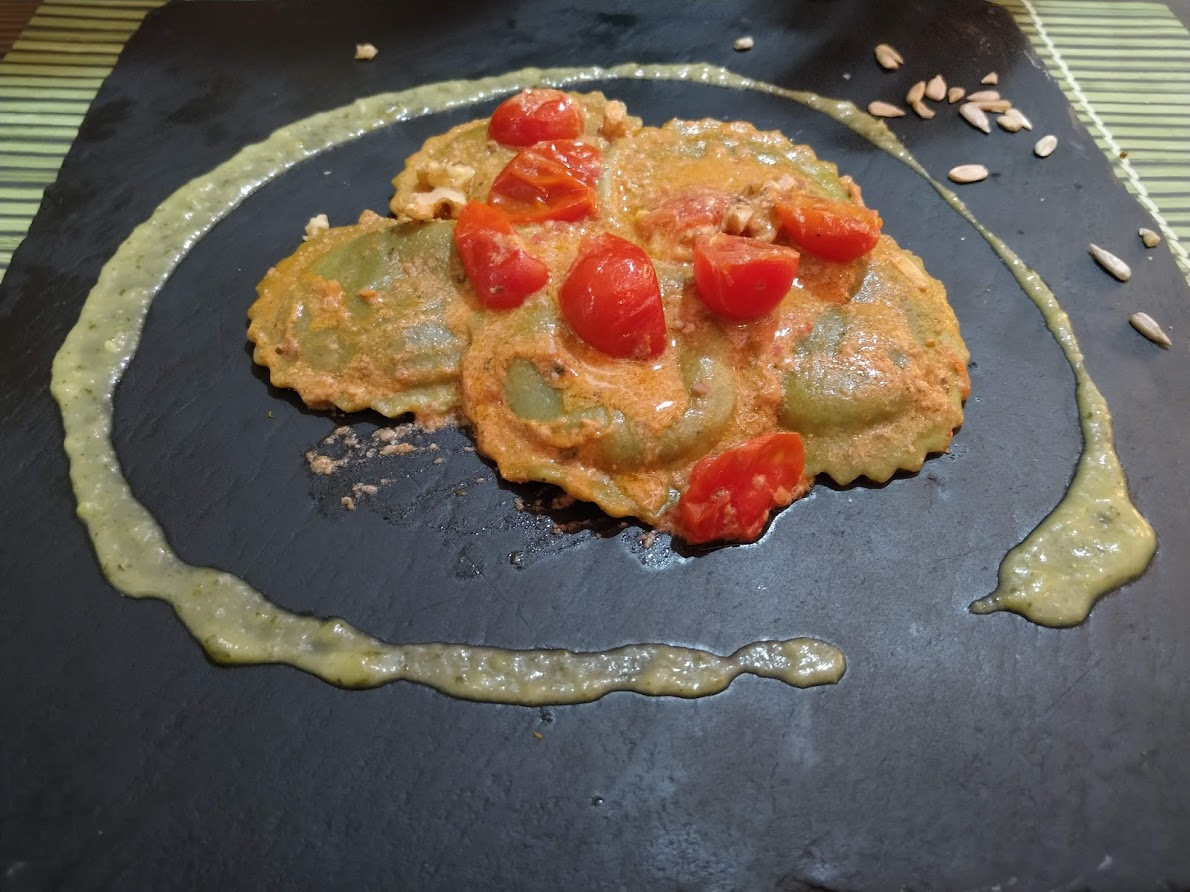 Cavoli Nostri before dandering back along the promenade and through the streets gearing up for a marathon event. Our journey had certainly been a marathon and today was a fitting finale to what had been a wondrous trip.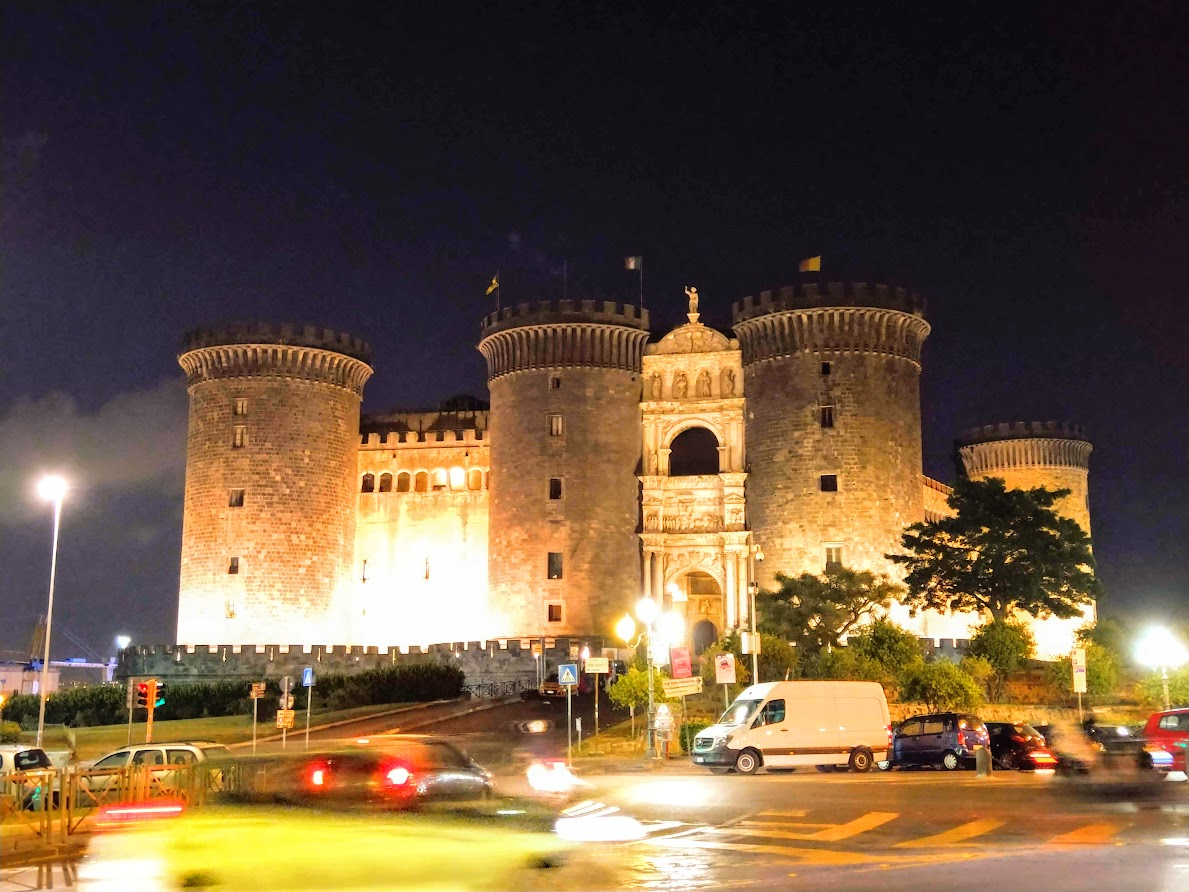 Day 25: Ciao Naples and Italia.
After late night chatting in our plush bed, we slept well. The positive atmosphere softened the blow of our departure day. I got up, none too early, and proceeded with the "Breakfast Routine"
* The Breakfast Routine: Miko likes having breakfast on occasions but dislikes sharing this experience with strangers of the general public, besides it would mean getting up so much earlier to rush to be ready, and that is not the done thing for a lady. I love breakfast, especially when it's paid for, and have no scruples about dining with mere mortals. Where breakfast isn't served in the room, as Villa prestige did, then I will go down and organise a food tray to bring to the queen first and then return for mine (or vice versa). When there is no breakfast with our bed, then I usually stroll out and check the local shops and bakeries to purchase a wee spread for us to devour. The boulangeries in France were particularly good for this 🥐🥖😎.*
Today's feast was a fortuitous, complimentary, consequence of our VIP treatment. It was a delight to enjoy mine on the breakfast room veranda in the glorious sun. All too soon I'd be stuck again with the mood swinging climate of Belfast 😭. For now, I would enjoy the view of the Castel Nuovo area getting a facelift and the docked cruise ships.
The rest of the morning and afternoon was a full on laze of a day. I ventured out to Trattoria Castel Nuovo, a real Napoli joint serving delectable pizza. The old school Italian gent owner spoke with a husky voice and, with mannerly ways, directed operations to ensure his clientele were being looked after to the highest degree. The goodbyes at the hotel were filled with a heartfelt sincerity that we had become accustomed to in Naples. We were now returning to the post apocalyptic scenes of Belfast after the 12th July marches. The place would be hungover 😂 and hopefully peaceful. For us, this trip was in the bag. Long Live the next Very Long and Adventurous Journey. 👌😎🌞🍾✈️