Return to the Cyclades: The hunt for Sylvestra.
It's been a while and we had yearned for a return to the Cyclades. Our dream was to revisit Naxos to experience the island open and alive.
Here, we wanted to find out feline friend, Sylvestra. The other part of the trip involved a return to Mykonos in order to enjoy a pain free encounter with its relaxing pleasures.
The Naxos agenda on our return to the Cyclades.
After a couple of years working hard, concentrating on projects, we decided we needed a break. Sightseeing was not on the agenda. Indeed, all we desired was just complete chill time.
This meant we wanted a place where we had already discovered. In doing so, the usual rushing about 'sightseeing' would be removed from the schedule. Bliss in the sun.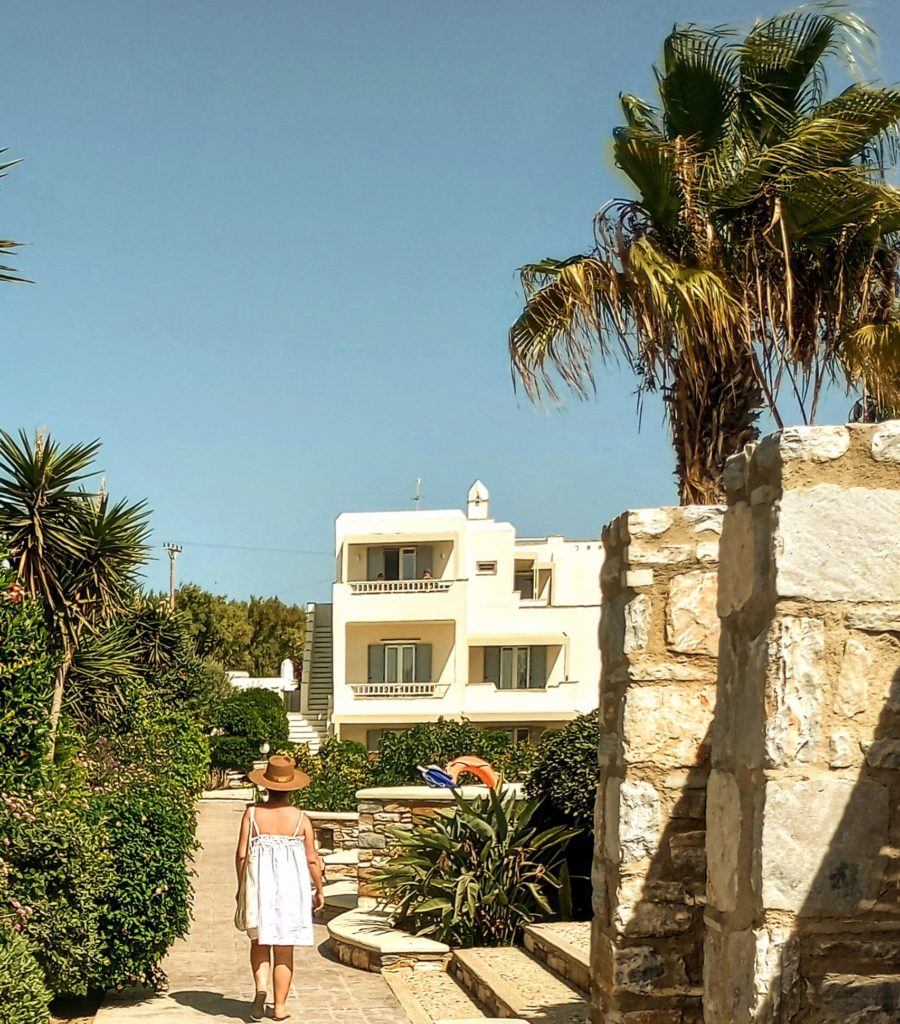 The hunt for Sylvestra!
We did plan to have the search party out to find out Sylvestra, our black and white fur ball, who kept us entertained over the lockdown. A phone call early in the month to Irene, the owner of Annio studios in Plaka beach, told us she hadn't seen her around for the season. Would we be able to find her?
A reawakened island on our return to the Cyclades.
Our Naxos hideaway, where we spent an imprisoned 2020 winter, called us back. Indeed, this is our little Greek home by the sea. Of course, when we were there last, nothing was open. Some days it was only us, the deserted miles long beach, and the cats. All businesses, apart from the main supermarkets, bakeries, etc, had been closed to leave the eerie, ghost town feel that was enforced upon most of the world.
This time we would see Naxos in all its colourful glory. The restaurants, the bars, shops and the tourists, enjoying again what this charming island has to offer.
Back to Mykonos.
Also on our return to the Cyclades agenda was the glamorous Mykonos, where we last travelled in 2017. I (Knox) was afflicted with a herniated disc, and in constant pain, at this time. Going back, without ache, would enable us to enjoy the island's delights in a different frame of mind. We would travel into Mykonos for one night, before soaking up another two nights on our return journey.
Flights
Getting direct flights from Belfast to other parts of Europe, and the wider world, is nearly impossible. Of course, some highly popular holiday destinations, such as in Spain, the Canaries, Orlando, Turkey etc, are accessible. Think even slightly off the beaten track and it's a trip to Dublin or a flight to a bigger mainland UK airport to start.
Options for our return to the Cyclades.
And so it was for getting to Naxos. Our return to the Cyclades would be a winding path rather than a straight forward journey.
Initially, we looked at Belfast – London / Manchester – Athens – Naxos. The other Option similar to this was busing it to Dublin, rather than a flight to UK, and then Athens etc. Both would entail a stop over along the way as there would be awkward connections. Time to contemplate if there was a different route.
Decision made: Our return to the Cyclades set.
Could a flight through Athens be avoided? We had already checked direct from London / Dublin for direct to Naxos and knew this wasn't available. However, there was a direct flight from Gatwick to Mykonos. For us, that would definitely work. We loved the place and a stop over here would not be a chore.
Tying it all together, fitting rather well, we booked Belfast to Gatwick, and Gatwick to Mykonos, with a 4 hour wait in-between. We would arrive in Mykonos just after 8pm. That meant a night layover there followed by a short ferry to Naxos the next morning.
After 7 nights in Naxos, we would ferry it back to Mykonos for a couple nights before a return to Belfast via Gatwick. Our return to the Cyclades was booked and we were delighted.
The journey cost:
Because we pack well, and to reduce costs, we only booked with our small carry on bags, already included in fare, and one larger carry on bag. We would have to be strict with what we would bring.
Flights:
Checked with Sky scanner and other sites then booked direct with the airline. That is our preferred method. Both booked with EasyJet.
Belfast City airport to Gatwick – £199, returning to Belfast international airport.
Gatwick to Mykonos, return – £376.
Ferry
A quick search on ferry options sites, such as ferry scanner – or Ferry hopper, showed plenty available. We chose Seajets with a journey time of between 30 / 40 mins. Cost was €199 (£173 approximately, depending on the exchange rate).
Arriving in Mykonos
Our return to the Cyclades became a reality when we landed in Mykonos. Thankfully, everything had pretty much gone on schedule. Now to get to our hotel.
Taxi
We were out of the town a bit so buses weren't really an option. We researched taxi prices and they ain't cheap. The range for a 10 minute drive, was between €25 and €40.
Due to doing our home work, we were pre-armed. Even though tired, clear decisions could be made. At the airport exit, touts stood amongst the pre-booked, which we decided not to do, and we asked. €40 was the response. We haggled for €25 and the guy smiled and pointed further down the path where the public hire taxis waited. We got one for €25. All good and we were on our way within a few mins of disembarking the plane.
Accommodation for first night.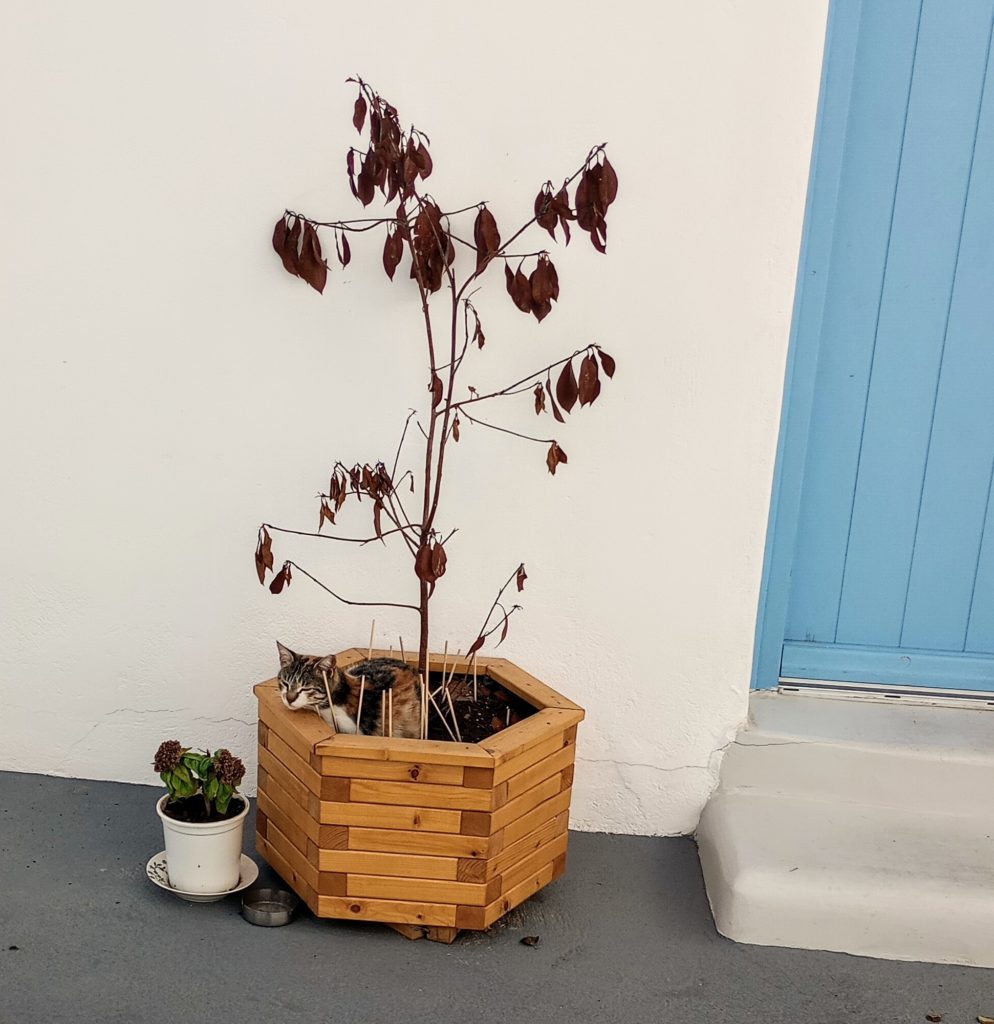 Our accommodation compared to our trip to Mykonos in 2017 wasn't as glam. However, this was a quick stop on this leg, and we would spoil ourselves on the return leg!
Eleven Keys, was cheap (in Mykonos standards); at around £80 per night, clean, simple rooms, and the cats made it very charming, meowing at us in welcome. They weren't behind the door in making themselves acquainted with the inside of the room either 😂. All very charming.
Ferry to Naxos
A return to the Cyclades wouldn't be complete without a island hopping ferry.
Stopped before we start?
We had a stomach churning moment, day before traveling from Belfast, when we received an email that our ferry from Mykonos to Naxos was cancelled due to a strike. People were up in arms after an altercation between a crew member and passenger that caused a tragic death.
Panicking we got to work researching if there were any other ferries. The strike affected only ships sailing from Piraeus.
Luckily there was an alternative and we managed to get tickets with Fast Ferries.
They didn't live up to their name, as it was 40 minutes longer than Seajets. However, we were just relieved to get another!
Quick ride but costly.
Again, we decided that a taxi to the port was best, although it saw us another €30 down for a relatively short journey.
Excitement for Naxos
We propped ourselves up on the cafe stools in the sunny harbour while we waited for our sailing.
There was a hive of activity, and it was great to see the place was buzzing again with tourism. Like it, or love it, tourists are the bread and butter of the local islanders.
Arriving in Naxos
We were so excited to see Naxos on the horizon.
We jumped in another taxi (30 euro for 15 minutes), to our our destination. Yes, the taxi prices racked up easily!
Annio Studios for our return to the Cyclades.
Irene gave us a good welcome with a hug and her gardens smelt devine as always. However, they'd mucked up bookings and therefore had given our room away!
Solution to the hiccup.
We weren't happy. It was a short trip, which we wanted to go smoothly so we could relax, so moving rooms was frustrating.
They put us up in the room next door for two nights before we moved back to No 20, our little home.
Eventually home
When we finally moved in, there was a new addition. A tub! Therefore the price had gone up another 30 euros per night.
Because of the mix up with the room, we managed to negotiate a little more off, making it around €70 per night. (The cheaper room next door, without tub, was €60 euro nightly but reduced for us to €40 per night).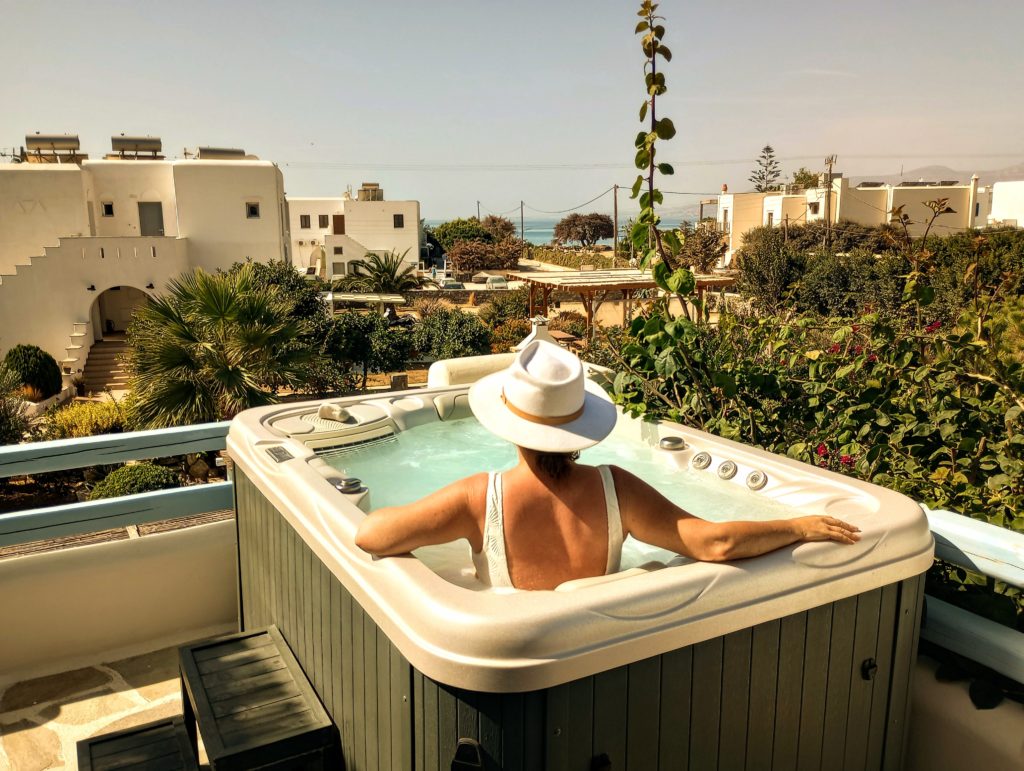 We were pleased to find it didn't take over the wrap around balcony too much and the cool water was a bit of respite from the hot sun.
Home cooking
The kitchen facilities also meant we weren't forced to eat out and had the option of Knox's delicious home cooked food.
Relaxing on the swing was also another bonus. Definitely still kids at heart!
Trip to town
A supermarket trip was on the cards to get all the essentials. Unfortunately, the bikes that were provided in the Winter at Annio Studios had been plonked in a shed. Full of rust and in a sorry state, they were unusable. As life was back to normal on the island, and a full schedule was working, I (Knox) had to brave a bus journey. The bus tickets were for sale for €2.30, single journey, in the local Maragas supermarket just a few mins walk away from home. There was a stop there or one at the end of lane, outside Yazoo.
Hunt for Sylvestra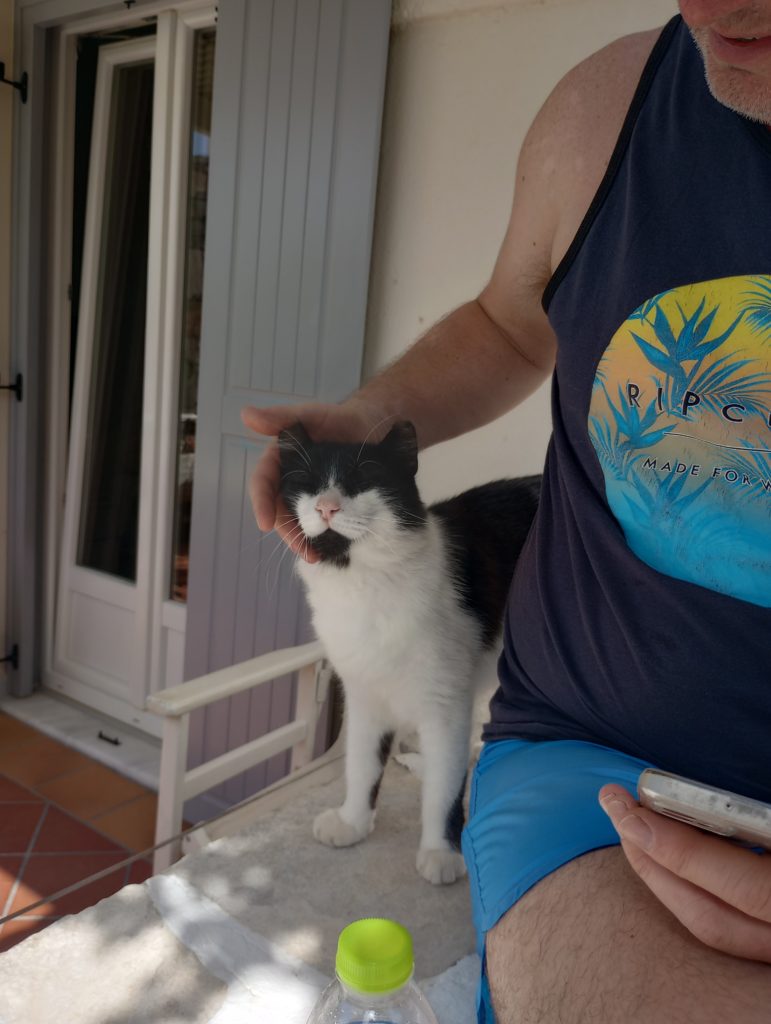 We armed ourselves with some photos of the beautiful Sylvestra fur ball. There was no sign of her at Annio Studios so we tried a couple of restaurants/ accommodation close by. After a few enquiries, a waitress from Peppermint eyes lit up as she gave recognition. And she was right! As the next day we wandered around the accommodation, only to find Sylvestra sleeping under a blooming bush, her favourite hiding place.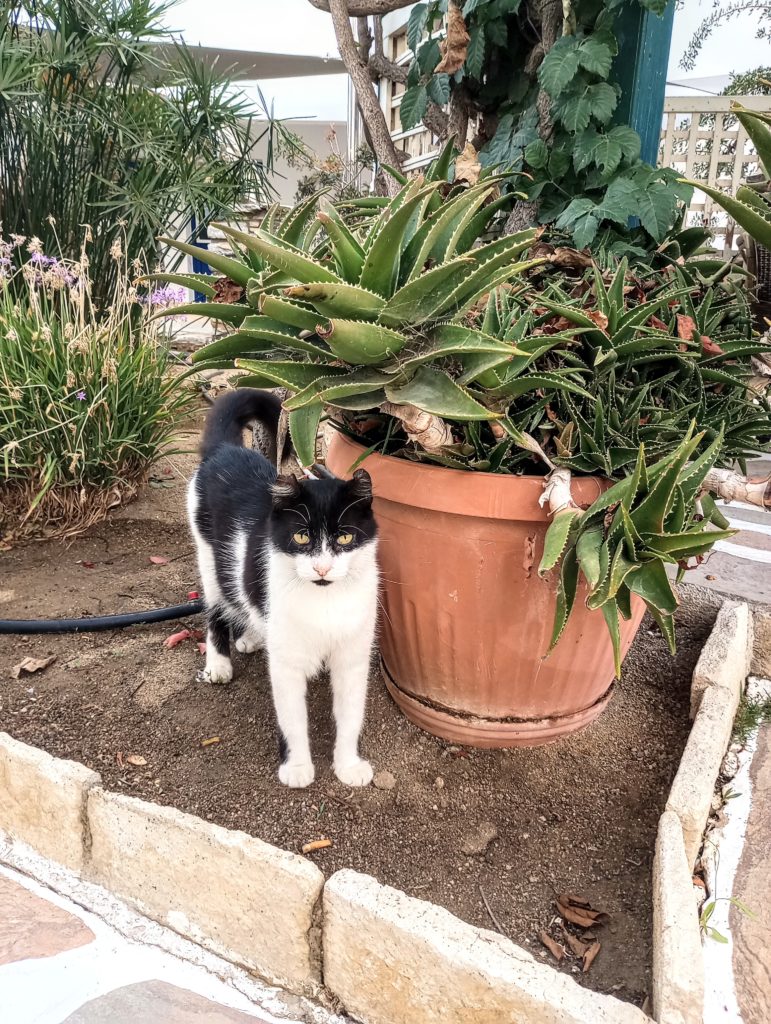 I thought I saw a pussycat!
The recognition from Sylvestra wasn't immediate at first. We think she woke from her wee nap, and had to gather her sleepy thoughts.
It didn't take her long to come around though and she was full of purrs and kisses. A half of can of tuna later and it was just like going back those few years in 2020. A lead task for our return to the Cyclades was complete.
Feline heaven on our return to the Cyclades.
Greece is a cat lovers paradise. There are many strays. Most have been spayed, a telling sign is a clip on the ear, just like in India with the dogs.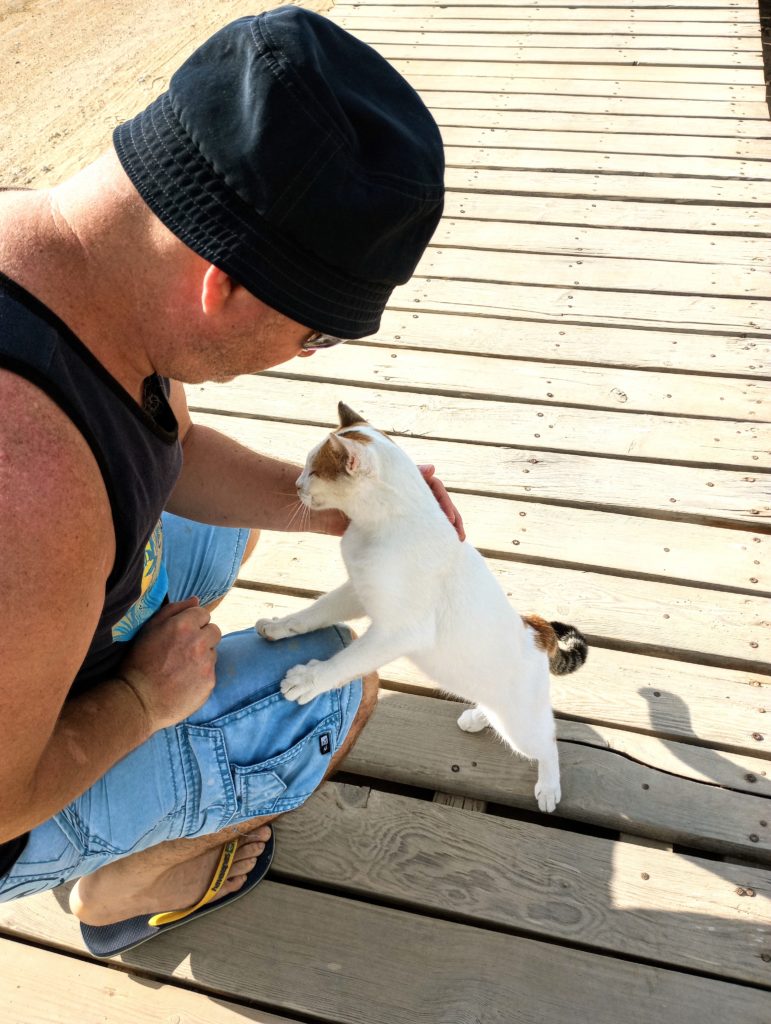 Luckily there are a few animal rescue centres which feed the cats daily, even in the winter.
What to do on Naxos Island?
Naxos is more of a place to relax, soaking up the sun or eating in one of the many restaurants. This was just the way we wanted this trip to be.
Walks
The little chapel, that still stands between Agia Anna and Plaka beach, sits proudly upon its rocky headland. Interestingly someone had created some kind of shrine, with candles, pots of honey, pastries, cookies, balsamic etc. The ants and wasps were in heaven!
Walk along the boardwalk up to it as one travels between the resorts. In the evening, it was lovely to take a moonlit walk along the quiet beach to take in the romance.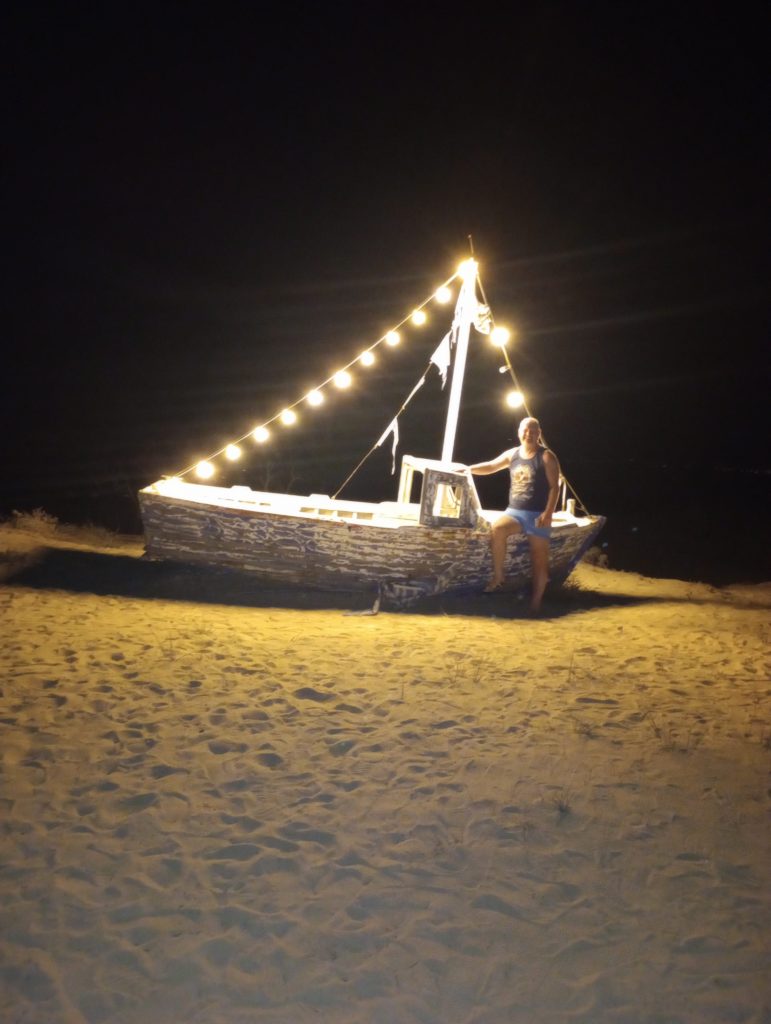 Plaka beach
Sightseeing was done before, thankfully, which wasn't very much to be honest. The beaches had changed as expected, and were packed with sunbeds.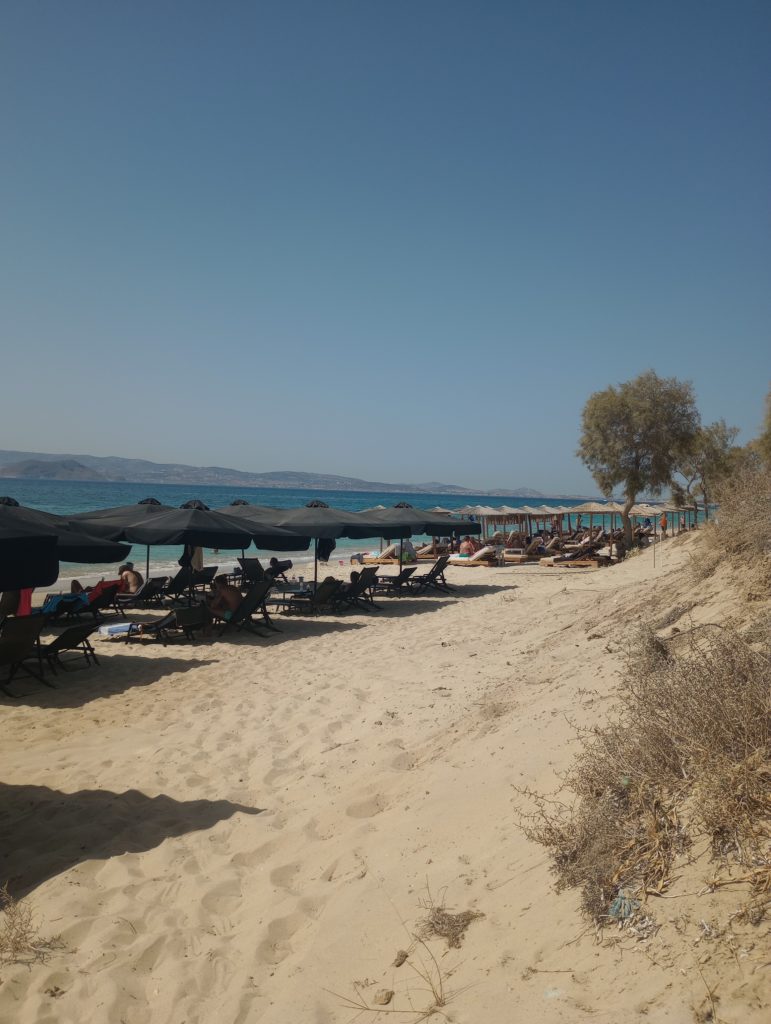 This was another reason we wanted a spacious outdoor space to lay on in peace and tranquility.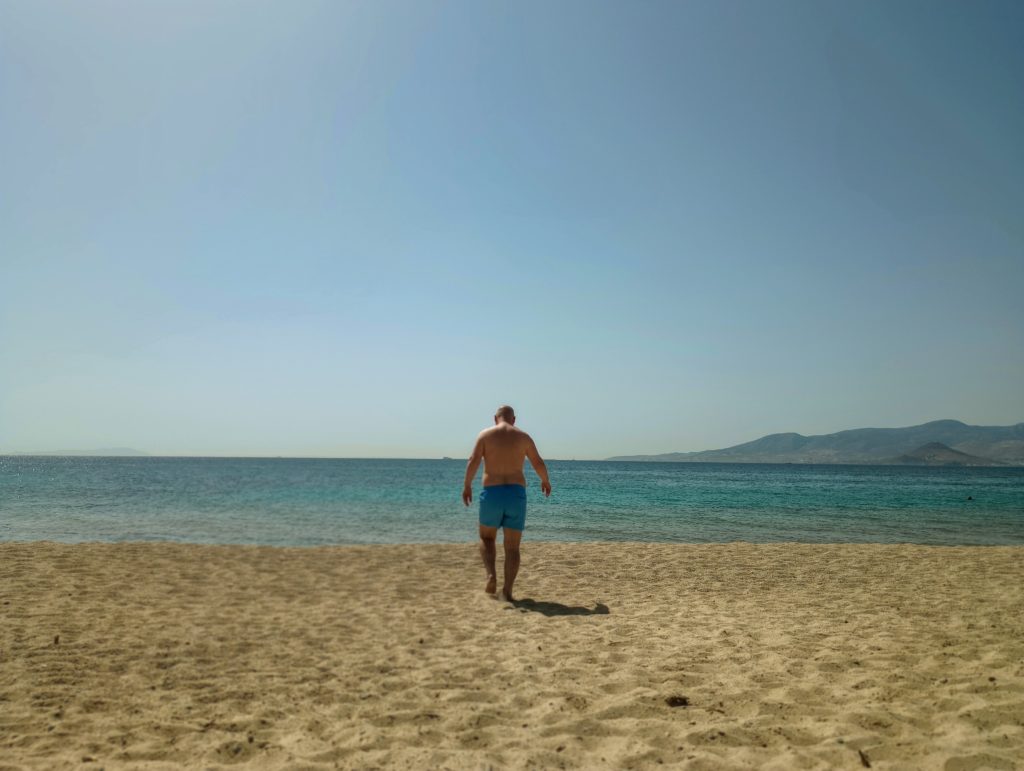 However, there was always time for a swim in the early morning. And, if you walked almost to the top, you would come across the sand dunes where the sunbeds stopped.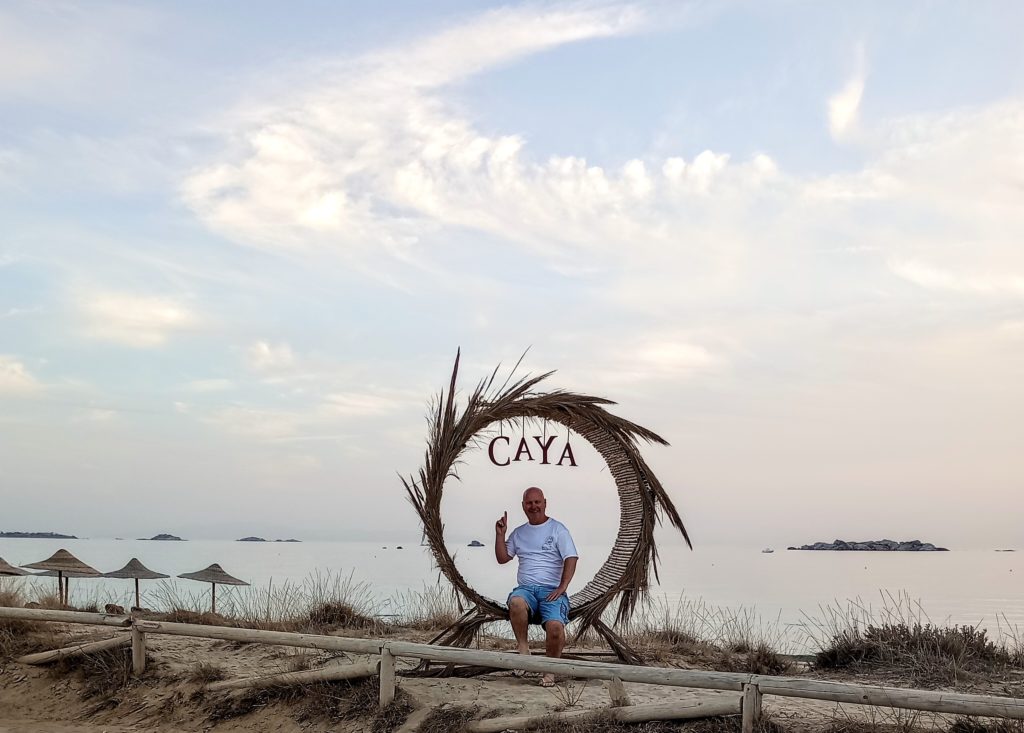 You can check out our Naxos blog in 2020/2021 where you will find more details for sightseeing.
Eating/ drinking out
Naxos is definitely not a party island. Again, just what we wanted. It does have an array of different restaurant options though, everything from traditional Greek to Italian cuisine.
These are our recommendations:
As we had our own cooking facilities we only ate out a few times.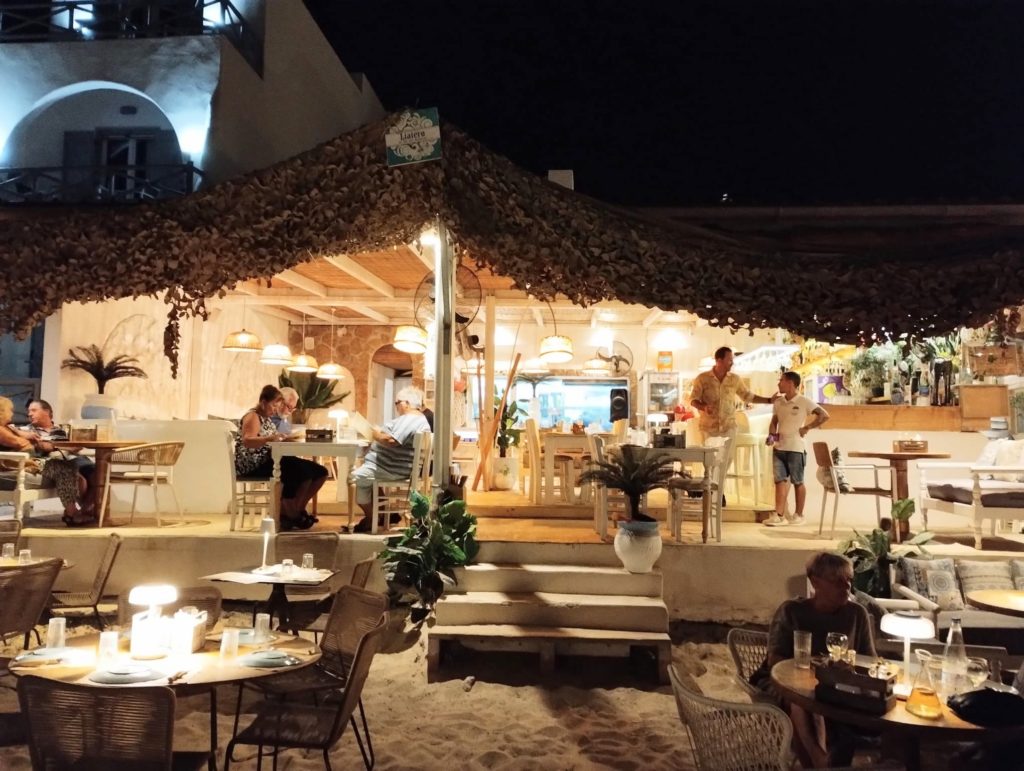 A lovely little restaurant with seating right on the beach, with friendly staff, especially Helena.
We tried a array of dishes, ranging from crispy feta, spring rolls, briam baken vegetables, chickpea with flatbread.
And not forgetting a delicious orange cake with ice-cream and whipped cream, which we shared with the cats lol
Prices are similar to that of the UK/ Ireland. The well thought out separate vegetarian menu was why we stopped off here.
Cedar restaurant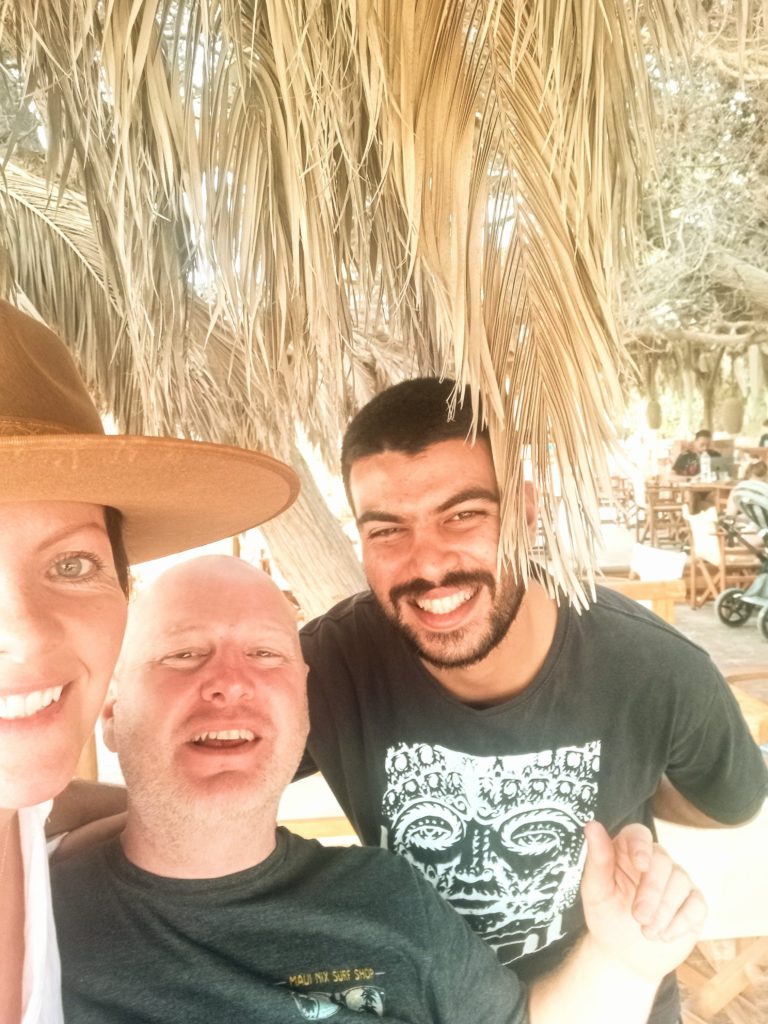 Marcus, the son of Irene, where we stay, had a season job at Cedar. It was great to catch up. Prices are the same, or slightly cheaper, as in the UK/ Ireland as expected from Naxos island. The spring rolls, Greek salad, and fried rice hit the spot. The pizza, however, was a frozen base, which they put their own toppings on. With Knox now making his own Neapolitan pizzas at home, this was a big no no from us. Harsh critics lol.
A great place to hang out though, one of the liveliest places on the island with great music. They seemed to like Van Morrison as he played a lot.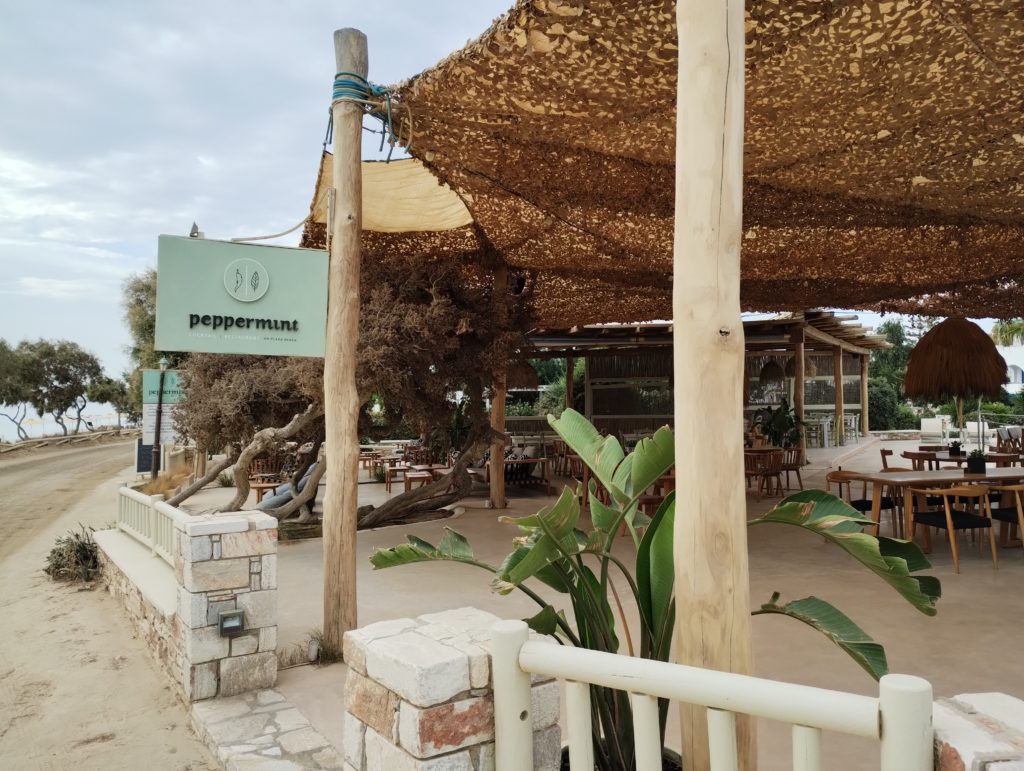 This is were our Sylvestra now resides. Lovely friendly staff. Beautifully decorated. Cheaper than most others on the island.
We only ate a snack here. The chips are yummy but expensive at 6 euro. However, portions huge. Owners friendly.
They even took a fluffy ginger kitten in, back in 2020, when Knox found it as a skinny stray, hardly able to stand. He was a fighter, though. They named it Lucky and he certainly was, as now a huge fluffy fat cat, following the owner around like a dog.
A down to earth, no airs and graces, traditional Greek restaurant with the big Greek Mamma greeting you on arrival. She's very funny and it was kind of entertainment watching her work. Rasping at customers in her gravely voice. One of the reasonably priced establishments on the island.
Art cafe in Prokopios
Art Cafe is located in prokopios, about a 15 minute walk from Plaka beach. It's a shame it's one of the most expensive places on the island, with two drinks costing 17 euro! The owners are very nice though. We remember them from 2020 lockdown and the man always was very welcoming. They do have an open air cinema, art exhibitions and they also do live music, which could warrant their prices. Although a Swiss accordion player wasn't to our taste. Lol
A well decorated family establishment with a really lovely barman / waiter called Christos.
We loved his values and he certainly was on our wavelength re the plandemic. and government tyranny.
The refreshments were excellent. It was a shame that I came away with 3 mosquito bites on my face, but obviously this isn't the fault of the restaurant.
We used Su e Gui a lot back in 2020. They are located in the town about a 15 minute drive away. You need to spend over 20 euro to qualify for delivery. There is also a delivery charge on top of that. It's so worth it. Pizzas are top quality, huge and easily shared. Eating the yummyness on our veranda as the sun went down, without feeling the need to go out or cook was bliss.
Ferry back to Mykonos
Thankfully the Seajets ferry was off strike for the pre-booked return sailing.
Ditch the cab
We travelled by bus to the ferry port, which was more coach style; making it a more comfortable ride, and even had a natter with some locals. At €2.30 each, it was more cost effective than getting a taxi. It also dropped us directly at the port.
Lunch squeezed in.
We had a bite of lunch at Relax cafe, the friendly, ferry port cafe while we waited. The pizza was fresh and tasty. It also had a great vantage point, a few mins walk from the embarkation point, of the ships coming and going. Therefore, once we watched the Seajets ferry ease towards docking then we made our move.
Reduced ferry experience
As we walked towards the ferry, it became clear that it wasn't our Seajets one. Thankfully, our World Champion Jet arrived a few mins later. It was a a real melee and fast herding operation. The hordes coming off and embarking in equal measure.
The ship was packed out, making it a less desirable journey than that of Fast Ferries. The redeeming feature was that it only took 30 mins.
How to tackle a hill climb?
We considered walking to our accommodation from the port at Mykonos to save some more cash. However, the weather had taken a turn for the worse with some gloomy skies and rain. There was a noticeable temperature drop to 23 degrees, than that of Naxos 30 degrees.
We were glad of the 15 euro taxi ride when we saw the steep hills that we would of had to climb.
Accommodation
We opted for an Airbnb called Le Maison Blanche. It was cheap for Mykonos standards at £128 per night.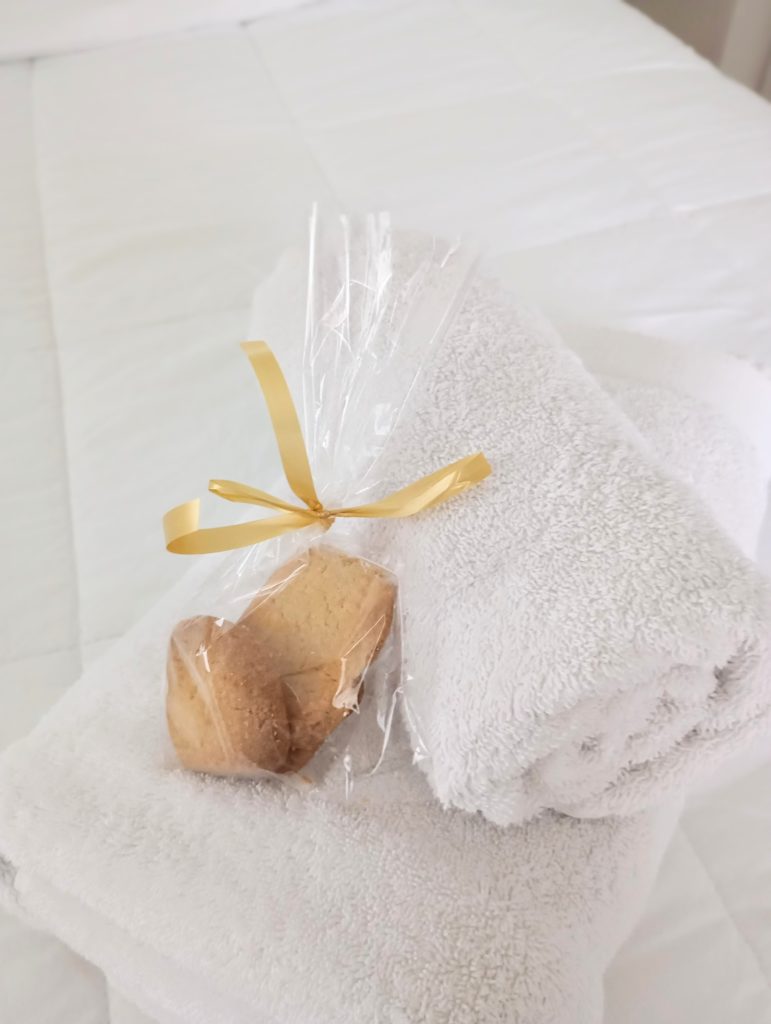 The room was simple and clean.
The outdoor space was what sold it to us, with comfy loungers and a stunning sea view.
We even had a wee feline visitor, who took a nervy liking to us. He got spooked easily so Spook was the name we gave him! Spook got close but never close enough to pet.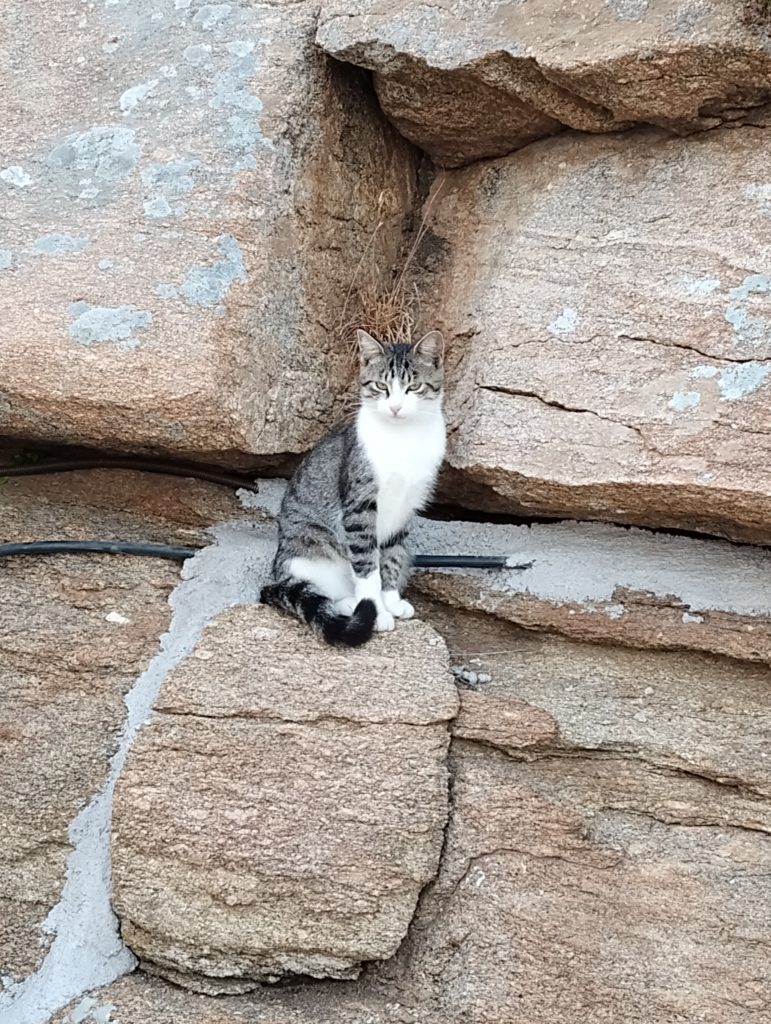 Watching the sun go down before an evening into town was good for the soul.
The twinkly lights from Mykonos town below reminded us we were hungry, so it was time to get our glad rags on.
Mykonos town
Because of the location of the accommodation, we had to depend on taxis. We were lucky to get one into town for €25 (they're usually scarce, with only 31 on the island). We struck gold with the return cab as it only cost €15!
Stroll through the narrow streets.
It was great to be back in the town with its tight winding streets. Like a rabbit warren, it would be easy to get lost. Indeed, you see many with their phones out and following the maps.
Dining with a view.
We remembered a lovely little Italian restaurant called Pasta Fresca Barkia from our last visit in 2017, so we would head there for our evening meal.
It was just as we recalled. We were lucky enough to get a table since we hadn't made a reservation. We got seated at an open window table, upstairs, while watching the hive of activity down in the narrow street below.
The dining experience was friendly and efficient. We tried the gnocchi with tomato and basil as well as the tortellacci with porcini mushrooms.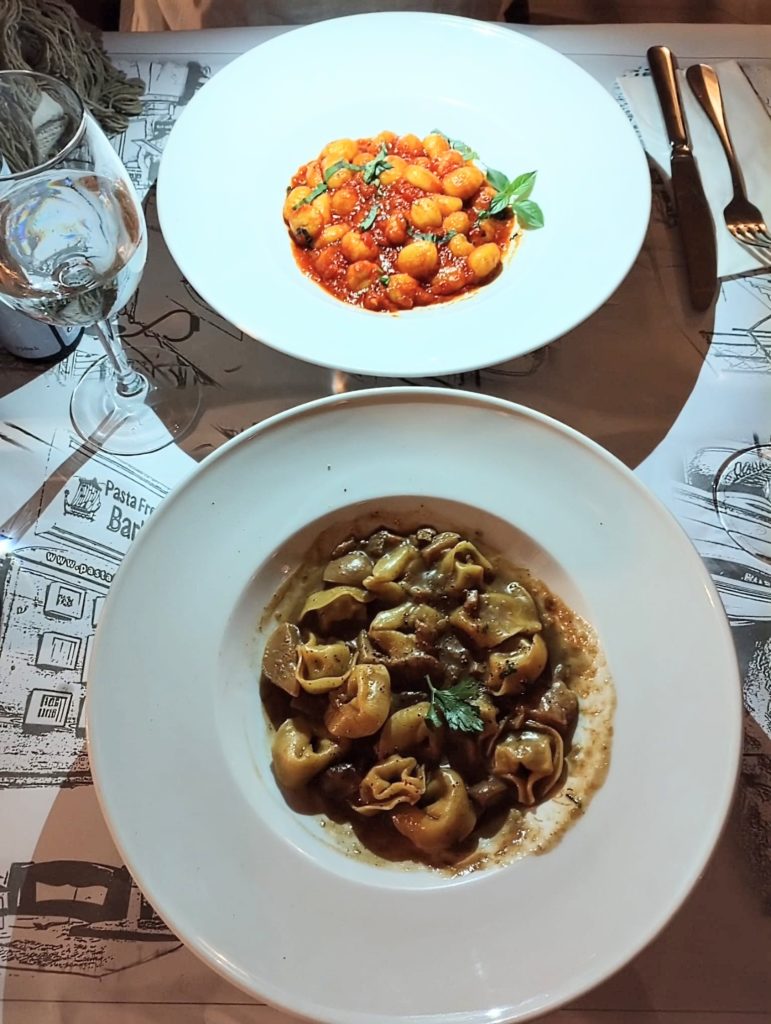 For afters, we shared the chocolate souffle with ice-cream. It was all very delicious.
Rarity Gallery – getting arty on our return to the Cyclades.
Even though sightseeing was done on our previous visit, we couldn't have missed checking out the Rarity Gallery again.
The rarity Gallery has been going since 1994, displaying contemporary work from artists all around the world.
We love some of the realistic imagery as well as some superb painting masterpieces.
One little man even had a shirt like Knox, even Havaianas. The resemblance was uncanny lol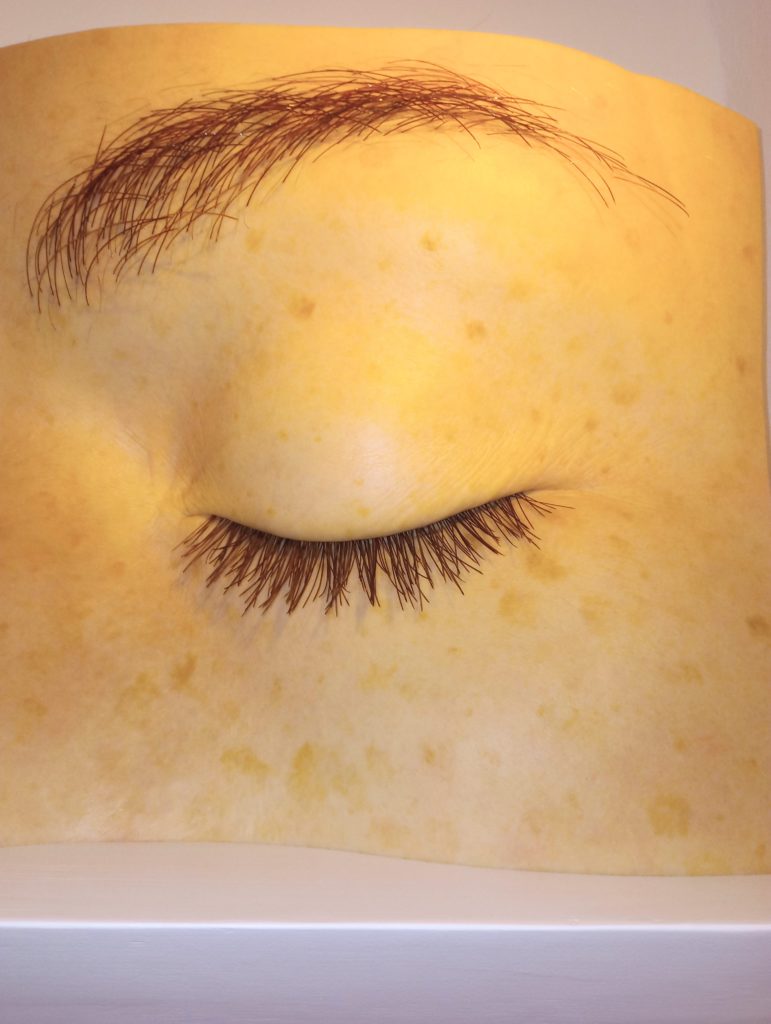 Evening drinks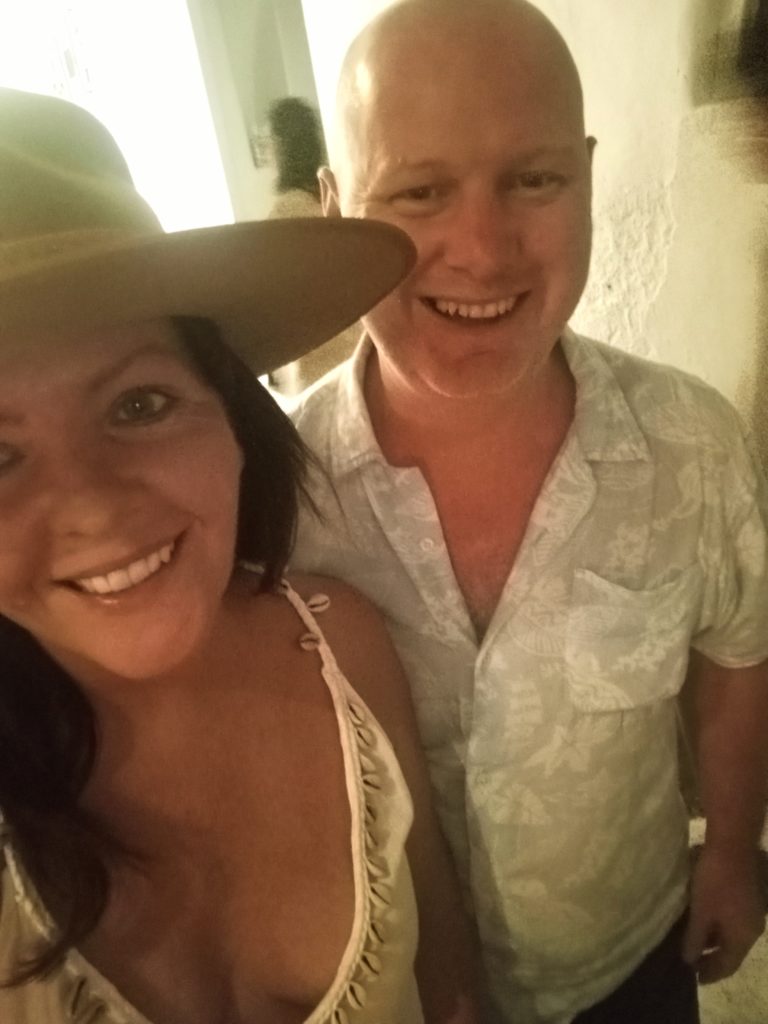 Afterwards we went tried a few bars. We may have spat the drink out, in shocked amazement, when hearing the price! However, that would make the night even more expensive lol.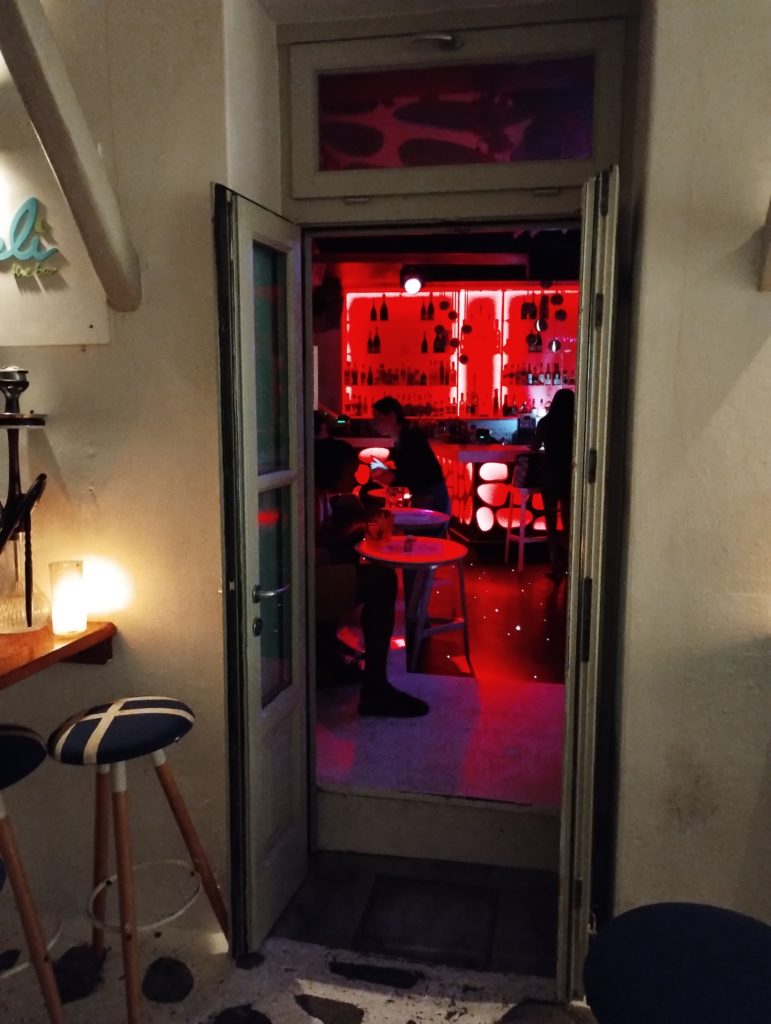 There are plenty of party bars that play electronic dance music. Naturally, we avoided those. One with reggae, hiphop vibe enticed us in for a couple. It was called Semeli bar and was a bit of a don't take yourself seriously joint.
Last time out, this was a cool wee hang out with an eclectic mix of music on the upstairs dance floor. Even with its great view of Little Venice, we didn't feel the love this time. One had to be waited on at a table and you couldn't just go to the bar for a drink. We skipped out to free ourselves from its more restrictive attitude.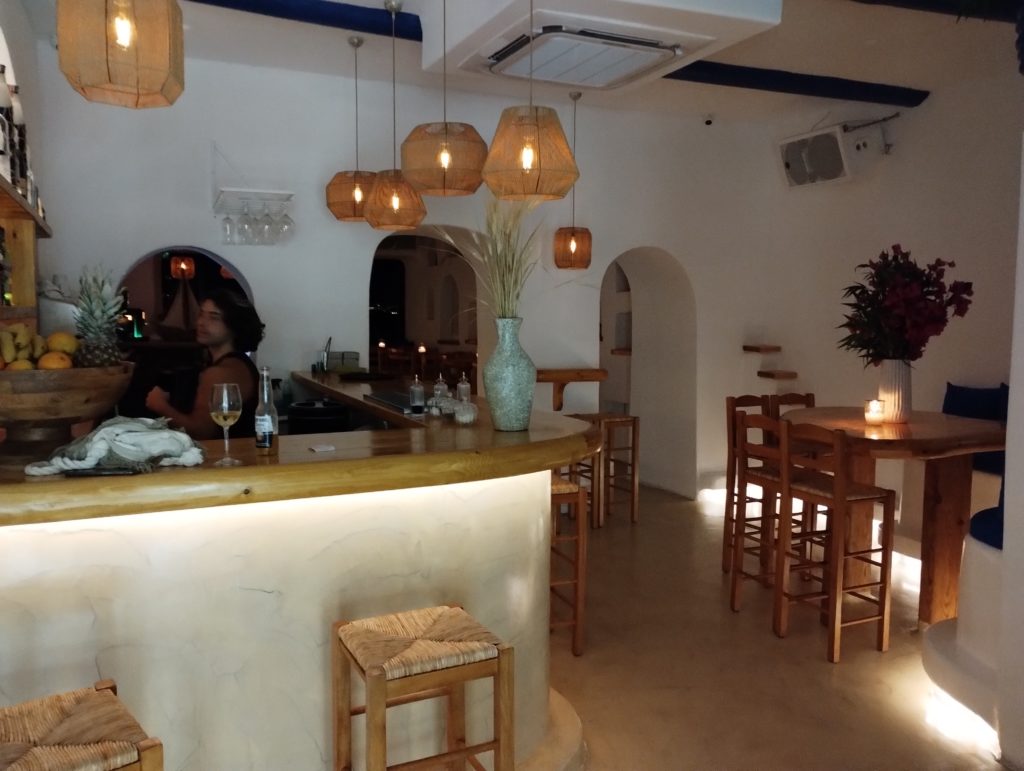 Recently renovated, Pant Hera was a 60s/70s rock / blues alternative to the usual electronic dance vibe that strobes across the town. Relaxed and not too heavy, we enjoyed chatting to the awake barman and a few others.
Mykonos beaches
There are many beaches on Mykonos. Our visit was short, meaning that we had to give most of them a miss. We did take a scoot down to the local beach, Paralia Agios Stefanos, and then hiked back up to our apartment.
The beach is narrow, packed and exposed. Not our idea of paradise, which is why the private outdoor space was important to us. In Mykonos there are an abundance of accommodations with outdoor space, most including a dipping pool, jacuzzi, or tub, with a price tag to match off course.
Hot hike
From our abode at the top of the hill we treked down to the beach. As well as hilly roads, there were a lot of steep steps which brought one to sea level.
It was quite a trek, in the heat, and so much easier going down than up! In hindsight, even though we enjoyed our stay at Le Maison Blanche, we would prefer next time, as of before, to be closer to the town. Depending on taxis or hiring transport is quite stressful and expensive.
The sun sets on our return to the Cyclades
Mykonos, like the rest of the Cyclades, definitely has some beautiful sunsets. The eve of our departure gave us another wonderful view to treasure. What a wonderful, awe inspiring, part of the world.
Leaving Mykonos
We had a delicious fruit melody for breakfast and soaked in the gorgeous vistas before getting ready to depart the dreamy island.
As cabs go in mykonos, all 31 of them, you can't book ahead. So we felt lucky to get one for our journey ahead to the airport. The usual price was to be expected.
Planning our journey food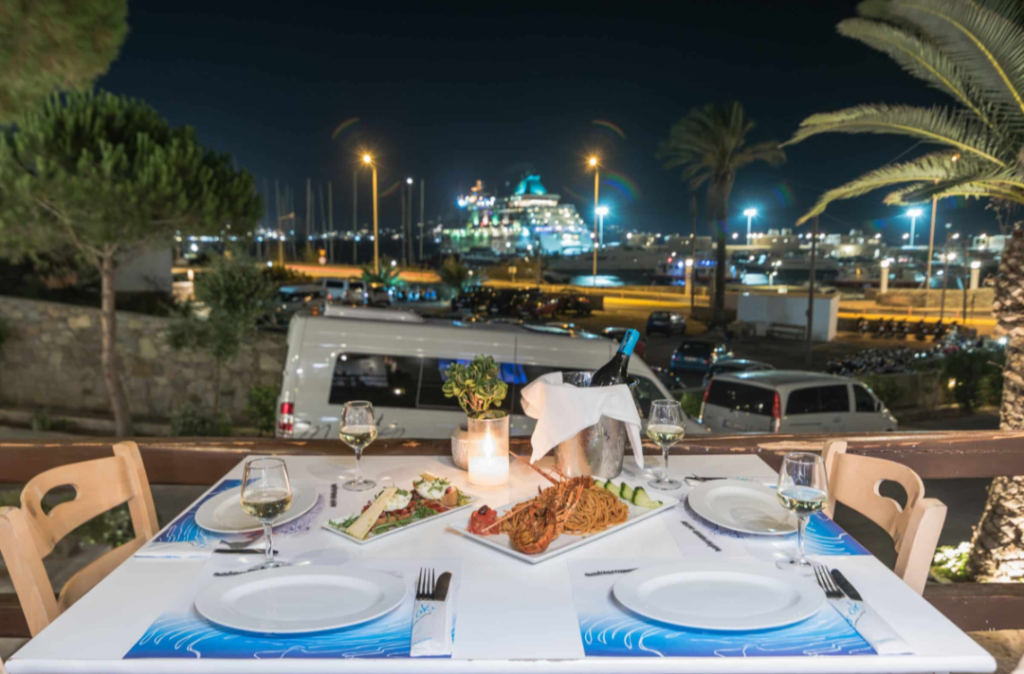 Not quite the food that we were able to bring from our Belfast apartment, we still ordered a nice Pizza from Molaraki Restaurant the night before. Chilled in the fridge overnight, it certainly help through a long journey back to Ireland.
If you liked reading, you may be interested in our other European adventures such as:
Naxos (previously)