Cancun – Christmas Special
Tis the season to be jolly! We headed into sunny Mexico for a Cancun Christmas special. It was a welcome transition after rainy Medellín! A time to enjoy some beach fun again.
Tis the season to be jolly during a Cancun Christmas!
First of all Merry Christmas everyone, from sunny Cancun! We hope it was peaceful, happy, and you enjoyed it with all your loved ones, with lots of hugs and kisses! Life's much to short not to spend it with family and friends! Through our Cancun Christmas, we still connected with our loved ones.
On route back to Mexico
We had already a ticket booked into Cancun, Mexico making it an easy ride from Medellín, Colombia. As we'd been in Cancun before, it was an easy transition.
Although, we did have the 2 hours wait in Panama airport on our way to our Cancun Christmas! This was our second time being in Panama's airport without being able to see the place due to mandatory testing, even though it had been on our original itinerary! Talk about a tease!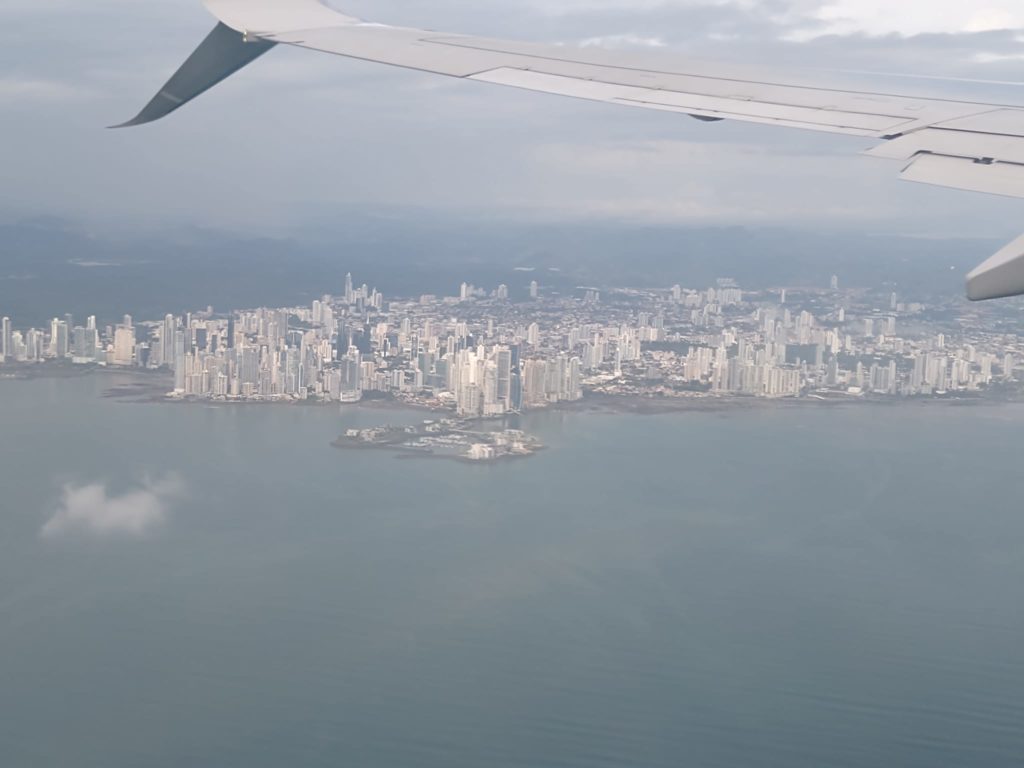 At least the 2 hours flew in this time, not like last, when we missed our flight to the Dominican Republic due to Knox reading the board times incorrectly, forcing us to have an uncomfortable nights stay in the airport!
This full journey to Cancun would take approximately 6 hours in total, including the waiting time in Panama. Cost of flights were approximately £300 total.
Restricted choice
At the time of writing, there is still only 5 countries in the world open without any entry requirements ie; nose pokes, jabs and camps. We have been to 4 of them. It's more than frustrating to say the least, that most the world is still testing, even after the CDC in the USA admits the PCR tests are not fit for purpose, therefore removing them after the 31st December 2021. This is something you won't hear on mainstream media, so the masses still keep getting nose poked even when they are completely healthy. Don't give me the asymptomatic nonsense.
Once there was commonsense in the world.
Patient: 'Doctor I'm not feeling so good'.
Doctor: what are your symptoms?
Patient: I don't have any.
Doctor: Don't waste my time!
Rant over. Nevertheless we weren't going to let it spoil our festive season and anyway, we could think of worse places to be than Cancun.
Immigration
With lots of international flights arriving in at the same time, crowds of passengers made their way for immigration. The queues were crazy but went fast enough. The herd went to the first, really long, queue when there were 3 other queues just beyond, with each getting shorter as we went.
Onward ticket?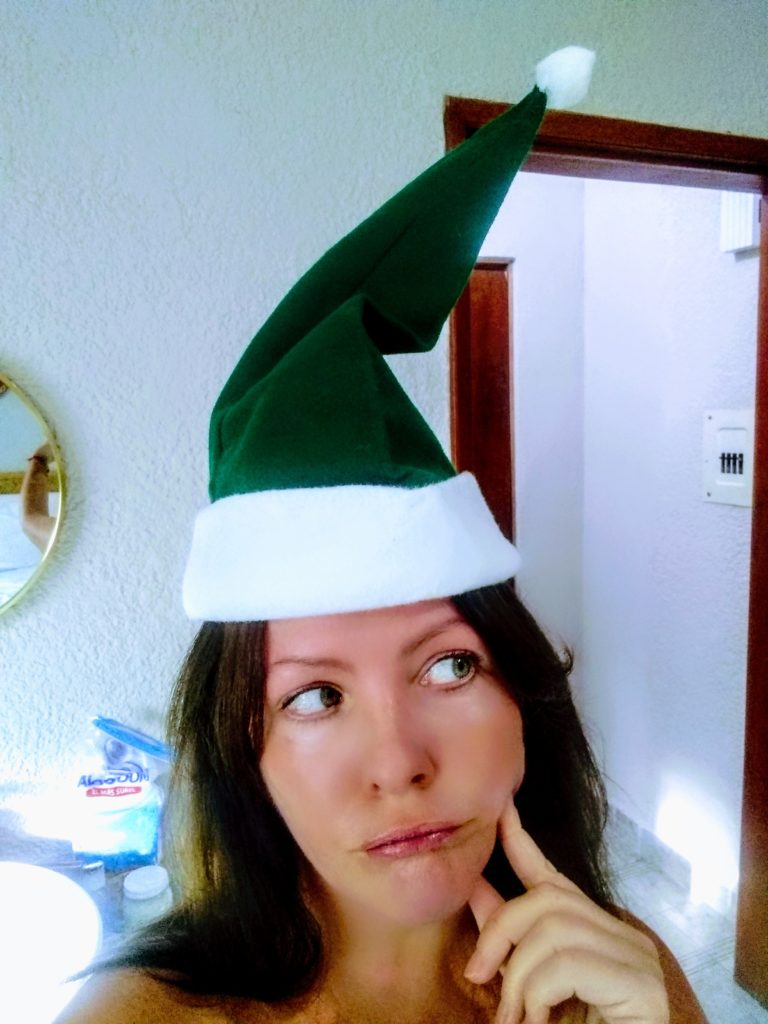 At Medellín airport Copa Airlines asked to see our return ticket from Mexico. Obviously we'd only a one-way. Remember to stand your ground. You DO NOT need to show proof of a return ticket to Mexico. We explained to them we would deal with it in Mexico, if immigration asked for it and they dropped it, eventually. If it came down to it we would have booked a dirt cheap onward ticket that provides proof of a journey without having to pay for a fully fledged ticket.
Form filling to get us to our Cancun Christmas
You did have to fill in a check mig (health and immigration form) as we did on entering Columbia. The airline also got us to fill in the Mexican Health questionnaire form too, but this rarely seems to be checked now when in Mexico.
How many days?
As like last time, immigration didn't even ask about an onward ticket. They, however were interested in how many days we'd be staying in Mexico.
We had heard recently that some foreign tourists were only getting 30 days visa on arrival, rather than the original maximum of 180 days.
"Two weeks?", asked the wet behind the ears immigration officer.
When we stated we wanted the 180 days, he struggled to understand and couldn't believe it, so he went off to a colleague. We were slightly worried. However, we needn't have been, as his colleague explained it was fine, as we may use the time to travel the country. He checked our two immigration stamps from before, showing we had never over stayed our welcome on our previous visits.
Not that we planned to stay 180 days, but it is good to have it granted incase it's needed.
Taxi
We used Cancun shuttle service again. It was just over $30. Quite expensive though for a short 15/20 journey, but airport taxi prices like this, is to be expected in Cancun. Nevertheless, it was convenient as we had someone waiting there for us with a name board. On top of this, it is cheaper, and less stressful, prebooking than dealing with the melee as one exits the terminal.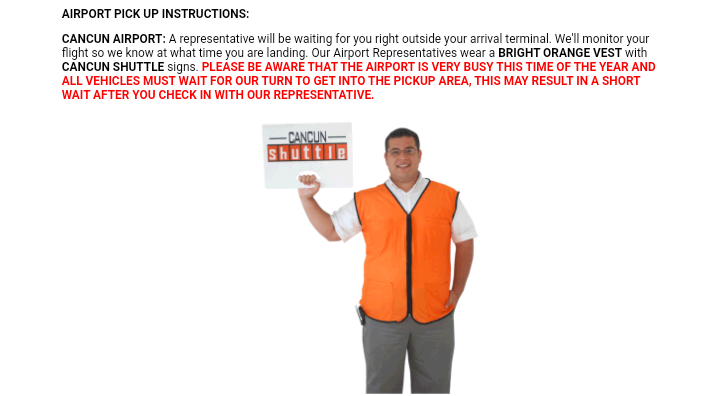 Accommodation
We had booked an Airbnb in advance in downtown Cancun. This is were we would spend Christmas and New year's Eve. A little different than Naxos, Greece last year.
Being so last minute, it was difficult to get accommodation type we wanted for our dates, but Kenn's Airbnb was one we kept going back to. Even though he's only be going a month his reviews were glowing.
It was cheap at less than £20 a night. A bargain for Cancun.
A new home for our Cancun Christmas
A new venture for our host, Kenn made us feel right at home. Even though, it was a old traditional family home converted, everything in the space was brand spanking new. In fact Kenn was still adding additional stuff, like outside table and chairs and twinkly lights during our stay.
The accommodation had 3 other rooms. We wondered how we'd cope with a shared kitchen, especially cooking Christmas dinner, but this wasn't a problem. Indeed, the other guests mostly ate out and used the kitchen for breakfast only. Since our room was downstairs directly facing the kitchen, we felt it was ours alone. We also had a fridge inside our own room which was convenient. And, Kenn, was kind enough to say he'd work out a schedule if needed be.
The surrounding area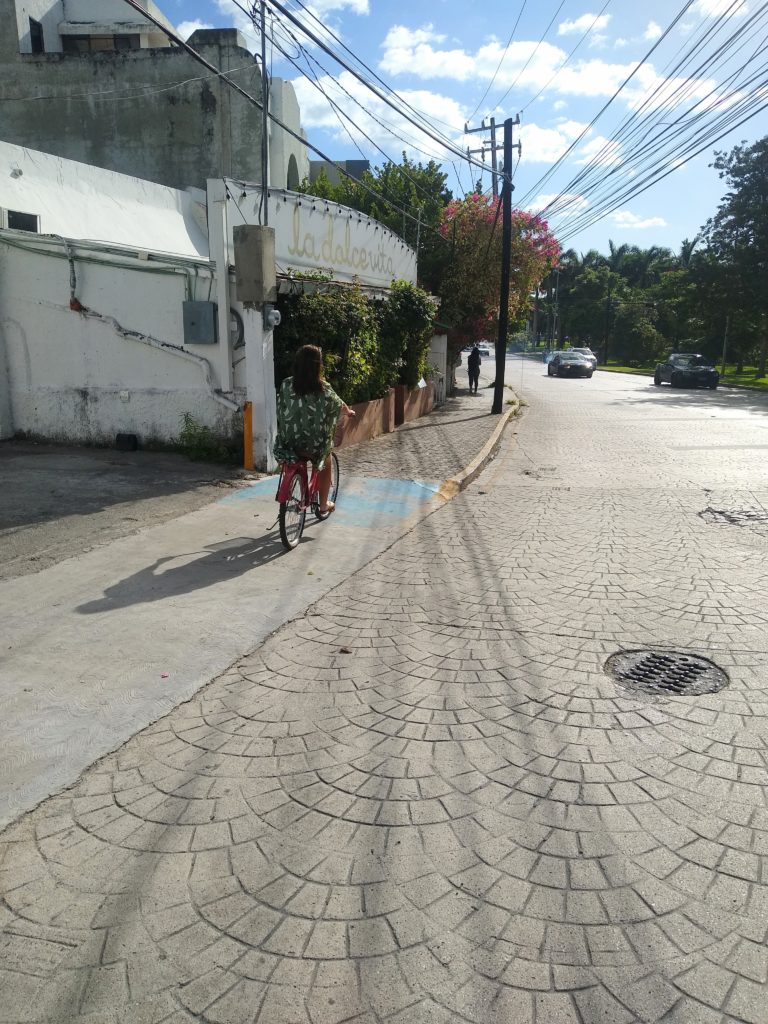 Our airbnb was in a lovely family neighborhood, located in a quiet street.
There were several bars, restaurants, a cool music store, local fruit shops, market areas, and a few gyms in the vicinity. We were actually glad (shock horror) not to be staying in the hotel zone. Last time, we stayed at the edge, it was kinda loco. In this old town, we felt we blended in with the locals.
You have everything at Hand in Cancun.
Although, it was plain to see that some restaurants and businesses were now derelict due to them closing down because of the government's lockdowns and curfews.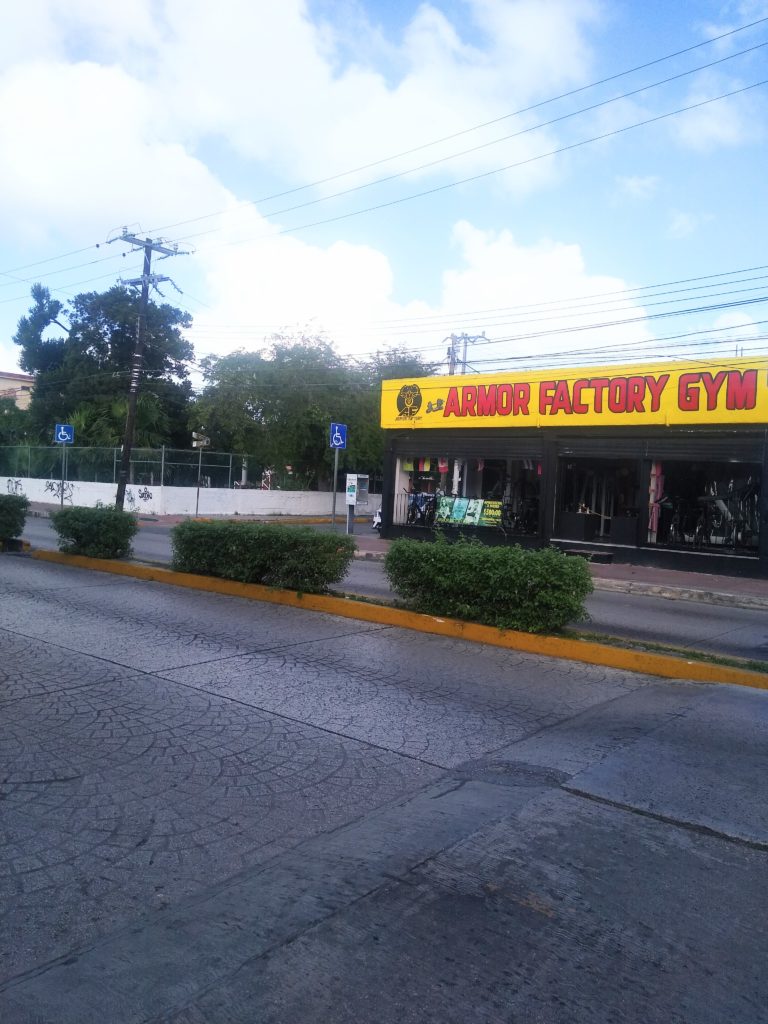 There were also supermarket's, such as Chedraui where we could get everything we wanted for our traditional vegetarian Christmas dinner.
I like to ride my bicycle
A great addition to the Airbnb was the nice red basket bikes our host Kenn provided for free. We use them a lot!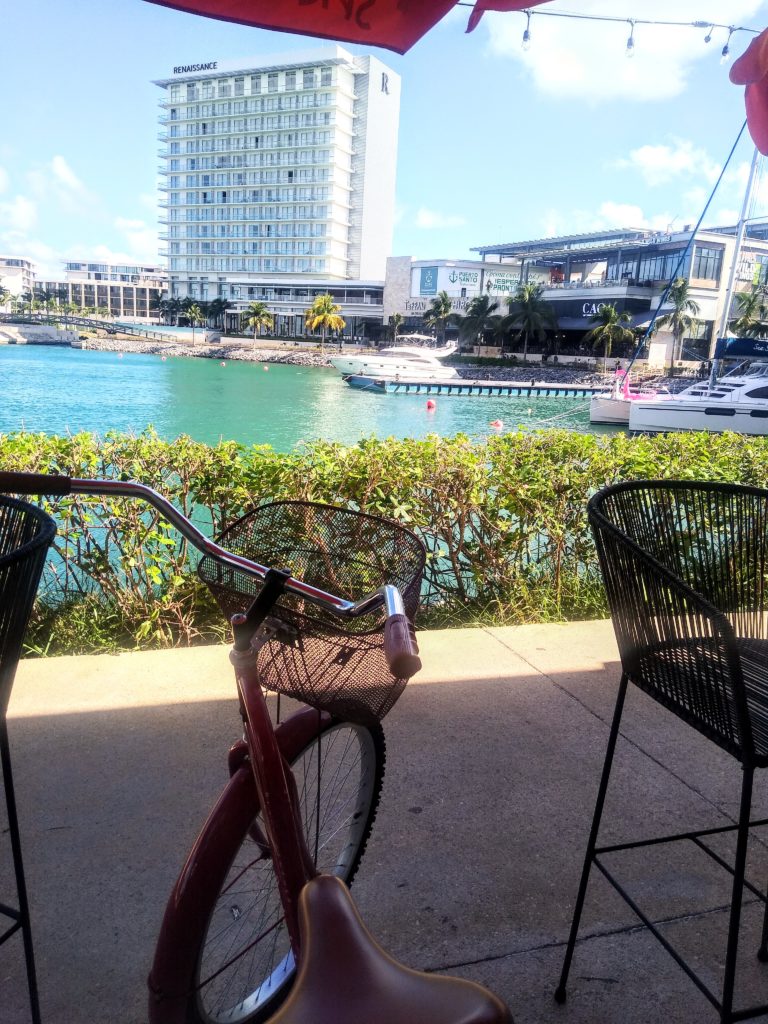 Knox's Cancun Christmas comedy show
Although I (Knox) had been able to source most of the ingredients for our Cancun Chrismas dinner, there were a couple of key things missing.
Key ingredients
Firstly, I was finding sage difficult to source. I had checked the dried herb sections of several supermarkets but no joy. We also checked a local market but only found overly dried sage with little of the recognised scent. I then remembered to check the veg section of a supermarket to see if they had fresh herbs. Hey Presto, Sage was sourced!
Just as important, was a nice block of cheese (cheddar mainly). In addition, it also had to be suitable for vegetarians. We were drawing a blank all over. Since we had been in Cancun before, I knew that the supermarket in the middle of the hotel zone had suitable cheese previously. I would cycle the 40 minutes to hopefully gain success and complete my list.
Man on a mission
Off I set as Miko considered me a mad man! Once through the busy road junctions, I reached the cycle path the would lead the way to the prize. Even in the sweltering heat, I was making good progress and was on time to arrive a few minutes earlier than expected.
Happiness slipping
Then, the chain slipped off the cogs. The bike coasted to a halt as the back peddle brake was no longer in use! Off I hopped and got my hands dirty to fix the chain. A few minutes later I was cycling happy again before a second chain slip! And another! I was well slowed down. Outwardly, I was a picture of calm. On the inside steam was rising.
Snap
The cycle speed was now slower as I eased my way forward towards the goal. Then, the chain snapped. I could have cried as I was still a KM from the supermarket. What was I going to do? I returned to the chain once I had being able to stop and turn. A link had stretched and the pin had moved up and out of the hole. Thankfully, the pin was still there and I managed to patch the link up. I was ready to put the chain back on then realised i had to separate the chain again to get it on the other side of the frame. The face and the palm met in exasperation. I refused to be beat and did what was needed to patch the chain up. I prayed for assistance!
Success and lift home
The chain snapped a couple of times more but I nursed the bike to the goal. I also had success in getting my cheese! hallelujah! I contacted Kenn (airbnb host) and he was able to pick me and the bike up after the shopping was complete. Praise be in the highest, our Cancun Christmas was saved. We were able to have a laugh at my calamitous Christmas special!
Getting to the beach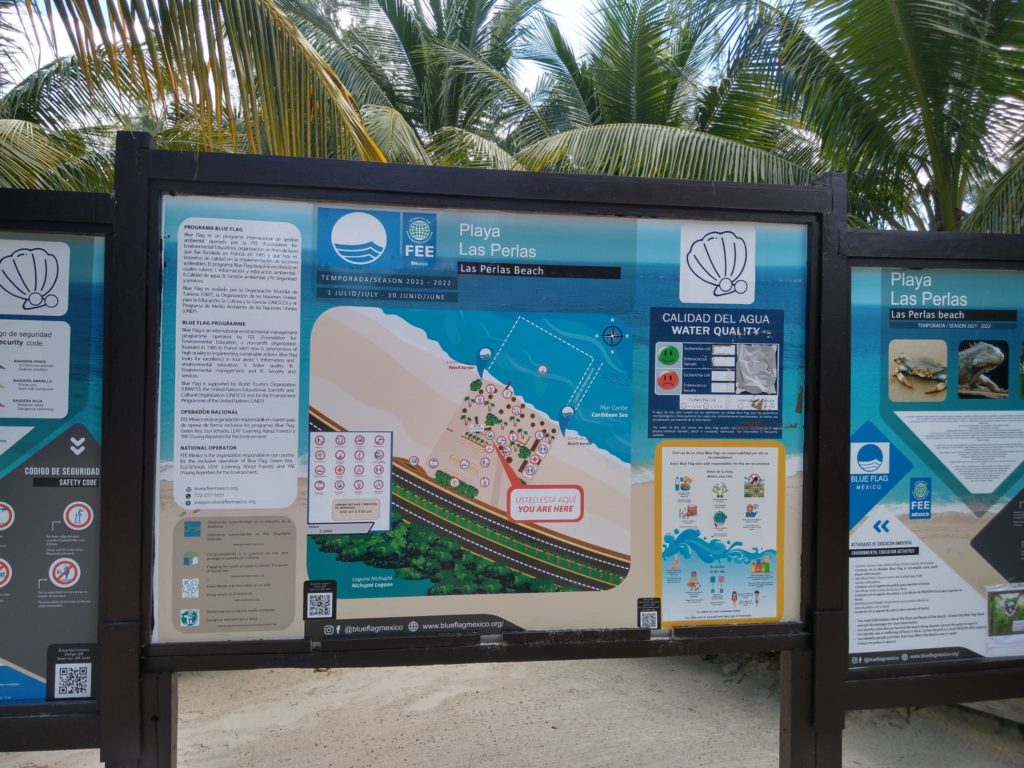 To Las Perlas beach, Cancun on the bicycle is approximately 14/18 minutes. Firstly you have to get through a few minutes of hair-raising roads complete with busy roundabout junctions.
Keep eyes open at all times. Look, left, right, and right, and left again! Parked cars pulling out can be a real danger. One near hit Knox, making him swerve, so I (Miko) was forced further out on the road and was nearly wiped out.
And, nevermind the road, you also have the potholes to contend with!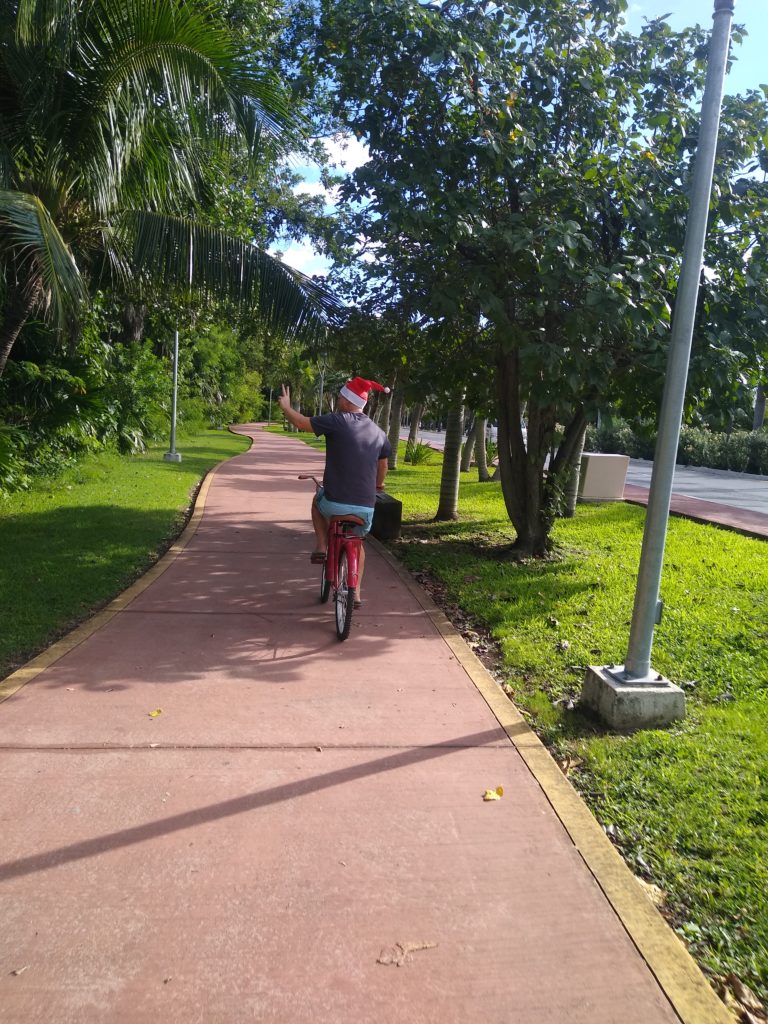 Once this is done, there is a fantastic cycle lane bringing you right to the playa.
The bikes are cute but it's hard to get used to the back pedal brake. There's none on the handle bars. Lol. This is a problem if the chain falls off!
Gym bunny
On the way to the beach you will also see a few outside gyms just of the main road. A fun concept and something we just had to give a go!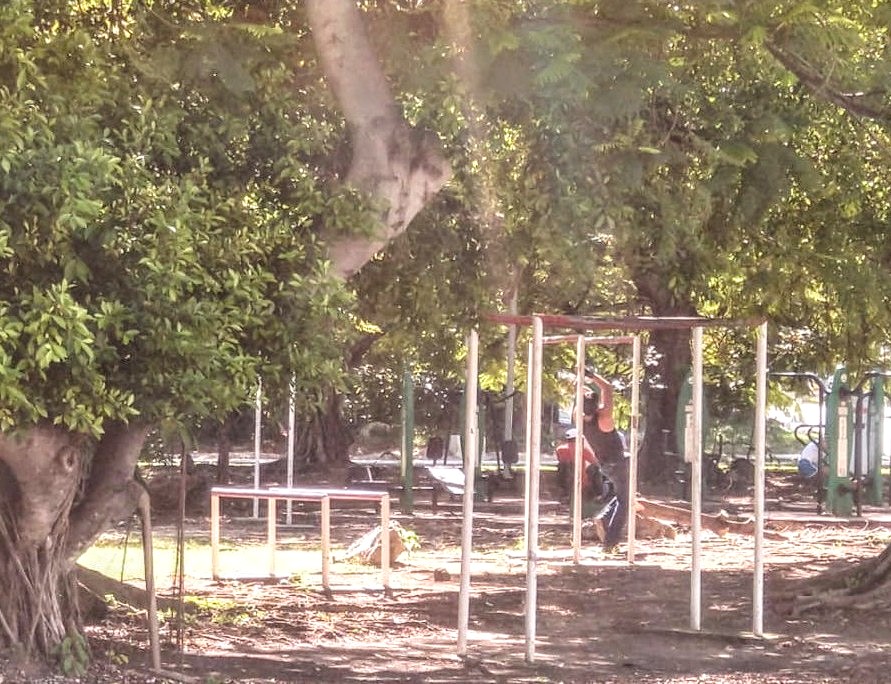 Las Perlas
Las Perlas is a pretty, very clean beach with soft, powdery white sands.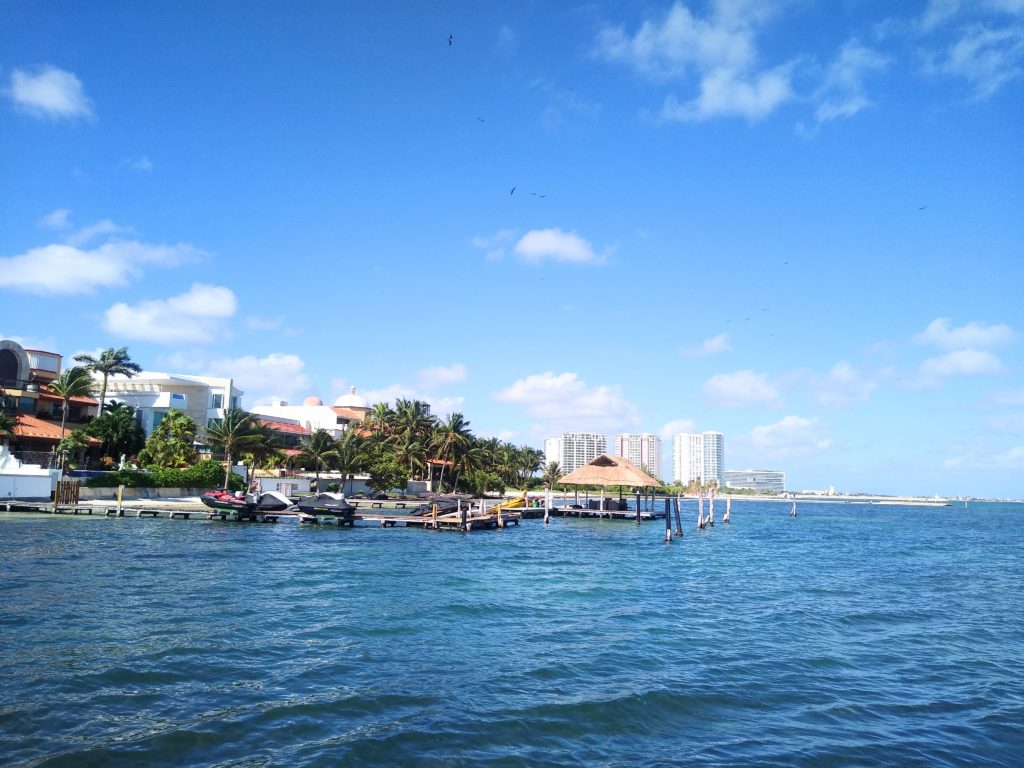 Oh how I missed the marshmallow feeling sands of Cancun. It's glorious.
It even has its own eco gym where you can pump some iron – or wood as the set up suggests!
At the start of the beach entrance, people congregate in one area.
However, walk to the left you will usually get a whole stretch of the beach to yourself.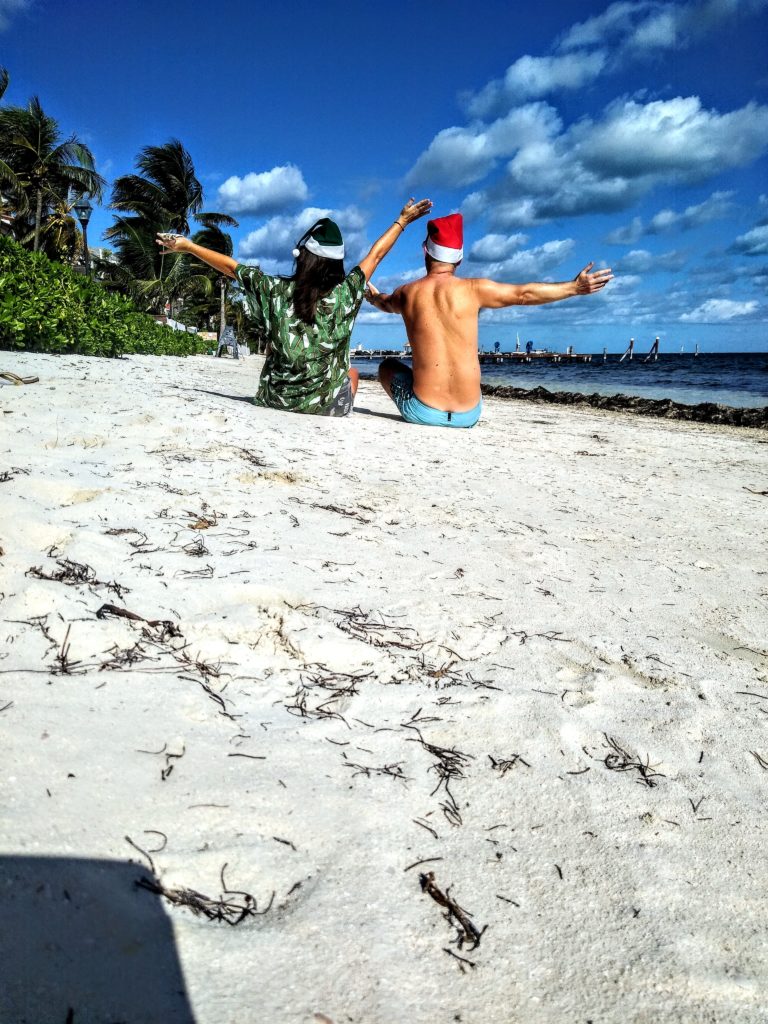 This section is backed by fancy sea facing properties.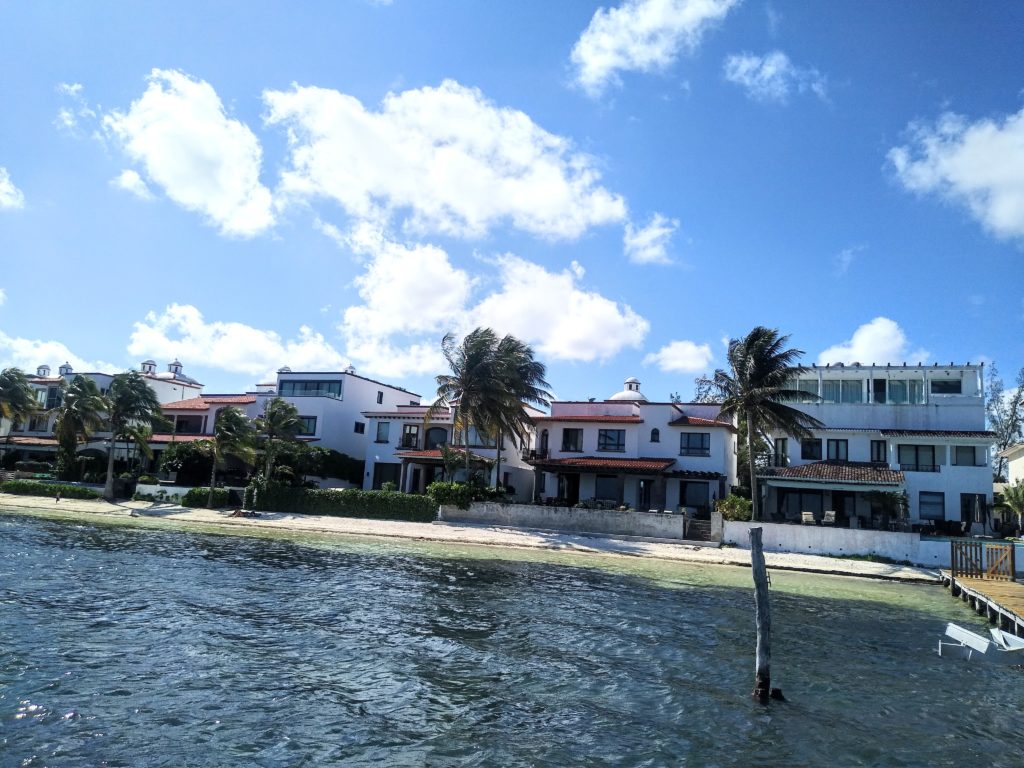 There is also a quay boardwalk to take a relaxing stroll. Breathe in that sea air!
There is still an issue with seaweed in Cancun, but definitely not as bad as Holbox. On a daily basis, workers will remove it with their tools of a spade and a wheelbarrow, just to try and keep it looking pretty.
Parking
If you are driving, or like us, cycling, you have the facilities to park up for free. There is security in the area, so things feel safe.
Iguanas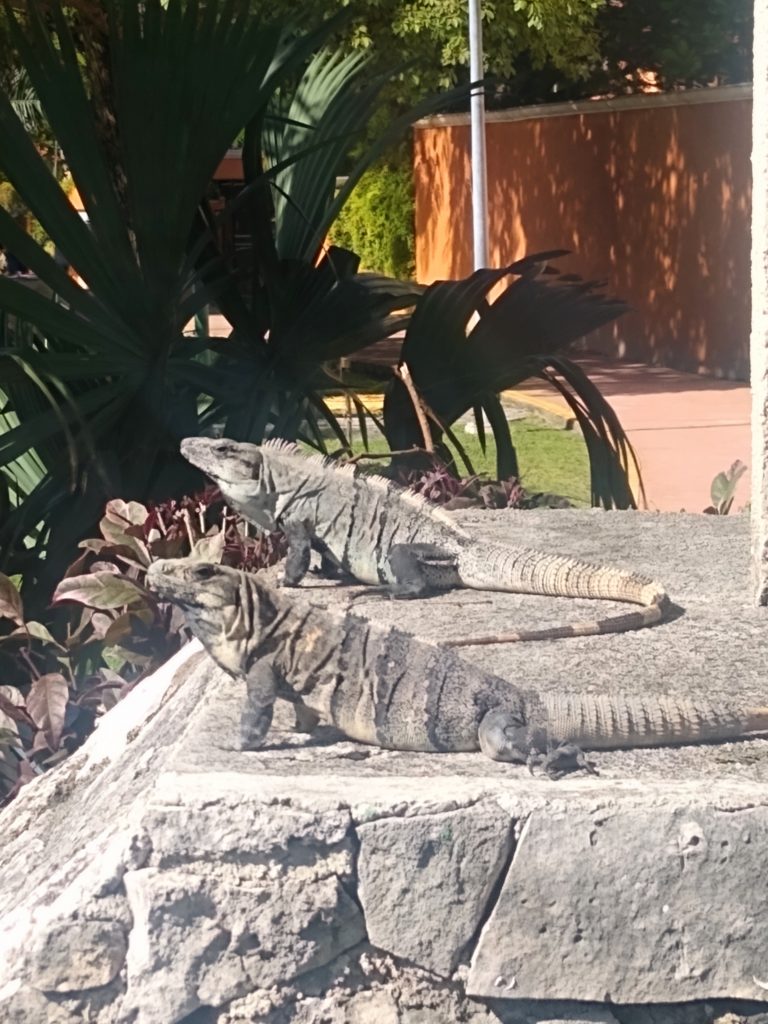 Also keep an eye out for the resident iguanas on the bike path a few minutes from the beach! They are pretty cool dudes!
We even had a couple enjoy us for a spot of sunbathing and a munch!
Please respect the iguanas and don't try to touch them. They like a vegetarian diet of colourful flowers, leaves and fruit! So will be happy when you swing some delicious food their way!
SLS
Don't mistake SLS for a beach, even though it comes up on Google as one, as it's not!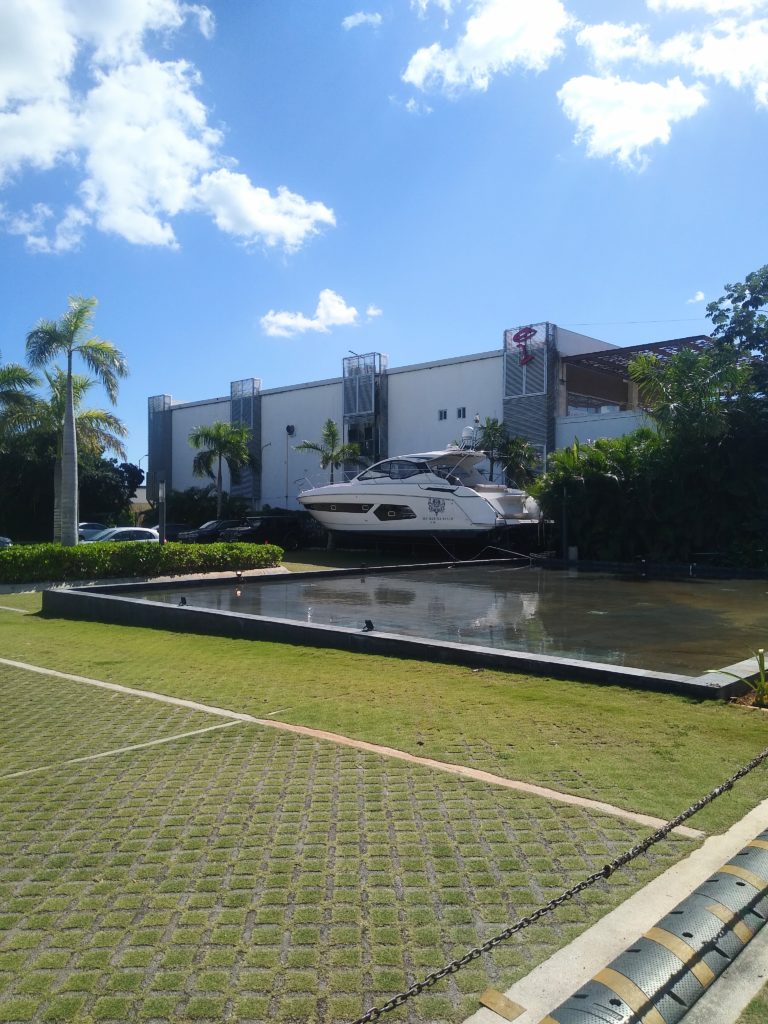 It's just an upmarket club set back of the main road.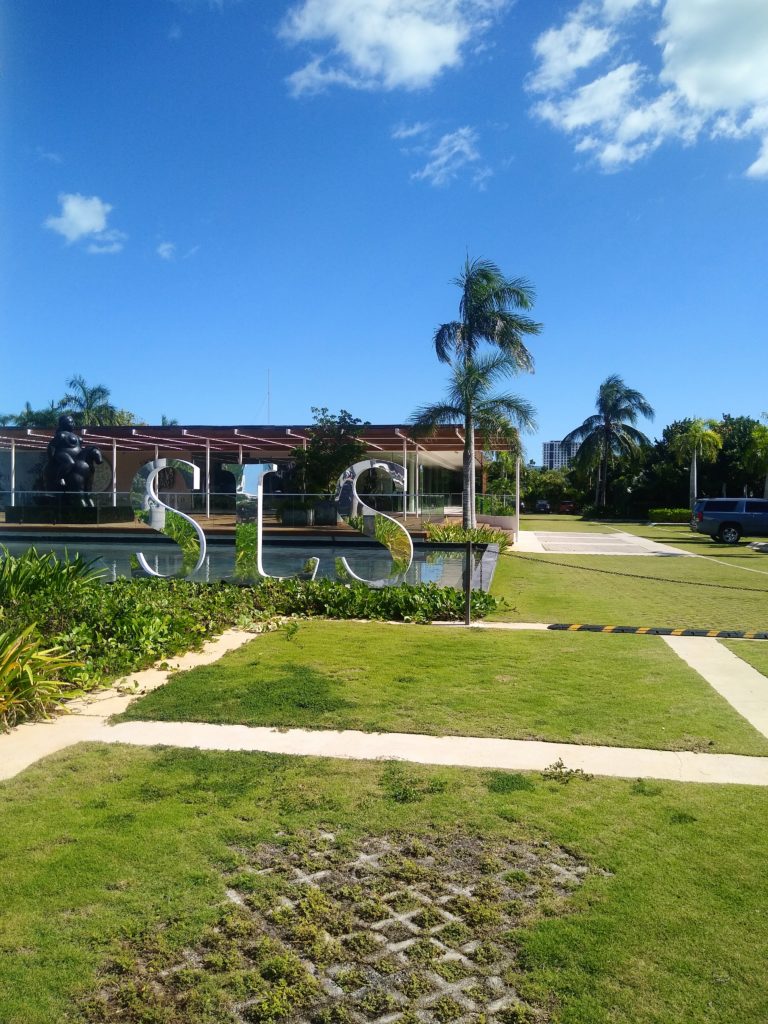 It's worth a cycle though to see the cool voluptuous Botero statue outside it!
Fancy a sail darling?
The marina area in Cancun is something else.
This is where the money people's playground is.
It is approximately about a 10 minute cycle from our Airbnb, which brings you to the high life.
It showcases some stunning upscale accomodation looking over the water, as well as several huge fine dining restaurant's.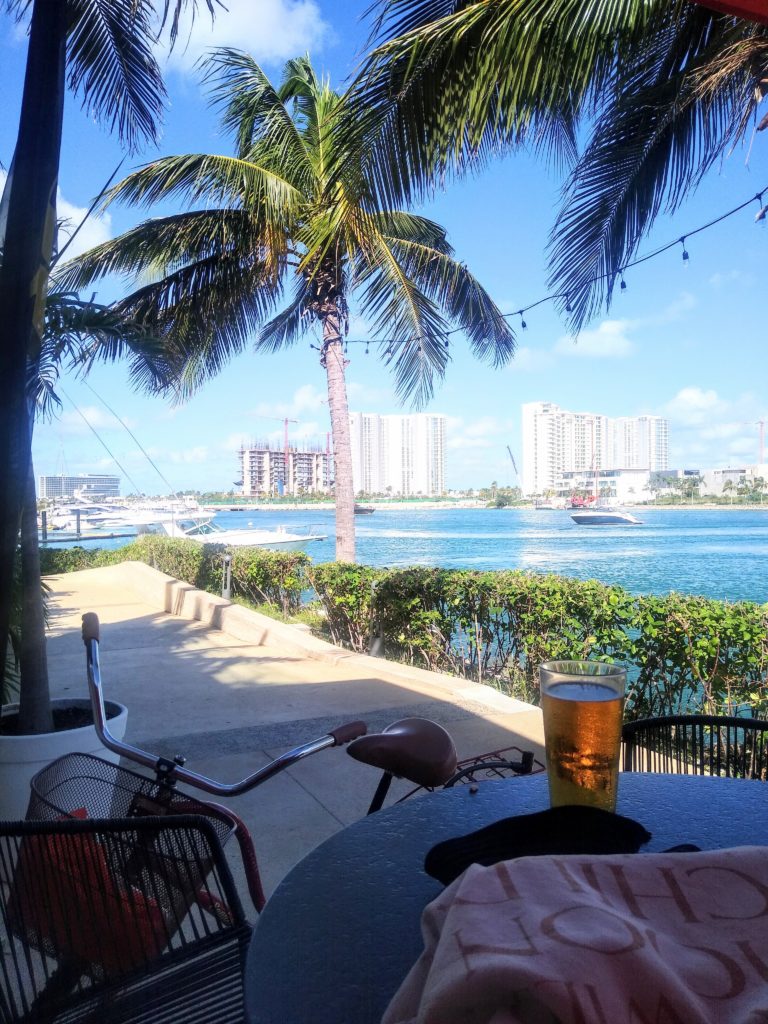 You will also have the tempting Marina Puerto Cancun shopping centre, where you can find the usual stores such as Zara, Billabong, Pull and Bear, etc aswell as other smaller shops.
The luxurious yachts and catamarans were outstanding. It's certainly no Monaco but still some nice yachts.
It's where 'serious' boaters use them for pleasure purposes like cruising and entertaining.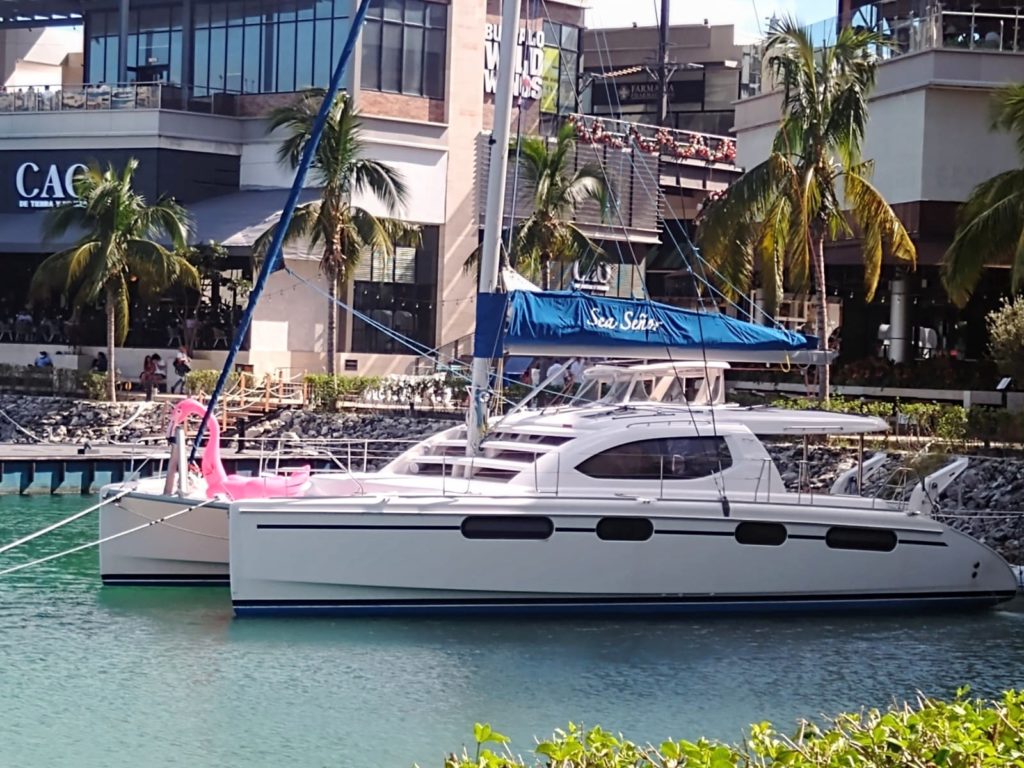 Don't bother going for a swim though as you could be in for a snappy time!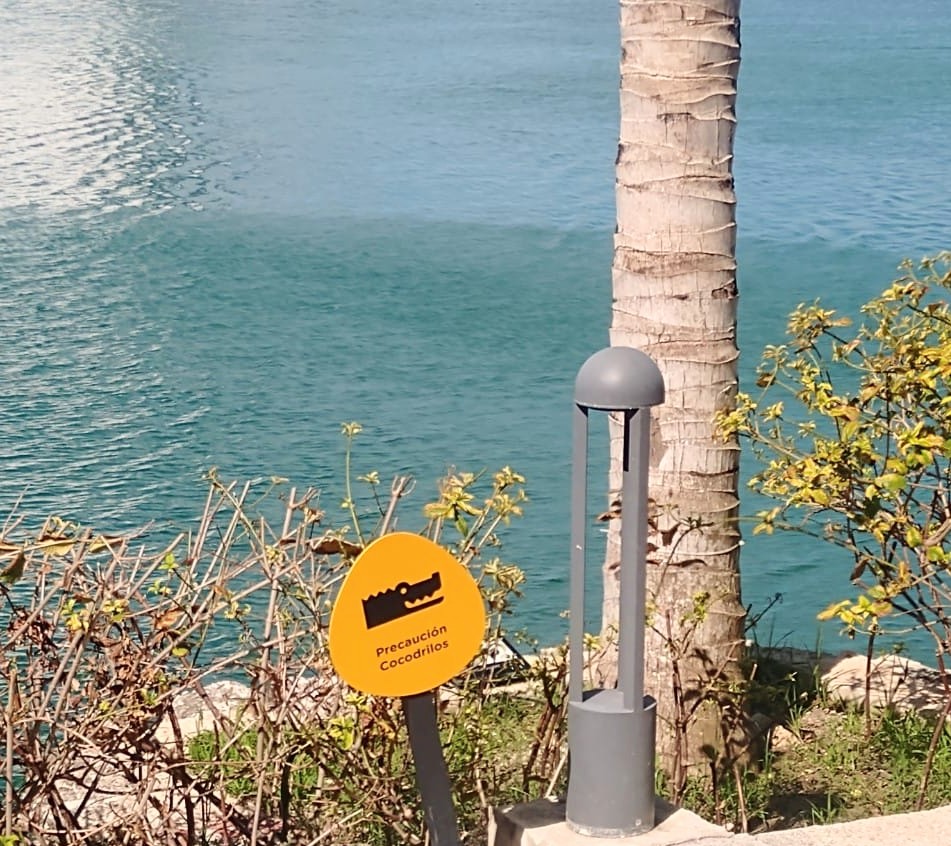 Dog rescue!
While we were having a refreshment after our shopping trip, we noticed a small black and white dog hiding in the bushes at the restaurant. She was really forlorn, shaking, elderly, aswell as very weak. It's unusual to see strays in Cancun, so we assumed she was owned as was wearing an orange collar. Unfortunately no tag details though.
The restaurant waiters were very nice and brought her out some water and sausages. Slowly she came around and ate something, but didn't drink.
Kindly security guards assisted to and managed to get her out. One security lady scooped her up in her arms. Everyone had fingers crossed we would find her owners.
Market area
The market area, Mercado 23, is vibrant and lively with many stalls set up for the Cancun Christmas cheer, selling Santa, elf hats and glittery decoration's! Worked for us!
In the bazaar you can also purchase some fresh local fruit and vegetables here, aswell as bric a brac and even bales of hay!
The bright colourful shutters of the buildings contrast the sunny blue skies giving off lovely positive vibes.
It's easy to feel happy here. Their holy shop certainly had an unusual slant.
Another market is Mercado 28 and plaza Bonita.
It is set up as more familiar market stalls, mostly for tourists, selling items such as jewelry, clothing, ornaments, wooden chess boards, cigars and accessories.
We only walked through looking for incense sticks but we're bombarded by sellers trying to entice us into their shops with funny quips and one liners, such as, 'My turn to rip you off', 'Want anything illegal?!', or , 'Ive got everything you need!'
We did find someone who was excited to bring us to some incense sticks in another store. 200 pesos he was trying to charge. £7! We took it was a cut for himself and the incense shop owner! Just to give you an idea, incense is usually nomore than £1 in Mexico! Or elsewhere for that matter. We made a dash for it.
Cancun Christmas Eve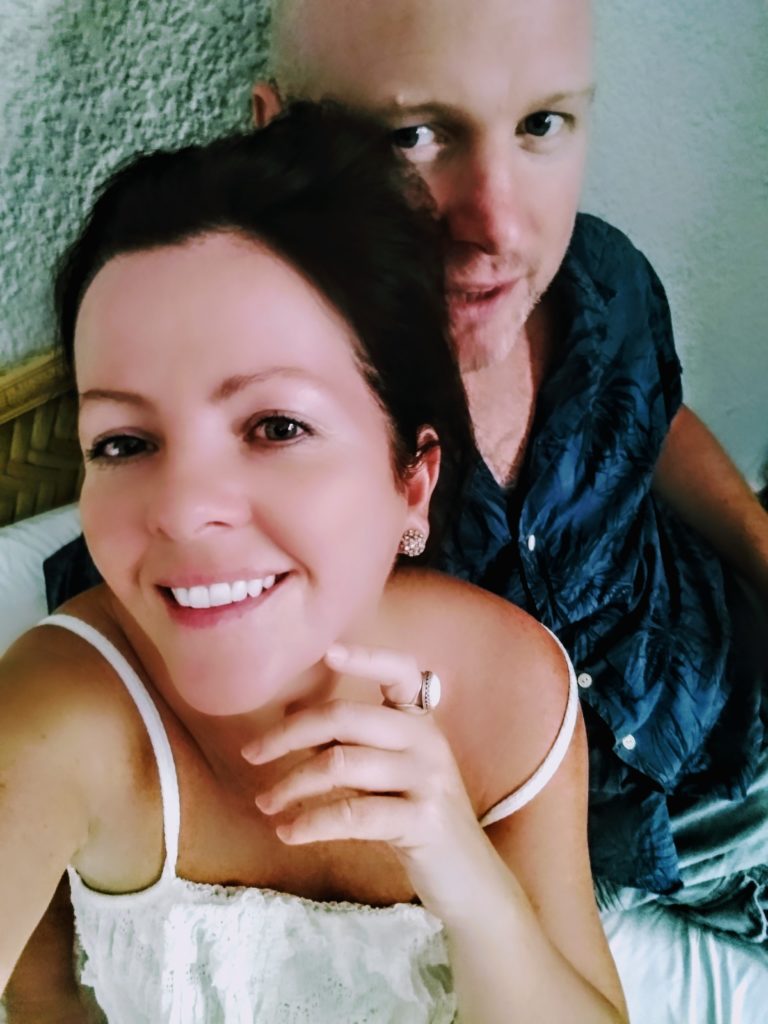 Christmas Eve was a bike ride, the beach, prep for Christmas day dinner and sharing Bailey's and Knox's speciality bonbons, with our hosts Kenn and his gorgeous mother Julia, while they were around at the property dropping us off Christmas gift of goodies! It was all very relaxed. Knox wished for snow this year, but who won 😜
Making bonbons
We had tasted some delicious bonbons in Minca, Colombia, so we had purchased some cacao nibs from elparaiso de tuki BB cafe y cacao (commonly known La Candelaria) farm to make ourselves.
Recipe
Ingredients – cacao nibs and whatever fruit or nuts you choose! We used fresh blueberries and blackberries. You can also add sugar if required to bring down the strong bitter taste of the cacao.
Equipment – A blender
Mix until you get a smooth consistency. It will go into a powder like substance first. Keep blending until you get the smoother texture. The blender Knox worked with wasn't great, so he had to use a spoon to bring the mixture up and blend yet again to get the fine consistency needed.
Make sure the blender is off when doing this! To bring the strong cacao percentage down, from 100% you can add sugar or fruit. For instance if you had 100 grams of cacao nibs and wanted to make 70% chocolate bonbons, then you would add 30+ grams of sugar, or / and fruit. We added the blueberries and blackberries without the extra sugar, blended again which brought the mixture into a nice paste.
Getting messy – Empty mixture into a bowl and then make into little balls, or if you have a shape container, you can use that.
Mariachi band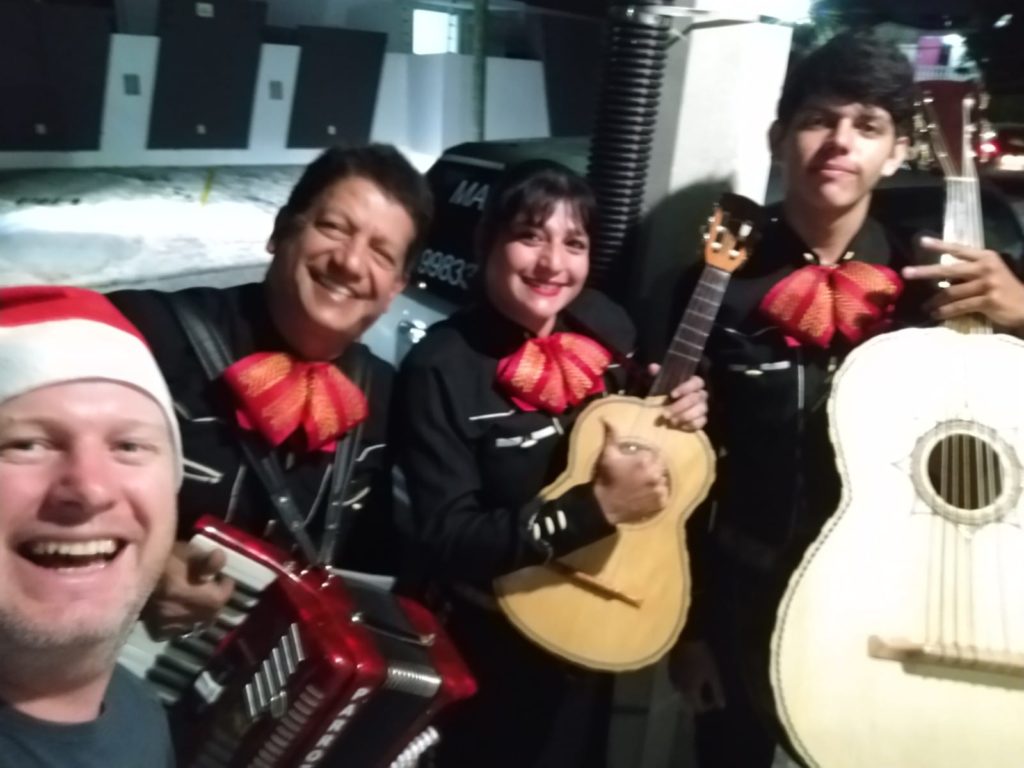 During Christmas Eve night a lively Mariachi band was in full swing at a private house party. It reminded us of our favourite Mariachi band in Sayulita!
Cancun Christmas day
There was no gifts bought, or tree again this year, but as always we enjoyed our Christmas dinner feast, in the sunny garden, along with lots of bubbly and a taste of home, Bailey's Irish cream!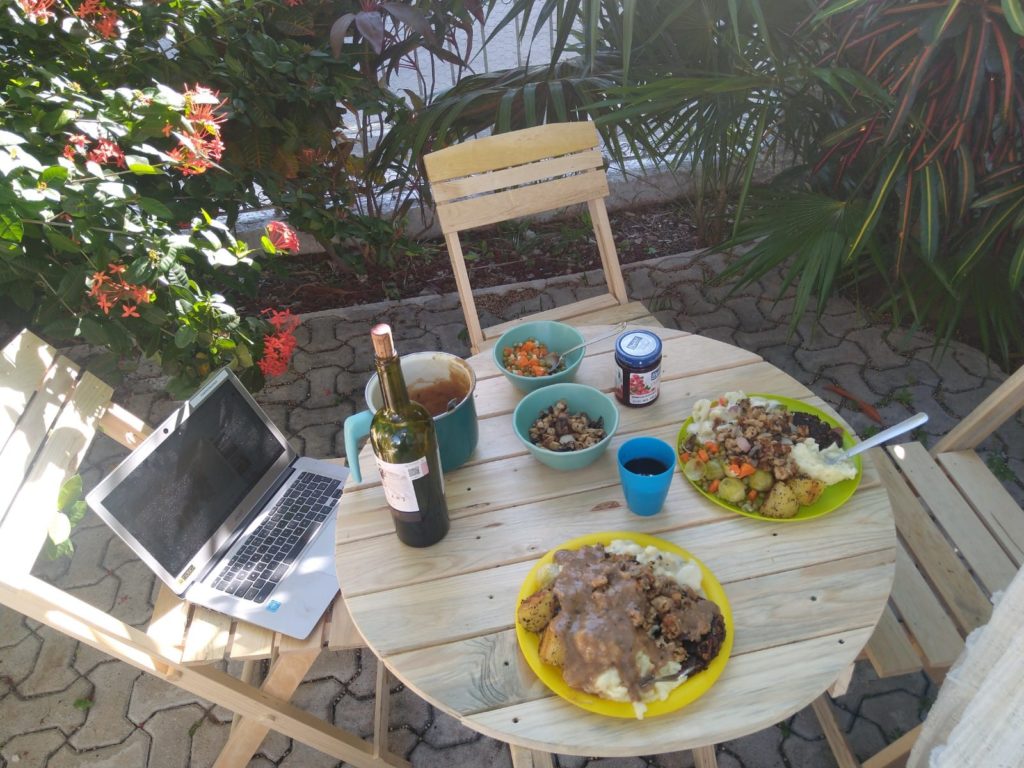 We spent the next couple of days in a food coma, not doing very much! We did enjoy getting some updates on our foster pup, Stagger Lee (now called Churro), we looked after in Sayulita, Mexico. He was doing well with his adoptive parents in Canada and seemed to take the snow in his stride!
Where next after our Cancun Christmas?
Theres not much to do in Cancun, other than beaches, socializing and shopping. Also, indeed we have saw it before, which makes it easier for us to have time to work out our next move, giving us less pressure to plan it out. We decided to extend our stay until the 13th January. Originally we'd booked in just until the 2nd January. We did a deal with Kenn without going through Airbnb, which meant we avoided the companies fees and taxes, saving us even more money.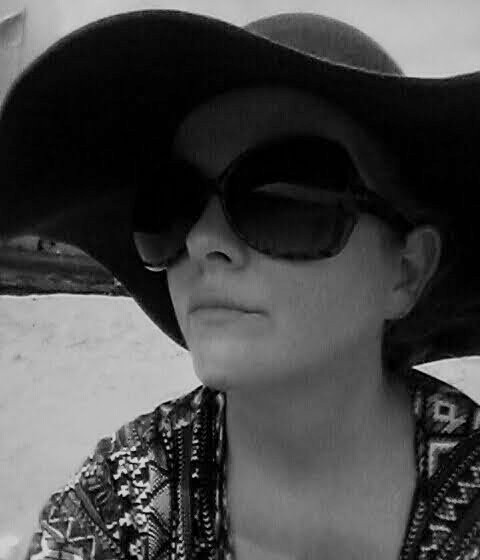 We have lots of ideas where to go if countries would open properly without restrictions. The world would be our oyster! However, we don't hold out much hope this will happen in the next few months, so we are looking at new destinations in Mexico. Possibly keeping to the Quintana Roo state on the Yucatán Peninsula.
Farewell until next year
Before we go. We would like to take this opportunity to wish you all a very happy and much brighter year ahead. May the tyrants be held accountable, the masses awake from their hypothesis and we all can get back to the better normal of free will. A new year brings a shining light of hope and that's all we could ever wish for. Here's to 2022. Are you ready?
If you liked reading. You may also be interested in: