Cancun: Spring Break party
Flying across the country to Cancun prized us away from our beloved Sayulita. The party still continued
To Cancun from Sayulita:
Practicalities
Here's a quick rundown of some practical info for our journey to Cancun.
Taxi / Car hire Sayulita
Taxi price from Sayulita to PVR was quoted as $700 pesos then $600 after negotiation. It was cheaper for us to rent a car the day before and drive there ($526 pesos National Car Rental). It also gave us a chance to drive to San Pancho on the Friday before departure to chill on the beach.
Flights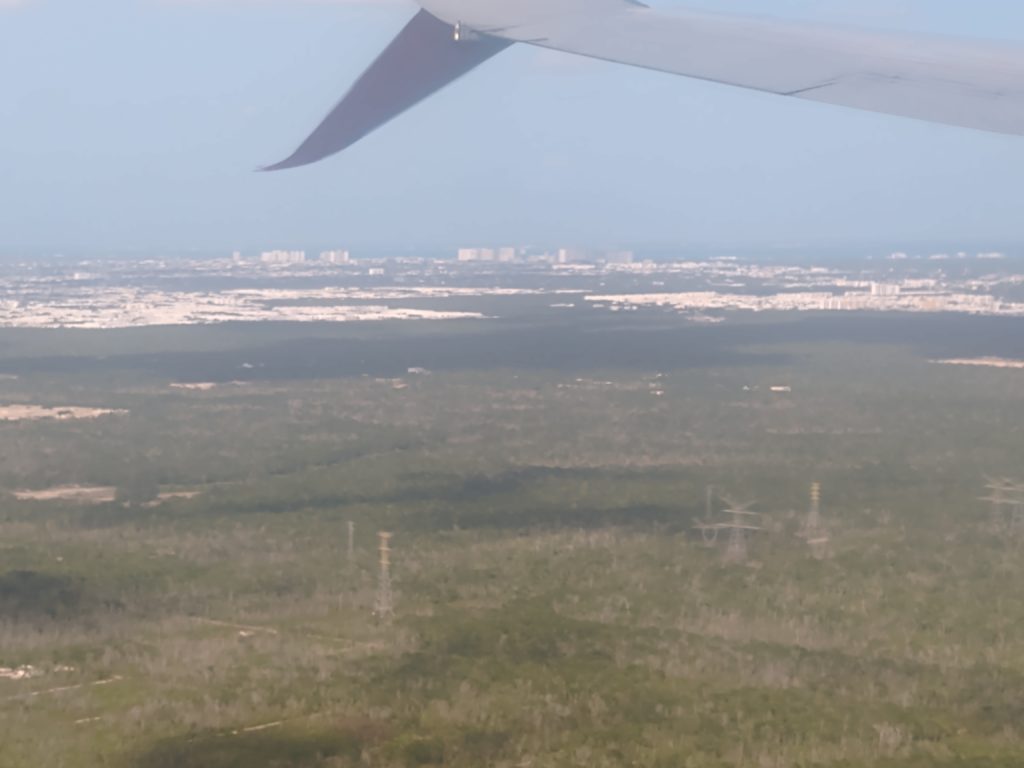 Aeromexico – Sayulita to Mexico City (1.5 hour flight), with a 1hr 15 min wait, them MEX to Cancun (2hr flight with a bit of messing around either side).
Getting off flights is even more of a chore these days as they disembark 3 rows at a time with everyone else to remain seated. Makes no real difference to us, even if we sit at the back, as we have to wait for the luggage to hit the carousel.
($6700 pesos (£234 / $326 US approx).
Taxi Cancun
Best to pre-book to get the reduced price – quoted in US$ 🤦‍♂️- $25. We used Cancun Shuttle. Was generally ok but the rep wasn't where he should have been when we left the building. The driver then had to be called in so was a 15 min wait when we expected to be greeted and on our way in a couple of mins.
Our general impression
The journey from Sayulita to Cancun went smooth, but a long enough trek. We had been on the road for 10 hours (up earlier) by the time we got to our lodgings in Cancun.
Prep for Cancun night and Island life.
First things first
We were determined to go out to see what Cancun had to offer. While I got myself dolled up, Knox headed straight to the supermarket to buy food supplies for our next leg. Thinking ahead, we knew that Island life would offer less options in the shops. Indeed, a cooker meant by planning ahead we would be loving the home cooked meals and a chance to chill.
He got the bus there and back, dealt with an overcharge on the bill, muscled along; sweating with 3 bags full, and delivered a spot of bad news.
"The supermarket guy, said bars and restaurants close at 10pm!"
It was now 8pm! What was the use of rushing out? We were about to call it a night. Our discussion decided not to take supermarket guys word for it.
'Its Cancun, they can't close early!'
After ringing a bar or two, it was confirmed the supermarket guy was wrong! Places were open to late! The next call was to the restaurant and a table was booked. Cancun here we come!
Dinner
We hailed a cab down, to Elefanta (shares the place with Thai) restaurant. If we couldn't get into India yet, we will devour some, eagerly awaited, Indian cuisine. The pleasant lady driver quoted us a very good price and that kind of unbalanced later taxi quotes, in a way.
We got ushered into the restaurant, through a jungle setting; surrounded by Buddha and Indian deities such as Ganesh, like VIPs. Bamboo candles lit the path as we followed our host to the best seat in the house – an overwater palapa, hewn from wood, with a thatched roof, and looking out over the Nichupte lagoon.
The soft lighting reflected colourfully on the gently lapping, inky, nighttime waters. Max and Pablo were so attentive, even bringing some mozzie spray; to thwart the menace, and the curry hit the spot!
2 mains and a side, plus a bottle of wine = $1700 pesos (£60 approx). Similar to mid price restaurant in Ireland/UK/Europe.
Going Ape: Cancun party style
Spring Break Crazy
The brashness of Cancun hit us right in the face as, afterwards; when we surprisingly managed to get a taxi to pick us up for a reasonable price of 100/150 pesos to crawl to up the road, we headed up to the main bar drag of the hotel zone (Punta Cancun), where the action was. You can't miss it with bars like Coco bongo blaring pumping, thumping House music out from every orifice possible. The signs didn't look good, but we had opted for Monkey Business, a bar we were assured played a bit of live rock music.
Monkey Business
As we waited in the queue, Miko not amused, Mexican vibe dancing music and 80s/90s music played out of their sound system at a level where one could at least hear oneself think. Within a few mins we were temperature checked; for an outside bar, and led to our table. We waited to be served. The atmosphere around felt quite separate and unsocial to start but we and others in our corner of the bar soon livened up.
Miko chatted to the guy, Aytaged; from Ethiopia but living in Delaware, I enjoyed a wee dance and chatted to a Polish lad and a couple of Germans. Aytaged joined our table and enjoyed the company.
Rocking and a rolling
The drinks flowed and the craic was 90! ( High up on the good craic scale). The band came on and played for about 40 mins before the other Mexican/80s/90s mix returned. The mood was good. Soon our whole table, and many of those around, were up having a jig and the hours rolled on. It was in the region of 3am when we left and many others were still enjoying themselves!
Taximare
As we wanted to go home, our luck with the taxi drivers disappeared. They Kept quoting US $12-15 – $250/315 pesos for a journey of less than 6km. Well over priced for the journey. Our host had said 200 pesos was expensive for the trip at check-in. They wouldn't budge and became more obstinate as we walked towards our place. With all the US dollar quotes, it makes me wonder when Mexico became the 51st state of the USA?
It was very frustrating. Obviously, the Americans on holiday are happy to pay whatever price demanded. Even Dick Turpin would have been aghast! Eventually we did get a lower price but only cause we'd walked halfway back. It was after 4am by this time and a shame a dampener had been put on what had otherwise been a good night.
Sunday stroll and lounge
The beach
Our Cancun Sunday was planned to be slow paced with a late breakfast. We gathered ourselves to check out the wee beach in front of our Studio, Playa Tortugas. The powdery white sand, notable in Cancun and Quintana Roo in general, was so soft to walk on and there was a lovely little jetty for those idyllic photos. Sauntering up the beach, we came across some hotel's organised beach dance competition. We declined to take part lol.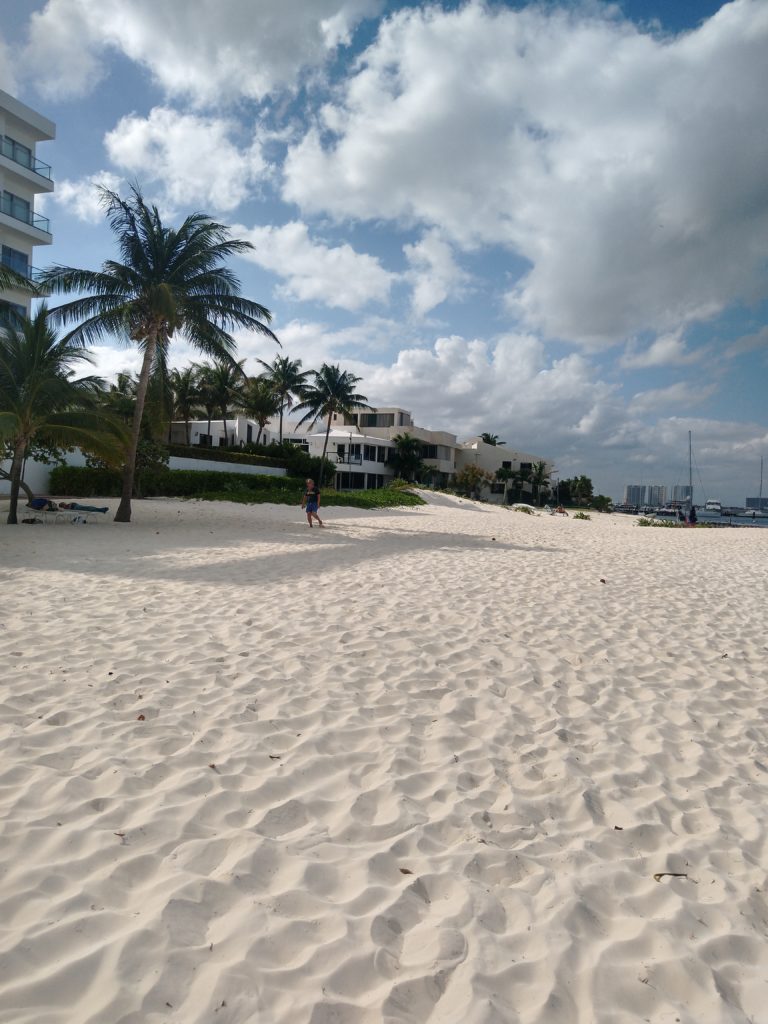 Cancun pirates
Just around the corner was the Jolly Roger pirate ship and Captain Hook's ships, on opposite sides of the lagoon entrance from each other. They were silent for now as they sleepily sat docked at their moorings. Last night though, was a different story. Fireworks indicated the treasure and swashbuckling shows that were on offer out on the seas. Apparently the Jolly Roger is more adult themed while Captain Hook's shows are family orientated.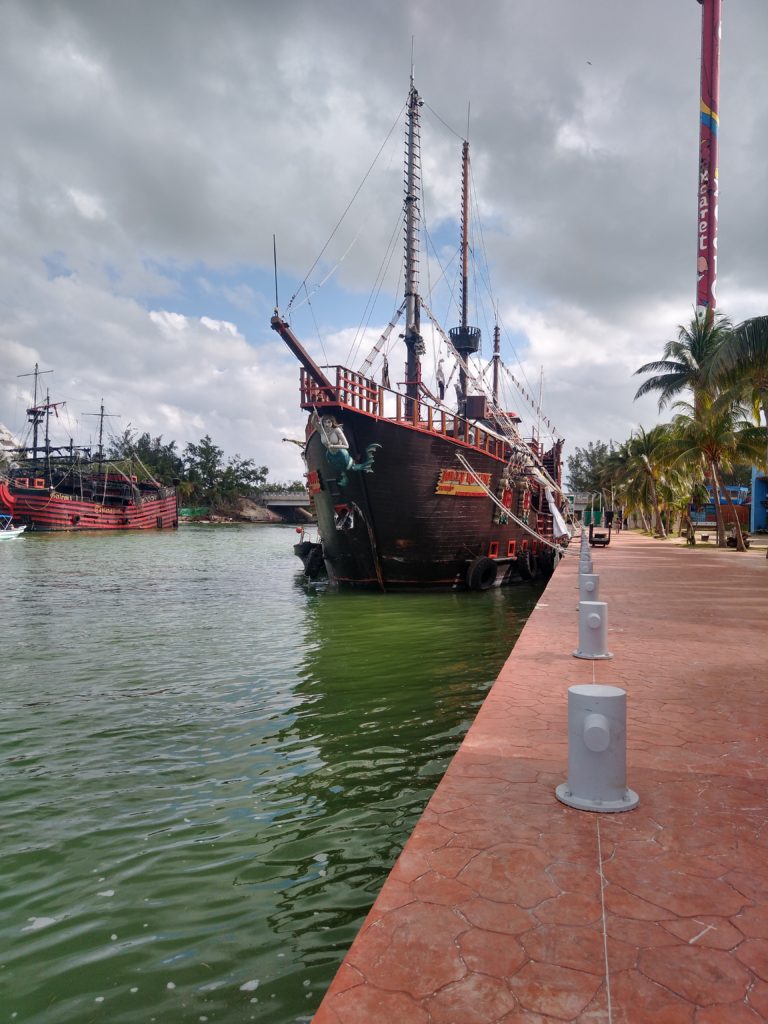 The new pirates of Cancun
We stopped off at Sirenas bar for a chilled drink. Relaxed, we watched the boating world go by as yachts and jet skis powered along this much used thoroughfare into the mangroved waterways and Nichupte Lagoon.
The owner was chatty. We explained we were Irish when he imitated a London accent, "lovely jubbly". He went on about how it was cheaper in Mexico for Europeans to travel to for a long time and that Mexicans would only be able to afford a few days in our country. The irony was lost on him when he presented the bill of over 800 pesos for 2 drinks each with 2 bottles of water. That was nearly as much as we spent on our much bigger bar tab the night before and would easily be comparable to European prices. On top of this he had overcharged 2 of the drinks!
Not the best of advertisements for his establishment. The place was charging 5 star prices but in a simple 1 star quayside bar. It was also a lesson for us to check the menu before buying a drink in the future.
Illuminated pics on an evening dander
To round off our Cancun experience we took an evening stroll along the main boulevard, Kukulcan. Colourful signs and dramatic sculptures, part of MUSA, filled our lenses.
The return brought us along the Jardín del Arte and the boardwalk by the lagoon's mangroves.
Finally, crossing the road, we took a night time stroll across our wee beach and we were delighted to see a single Great Egret chilling in the calm shallow waters. Time for bed to rest ourselves well for the rush of Isla life 😉😎
Read our Sayulita adventure: Freedom / Surfing / Puerto Vallarta