Tulum Town
We headed for Tulum town, on the Caribbean coast, when we left Holbox. 136km south of Cancun, it is a bustling town that connects with separate beach area, 7km away.
Getting to Tulum town
If you can stretch your budget you can get a private charter flight. Most will get the ferry and then onward transport.
Ferry
There are 2 ferry companies –Holbox Express (goes on the half hour) andTransporte marítimo 9 Hermanos (goes on the hour). Price for both is $220 pesos per person each way.
We sat on the top deck during the 20 minute ferry crossing as it brought us to Chiquila. There were screams and nervous laughter as the sea whipped up and splattered everyone in the face, soaking us. It felt like an amusement park's log ride.
Private taxi
We, again, choose to ride withHolbox / Chiquila taxi services. The price was $75. Our taxi driver, David, was waiting for us with a name board and cheery demeanor.
He drove us the hassle free, 2 hours and 30 minutes, to our abode in Tulum town, where we would spend 3 nights, before heading to Tulum beach.
Tulum town Accommodation
Another Airbnb, Casa Toloc. Spotless, beachy, everything you could want in a beautifully created space. Self check in was simple.
We could even lay down and use the internet in bed without hanging out of a window for reception, like in holbox lol.
A drive to the supermarket, after picking up the hire car for a few days, saw us rustle up a salad and a dry pan fried mozzarella burger with sauteed mushrooms, onions and tomatoes instead of venturing out due to our early rise to get on the road.

Car Hire
There were a number of sights that we wanted to take in around Tulum town. We are not ones for large tour groups, and we enjoy a bit of flexibility, so we decided a hire car would be useful. After a quick check of a few options, we chose Hertz and got a reasonable deal – $57 US for 2 days.
Tulum town centre
Centred around its main artery, Tulum town is a bustling thoroughfare for traffic. During the hot days, most are escaping to the beach, cenotes, Mayan ruins or some other activities.
A few hippie shops, art stores, natural furniture retailers, etc help develop a more thriving atmosphere.
Nightlife
At night the restaurants and bars come more alive around central Tulum Puablo. Around Calle Centauro Sur, a cluster of places offer a beat of sorts.
Mariachi bands will play outside some while Mayan warrior dancers wait their turn to thump their drum.
Live rock music plays in the odd bar with the rest choosing a more electronic dance rythm. Ropes across entrances to the odd place make them feel staid and less appealing, even if the music was good. "No dancing allowed" stated the sign.
We had a lovely time of drinks and a meal, a bit further down the main boulevard, at Vivo. Joseph and Coti made sure our evening went well. We even had a visit from a friendly gecko lol.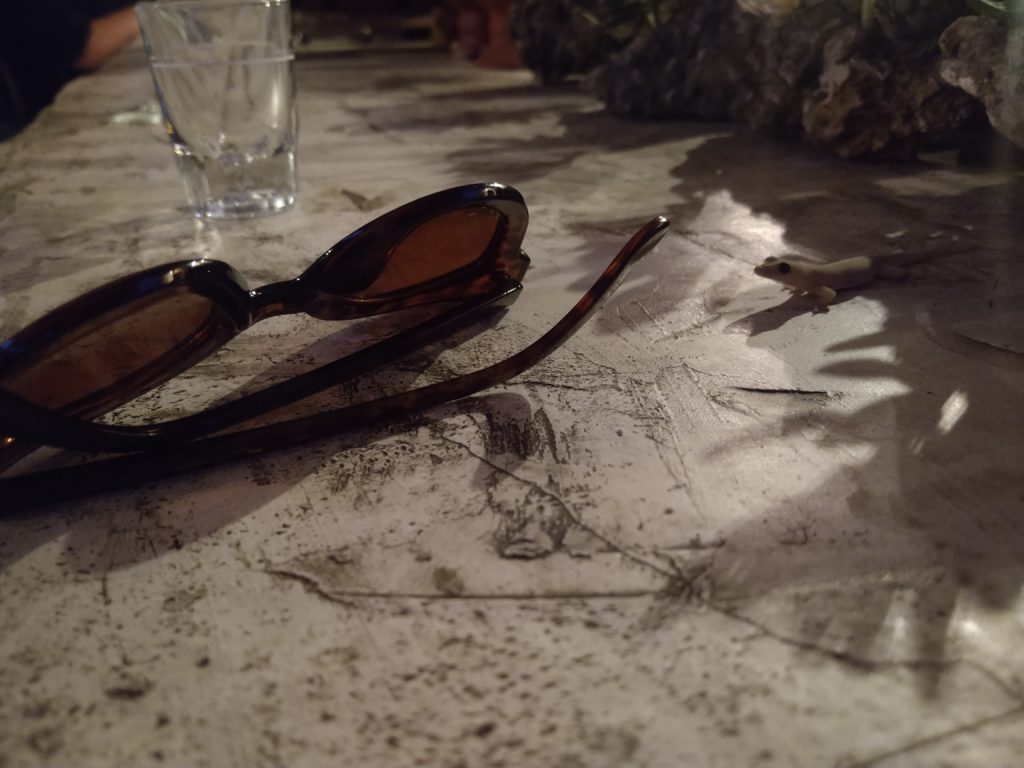 The vegan food, homemade pasta and grilled vegetables, was delicious and the craic good. Try also the Mezcalitas cocktail as it was a taste sensation. Loved the vibe and well worth the meal we had even if my (Knox) eyes were bigger than my stomach. The left overs got given to a person on the street, who was delighted to accept.
Getting around the town
If you stay central the most of what you need is in walking distance. A great way to get around is by bike. This can give you more freedom to explore further afield. You'll see lots of them about, usually with a wee basket in front. All pretty chilled, but be careful of the busy roads, especially until you get used to the back peddle brake that most of them have.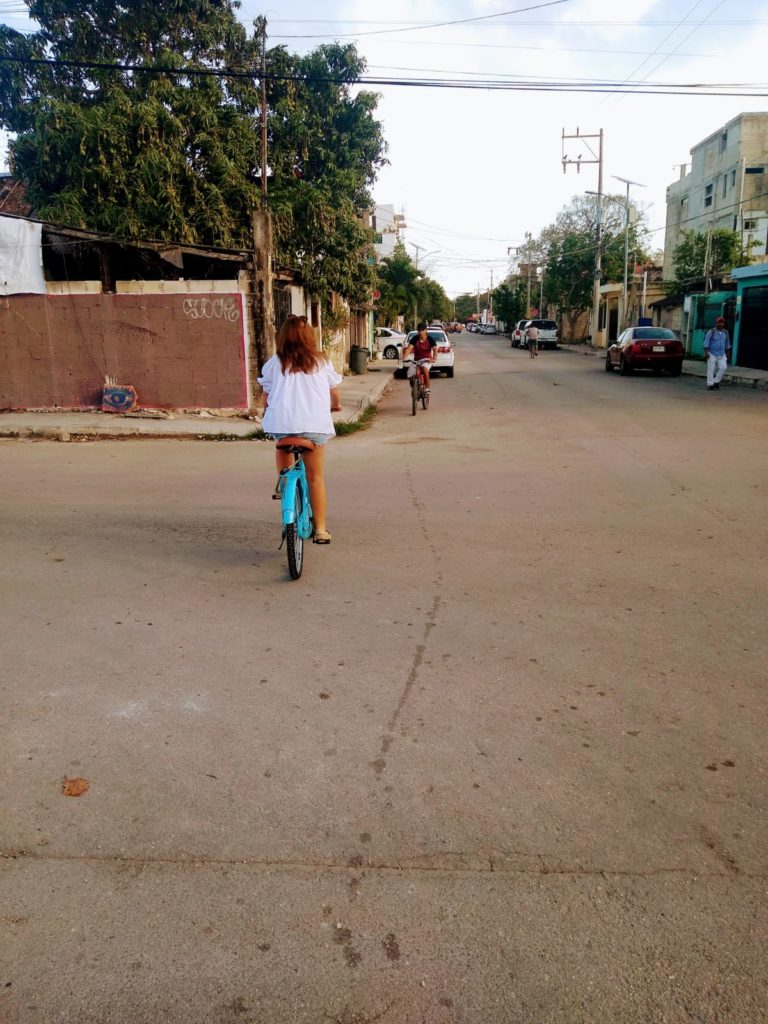 Chichén Itzá
The Yucatan peninsula was a hotbed for the Mayan civilisation. Tulum Town is a great place to use as a base to visit the various archaeological ruins. Indeed, the Tulum coast has its own Mayan site. As our time is limited, we decided to tour the star of the local show – Chichén Itzá (At the mouth of the well of Itza). A population centre for many centuries, Chichén Itzá grew in prominence as a city around 600AD until it's really dominant period between 900-1200AD. What is left for the modern era is a fantastic insight into the Mayan culture. As always, the best way to absorb the history of the place is to go there and feel the ancients power running through you. We will give you a quick run down to whet your appetite.
Getting There from Tulum Town
Chichén Itzá is visited by millions of people every year. The crowds can be immense. We wanted to have the place to ourselves or as close to it as possible. To this end, we got up at 5am. We're tired even thinking about it now lol. We were on the road at 06.10. It was still dark. A web search revealed two routes. In the main, both were the same until they split on the eastern outskirts of Valladolid. Firstly, the route that we took was without tolls and ran along the south ring road of Valladolid. The second route, running north of Valladolid, involves tolls. This would have been $80 pesos each way. Both, at that time in the morning take about 2 hours. Late morning and afternoon, that time can rise to 2.5hrs depending on traffic and road works.
There can be potholes on the road so be careful. As the sun starts to rise then visibility improves. One can see the power of nature as the jungle continues its fight to take back land from human occupation. The encroaching trees and scrub mean that workmen have a continuous job to prevent the jungle enveloping the roads and buildings as it has with previous civilisations over the millenia. We arrived shortly after the 8am opening time, where a sour, burly security man tried to direct us to adorn our faces, in our private car still, with a muzzle.
Entrance and cost
Already, tour guides are vying for our attention. Ignoring them, just drive straight until you come to the car park booth. The parking cost is 80 pesos. Once parked up, head to the steps leading to the site entrance and the payment booths. The Federal Government website stated that the cost would be $80 pesos for them and $417 pesos for the Yucatan State government admin fee. At the entrance booth, this had been updated to be a bit extra at $453 pesos. Therefore, $533 pesos each. Once through the entrance hall, we walked into the open air sight and breathed normally.
Highlights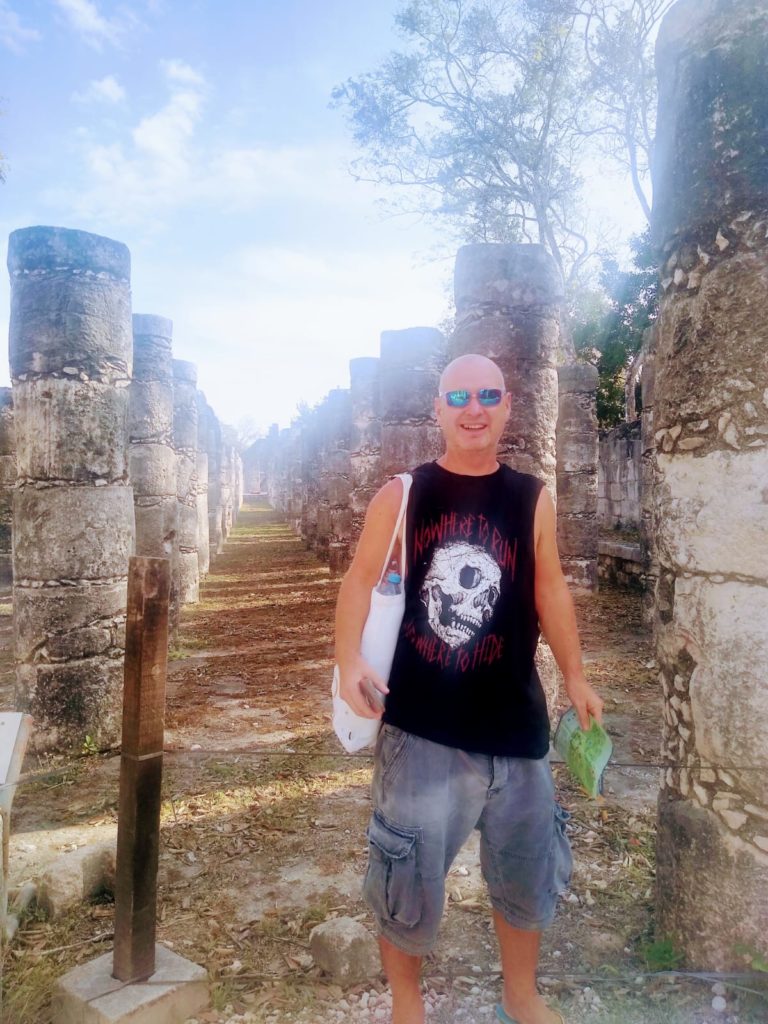 There is so much to see at the site so we will run through a few highlights for you. Our early start proved a shrewd move for a number of reasons. Top, while there were still a few others with the same idea, crowds had not descended on the ruins yet so we had good photo opportunities as we escaped to our own peace and quiet. Then, we beat the multitude of hawkers and sellers as they were busy coming in themselves and setting up. Lastly, the sun was on the rise in a clear sky so late morning and early afternoon would have been very hot. (or they would have got soaked in the downpour that we encountered on the journey home)
El Castillo (Templo de Kukulkán)
As we walk into the Gran Plaza, the undisputed main attraction stretches, pyramidically, out of the earth in front of us. Imposing, this temple was central to the inhabitants as the emblem of the religious power that controlled their lives. Steps lead up, on all four sides, to the sanctuary head at the top. Understandably, visitors are unable to touch, nevermind climb, the structure. Snake heads, jaguars, bones and faces feature heavily in the sculptures and carvings. The pyramid really is a fabulous sight to behold.


The Gran Juego de Pelota and the Templo de los Jaguares
The temple, located on the Eastern side of The Great Ball Court, takes its name from the jaguar sculptures at the front of the building. It is a prominent feature, adorned by serpent heads and carvings, that looks out over the Gran Plaza.
Flowing past this, you will enter the playing area of the great ball court. This is the largest ball court in Mexico. A football pitch size (approximately in length but narrower) arena opens up flanked by two walls that have stone rings cemented into place for their game. Modern Day millionaire sports stars may want to close their eyes for the next bit. Along with other carvings, the stone reliefs also depicted sacrificed ball players in the form of decapitation. Now we really understand the meaning of a "MUST WIN GAME". As an extra, just out the front of the Jaguar Temple is the "Plataforma de los Cráneos". A warning to citizens and enemies alike, this was a display area for skulls of enemies and other beheadings. Charming!
Templo de los Guerreros
Flanked by pillars front and along one side, the warrior temple is the other impressive structure in the Gran Plaza. The pillars have depictions of warriors while the inner walls have murals that show battles as well as parts of ordinary life.
El Caracol
Astronomical events were hugely important to the Mayans. This structure, known as the observatory, appears to be linked to events of the Sun equinox and Venus due to three windows in the upper section.
El Osario
A place of worship before a funeral site, this four sided, pyramidal, structure is part or a series of structures. Heavily decorated with serpents, this was an important structure for the locals.
La Iglesia (The church)
Regarded as one of the best examples of Puuc architectural style in Chichén Itzá, the building has a mighty amount of decoration, including a central godlike/ancestral figure seated on a central mask's nose, several other 'big nosed' masks. The 'church' is named as such due to the so called 'convent/nunnery' that it sits beside.
Summary of Chichén Itzá
We really enjoyed our visit. It is a fantastic example of Mayan culture in the region. This was made possible due to the lack of crowds and hawker interruptions. As we were leaving, the place was hotting up on both fronts. There are plenty of other structures not mentioned here. Get visiting to see for yourself.
Towards the end of our tour of the site, an official, on a fume spewing motor bike, rode up. He demanded that we put on face coverings or we'd be arrested even though we were stood in an open air space and no-one was within 20 metres of us!
When he drove off to the corner of the field, to be with his mate, he removed his own muzzle. We continued our state of breathing fresh air, as we walked in the opposite direction, for the last 10 mins of our Chichen Itzá experience.
Cenotes
Most of the rivers in the area are underground. These will rise in places or be viewed in sinkholes. Places like this are known as Cenotes.
They can be great for bathing or diving, with large underwater cave networks. It's a fascinating world. We decided to stay around ground level this time.
A few popular cenotes we tried were so over priced. The weather wasn't great, in fact pissing down on our way back from Chichén Itzá, and we only wanted a few mins to take a quick dip and a photo or so. Cenote Calavera, Cenote AkTun Ha (carwash) and Cenote Zacil-Ha were all charging $200/250 pesos per person and looked over crowded. We decided to wait.
The next morning we visited Cenote Yaxchen. This was $50 pesos in and was a dream. The lady who owns Yaxchen cabanas, with access to the cenote, was relaxed and welcoming. Luna, her dog, dandered down the artistic lane to the water with us. Backed by mangroves the pool was a lake with crystal clear water.
The dip was refreshing and invigorating. We went just after 9am and the place was quiet. Deep water jump points, as well as sun decks, were set up. The atmosphere was so zen. Lacking the pretentious nature of the other places, this was heaven.
If you liked reading check out our other Mexican adventure at Tulum beach!