Montana Redonda – Flying high up at the top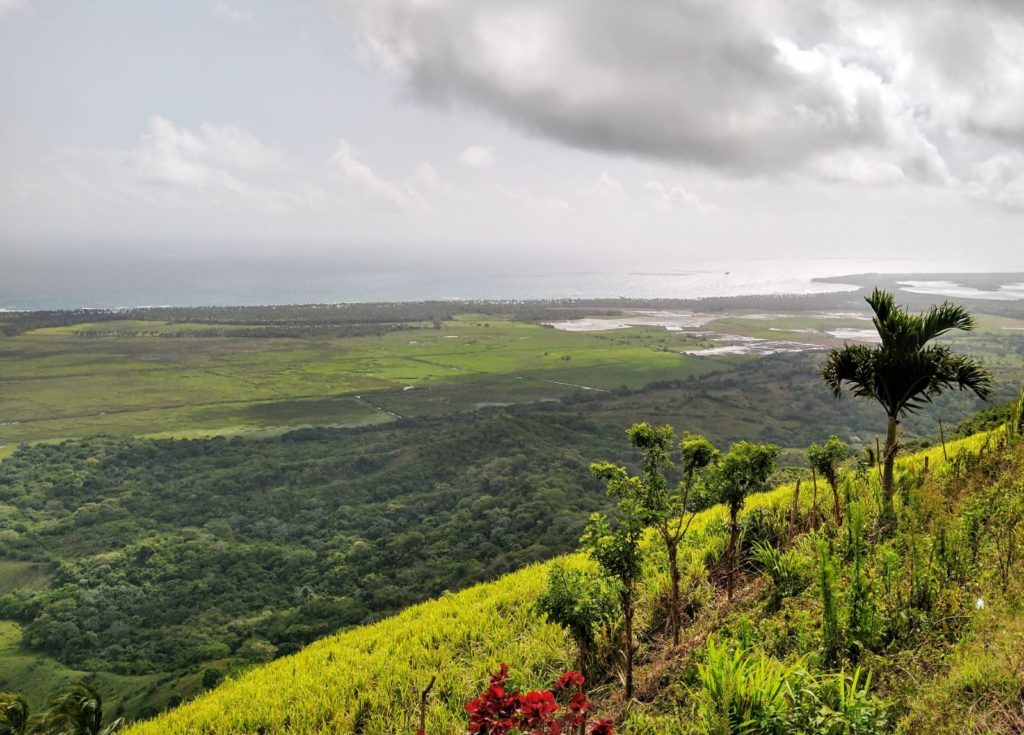 Part of the Cordillera Oriental, Montana Redonda gives a 360 view of the eastern part of the island and the Miches area. This is a very rural and underdeveloped area. Indeed, the Dominican Republic is surprisingly big, for those thinking that the Caribbean is all small islands, so getting around is not easy if you don't have your own transportation.
It would have been £62/$85 if we got an Uber driver to Montana Redonda. A private taxi would have been more. Both would have lacked a bit of flexibility, as It's a little off the beaten track, so we decided to hire a car.
Good Dog car rental
We hired from Good Dog rentals, in Los Corales / Bavaro, the evening before so we could make an early start. It's a Russian owned company. It worked out £33/$47 including basic insurance. We had our own excess insurance so we decided against getting their full package (check out our car rental tips). This would have cost a further £17/$24 for the day.
The small car was like a driving advertisement, with its wrapped exterior, but it did the job getting us from A to B. They were clean too and generally well maintained. There was an odd grinding/rubbing noise when the steering wheel was turned to the left but, apparently, the mechanic knew about it, saying it was a characteristic of the Toyota Vitz. We're certainly not convinced of that lol.
Whacky races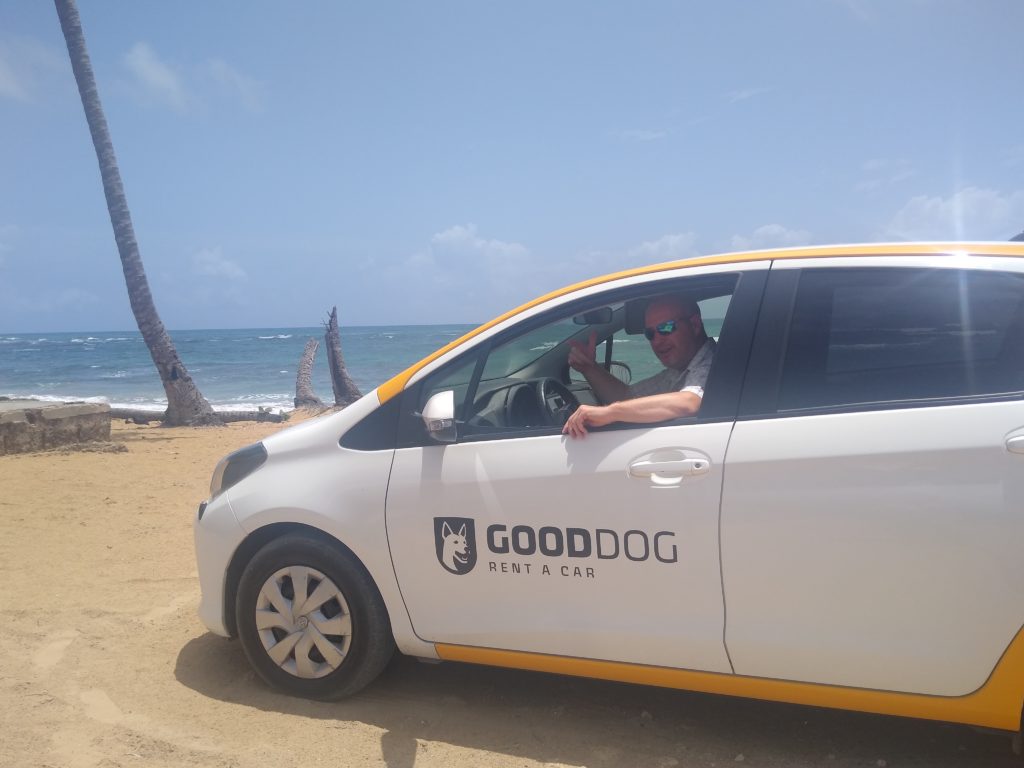 It took us an hour to Montana Redonda from Punta Cana. Thankfully we got there safely. It's easy to see where the horror stories, and warnings not to drive in DR, come from. Getting out of Bavaro, out to route 105, had motorbikes driving up the inside, pulling out from side streets, passing on the outside, driving up the wrong side of the road etc. A big coach was also not going to be slowed down by a truck stopped in his lane. He just bullied on out into our lane and damn the consequences.
Not for the faint hearted but, keeping our eyes open, we made it to the relative safety of the highway. Like most crazy driving places round the world, one just has to go with the flow and work out the accepted rules of the road.
Sights at Montana Redonda and around
Montana Redonda is a hemispherical mountain amidst flatlands close to the coastline between Miches and Punta Cana.
People don't just go to Montana Redonda for the spectacular scenery. They also make a special trip for the photo opportunities, such as the swings, witches broom and the zip line.
Entrance, fees, and climb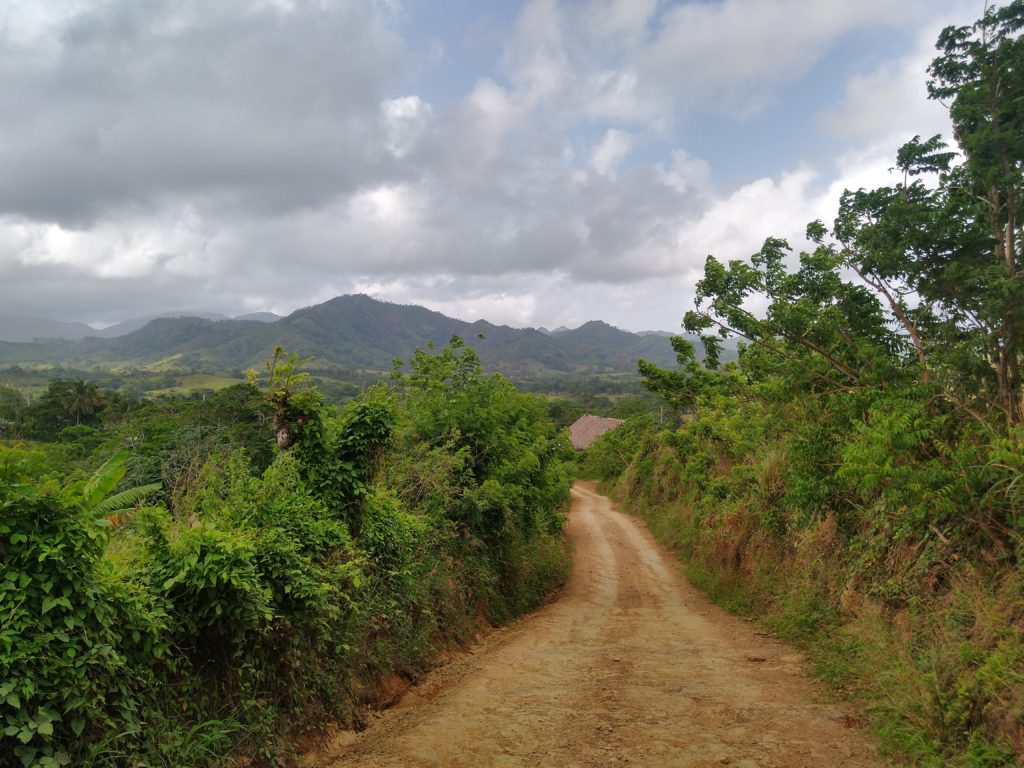 Turn off route 104 into a rocky, gravelly carpark. 3 rough shack shops sit on the right as you drive in and park up. Before one is out of the car, someone is making a beeline towards you. Parking cost us £1.45 / $2. (Paid at the entrance kiosk at the foot of the mountain trail)
Be prepared
A bit of groundwork can have you prepared. We had pre-opted to walk up, hence we arrived early, not only to beat the crowds but also to beat the hottest part of the day. Our decision disappointed the pickup truck owner as he skulked away upon hearing our proposed method of reaching the summit.
Take me to the top!
If you don't want to walk the rough, steep hill path to the top of the mountain, one can pay to get a lift up on one of the 20 /30 seater tour trucks, which are prevalent in the Punta Cana area, or pickups with room for a few in the back.
Ching Ching goes the register
Most people arrive in large tour coaches or, indeed, one of the many aforementioned tour trucks. Walking money signs just light up the owner's eyes.
The entrance fee just to pass the kiosk is priced in $$. It works out at about 290 pesos / £3.55 / $5 per person. With your private car parking at $2, your minimum spend is $12 / 700 pesos / £8.70 for 2 people.
For a small group of 1-4 persons, a pickup truck will cost $20 / 1140 pesos / £14.20.
For larger groups, or if you catch one of the trucks with space left, you can pay $5 / £3.55 to trundle up the hill on a, sometimes, smoke belching 'Eco Tour' transport.
Our opted walk took us 40 minutes to climb the hillside track up and only 25 minutes down.
Much better down hill as you could imagine! It is hot work but the views and the peacefulness are worth it. You will invariably find a nice breeze to cool you down once you reach the summit and rest for 5 mins before getting into the swing of things.
Summit rewards
We arrived at 8.30pm, to try and beat the crowds, but already there was one tour truck just heading up as we set off from the bottom and two more trucks, filled with tourists, passed us as we neared the top.
However, by the time we walked up, the first truck, on its tight schedule, was on its way back down so it wasn't that bad. Once we had reached the top and rested a bit, the others were already well into their fun and photos. There was only a handful of tourists at the back areas and we even had the whole place to ourselves for a good part of the time as the tours moved onto the next part of their itinerary.
A fantastic and simple reward for all who venture up is the absolutely breathtaking, lush scenery. You have 360 degree, panorama views over the mountains, undulating fields, bushy gorges, and flat coastline. Just stunning everywhere you look. There is a small cafe / restaurant at the top. We brought some samosas we had bought in Pranama, the indian restaurant from the night before, and sat on the grass to eat. It was so tranquil and a welcome moment to be away from the madness of Punta 'tacky' Cana.
Our playground
Swings – flying high
If you dare, pop yourself on one of the swings. They are huge, sturdy apparatuses that allow one to swing way out over the grassy edge. It is thrilling like a rollercoaster ride but does require a bit of a push at times lol. Hold on tight!
Witches broom – Having a Cackle
Absolutely hilarity is to be had on the witches broom. If you're a real witch you will fly high in the sky and the photos will be your proof to the world! Cackle cackle cackle lol
Hammock happy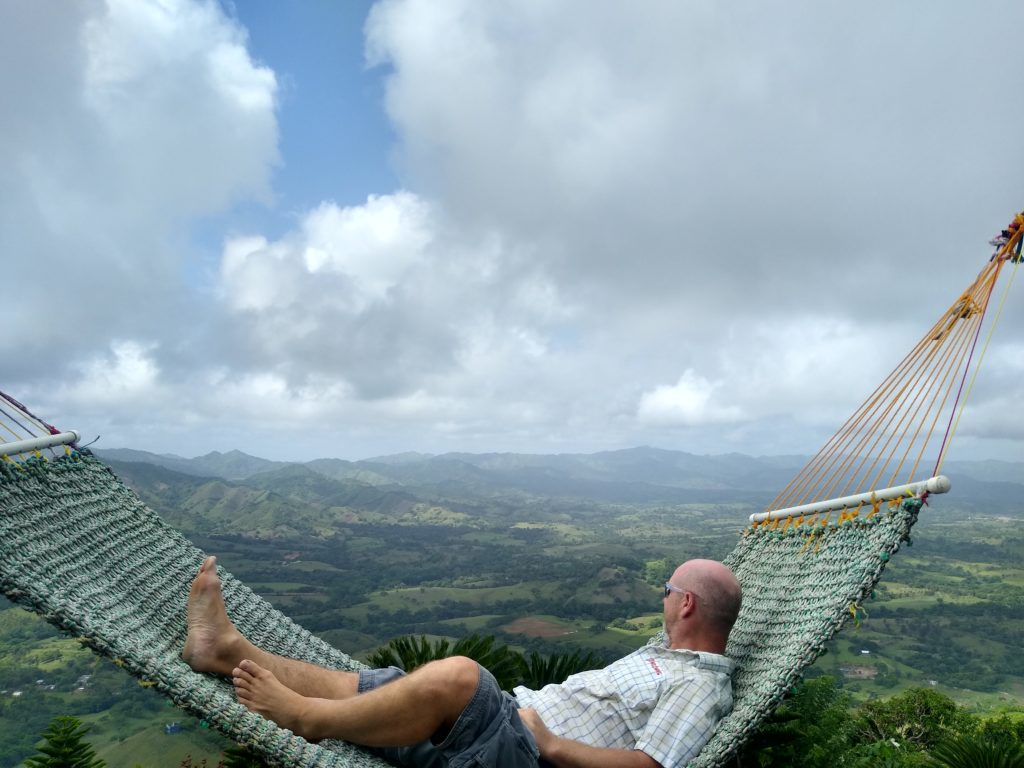 Or, why not live life on the edge by relaxing on a hammock. It's hard work having fun.
Its all about the angle
For all these props, it's all about the angle. There are professional photographers there if you need help, but it's at a price. We used our own phones and it was easy enough to work out.
Adrenaline junkie – Zip line
The zip line was a thrilling few minutes of fun and a tick off the bucket list.
Costing $15 / £10.60 / 860 pesos, I watched Knox in envy as he sped on down.
Unfortunately for me, wearing a skirt, I wasn't dressed for the occasion and we had no idea a zip line would even be there. They don't particularly advertise it or push it when you're up at the swings. Next time!
Soaring with the eagles
We highly recommend this attraction for its beauty and fun! The guys were chilled and enjoyed having something to do. As we turned to head back down, there was another flattened hilltop about 50 metres away. Around it, about 10 eagles were circling, allowing us to enjoy the the beauty of nature even more.
Playa La Vacama
At 38km from Montana Redonda, and about half way between there Los Corales, we stopped off at Playa La Vacama on the way back for a nosey at the beach. It was a quiet area, more locals than tourists. Getting off the highway, you have a 3km stretch of rocky, potholed road to bring one to the beach.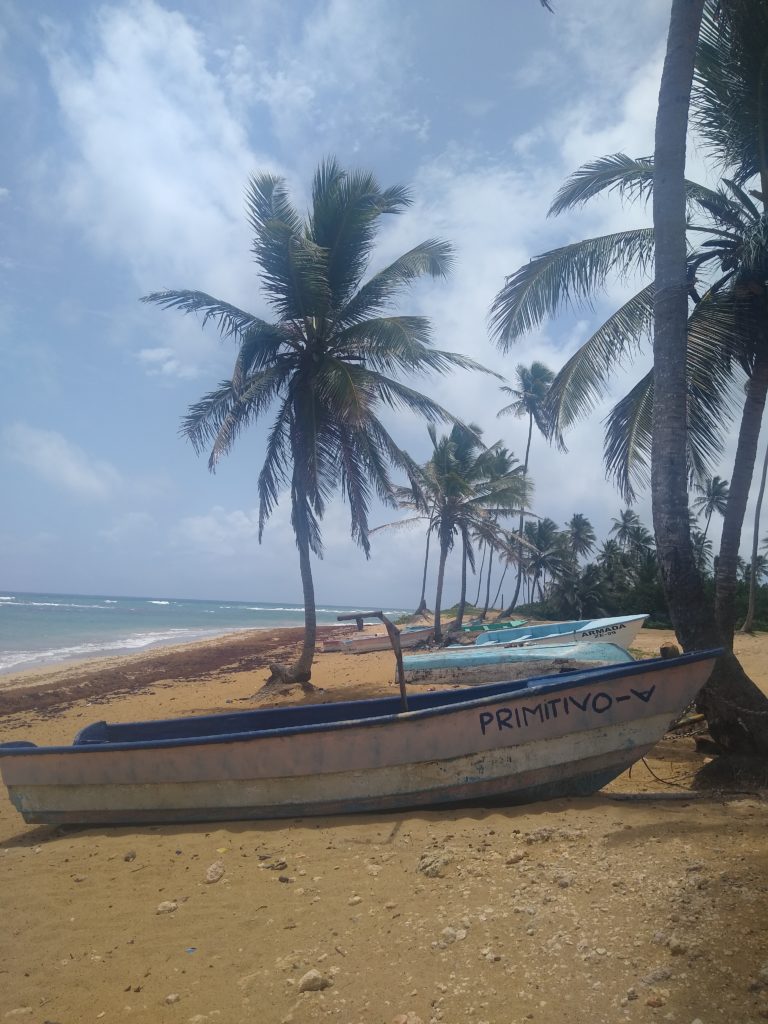 Playa La Vacama was beautiful but still, unfortunately, had the problem of the seaweed. However, the setting was a little gem and if there was accomodation by the sea it would be a place to seclude yourself for a few days. There did seem to be one place, but we were unsure if it was derelict. You would definitely have all the beach to yourselves!
Macao Beach
Due to Dreams resort, which is walled off and kinda ugly, the Macao Beach has more life to it. It's about 20kms from Los Corales, Bavaro so it is more accessible. There are the usual sunbeds and a few restaurants / bars. The place has a great buzz to it. Even though busier than Playa La Vacama, It still would be easy to find a spot here to throw your sarong down.
There are reports of lots of hawkers on the sell. We were only there for a short time so we didn't have any bother.
Blue Mall Punta Cana
We had started early so still had a bit of time on our hands before we returned the car. We used this to drive to Punta Cana for a visit to the Blue Mall. It's a large shopping complex. There weren't many people about in the mall that has a Zara franchise as its main draw. Indeed, there were plenty of vacant premises. Yet, there was enough to keep interest going for a half an hour. It's the usual mix of clothes, sportswear, surf wear brands, accessories, food etc.
Eating, drinking and groceries
We continue to try other places of eating and food shopping in Punta Cana. This week we found a great discovery of a yummy Indian.
Pranama is located in Plaza Coral Village. It is designed in colourful, typical Indian fashion and Indian owned. we felt right at home. The owner was friendly and accommodating.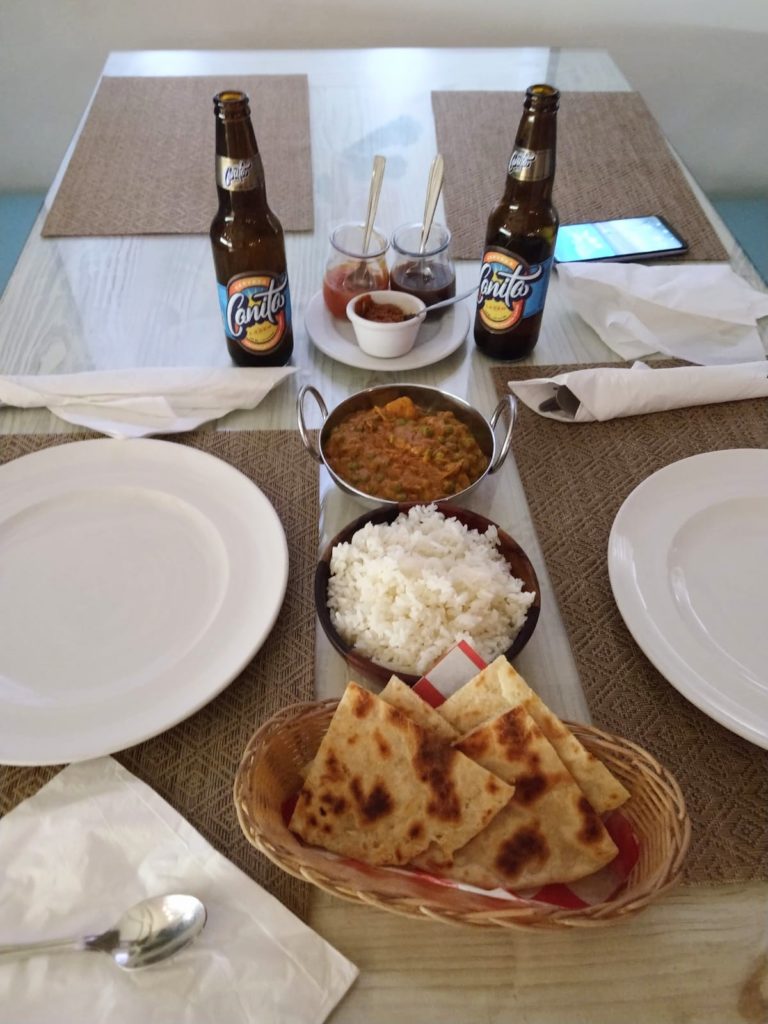 We had the Aloo Matar, plain rice, tasty samosas to share, along with garlic nan, the paratha style in which it was done, reminded us of Irish potato bread. All washed down with a couple of beers. The food is very delicious. Recommended for a taste of India!
Kat's Corner was a good place for a few drinks. Another Russian owned establishment, they have live music on Thursday with Tex.
While we had the car, we got a few extra groceries at the larger supermarkets, Jumbo and Super Pola, around San Juan shopping centre. You can get most of what you need here.
To see more about dining, bars and shops in Punta Cana hit this link!