Arenal / Puerto Viejo / Manzanillo
Located on the caribbean coast of Costa Rica, Puerto Viejo is where we would spend our last week in the country. It is a place with a more reggae feel and somewhere we could chill and explore at a leisurely pace. The previous week, in the Nicoya Peninsula, had seen us warm to Costa Rica a bit more and we had a desire for that positive vibe to continue.
Arenal – a pit stop on route to Puerto Viejo
From Montezuma to Puerto Viejo would take around 9-10hrs on a straight run. We decided on a stop around the halfway mark. Arenal and it's volcano was on our list anyway so this was the logical point for a rest.
Getting to Arenal
We made good time on this 4 and half hour journey along Routes 21, 18, 1 and 142. Lovely countryside, with a mix of hills, fields and jungle landscape, and a relatively clear road helped the time, and kilometres, pass quickly. We had a lunch stop on the plateau of a hill beside a cow field. I think the cows found us a bit weird by the stares of them towards us. There was only about half an hour of slow moving traffic when we joined route 1 and it's roadworks.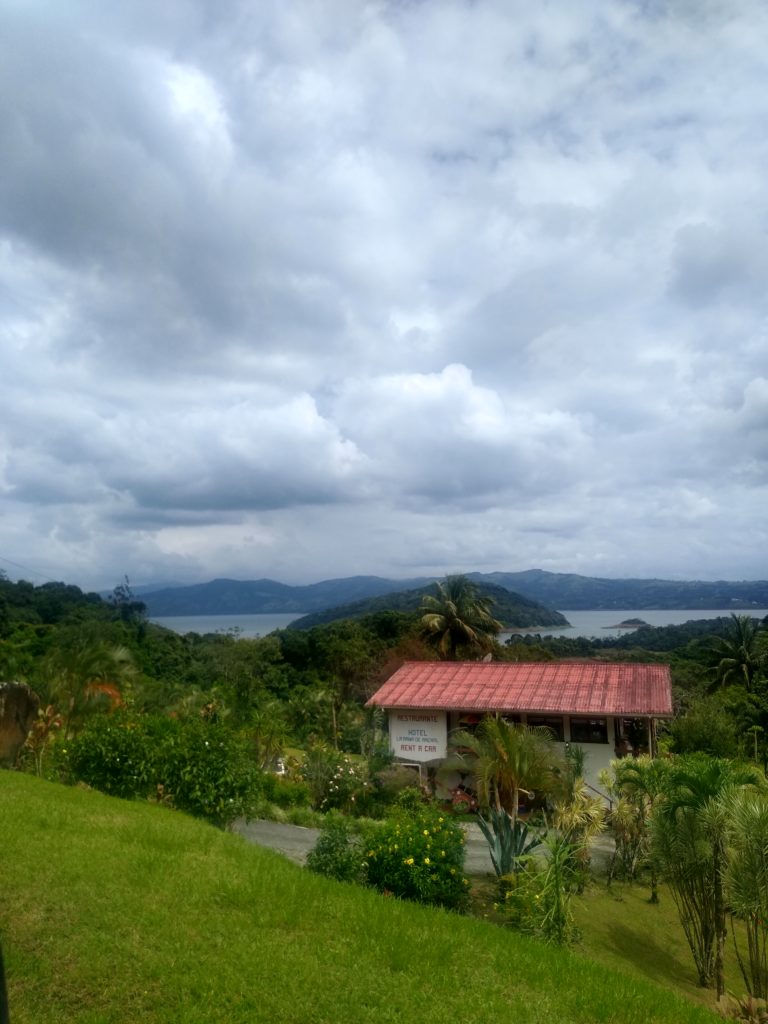 The lake
Coming upon Lake Arenal, the scenery and views really opened up in a stunningly beautiful and magnificent way. The road undulated from the shores of the glittering Arenal lake, which is the largest lake in Costa Rica; it is 85-square-kilometre and Its depth varies between 30 and 60 meters seasonally, up to the hillside vistas that had cars pulling over for photos. It wasn't just the flora that had cars stopping. The wildlife, specifically a racoon determined to munch some tasty morsel on the road, had cars sticking on their hazard lights, rolling down windows (yes, Jimny's old school!), and getting those happy snaps going.
There is definitely a feel or a Swiss / German / Austrian mountain lakelands scene. This was enhanced by the signs for German bakeries and a village set up to resemble a mountain scene in the aforementioned countries.
Arenal Volcano
Arenal volcano itself stood towering over the lush green surroundings. One cannot help but to be wowed by its presence. The Volcano measures at least 1,633 metres high. It is conically shaped with a crater 140 metres in diameter. It is one of the top ten active volcanoes in the world. Last eruption was in 2010. The sleeping giant just adds a different dimension to the area as its slopes dominate the landscape, especially the closer you get. We were delighted with our choice.
Accommodation
We chose a place called Yellow Tree, Just outside La Fortuna, as our place to stay for the night. We picked good with this one. The accommodation was found on booking.com and we did our usual search, on other platforms, to compare prices. We found it on Airbnb and unusually, Airbnb was cheaper, which is rare. £51 was cheap and no cleaning fee was added.
As we only had a short stop, it was important to have a room with a view of Arenal Volcano. Yellow Tree definitely exceeded our expectations and the value was absolutely amazing!
The rooms were set in stunning gardens, and to make it even more outstanding, We were basically at the base of Arenal so we had an awesome view looking directly at Arenal volcano!. We also had a Jacuzzi in the room that took advantage of this view.
Lovely gardens surrounded us and the sound of birds was the predominant noise.
Our stay in Arenal
A stretch of the legs was needed after the drive and the weather was clear and bright. We took some great snaps of Arenal's cone from the garden and then went for a walk. The rocky road up the hill towards the volcano soon ran out at a fenced off field. Turning back, we headed down the hill to walk along the country road. As we passed the entrance to our accommodation, we spoke to a couple of dogs living at the property. JoJo, was a cheeky little guy who enjoyed a pet and decided to walk with us for 100 meters. He was just so friendly and lovable.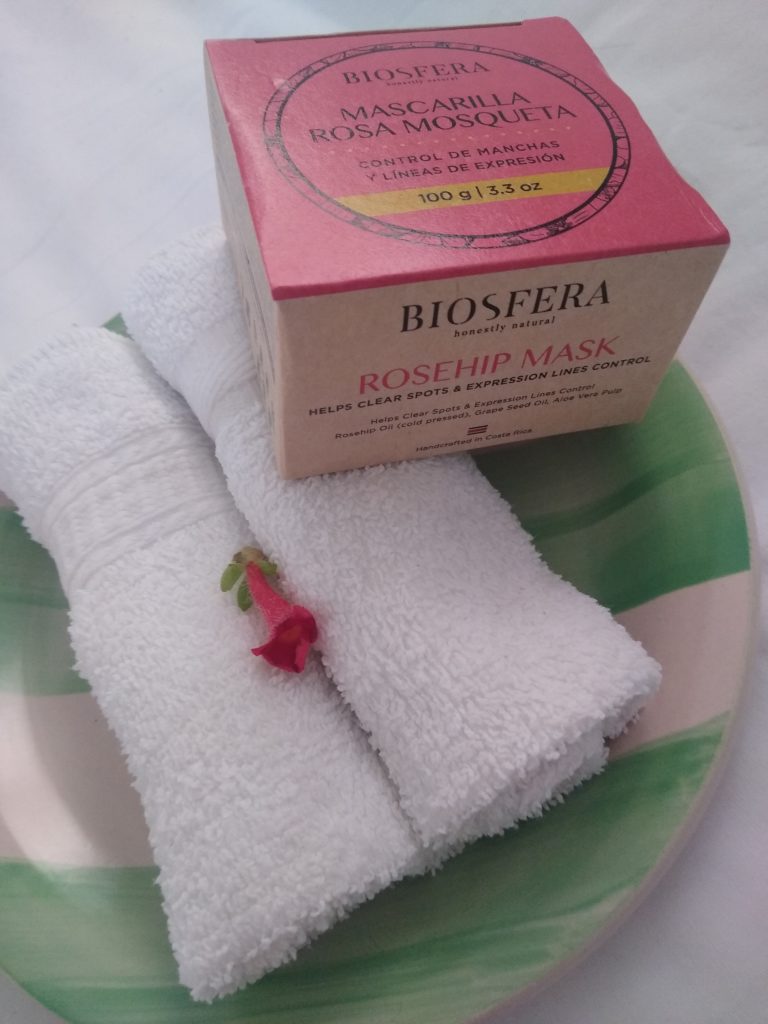 Time for a facial
The walk was enjoyable and cleared our heads. We passed palms, banana trees, and all manner of greenery and flowers. The fresh air was a delight to breathe deeply in. On the way back, we spotted a sign for a locally made, environmentally sound cosmetic shop called Biosfera Skin Care. I (Miko) finally had a Facepack within reach. Travelling is hard work lol! It was great to see a locally owned business after all the expat owned businesses that we had encountered.
Fun as it lashed
A few clouds had started to gather as we returned to Yellow Tree Suites. We had hoped for a cheeky bubble bath to lounge in as we viewed Arenal with a glass of bubbly. Unfortunately, the clouds thickened and burst our bubble as the rain started to pour. Not to have our spirits dampened, I (Miko) spotted the yellow umbrella and used it as a prop for a dance in the garden to a sound track of "Singing in the Rain". The fun was still to be had.
An added bonus was Jo Jo, the cute dog, came running for shelter when the first drops started falling. We were not sure if he realised it was where we stayed, but when he discovered it was, he had his dancing feet on too as his tail wagged. Jo Jo did not like the rain one bit and was delighted when we took him in, out of the lashing rain. He even ran away from the drip of the umbrella. Jo Jo curled on the mat and also thought I was a tad crazy when I danced about for effect lol. The lucky guy certainly woofed down a biscuit or 2 lol.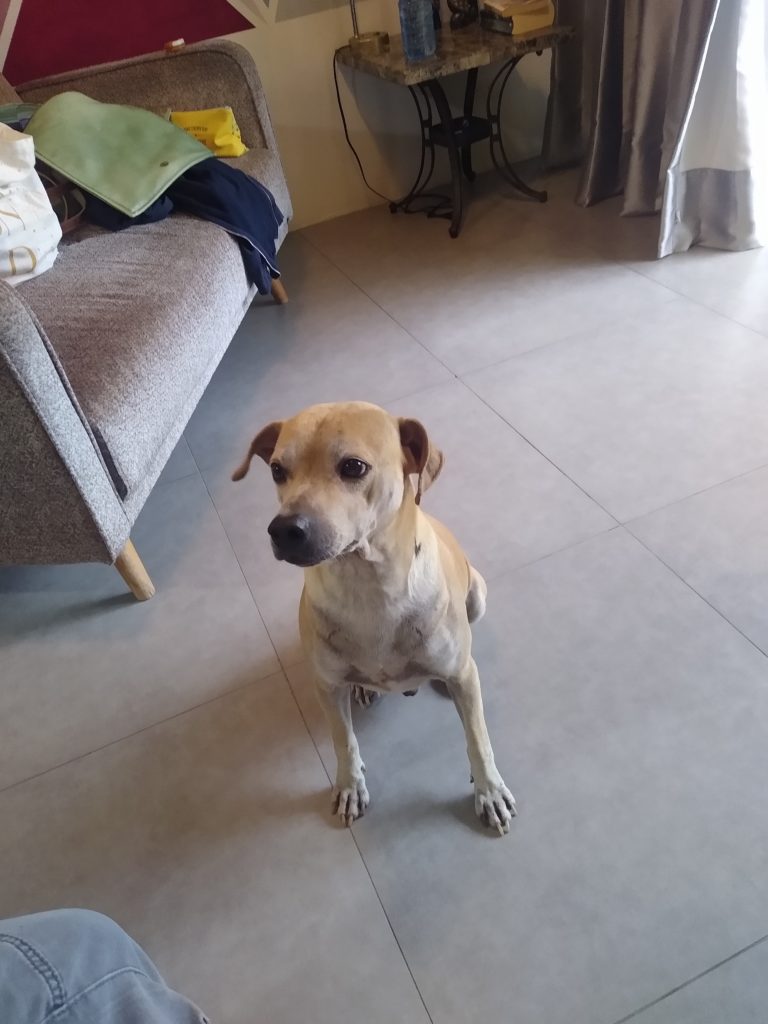 Morning bubbles
There was a mix of clouds and blue sky in the morning. Frustratingly, the top of the Arenal's cone was covered. We had faith, and I (Knox) did a visualisation of the clouds lifting and us getting our scenic photos from the jacuzzi. Sure enough, in a couple of hours, the clouds cleared and the bath was filled.
We enjoyed the bubbly jacuzzi with a glass of bubbly to match, staring at the volcano in amazement!
Our morning complete, it was time to hit the road. One night wasn't enough in this place, as we left feeling totally recharged and relaxed.
Puerto Viejo town
Puerto Viejo is known as the 'Non Costa Rica', as mostly English is spoken here and there is a big Rastafarian influence. Formally a quiet fishing village, it has become popular for its relaxed pace of life with people from all over the world flocking to it for holiday. Reggae music can be heard Wafting out of houses, bars and restaurants. However, it seems dance music has bounced in a bit here too.
Getting to Puerto Viejo
It was an arduous 5 hour journey to here. Rather than the idyllic 5 hours of the day before, we faced hours stuck in soul destroying road works as we left route 4 and Joined route 32. This whole road between San Jose and Limon is continual roadworks. Our arse's were sore at the end. When we finally arrived, we got a cool vibe as we drove through the Puerto Viejo to see life in the restaurants and bars and lots of Rasta colourings around. The initial signs pointed to a good week ahead.
Our accommodation
Puerto Viejo's lodgings are even more expensive than some other places in Costa Rica. We chose Sueno Grande B&B, American owned, for our six night stay in Puerto Viejo. It had a kitchenette and was close to the beach and town centre. Again, we contacted ahead and negotiated a better price than was available online at approximately 470000 colones (£54 / $76) per night. We haggled more than £100 off our six night stay, without breakfast.
The room was simple, a reasonable size and good space for working in the Kitchenette. The kitchenette has a 2 ring stove, a sink, a fridge with a small freezer, and pots / pans etc. There is also a bigger kitchen that can be used in the communal seating area. The place has a small pool. The parking is on the street outside. An odd sign in the bathroom stated water would be off daily between 3am to 12 noon. Seemly, the water restrictions are to do with the AYA (the public water company). This didn't affect us as the sign also stated that the guest house has a backup supply.
A burning feeling but disaster averted.
On our second full day in Puerto Viejo, a kitchen nightmare could have ended a lot worse. While starting to cook dinner, a heated oil in a pot, for chips. I (Knox) have done this many times before very safely. A pan fire occurred because the low setting on the stove didn't go low, even when turned to the lowest mark, and the oil heated too much. I was preparing veg and smelt the handles of the pan being heated (plastic burning smell). When I removed the lid of the pan, smoke rose and the oil ignited.
I ensured all the heat was off and managed to move the pan outside. Miko screamed at me because I used bare hands to lift the pot by its handles. It dropped the last foot or so to the ground, remaining in an upright position, and burning oil splashed over me. Luckily my face escaped the fire. There was no damage to the room or any of the furnishings, even with curtains hanging so close to the stove. I also had to firmly tell a neighbour to not throw the water she had, in a bottle, over the fire as she came out to try and help! We were all a bit shocked.
Quick action needed
Miko helped me out of my clothes and I stood in the shower for 20 mins. In the meantime, she called Marie-Anne, one of the staff, to explain what had happened. The fire was still raging at this time. The oil burnt itself out as the pan sat on the concrete floor of the balcony by the time she came over.
However Marie-Anne was more concerned about any potential damage, than Knox's burns and I (Miko) have to admit I lost it with her. Incredulously, this was after I had told her that he'd been burnt. Complete lack of empathy! When I asked about the nearest doctor, she said "call 911"! We had to do an internet search.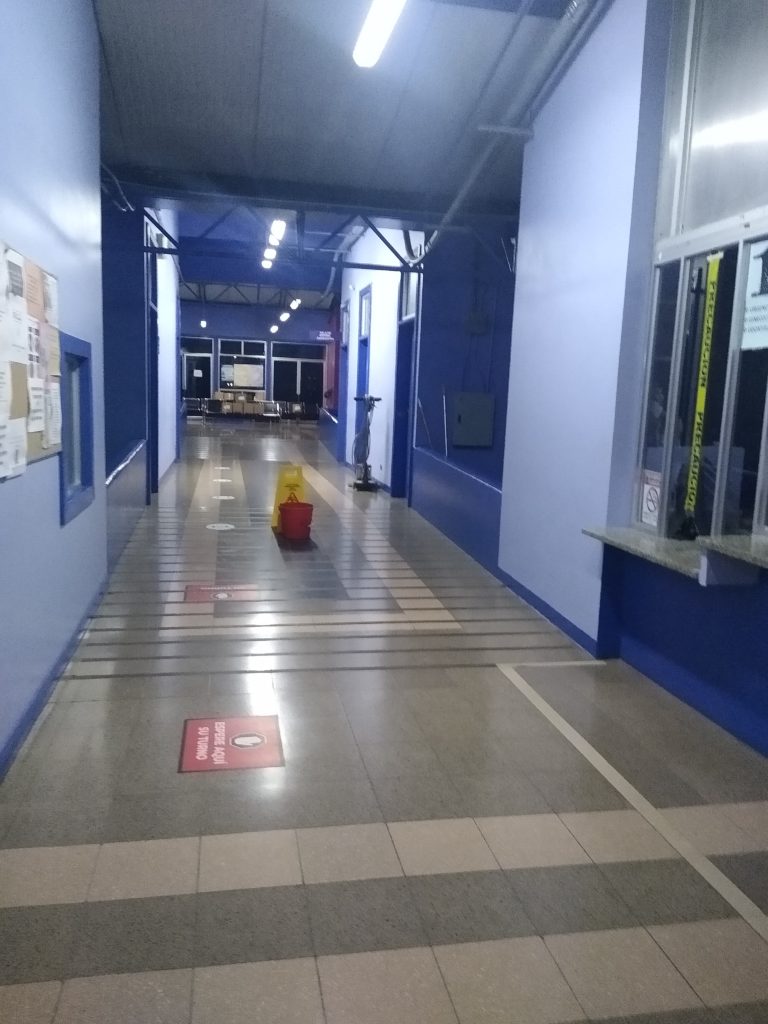 Hospital visit
The closest was a private clinic called San Gabriel but the doctor was out. They explained to go to Hone Creek clinic , a public government hospital about 5km away. I (Knox) had to drive. Once there, we eventually found someone in the near deserted hospital clinic. We initially went to the Covid part of the hospital, (which was completely empty) as there was a lack of signs.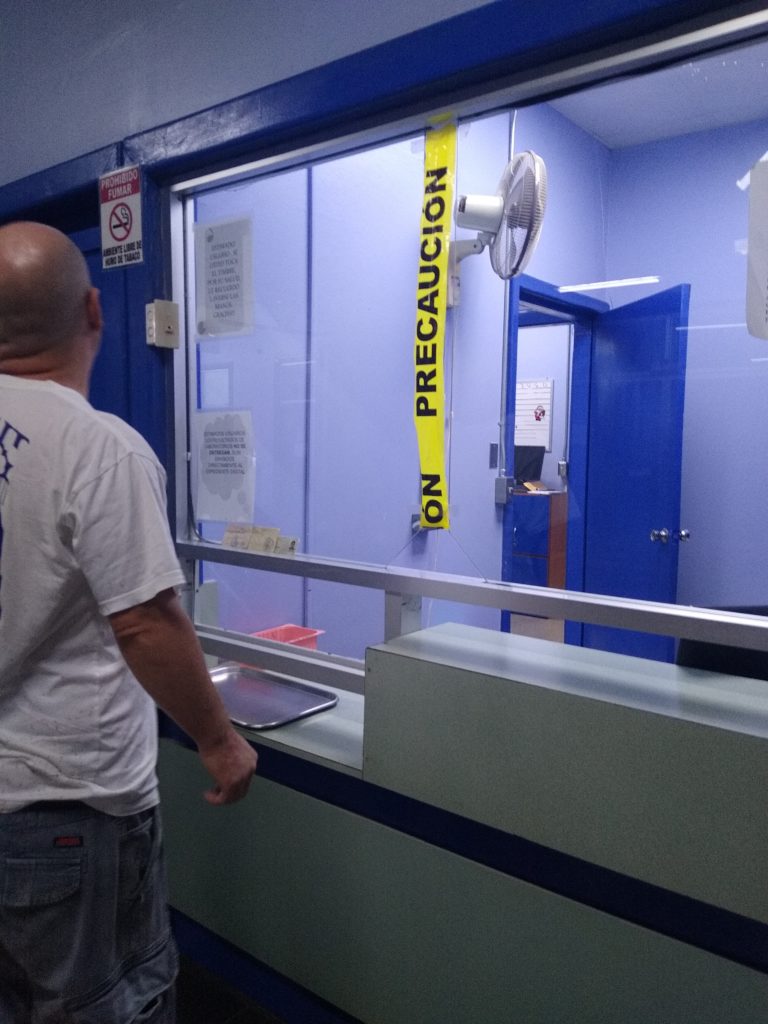 We then got told to go in via another entrance.
The security guard directed me into the ER, initially alone, before the nurse also allowed Miko in. There was no mention of wearing a mask. A quick assessment confirmed what I kinda already knew. I had first and second degree burns on my arms, chest and legs. They would heal with basic treatment of keeping the wounds clean, applying cream, and dressing if the blisters burst and the skin came away. I got a pain killing / anti inflammatory injection in the butt, some cream suggestions to get in the pharmacy, and we went on our way.
We hoped our insurance would cover the medical bill.
'What do I owe you?'
As no one was there to take money until Tuesday it was free. It was a relief, as the last thing we needed was filling out the documentation for the insurance claim.
No more cooking tonight
We got Pizza on the way back as the cooking was finished for the night!. I felt a bit sore and both of us were a bit shaken but it could have been a whole lot worse. It did put a dampener on the rest of our stay and we had to cancel a couple of planned activities.
The beaches in and around Puerto Viejo
Beaches line this part of Costa Rica's coast line. The caribbean laps onto the jungle backed sands. All very Idyllic.
Puerto Viejo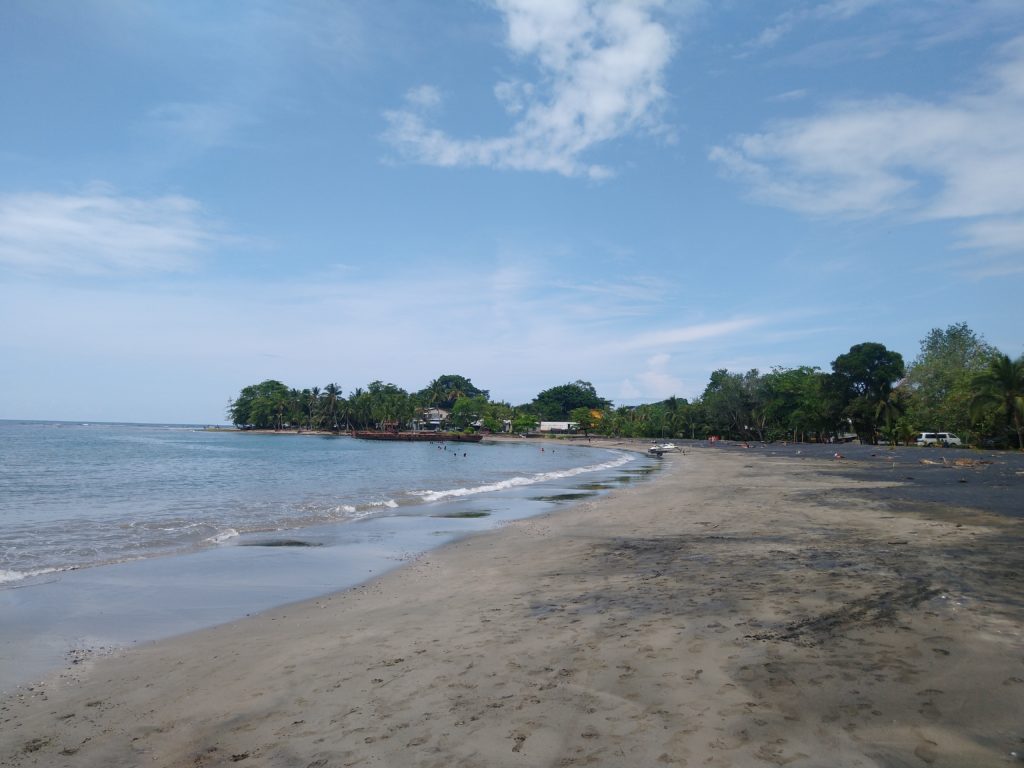 Around the centre of the town there is a smaller cove, with a mix of golden sand and rocks, that have a few fishing boats settled on and backed by the roadside market stalls; selling jewelry etc. Follow this northwards and you find the main Puerto Viejo beach. Initially, this will follow the road. Then, the shore becomes backed by vegetation. The strand stretches for 2/3km and has a black and golden sand mix.
The long beach was not particularly crowded, especially if you're prepared to walk a short distance for peace. A couple of boat wrecks have sat for years on the shore. One so much that it has a tree, grass, and bushes growing from its rusted hull. It wasn't our favourite beach. Punta Uva beats it by far! See below.
Playas Cocles and Chiquita
Heading in a southerly direction from Puerto Viejo, one will come upon several other beaches as you approach the Panama border. Playas Cocles and Chiquita are the first ones. Both have long stretches with a mixed backdrop of road side and tree lined, as well as little offshore islands. The villages around are quieter than Puerto Viejo, hence the beaches are quieter.
Playa Punta Uva
A beautiful idyllic looking cove that has the Caribbean sea lapping close to the shoreline and over hanging, crooked palms. Set away from the main road, the golden sand, lush vegetation, and peaceful setting gives one plenty of time for calm reflection. Lots of natural, fallen tree debris, coconut trees; growing wonky as well as straight, washing waters with easy waves, and vibrant green bushes really give Punta Uva a typical paradise photogenic look.
Punta Uva is a tiny village made up of a handful of restaurants and accommodation so one can chill, set behind the beautiful beach. If you're looking for some tranquility away from Puerto Viejo, this is the place to be. It's only 5 miles from the town. Parking is easy and free, unlike some bigger parts of Costa Rica where paying is the game. Read all about it in our other Costa Rican adventures here!
Playa Manzanillo
The last beach and village is Manzanillo, about 15 mins drive from Puerto Viejo, and located on the edge of Refugio Nacional Gandoca-Manzanillo. 15 minutes from Puerto Viejo brings you to the sleepy village of Manzanillo. Locals sit idle, swinging on a hammock or rocking chair, wasting time twiddling thumbs. The beach is golden and long. You can find a shipwreck along with peace and quiet. Great for strolls, as you breath in the fresh sea air. You can easily pull up and park on the dirt path of the main road for free.
Things to do
Jaguar rescue Centre
More like a zoo than a rescue centre. There is only one jaguar, so the name is misleading. There are other animals here too. Sloths, birds, monkeys etc. The Animals cages are way too small. There is too much interaction with with the staff and tourists ie, touching the animals etc and photo ops for stupid tourists. How can they say they release into the wild with this sort of interaction I don't know. More a money making scam.
Chocolate tour
As you can imagine Costa Rica chocolate tours are very popular! There are many tours to choose from. You can combine one with coffee too. Tours offer a chance to visit the cacao plantation and receive an insight of the work involved in growing, taking care of cacao trees and harvesting the cacao pots. There is one called Chocorart in Puerto Viejo. Unfortunately due to Knox's injuries, we couldn't attend. Price is £18 per person. A bit steep, but I guess worth it if you're a chocolate lover. You can contact them on facebook to make a reservation. They respond to questions quickly.
The park has a free entrance, with donations welcome, and one may get a chance to see Monkeys / birds / snakes / sloths etc. As with all animals they can be illusive. It is advised to wear shoes / boots as it can be a bit of a hike. Due to the burns, we had to miss out.
Hire a bike
The two wheeler is an easy way to get around Puerto Viejo. Many cycle here. There is no cycle paths as such, but drivers seem to be aware of cyclists.
Take a walk in the jungle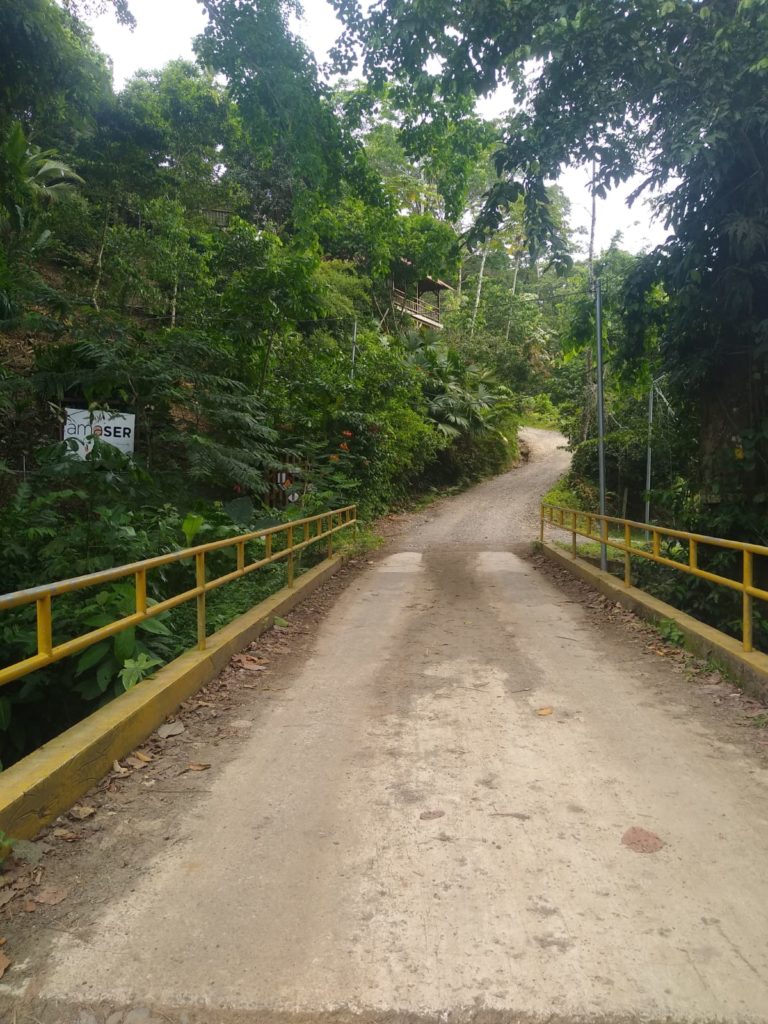 We enjoyed some healthy walks at the back of the town, going along Avenida 67 and turning up Calle 213 (they are inventive with their street names lol) beside the manicured football (soccer for the Americans) pitch. This brings one across a bridge and up a hill into the forested area. The air is fresh and the vibe is peaceful. Wildlife spotting in the area can be fruitless but we were fortunate to be rewarded by an encounter with a family of Collard Aracari Toucans. They were kind enough to come close so we could get a decent photo. Cheers guys!
Eating and drinking
Most of our meals were cooked at home but we did eat out in a couple of places and had a few drinks.
Mainly a snack bar and pizza slice joint, this place will make a full extra grande pizza if you want. Cost is about $11000 Colones (£13 / $18). It was mediocre, but far from the worst, and edible. A bit of a floppy base. During the day, it has some plastic tables and chairs out. Closer to closing, the joint is more for takeout.
If you enjoy eating with EDM (electronic dance music) then this may be the restaurant for you. We had pizza takeout after the kitchen escapade. The vegetarian pizzas cost $9000 Colones (just over £10 / $14.50) and they were 12 inches. Friendly staff and a Small area to sit in. Again, it was the same as above. Pizzas are not the best, but not the worst we have ever tried. Floppy base and expensive. We do not think Puerto Viejo can do pizzas, especially for us pizza connoisseurs lol
Reggae beats in this simple restaurant / bar overlooking the Caribbean. Decent atmosphere as we sheltered from the lashing rain. The beers were a bit pricey at $1500 Colones. The reggae music and vibe was good. Just after 8pm the music stopped. What was going on? At this point we discovered that new central government laws shut the country down at 9pm. There would be no late night partying here!
Stanfords Beach club
We spent late afternoon / evening relaxing here with good music (Reggae and Calypso). Chatted with a few people, we watched the world go by on the beach just in front of us as the sun descended. Ensuring our bill was paid in installments as we went along, we knew exactly where we stood. Unfortunately, the mood changed as we bought our final round of drinks. The barman added an extra couple beers onto the bill. The money had already been handed over and our change received when the issue was noticed. We challenged him straight away but he and his colleague refused to listen, even though we calmly explained that we had paid for all our previous drinks.
They were extremely aggressive and then took back the drinks we ordered and refused to give us the money back for them! What a way to turn a good evening sour. It was a pity to see their greed, lies, and cheating. They got an extra $10000 colones from us by theft. It will not do them any favours. Definitely NOT a bar we'd recommend.
Shopping
Clothes etc
The town has a few shops selling clothes, souvenirs, and trinkets. We weren't in the market for anything but most are along the main street.
Farmers market
On Saturday, we took a trip into the farmers market to get some ingredients for our meals. A reasonable selection plus other market stalls selling jewelry and homemade products. We also had a fresh, delicious coconut milk straight from the shell and opened in front of us with a machete. It's a covered market near the corner of Avenida 69 and Calle 215.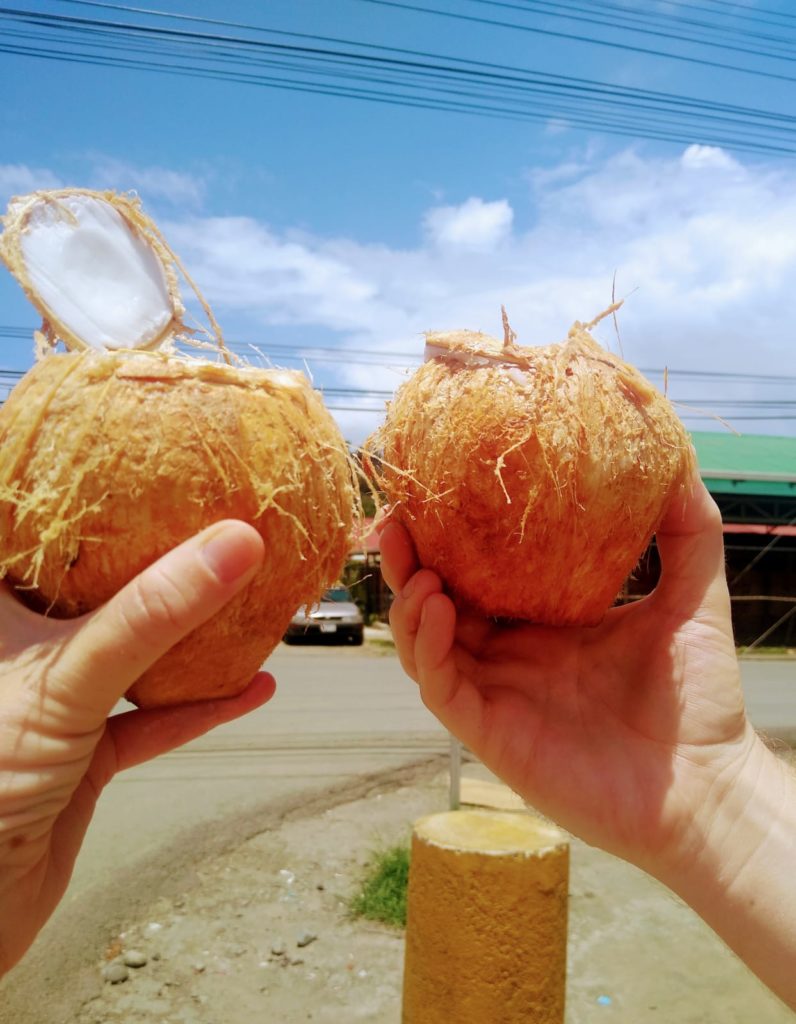 El Mercadito Fruit shop
A good place to get other fruit and veg away from the big supermarkets. Mushrooms, an expensive commodity in Costa Rica, was cheaper here than in the supermarkets. A good selection for all your veggie needs, plus some great vegan produce. Just opposite the Banco Nacional on Calle 211.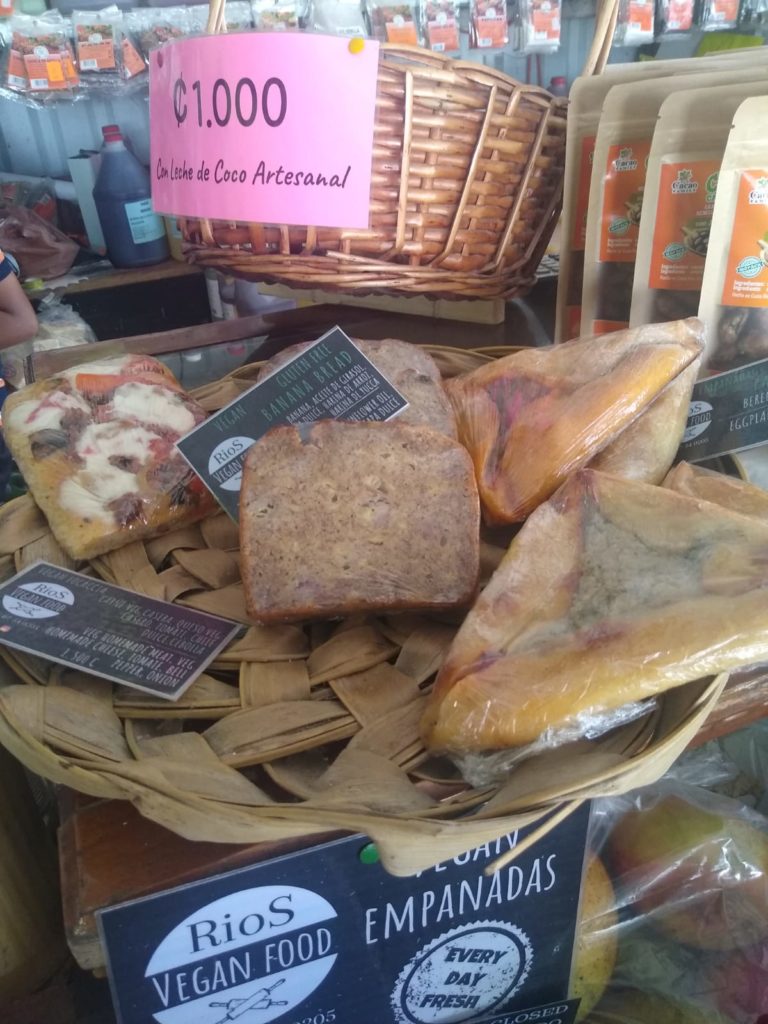 Old Harbour Supermarket
Probably the biggest, and best stocked, supermarket in town. On the main street, it will have most of what you need and want. There is also a MegaSuper just round the corner.
Puerto Viejo vibe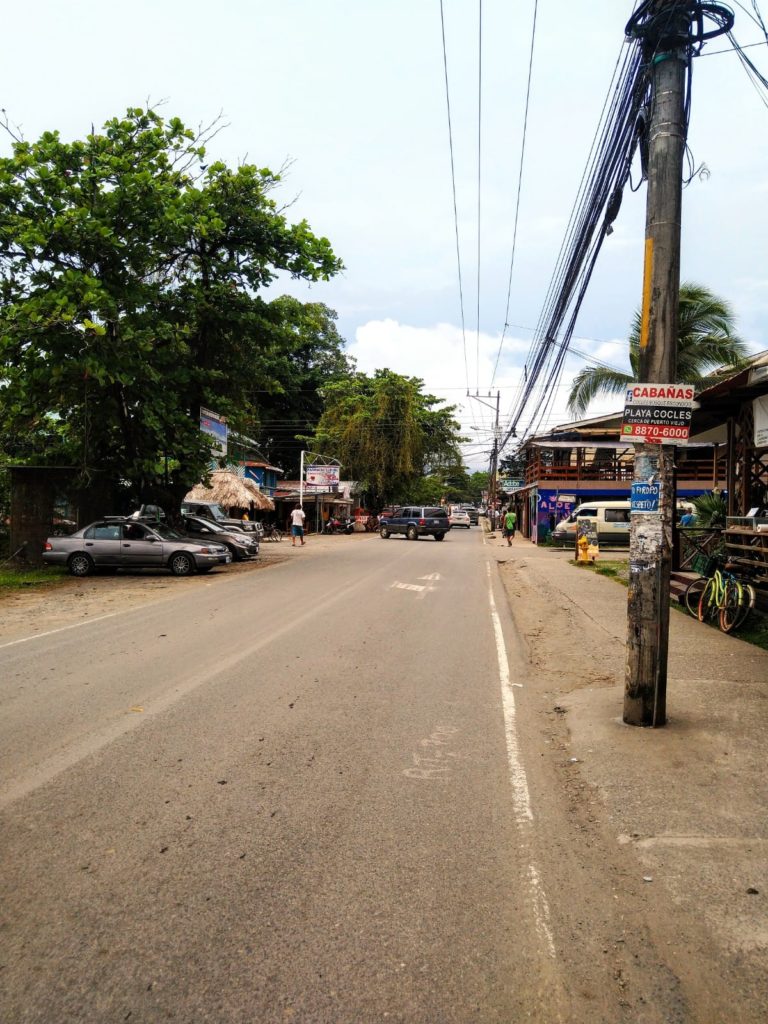 The whole experience seems to expedite our extradition from Costa Rica. Sitting here at 10pm, in our room, we can hear that there are parties after the bars shut at 9pm. The reggae beat lives. At the same time, Puerto Viejo is not just as relaxed as it wants to believe. A discussion about flexibility was raised, due to the fact that we had to pay 6 nights up front at Sueno Grande, and we agreed that we would have moved to Punta Uva if we hadn't been tied in. The mixed bag of weather didn't help either.
To be fair, We missed our time in the serenity of the jungle at Montezuma, and the beauty of Arenal. We really connected in those places. No rush, no issues, just love the nature around.
A number of incidents have dented this week and made us look to the future and our next destination. One night when we walked home, a couple of young lads offered us coke as we walked up the street. This was greeted very clearly with a "NO!". Just as we said this an unmarked car skidded to a halt and a number of cops jumped out to speak with the guys. This was close to our guest house. Thankfully, we were not questioned by the police and continued on. It shows how careful one must be as we could easily have been caught up in some unsavoury events.
Adiós Costa Rica
We drove up to San Jose on Thursday to get our flight out the next day. The journey was rain filled and uneventful until we cleared the roadworks and reached the mountains about 40 Kms east of the city.
All of a sudden the traffic ground to a halt as we climbed. It was either more roadworks or an accident. Unfortunately, as the time went on, and traffic ceased coming the other way, it proved to be the latter. We checked with the guy behind us, who had been speaking with a truck driver, and he confirmed.
Ambulances racing up the hill also pointed to the serious nature of the incident. More than 30 mins later, as we drove past the accident, we were hopeful that the injuries had not been too serious.
Jimny
All in all, Jimny had been a real trooper on our road trip. The wee jeep had crisscrossed us through Costa Rica, and apart from a dead battery, had shuddered along rocky roads, climbed steep mountains, had a swim in a river, lugged our bags about, and generally did everything asked of the wee guy. We have been thankful of Jimny and the miles covered.
Focusing on the positive
The lush forests And sandy beaches of Costa Rica have been a real scenic treat. We have been rewarded with great vistas, wonderful wildlife, and places to breath good fresh air.
Rather than focusing on negatives, there have been many positives to give praise for. We have met so many beautiful animals in their natural habitats, connected with wonderful nature, and enjoyed the company of some lovely people.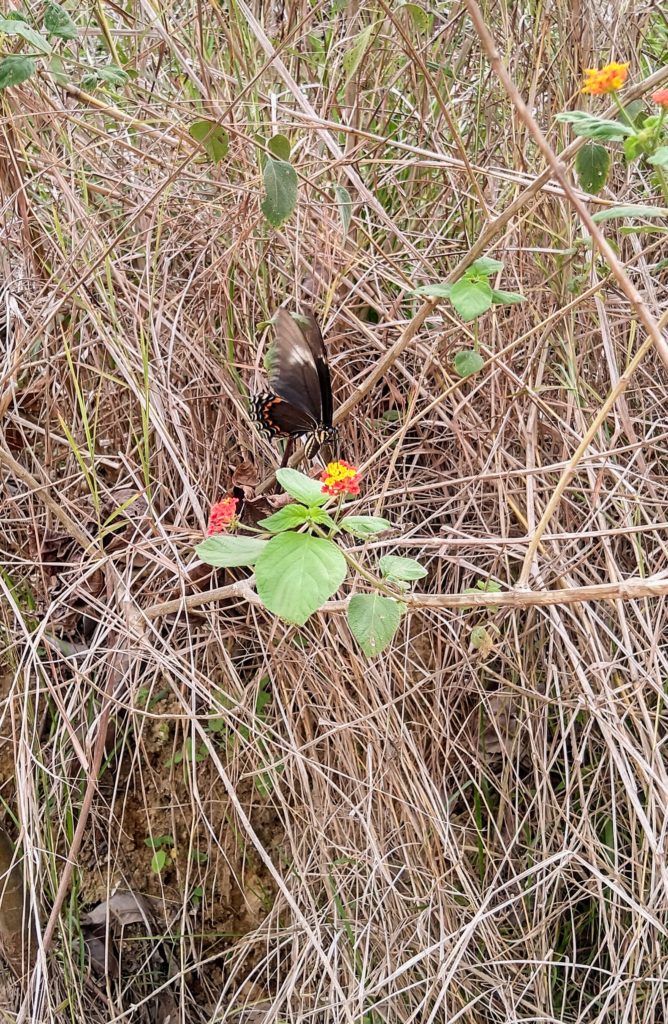 It's definitely a country of many colours. Being fortunate to see places like this is something that we strive for on our journeys. Adiós Costa Rica.
Check out our previous Costa Rica posts on Manuel Antonio and the Nicoya Peninsula.