Barcelona – City Break
Barcelona, the capital of Spain's Catalonia region, is a cosmopolitan city, where tourists flock to all year round. In summer, it is especially busy, when the crowds that descend on the capital can make you want to run for the hills! However, my advice is, to embrace what this wonderful city has to offer, with its spectacular architecture, art, restaurants and bars.
Spend more than a few days there if you can, to really take sightseeing at your own pace, immersing yourself in the culture. If you prefer to avoid crowds, skip the summer months.
Barcelona is accessible from anywhere in the world. We flew into Barcelona El Prat Airport, which is the main airport and second largest airport in Spain.
Accommodation
Right slap bang in the city we chose to stay in the Andante Hotel with roof top pool, with great views over the city. It was a hot May, so we choose a room with a terrace, so we could lounge, relax and sunbathe in the morning, before venturing out in the crowds and tourist spots, or in the evening you would find us lapping up the last rays with a sparkling wine and strawberries. Bliss.
What to see
Park Güell
Running over 17 acres, Park Güell is massive gardens, architecture and ceramic art installation all in one.
It commenced construction in 1900 until 1914, by Catalan architect Antoni Gaudí.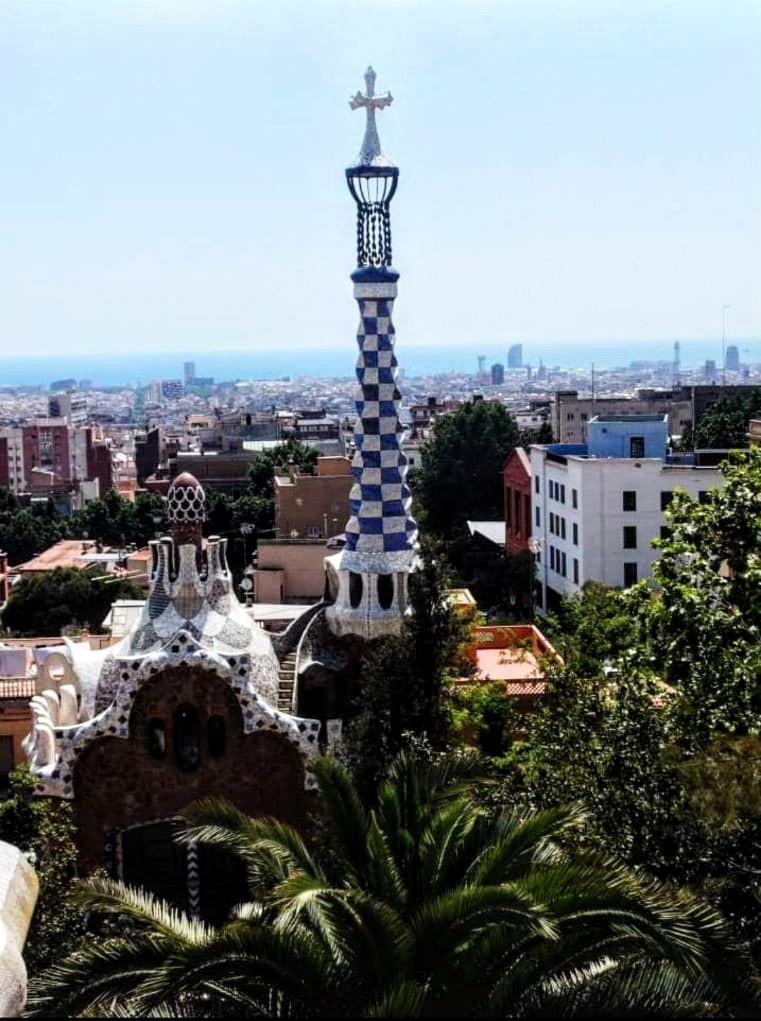 After his death in 1926, it opened to the public.
There is a stunning colonnade of 86 massive Doric columns in the park, where you can seek shade and admire the architecture.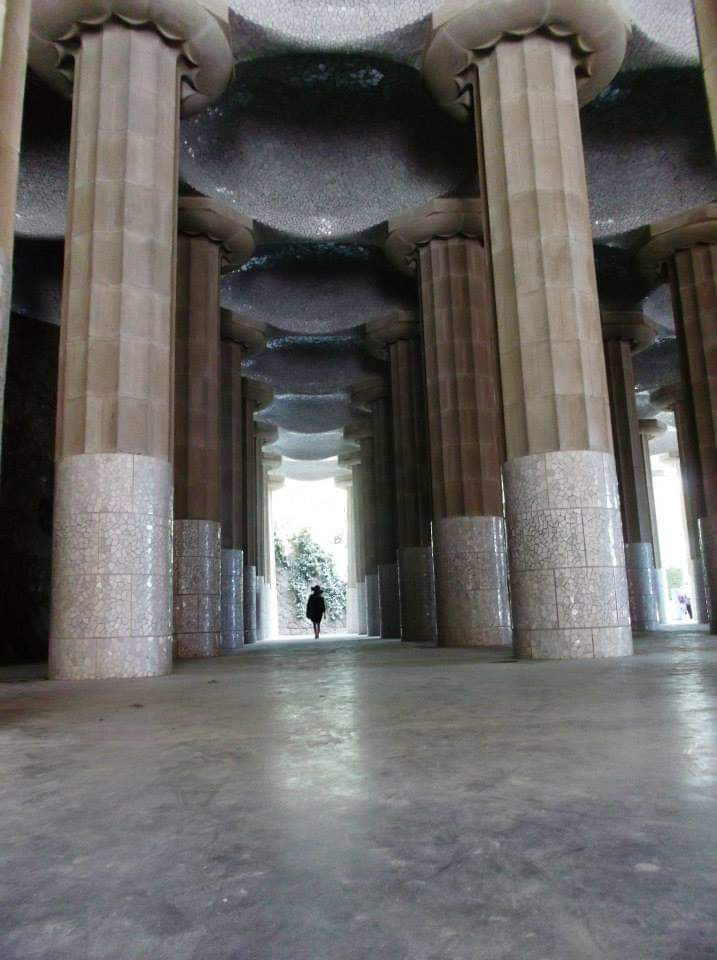 Queues can get long, so go early. It's much more pleasant, not just because there are less people, but because it's not as hot.
You can spend at least a couple of hours at the park. Some people even bring a picnic.
Gothic Quarter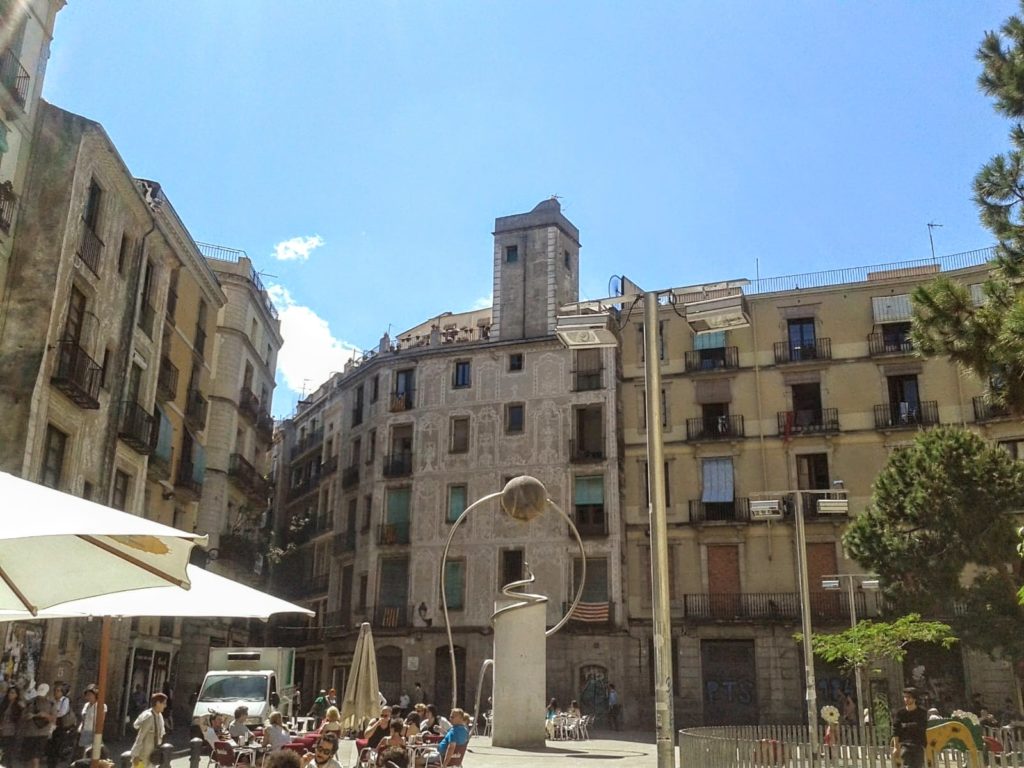 The now trendy, urban Gothic Quarter, also known as Barri Gòtic is car free and is also the oldest part of Barcelona. Our favourite area by far was the Placa George Orwell area. A lot of people say it's grubby, but we found it real, interesting and alternative. There is some wonderful unique shops, tattoo Parlour's, restaurants and some colourful, artistic graffiti. It is also known that George Orwell of the famous 1984 novel owned a home here during the war.
Tourists and locals alike can wander along the cobble streets past 19th century buildings, including the Cathedral of Santa Eulàlia, the Church of Santa Maria del Pi, Plaça del Rei and Basilica of La Mercè.
The streets are like a maze and one can easily get lost, but that's all part of the fun of it.
Mixing old with new you can also find lots of fine dining and casual eateries, as well as bars, shops and several museums, including the MUHBA Plaça del Rei, the largest history museum in Barcelona, where you can enter underground via a lift to walk among the ancient Roman remains. You can see everything from the 11th-century Palau Comtal – the Count's Palace, The Watchtower of King Mart, 14th-century Chapel of Santa Àgata, among many more fascinating architectural ensembles.
Don't forget to checkout the El Call, the Jewish district. It starts of at the north western corner of the Plaça Sant Jaum. The area is charming with narrow alleys and medieval architecture. You can off course find the old synagogue and charming cafes and restaurants.
In the Gothic Quarter you will also come across; Palau de la Generalitat – A stern Gothic looking building constructed between the 15th and mid-17th centuries, which still seats the government for whom it was built for.
Check out famous architect, Antonio Gaudi's first works, which are the cast iron street lamps in Placa Reial square.
Las Rambla
Las Rambla's street is usually the first point tourists go to when visiting Barcelona. It's a stretch of approximately 1-2 kilometres long, connecting the Plaça de Catalunya in its center with the Christopher Columbus Monument at Port Vell. It is a 197 foot tall towering structure, designed by the Catalan architect Gaieta Biogas I Monrava and the statue was sculpted by Rafael Atché. You can climb to the observation deck with fabulous views over the city and harbor.
The southern area at night can be quite unsavoury. Even in the day, be careful of pick pockets, phone and bag snatching. It's like anywhere, if you have your wits about you and use common sense, then your traveling can go smoothly.
Las Rambla's is an extremely bustling centre with so much to do, whether it's restaurant's, bars, shops, museums, theatre. You have lots to choose from. You will even be entertained by the variety of street performers.
A must see is the La Boqueria market, where you can munch on tapas or fresh seafood. As vegetarians we skipped eating here, but did enjoy the hustle and bustle of the market just walking around.
If you have time, we would highly recommend the Gran Teatre del Liceu which is famous for its opera. However, keep an eye out for other shows to.
Off course you will have a stop to see Barcelona Cathedral, situated at Placa Nova.
Las Rambla's is a must stop, but it can get pretty crazy. We preferred doing our sights speedily! Eating in Las Rambla's is tourist prices and food can be hit and miss. We choose to eat instead at the Placa De George Orwell area, where it was more relaxed and prices more reasonable.
Barcelona FC
Camp Nou – If you're footy mad like me (Knox), you will plan your itinerary around the time a football match is on! We saw Barcelona play Getafe! The stadium is huge, with a capacity of around 99,000! We left to beat the rush at 90+2mins, sacrilege I know, with Barcelona 2-1 up. Incredibly, Getafe got an injury time equaliser. The natives were not happy. I was delighted to see Messi, and his pals, play even if the result was not a crowd pleaser!
If you aren't lucky enough to get a ticket for a game, you can always do a tour of the stadium.
Street art
Wander the streets and take in all the graffiti and trendy street art. You can find El Pez's iconic images radiating positivity, along with the 'smiling fish' he is recognised by. El Pez is so famous now, he even featured in the Oscar nominated Bansky film, 'Exit through the Gift shop'.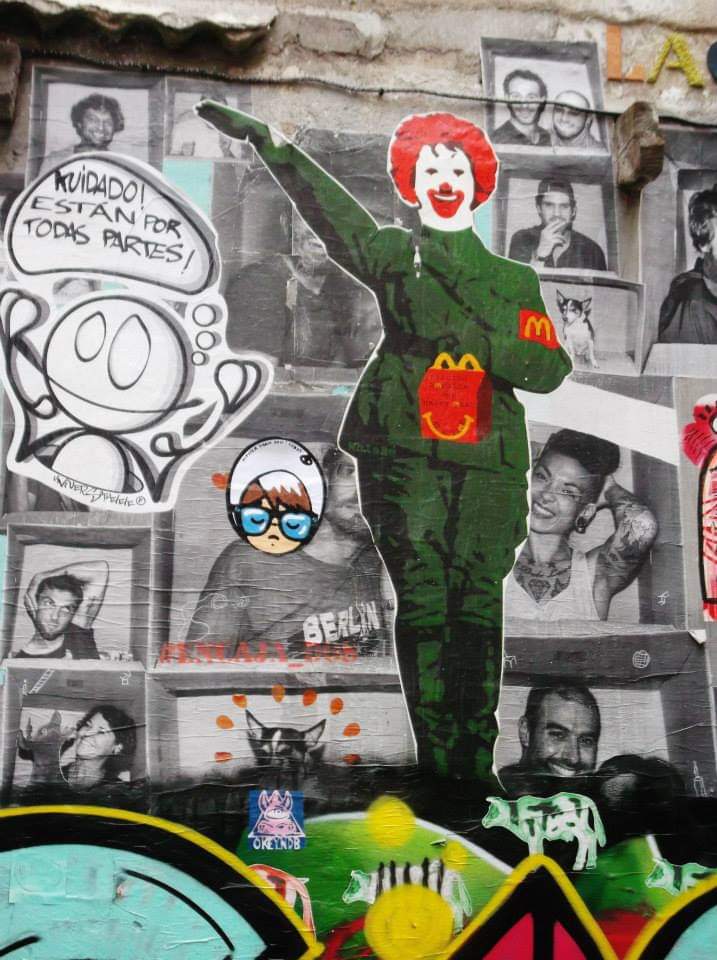 Other excellent artists are Sixeart, for his abstract art, Aryz for his dramatic murals and Btoy, stenciling her fantastic pieces, mostly of female singers and actresses.
Basílica de la Sagrada Família
The Basílica de la Sagrada Família, a Roman Catholic church should be high on your list when visiting Barcelona. Designed by Spain's architect Antoni Gaudí, his work on the building is part of a UNESCO World Heritage Site.
It has been under construction since 1882. The money they have spent on this building, could of fed the world over! You cannot help, though, but be impressed with the majestic architecture. The 18 towers of the church are a beautiful site, that will leave you memorised. The highest one of course representing Jesus Christ.
Magic Fountain
Magic Fountain – At night it is a magical spectacle, which changes colour.
Thus colourful fountain is the main attraction, of the complex of fountains, cascades and pools on Avinguda de la Reina Maria.
Check out our road trip adventures in Italy and France