Dominican Republic – An airport mishap and Bayahibe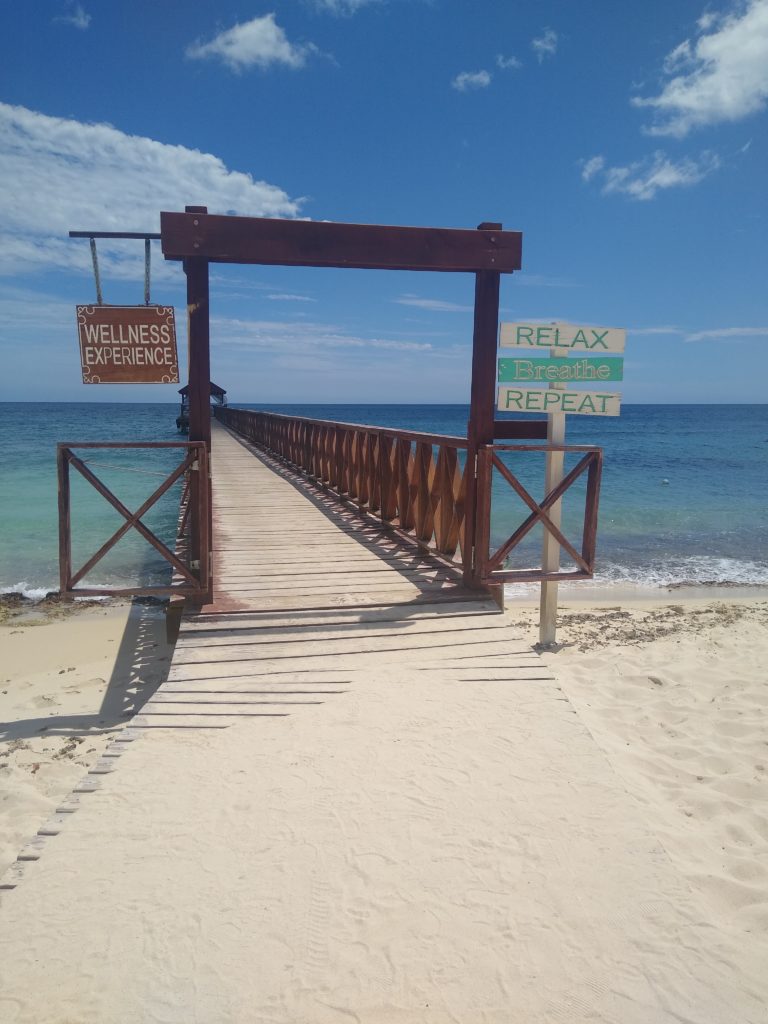 The trip to Bayahibe in the Dominican Republic would be a long one but we had no idea it would turn out how it did as we set off. It's funny as Dominican Republic wasn't even on our original itinerary, but because of the no testing and quarantine, we thought we'd give it a go before gauging our next move.
The car drop off went smoothly and we got through the airport okay, other than the sour-faced guard that confiscated a roll of sellotape at the security check, as we bade goodbye to Costa Rica. There was also the very overpriced Imperial Bar that likes to deal in dollars and pretend that their card machine doesn't work. We'd spent long enough in the country to know that it's not a full reflection.
Getting to Dominican Republic
Getting to Dominican Republic isn't usually so long, as it's not that far from Costa Rica. With Covid changes, flight routes have been stopped. The outcome being, we had two options. First option, go back via Mexico but the price was prohibitive. The other option, fly via Panama City to Santo Dominigo. This option, from San Jose (SJO) to Santo Domingo (SDQ), would have an excruciating 4 hour wait in Panama (PTY) but was economical.
Panama was on our original itinerary that we planned before Covid. I (Miko) had dreamed of going there, but for now it would only be a transit to Dominican Republic. Knox would have to wait for his Panama hat lol.
Costa Rica to Panama to Santo Domingo
The flight to Panama was quick and easy (just over an hour). The Copa Airlines flight attendants were sympathetic to my (Knox) needs and gave me new gauze to change my dressings. Very helpful and understanding. It was really appreciated.
Finding our bearings in Panama airport, we asked security / police / store workers separately for directions to any restaurants or bars. We had only seen a small coffee shop downstairs in the main shopping concourse. All responses were unhelpful. They either bluntly stated that they didn't know English or that there were no restaurants or bars open. One police woman stated there was none open for security reasons.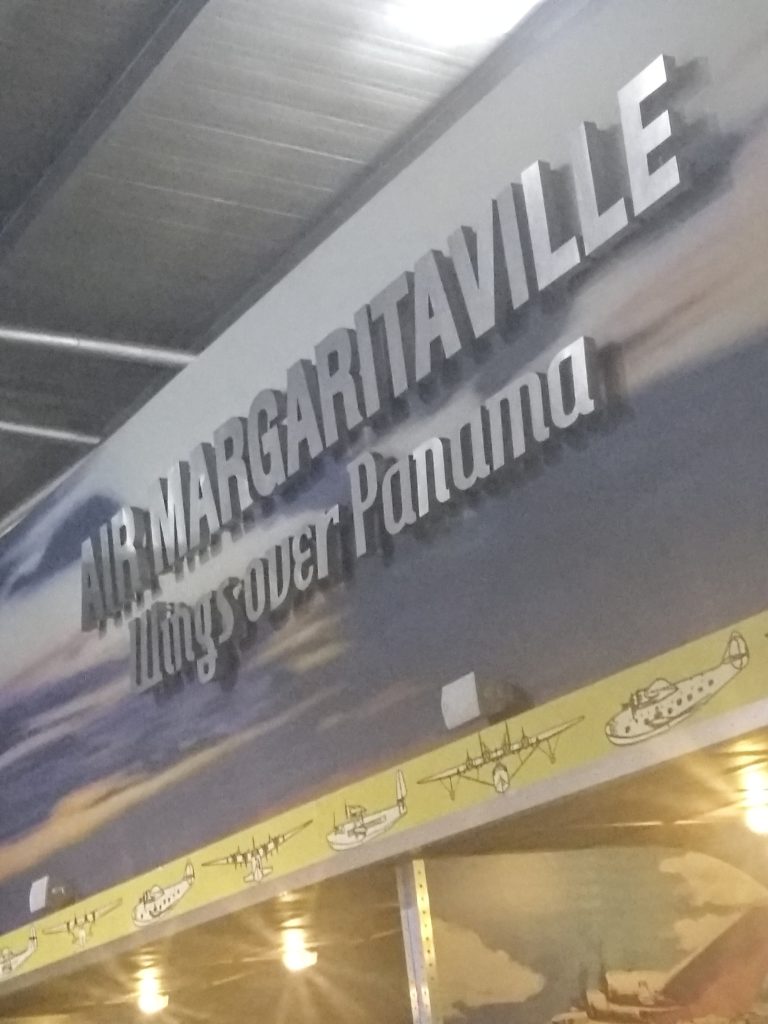 How strange we thought, in a big airport. We didn't believe them and went looking again ourselves. And, low and behold, upstairs there was a large, fully functional food and drinks court! Why they didn't tell us this, we don't know. I (Miko) got the impression they didn't like foreigner's. We then had to endure a 4 hour wait. We went to the Air Margarita Ville bar and enjoyed a couple drinks and food we had brought in. Service was top notch. We were relaxed and looking forward to getting going. We got ourselves up to go to the gate in good time. Miko went to the loo and I looked at our boarding passes.
Disaster strikes again
Our 4 hour wait in Panama turned into many more hours. I (Miko) heard Knox shout into me, at the toilets, in a panic! He had misread the flight time and got the times mixed up, thinking it was 9.51pm instead of 9.15pm!
We ran to the gate but to no use. When we arrived, the plane was there, but the gate was closed. We'd missed the open gate by 10/15 mins! Our pleading fell on deaf ears. They had already moved our Luggage. We were distraught and could have cried! Over the years, we'd had a few close calls but never missed a flight due to our negligence. It didn't help matters with Knox's injuries.
Our first aid kit and painkillers were in our main luggage, which there was no way of retrieving until our arrival in Dominican Republic. As you'll see below, in (PTY), Well you wouldn't want to have a major accident there.
New booking
The guys at the gate saw our distress and said to let them look at tomorrow's flights. Maybe they took pity at our sorry state. Thankfully, they booked us on the morning flight with no extra cost and our luggage would just go straight to that.
We now had an 11 hour wait in the airport, so a total of 15 hours. We couldn't leave as we hadn't been tested for Covid. The reason we settled against Panama was the mandatory testing. We weren't keen and anyway Panama city didn't seem so fun at the moment, with its rules, regulations, and restrictions. We now had to speak with our guest house and the company transferring us to it.
Changes needed quickly
Our accommodation hosts were good at responding when we booked and this continued when I alerted them to the issue. They moved our booking along a day, and would welcome us in the afternoon rather than at 3/4am. No extra cost.
I alerted the transfer company (Solanch Transport, booked via Mytransfers) too. They said they would amend the booking but wanted to add a $25 charge. The person on the other side of the text stated that the driver was already at the airport. I explained that it was 3 hours + before our pickup time and I didn't want to pay extra. There was a bit of to and fro but he relinquished and said no extra cost for the pick up in the afternoon. We were very thankful.
No first aid kit.
And, Panama? Well you wouldn't want to have a major accident there. I (Knox) had planned to change a couple of dressings when we arrived, but as my non-stick gauzes were in our luggage, I couldn't change them here in the airport. Miko and I asked the Copa Airlines staff, they checked but no first aid kit.
Testers only have swabs
There were about 10 medical staff, including doctors dressed up in the blue 'space' suits, swabbing people for covid in the middle of the unhygienic airport. Unbelievably, they didn't have any real useful, basic medical supplies – a first aid kit. This was the most incredulous of the lot!
Cafe no, Police no and security no
Miko asked in a cafe, but no joy. I then walked up and chatted to some police men. At least, they Seemed to care a bit. With a translate app, I asked them if they had a first aid kit with a couple of non-stick gauzes. They didn't but asked the airport security guys.
They were changing shift, so he told me to come back in 15 mins. I did this. Such a palava to get anything. When I came back, the kind police man brought me to the security staff. They made a phone call. Then this other guy, who spoke good English (Berth), came and chatted about the issue. He would call the doctor, not connected with the Covid testers, to see if he could help.
Gauze is all I want
All I wanted was a simple medical kit. So he said someone was on the way to get me the gauzes and would be here in a few mins. He checked out my story again and looked at my passport. I think he was a higher up security guy, dressed in a suit, but he was chilled enough. It is a paramedic on the way with the equipment.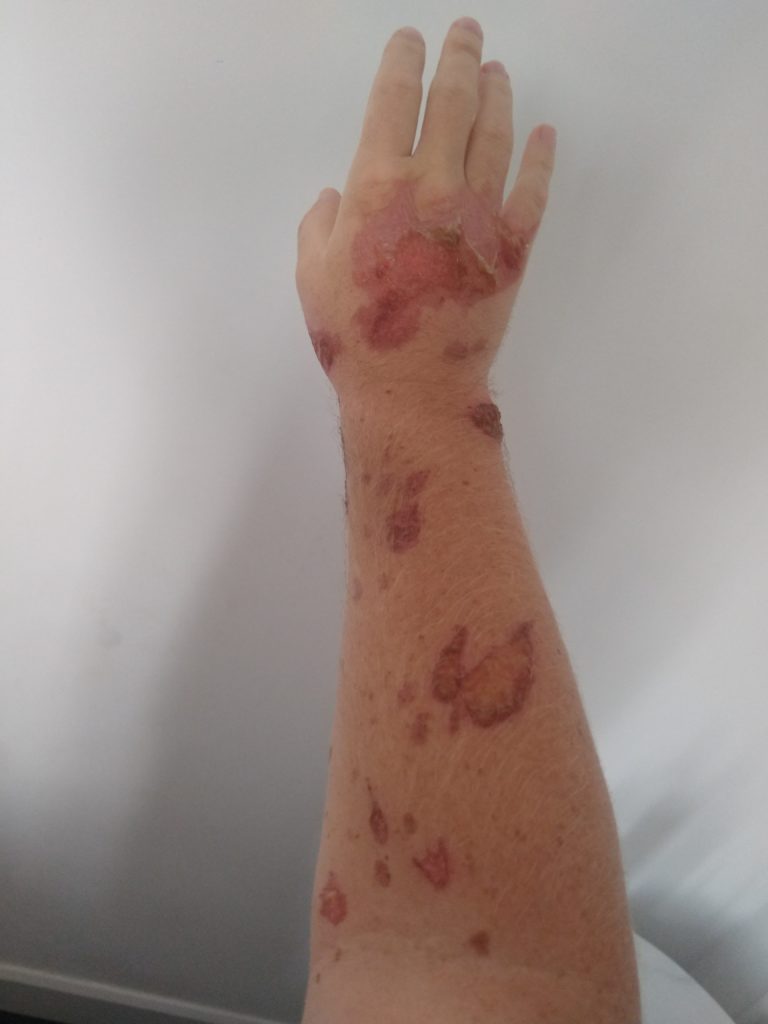 Finally, 2 and a half long hours later a Paramedic danders in. He sees my hand, puts some gauze over it and puts a stretchy, string cover over it to hold all in place. He gave me a couple of more gauzes that I could use for my legs later. The whole interaction was over in a few minutes. I should have asked for pain killers too but was so caught up in gauze. Nearly a week down the line from my accident, my wounds looked more horror show as they healed. The gruesome look was added to, as the wearing of shoes and flights had made my feet and ankles swell.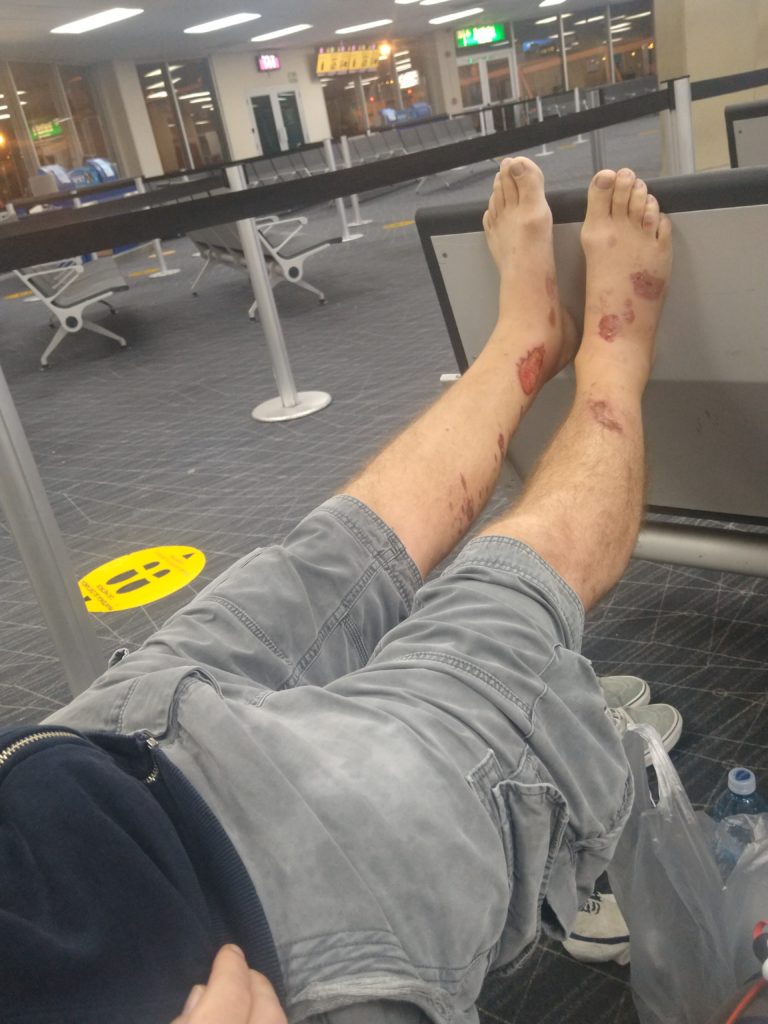 The big 'NO' sleep
As the airport emptied, the shops, restaurants and bars closed for the evening. There were a few others, dotted around the airport, waiting for morning flights. An official came round and took our details i.e. proof of onward flight, passport check etc. After this, we settled in for the long night. Thankfully, one cafe remained open 24hrs even though it was over priced. At least we could get some refreshments, service with 'no smile' and flat crossaints.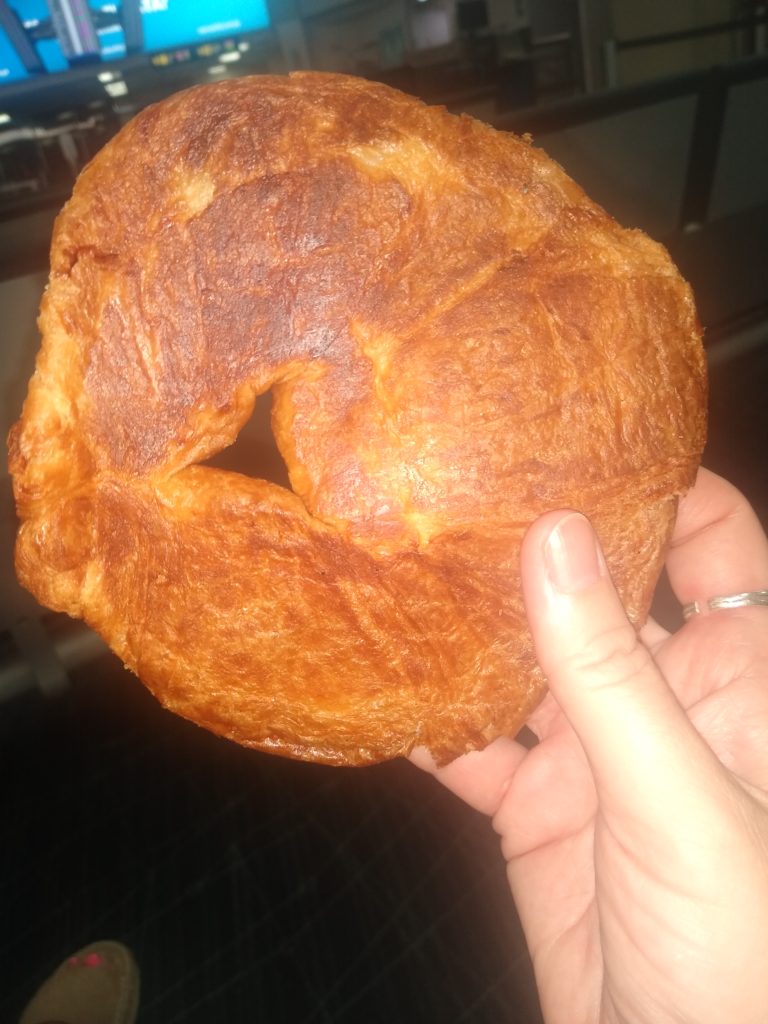 The minutes ticked by slowly. A looped tannoy message about covid restrictions continued to play, with no one to enforce them. In our delirium we thought the message ended with "The woman takes care of you". The actual end was "Tocumen takes care of you" with reference to the name of the airport. With no sleep, the dawn broke and the airport started to wake up. We bought some food and finally boarded our flight to the Dominican Republic.
Practicalities
Arrival in Dominican Republic has the usual hoops to jump through, with added Covid declaration, but these were simple enough.
Dominican Republic E-Ticket
This is an all in one traveller details confirmation (Flights, passport number etc), visitor locator, health declaration, customs form. The Dominican Republic authorities call it an E-ticket. It is fine to do only one form for family i.e. people you are traveling with. A QR code will be generated to show to immigration and customs on arrival. On the flight, the crew will offer you a paper declaration form. Filling in the E-ticket negates the need to fill in the paper version and is easier as you pass through the aforementioned check points.
Dominican Republic Immigration
Officially, you need an onward flight as you fly into Dominican Republic (the same goes for a lot of countries around the world). We hadn't really thought of this as some countries are less strict about this than others. It's a question we have dodged in the past. Surely, it should be a country's immigration job to ask the question, and not an airlines, to decide what rules were in place and enforced?
At departure airport
However, staff at Copa Airlines bag drop (In SJO) confused us by asking for our return ticket from Dominican Republic. We explained we didn't think it was required. It looked like it may be a sticking point but it was agreed that we had the means to buy a ticket at the immigration desk if it was required and that was it. She let us pass.
At arrival immigration
Immigration in Dominican Republic was a breeze. Immigration did not ask us for an onward flight. It only took us a couple of minutes to have our passport stamped as we were allowed entry.
In Dominican Republic you get 30 days visa free. It's possible to extend: 30-90 days $2500 pesos, 90-120 days $4000 pesos – It takes 3 working days to process. This can be extended at the airport or online.
Customs
At customs, we saw lots of people being directed to fill in a paper form. We flashed our QR code E-ticket and passed quickly. All passengers have to put their bags through an x-ray scanner and that is one cleared if nothing to declare.
Transport at Dominican Republic Santo Domingo airport (SDQ)
There are the usual array of buses, shuttles, taxis, Uber, and private transport waiting once out into the melee of the main arrivals hall concourse. We had chosen a private transfer, which was half the price of a taxi, as we were due to arrive at 1am. Otherwise, we would have probably got an Uber, for convenience, rather than the cheapest bus option.
Pre-paid private transport
We used 'My transfer' taxi service, booking online in advance. They connected us to Solanch Transport in the Dominican Republic to complete our transfer to Bayahibe (116 km away). The driver was there, at the rearranged time, with a name board as expected. The car had a few miles on the clock, but was comfortable, and the driver was definitely not as friendly as the Holbox taxi service we used in Mexico. However, he got us at our accommodation in one piece and in good time.
Accommodation
We contacted Bayahibe Guest House directly and reduced the price by 20% against Booking.com price and 16% against the guest house's own website price. This brought the price down to $3700 pesos (£46 / $65) a night for 4 days, until we checked around for cheaper accommodation. We stayed in their apartments, which is a couple of minutes walk from their main site.
The Apt was a good size, in the middle of the village, so close to local amenities and 5 mins from the beach. It consisted of a bedroom, private bathroom, with a separate open planned living room and kitchen. The Kitchen has a 2 ring stove, fridge freezer, toaster, kettle, kitchenware etc. This would be enough for our home cooked meals. The bedroom had aircon while the living area had a fan. In Dominican Republic electric is very expensive, so most accommodation charge extra for it at the end of your stay (luckily Bayahibe guesthouse included it in the price). It is the norm to only have a/c in the bedroom, or even just a fan, unless off course you stay in super expensive hotels. The apt had a lovely open air seating area looking over the rooftops, where one could get relief with a gentle breeze.
If you do opt for accommodation which doesn't include electric, make sure you check the metre at the start of your stay and take a photo of it. We noticed alot of accommodation on Airbnb charged more than they should, compared to the states official electric company.
Bayahibe village (Los Melones)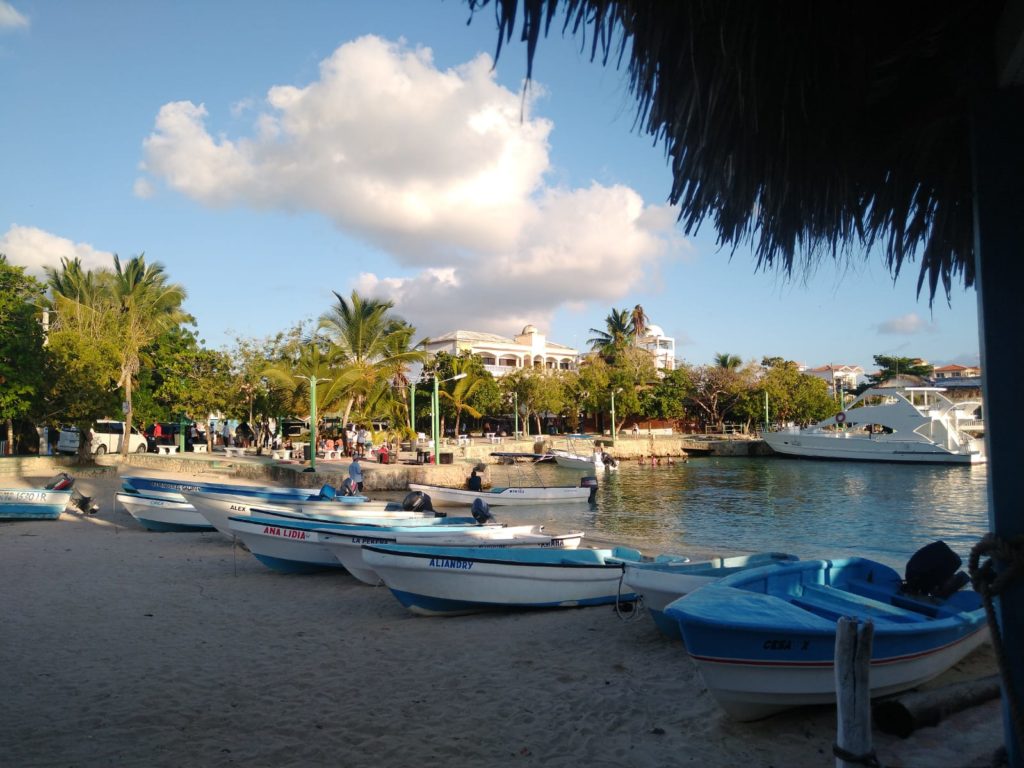 We choose the Bayahibe area first. A small fishing village with a good selection of varied restaurants, bars and shops.

The area is quaint and pretty, with charming pastel coloured houses. Calypso And salsa style music can be heard wafting out of windows.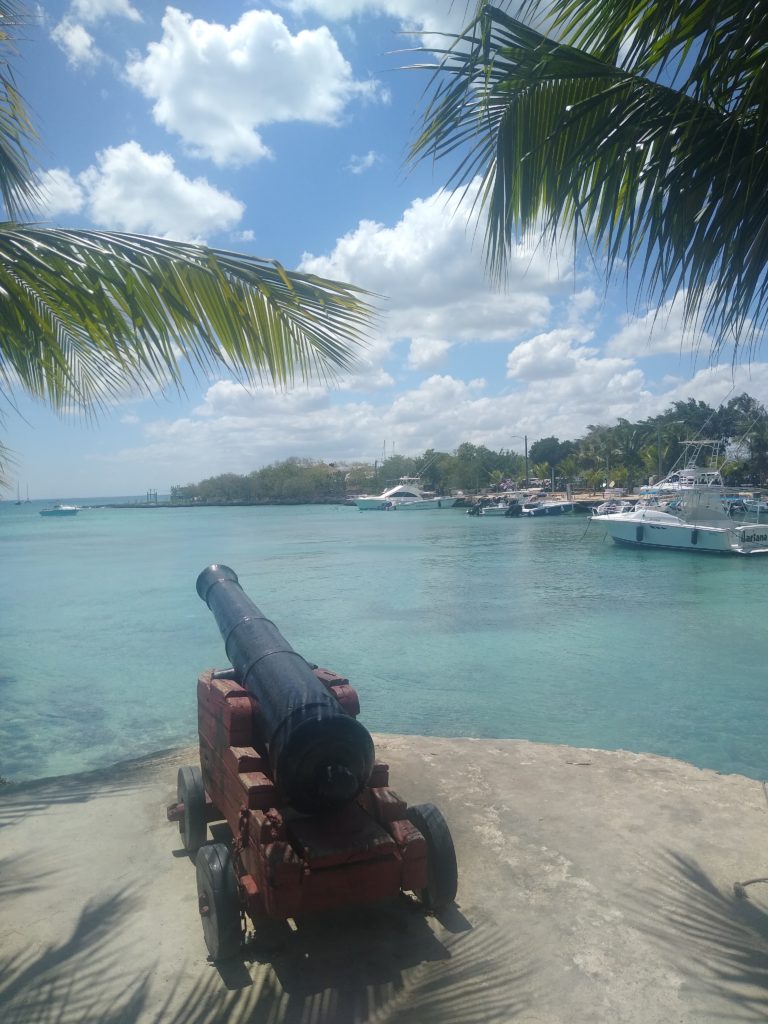 A small marina is the main feature of Bayahibe, along with its sandy palm fringed beach.
There is a more local flavour in Bayahibe, giving an opportunity to experience the real Dominican Republic culture away from the large resorts.
What to see and do
Bayahibe marina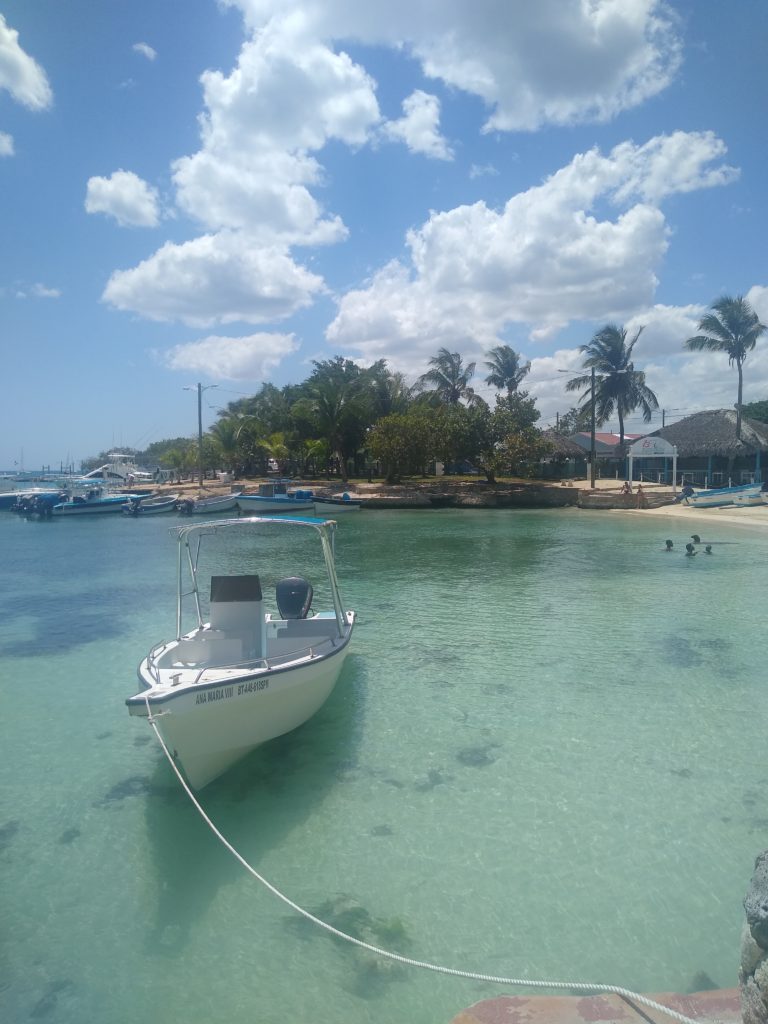 You will most likely pass Bayahibe marina when strolling along to Bayahibe beach. It's a picturesque marina, with crystal clear waters and modest looking fishing boats, tour catamarans, and yachts. You will find locals sitting between the fishing boats along the sands. Many boat trips depart from here. There are also a handful of restaurants overlooking the gentle lapping waters of the Caribbean sea.
Bayahibe beach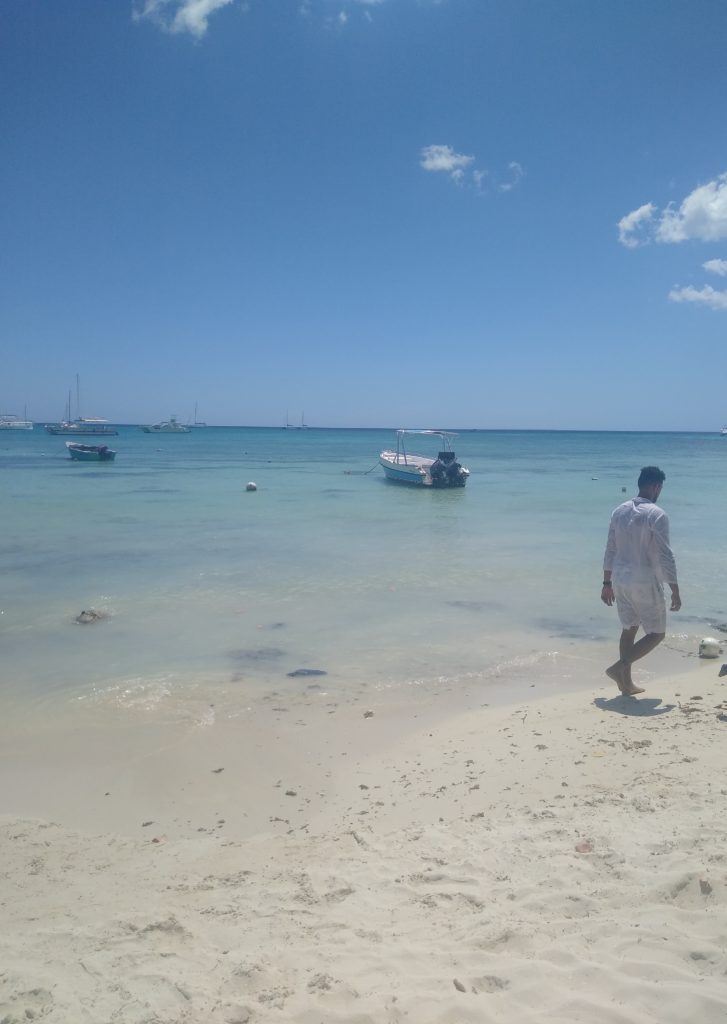 Bayahibe beach is not particularly long, but it's a gentle easy stroll from the start to the top. Most people halt their walk and turn back just before the Hilton. If you try to go further, you will most likely get stopped by security, with their clipboard, demanding your room number. If you aren't staying at the hotel, they will state the beach is private and there is no access after that point. This is rubbish, as ALL beaches in Dominican Republic are public. As long as you don't use the hotel's sunbeds etc you can breeze on by!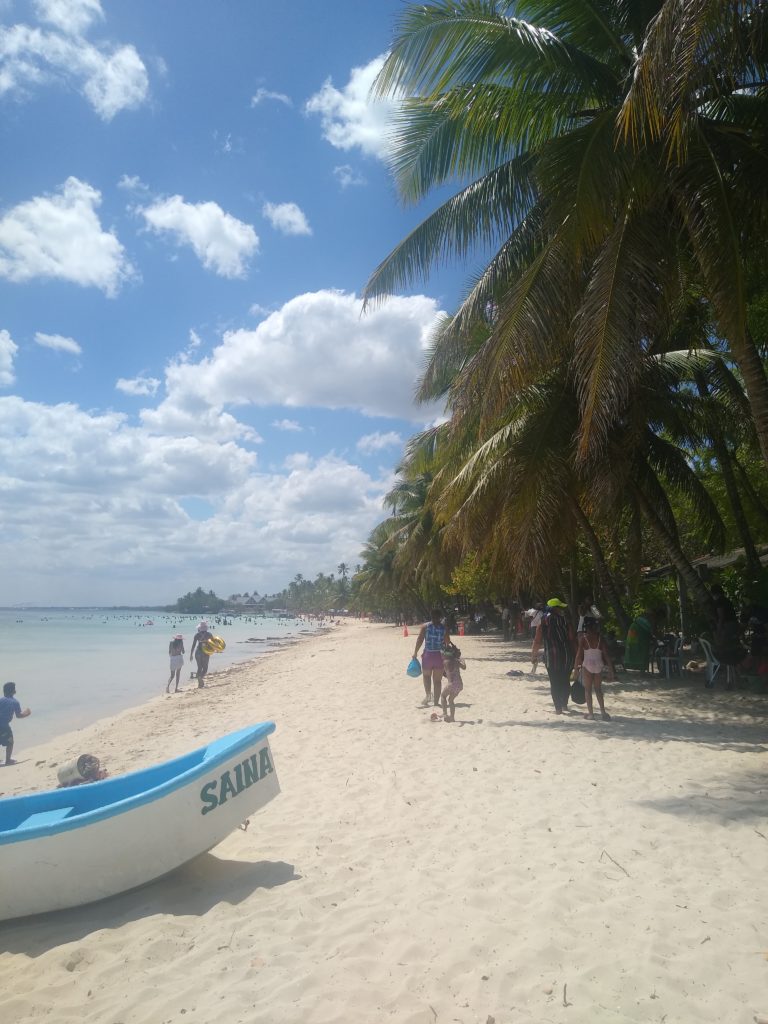 Bayahibe beach is mostly occupied by locals; families enjoying picnics, music and swimming. Weekends can be very busy, so if you want a quiet spot, avoid the weekends. During the week it's so much quieter, where you can have a space of sand all to yourself.
Playa Magallanes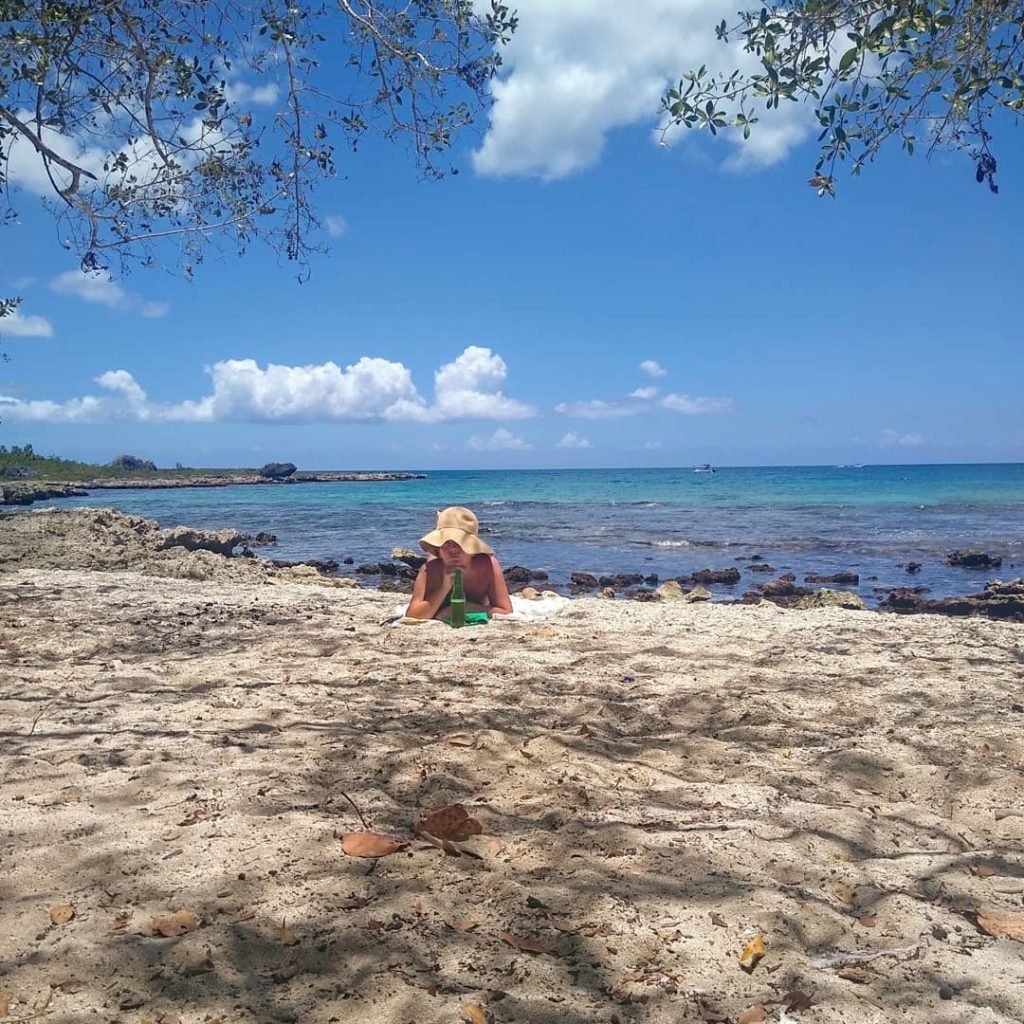 To the Southside of Bayahibe is the small cove of Playa Magallanes. It's a 5/10 min walk from the centre of Los Melones / Bayahibe, just past the baseball field (a game was in full swing).
A little Playa, a crescent cove of sand, coral, backed by shading trees has a narrow sandy channel of turquoise water flanked on either side by rocky pools as the Caribbean gently laps ashore.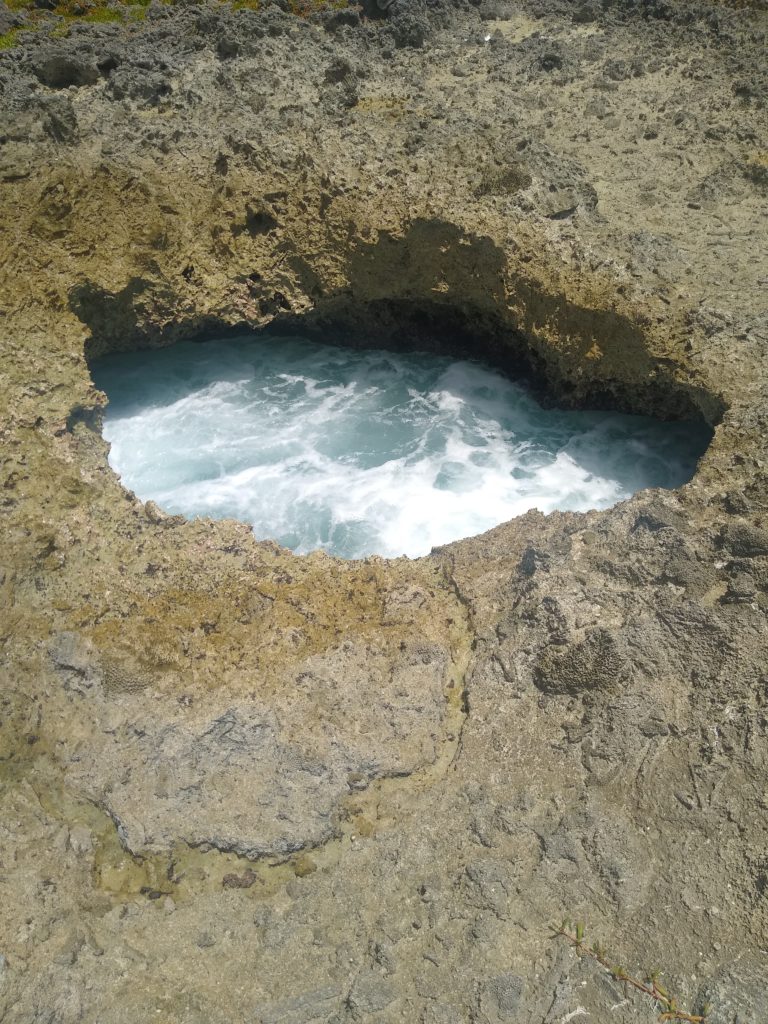 Twenty metres out the channel opens out to a broader sand bottom. Calm and relaxed under the blue skies.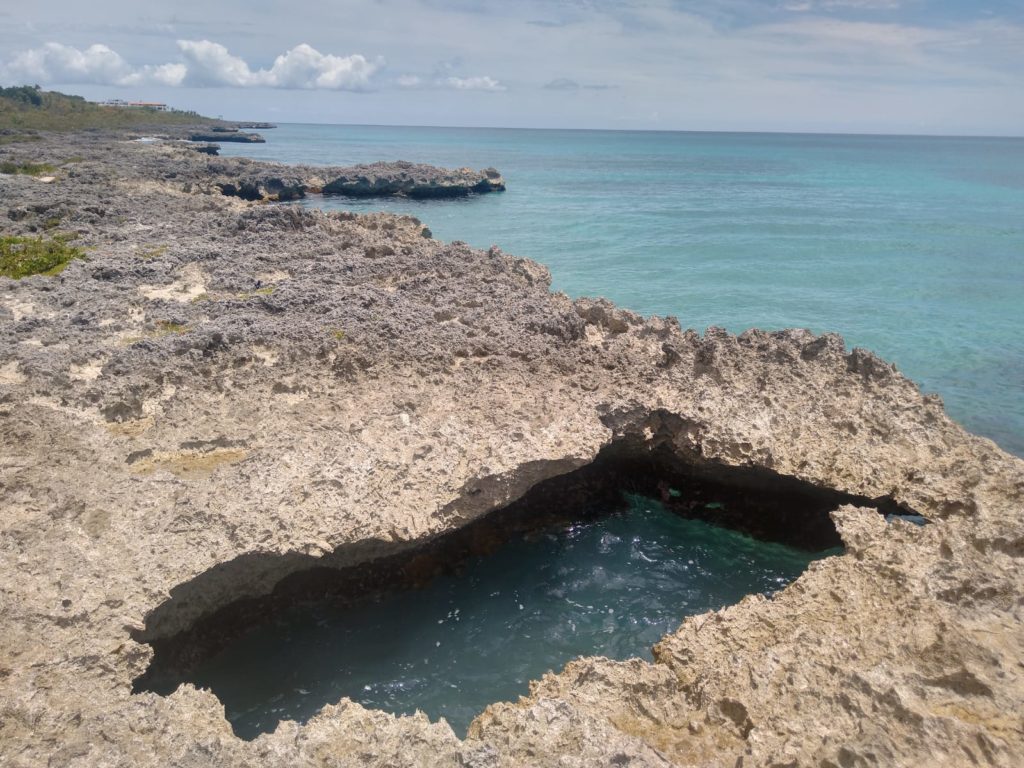 Dominicus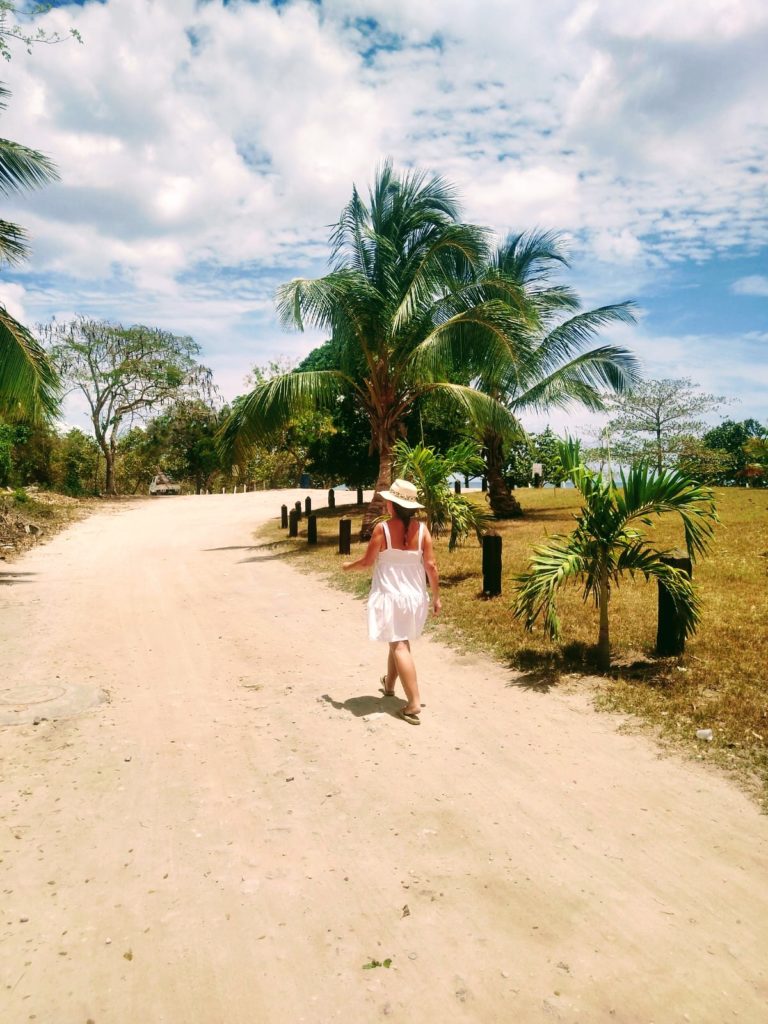 Following the sandy path along the coast from here and the baseball field leads through an easy woodland trail, where we appreciated shade away from the hot sun.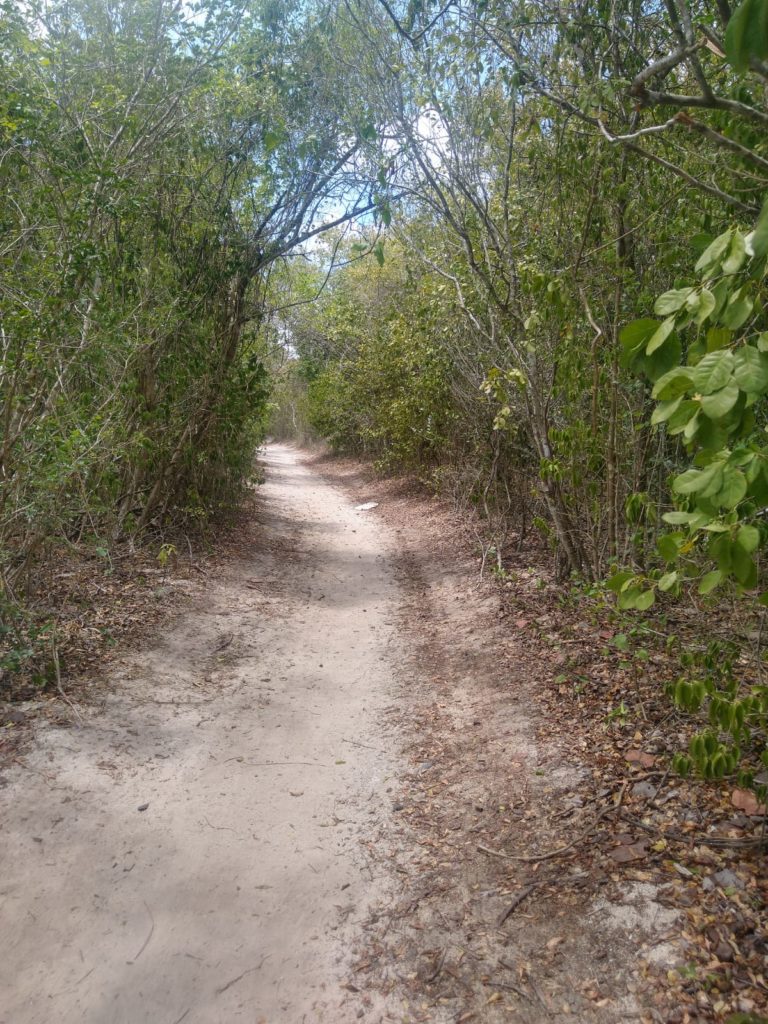 20/30 mins later (45 mins for total walk to first public entrance to the beach) one emerges at the condos and resorts of Dominicus and a tarmacked road. The easy, local orientated, village life of Los Melones/Bayahibe makes way for the corporate, consumerism of resort world.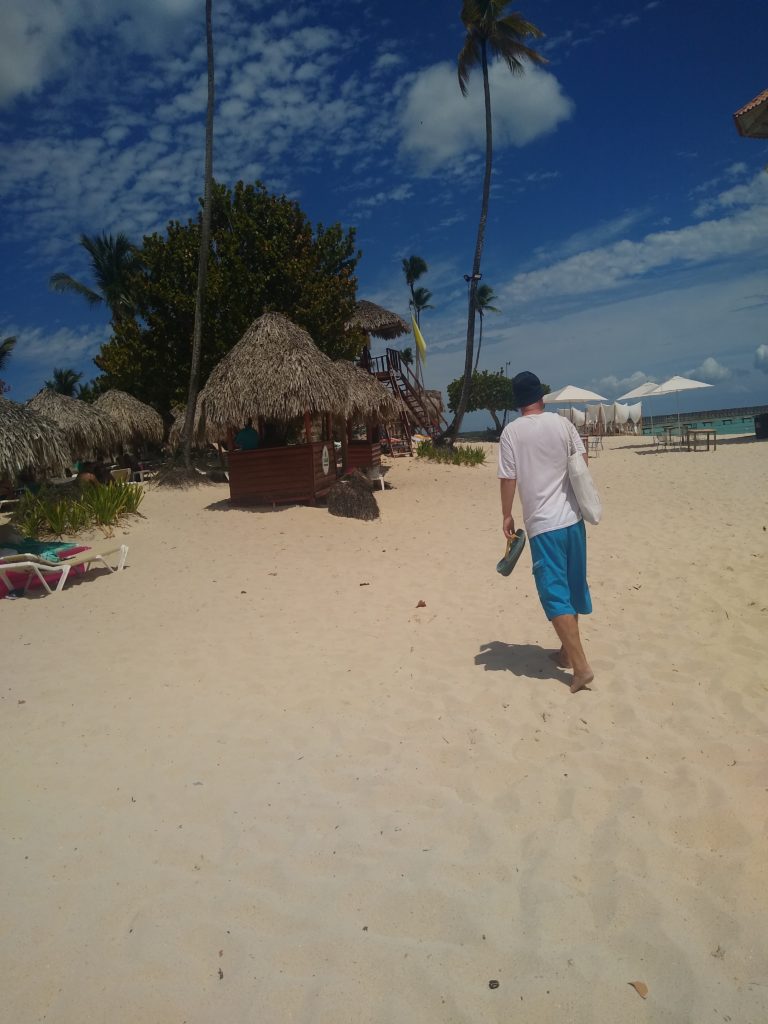 The streets were quiet, apart from a few restaurants sleepily open, shops, and whispered offers of massage, as we walked behind a huge resort. The area is soulless compared to the local life at bayahibe village.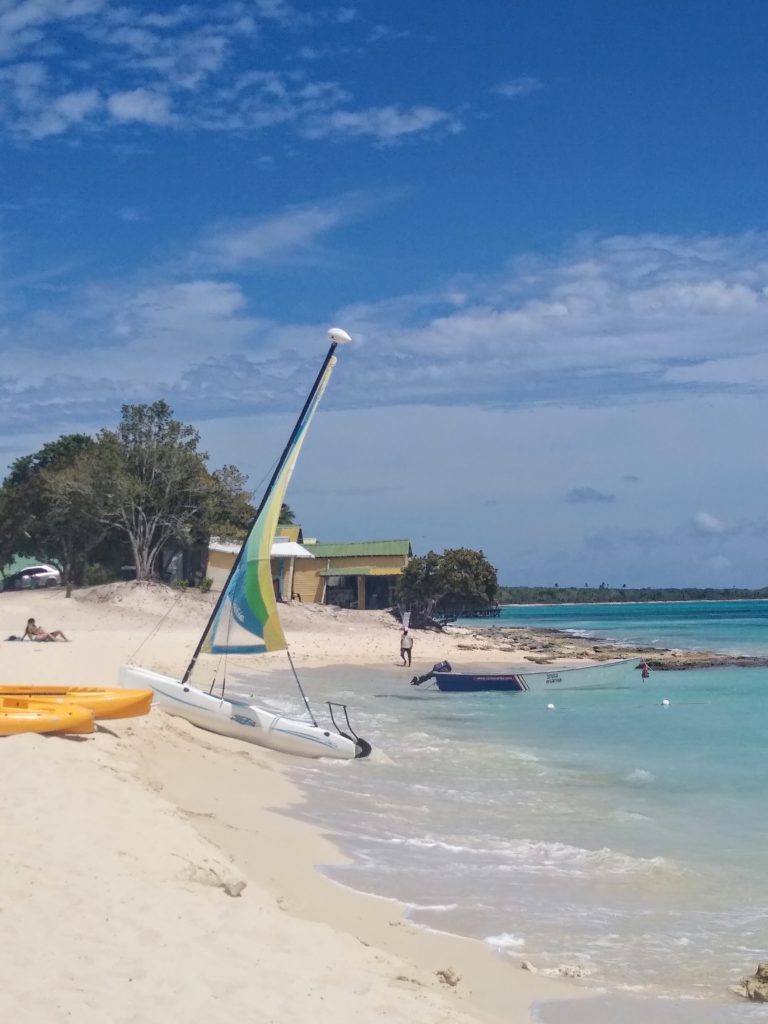 However, get to the beach and it eases some doubts. We found the public beach entrance and stepped on. Fine white sand and twinkly turquoise blue Caribbean ocean draws you in. It has undoubted beauty when one ignores the resorts' sunbeds.
Dominicus Beach
Dominicus beach stretches for a few Kms. The first part is backed by resorts, some tree sections, and a few beach facilities. The latter part is more virgin as one heads towards the national park. It has held its beauty and carries on into the distance. We strolled past a lighthouse bar (Faro de Bayahibe), hoping to get a refreshment, "only for hotel guests" , we were told by a staff member, as another stared blatantly at Knox's wounds without querying what had happened. A bit Freddy Krueger, yes, but the rudeness was unbelievable. We left the empty bar.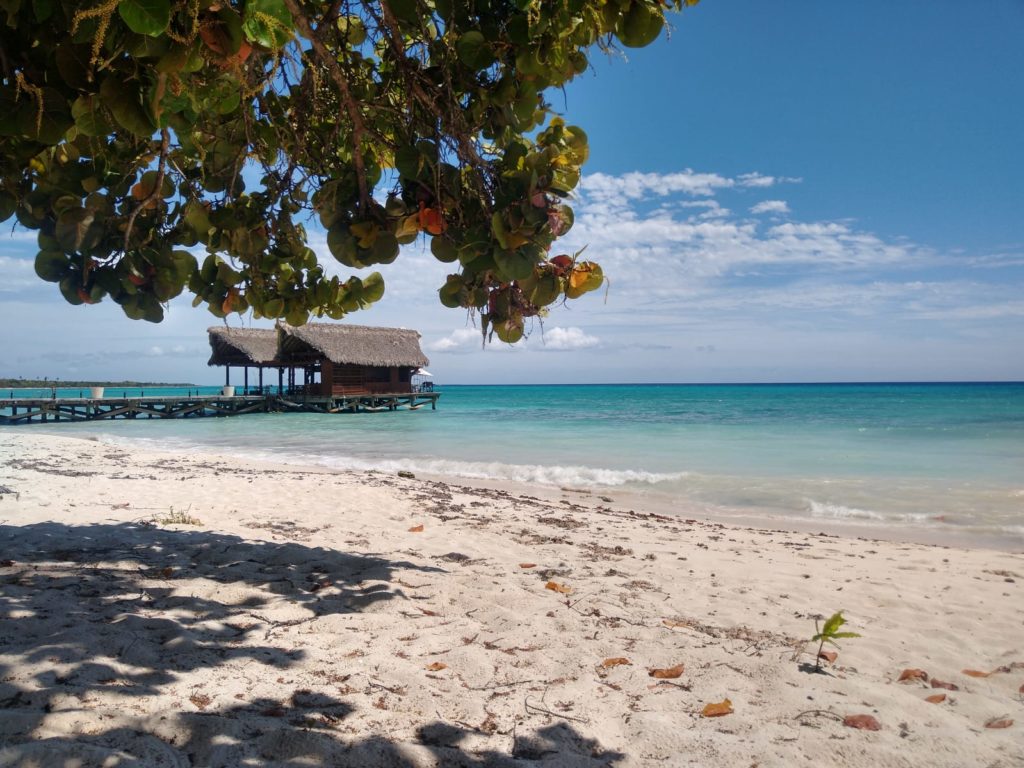 Our stroll continued up a further half km, past other shack shops, but no other bars, not even a ramshackle drinks stand. We were away from the resorts though. It was serene and we took shade, under a palm / mangrove tree combo, admiring the beauty. Modern apartments, with no life, sat approximately 50 metres behind us. We wondered if they were holiday apartments.
Where to eat / drink
Betty Blue
Run by a young French couple, Betty Blues is a great spot to relax over a few yummy cocktails overlooking the marina and a small part of the beach. They serve pizzas, pasta, fish among other dishes on their extensive menu. The pizzas are very good. Thin and crispy. Although avoid mushrooms as they are tinned, as fresh mushrooms are almost impossible to get in the village.
Mama Mia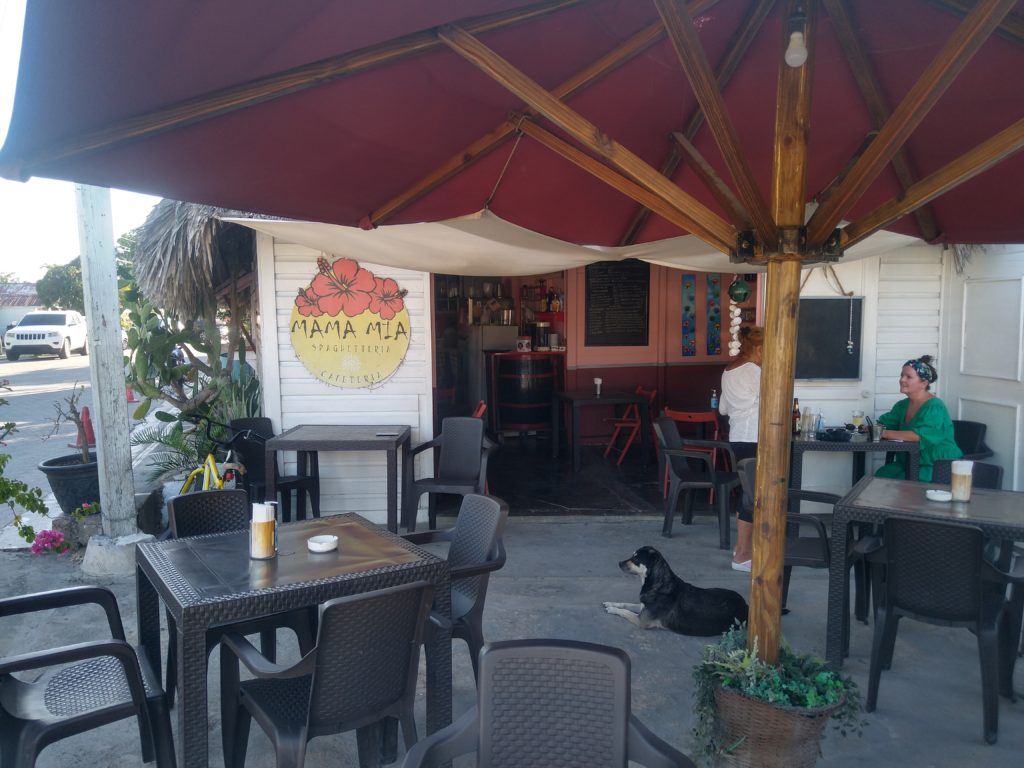 Mama Mia is a Simple family run Italian spaghetteria and cafeteria. Typical, authentic, Tuscan / Bayahibe hospitality. Genuine hugs in the true Italian style. Lovely relaxed vibe, great homemade pasta, wonderful people (and dogs). Speaking with the irresistible, and vivacious, Laura is a must. She makes such an impression in one moment that many struggle to make in a lifetime. Also has some rooms for rent.
Super Colmado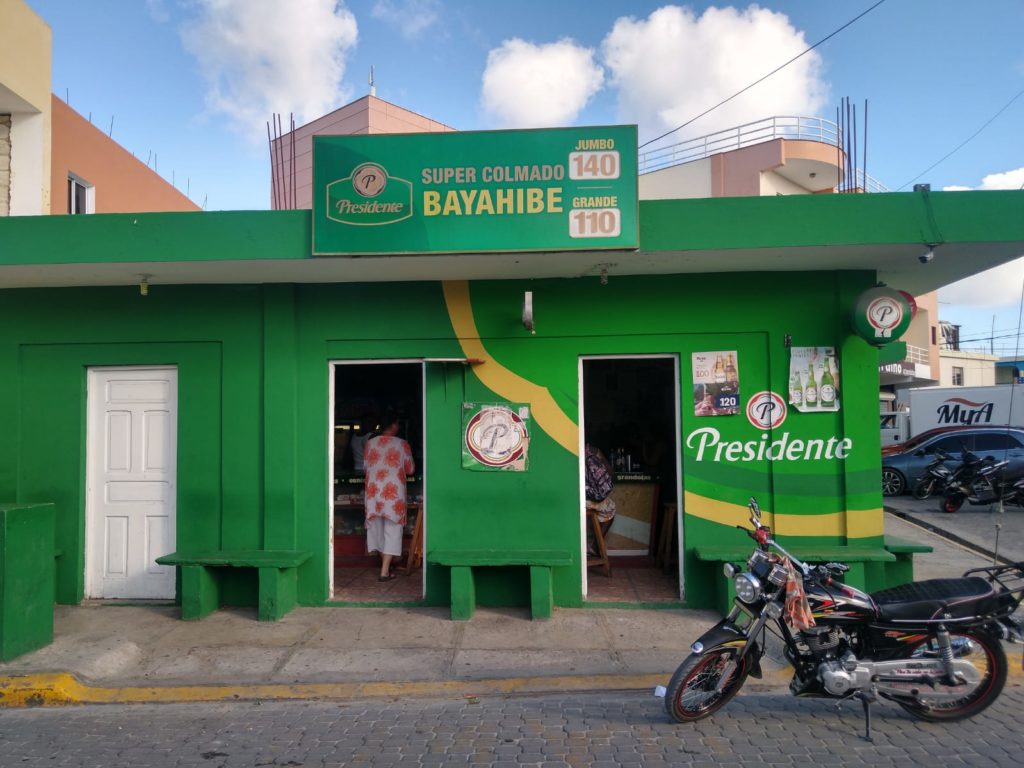 Supermarket and bar all in one. Thirsty work doing your shopping lol. Frequented by mostly locals the craic is ninety. Reminds us of the old style spirit grocers from years back in Ireland.
Carwash bar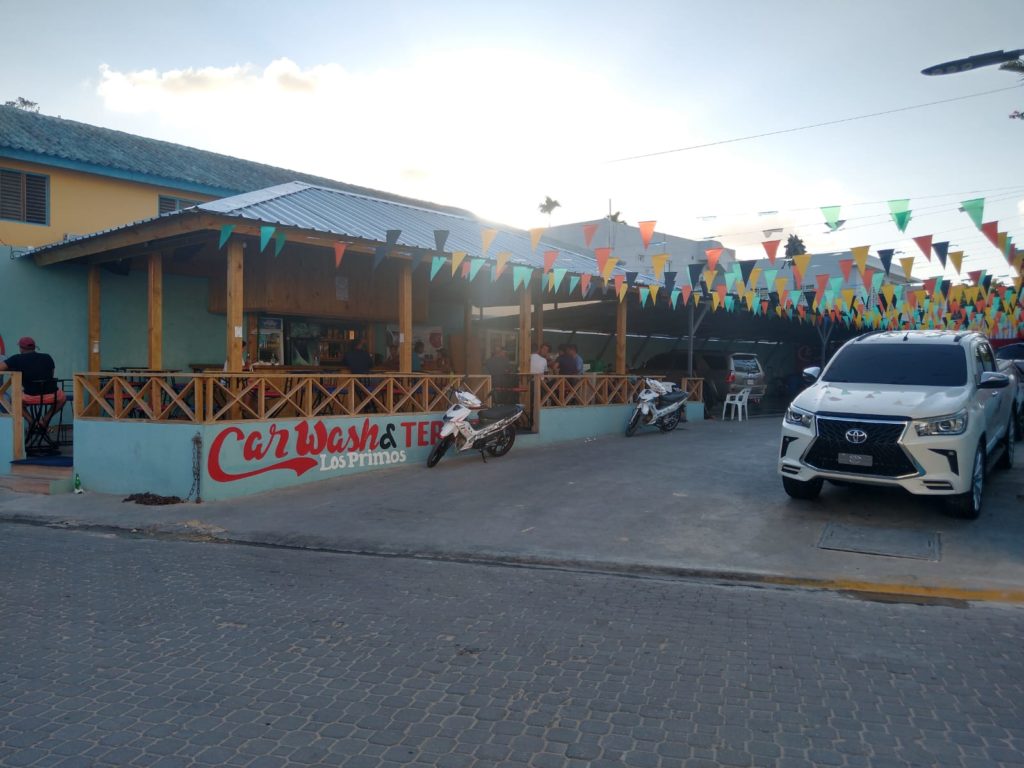 Get your car washed while you sit in the bar for a refreshment. Lively atmosphere and they do tune requests. We thought it would be funny to play Carwash by Rose Royce. The guys were good craic and had a sexy dance to the music while washing the cars. Lol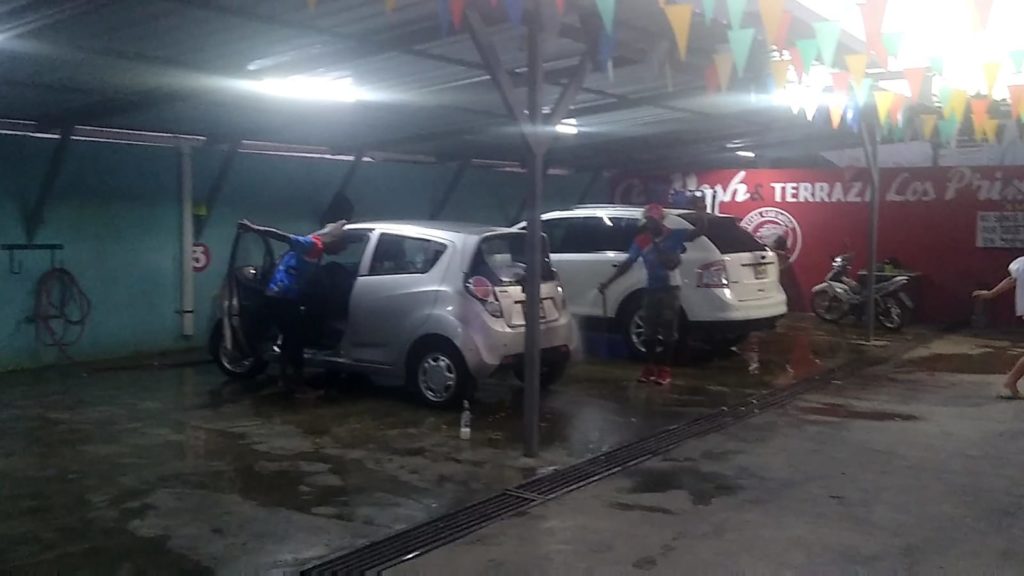 Supermarkets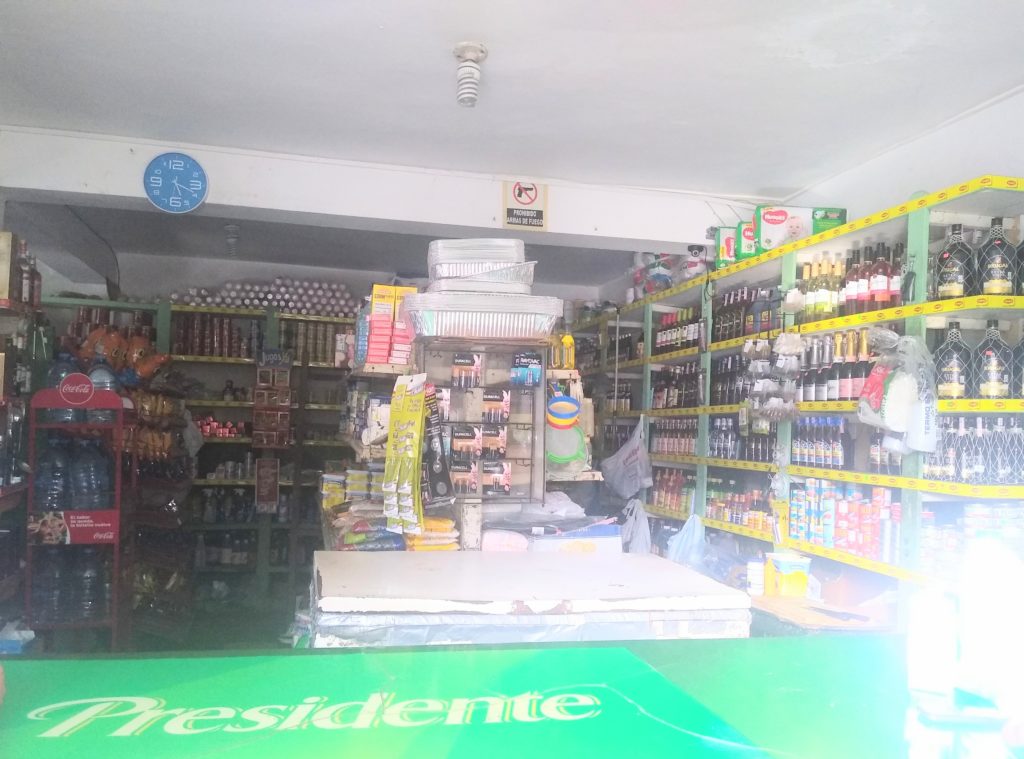 The supermarkets remind us of old Ireland, with food supplies behind counters, you have to ask for. There are a few shelves on the outside where you can browse by yourself. If you have ever ventured to Fibber Magees in Belfast, Northern Ireland, or Points Bar, you will see the old style, or that of groceries placed behind the counters / bar.
If you go in to a store with items on shelves, like MyA market, you can actually browse yourself, be sure not to go in with any other shopping bags! They don't like it, just in case you pop something in it without paying! We felt quite offended at first, but it's the done thing, or should we say, NOT the 'done thing'! Lol
Fruit and veg Truck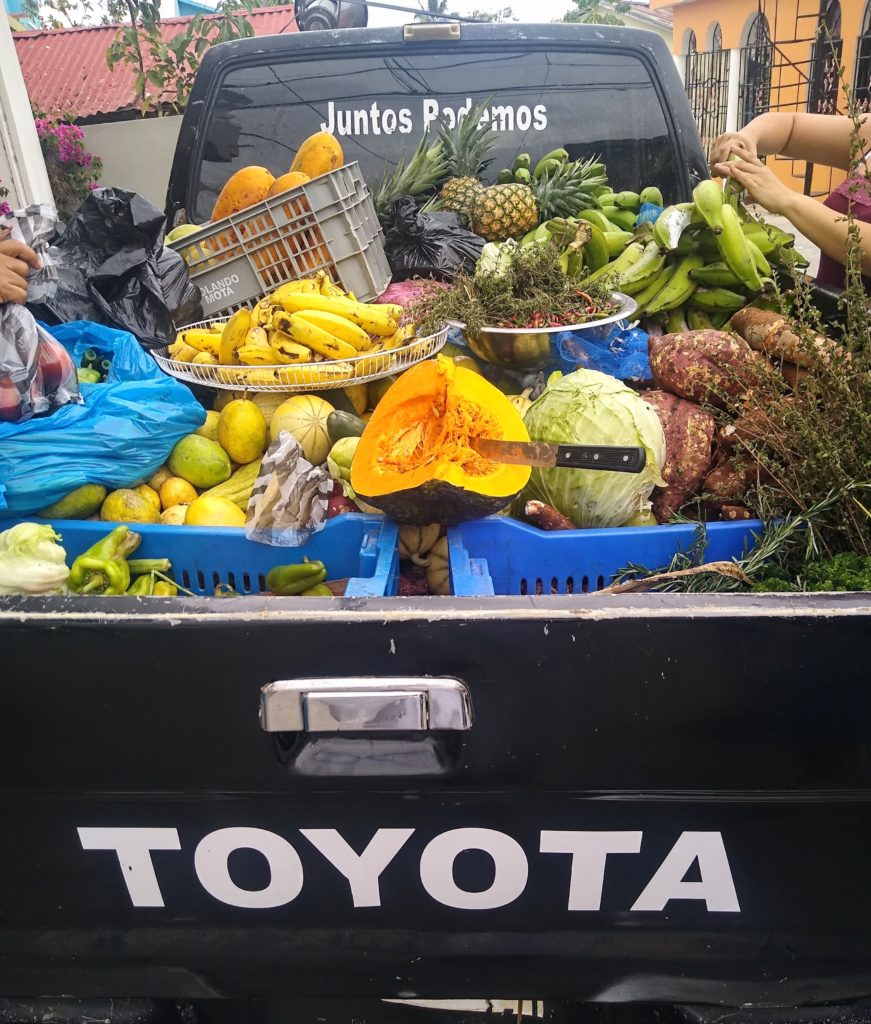 Moving on
After a week of getting used to the Dominican republic, we are ready to move on and check other parts of the Island out. We'll update our adventures next week.