Cook Islands – Pacific Paradise
Getting there and around.
We were in Cook islands in 2006, as part of our RTW trip, so the quality of photos aren't great, but will give you an idea how much a paradise this place is. The easiest way to get here, is from Australia, New Zealand, or the USA (LA etc). International flights will land at Rarotonga's airport.
We came from Auckland and flew with Air New Zealand.
Flights to the other islands can be easily got in the tour offices or online.
Getting a taxi from the airport is easy enough, although most accommodation will offer transfers.
The island has a simple bus system with 2 routes, a clockwise and an anticlockwise tour of the island. It takes about 30/40 mins.
Rarotonga
The Cookislands capital, Avarua, is on Rarotonga Island. It's a small, unique place that sways to an island pace of life as the breeze tickles the coconut palm fronds in a dreamy South Pacific way. With modern shops, stocking everything you need, life slows to a gentle stroll. Everyman seems to sport a Hawaiian shirt, while the woman young and old wear a flower behind their ear.
Muri lagoon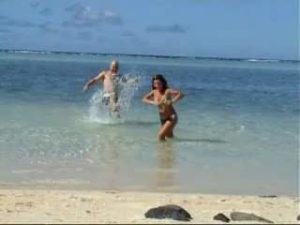 There is a wonderful feel around that is truly delicious, mouth watering and absolutely stunning. We used this as our base as well as exploring Aitutaki.
We stayed in Muri Lagoon in a hillside villa that was part of Vara's. They had overbooked their main place so moved us into this more expensive place for the same price. Great views,full kitchen and very comfortable. We were able to negotiate a longer stay in this pad.
What to do:
The cook Islands is an island paradise.
Apart from a few sights to see, you will mostly find yourself soaking up the sun or wading in the crystal clear water amongst the tropical fish.
Situated on the south eastern coast of Rarotonga. A narrow stretch of fine white sand. Gliding in a soft curve for a kilometre, Muri is backed by sweeping coconut palms, ironwood trees and faced by four uninhabited islands within the reef, two of which one could wade across to because the crystal clear turquoise waters were are so shallow.
Canoes and paddle boats
A fun thing to do at Muri beach.
Snorkeling
To be honest, the water is so clear you won't need a snorkel, as you get up close and personal to all the bright tropical fish even in the shallow waters. You can rent them though, or some hotels offer them for free.
See another island – Aitutaki
We choose Aitutaki. Taken to this paradise Island in the smallest plane either of us had ever flown on, a 34 seater SAAB 340 twin propeller, for the 45 minute hop to Aitutaki.
Usually a tour boat full of other people will bring you here. However, after much talk to the locals, we found a guy called Quintan with a boat and had a private escape to the magical One foot island.
The whole experience was stunning!
Hire a scooter
You need a Cook Islands driving license to legally take to the country's roads. The process was straight forward and the license would be a neat souvenir to show off. Once at the counter you will be informed that you would have to take a test but first you need to rent the scooter, bring it down, and come back to the counter. You will get a license and a sheet of paper.
A cop then will gather the slips of paper of a few fellow exam takers, and explains the short course you have to circuit while he followed and observed. The test is easy and the whole process from queueing to the test takes approximately an hour. Traffic is never heavy and the circular road is an easy trail to cope with.
UPDATE: Visitors (over 16) from Australia, New Zealand, US, Canada, UK and the EU can now drive in the Cook Islands for up to six months using their full overseas license.
CICC churches
Check out the 5 CICC churches – built of coral limestone by missionaries, stretched back more than 150 years and have that real Christmas card look, without the snow of course. All are stamped with traditional architecture, white washed walls, stained glass windows and each with small graveyards to match the size of the communities' worship houses.
Graveyard gardens
Burials in the Cooks are an interesting affair. There are obviously some graveyards but it was noticeable to see graves in the gardens of homes. At first it can be a bit unsettling, the site became quite a comfort as one could understand the respect being shown as family members are interred on the plots of land where they spent their days.
It was distressing to hear a story from Oru, a neighbour, of tenants renting a property on her families land, having a total lack of regard for the deceased as they piled rubbish on top of a family grave before setting it alight. It was no surprise that the people were evicted after being ordered to clean up the land.
Marie Nui Gardens
Marie Nui gardens is a non-profitable project gardens. There is 4 acres of groomed gardens and fauna. The tropical plants as you can imagine are in abundance! There is some different paths to take, a bridge and an arch which would be great for a wedding!
Wigmores Waterfall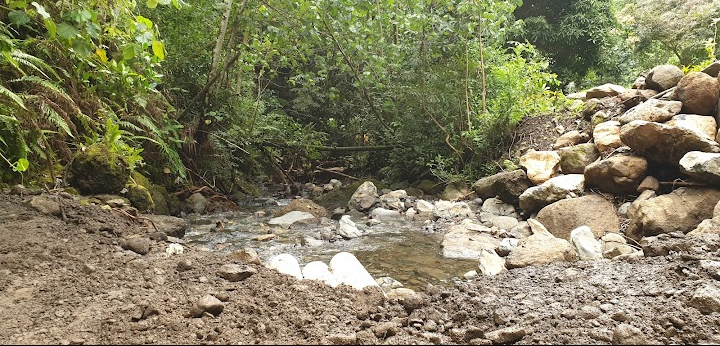 Wigmores waterfall was hardly the spectacular rush of water expected but this was a charming sight. A few trails pass through the hills from here across the island. Bring walking shoes and bug spray!
Black Rock
The spiritual outpost of black rock was a spiritual departure point for the ancient Cook islanders. They believed when they died they would jump off black rock and make their way back to their homeland, Avaiki.
The huge jet black volcanic rock boulders, jutted out into the azure from part of Nikaio beach, and would be the last view of Rarotonga for the departed souls.
The Nikao Cemetery
The Nikao Cemetery – Old cemetery near the airport -which was side by side with the allied forces war cemetery for locals who had fought through differing conflicts.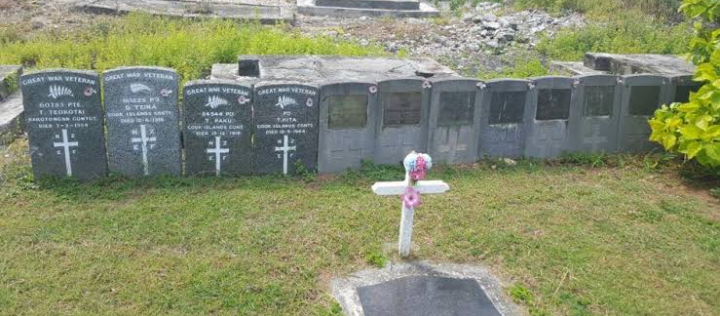 7 in one coconut tree
The '7' in one, coconut tree– A tight circle of coconut palms who now appeared to be missing a member.
It is sometimes claimed that these palms developed from a single seednut brought from an outer island in the early 1900s, and planted in the grounds of the Administration Building.
The Palace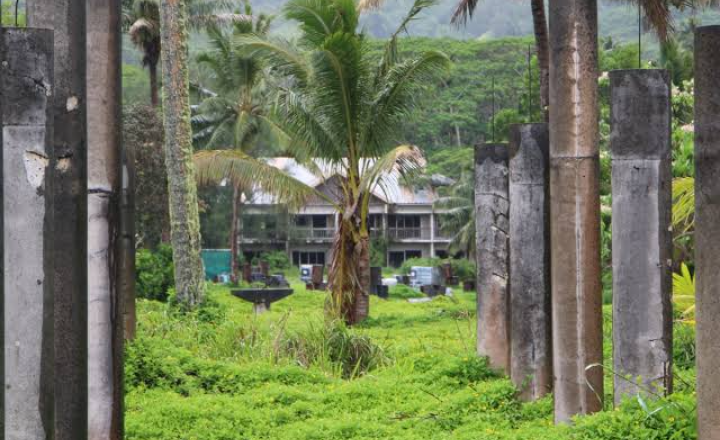 The palace is a dilapidated plantation house. The Paro O Tane palace is where Makea Takau, the paramount ariki (chief) of the area, signed the treaty accepting the Cook Islands'hi status as a British protectorate in 1888.
The topical and colourful mural on the side of the library wall – It delved into the delights of the Cooks, depicting it as a living flowing rainbow incorporating turtles, fish and lizards in a story of oneness with nature as hair turned to clouds to rejuvenate the foliage, while man attempted to harness the power of the sun, and the moon pulled the tides.
If you liked reading, you may be interested in our highlights in France and Italy road trip , Dingle peninsula- meeting Fungi or Mykonos