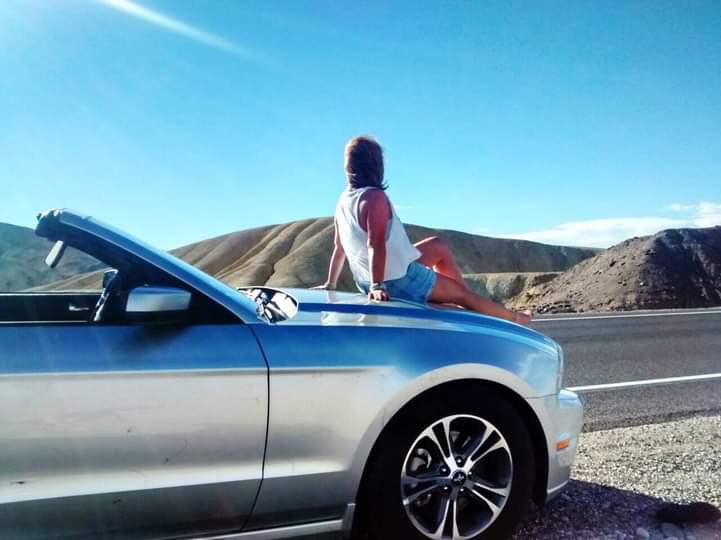 We have planned an American road trip for years. Even before we visited Las Vegas and used some of our time to branch out to Death Valley, Hoover Dam, and The Grand Canyon, we had envisaged a mega road jaunt that would give reality to things we had only seen on TV.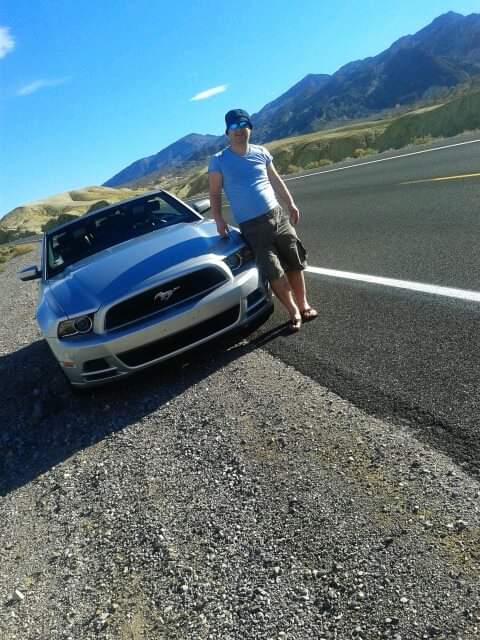 Saving and planning our American Road Trip
Saving and planning, as with the rest of our proposed world tour, became a steady climb. The route was mapped out, with an initial starting point on the West Coast such as LA or San Francisco. This would change to become the appendix of the US, Florida. Actually, it made more sense. We traced our American road trip through the best route for what we wanted to see.
We had toyed with the idea of a small RV, it would have saved money with cooking, but chose to get a car. Firstly for economic reasons i.e. hire price and fuel costs. Secondly, an RV would have had certain downsides, like when visiting a city – where to park? Lastly, we were unsure if we would have to pay camping fees etc on top of the rental. Prices for hotels seemed reasonable in most places so the decision was made.
Compromises needed
We wanted it all on our American road trip. Yet, due to time constraints and budget, we had to make some compromises. Determined, we made as few as possible, as the States promised a bounty of wonderful experiences. The circle, more like a kid's balloon drawing; with its string stretching in and out of Florida, was complete and ready to go.
Adapting to changing plans for our American Road trip
If you have read from the start of our blog, in Naxos, you will know the changes to our world tour. It hurt, spiritually and financially, us not to be able to visit India and other parts of Asia. The flip side, we have motored on through these tough times, visiting Mexico, Costa Rica, and Dominican Republic to immerse ourselves in some fabulous experiences.
Even so, our American road trip remained relatively unscathed. Indeed, we even extended it as logic stated that our original timeframe would have been near impossible. Arriving in the States late May/early June was what we had expected all those months ago when dreaming in our Belfast apartment.
Practicalities of our American Road trip
Check out our Travel to the USA – A last minute prep Guide for an intro into the practicalities we faced to start our American Road trip. The foundations were laid in the week or so before our arrival. Once there, we faced other hurdles like the delay in the package UPS was delivering to me (Knox). It arrived late but thankfully not a total disaster.
Car hire
In 2019/20 we priced a car from several sources of around £600 for 26 days. YES, we thought we could do this type of trip in 26 DAYS! Crazy.
Actual price for our American Road trip car hire
That price was if booking a few months in advance. We didn't have that luxury now. Firstly, we had to act quickly once the entry dates were set and ESTA in place. Secondly, we had to decide how long we actually needed the car for. Thirdly, we had to find a practical price or our American road trip would stall before it started.
Our hearts sank when we initially started looking as the price was in the thousands of pounds. How could it raise that much? Thankfully, one of us managed to find a solution with Avis. (you can read that in "Travel to the USA – A last minute prep Guide"). We decided on at least 35 days. Indeed, this increased to 37 when our plans for the car solidified. The price was £729 ($1013) for the cheapest vehicle they had available. We were satisfied with this.
Flexible pick up point
The price varied wildly in the south Florida region. Around Miami it was still well over £1200 for any type of rental. We managed to get an intermediate SUV from Fort Lauderdale, but only from one location – Bayshore Drive address.
Own insurance
The price didn't include CDW (Collision Damage Waiver) or SLI / ALI (Supplemental Liability Insurance). In fact, we had to dig deep for an answer as it was important for my own insurance, there is a very basic insurance with every rental in Florida (different States vary so you need to check) by law. It was really hard to pin down an answer for this. So much so, I'm not sure we would have got a direct answer if we didn't have a person in Avis head office to contact.
This basic insurance was backed up by our own CDW and SLI with Carhireexcess.com and we had to be careful with the vehicle rented also. The car displayed online was a Mazda CX 5. The vehicle supplied was a Jeep Compass 4×4. We double checked with our insurance that this was allowed. The reason being, Off Road vehicles aren't allowed. We know that the Jeep is a road car with limited off road capability so we wanted to be sure that this was okay. Thankfully, it was.
Gas prices vary wildly between states
Petrol / Gas prices would be a significant part of the overall cost. We had allowed £300 / $417 initially for gas when researching in 2019/20.
This was based on:
50 miles to the gallon – (for a small car i.e. Ford Fiesta that we had seen at the cheaper price)

A trip of 7600 miles (so far off the mark!)

Therefore, approximately 152 gallons x $2.50 (average gas price in 2019) = $380

Add 10% on top to give the £300 mark.
Updated end of American Road trip Gas price cost
Well, gas prices were up and varied wildly between states. The cheapest we saw was $2.59 per gallon around Texas / southern states. The dearest was as much as $4.40 around California and some of the North Eastern states. I guess the average would be about $3.30. The vehicle was a bigger car, so the MPG was reduced to around 28 / 35 depending on speed etc. We also traveled close to 12000 miles. The price would be quite a bit different.
At the original costing equation, including 50 miles to the gallon, we could have expected about 238 gallons being used for the distance we actually travelled. Therefore, at $2.50, the expected cost would have been $595 / £430 approx. In the end our petrol cost was £1000 / $1390. A BIG difference.
Total for the Car hire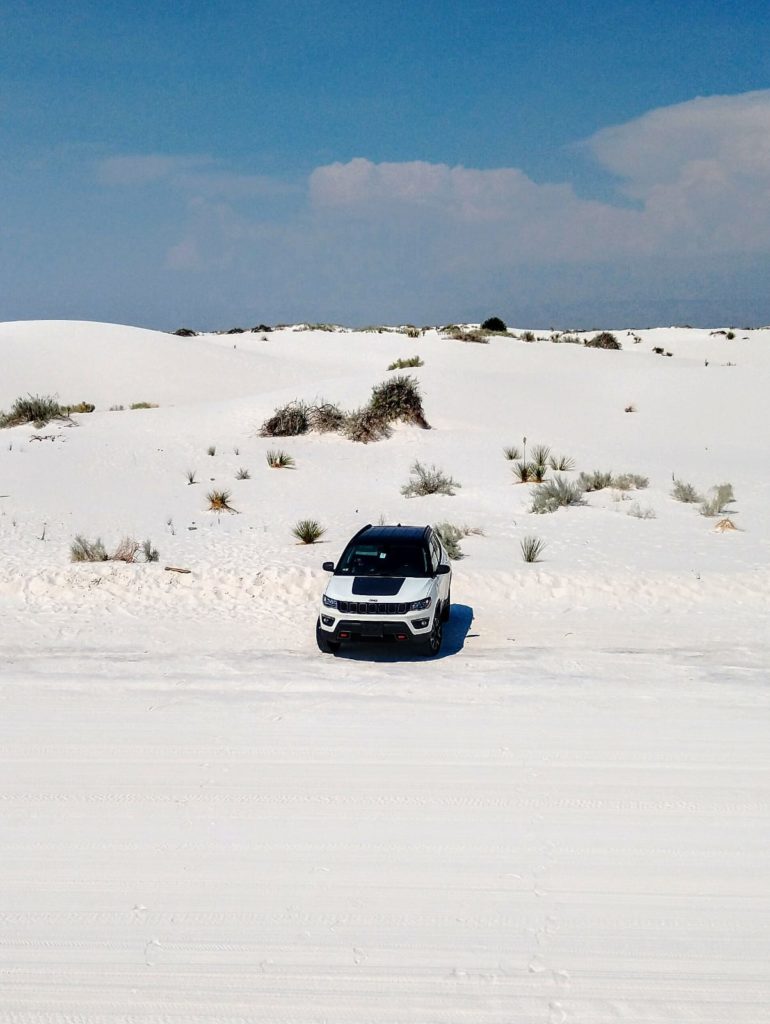 In the end, we also added 3 extra days to our car hire, at $37a day so $111 / £80, for a total of 40 days. So our American road trip car hire cost us $2653 / £1909:
£729 – Original car hire price

£100 – stand alone insurance (it has and will be used in other places also and lasts the year)

£1000 – gas price

£80 – extra 3 days
We both still feel it was very much worth it.
Postscript to the American Road Trip car hire
I (Miko) had wanted a convertible to tour the USA. It was a dreamy idea but impractical with our baggage. This point was proved when we decided to treat ourselves to a last day in the States with a convertible hire from Avis.
Affordable fun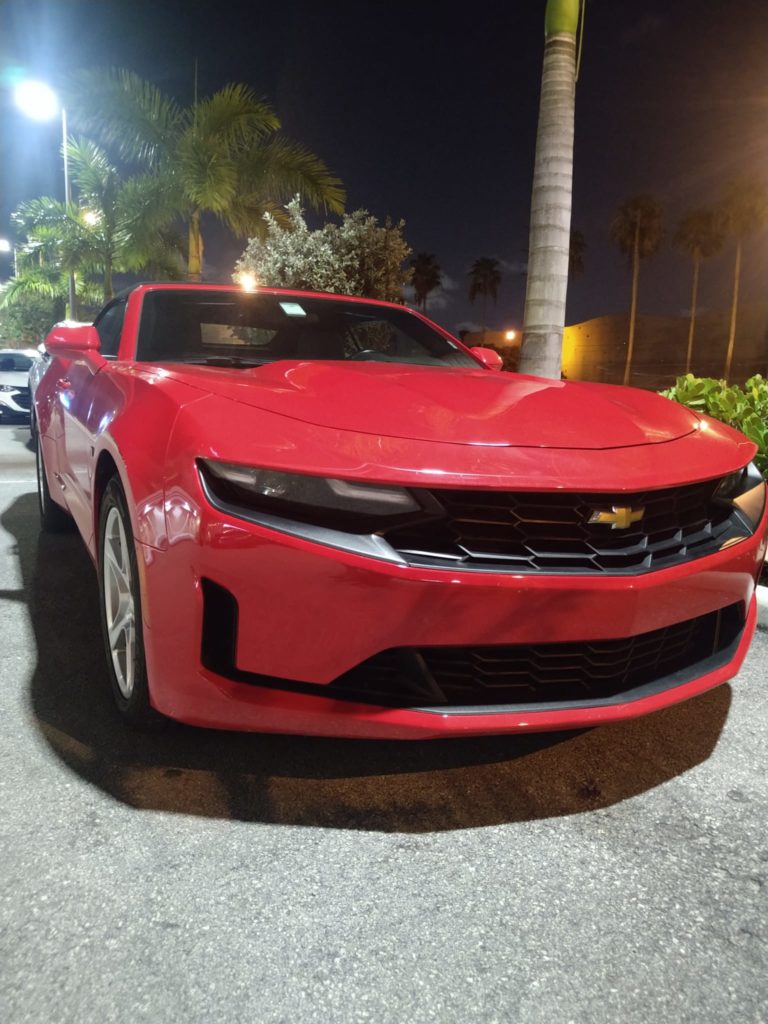 There were a number of reasons for our decision to hire a convertible. Firstly, it was a fun way to end the trip. Secondly, we had $35 worth of vouchers to use. Thirdly, it wasn't overly expensive even with the full insurance. And lastly, we would have had to pay a taxi / Uber fare from Fort Lauderdale to Miami and then to the airport. It made sense all told.
As stated first, the red Chevrolet Camaro was a bit of fun in the sun with the hood down. Although, I (Miko) would have preferred yellow, but sure beggars can't be choosers lol. Our luggage did fit in the boot but not with an open top, hence it would have been pointless for the longer tour. Also the gas price would have been much much more!
Distance and places
In 38 days we drove 11900 miles (19151 KM) and traveled through 31 states and 1 Federal District. We were in some of the states twice. Here's the list to help you get your head around it. We have noted them in order visited.
State visit
Florida, Georgia, Tennessee, Mississippi, Louisiana, Texas, New México, Arizona, California, Nevada, Idaho, Montana, Wyoming, Utah, Colorado, Nebraska, Iowa, Illinois, Indiana, Ohio, West Virginia, Pennsylvania, NY State, Massachusetts, Rhode Island, Connecticut, New Jersey, Pennsylvania (2nd time), Maryland, District of Columbia (Fed District) , Virginia, North Carolina, South Carolina, and back to Florida.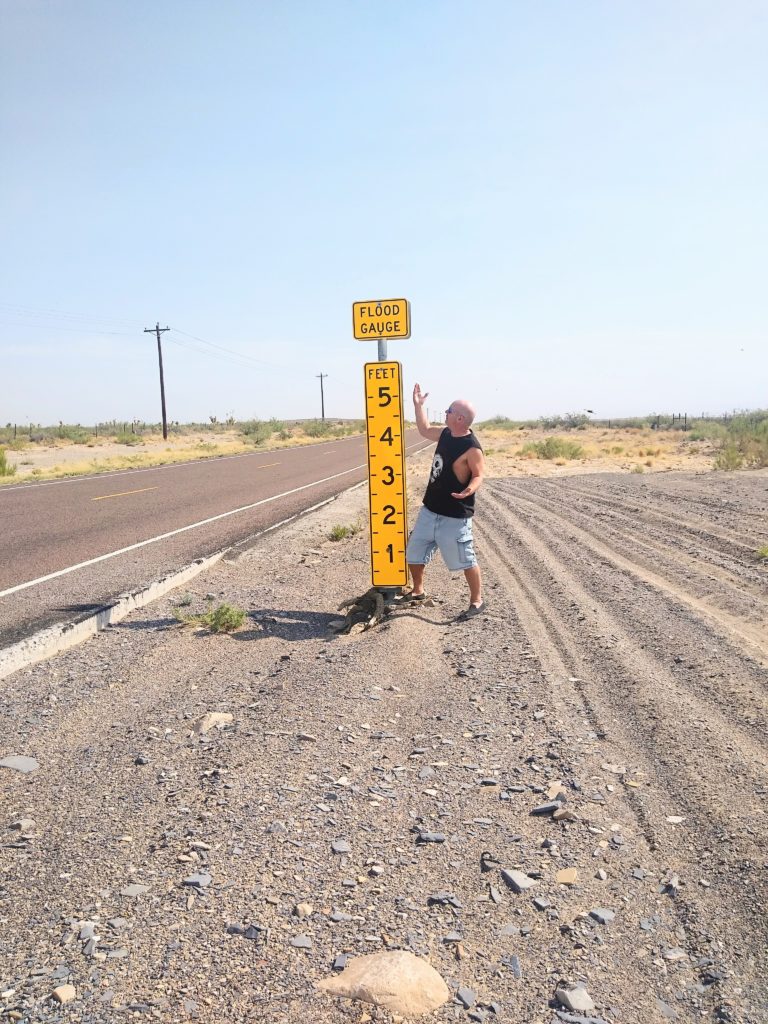 Accommodation – along our American Road Trip way
We initially planned to enter the USA for our American Road Trip in late May / early June. The plan was to get the good weather but to also be arriving before the main mad summer rush. Added to this, we hoped the prices would be a bit below high season. Indeed, our initial costings, when booking in advance at least, seemed to suggest this. Early prognosis for late bookings appeared to suggest that this wouldn't affect the price too much.
A saturated local market
Arriving into a buzzing Miami, heaving with conferences, fight events and more, we found the prices sky high. This set the tone for the majority of our trip.
Go Abroad people, please!
The small matter of a world in turmoil and overseas holidays vastly reduced, only exacerbated our problems. Americans, like their counterparts in most of the world, were on a staycation!
What price for that FLEA PIT!
The market was saturated across the board, as locals were determined to get a holiday, and the prices were forced up, up, up! Even dingy places, with extremely poor hygiene ratings, places outside of the city centres, rooms in backwater hellhole towns etc etc were charging the earth. We just had to search and do our best.
Airbnb useless – over priced for poor accommodation
We had planned to use Airbnb for some of it. Unfortunately, the same issues abounded here. Very little was left for the late booker. Indeed, what was left was ridiculous prices for disappointing accommodation. We didn't book one Airbnb in the States.
Lacking in cooking facilities
We also had hoped to reduce costs by cooking some of our own food. Our very first hotel, Candlewood suites at Miami airport, had a great kitchen to use in each room. We, incorrectly, assumed this would be the norm. It wasn't and we didn't have any other hotel available with cooking facilities!
Hotel / booking platform loyalty programs and Cash back
We bit the bullet when it became obvious that our options were limited. Seeing what was available we were funnelled into using the same hoteliers, in the main, and making use of their loyalty programs to rack up the points. We also used Expedia and booking.com if they managed to get us a cheaper price. We racked up their points too. On top of this, we used Top Cash Back to try and maximise our spend.
The returns
From this, we have over £115 / £160 clearing in Top Cash Back. We also have had money off bookings from expedia due to the points we earned. The points racked up in our Hilton / Marriott / IHG accounts that will be useful further down the line all being well. We also had a better chance to resolve issues if something went wrong. This did for a couple of Marriott hotel names as well as a Hilton brand. Hilton was very quick to resolve their issue while the Marriott have been much slower. We are still in contact with them. Points gained from Hilton, along with points we had gathered, allowed us to get a free night at one of their brands,
Free parking
Parking can be an expensive burden, especially in the big cities. We will go through all the ins and outs of this further down the line. One aspect we did try and get was Free Parking where possible. This always helped reduce costs and added, however thin, an extra layer of security to one's overnight parking.
Laundry
Normal routine occurrences are still part of everyday life, even when on a grand American road trip. One of these, laundry, still had to be done. We were fortunate that a lot of the hotels had self service laundry facilities. Indeed, a couple of these were free while others charged a couple of dollars per wash and dry each. This saved having to go in search of a laundrette on the way and meant we could get on with organising other things while we waited.
Best accommodation during our American Road Trip
Arrive Memphis wins this title. It was fresh, clean, and chic in its style. There were notable mentions for 21C Museum Nashville, Motto by Hilton in Philly, and Highlander in Iowa City.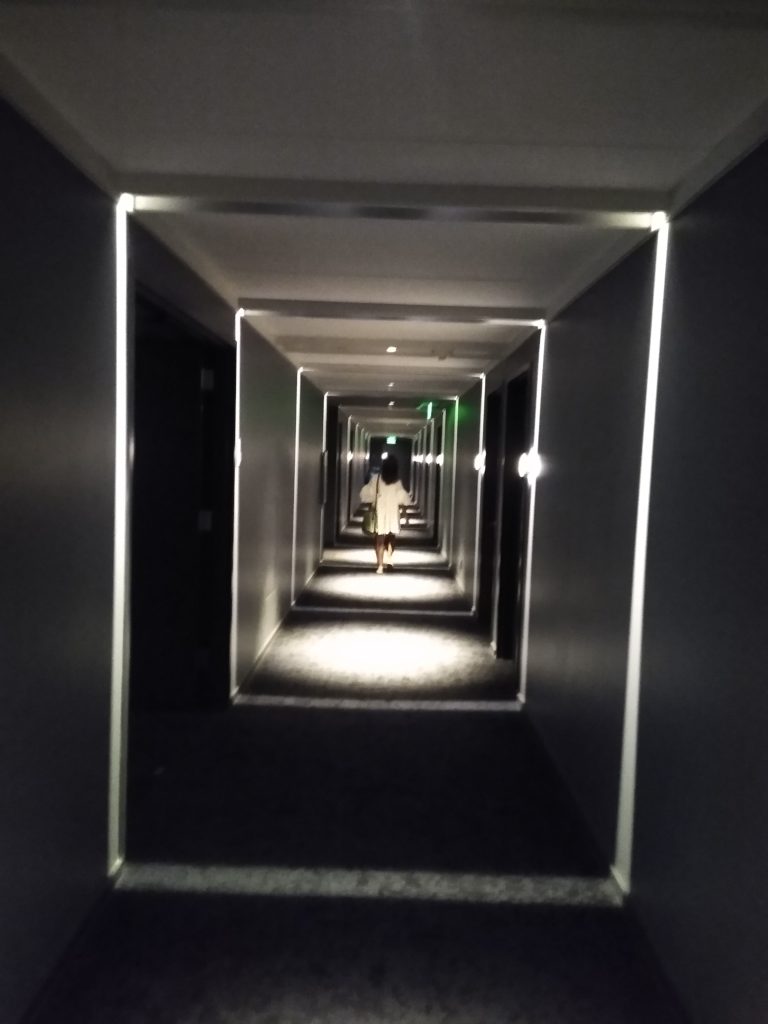 There are good reasons for all of the above. Top of the house, good cleanliness is the number one priority, and all of the above were spotless in this regard. Following next, style; incorporating the practicalities guests require, can give that wow factor while tapping into the empathetic spirit on a personal level. Thirdly, delivery of a great guest experience from those on the ground, where each of the aforementioned establishments had at least one person that stood out in making our stay fantastic. Other aspects, such as convenience and price do come into play, but they are a basic in the hospitality industry, and, as such, are relative to certain circumstances.
Worst place
We walked out of 2 places. Both for reasons of hygiene. Both also for a lack of care, by at least one member of the team, and this showed not only in the cleanliness but also in how the issue was dealt with. The management of both establishments were blasé about the issues. They have heard it so many times before.
On a par – who was the worst!
Hilton Home to suites, Kingman, was one. The management was less than helpful after 2 rooms with very poor cleanliness. He was quick to accept us walking out and declined to offer any assistance or show his face. We ended up driving, through the night, to be as close as possible to our next destination. We kipped for a couple of hours in the car at a rest stop. Hilton head office dealt with the issue.
Fairfield Inn and Suites, Palm Beach, was the other. We were moved rooms due to hygiene issues. The second room was marginally better. After being booked in for 3 nights, we only stayed for 1. There was also the issue of their antiquated systems not working with a "Chip & Pin" credit card. The management and front desk were rude and objectionable. We felt a dark cloud lift when we left the place.
What our American road trip cost for accommodation.
We had initially budgeted for 25 nights, in a climate of cheaper rooms, and came up with £2225. Considering we stayed an extra 21 nights in the USA, and the sellers market, our budget was blown out of the water. With 2 nights kipping in the car, and the rest in hotels, we spent £4876.23. We did include the parking, where we had to pay, in the total. To be fair, looking at it pro rata, we weren't that far off in our calculations. Still it was a big chunk of money!
Eating and Drinking on our American Road Trip
As mentioned above, we had hoped to get cooking facilities in plenty of places. This didn't happen so we had to make the most of what we could get. We did prepare some salads for our meals. Our handy ice packs and small cold bag (bought for our France and Italy road trip) was very useful again to keep ingredients cool during the long drives. In hindsight, we could have invested in a 2 ring electric cooker, like we have now in Sayulita, and that may have saved us a chunk on the food bill. It may have reduced the encouragement for a beer or Vino lol. The thought of cooking after a long day driving would have been dissuasive to this idea.
Fast food
There were times when we knew we just wouldn't be up for preparing salads or eating in a restaurant. We also wanted to economise so a cheap $5.99 each for two medium Dominos was an offer we used on a few occasions. They certainly filled the gap after 10hr + driving and sightseeing day. We did research, always checking rating scores online, and never went for an establishment that scored below a 4 star. We knew what to expect and the pizzas tasted as they were designed to do.
Best food – The category winners on this USA Road Trip
There were plenty of winners on our American Road trip. Not everyone could get a mention even when we have separated into different categories.
Best Breakfast food
Tatte Bakery and Cafe – The yummiest breads, pastries, deserts, breakfast, lunches and dinners with plenty of vegetarian options. When you're wanting to fill up for breakfast with excellent food, this is the place. We bought from the outlet at the corner of 18th and Connecticut at Dupont Circle.
Best dinner
Got to be True Food Kitchen! In Jacksonville. And, 'true food', it certainly was. Concentrating on healthy, wholesome delicious vegan ingredients, the flavours were to die for!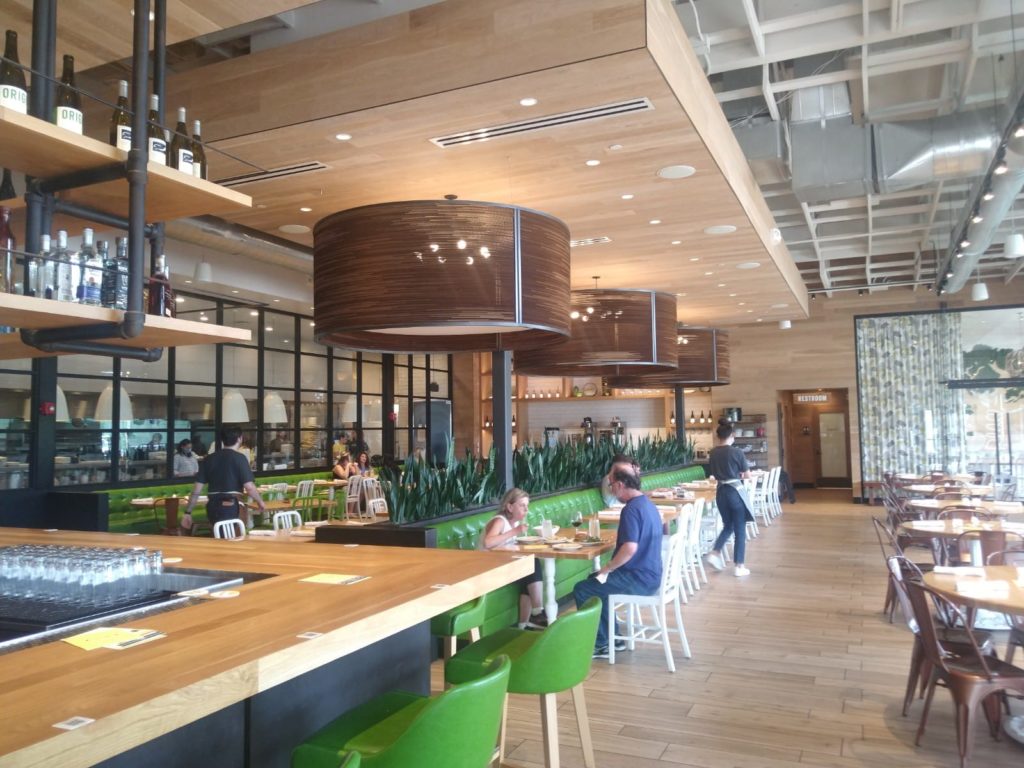 We had the Ancient green bowl containing miso sesame glazed sweet potato, turmeric,onion, snapped peas, portobello, avocado, hemp, pumpkin seed and pesto. As well as the Korean noodle bowl with organic veggie delights and the mouthwatering casserole!
It's a difficult one, as we had many delicious meals, but, for a close second, we'd have to pick Vegz in Washington. Vegetarian and Vegan Indian cuisine served in a down to earth way. Delicious flavours and well worth the visit.
Sweet spot!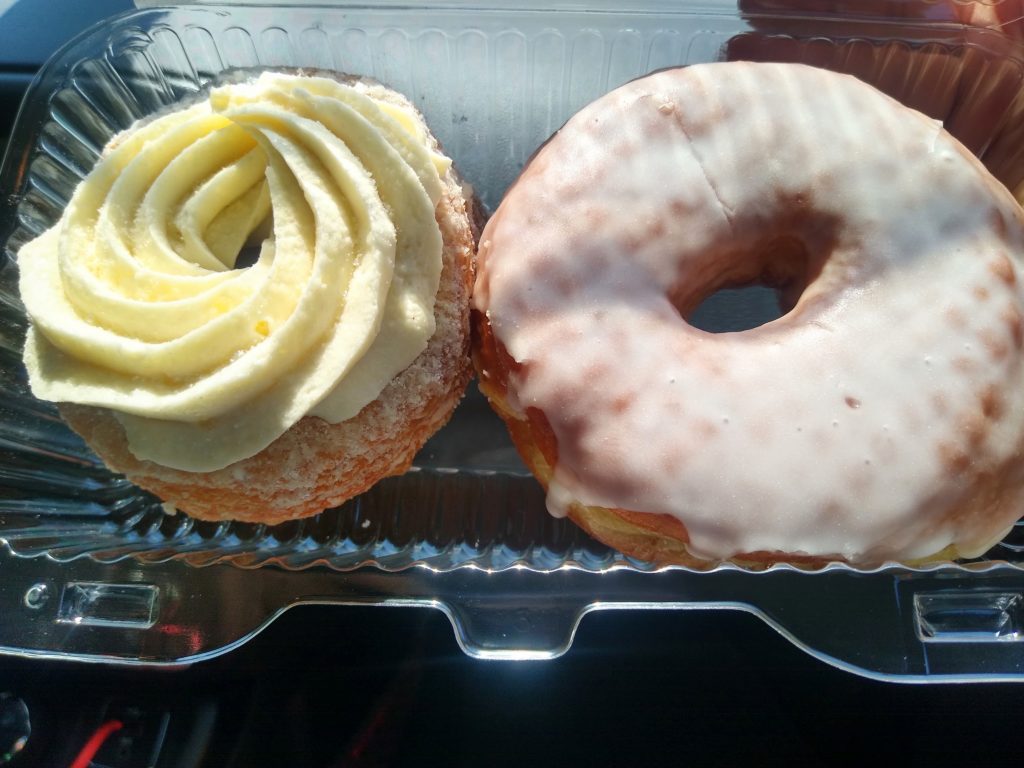 It has to be 5 daughters bakery – Donut love affair! We tried the vanilla cream, purist (vegan) and strawberry shortcake. All delicious. As well as vegan they also do gluten-free. The shop is getting very famous especially for their 100 layer donuts! The store's exterior is so cute too! 12 South. 1110 Caruthers AVE. Nashville.
A runner's up would be Kermits in Key West for their famous, and absolutely, divine Key Lime pie!
Lamenting the lack of cooking facilities
Even though we enjoyed the convenience of eating out and have had some award winning culinary delights, we still would have liked more cooking facilities. We did stay in Candlewood Suites, Miami airport, twice as they enabled us to cook with a well equipped and clean kitchen.
Best live Music bar
We've Been to a few and had some great times. The favourite was Skull's Rainbow Room, Printers Alley, Nashville. Smooth blues in a chilled out setting.
Close seconds
Our Music Belt post had us in a few live venues and the Blues City Cafe, Memphis, gets an honourable mention. Other shout outs have to go to Johnny Foley's, San Francisco, and Blue Chicago, Chicago, for providing great entertainment and plenty of craic on our nights on the town.
Best Non music bar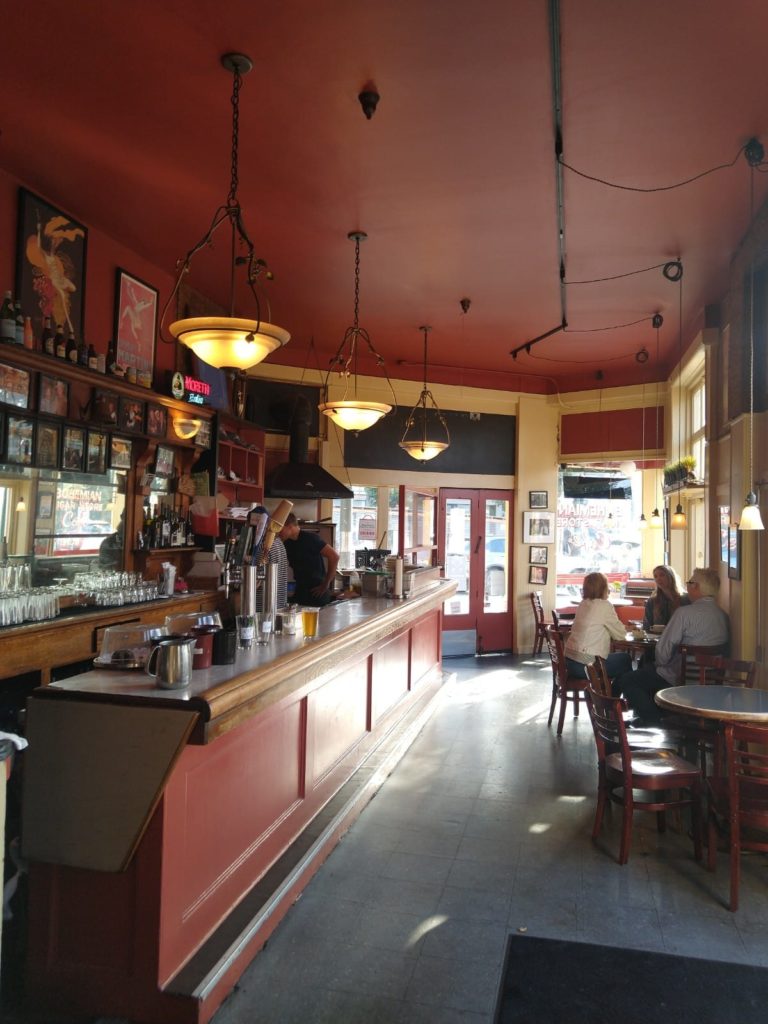 Mario's Bohemian Cafe bar, San Francisco, was a great place to get a real, homely, family owned, flavour of San Francisco away from the popular, but very touristy, Pier 39. The atmosphere was great and our Italian host made sure we had a chilled out experience.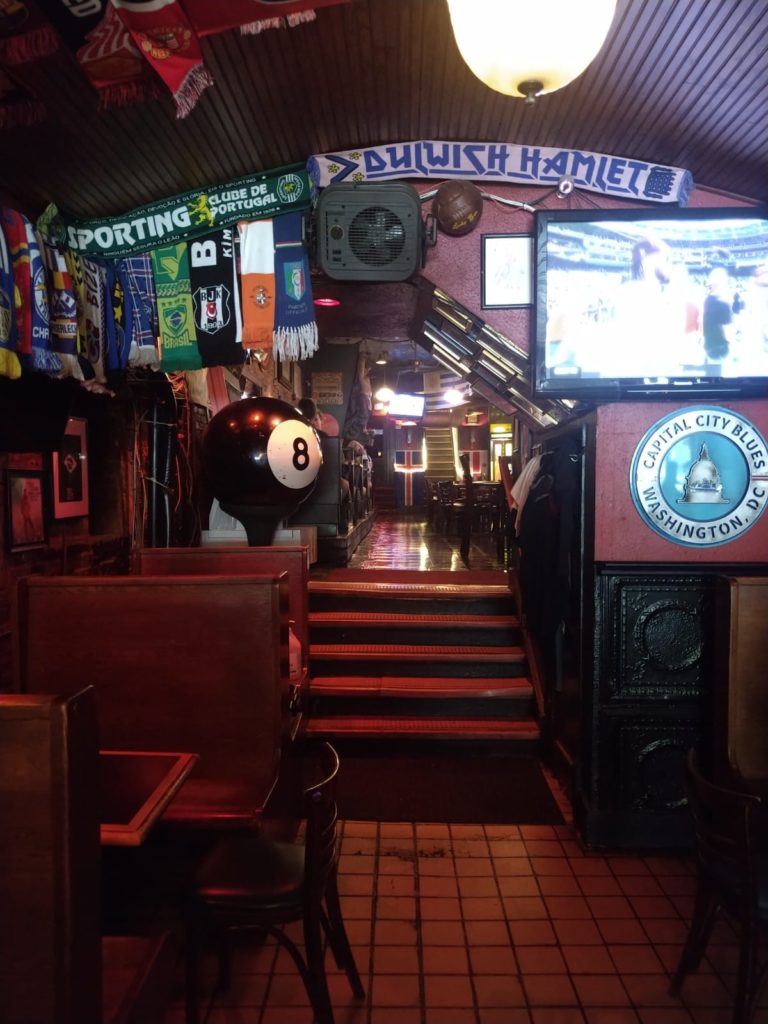 Lucky Bar, Washington, also had a good atmosphere in a relaxed vibe. Easy to drink a few beers here.
Eating and drinking cost
Adding up our American Road Trip food and drinks bill wasn't easy. Firstly, there was what is very visible, bills paid by card. Added to this, we had supermarket buys with the majority being food and drink to make on the road. Lastly, we withdrew £1178 worth of dollars at ATMs during our tour. I have allocated £700 of this cash towards food and drink.
All totalled up, the Food and drink bill came to £2640 / $3670.
Tips
It has to be noted that with tips usually around the 10-15% range, we calculate that, of this total, at least £300+ was on tips. This is a sizable chunk when one is on a budget. When you have little option but to eat out then the tips really add up!
Shopping
The USA used to be much cheaper than this, didn't it?
Supermarkets
We visited a good number of different supermarkets. Publix was often used in Florida and some other southern states. We thought they were a bit pricey to begin with. Later, after visiting others on our American Road Trip, we found that they were actually pretty comparable to other supermarket prices.
For a reasonable loaf of bread, wholemeal with seeds etc, the price was at least $3.50 / £2.50 (often more). In the UK / Ireland, we would expect to pay around £1.60 / $2.20. It was similar higher prices across the board, especially if one decided to eat on the healthy side. It costs to eat healthy. You would think it would be in the best interests of people and governments to subsidise healthy eating rather than encourage junk food. We also avoided certain large corporations during our shopping trips.
Pharmacies
How much? That was often the question we asked, incredulously. These prices were much more expensive. A £1 / $1.40 deoderant was triple the price in CVS, Walgreens, or indeed Supermarkets! Most other products were double or triple the price that one would find in the UK / Ireland. Its easy to see how the costs went up.
Clothes etc
While the prices of clothes etc were more akin to that of Europe, we remember how people from Ireland used to stock up on these goods while on holiday in the States. No point now really as the same bargins are available in Ireland and the UK.
Flexibility on our American road trip
Plans can change. Being aware of this, we didn't want to overly tie ourselves down as we ventured through our American Road Trip. Yes, it was a pain at times. Stressfully, we didn't have a place booked for that night's stay on occasion. Ultimately, we did appreciate the flexibility the "on the hop" style gave us.
Adding stops.
There were places, and hotels, that we didn't know how long we wanted to stay. Indeed, both San Francisco and Chicago had elements of this. Added to this, as we travelled, ideas popped into our heads of must visits that we hadn't even noted when drawing up our American Road Trip plans in 2019/20. The Dirty Dancing locations were a prime example of this and our flexibility allowed for the time of our lives.
Moving when we wanted or when a curve ball was thrown
We also came across issues in some of the hotels that we booked. If it wasn't right, we were able to take the bold decision to move on. On one occasion, this even meant a long drive towards our next sight to see with only a couple of hours kip in the car. Rest areas, with toilet facilities and security, along the highway were a great help in this regard.
Tolls
Avis provided an etoll reader in the car. This costs $11 per day, all inclusive and totalled for the full rental at pickup, or $5.95 per day plus tolls if you choose to use a toll road on any given day. It would be easy to add plenty of charges to your trip. We found it was not needed in the main. Rarely did it save significant time using a toll road. Indeed, somedays we didn't even see a toll road. In the end, we only used the etoll reader on one day, between Buffalo and Boston, as it saved us nearly 3 hours journey time at a cost of about $30 (toll and Avis charge). It made sense as did the option to decline the $11 per day charge at pick up.
Road rules and parking issues
All in all, our American Road Trip went smoothly. I did learn a few important points on the way! Yes, I (Knox) did get pulled over a couple of times by the sheriff.
Highway Patrol Georgia
In Georgia, I was driving along a dual carriageway on the inside lane. I noticed a couple of cop cars had pulled someone in on the hard shoulder up ahead. Like a good citizen, I drove calmly past. As I did, I realised one officer got in his patrol car and pulled out. I drove normally, yet noted that he seemed to have me in his sights.
Flashing lights but not sure why
Confused, I saw the lights come on and a quick blare of the siren. I duly pulled over with the Officer slotting in behind. "Have you been speeding?" Miko admonished. I confirmed that I hadn't. Why do the officers always make you wait an age? Anyway, the long and short of it was that I didn't obey the rule of giving a lane width, where possible, to stopped emergency vehicles. I should have pulled into the outside lane. My Irish accent and foreign driver's licence gave me a bit of leeway. He let me go with a warning and a lesson learnt.
Opening up on an empty highway
With miles upon miles of empty highway, it's easy to become complacent. You want to get there faster and allow the foot to press a little further on the pedal. Not quite to the metal but you know how it is! Coming across the border from Utah into Colorado, and just past Dinosaur, we were zipping along nicely. I saw the sheriff parked on my left. I instinctively dabbed the breaks and reduced my speed to the 60mph limit. Too little too late, I saw the patrol car pull out and turn around.
Flashing lights and I know what for.
I knew it was me and what it was for. The lights came on and I pulled over. My Apologies started the conversation with a bit of Irish charm. "Do you know how fast you were going?" the Sheriff asked. I hazarded a guess at 65mph, knowing that I was over that. "You were doing 73 in a 60" he explained. I apologised again and he went back to his patrol car. I was sure that I was getting a ticket. Miko was too as she gave me a slap and scowl.
Speed warning
Again, the officer took an age. He came back and, thankfully, only gave me a warning. "I've warned him too, officer!" Miko added. I was relieved. He did mention that the plates didn't match the vehicle. He knew it was a hire vehicle and not stolen but It could cause some issues with other patrols. I thanked him and we were on our way.
Parking woes
Parking in the big cities was generally expensive. With planning, we were able to find the best possible solution. Iparkit was helpful in a few cities and O'keefe's was economical in New Orleans. We generally got parking between $15 and $25 per night.
Austin headache
Austin was a nightmare to navigate and find a garage open 24hrs. We ended up just paying over the odds for valet parking at the hotel for convenience sake. It is something to factor in when staying Downtown.
Choice of vehicle
Most out of town hotels will have a lot with free parking for guests. This definitely saves money. Our idea of an RV, while good in a lot of the outdoor places, would have been near impossible in the city. The options would have been reduced, mainly to open air lots with little security, and likely much more expensive.
Boston the worst
Boston, though, wins the prize for the worst parking experience. We didn't plan as well as we could have due to not staying overnight Downtown. The price was outrageous when we tried to find a place – $10 for the first 20 mins going up steeply for every 10 mins after. It took away from the experience of the city. Later, when visiting Cheers bar, we parked on the street at a meter. The meter wouldn't take my card so I downloaded the App. It was a good price for the 2 hours we were allowed (only $3 per hour or so).
Why the ticket?
When we returned to the car, we had a ticket! We couldn't work it out. The details were checked and all seemed right from our end. We called the next day to query why we had been ticketed. It was then that the problem was sourced. Two letters of the car's registration plate were noted in the wrong order. Donna, the Boston council clerk, put in a dispute, along with my evidence of payment for the space, and said they usually waive these tickets. I needed to call in a couple of weeks to check on the result. Thankfully, the ticket was dismissed.
Exhaustion
Now we know how musicians or entertainers who are constantly on the road feel, when all they want to do is go back to their hotel to sleep. It is even easy to forget where you are and where you've just been!
After several hours on the move, sometimes not including sightseeing, we were knackered. That's why 'CLEAN' hotels were important, we didn't need the hassle or wasted time, only our bed, especially when we'd arrive into the hotel at almost midnight, then be up again at the crack of dawn to do it all again.
Speed Touring!
If you've ever watched the Travel program, '48 Hour Travelman' with British comedian, Richard Ayoade, you will get the gist on how we travel. We are efficient and don't dilly dally, unless of course it's over a nice meal and vino blanco! That's why tour groups have never suited us, we prefer our tour to be on our time and our terms!
Rest days
Most definitely, it's important to have rest days, as sometimes we'd feel mentally and physically exhausted. That is one of the main reasons we extended use of the rental car. These rest days helped us to recharge our batteries, or just basically take our time on sightseeing, or catch up with ourselves with regards to writing, or researching our next move after the states.
Remember, it's not worth burning yourself out, as you will take all the joy out of travel and miss the best bits on the way!
Raw Costs of our American Road Trip (46days)
Hotels, including parking – £4876
Car hire and Fuel – £1909
Food and drink (including supermarket purchases) – £2640
Sightseeing / Museum entrance – £317
Misc (including pharmacy products, hair, street parking, clothes purchases etc) – £1018
Taxi / Uber – £114
Grand Total of our American Road Trip – £10,874 / $15,111
Would we do it again?
Hell Yeah!
We had thought of adding in our favourite places of the American Road Trip but we find it near impossible to do. We loved the whole experience. It was magnificant.