Chicago was a breeze.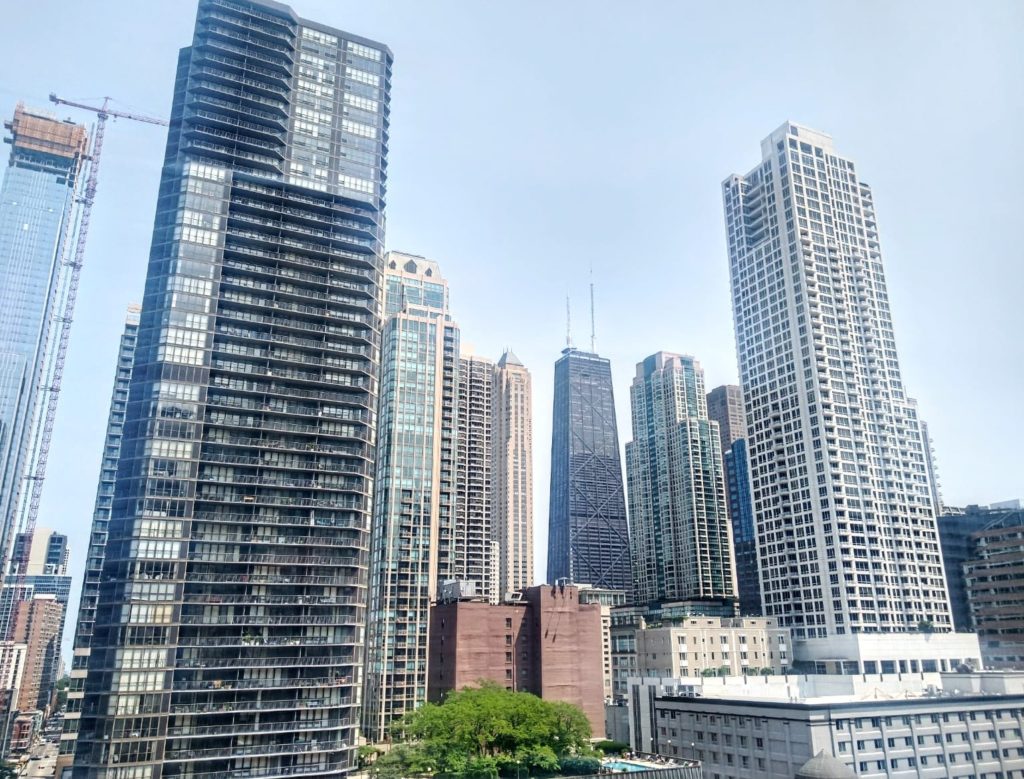 Another big city. After being on long lonely desert roads it was overwhelming to be in Chicago. The towering skyscraper buildings and bustling crowds were intense. There is certainly a buzz to the city and restaurants, bars, tourist attractions and the shopping street were filled to the brim with people enjoying the weekend sunshine. Temperatures were that of a Belfast summer, in the low twenties.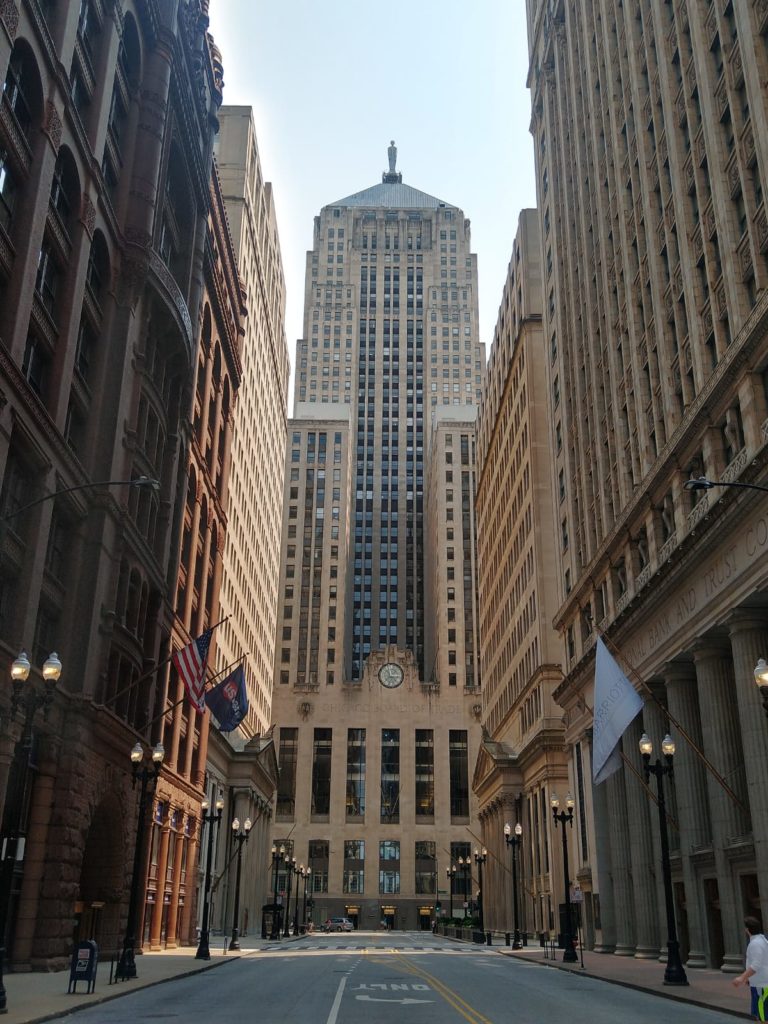 Don't let the vibrant atmosphere distract you too much. Keep your eyes open. Theft and attacks can happen randomly by chancers and opportunists, like Knox discovered while out for pizza. You can read all about it later.
Accommodation
Chicago isn't the cheapest and you don't get much for your money. After scouring hundreds of hotels, we opted for the Hilton Garden Inn, using the 30,000 points we had got from the Hilton CEO office. The points were a good will gesture for our walk out at Hilton Home 2 Suites in Kingman, due to hygiene issues.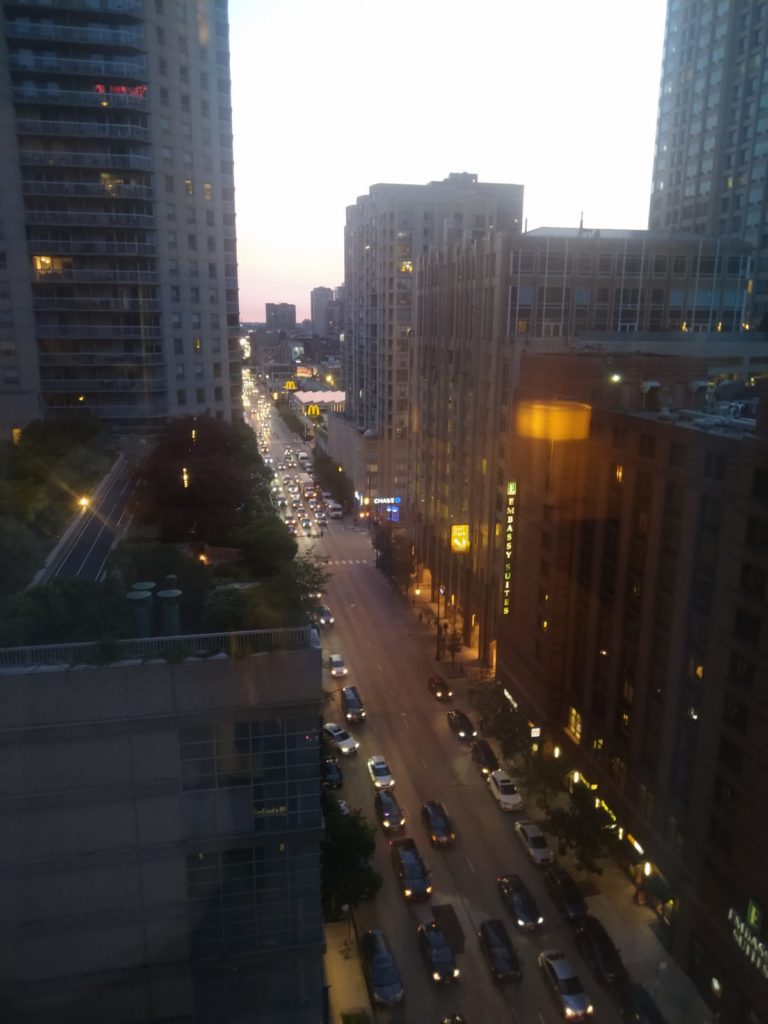 The 30,000 points mostly covered one of the nights, we only had to add £37. Before we booked the second night we wanted to check it first, as the reviews were 50/50. To our relief, our room was clean and on the 12th floor, with great views over the city and in a superb central location. The second night cost £144, due to it being a Saturday night.
What to see in two days, in Chicago?
Lake Shore drive
Drive along the renowned Lake Shore drive. It is an expressway that runs alongside the shoreline of the freshwater Lake Michigan. A pretty drive with stop of points to take some pictures.
Or why not walk, rollerblade or cycle on one of the many trails. If you are feeling really energetic you can walk the 18 mile trail! You can also kayak, canoe, paddle board or take your boat out and sail.
Beaches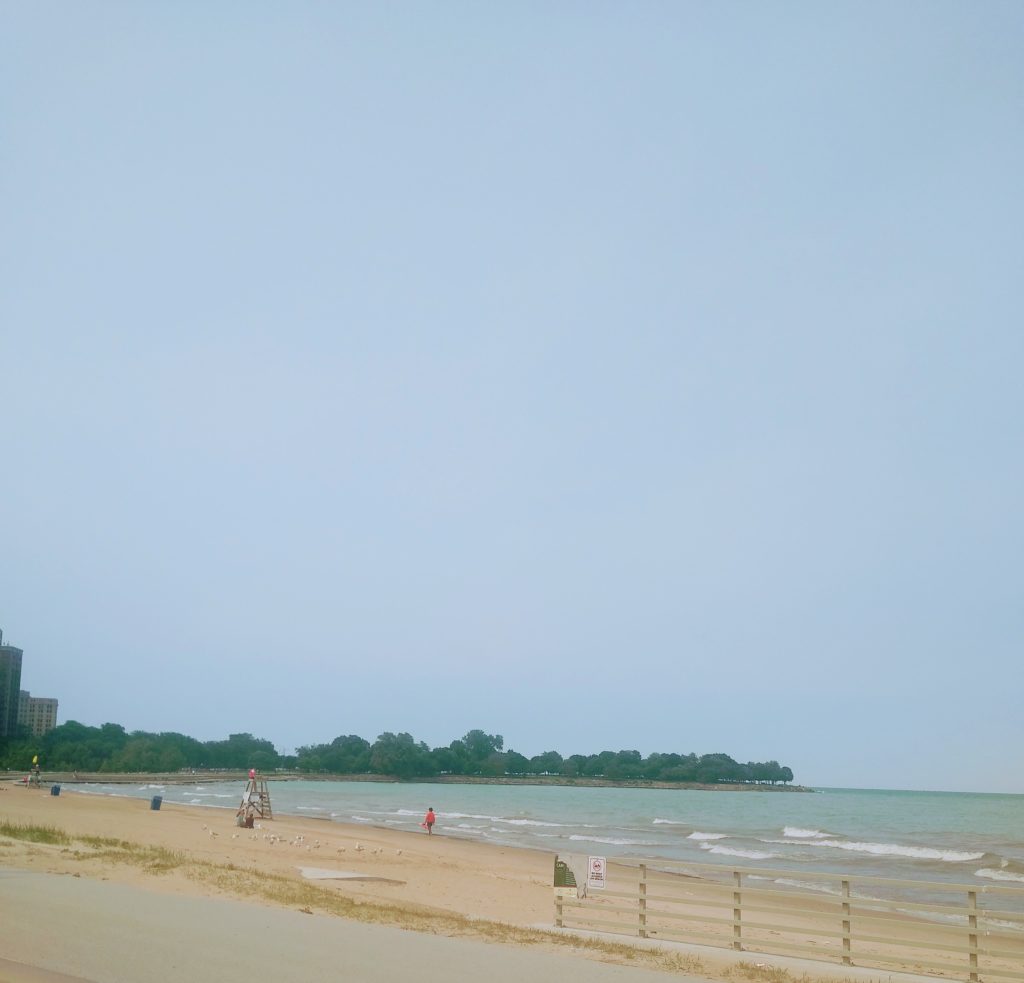 When one thinks of Chicago, we think about tall buildings and cityscape views. However there are approximately 26 beaches, such as Rainbow beach, North Avenue, 31st St or Oakwood beach etc. You are spoilt for choice! Enjoy a sunbathe, picnic or swim by the shores of Lake Michigan.
Magnificent Mile / Michigan Avenue
Immerse yourself in the bustling, lively shopping street for some serious retail therapy. It extends a full square mile from North Michigan Avenue, including east to the scenic lakefront. It has many shops, including designer and high street stores, malls, hotels, upscale restaurants and much more. Bring plenty of money, you will need it, as you shop till you drop!
North State Street
If the famous Magnificent Mile wasn't enough to keep you occupied, and you're determined for more, then North State Street is another shopping street with shops such as Forever 21, Urban Outfitters, Body Shop, and there is even the Irish owned Primark, which was just opened a couple of months ago in 2021. The store was packed, as it usually is in Ireland and the UK due to how cheap it is.
We found it funny that tourists were taking photos of themselves standing outside and inside it. We never realized a Primark could get people so excited lol
The Chicago Theatre
The iconic Chicago Theatre isn't quite open again yet but is gearing up for the doors to swing wide and let the people back in to enjoy the entertainment on the stage. We couldn't get in to look amazed at the wonderful grandeur of the ornate decor, of course, but we did get to see the French Baroque architecture style of the outside. It's was built a hundred years ago and the theatre ghosts just want to draw the revelers back in.
The 110-story, steel frame building is one of the tallest buildings in the world and the second tallest building in North America. It is situated downtown.
The place everyone wants to be is the Ledge, which consists of four glass boxes extending outward, allowing people to step outside the main structure of the tower and look down at the city. If you are frightened of heights this is not for you!
It costs $35 per adult. Is it worth that amount of money, to stand in a queue for up to an hour, for a few seconds of a photo? We decided it wasn't. We were happy enough to take a picture from the outside. It's not as if it's the iconic Empire State Building. However, if you enjoy a few seconds thrill go for it! At least you can say you done it.
Picasso Sculpture
The Chicago Picasso was commissioned in 1963 by the architects of the Richard J.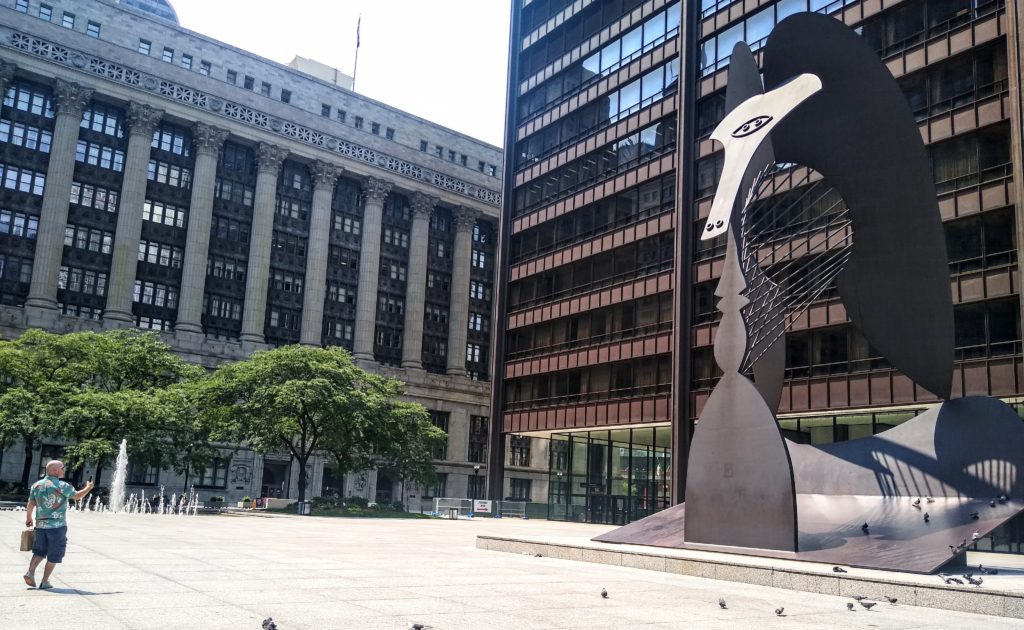 Pablo Picasso was 85 when he gave the untitled sculpture now famously known as The Chicago Picasso to the city. Picasso said, that the head of the sculpture is an abstract representation of his Afghan Hound named Kabul after his own dog.
This interesting sculpture is located in Daley Plaza. Daley Plaza also holds a winter market here. It is close to millennium park, making it a perfect stop when people come to the loop.
Cloud Gates Sculpture
Also known fondly as the Bean of Chicago, Cloud Gate is made entirely of stainless steel, by British artist Anish Kapoor. It was created using computer technology to cut 168 massive steel plates, which were then fitted together and welded shut, giving the sculpture a seamless finish.
A 12-foot-high arch provides a "gate" to the concave chamber beneath the sculpture. Touch its mirror-like surface and see your image reflected back from a variety of perspectives. A fun way to spend ten / 15 minutes. Cloud Gate is conveniently located at 201 E Randolph St and is the centrepiece of Millennium Park.
Crown Fountain
Designed by Spanish artist Jaume Plensa. The Crown Fountain consists of two 50-foot glass block towers at each end of a shallow reflecting pool. It is a very interactive and technological fountain which shows different faces and sprays jets of water from their mouths. It's a fun concept.
The children and adults alike love it as they dance or soak themselves from the fountain in the summer heat. In winter the fountain closes, so summer is the best time to see the fountain in action.
Millennium Park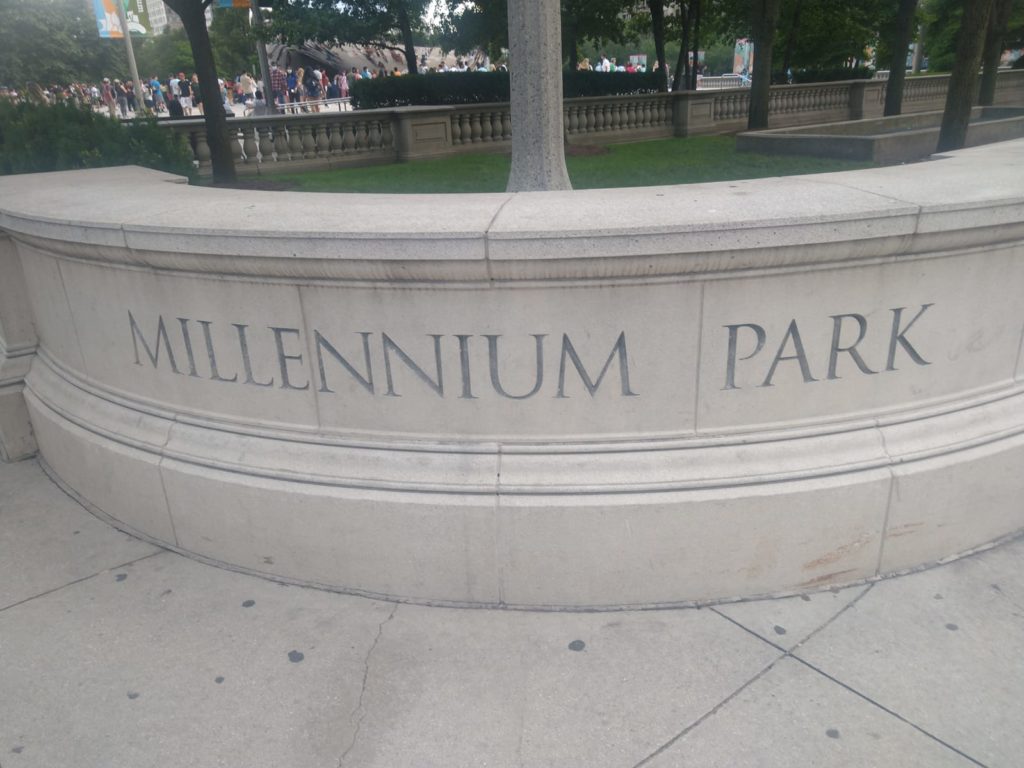 Also high on your list should be a concert at Millennium Park. We randomly came across this when checking out the Sculptures. The gigs are free and open to the public in the Seating Bowl and the Great Lawn on a first-come, first-served basis.
We were there when an orchestral show was on for the 4th of July weekend celebrations. The place was alive with people, picnicking, reading, sunbathing and others simply relaxing enjoying the sounds.
Navy Pier
Completed in 1916, Navy Pier has attractions and events that take place throughout the year, as well as this, you will find dining establishments, shops and culture.
Off course you will see first the Ferris wheel, which soars to almost 200 feet. You can get amazing views from the top for $20/$17 – Adult / Child (£14.50/£12.50). There is plenty of fun to keep the kids occupied, such as the Time Freak game, fun house maze and the children's museum.
For adults, have a look around the crystal garden, see an art exhibition, have a well earned drink in one of the rooftop bars, or take one of the many boat cruises on Lake Michigan and the Chicago River.
Chicago River
The Chicago River is 156 miles long and goes through the city of Chicago, including the center of the city. It's a high spirited area, not just in the water with boats and kayakers, but also there is lots of activity along the wharf were the City Winery is, which you will spot from the Bataan – Corregidor Memorial Bridge (State Street Bridge).
Enjoy the wonderful ambience, dining and plenty of photo ops and even a sunset over a glass of bubbly.
It's historic yes, however it's just a small (8 by 11) brown sign and difficult to find. You could easily miss it as not marked well. It was good to see though, but don't get too excited.
The 'L'
The Elevated Chicago train network has its rails bridged a floor or 2 above the city centres streets in an instantly recognisable strutted and bolted iron fashion. The network goes underground and on the ground level too to transport passengers across Chicago in it's stainless steel looking trains. Fares start at $2.50 for adults on the CTA with Passes available for 1, 3, 7 days and a monthly pass too. Check their website for fares.
Art work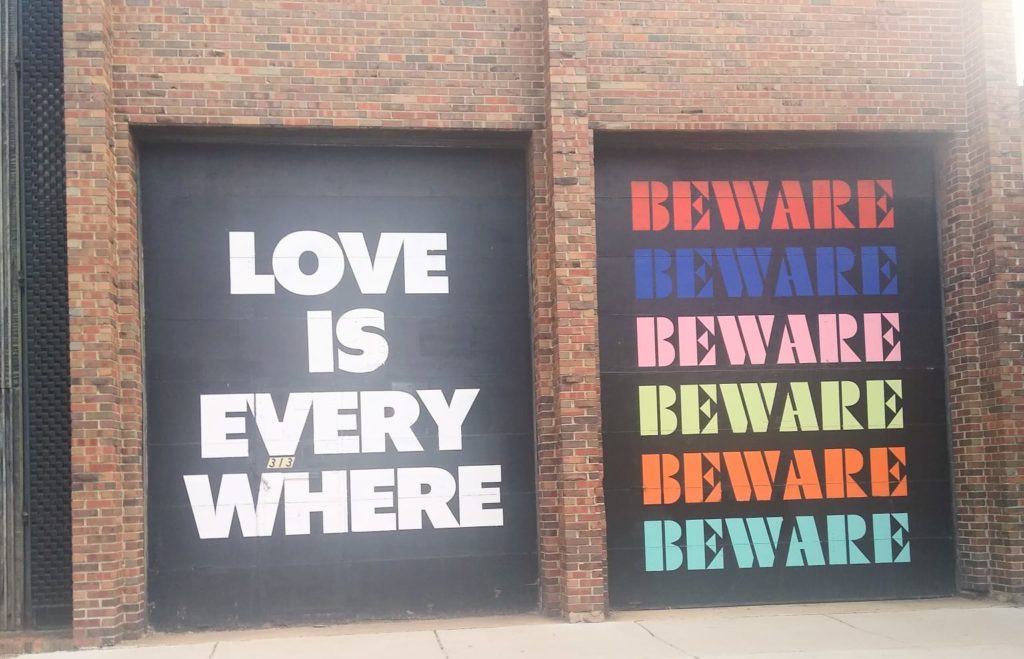 Other than the 'most famous' art sculptures in the city, you will be sure to come across different murals and sculptures throughout downtown and the financial district.
Check out the Chicago Bronze Cow, which was a reminder, donated from Peter Hanig, of the popular Cow Parade from 1998.
The windy city has contemporary art dotted around on almost every corner, including this huge mural of Muddy Waters, 'Father of modern Chicago Blues', on North State Street.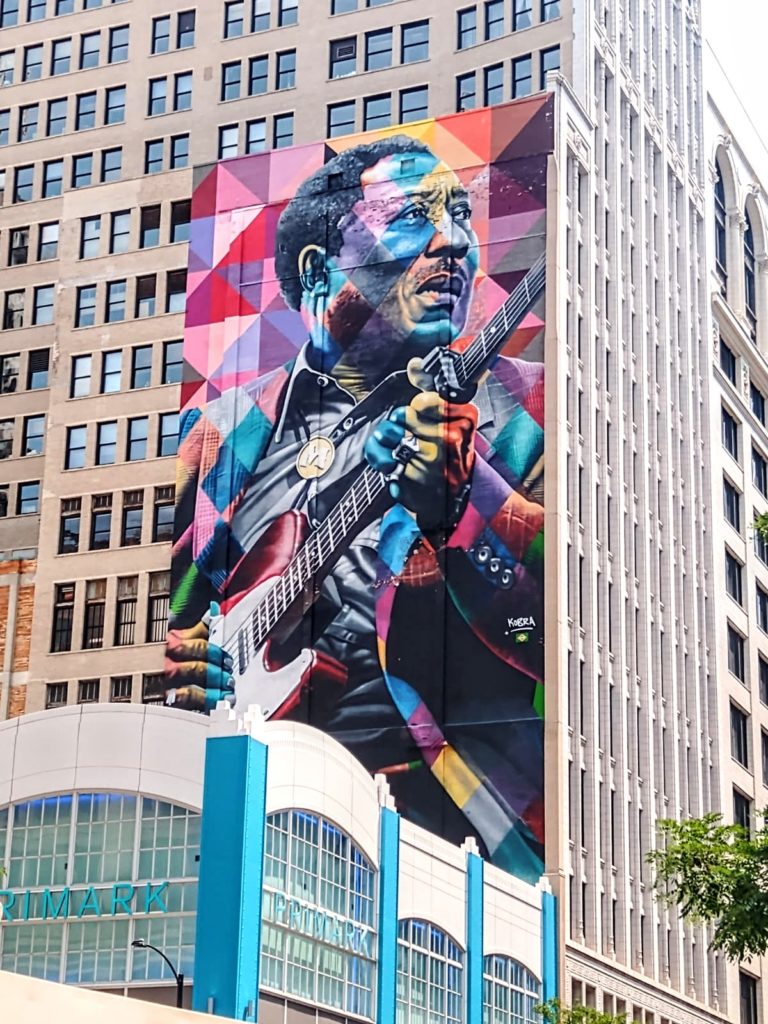 Chicago Bulls
Unfortunately when we visited, the Chicago Bulls tour at the United Centre was closed until further notice. This was a huge disappointment to me (Knox). I grew up in the years of Michael Jordan, Scottie Pippen and watched as they ruled the basket ball world. I had the Blues!
Chicago Bears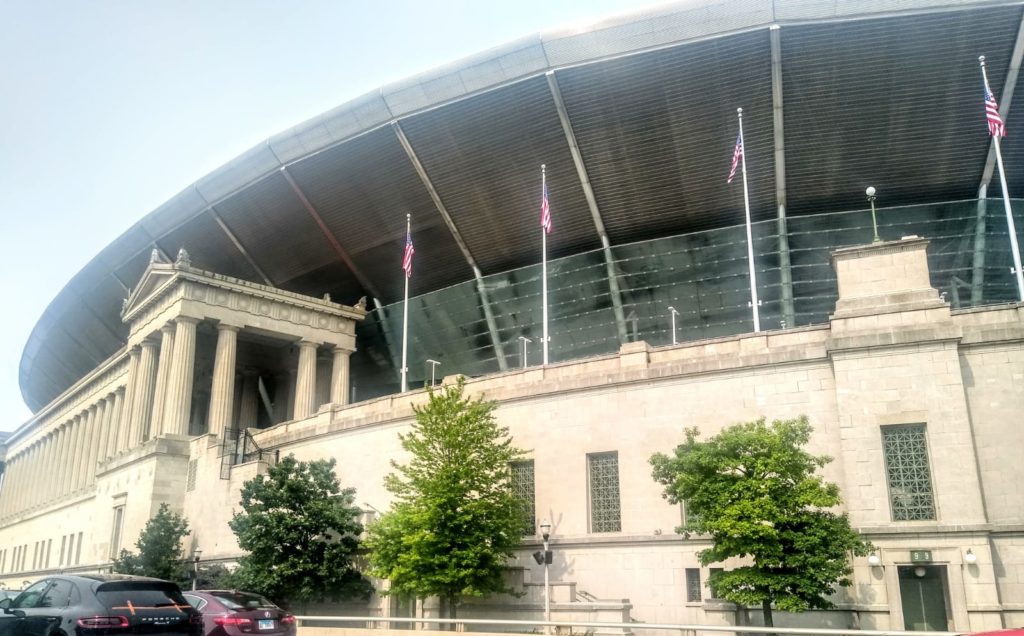 Another of the great sporting institutions in Chicago is the Bears Football team. We got a glimpse of their Soldier Field home as we drove from Lakeshore Drive
Eating and drinking
Try some authentic Chicago pizza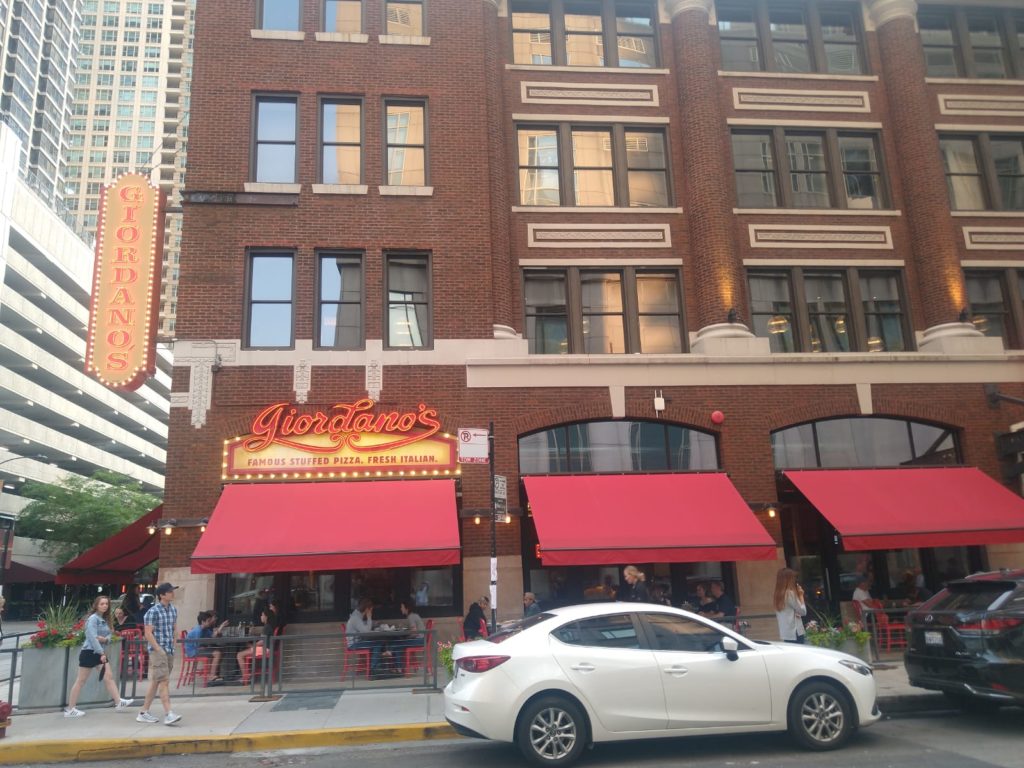 You haven't been to Chicago unless you try the authentic Chicago pizza pie.
We couldn't get into the most popular Giordano's.
However we tried Lou Malnatis which was super! We thought the pizza was a cross between a quiche and an actual pizza, due to its thin crusty pastry type base. There were layers of veg, cheese and tomato topping. We enjoyed chatting to Nick, our server. It turned out his mum, Jill (Conroy we think) was from Belfast!
Chicago Blues'
If you're in Chicago you have to go to hear some Chicago blues. Unfortunately the famous, 'Buddy guy's legends blues club' was temporarily shut, but there are plenty of other blues clubs that match the talent.
Blue Chicago
We checked in to Blue Chicago club. Intimate blues club. Surly staff, but a good lively atmosphere and talented band. Demetria Taylor played a set with the House band. She is one of the daughters of Eddie Taylor, a superb blues legend guitarist, who played rhythm guitar in Jimmy Reed's band as well as creating some solo albums. Steeped in Chicago blues history, this was a treat. Entry was $12. Cash only in bar.
Elephant and Castle
When we had too much blues, as if that would happen! We checked out an English pub, with more Irish ales, beer and liquor on sale than English, for a taste of home. We were craving mashed potatoes and dolloped a wee bit of brown sauce on them and the veggie pie we got! It's an Irish thing!
The Elephant and Castle also shows football, which kept Knox happy, and equally, we were both happy with the beer and cocktails! The mimosa's were refreshing and were on the Saturday special at $5 a pop! I (Miko) just loved that deal!
Ali the bar server was excellent!
Excellent vegetarian quiches and pastries. Although croissants are not great. Too big, dense, and not fluffy enough.
Thief gets more than he bargained for
I (Knox) Went out for late night pizza in Chicago after we returned to the hotel. Lots of lovely people about. I gave some change to a homeless person. It was very little so I reached in my back pocket to get a dollar.
Slight of hand and noisy mouth
Some bloke knocked into me and took my cash and cards right out of my hand. I was aware. I doubt he knew what was in for him. I'm from Belfast and don't take that.
I marched straight after the loser, knocking into a parked car and spilling my boxed pizza slices on the ground, and challenged him. This had never happened to the coward before. "You stole my cards" I shouted at him. He tried to ignore me and walk away amongst a street full of people, but had to eventually acknowledge me. I'm not the quietest of people and I made a shaming racket.
Call that intimidation?
I could see the bank card and money still in his hand, thankfully, and I made sure he and those around me knew it. He turned in disillusionment and aggressively handed me his stash back. He tried to intimidate me by showing how tough he was. I don't think he has ever heard the Irish response.
"Is that all you got? Go on,hit me!'
He did, throwing a punch at my eye. It grazed the top of the eyebrow. After he hit me, I stepped forward, unflinchingly, and again asked the moron if that was all he got. This was maybe a tad stupid but anger and adrenaline was at full throttle. He tried again. I moved forward, Gandhi style, and again questioned his ability to understand the strength of a soul that is fully immersed in the universe. I offered him another free shot, which he nervously took, before he stumbled away.
A thankful outcome
Onlookers tried to step in but my assailant was off. I reminded those around me that I was from Belfast and it was clear that the person had never come up against a challenge before. I just wanted to beat my chest and howl at the moon.
Another person handed back my Driving licence that had either fallen or been discarded by the thief. I was glad that I got everything back and that no real harm was done to me. Half the Pizza slices were lying on the street but that was a loss I could deal with.
Tragic side of Chicago
Like all cities, there are dark sides to them, and Chicago's ugly underworld was on show over the 4th July weekend. 108 were shot, with 17 being fatal, in numerous incidents across the city. The tragic sadness of these acts of violence sends ripples through the community. Negative emotions like greed, jealousy, hate, anger et al will create disturbing outcomes. We pray hope and love for all those affected.
Check out out some of other city vibes road trip – San Fancisco, Nashville and New Orleans etc, Austin