Dingle Peninsula- Meeting Fungi
For ages we had a desire to go down to the Dingle Peninsula in Kerry. The main aim was always to meet the famous resident dolphin, Fungi. He had arrived in the bay years ago. Indeed, he must have quite liked it as he freely stuck around.
It was pissing down in the middle of a partial lockdown, July 2020, and we needed a bit of respite from Belfast. It was a good time for a road trip.
Getting away from it all – The drive down to Dingle
We set off from Belfast. The easiest route was down the Motorway to Dublin, along the M50 (make sure you pay your tolls) and then cut South west across the country, via Limerick, down to County Kerry.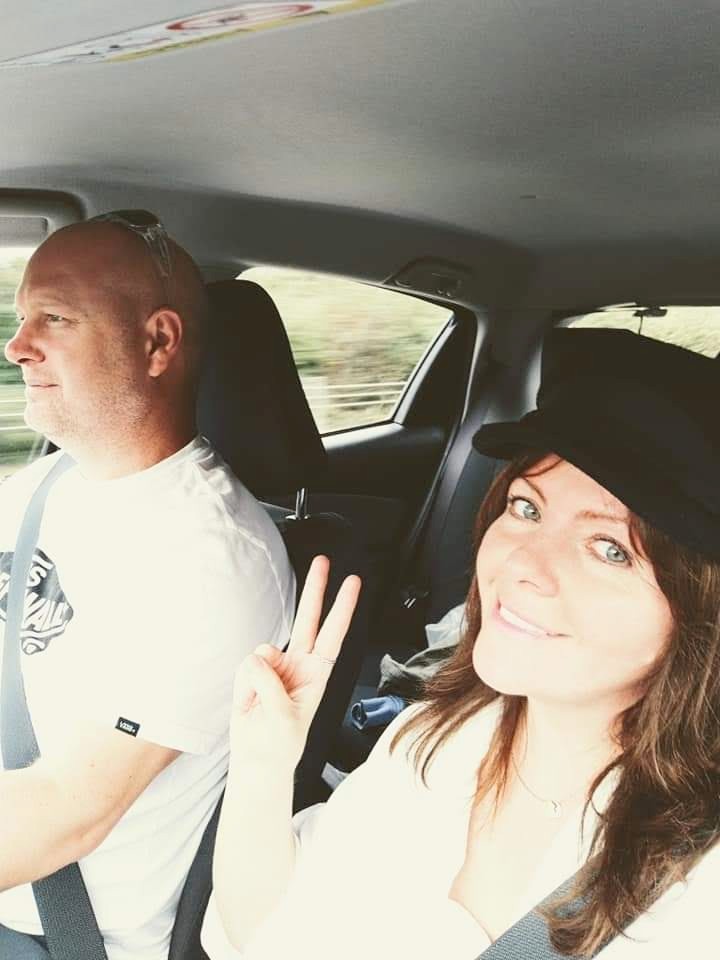 Little boy racer
We drove the long 4 and a half hours to Dingle, County Kerry. However, the drive from Belfast is usually approximately 5 hours 30 mins. Knox had decided to put the foot down, resulting in him getting pulled over by a copper, near Limerick, who wasn't in the mood for little boy racers.
Lesson learnt?
He got a fine of 80 euro. Lesson learned? Well, I had hoped, after the Florence and Pisa fiasco parking in an illegal ZTL Zone, he would have been more careful! As far as speed is concerned, it doesn't appear so as our USA road trip review will attest to! I wasn't best pleased!
Inch beach
It wasn't all bad. The sun shone as we made it to the Dingle Peninsula. We just about had time to stop at Inch Beach, where we drove the car onto the sand like all the other picnickers and sunbathers. Even though it was only hitting about 16/17 degrees, in the sunshine, the crowds were in cozies and trunks. Ah the thick Irish skin lol.
Scenery
Inch beach is a long stretch of 3 miles. Cars line up beside each other, while people open boots to make lunch, or take deck chairs and tables out to spend the day. When the sun shines the strand is busy. Yet, one can still relax due to the size of Inch beach.
Don't let so many cars put you off, either, as they are only permitted to go so far on the sand. It's actually a stunning beach, and other than the Dingle Peninsula, you can spot Iveragh peninsula and McGillicuddy reeks.
You can definitely find a quiet spot among the dunes to meditate, walk or sunbathe.
Activity
It's also very popular with watersports such as surfing, Kayaking, Windsurfing, Kite Surfing and Hang gliding. Sunbathing away from the crowds is also possible walking further down the sand, or in isolation between the sand dunes.
After an hour we realized we had to go. We had an appointment to keep in Dingle to see a superstar
Accommodation in Dingle
For our stay in Dingle, We chose a small hotel on the edge of town called Heaton's. It had classical stying, but was tastefully done, and the cleanliness was good. The breakfast was delicious. The hotel also had free parking and was located about a 5/10 min from the harbour and town centre.
The hotel has a great view across the secluded bay.
What to do in Dingle Town?
A small fishing town, Dingle has a view things on offer surrounding adventures on the sea. It also is a colourful place to walk around with plenty of restaurants and bars to pop into.
Fungi – a Dingle icon
We had booked tickets for Dingle dolphin boat tours due to the good reviews online. We went to the wrong part of the pier. As a result, we had the run the last couple of hundred of metres, across the harbour, to just about make the boat in time!
Boat ride
There were only a dozen other people onboard to our relief. We had heard it can be packed in non covid times. It seems this was another business struggling due to restrictions.
We were (maybe selfishly) happy though, we would have a great view of Fungie the dolphin from the boat, as well as the spectacular scenery, without seeing the back of other people's heads.
Mischievous dolphin of Dingle fame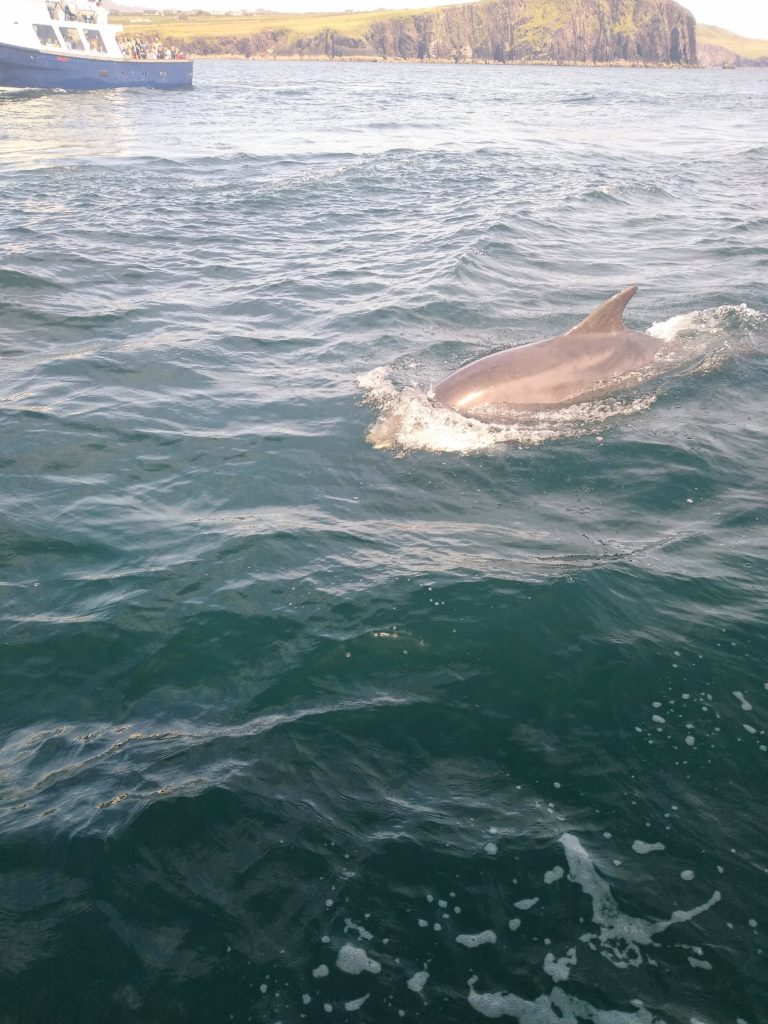 There's literally only one dolphin everyone came to see and we did!
Fungi was very mischievous and joyful as he danced at the side of the boats, jumping up in the air, twirling, literally just showing off. He would then dive for a few minutes in a game of cat and mouse, or rather people and dolphin. Then, with people searching port and starboard, he would pop up and start his merry dance again. He was also good at fishing. In fact, his smile beamed as he surfaced with a large catch in his mouth.
He liked particularly the sailing boat, where a dog sat inside. Fungi swam around the boat, staring up at the furry creature, hardly leaving his side. They were very fortunate as the sailors were able to practically touch Fungi.
Fungi's story
Fungie had been frolicking at Dingle harbour for over 35 years. It is thought he became separated from other dolphins, but he never left the harbour. Another story goes that a lighthouse keeper saw the dolphin escorting fishing boats in and out of the bay and he became more playful as he got used to human contact.
Sad news
Unfortunately as we are just writing this. We have heard Fungie disappeared in Oct 2020. The disappearance is a mystery, as after an extensive search, no body was found. There are also rumors he was shot, which we absolutely hope not!
Locals and visitors will miss this adorable guy! Ireland was certainly in mourning! It would be lovely if he returned again! The statue of long-term resident Fungie the dolphin is by the waterfront.
Dingle town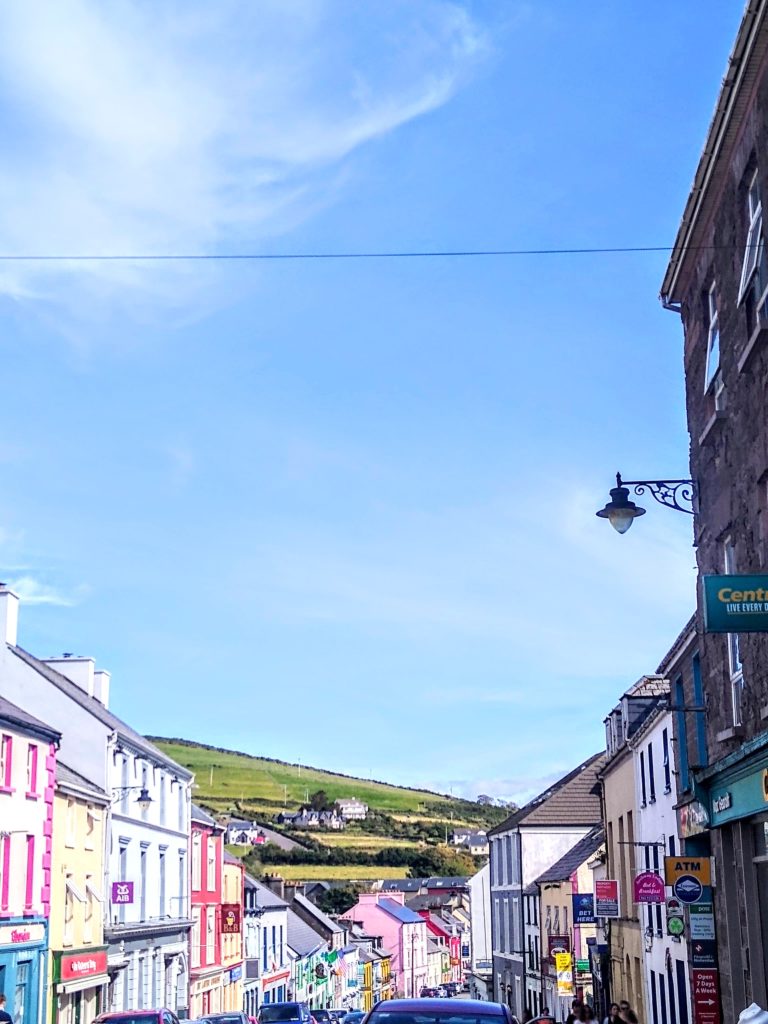 After our high at seeing fungi, we wandered through the charming, colourful town.
There are lots of quirky bars, restaurants, cafes, shops on every corner. There is a relaxed pace of life here, although in the height of summer it can bring in many tourists.
Stop off at one of the many bars or cafes for a refreshment and watch the world go by.
DINGLE SEA PORT
Dingle Sea Port is approximately over 800 years with a tradition of fishing and maritime culture. A great place to watch the boats going out or returning and people fishing.
The gulls certainly know who's had a good catch.
ST.JAMES CHURCH AND GRAVEYARD
Just off the main Street, St James Church, built in 1808 is an important role in the history of Dingle.
THE WREN
St. Stephen's Day, December 26th, is a favourite in Dingle as crowds of locals wake at 6am to take to the streets wearing masks or straw suits and walking side by side with musicians – remembering the ancient festival. The wren is said to have betrayed Irish soldiers fighting Norsemen by beating their wings on their shields. The wren is also blamed for betraying St. Stephen, the first Christian martyr. The tradition consists of "hunting" a fake wren and putting it on top of a decorated pole.
Eask Tower
Don't forget to check Eask Tower, made of solid stone, on the top of Carhoo Hill, overlooking Dingle harbour.
On Round the Dingle Peninsula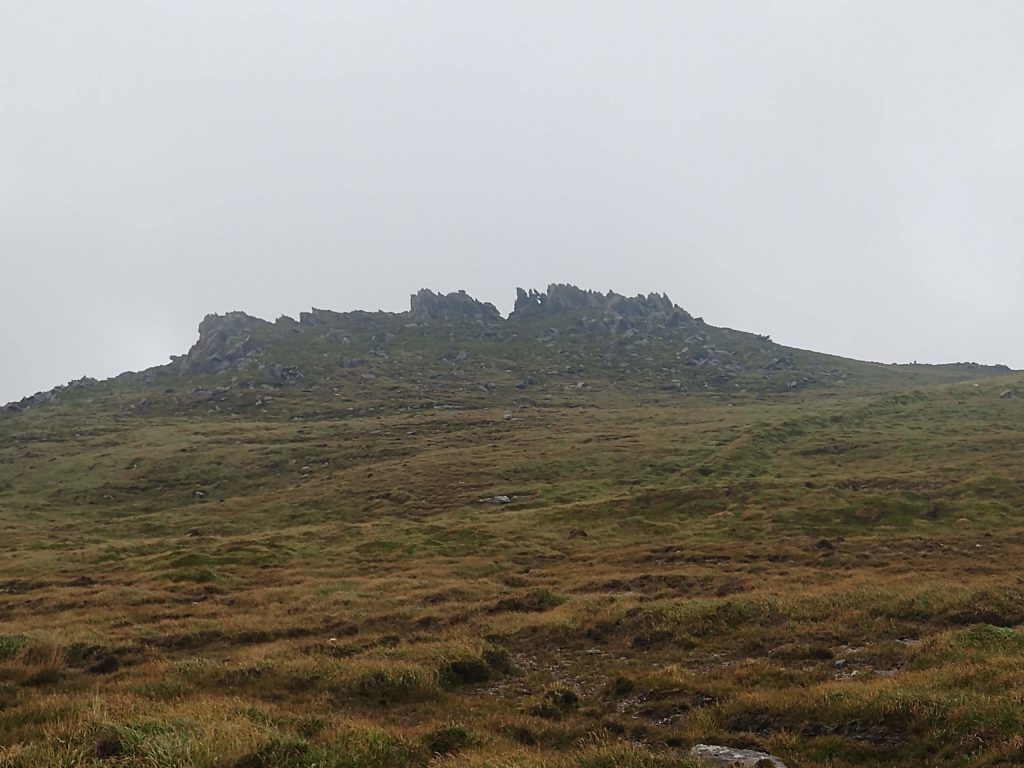 The scenery from the rest of the penisula is stunning, even when the weather has enveloped the landscape in a misty dampness. The mythical countryside is filled with craggy edges, hilly farmland, and ancient rocky burial grounds.
Dingle Peninsula – Another Hollywood film location
The dramatic landscape drew the Star Wars crew in for more (see our Donegal page) as they continued to film episodes VII and VIII. On Dingle peninsula they chose a few locations, including Dunmore Head and Sybil Point; where the crew replicated the Fahan huts.
Clogher strand
A beautiful sandy beach about 20 minutes drive from Dingle town. Its a naturally, protective cove and generally good for swimming.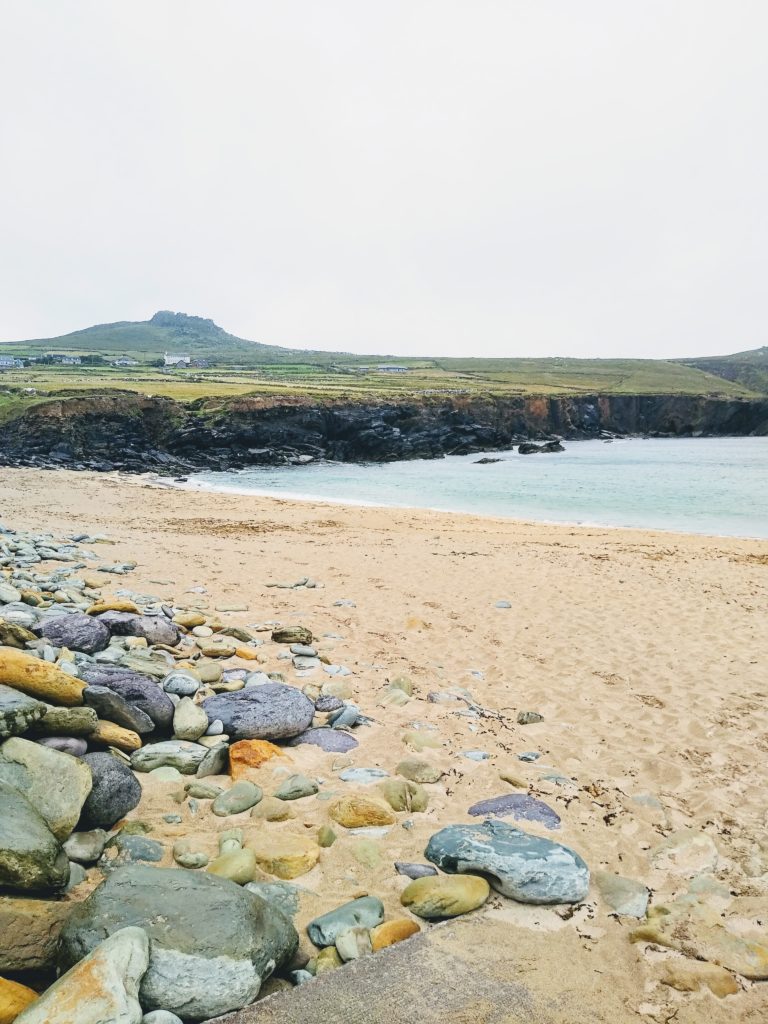 You can also do an easy trail for a walk with fantastic views of the dramatic, craggy landscape.
Traffic jam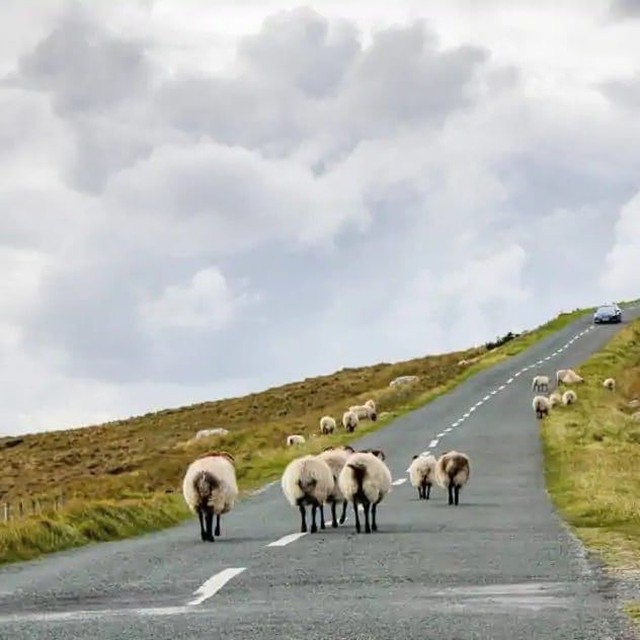 Look out for the traffic jam off sheep as they wander confidently down the narrow, twisty road of the Slea Head Drive.
They also lay idly on the grassy cliff top.
If you enjoyed reading then check out beautiful Donegal, Ireland!