Athens: Ancient, Civilized and Sun Soaked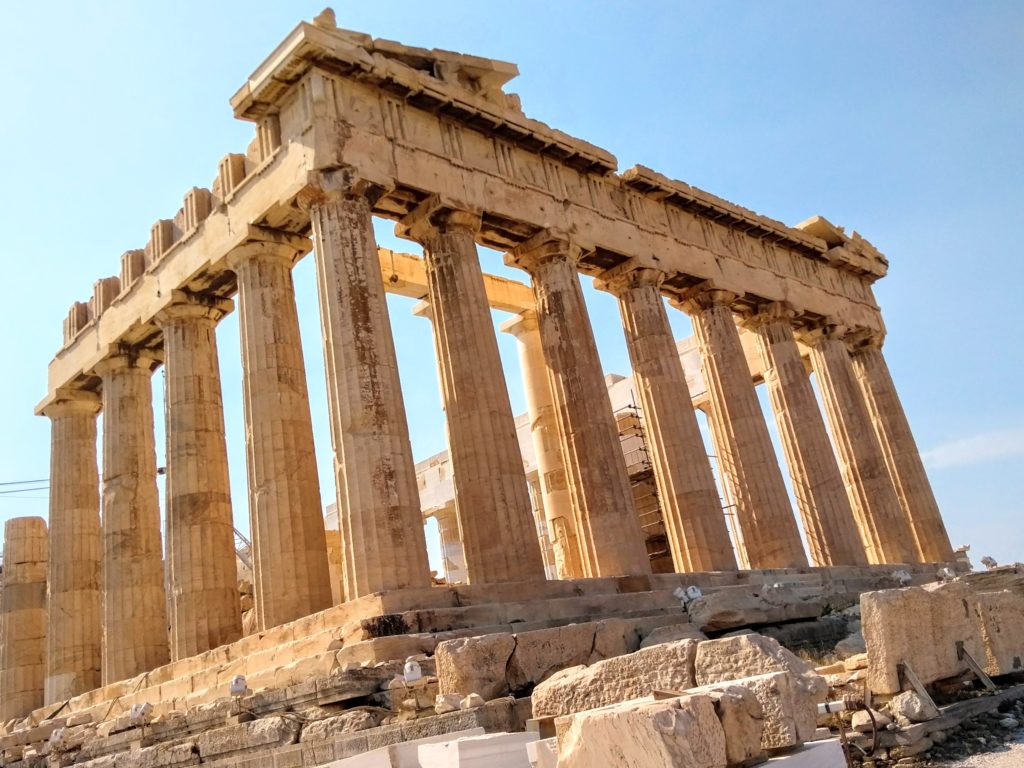 Athens: Getting there and practicalities
Travelling to Athens from most of Europe and the middle east is relatively straight forward. From other parts of the world, there could be connecting flights and layovers. We lived in Belfast at the time so this is how we got there from Northern Ireland.
X1/X2 Goldline Express from Belfast to Dublin, stopping at Dublin Airport. Return booking.
As we had an early enough flight we chose to go down the day before and use BA Avios points (see our tips on airline etc loyalty programs) to get a reduced cost stay in the Crowne Plaza. Coaches on the Belfast/Dublin route do travel through the night but we wanted a longer lie in 😉
Return flights to Athens with Aerlingus.
Car hire, Athens airport with InterRent was cheaper than getting a cab there and back so we enjoyed the convenience. We had free parking.
Athens hotel – Pi Athens, 4 Fokianou St., Athens, Attiki, 11635 Greece
Athens – Capital relics
The heart of ancient Greece, the city is bustling with over 3 million proud Athenians and a whole plethora of tourists. It was a one night stop so we had to squeeze what we could in. We chose our sightseeing accordingly and focused on the Acropolis.
Walking to our main sight for the day, we took in the Kallimarmaro or Panathenaic Stadium. The stadium, built in 144BC, is completely constructed of marble, one of a kind around the world, but was has gone through different guises before that since the 6th century BC. It fell into disuse half a millennium later before being excavated in 1869. From here, it has had a rebirth and was refurbished to be used for opening ceremonies, events, and closing ceremonies in the modern Olympics as well as other sporting events through the decades.
A Peaceful dander in a beautiful city park. It offers a break from the hectic traffic and also plenty of shade from the relentless baking sun.
Columns standing tall and unroofed, the temple has to be one of the longest building projects ever. Staggeringly, it started in the 6th century BC to be the biggest temple in the world and wasn't completed until over 600 years later by Roman emperor, Hadrian! Zeus must have wondered what was going on. Think he got bored and wandered off as the place was sacked by the barbarians around 1 hundred or so years later. Was the effort and expense worth it?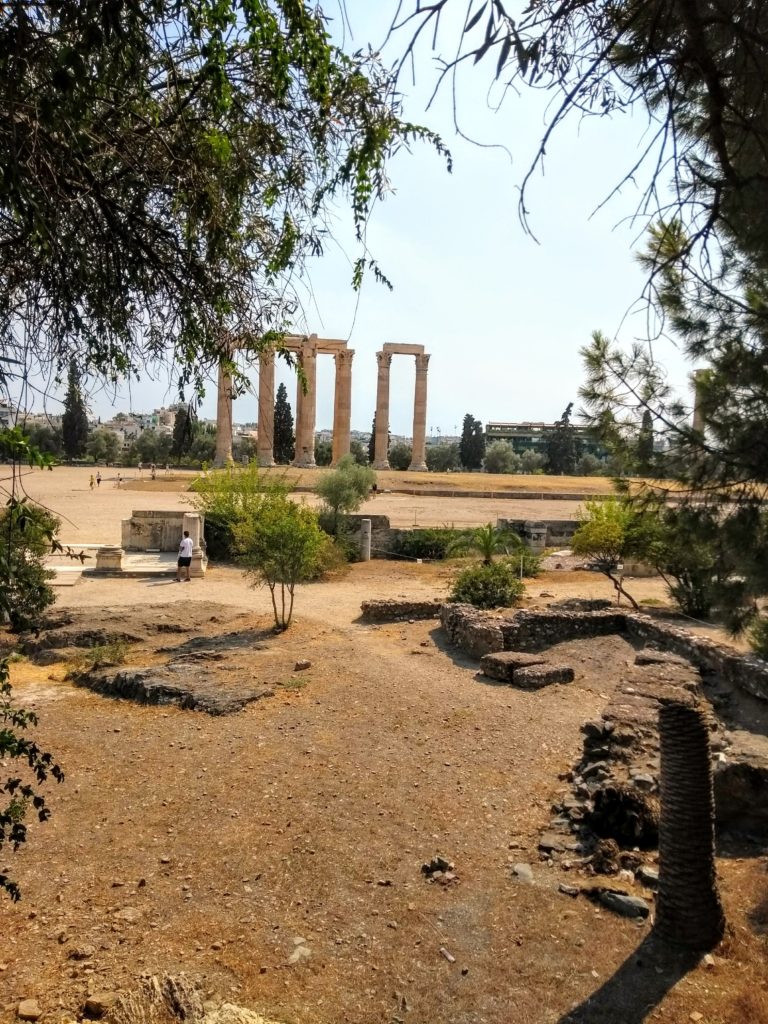 There are only 16 columns remaining of the 104 that made up this colossal structure. Lots still to excavate in what is still an important archaeological site in Greece.
I guess since he, not personally getting his hands dirty, finished building Zeus's temple, Hadrian decided to recognise his own greatness he may as well throw up an arch to celebrate. You'll walk past this at the temple complex's entrance. Okay, he became an Athenian long before that and spent lots on the city so maybe he deserved it!
Dionysiou Areopagitou
Dionysiou Areopagitou is one of the busy thoroughfares that lead up to the acropolis entrance. You will pass many restaurants, cafes, tour touts, souvenir shops etc as start to glimpse the south side walls of the acropolis and its surroundings. The pedestrianised street leads up to the acropolis museum and two ancient theatres, Theatre of Dionysus; a Greek theatre dedicated to the god of grapes, wine, and partying by the sounds of it, as well as Odeon of Herodes Atticus; A Roman theatre.
From here climb up towards the entrance of this vast citadel that images so much of one's mind's knowledge of Ancient Greece and it's architecture. Just to look up and take in the scene cause historical flutters.
Bring a hat as there is little shade from the sun. Water can be purchased inside if you don't have any with you. Multiple points will dispense at not too an unreasonable price.
We could talk and discuss each building and landmark for hours but it's better just to give you a taster before you go see it for yourself.
Climb the colossal steps and enter the gateway to Greece's Ancient heart via the Propylaea, with it's vast pillars and grand walk way. Get used to seeing lots of Marble.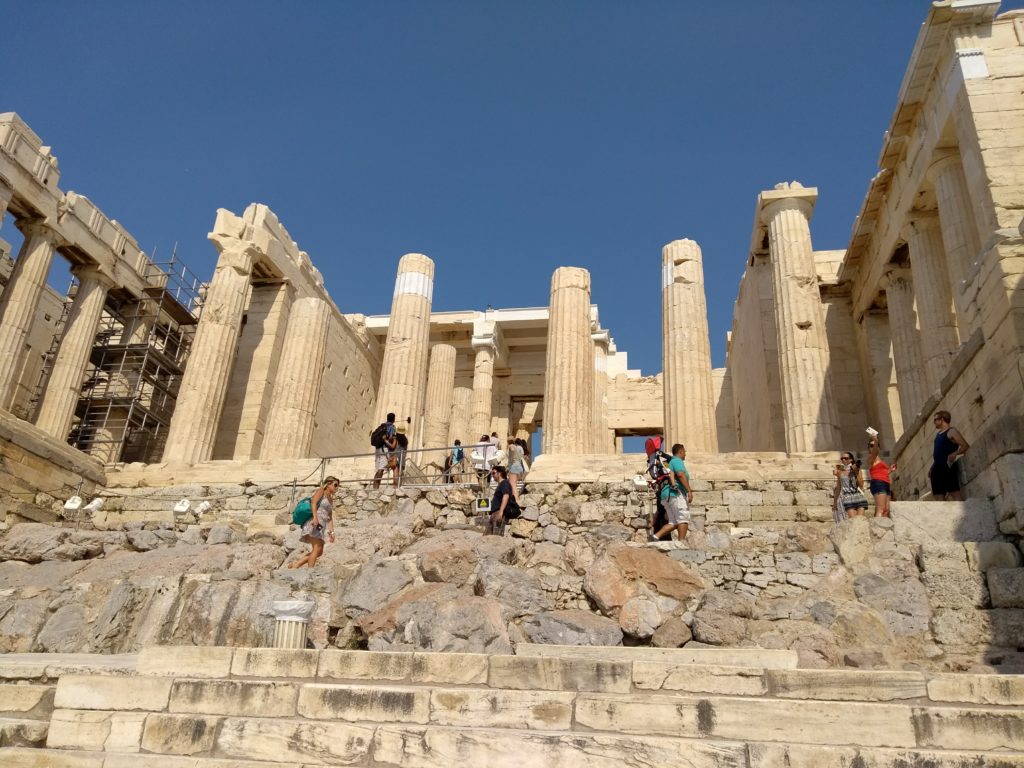 Just on the right, before entering the gateway, is the relatively muted Temple of Athena Nike (dedicated to both goddesses, Athena and Nike). While smaller than other temples in the Acropolis, it has a prime position at the entrance.
Funnelled through the Propylaea's columns, one emerges into the main area and is confronted by the monumental Parthenon. The absolute landmark of Athens. Okay, It's once shining marble columns have dulled through the ages and many conflicts. Yes, it maybe roofless due to fire. Absolutely, it is a shell of its former glory and has been rocked by many earthquakes. But, WOW! Athens' mega structure of ancient Greece is impressive.
This single image of western history, and it's fight for equality and freedom, is still standing after 2 and a half millennia. It's soul must weep at some of the world's democracies today! Or maybe it was just a lavish folly of an already corrupt system?
Temples dedicated to Athena, obviously, the old temple was destroyed when the Persians sacked Athens in 480 BC. This was a 40 plus years before the acropolis building started. The Erechtheion was jointly dedicated to Poseidon and built beside the foundations of the Old Temple. Ornate sculptures still adorn it's walls.
The views
There are plenty of other buildings of note in the site. The Acropolis is there to be discovered when you decide to visit. There will be crowds for such an important cultural site, hence the continued restoration, yet it is worth the effort. The views over Athens are absolutely fantastic and an added bonus to the depth of history you will find yourself walking through.