What to pack: A practical travel guide
Pack and plan ahead
When you plan to go on the road for several months you need to pack smart.
Take it from us, we know and have learnt! When travelling in India for the first time, many moons ago, we both had enormous backpacks along with sleeping bags, a cassette player, a tent, a guitar, a drum, way too many clothes, and we even picked up along the way a gas stove!!! Yes a stove! Lol. Looking back now has us in hysterics. How we carried all that stuff I don't know, but we did, however it was cumbersome and we certainly didn't need it all!
Over the years, our bags have got lighter and we are smarter travellers who think what we really need to pack.
Essentials to pack
Passport
This is the most obvious item to pack. People do forget to check, so make sure it's at least valid for 6 months beyond your date of travel. Get a new one if travelling longer.
Visa's
Don't forget to check all the necessary visa's you will need for the countries you are visiting.
Ticket
You'll go nowhere without it!
Travel insurance
Always pack it with you as you travel. Research online and choose the one that suits you. Some will even allow you to add travel insurance, like Big Cat, while you are on the road. This can be useful if you go to places that your initial travel insurance didn't cover.
Money
Pack a credit/debit card along. Research Credit cards that won't cost the earth to use abroad. Some banks don't charge you for an exchange rate or to withdraw cash from an ATM. A quick web search "credit cards with no foreign transaction fees" will give you examples offered in the country you're leaving from. There are also pre-paid Credit cards that offer good rates while on the road.
Carry a couple of hundred £/€/$ in cash. If you can, it's useful to have some money in the local currency of your destination. You can always change this before of after you arrive. An airport will normally have an ATM so you can use that special credit card you got! Change is handy for such things as cabs, water, border controls and any other things that crop up that you may have failed to think about.
Paper work
Take with you copies of your passport, extra passport photos (If you've to get photos when you arrive for visas on arrival etc), travel and health documents, driving licence, take employers letter and references if you plan to work. Upload all copies on the computer and email them to someone you trust. Also good to have a digital photo back-up of these. What you take digital and what you pack in bags is up to you. A long trip can cause paper etc take up too much space. Make sure that the digital copies are not just stored on one device but can be accessed from other devices too. This means, if any device goes missing, lost or stolen, you can still access your essential paperwork.
Combination lock
Great for extra security, especially when on sleeper trains, when you can't watch your bags constantly. Don't leave home without it!
Travel Wallet
Forget the bum bag, the flatter the better, which fits easy and is hiddden under clothes.
Sunglasses
With good UV protection cause sunglasses are more than just being cool!
Eating equipment
Plates / Cutlery
We usually bring with us two each of picnic re usuable plates and tumblers, as well as a knife, fork and spoon each. They come in very handy when you stay somewhere with no kitchen and you want to make fresh salads etc. We also bring a couple of lunch boxes, which can be convenient for salads, sandwiches etc on the road. They are light and easy to pack. A swiss army knife comes in very handy for cutting veg / fruit, along with the bottle open and corkscrew for a large drink when you need it)!
Health pack
It's something we hope you won't need, but it comes in very handy when you do, especially when in the middle of nowhere, with no hospitals close by. You can get these very cheap, approx £1-5 with most things you need in them. Luckily we have only needed it for minor injuries or sickness. However in, the middle of nowhere in India, I was glad of the clean needle, when I (Miko) needed to have a procedure done at a rudimentary hospital, to get out a small thorn that was stuck in my leg, after falling into a bunch of cactus in the dark. They said it would be under anesthetic, but I felt everything, as they cut away into my leg with the scalpel, as the electrictity cut in and out!
Medical kit
Reading down the list below may seem a lot to pack, but most of these medical items come in a handy. Pack them into a small travel bag, which can fit snug into your bigger bag.
Ibuprofen and paracetamol
Swiss army knife (Scissors and tweezers in this comes in very handy, along with the bottle open and corkscrew for a large drink when you need it)!
This list can be tailored to suit your needs depending on the countries you are going to.
Toiletries/cosmetics to pack
Keep these in zip lock bags, you don't want to have a leakage! Another tip I learnt is cellotape around the lids, or open the lids before putting the top on and put cellophane around them, then tape around the lid when you have screwed it back on.
Mosquito repellent

with a good strength of Deet, we can't recommend this enough! It stinks, but we prefer it than itchy bites!
High factor sun-creams and after-sun – remember some countries do not have these.
Tampons or sanitary towels

– it is easier to get in bigger cities and it's most likely you will be able to buy along the way, but I always being a few packs just incase. These don't take up much room if you take them out of the pack and scatter them all in different crevices of the luggage or shoes.
Contraceptives –

if needed.
Shampoo and conditioner, soaps

etc can be bought almost anywhere in the world, so I wouldn't traipse a load with you, just take the essentials you will need to keep you going for a while-handy travel sized bottles are better. I separate larger bottles before I go, putting them in the travel size bottles and stick them in shoes or zip pockets of the bags.
Toothbrush / paste and floss!

Floss is difficult to get to get in some countries so I take loads of these to make sure I don't run out! They're tiny, so don't take up much room.
Electronics / Games
Your mobile and charger – Don't forget the converter.
A camera – To be honest we now only carry our mobile phones as the cameras on these can be just as good as carrying a bulky camera.
Mp3 player and speakers –

There are some nifty ones on the market now, that are so tiny they can fit in the palm of your hand, but give out excellent high quality sound.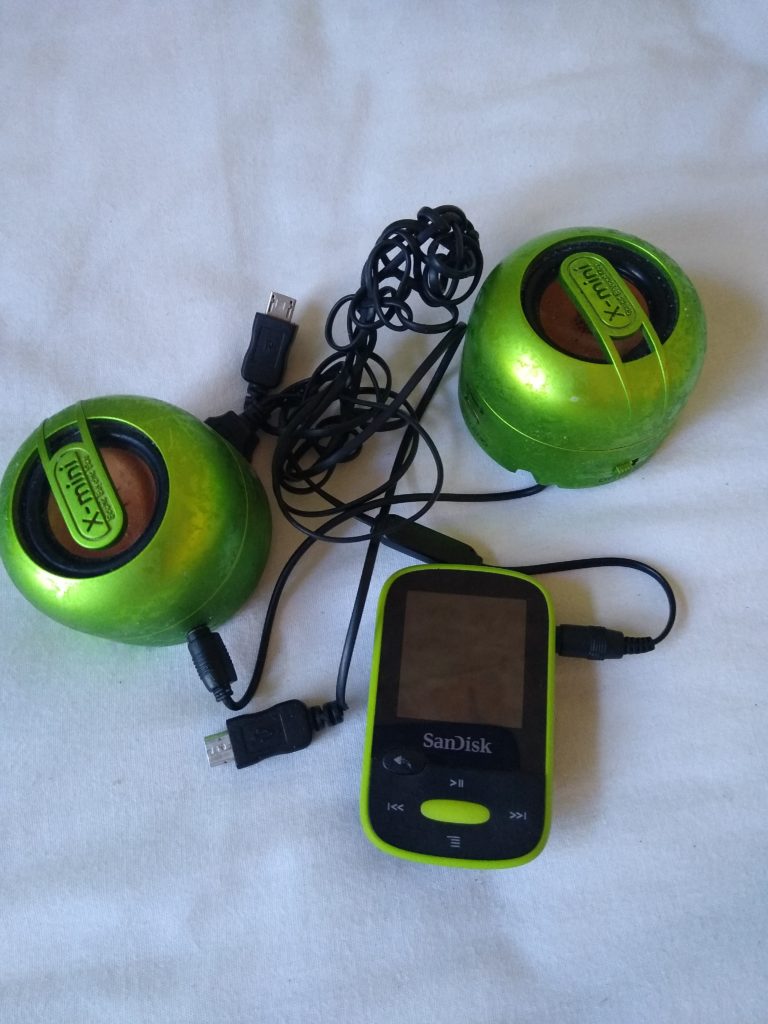 Plug adapter plug – Different countries have different plug sockets. Make sure you pack several universal adaptors to allow you to use those essential electricals. Also consider the volatage in different countries i.e. UK – 220/240 Volts vs USA – 110/120 Volts. This will determine if those electricals will work or not. Some can blow up / cause fire if not on the right voltage. A growing number of electrical items have dual voltage. Consider your purchase, buying a dual voltage appliance can save you hassle and cost of a convertor / new item when you land. Watts matter in this also. Size matters and can be too cumbersome to pack. Check out a few guides – Here's one to give you an idea.
Laptop / Tablet – There are some excellent slimline ones out there, that can fit right into a small rucksack. You don't have to spend a fortune either. You can use something like a chromebook etc.
Power pack- Very useful for longer journey's if you need a re charge of things

power pack

Games – We bring a selection of travel sized games with us. Great to occupy your time on long flights, as well as switching off technology and having some good old fashioned fun!

Switch off the technology and have fun with some travel sized games
Clothes pack
It's personal choice what clothes you want to pack and it depends what the weather is like in each country. Warmer weather is better obviously as summer clothes tend to not be as bulky. Roll clothes tight, then you can fit much more in. Or larger items lay flat. You can fit, so much in shoes, toiletries, bikinis, underwear etc.
Flip flops –

Flip flops are great to throw on for the beach or walking around hot dusty towns. They don't take up much room as they're flat making them easy to pack.
Trainers or sturdy boots –

Throwing on a pair or comfy trainers or sturdy boots while you're travelling to your next destination is better than carrying them, as they are one of the most bulkier items.
A smart pair of sandals or shoes.

These came in very handy in India, when we got invited to several weddings on our trip!
Underwear / socks-

at least enough to last you a week before you wash.
Sarongs

– Sarongs are excellent as they can be packed small and can be used on the beach, a cover up, as a scarf and a towel.
Shorts

-casual and one dressy pair!
T-shirts

(Not to many)! Dark colours are usually better, as they last longer and easier to keep clean.
A dress shirt

for a guy- Handy for all those weddings you'll be invited to along the way! (we have been to at least 5 when in India). A light cotton one is classic and can be rolled up really small.
Dresses

-Thinner material dresses, such as cheesecloth or light cotton are much easier to pack as thicker ones take up way to much room!
Swim wear –

I like to bring at least 3 bikini's, as they're small and can fit nicely in the pockets of the bags or shoes. Knox would take a few pairs of swim shorts.
A light jacket –

preferably with hood
1 towel –

you can buy handy travel ones that roll up really small, but are still a good size and excellent for drying.
Just a guideline to your pack
These lists are just a guideline. Everyone is different, and there's no perfect way to pack, however the lighter the better! Talking about guidelines, pack a good slimeline rope too, and some pegs, for that washing needed done in the middle of nowhere. the rope can be handy for many a thing. Or if you run out of laundry like I do on occasion, be sure set a trend, use your imagination and wear a pillow! Lol
Check out our other Travel Tips.