Cork County – As far south as you can go.
As far south as you can go in Ireland, before falling into the sea, is Cork. Indeed, what a beautiful county it is. Brow Head, West Cork, is the mainland's southern tip with dramatic landscapes that enticed the Star Wars production team.
Getting to Cork
All roads head south when it comes to driving to Cork. From Belfast, its a simple enough 5hr drive, (4 1/2 without traffic). Firstly, take the M1 / A1 south past Newry, to take you across the border, before continuing on the M1 to Dublin. Next, follow the M50 around Dublin. Then its a case of following the N7/M7 until it splits with the M8. From here, you'll follow on into Cork City. This route has tolls, booths and automatic, but they don't amount to much. Just make sure you pay the automatic one online (or check if your car hire automatically collects).
Accommodation
Hotel Isaac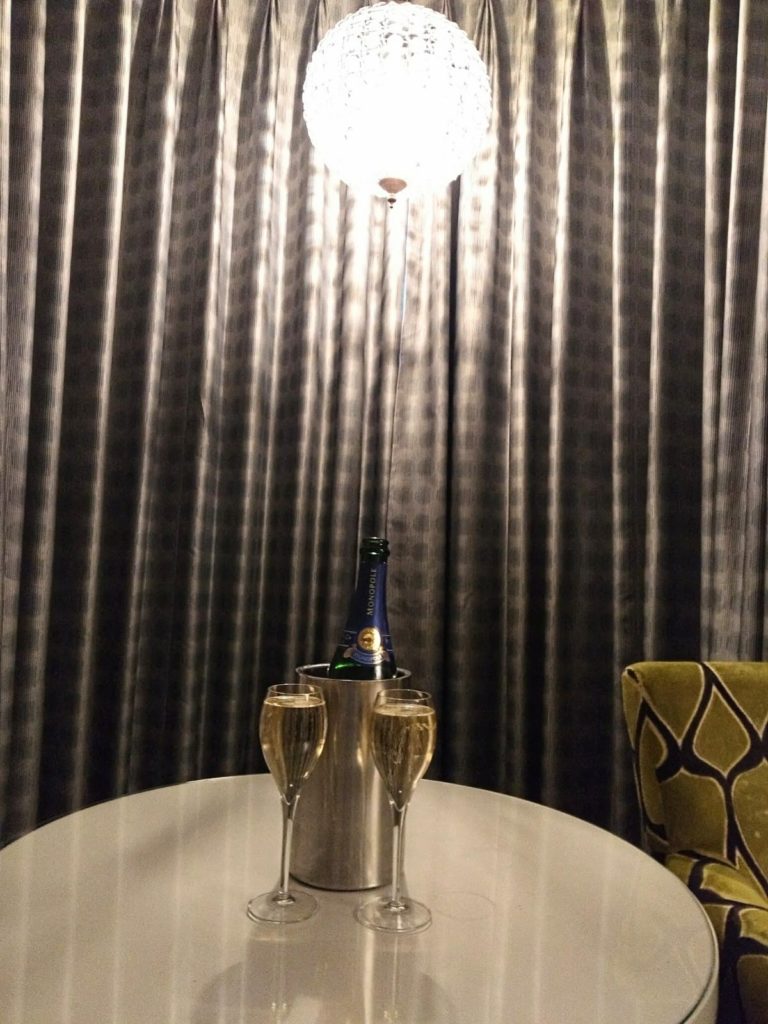 After researching many hotels, we choose to stay at hotel Isaac, Cork in the Victorian quarter. The room was clean, comfortable, well appointed, and definitely plenty of space. On the ground floor, is the location of Greene's restaurant and trendy cocktail bar.
Cork City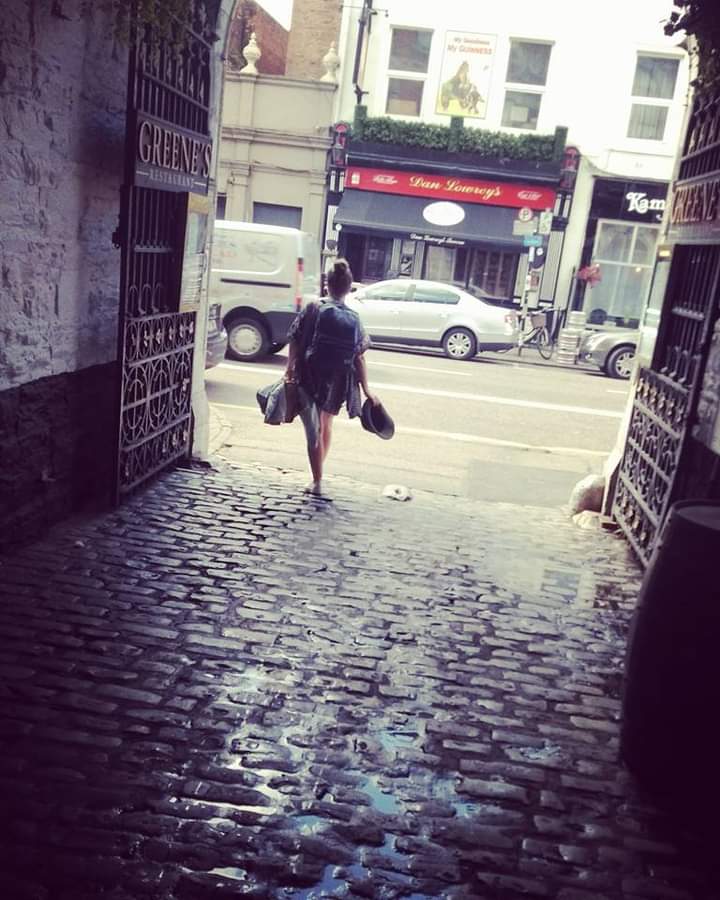 Back to the big smoke of the Republic of Ireland's 2nd largest city (3rd largest of the whole Island), Cork city has played host to the country's largest Jazz festival for the last 40 years. It's renown has attracted such greats as Ella Fitzgerald, George Shearing , Buddy rich, Dizzy Gillespie, Billy Eckstine and many more. Over the years millions have descended on Cork to immerse themselves in the swinging soul of this musical genre.
There is a vibrant feel around the city, and not just during festival time. Plenty of local taverns have live music playing throughout the year. Additionally, you will hear a mix of genres from traditional, blues, jazz, to more modern singer song writers. Cork is a hotbed for musicians to develop in the business.
Through our hectic schedule during the 2 night stay, we squeezed in a visit to a wee bar called The Welcome Inn, at the corner of Parnell Place and Oliver Plunkett St. Exactly what you would expect from a tradional Irish pub. Accordingly, the welcome was warm and the character was a consequence of the people in the bar rather than the paraphernalia that adorned the walls. Oh aye, the stout and whiskey were great too!
Blarney Castle
A few miles north west of Cork City is the famous Blarney Castle. Visitors flock here in the hope of recieving the gift of the Gab.
"Baloney is flattery laid on with a trowel. Blarney is flattery laid on with the lips; that is why you have to kiss a stone to get it" Monsignor Fulton Sheen
You will need a bit of agility and courage to get down to kiss the stone.
Snogging a stone
If you're feeling a bit shy, and the cats got your tongue, then head the few kilometres out of the city to Blarney Castle, Cork so you can bend over backwards to kiss the world famous stone.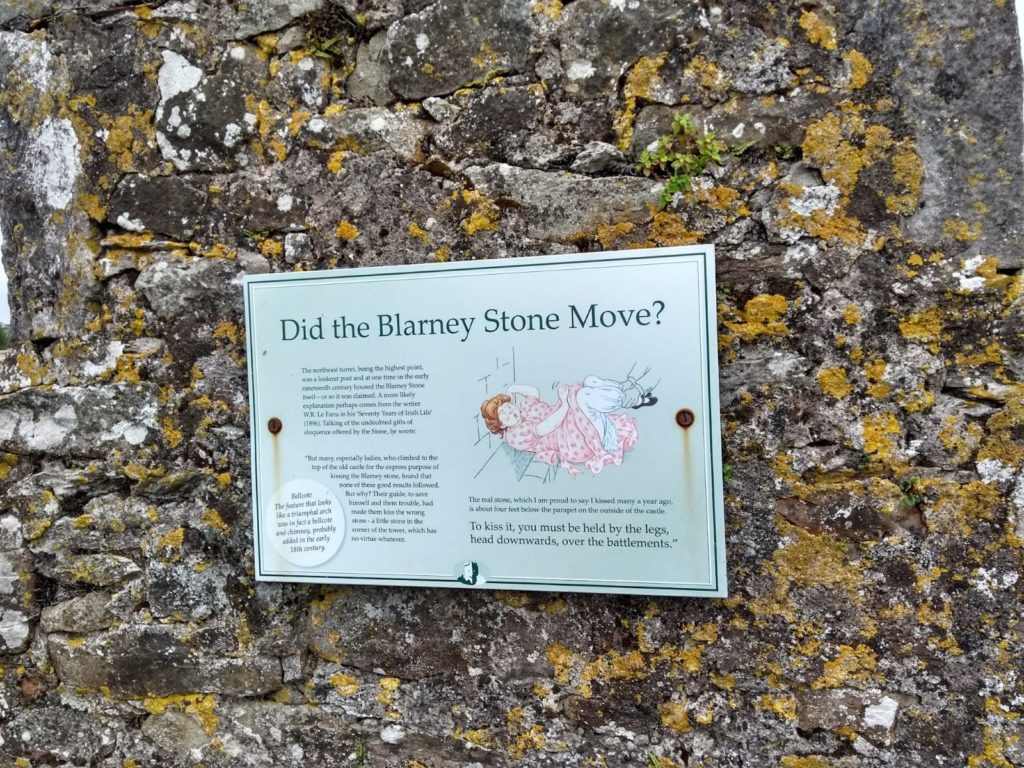 The stone is set into the walls at the top of the Keep. Its not only the bending backwards to kiss the stone, there is the getting upside down so that you are peering the 90 feet / 27.5 metres approximately to ground below. Today there are bars to hold on to and bars to prevent a fall for your assistance. Make sure your pockets are empty or closed!
Legend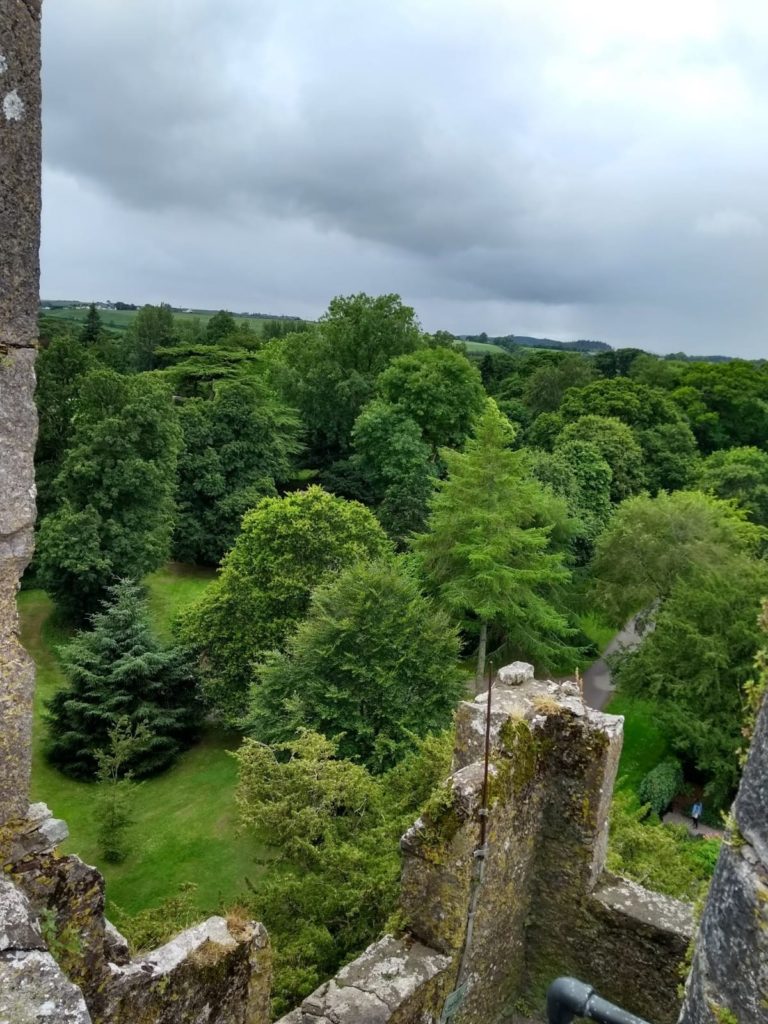 A structure, initially wooden, has been on this site since the 10th Century. In fact, the castle that today's visitor can see is the 3rd incarnation. This was built in 1446.
Legend has it that half of the Stone of Scone was given to Munster's king, Cormac McCarthy, after the Battle of Bannockburn, Scotland, as a wee bit of gratitude for the forces sent.
It's within the battlements of the castle's keep that the Stone's destiny was to lie.
Plenty to see
Giving the Blarney Stone a wee peck is only one element of the Castle visit. Firstly, There is Blarney House; a mansion built by the present family's ancestors in 1874 was a replacement for an earlier mansion. Next, the poison garden highlights the dangers and benefits of plants. Then, one can walk through Rock Close; ornamental gardens, laid out among the rocks, by St. John Jefferyes in 1767. The whole estate is big and can take quite a while to see.
Poisonous Garden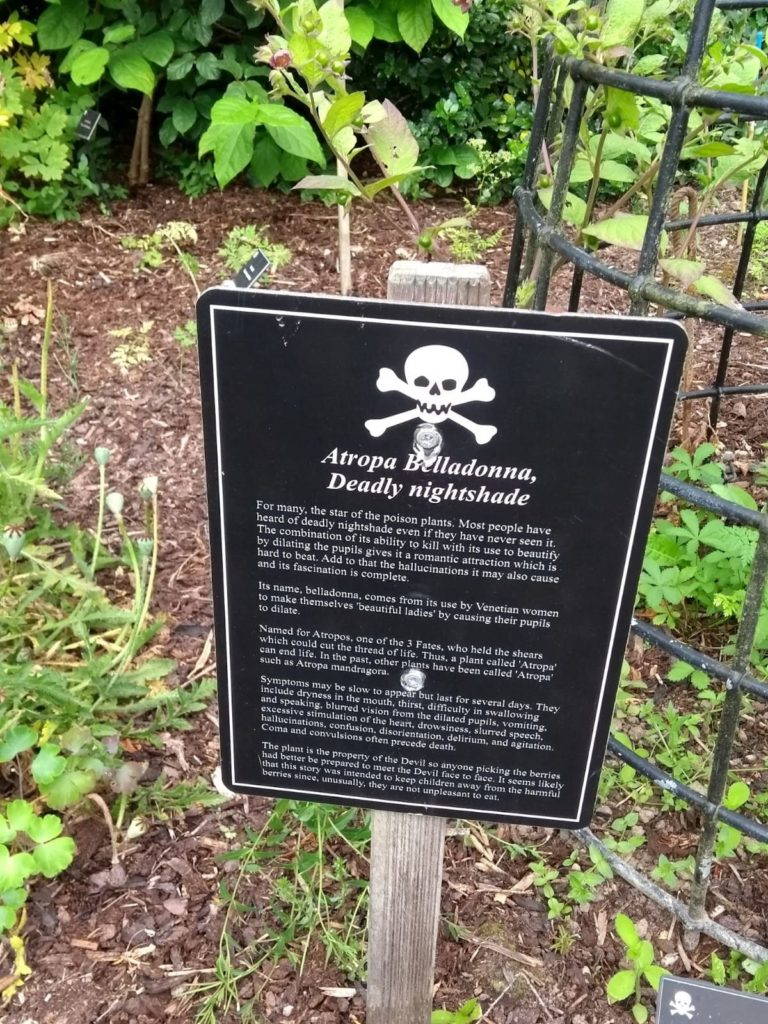 The castle's gardens are a very delightful and an elegant escape from city life. A Poisonous Garden does have a touch of the Macabre but it also highlights the health benefits of certain dangerous plants.
Most importantly, beware of the dangers on show in the 'Poison Garden', although its hard to miss the skull and cross bones of the signage at its entrance and against all the plants. Do not touch, or eat, would be a good idea! the signs are very informative.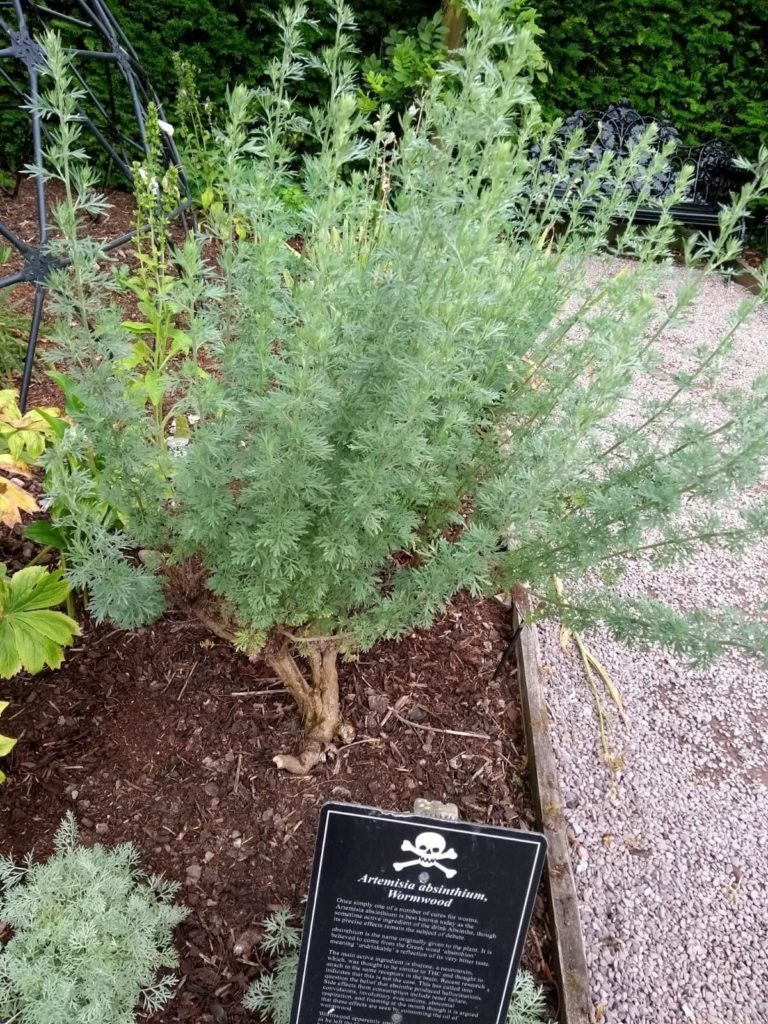 Rock Close
St. John Jefferyes, owner of the Castle estate, wanted to create a special garden area amongst the great rocks and flowing river.
Therefore, he planted trees and other flora to lay the foundation of an enchanting landscape that wows visitors to this day in Rock Close.
The area is dotted with mystical notes where ancient natural features are blended with intentional design. The outcome is a captivating experience that draws one along a magical dander and touches the primitive soul. Follow some of the wonderful highlights below.
Fairy Glade
The little folk love their glade and the homely connections within
Witch Stone
Feel the presence of the Witch of Blarney encaptured in this stone.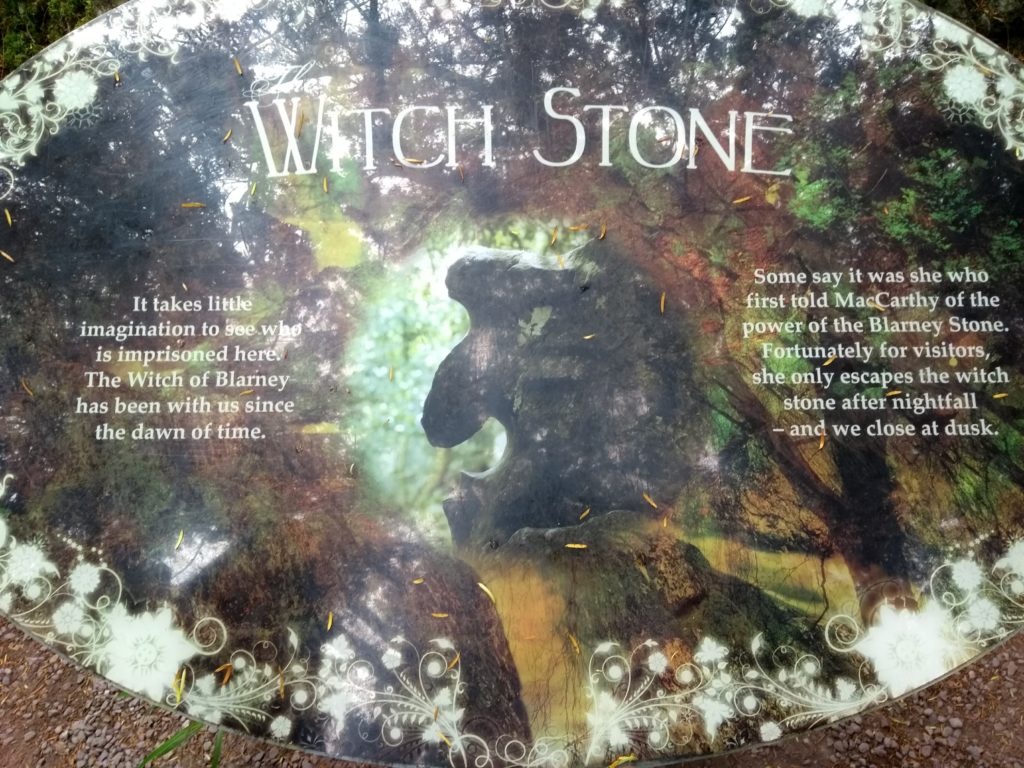 Don't be around after dark, though, as she crosses back into our realm!
Wishing Steps
Climb the wishing steps, backwards, with eyes closed if you wish.
Follow the ritual to have your wish granted by the Witch of Blarney. Be careful not to miss your step on the slippery stone stairs.
The Dolmen
A megolithic tomb portal. Feel the mythical power of the ancients.
Druid's Cave
A sheltering space
Witch's Kitchen
The Witch of Blarney comes out at night, it is said.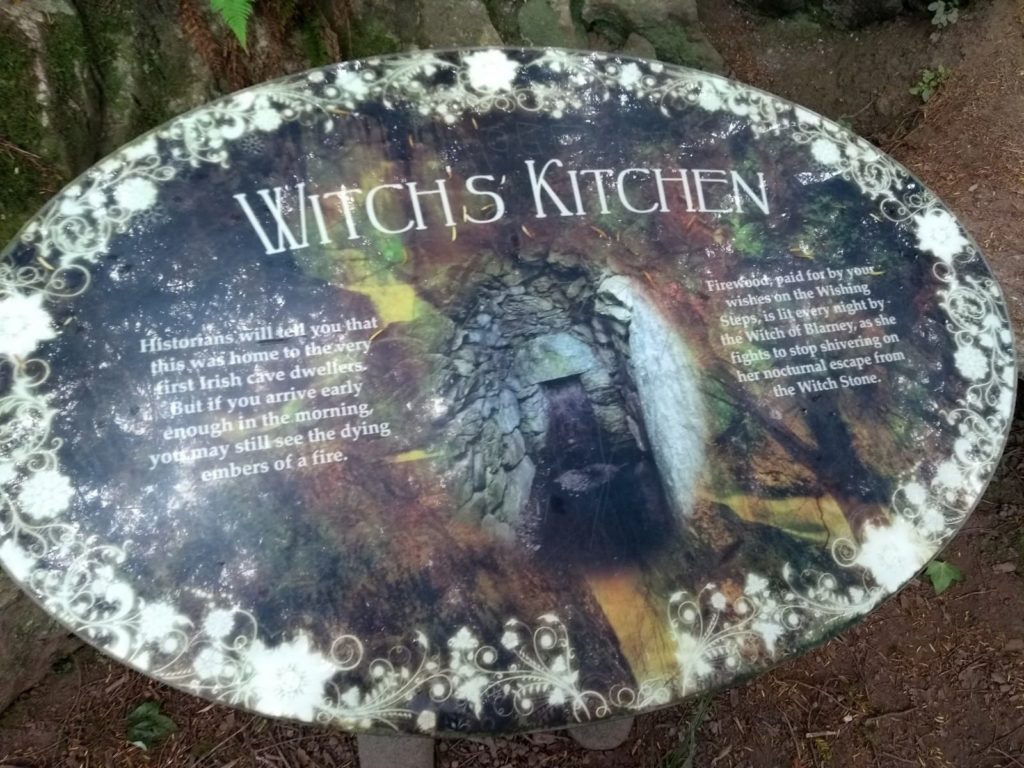 Gathering the wood, allowed to her by granting visitor's wishes, she will keep the shivering away.
However, be careful of the Blarney witch, as she and her coven could be hiding in the trees. That being the case, they are ready to pounce at anytime! Stealing firewood to heat up their cauldron in their witchy kitchen. Listen for the cackling laughter as the shadows creep in.
The sacrificial Alter
How will your spine tingle as you stand in front of this primitive Druid alter? Life and death are intertwined!
Spin your yarn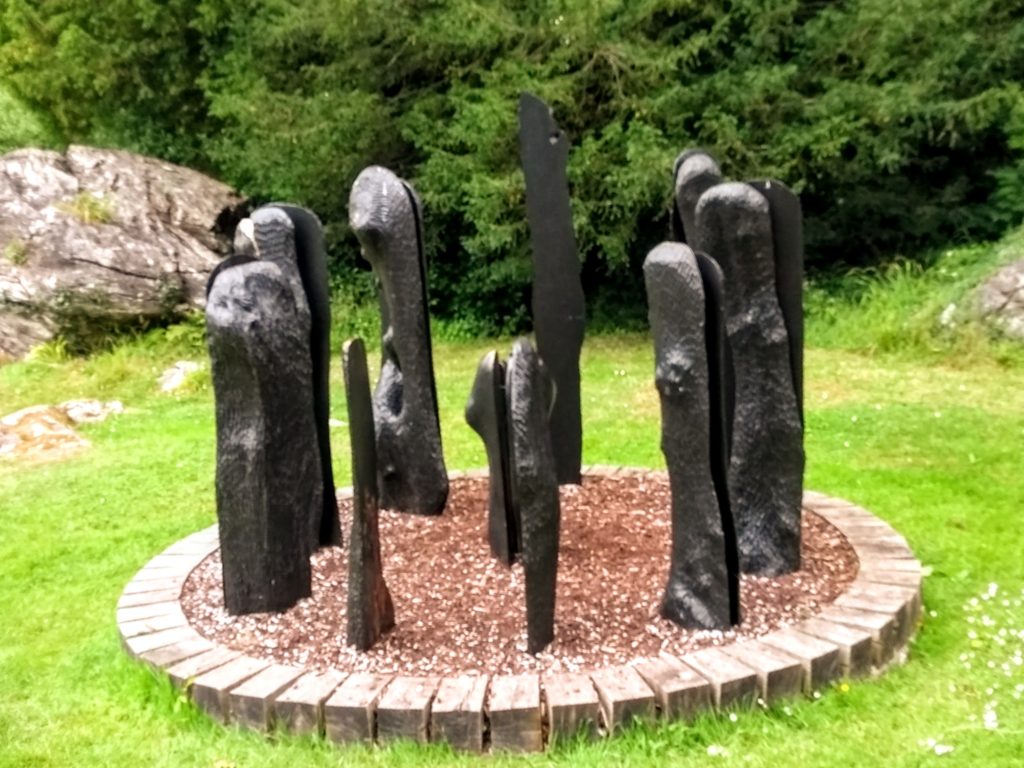 May be this is a fitting end to the tour of Rock Close and Blarney Castle. We hope you live to tell the tale, with a touch of the Blarney, enabling you to spread the varnished truth. Feel a wonderful story bubble to the surface and naturally escape those lips in such an easy manner.
West Cork – A trip down memory lane
One of the main reasons for coming down to the southern tip of Ireland was to visit my (Knox) Aunty Betty. My mum had lived here for a number of months when her mum was seriously ill. Betty, and indeed Uncle Pat when he was still with us, held a special place in our hearts. Intelligent and wise, while also being empathetic, graceful, and generous, Betty had a real down to earth quality that made one feel instantly at home in her cottage by the sea.
West Cork definitely had plenty of childhood memories for me. Moreover, it was great to make some wonderful memories of the place with Miko.
Barleycove
Just round the corner from Brow Head is the superb Barleycove beach, Cork.
It has a floating bridge to ensure you can always access, from the parking area, to its golden sands.
There is plenty of space to sunbathe or relax in peace. A drop of sunshine will certainly draw in the visitors but there is plenty of space for all.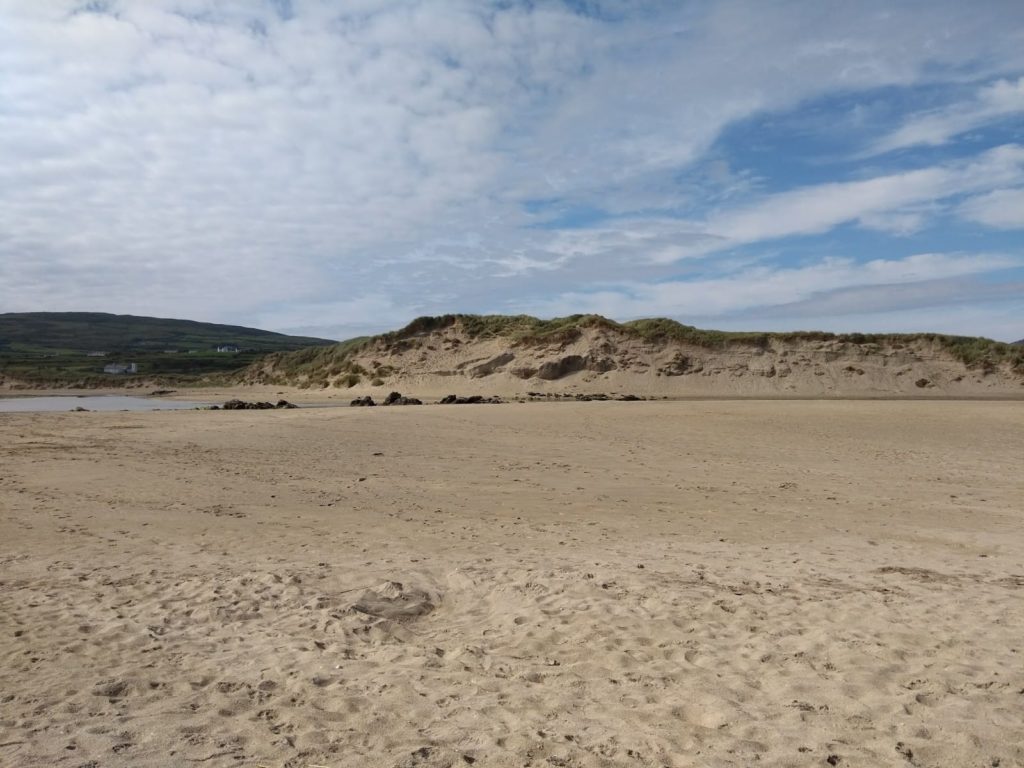 Organising a whole day here is not difficult to do as you will never stop admiring this stunning landscape. Let time pass you by and soak up the tranquility. It's a 2 hour drive from Cork City. Subsequently, one deserves to sit back and enjoy.
Schull – a picturesque village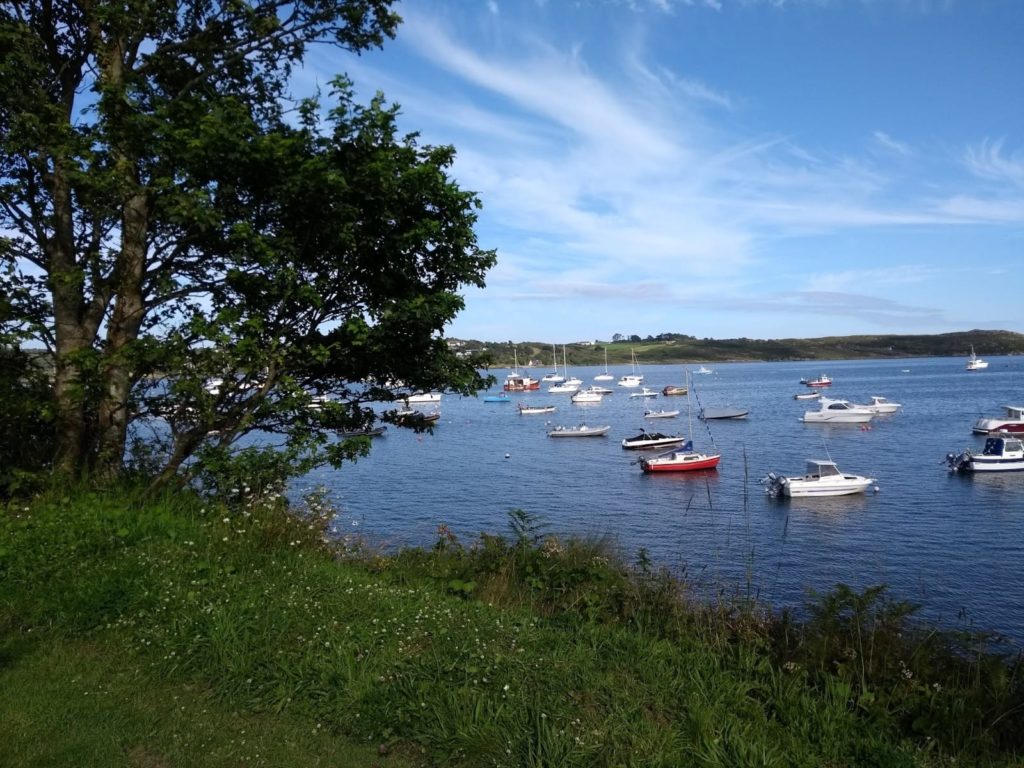 Well endowed with little fishing towns and villages, Schull, Cork is a splendid example along the Wild Atlantic Way. Its a charming place that has bags of character.
An idyllic town that comes alive with tourists in the summer season. It offers a quintessential, Irish coastal experience with lovely views, quirky shops, cafes, bars and restaurants to keep everybody happy.
The sheltered harbour offers pleasure in a picturesque setting, as well as good protection from the troubled waters of a storm. Trust me, the winter storms hit hard along this coastline! They are great to watch from the comfort of a toasty home.
Glengarriff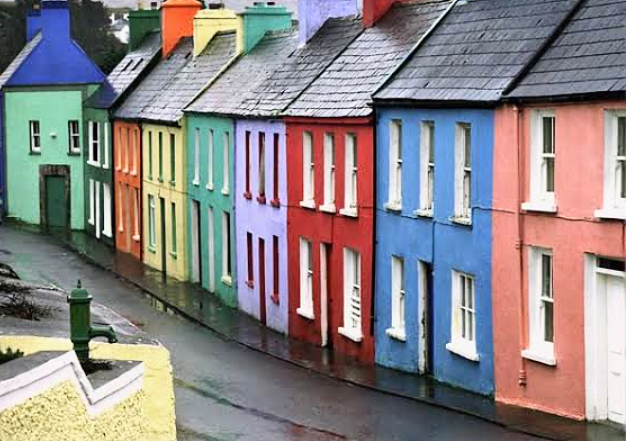 Ireland has a great wealth of stunning locations and Glengarriff, Cork, lives up to expectation. Rolling down from its very own Sugarloaf mountain, the woods trail to the village set on the northern shores of Glengarriff bay, an extension of Bantry Bay in Cork.
Its a charming, pretty place with its colourfully painted lodges and manicured flower pots and beds. There are plenty of activities, from walking to golf to seal watching, to do in the nature reserve and surrounding areas.
Magical Garden
You can drop into the whimsical Ewe Experience, Cork for an interactive art display set in a magical landscape of fairy woods and waterfalls.
Even if you aren't a kid, you will feel like you are one again, as you dance around the gardens in awe at this amazing creation.
You will be enchanted by the things you see on every corner.
It almost feels real, like you have been transported into another dimension.
Walk over the bridge to the sound of the trickling waterfall. And so, step into the enchantment and feel wonderment in your spirit.
Be careful, who knows what spells may be cast!
You could end up with hair you didn't have before!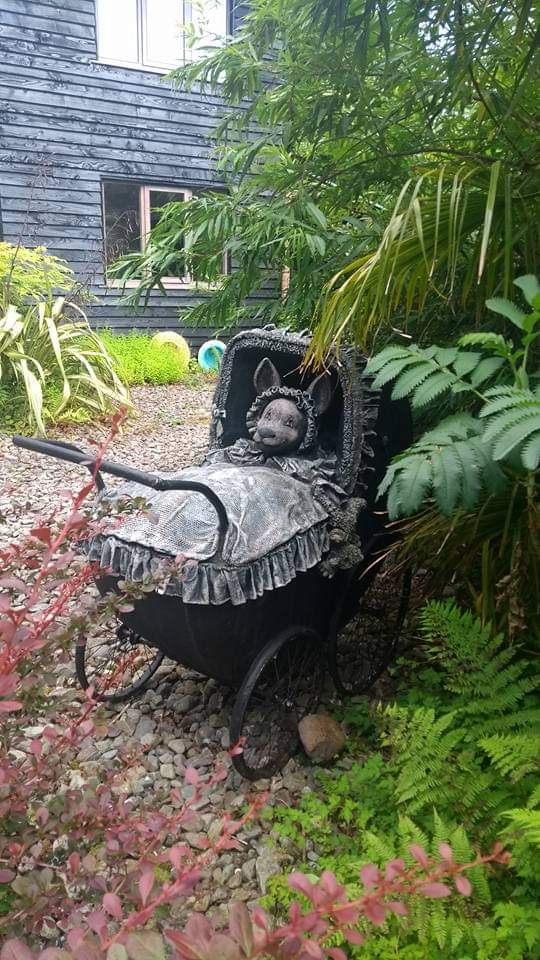 As well as being a work of sculpture, it is an oasis in nature, with lots of humour thrown in. Positively, it will have you grinning from ear to ear.
Entrance fees are:
Adults €7.50
Kids €6 (if walking)
Family (2 Adults + 2 Kids) €25
If you liked reading you may be interested in other places in Ireland, Donegal or Dingle!