Tulum beach – A creative dream
After a stay in Tulum town, it was time to hit Tulum beach. A busy, artistic, expensive beach setting filled with cabana styled resorts, nestled amongst the palms and white, powdery sand, and backed by lush jungle. What more do you want! The sea is a chaotic, seething mass of short, but strong, waves that hit you from all directions.
Getting there
In general, Tulum beach is accessible from Cancun, or other parts of Quintana Roo/Yucatan peninsula by road. The usual Bus or private taxi options are available. Buses will leave you in the town and then easiest to grab a cab.
Flights would be into Cancun airport then one of the transport modes mentioned to get you into Tulum beach. Travel time is about 1hr 45 mins – 2 hours depending on traffic.
Because we stayed in the town for a few nights, we simply got a cab. This is not always as easy as it sounds due to price. I had asked a bit before hand so I had an idea of what to pay. We negotiated, through the team in our town place from $300 down to $200 pesos.
There is a taxi stand outside the Super Aki supermarket, at the main junction to the beach (Cancún-Tulum highway & Av Coba.). There is a price board here with prices from that point to the beach hotels and restaurants. This means you can get a better idea on the correct price to pay i.e. $170 pesos to our hotel so a small amount extra to get there from our Tulum town accommodation. Only 20 metres from this stand drivers were charging anything from $250 to $400 pesos!
There are also colectivo minibuses that ferry people between the town and the beach, as well as further away (Playa del Carmen and Cancún), that costs $20/25 pesos. This mode has limited space, especially when busy, and may not be suitable for those with large bags. They also come onto Av Coba, from a couple of side streets, further down the road. It can be quite confusing as well as frustrating if the bus passed full.
Arty photo ops at Tulum beach
Holistika hotel
Holistika is in downtown, but worth a visit due to its peace vibe. When arriving at the hotel, follow the jungle trail to the most amazing art gallery, by International artists, surrounded by nature in this zen hotel space.
The mural art, Mayan quotes, and especially the huge Mayan head, were awesome.
Everywhere you look, you can feel the magic of the place.
It's quiet and relaxing and we were quite envious we didn't pick the Holistika hotel to stay in. Although, saying that, it would have been a bit out from the beach.
We left feeling totally chilled as we really unwound in this atmospheric place.
The cats seemed to understand too, as they lazed, flat out at the yoga studio. It's Free as well, so extra bonus!
Follow that dream
Tulum beach's iconic "follow that dream" sign is a fun photo op! Find it beside Lolita's Lolita's on the beach road.
What's up Doc?!
The Pink Bunny rabbit is another fun place to take a picture, or even venture into their beach club on an evening for a glorious cocktail. For non hotel guests, it is $50 per person. This covers day pass, along with food/ drink credit. Find at the Conetesia social club.
Ahau hotel at Tulum beach
Ahau hotel attracts lines of people for the brilliant, artistic entrance. This fantastic piece was created by South African artist, Daniel Popper. Known for his figurative sculptures. This particular installation means 'Come into the light'. We got there 7.30 am and a small queue had already formed. Some took a lot longer for their posy Instagram snaps. There was no messing about from us lol
We'd definitely recommend going early to beat the crazy long queues.
Eating and drinking
Matcha Mama
A cool, colourful little place, Matcha Mama, sells fresh juices, acai bowls and cold pressed coconuts. Very reasonably priced for Tulum standards. Sit on the white swings and watch the world go by. I love Tulum so Matcha!
I Scream bar
I Scream bar, is a fun place to have an evening out. It also sells delicious vegan ice-cream, exactly what you need at Tulum beach as it is absolutely sweltering! The passion fruit is to die for!
The bar is designed using parts of old VW pieces and other vehicles. Very artistically done. Even the menu is an old sun visor! Beers are reasonably priced. Staff good humoured. (Check out their WiFi password) lol
Kitchen table
For some fine dining we decided to try the kitchen Table restaurant. The setting was dim lighting, with candlelight on the table. Chilled music, vocal, blues, and other styles, wafted through the air at a sound level that was conducive to easy chat. Hector, Bernise, and the bar crew were all very good and attentive. We could eye ball the chefs, in the kitchen hard at work, from where we sat.
We ordered two starters, Jungle Sourdough with lima beans and a KT Sope. The mains were Butternut Calabaza and Vegetarian Wonton. Dessert was the Salted Caramel and crumbled nuts. All washed down with excellent Vino Blanco and Tinto and a couple of yummy Mezcalitas.
The natural flavour of the butternut squash was good and the veg wonton were well constructed and herbalised. Adding the caramelized onions and cheese to the Wonton dish really enhanced the flavours to the next level. Absolutely delicious.
All in all, the meal was delectable and well worth the experience and money, especially at Tulum prices. The kitchen team gave a big whoop when we showed our appreciation to them.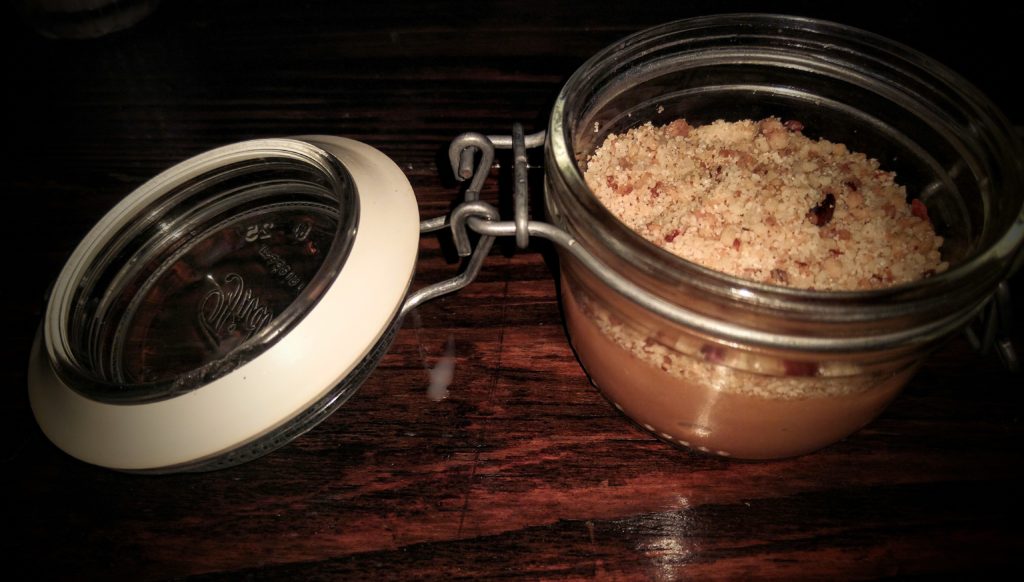 Mamasan
Great little bar / restaurant. Mamasan has a lovely breezy roof top bar, which cools you down from the humidity. Wine and beers are reasonably priced compared to the majority of other places in Tulum. Staff are friendly and approachable.
Accommodation at Tulum beach
CoCo Hotel
Tulum beach is far from cheap, but we pushed the boat out a little to stay in CoCo. We opted for the Zen part of the hotel, with jungle views. Coco has two; their beach club and zen rooms. As we are complete beach bums, we thought this would be a nice change.
The Zen ideal of this part of the hotel also appealed to us. Expectantly, we imagined winding down, swinging in a hammock to the sounds of the Caribbean sea and the breeze rustling through palms. Ah, relax in peace and breath in the tranquility. On arrival, the 'Zen' vibe bubble was burst by the monotonous pounding of EDM, emanating from the neighboring beach club's speakers (not CoCo's), vibrating through the cabanas walls and floor. They had definitely brought the BASS.
A chat with Martha, the manager, moved us to an ocean front cabana for the first night and then into a different garden cabana for the following two nights. The music was still audible but at least bearable. The beach club was newly opened and it was easy to see that Coco have a difficult issue to deal with. However, it did affect our Zen. At least it stopped around 7pm.
We really did though enjoy the ocean front room. It was bliss to finally lay on the hammock swaying gently in the breeze and listen to the waves of the ocean.
Or, if we got fed up with the hammock (never), we'd pop ourselves on one of the sunbeds and lap up the rays.
The iconic white beach swings and bar at Cocos beach bar was also a great way to swing the time away.
The next afternoon we moved to our spacious garden view room. The rooms were lovely enough, simple, and right on beach, which was a bonus.
On the road again
We got our usual taxi pickup with the same cab company, Miguels Holbox taxi service, when leaving Tulum beach, that we have used throughout Quintana Roo. They have been reliable, drivers are lovely and we would highly recommend them! They drove us the 2 hours and dropped us of at Cancun airport, where we got the short flight to Mexico city.
We stayed at the Fiesta Americana hotel at the airport, getting an upgrade of a junior suite which had awesome views from the shower! We were basically back were we started, three and a half months ago, when we began our journey in Mexico. In our original itinerary we were only supposed to be in Mexico less than a week! We actually cannot believe that we only give ourselves a week in this great country!
There is so much to see and do. Indeed, we even fell in love with the free spirit of Sayulita. A lot of people can be put off what they read in the news about Mexico. But it's like anywhere, you just got to keep away from the dodgy areas and not go looking for trouble i.e. don't go near drugs or get in sticky situations. Also, do not wear jewelry or flash your phone about in public. We always felt safe. For now it's Adiois amigo and onto brand new ventures.