Mexico part 1: RTW travel gets started
We have arrived
Waking up in the hotel room, I could have been anywhere. It was a specific choice to have an ordinary place as we transitioned into our RTW travel. With a food mix-up, we had got to sleep later than expected and still felt tired after our 30hr jaunt across the pond.
I knew I was somewhere different, due to the vast change from our Naxos idle, but I was still in a daze. Today we had another flight to catch so I had to organise breakfast.
Exploring the city
Venturing out of the hotel awoke my senses. In a supposed lockdown, Mexico city, our little segment close to the airport anyway, still had plenty of vibrancy.
I felt a twinge of Indian city life recognition as I dandered up the street. The warmth was warmer than Naxos for this early morning but not quite up there. Car horns filled the silence on the slightly chaotic, busy and dusty roads. Power lines hung low and limp, that would have given a health and safety officer palpitations, and vendors tapped into the source at supporting posts etc.
Street stalls, selling Tacos, tacos, and more tacos backed up against the wall as they lined the pavement. Of course there were other things for sale, like toys, soaps, and other market trader goods.
I went about my tasks. At the Oxxo, I got my mexican SIM card but didn't get any croissants or savoury pastries.
A visit to the electronic store failed to overcome the power problem for Miko's hair utensils.
The small fruit shop offered fresh oranges, apples, bananas etc for a colourful fruit breakfast. Lastly, at the fruit juice stall, I watched amazed as the vendor concocted the liquid refreshments for customers.
I had to have one. It was delicious. RTW travel still has its chores. Our first step into Mexico was complete.
Acapulco
It's a tune
On our original RTW schedule, we hadn't thought much beyond the Yucatan Peninsula, and even then it was only for a few days. Circumstances create different paths and we had to think differently and recreate. With humour, we thought of what we knew, geographically, about Mexico.
Our minds swung to the Four Tops, and their going Loco song, as Acapulco forced itself front and center. Negative reports over the years intrigued rather than putting us off.
RTW travel involves plenty of work. Researching accommodation, booking one way flights, we were set on an updated adventure.
A month would be spent investigating, acclimatising, and allow us to make up our minds on our next move.
The surroundings
Dropping down, along the main highway, from the mountain the beach side metropolis stretched out along the curved Acapulco bay with its shore side hotels reaching for the sky.
The city felt colourful and energetic. Beat up, blue and white, South American made, VW Beetles were a prevailing site even with plenty of less old, but still beat up, Japanese imports having filtered in since Beetle production had stopped around 2003.
The simple life
The connecting theme for these vehicles were the dents; some parts held together by tape or string, and the simplicity of people trying to make a living and being as much their own boss as possible. This was the main tourist strip.
We returned here for some time out, including a delicious meal in a Vegan Restaurant and a trip to an Irish bar that was out of Guiness.
We drove 10 mins past that to head to the La Pinzona area on the hill above the small, now cleaned up beach of Manzanillo. Here a good local flavour enriched the area as music wafted around the undulating hills that split the bay from the Pacific.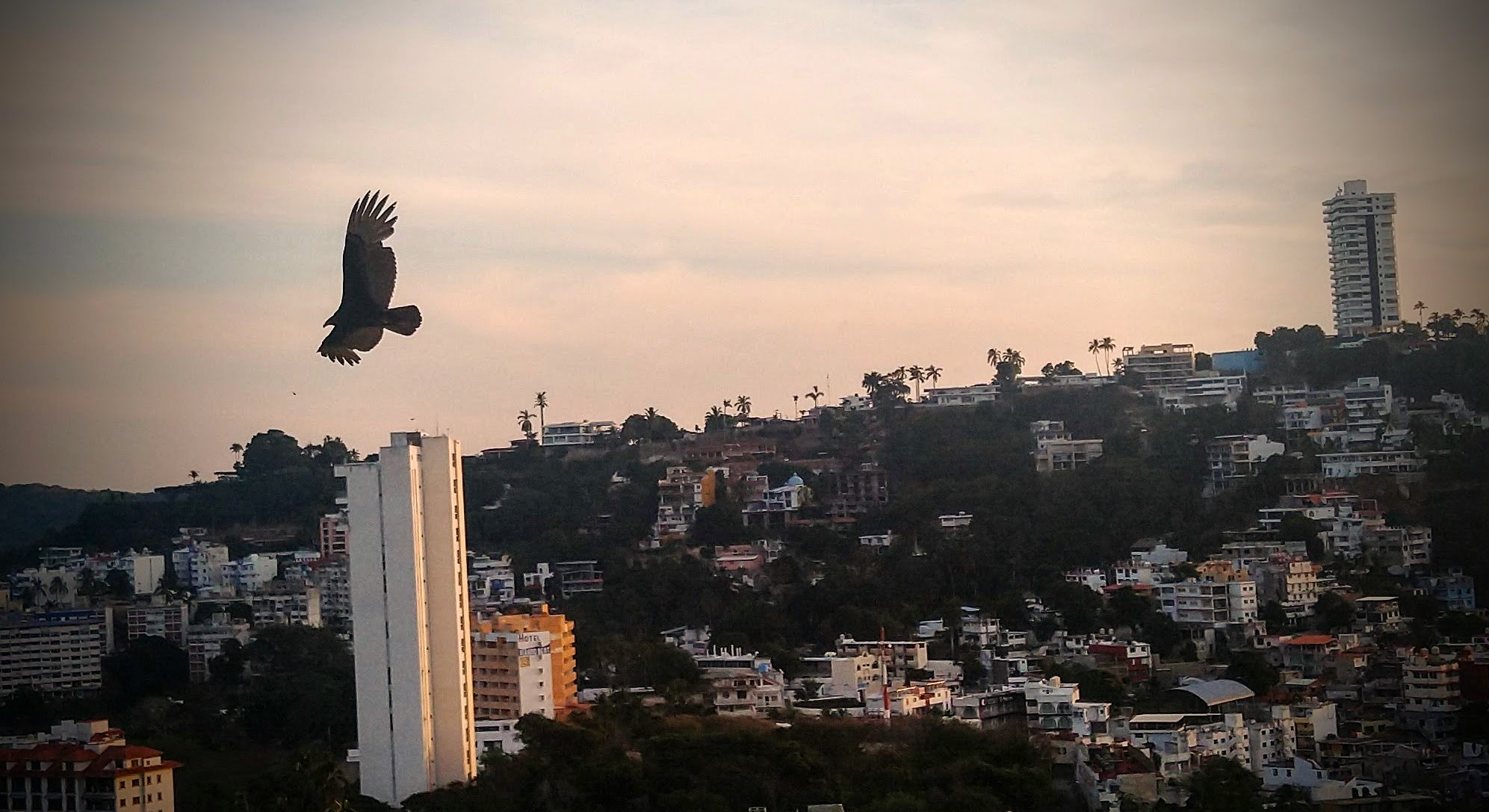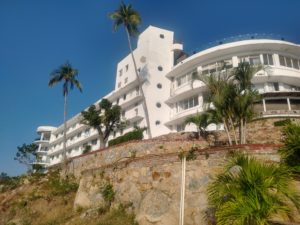 Our casa for the stay was a small studio within the faded grandeur of the Casablanca Grand Hotel.
Feeling like a movie star
It was a favourite haunt for movie and music personalities of the 30s through to the 60s. Bogart, Sinatra, Elvis, Hayworth, the Beatles, and many more had stayed there. Whitewashed walls, art deco balustrades, manicured gardens, and pools welcomed us in the hot sun shine.
The place was still in the middle of a revamp with many of the studios and larger suites still being worked on. Our balcony did offer some fantastic views and we were rewarded with more astounding sunsets.
This is where we were due to spend a month before venturing further into our RTW travel with expeditions to other parts of Mexico.
Run the world
My morning running gave me a good sense of the area around. It was tough going as the steep hills zapped the energy quickly, with the sweat dripping, along my route. The mix of scenery was great. No beach on the trail I chose but plenty of stunning beauty and local life waking up to the days of perpetual summer. A sharp decline followed by an easy up brought me to the famed La Quebrada and it's rocky, cliff drop shoreline that meets the vast Pacific Ocean.
Keep on going
I followed this for a while in an up and down fashion before turning back inland and through a few down to earth neighborhood streets, waking up with sleep clearing their eyes, a buzz of activity around the opening shops, school runs, and workers heading to their day.
There were plenty of smiles and "Buenos días" as I breathed in the life. I jogged along the busy, horn filled, main road before turning back up La Pinzona.
The arduous finale to my run took me steeply up through a fairly wealthy, middle class, neighborhood that still had touches of ramshackle dishevelment along the dusty road and parched shrubbery.
Most dogs barked their greetings and thin cats shied away too, unlike their Naxian cousins. It looks like this RTW travel will be a run around the world for me.
Brave divers or absolute headers?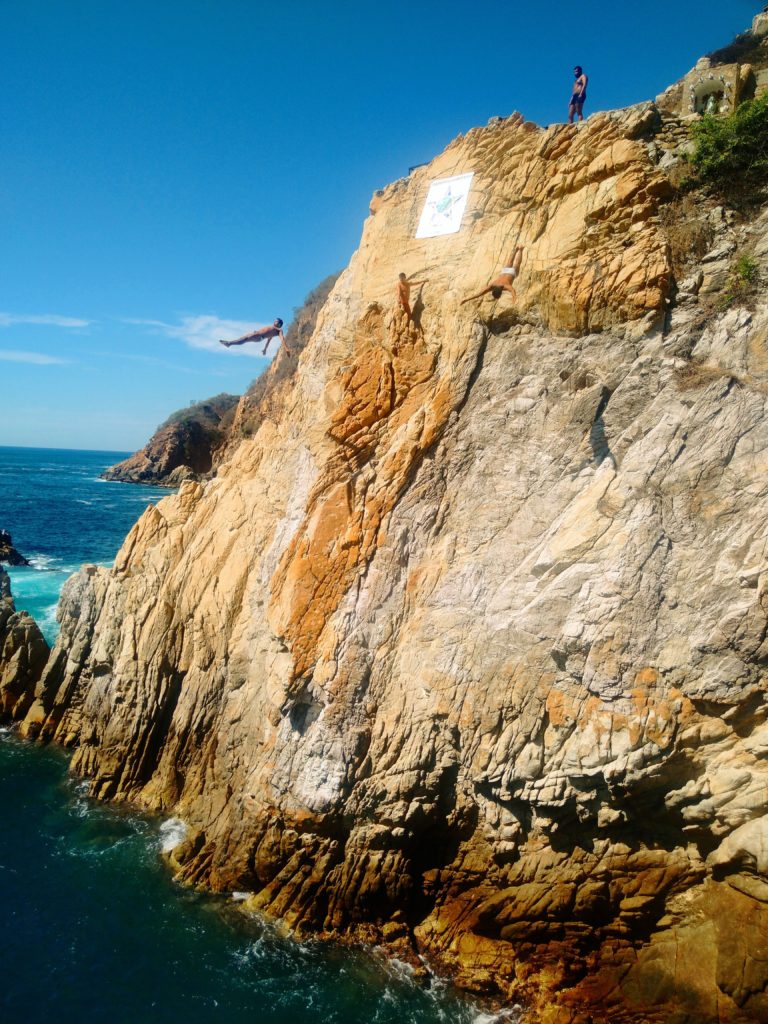 We would return to La Quebrada numerous times. Not only were the views fantastic from the cliffs, but it was the site for some of the bravest (or stupidity depending on one's point of view) thrill seeker pursuits out there. The local club put on daily day and night shows for the 'cliff divers' to showcase their crazy plunges.
Anticipation
We took in the early afternoon extravaganza. The light crowd gathered.
Thankfully we chose a weekday rather than the jammed weekend throng. A good viewing spot was easily attainable and the excitement grew as the clock ticked past 13.10.
Then a ripple of applause as the divers sauntered down the steps behind us and over the wall to the rather lower drop on our side. One by one they gave a quick dive into the blue water as it swelled in towards the shore.
The water's depth must have been decent as the cliff opposite was about 100 feet high. The guys swam over to it and climbed out.
It was all very normal and easy going for them as they chittered away to each other, casually ascending the sandy coloured, jagged bare rock face to get to their different jump points. A few went to the top before climbing back down to about 80 feet to leave 1 brave man at the top.
Showmen
The show was as much in the wait and the building anticipation with a bit of diver humour, playfulness, acting up the crowd. Us onlookers were enthralled by their antics in this most serious of endeavours.
A few crosses and prayers and the guys were ready. The first whipped up the excitement before taking a simple leap and arrowed with a splash into the water. The next guys dove together, with twists and somersaults, from different rocky platforms. Perfectly timed as they broke the water together.
Don't judge a book from its cover
The finale was the big lad up top. He was less athletic looking than the rest but he sprang from the highest point and twirled his way to plunge safely into the water amid rapturous applause. The appreciation for the divers was clear to see as onlookers got photo ops when they climbed back over the wall on our side to head back up the steps. The guys were happy to oblige with group pics.
Playa Diamante: Disconnected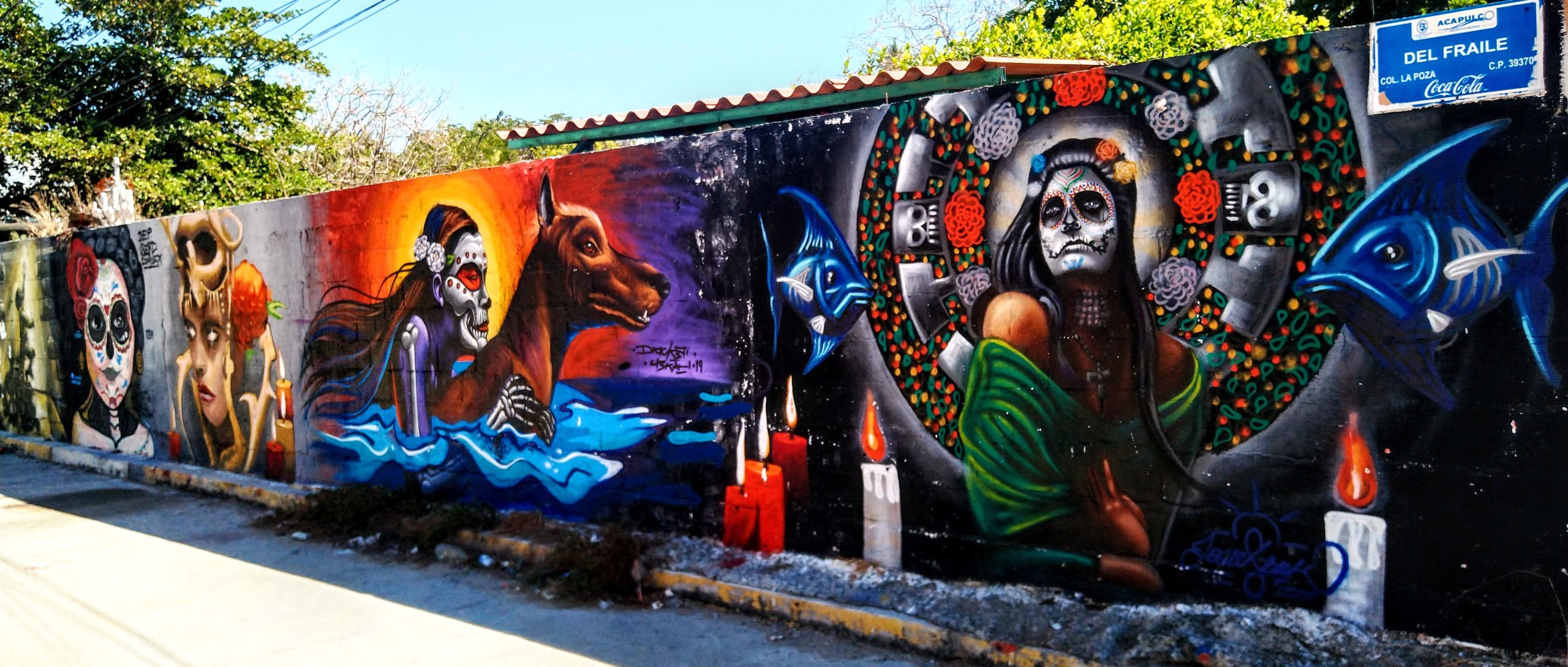 We were supposed to stay in Casablanca Grand for the full duration. A few things about the apartment and the service to the room went array but we were dealing with it.
The move
The owner, un-asked, took it upon herself to move us to another apartment in the Punta Diamante area South of Acapulco. RTW travel has its trials and tribulations.
The apartment was bigger and in a gated community where 4 separate blocks of apartments and townhouse complexes faced in on their respective pool area. The whole development was set about 800 meters back from the beach on a long, 3 lane each way, boulevard.
A lot of the properties sat vacant while we stayed. It felt like a mix of retirement village and holiday resort.
Disconnect
There was a big sense of disconnect. Everything was a long walk away, which is not ideal in the heat, and the way down to the road behind the beach was via 2 long avenues. It was generally well kept but felt like a play thing for the wealthy as the golf resorts took over.
At the end of these avenues was another long boulevard with a stretched row of tall condominiums blocking the way to the beach.
The beach
Luckily for us, a small alley was close by that allowed for access to the "Public" beach. These access points were few and far between. The beach itself was long and wide and good for use but little in the way of shade other than using one of the hundreds of cabanas that were rented out.
There was little in the way of chilled out beach side bars and restaurants as the monstrosity condos took over.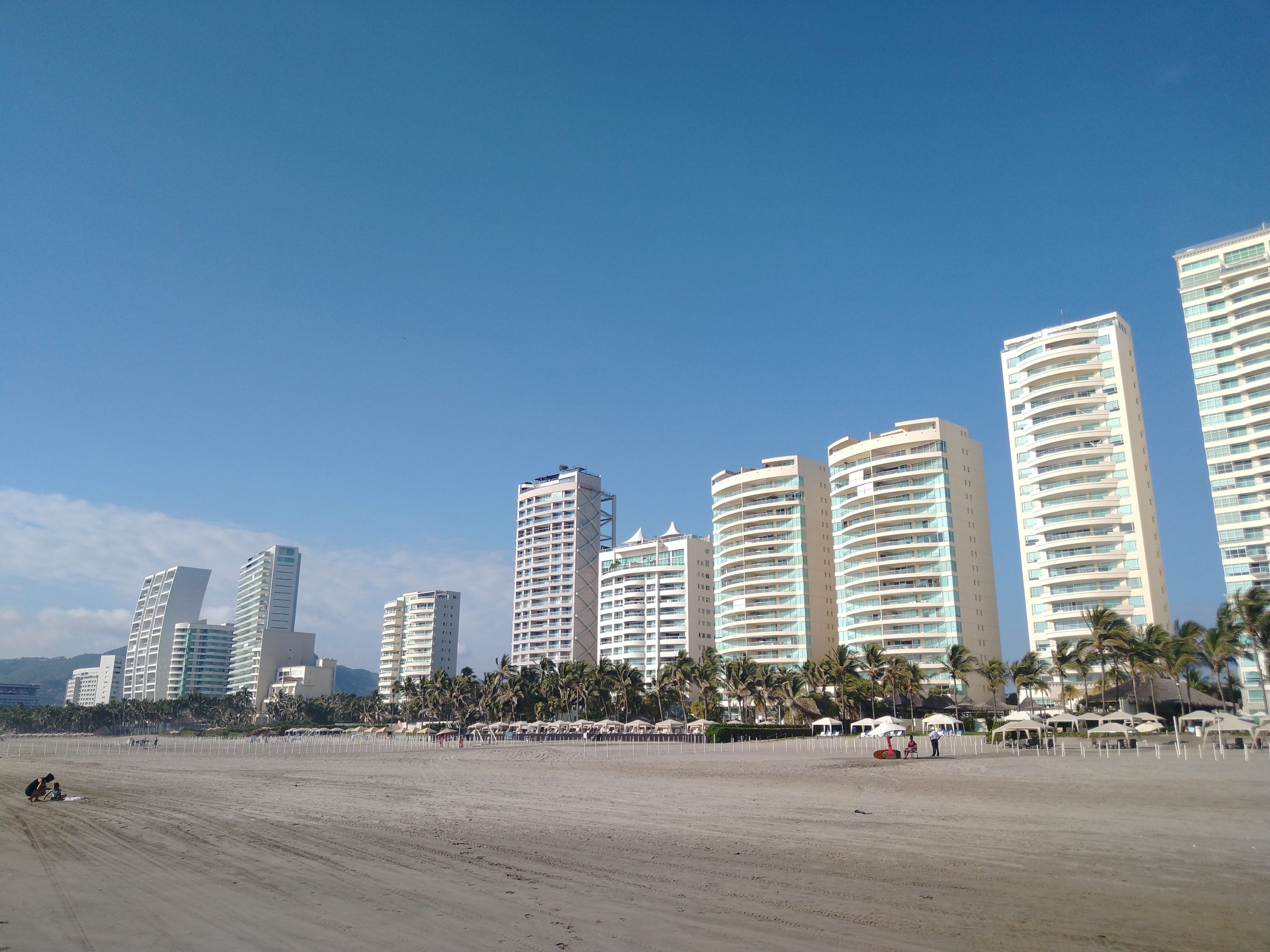 Still the weather was great and we utilised the facilities we had. I had a new route to run and the beach played its part.
Turtles
We also saw a large sea turtle Lay its eggs. Then, not necessarily connected, a week or so later about 20 newly hatched turtles were released. It appears, to conserve nature from being destroyed on a busy beach, that if a turtle lays outside a condominium's zone on the beach then they have a program to harvest the eggs, help them hatch, and then organise for the turtle release.
Sods law dictated that I didn't have a camera on hand for both of these events. It was wonderful just to witness them up close, but still at a respectful distance. We love the new experiences that RTW travel gives. The more you travel the more you get.
Football Fantasy
It was a family day out as parents and supporters picnicked on the sidelines and opinioned their views on the game.
I noted, even with my obscured view and distance, that the teams were a mix of girls and boys. A good start to learning equality. The clouds reduced the temperature a degree or so to make running around a tad cooler. Part of me was glad I didn't have to run around in that heat.
The other part was envious as I am itching for a game. Anyway, there wasn't much goalmouth action to the second game and it finished in a draw. A winner, it seems, was to be had as they started a penalty shootout.
It was different rules than normal because it went well past the normal 5 kicks each. Greens would have won at this stage. They still did later as it seems most of both team's players got a go.
Still got it
As a footnote to this, I got to kick a football around a couple of weeks later on the beach. I saw some lads having a kick about and asked to join in. Miko rolls her eyes as I struggle to walk past a ball without wanting to kick it. I'm like a big friendly dog in that respect 😂.
They said yes and we had 10 mins of passing in a triangle, fancy flick attempts, and unexpected hoofs down the beach 🤦‍♂️. Pueblo and Emiliano were good craic and seemed to enjoy it. Still no game but great to feel the football at my feet.
My mates would tell you I'm still useless but that's okay 🤣. I will kick a ball about as much as I can at each destination on our RTW travels.
Horse riding on the playa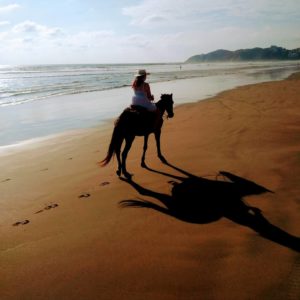 Animals have always made me relax (Miko). Forget the bite and scar still on my knuckles from the scruffy Westie when I was a kid, it didn't deter me from what animals have to offer.
When Rosco and Santiago trotted up to me on the main road in Punta Diamante, I was smitten, with Rosco off course, even though Santiago had that kinda moustachioed, Mexican charm. Rosco was white with bright blue eyes and gentle as they come. I arranged to see them in the next few days for a ride.
Getting familiar
I was not to see my Rosco again unfortunately, but there was Santiago waving madly as we walked towards him in the distance on the long stretch of Punte diamante beach. He was with two brown mares and his moustachioed mate, Pedro.
Before the ride, I whipped out an apple and gave Knox the orders, in true Irish 'wifey' fashion to cut it in pieces with the knife I'd brought with me. Rosa took it off the flat of my hand gratefully, dribbling while chewing slowly, savoring every mouthful. Rebecca wasn't interested, and spat it out in disgust. (I knew I should have brought a carrot too)!
Haggle
Haggling pursued for the two horse rides. We settled on £33 (900 pesos) for 2. I took Rosa since she seemed the most grateful of the two.
The thrill of the ride
Pedro helped me up. It was a while since I'd been on a horse. In Ireland it was much different, with their safety precautions and gear. Here I went barefooted with a ponytail flying in the wind. Santiago and Pedro walked behind us, as Knox and I trotted on.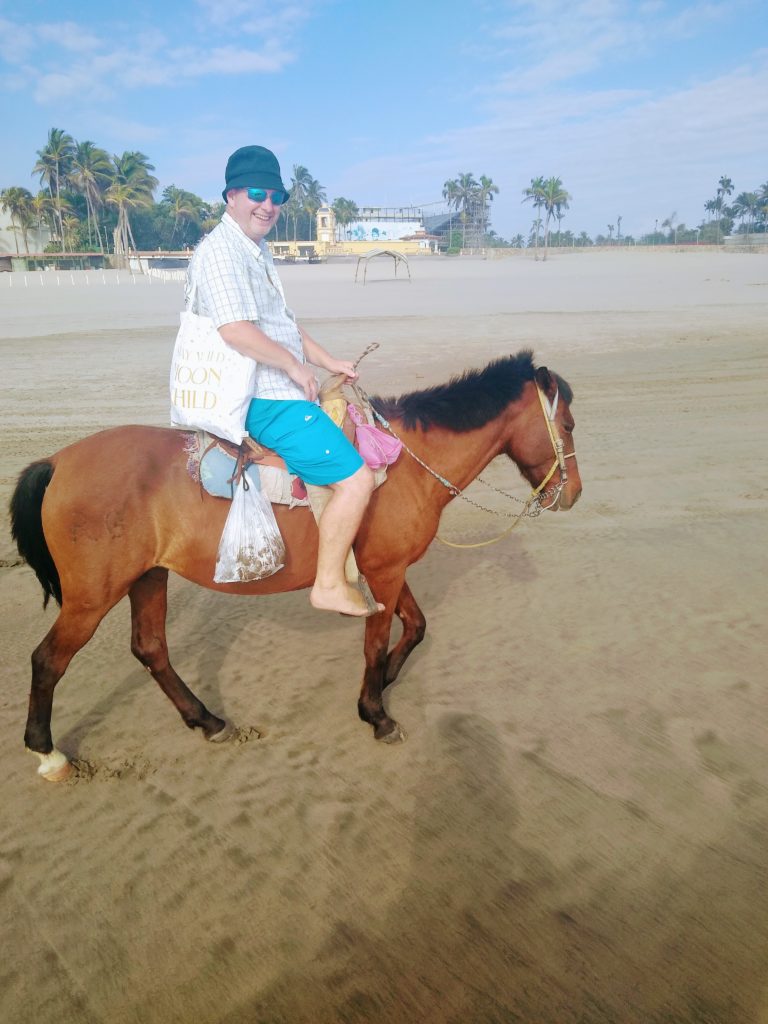 I had to chuckle at Knox carrying my moon child bag over his shoulder. Ever the Irish gentleman! So much for me getting the easier to handle horse, as she wanted most of the time to go in the opposite direction I wanted to go. Still she was a gentle soul all the same and with my poco Espanol and her Poco English we got lost in translation a little.
Living the dream
Punta Diamante stretches for miles. The hotels and condominiums are set back from the beach in overwhelming monstrous statues. Some penthouses sit sky high with palm trees, pools, and bars to privately entertain in their own little worlds.There is enough sandy space for sunbathers and people watchers. Rosa and Rebecca walked close to the waters edge. It had been my dream for as long as I could remember, to horse ride on the beach.
Gangster?
As I relaxed into the ride, I wondered what the large bread type knife was doing poking out of the saddle. My imagination ran away with itself, putting Santiago and Pedro as two Mexican gangsters with tourist attractions on the side. Pedro saw me looking.
"Whats the knife for?" I asked.
"Coconuts!" came the easy reply.
"You coconuts in Irlanda?"
"No, too frio". We laughed, at the ridiculousness of it, or maybe it was my bad Espanol!
Price
The ride was approx 30 minutes and we offered the agreed price along with a tip, making it up to £36 (1000 pesos).
I'd recommend anyone to do it, whether you've been on a horse before or not.
Office location
There was no website or contact number for the vendors. Its just a case of seeing them on the beach.
They are not usually there too early unless they expect a busy day. The memories will stay with you forever from these RTW travel escapades.
Earth moving
A brief shake, of about 12 seconds for 4.3 magnitude quake, brings to the fore an infamous feature of life in Mexico. There are hundreds of quakes in the country every month.
In January alone, there were 140 approximately of magnitude over 4 on the Richter Scale. Thankfully most of them are light but over the years larger quakes have brough devastation to parts of the country.
Poltergeist?
I (Knox) was sat on the balcony and heard the rumble before feeling the light shaking. Miko was in the bedroom when the bed started to quiver and the doors of the wardrobe banged open and closed. She thought it was a poltergeist 🤣👻.
She came dashing out to me to ask what had happened. It took a while to relax again. That was Miko's first experience of a tremor. I had felt a loud crack and shudder during one of our first few nights. It shocked my mind but settled immediately. Miko had slept through it.
There is every chance we may experience more. A definite RTW travel hazard but we are here to experience and that's all part of it.
RTW Travelling during Covid 19: