Back to Sayulita, Mexico
Life at Sayulita beach was one of our favourite parts of Mexico and the trip. Therefore, it made sense to go back as we work out our next move.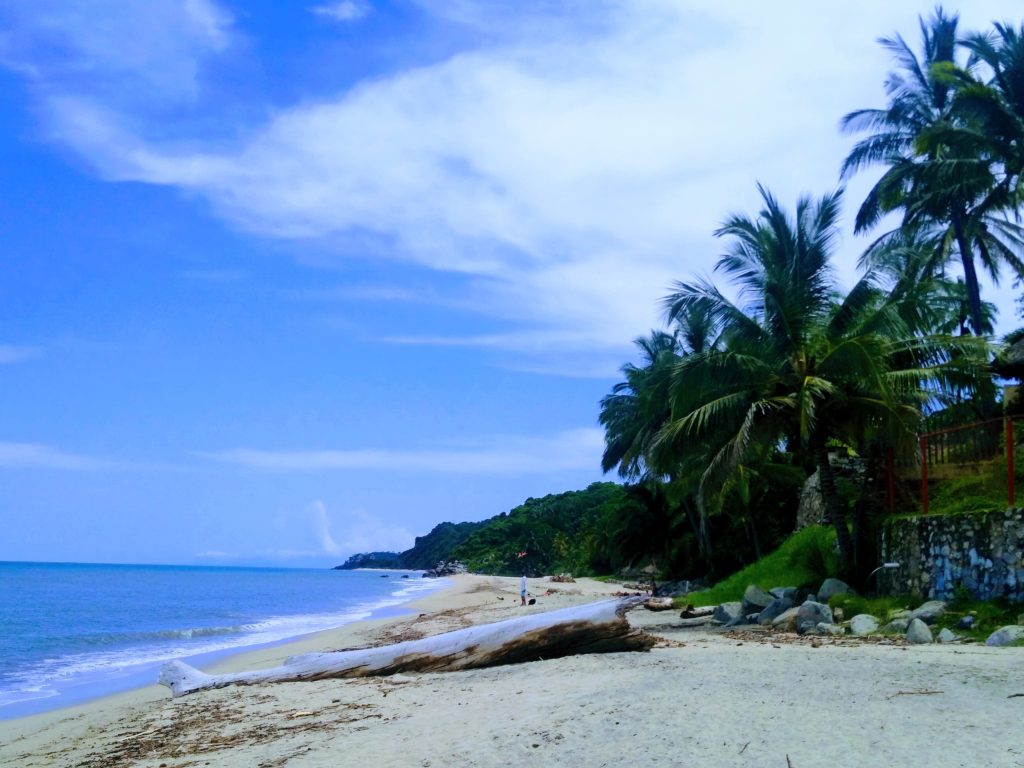 Decision making
After our whirlwind trip of the states, it was time to make some decisions. We adore being by the seaside. It was impossible financially to stay in the USA, even though we absolutely loved staying in Fort Lauderdale. We did research some APTS, but they weren't in our budget, so we needed to go. Our options were limited due to ongoing restrictions on movement between countries so we decided to enjoy a bit of life at Sayulita Beach.
Exiting the USA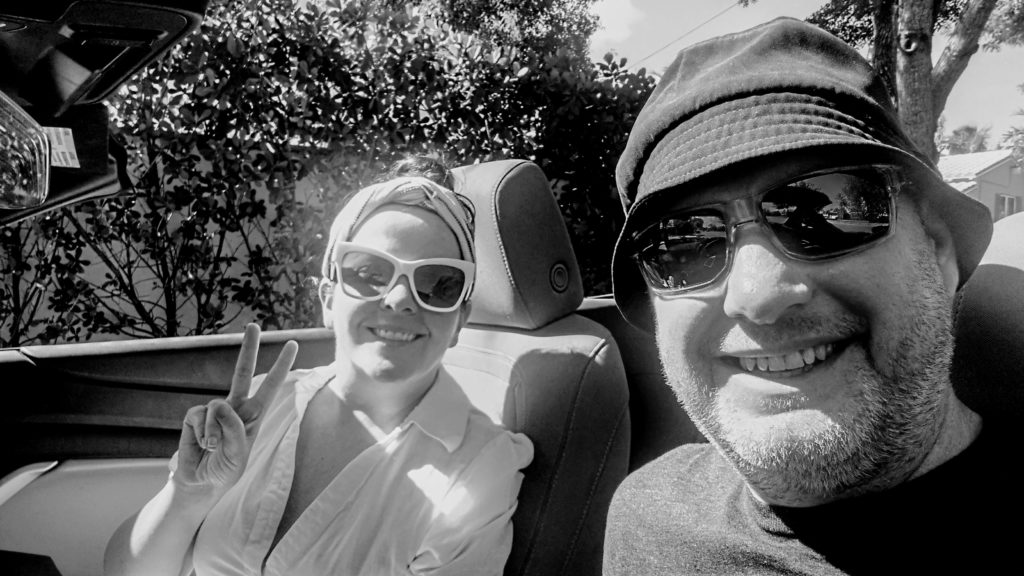 To return to life at Sayulita beach, we had to consider the optimal route, both ecomomically and efficiently, to fly us into Puero Vallarta. Before entering the USA, we had bought tickets to Nassau, Bahamas with Frontier Airlines, but we weren't prepared to go as we don't consent to their entry demands. We had specifically paid extra to have a fully refundable ticket in case we needed. In the end, due to compensation from Frontier airlines for two battered suitcases, caused by an over enthusiastic customs officer during a random search, we decided to use the funds to fly with them to Mexico.
Economics wins on our return to Life at Sayulita beach
It wasn't the most direct route, and would mean an overnight layover, but it was the most economical, even with a hotel cost. With focus on our budget, this is why the most economical route won the day. We would fly from Miami into Cancun with Frontier. The next day, we would then cross Mexico with AeroMexico to land in Puerto Vallarta. Finally, a car hire had been organised with Avis and this would allow us to make a supermarket stop. As well as food, a cooker, pots, and utensils had to be bought. Our life at Sayulita beach had to be on a more homely basis. That meant cooking most of the time rather than eating out.
Hola Cancun
The flight from Miami was quick and easy. We had a one night stop over in Cancun, a party town we visited before, at the Fairfield Inn Airport hotel. We were dubious about staying there due to the bad reviews, but other hotels close to the airport weren't much better. The main issue was about the free shuttle bus. We ended up bypassing that and negotiated a reasonable, for Cancun airport, taxi fare of $20 US. It just saved time, hassle, and stress. We didn't have our Telcel Sims up and running so we had no way to contact the hotel.
Adequate hotel but rubbish shuttle
The hotel was fine and did the job for what we needed. We lounged by the pool for a while and had a few drinks. The next morning, we made use of the complimentary breakfast before going to meet the shuttle. There were others waiting. And, we waited. Then, we waited some more. It was always will be here in a few mins. A taxi bus turned up but, it appeared, no one had ordered it. We asked how much and shared with a Dutch couple. We split the cost of $300 pesos – £10.75 / $15 approx. Again, we avoided the stress and just got on with it. Who knows when the Free hotel shuttle turned up?
East to West Coast – Our flights to life at Sayulita beach
I think if we had waited for the shuttle then we would have struggled to get our flight. The main queue at check in was massive and very slow moving.
Luckily we had Am plus class, which gave us priority check in. It was slow too but at least only a couple of people were in front.
Delays!
At the counter, the clerk explained there was a delay to our flight. This would mean missing the scheduled departure time of our connection at Mexico City. He punched a few keys and came up with a solution. The flight before ours was also delayed and would now take off about the same time as our flight was due to. He found us seats and we were flying again.
We landed in good time at Mexico City only to find that our connection to Puerto Vallarta was now delayed. Indeed, many flights at the airport were delayed. The airlines said it wasn't their fault, rather the delays were due to technical issues / weather at the airport. It was all a bit vague. Mexico airport isn't great for food places as we trapsed around looking. The heat was stiffling and Miko nearly fainted. We finally got a relatively quiet place to sit in one of the restaurants and grabbed a quick bite to eat. Two hours later than scheduled, our flight finally took off. Many others were left waiting for much longer.
Knock on effects to start our life at Sayulita beach
Thankfully, Avis had our flight details so a quick call on arrival had us collected and at their office. We were on our way, but it was after 7pm and the shopping had to be done.
We got a pretty good deal on the cooker; the two ring stove costing $455 pesos – £16 / $22 US approx, with the 3 pots and pans got costing around $550 pesos – £20 / $27. The rest was stocking up on food basics like rice, flour, pasta etc to keep us going. It was dark as the show got back on the road. By the time we arrived around 10pm, cooking was the last thing that we wanted to do. A take out pizza was the easy knock on effect to start our life at Sayulita beach.
Dog fostering Mexico
On a non-eventful evening out, we picked up a dog. After saying hello to him, because he was so cute. Janice asked would we like to foster him?
Janice, who happened to work with Sayulita Animals, had found him randomly that night, while walking her own dog. Apparently, he had escaped from his other foster parents. We didn't have to think too much about it as we gratefully accepted his lead.
He had no name. We decided to call him Stagger Lee!
Heading towards home, Janice shouted after us.
'By the way he needs to get his operation tomorrow (the snip)'!
Stagger Lee
He was only approximately 8/9 months old. He was very thin. On the way back to our gaff he pooed a slate grey cement looking mixture of diarrhea.
Straight away we put him on a good diet. As well as his dried dog food, he got a variety of vegetables. Occasionally Stagger Lee joined us for dinner and got mashed potatoes and a veggie burger! In the morning he liked to munch on a carrot.
Its a dogs life at Sayulita Beach
Stagger Lee was showered with love and attention and cheekily he loved to lay beside his on the bed! A handsome wee sod, so we could never say no! We were sure his mummy or daddy was an alsatian.
Due to his good diet, almost immediately his poos were brown and solid!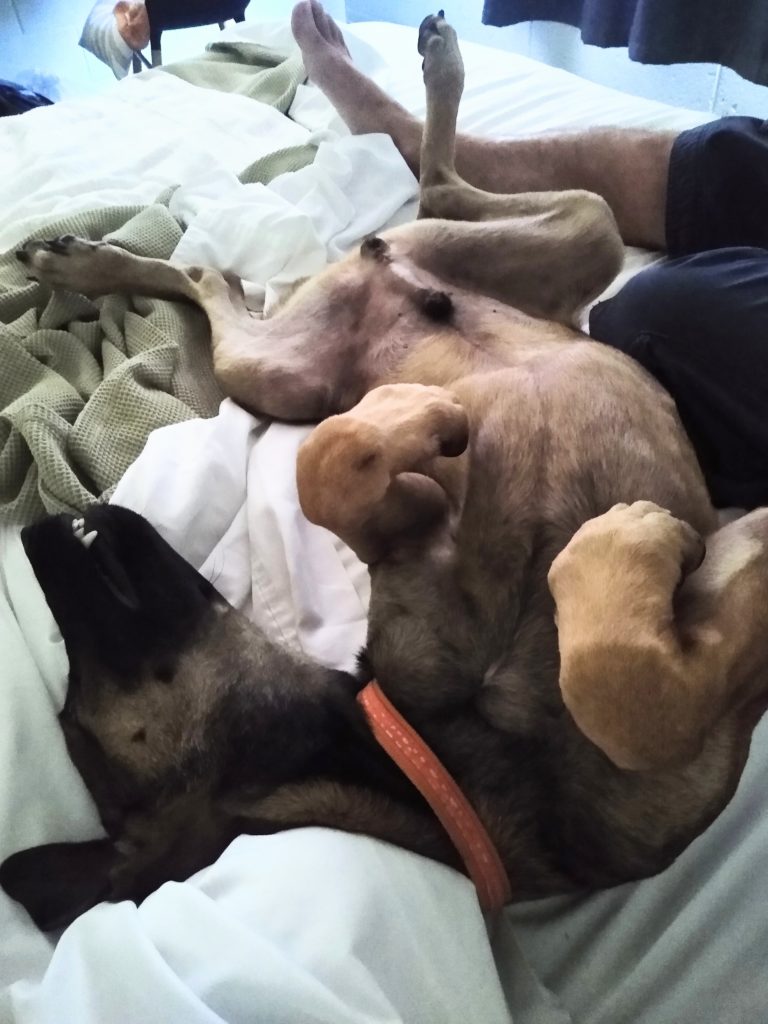 A playful pup, well trained and smart. He slept throughout the night, he didn't once go to the toilet in the room. In the day he would let you know when he wanted to go out to do business.
He loved his walks and surely kept us fit as we were out several times a day with him!
The Op!
The operation took place the afternoon after we got him. It was a quick procedure and he was able to walk home after a couple of hours. As expected he was a bit dopey and slept.
We were happy to say he got his appetite back that evening. His wound did seep for a few days. As a puppy he wanted to play but we did have to keep him calm. Although he liked to 'play bite', so instead of encouraging him to bite us, we bought him a 'rope bite toy' which he loved!
Goodbyes but not far away (Yet)
Stagger Lee was with us for six days. Unfortunately the owner of the guesthouse we were staying in wasn't happy knowing he was staying as she has a no pet policy. Stagger Lee was good as gold, but we had to abide with her rules I guess.
We contacted Janice from Sayulita Animals. She told us to take Stagger Lee to her friend Kiki. The situation wasn't ideal as Kiki was working. We sat around the corner in a bar to keep an eye on the situation. Luckily we did, as Stagger Lee escaped. We brought him back again, however, later that evening we heard that Kiki took him back to Sayulita animals as she said her place wasn't safe for him. He was put in kennels. He hated It.
Our Irish friends and doggy lovers, Ronnie and Gavin kindly went up immediately to collect him. He then stayed with them for five nights.
Stagger Lee's background and health issues
Unfortunately he took a turn for the worse and the diarrhea was back. They brought him to the vet. They discovered he had parasites and he was anemic.
The vet explained the people he had escaped from had brought Stagger Lee to see them 2 1/2 weeks ago. The vet diagnosed his illnesses, at the time, but they left without paying for the consultation or any treatment! The owners had told us that Stagger Lee had escaped from a window, but it could be they threw him out, due to not wanting the expense.
A forever home away from life at Sayulita beach
Stagger Lee was snapped up quickly. A forever home for him came through. Janice brought him to her home in Seattle for one night. Even though he got on well with her dog, he was to be put in foster care for a few nights, until he flew to his new adoptive parents, forever home in Canada!
When we said goodbye, we had tears of sadness but we're happy he got a permanent home. We were really attached to the little guy and were heartbroken that we couldn't take him due to our temporary situation in Mexico.
We are waiting eagerly for an update on how he's settling in.
Apartment hunting to extend our life at Sayulita beach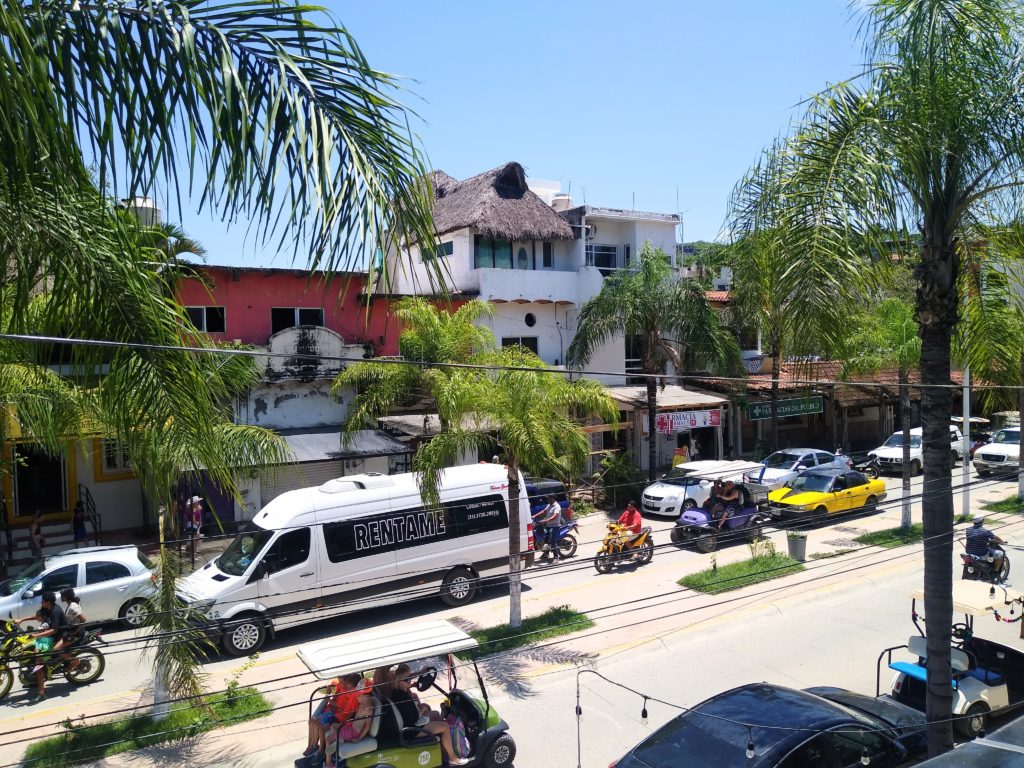 We are quite comfortable in our guesthouse, however it isn't cheap for a longer term life at Sayulita beach, which is why we decided to Apartment hunt. We put word out on Sayulita People on Facebook and got a lot of responses.
Two good options
After viewing several we narrowed it down to two. Unfortunately for our second viewing at the cheaper one at $8000 pesos – £290 / $395 US a month (not including electric and gas), the lady didn't turn up and it fell through.
Our last option was £475 / $650 US a month. We loved it. It was modern and had the bonus of a pool and a fully equipped kitchen. We were already dreaming of roast potatoes! However, we did have to buy a few household items for it, such as a long mirror, bedding, lamps etc.
We could have dealt with this no problem if it was long term, but unfortunately when it came down to it, the owner was only leasing for two months. It fell through too.
A decision to stay where we were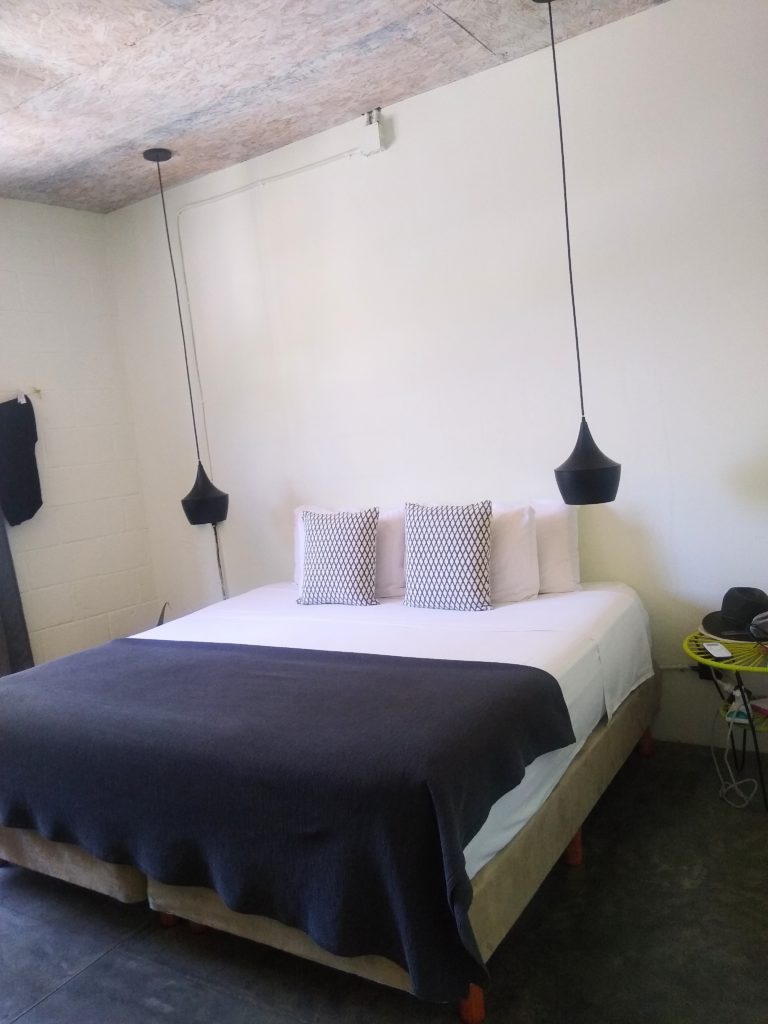 We discussed a better deal at our guesthouse, knocking off around £140 / $190 US a month. To seal the deal we had to pay two months rent in advance.
It's still more expensive than the other two, but we like it. That's an important thing for extending our life at Sayulita beach.
It's clean, modern, and we have our two ring stove which we bought when arriving back into Puerto Vallarta.
We also have the use of laundry facilities at a cheap price of £1.80 a load. It's close to the beach and to the action.
When back in the high season the price could go up again. So we will continue to keep our eyes open for other longer term APTS.
Cooking reduces the cost of life at Sayulita beach
We love to cook are own food from scratch. Knox even made his own baked beans as we were craving for them. Better than Heinz baked beans anyday! Fresh produce is easily found around town.
Still can have a meal out
When not cooking, we would get a takeaway pizza from La Rustica. It's by far the best pizza's in Sayulita.
Another favourite restaurant, we have just discovered is L' Ulivo (it's only opened in 2021). It's run by a friendly Italian couple.
The food is delicious and made with love! Plenty of vegan and vegetarian options!
Buy at local shops helps the local economy
It's unfortunate there's not a bigger supermarket near by. They can be useful sometimes and items can be cheaper.
The closest are in Bucerias, half hour away. However there are plenty of fruit and veg stores around and prices are reasonable. The produce is fresh and it assists in keeping small shop owners in buisness. This, in turn, allows for a more fruitful existence, at the ground level, for local life at Sayulita beach.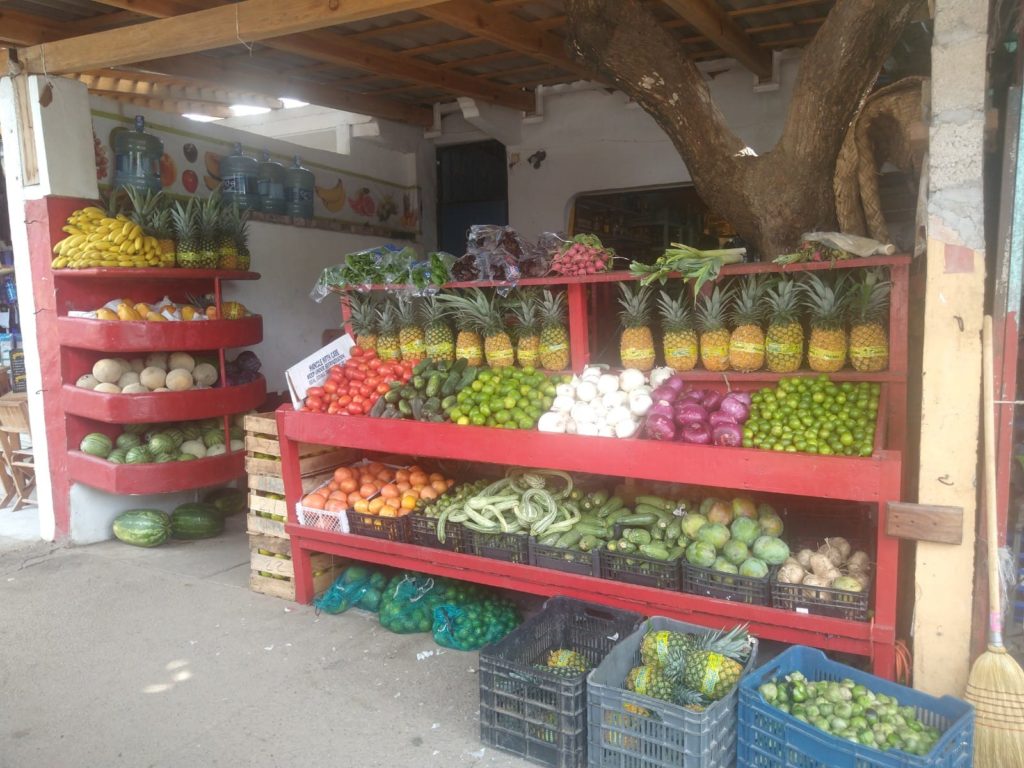 Other basic food items are more expensive but we make do and will shop for them every now and then by travelling up to Bucerias.
One such trip and a run in with the law
We had afew things to get at different shops so decided to hire a car from National Car Rental for the day. It was reasonable, $40 US / £30 for the day, and allowed us the flexibility we needed. Last on our list of things to do was to do a shop for the basic items we needed as this was on our way home. It had been a long day and we were into the evening. I came off the main highway a turn to early. As I drove along the parallel road, looking for the supermarket entrance, I (Knox) missed the speed limit sign and went over the 40 Km/h.
Flashing lights pull me over again
I had worked out the wrong turn, and was about to pull back onto the main highway, when a noticed the flashing lights of a motorcycle cop. He indicated for me to pull over. He explained my transgression and stated that he was giving me a ticket, up to $3000 pesos, that would need to be paid at the station on Monday.
Dodgy cop
He got me to step out of the car and we spoke at the back of the car. I explained that I wouldn't have the car on the Monday and that I was happy to go to the station with him now to sort it out. They were all shut at this time on a Friday evening. He had my Licence and wasn't for giving me it back. It would be returned to me on Monday when I paid the fine.
I knew the game and that I was being had. I was tired and wasn't in the mood for a long drawn out affair. Miko knew the game and was out of the car explaining that he wasn't getting a cent. In the end of it all, I slipped him $500 pesos – £18 / $25, got my licence back, and the ticket disappeared.
Looking at the TripAdvisor forums it happens a lot in that area.
Annoyed we continued to our grocery shopping.
A different beach to wander too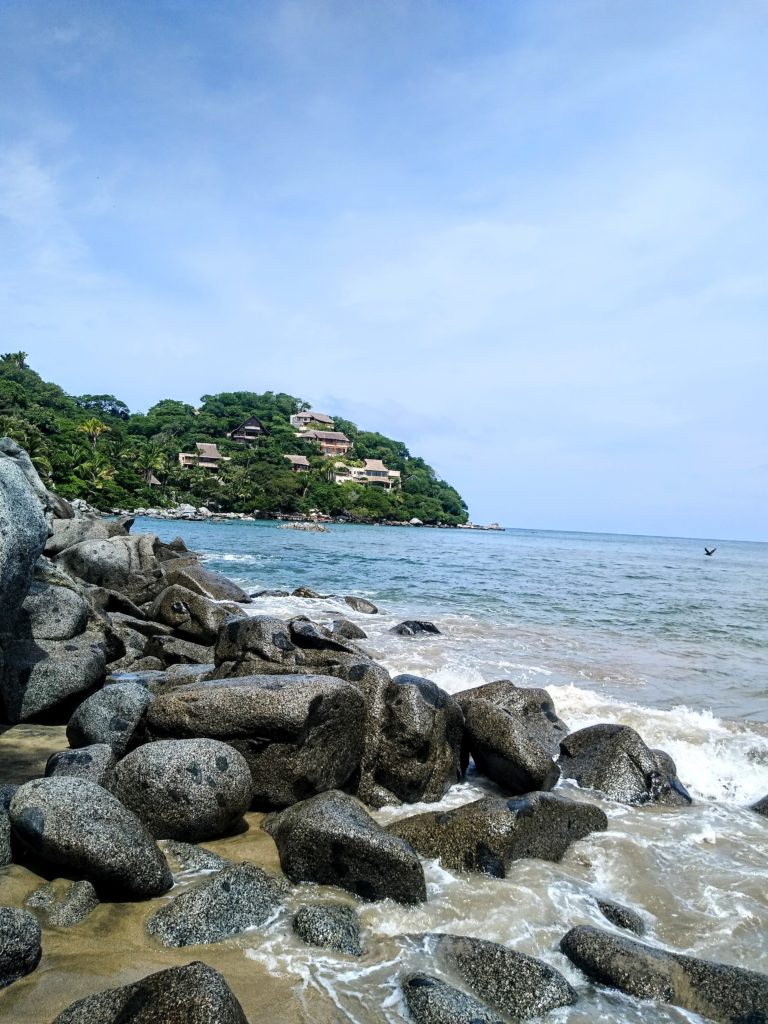 Sayulita is a small town, so we saw basically everything that we could on our last visit in February. Sometimes though, we like to take a walk to Playa Los Muertos, which is only a 15 minutes walk away from where we stay in the north of the town of Sayulita. It is round the rocky headland at the end of the main beach at Sayulita.
Different Vibe
Even though Los Muertos is only a short distance away, there is a different vibe.
I wouldn't say the beach is prettier than Sayulita's north end, but it's got character.
First, one passes the fishing boats that line the sands of far south Sayulita beach.
Then, there's the ocean front guest houses and hotels such as 'Si Senor', which sit back from the beach but with great views of the sea.
The Pelicans like to gather here as they float on the calmer water. Knox likes to contemplate life.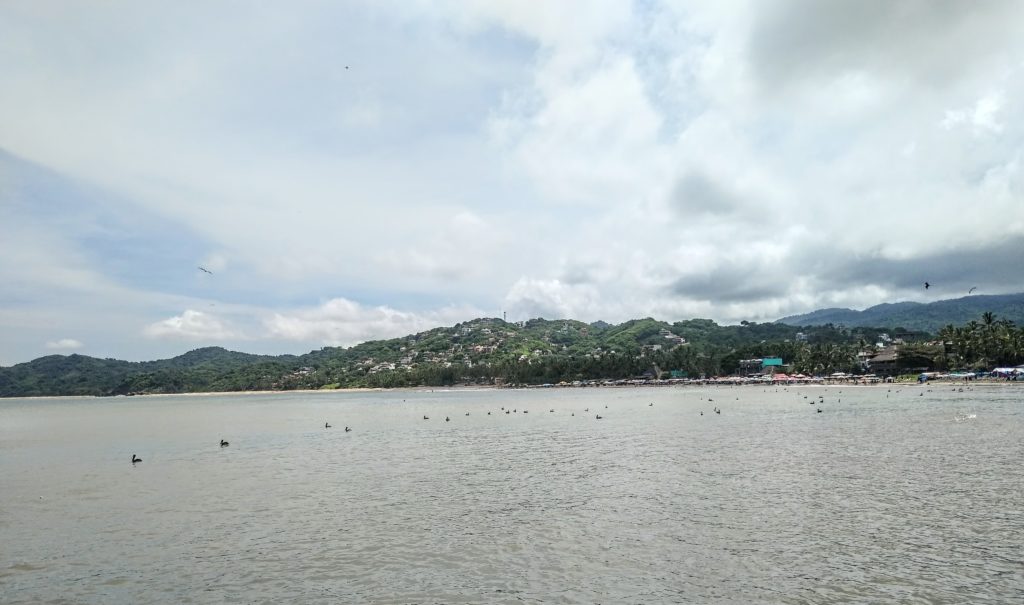 It's in a unique, pretty spot, with outside dining, serving Mexican and seafood food overlooking the water.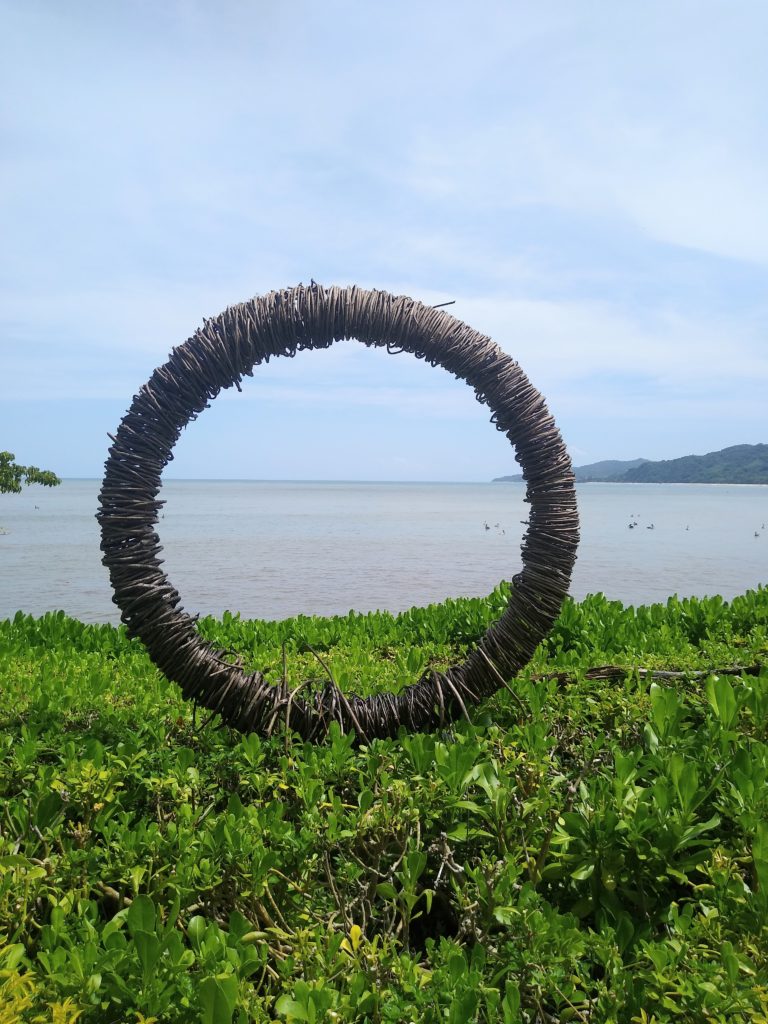 Death and Life at Sayulita beach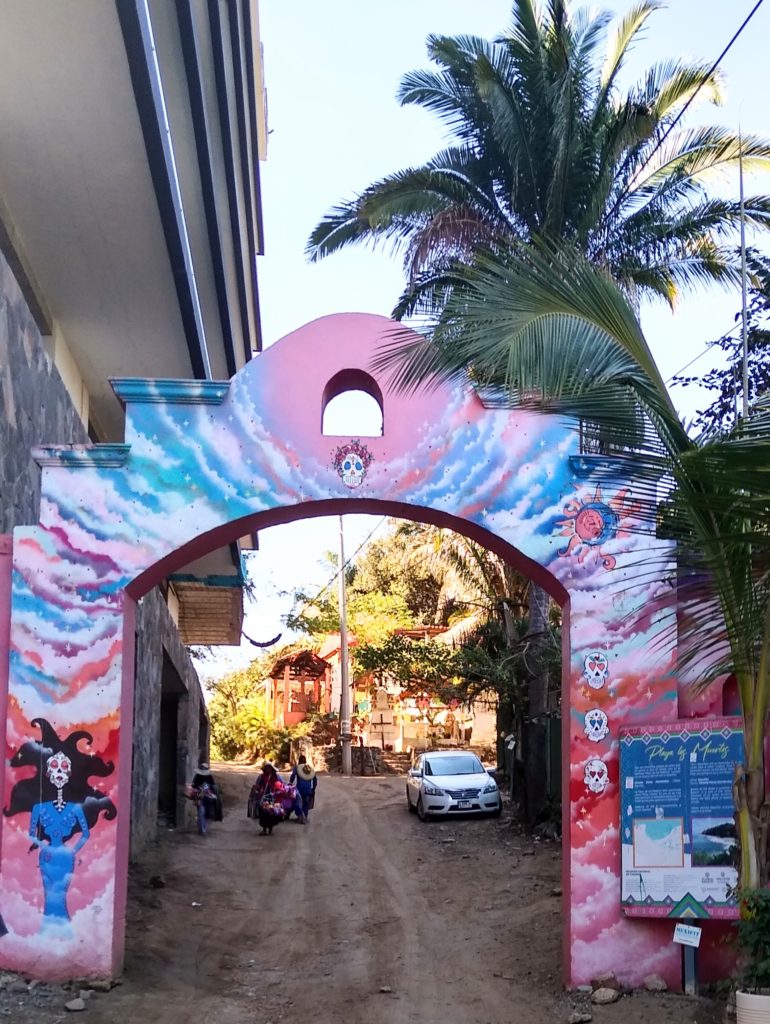 The Los Muertos graveyard is just around the corner, through the colourful archway, which leads to the beach.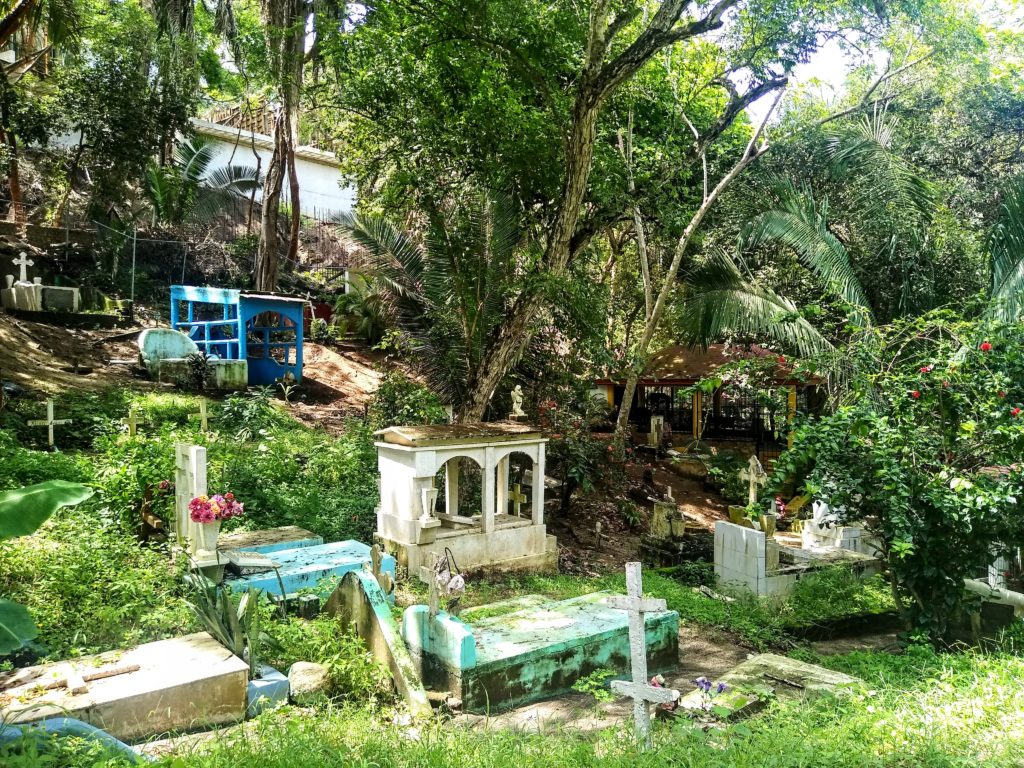 It's just how we remembered it, brightly coloured graves covered in memorabilia, flowers, and even live and statuesque cockerels on top of them. It's peaceful and in plain sight, the dead and the living as one. Seemly this is where the dead go swimming at night. On the 1st November, Mexcians honor their loved ones by visiting and decorating their graves. It's a colourful affair full of celebration. Definitely not as creepy as it sounds.
Social life at Sayulita Beach
When in Sayulita, it's difficult not to be tempted by the vibrant social life and energy of the bustling establishments.
A few of our favourites have to be: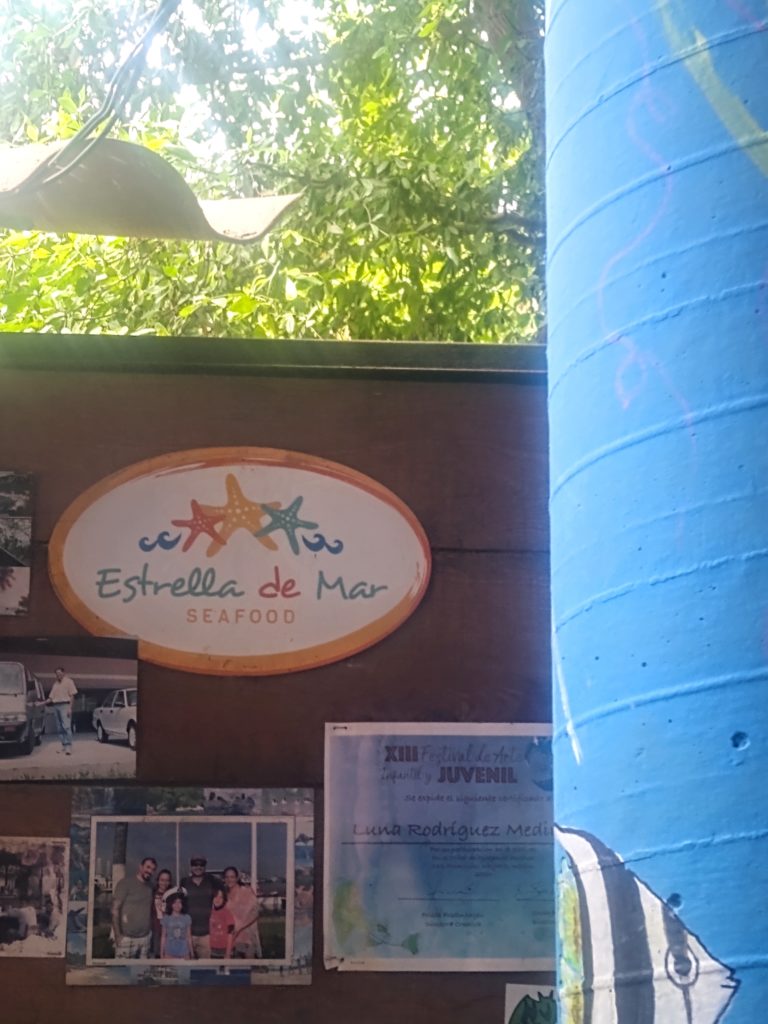 Estrella de Mar – A lovely homely welcoming vibe. Staff and owners are friendly and off course their dogs are a bonus, especially Boss, the 18 month old big dope!
They also do seafood food, but since we are vegetarian, we only use it for a cheeky vino Blanco or beer!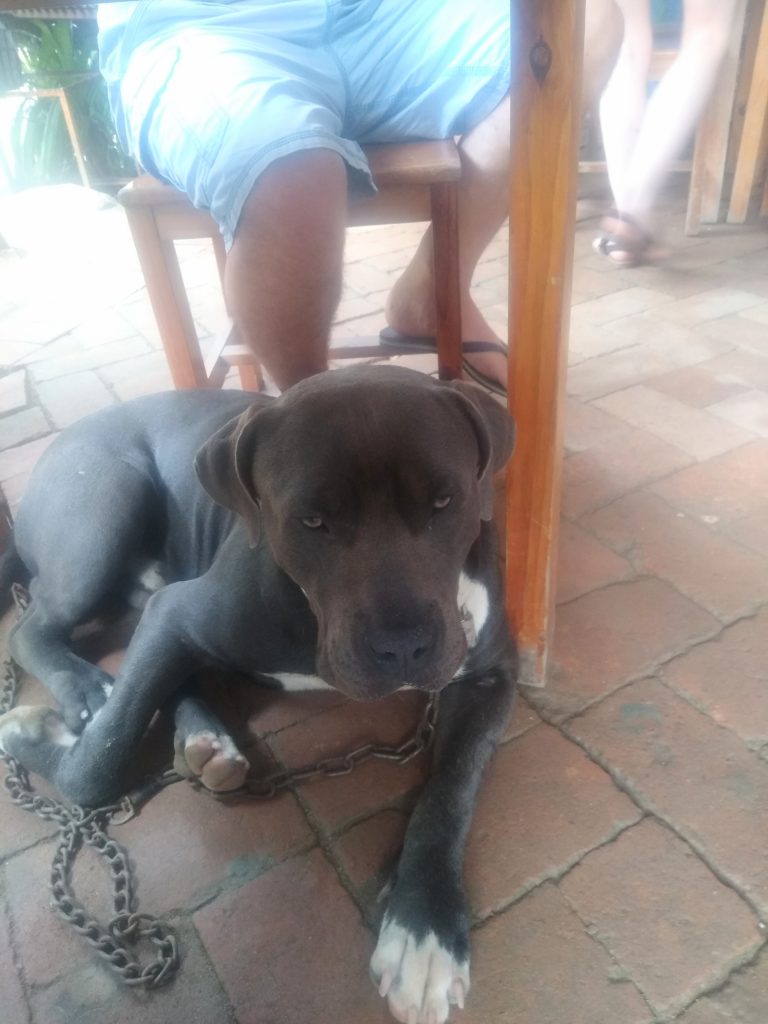 Tierra Viva – Lovely little bar / restaurant serving delicious vino blanco. Staff are fabulous with great sense of humours!
Weather for life at Sayulita beach
It's the summer when temperatures have soared to the 30's. When deciding to come here, the forecasts showed lots of rain. This was a worry for life at Sayulita beach and we tried to get an idea of the reality from people we knew before we took the plunge.
There's lots of thunderstorms but this happens mostly in the evenings, so you can still have plenty of beach days. When it does rain, it pours and the roads can be like rivers.
When we were here in Feb, it was considered their winter time! With temperature's at around 25/26 degrees, it was better than we get in Belfast's summer! Everyday was sunny with no rain. The temperature is easy to handle compared to what it is at the moment, but we can't really complain, can we? 😉
Life at Sayulita beach is pretty good! We are, though, treading water at the moment. Our routes to destinations around the world blocked by the ongoing issues. We will discuss this further in our next blog post.
If you are interested in activities to do in Sayulita, check out our other Sayulita posts!