Bogota – Colombia
Bogota, Colombia, wasn't on our original itinerary. In fact we'd brushed over the desire to visit it, when planning the RTW. However, after researching the country and the bonus of the ease of getting in without testing etc, it became more appealing.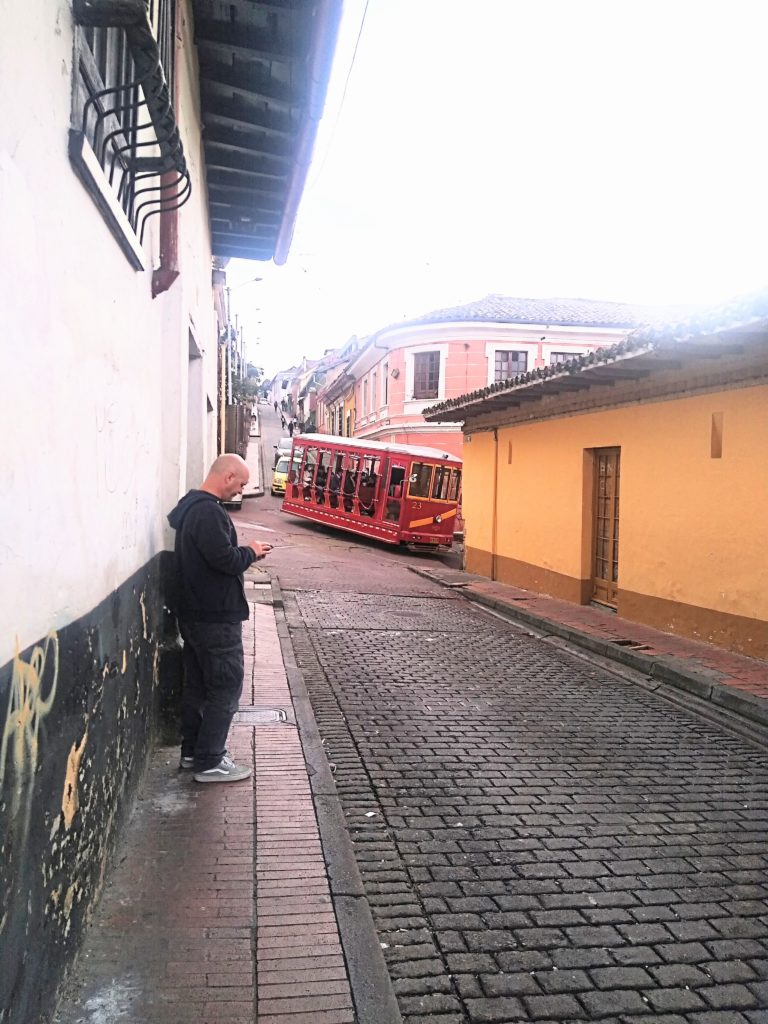 Bogotá, Colombia is a sprawling, melee, high-altitude capital with approximately 9/10 million. The city has the colors of modern buildings and also the authentic colonial roof tiles that are a true historical treasure from the colonial era. It's also blessed with lots of green spaces such as, Parque Metropolitano Simón Bolívar, Usaquén Park, El Country Park as well as many more.
You will see, and hear the name, Simon Bolivar alot in Colombia. He was a Venezuelan military and political leader who led what are currently the countries of Venezuela, Bolivia, Colombia, Ecuador, Peru, and Panama to independence from the Spanish Empire.
Generalize
When we mentioned Colombia to people, their reaction was worse than when we said we were going to Mexico. If you don't go then you are trusting the preconceptions of a place to the hysteria of the mass media. We are certainly going to find out!
The right move?
We brought our mind back to our trip before Mexico. People thought we were mad. They invisaged all sorts of nasty things. Kidnapping, theft, murder! The reactions weren't any different to Bogota, Colombia!
Isn't it amazing how people generalize even though they haven't seen a place? To us, Mexico was a safe haven away from the craziness of the government control in UK, Ireland, and beyond. We hoped we could prove people wrong again, and see what a rich culture, Bogota, Colombia was too.
Before our exit
Before we took off to new adventures in Bogota, Colombia, we stopped off in Mexico city for 3 nights, which turned into 4, due to last minute decisions. The late call was down to a number of factors. Firstly, we were keen to explore all our options. Secondly, we were unsure of our dates. Finally, once we had decided to go, price was a factor. Indeed, the price had dipped considerably on the evening we closed in on our decision. This was a few weeks before we were due to fly. We looked at flights up to Mexico city, as well as accommodation, and drew it all together. We decided to sleep on it before taking the plunge.
The next morning, our discussions had us ready to confirm. To begin with, we booked the flight to Mexico City. Following that, we booked our stay there. Finally, we went to book the return flight to Colombia. The price showed the same on the airline website. We followed through to the next page and entered all our personal details before continuing to the payment page. "An error has occured"! Go back and start again, basically. Like a kick to the teeth, the prices had hiked by £300. We were crestfallen as we were locked in in the other two sections. Consequently, our final decision was put on hold.
Getting to Mexico City from Puerto Vallarta?
One can of course drive or take a bus but that is a long journey. The quickest way is to fly.
Short hop
The flight from Puerto Vallarta to Mexico city is relatively quick, just over an hour. We flew with VivaAerobus, on there smart tarrif as we had to check in luggage. The price, one way, was MX$3395 (£120 approx).
Accommodation
We stayed in two accommodations in Mexico city, due to last minute decisions on our travel to Bogota, Colombia.
Both were Airbnbs. The first was a spacious apartment just on the edge of Roma Norte. Frida Kahlo donned the walls aswell as boisterous slogans, yelling 'Mexico is the sh*t'. Mexicans are very proud of their culture!
There were fabulous vistas from the rooftop over looking gothic cathedrals, traditional homes and modern office architecture.
The second was a last minute booking we had actually stayed in February. Right in the heart of Roma Norte, in French style architecture dating back to the porfiriato period at the start of the 20th century. We felt right at home again, listening to the mariachi bands outside in the evening as well as the smell of the fresh pastry in the morning from the bakery downstairs.
Shopping and cafe culture
As we had been in Mexico, in Feb 21, we would use the time for early birthday shopping, as well as strolling the hip and trendy zones of Roma Norte and Condesa. We stopped off at cute, cosy, cosmopolitan cafes to watch the world go by, especially from the Forever Vegan restaurant we ate in for most of our stay.
Cafe stroll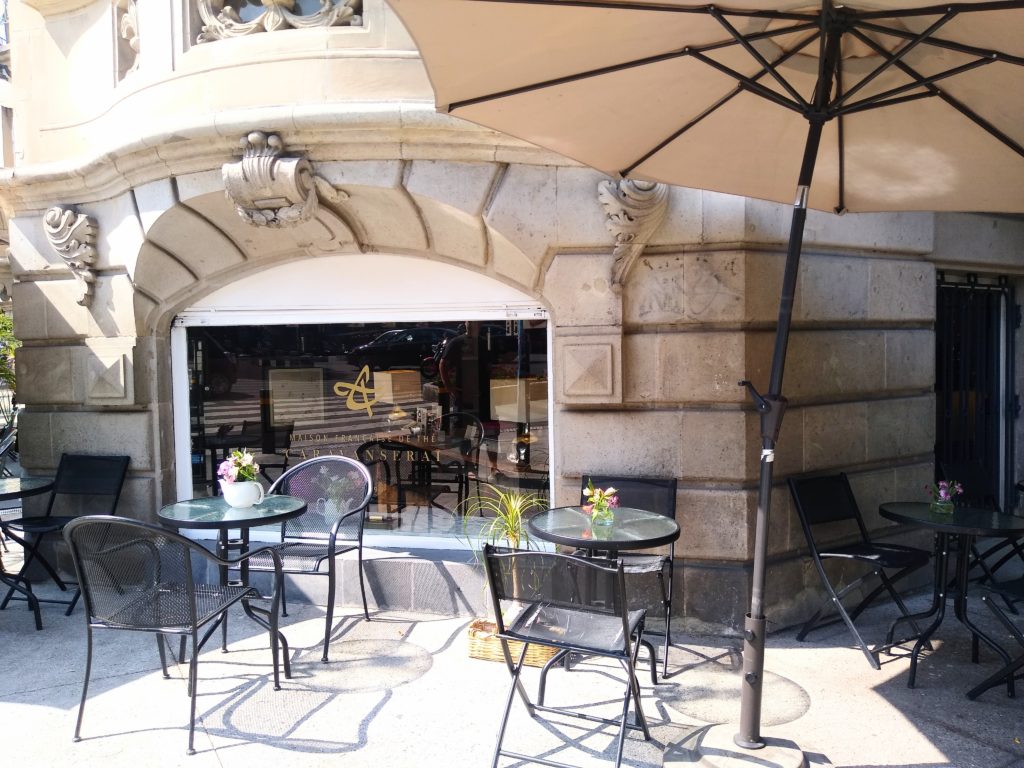 Central Avenue, Avenida Álvaro Obregón, Colima, tobasco, and close by, is lined with so many tempting eclectic eateries, sidewalk bars, and refurbished mansions.
We came across, Bolero Cafe, Guanajuato 80 in colonia Roma Norte, a cool little bar / restaurant which prided itself with its massive vinyl collection, from everything to BB king, John Lee Hooker, Aretha Franklin as well as other greats.
We were even surprised when I asked jokingly for Nick Cave and the Bad Seeds and they gladly put Stagger Lee on!
Music lovers will be in their element, so sit back on the comfy chairs, make yourself at home and let the tunes fill your ears.
Chic collectives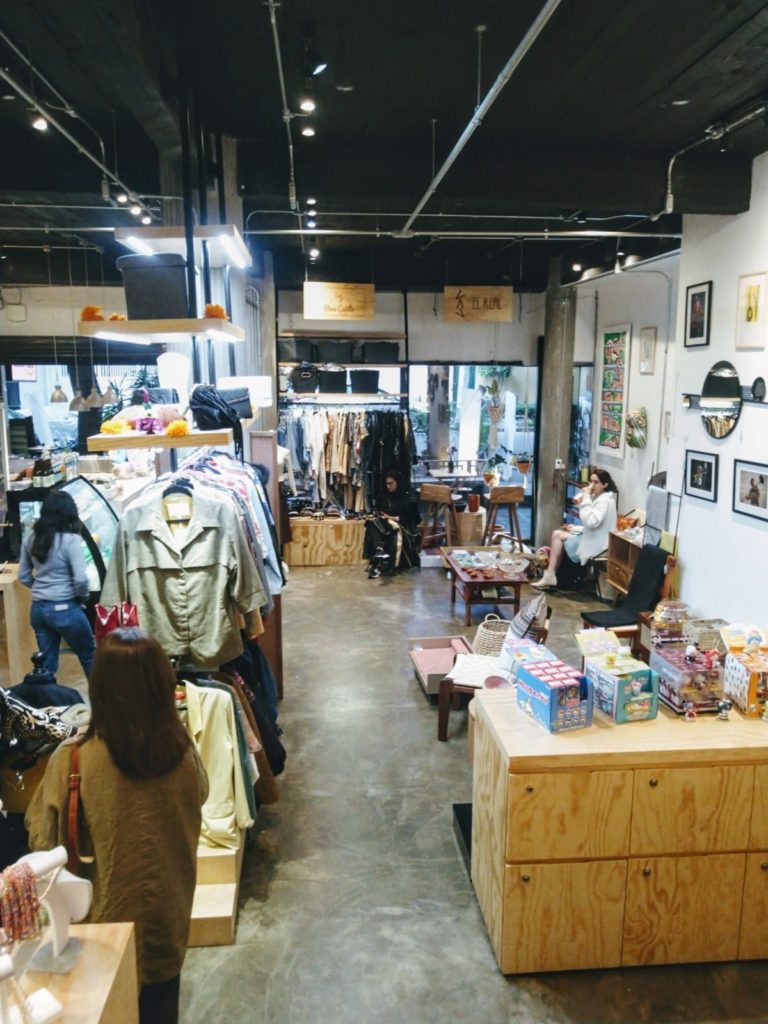 Some cafes are even combined with little independent, collective, stores serving everything from pottery, art, jewellery to superb, well preserved vintage clothing.
Fashionistas will be spoilt for choice and to be sure to find lots of gems to suit all budgets. Lasirenaerante's store is especially beautiful, from cute 1940's pearl clutch bags to stunning apparel, such as soft velvet baby blue jackets to funky red, 60 year old, cowgirl boots.
Save the Mermaids!
The sticker, one owner of the store presented me with, was all about saving the ocean. Use Vintage it protested. The urgency hit home, as marine life are very important to us, even more so now as billions upon billions of masks are used around the world each day. Add it up! "Save the environment" they say yet flip it with "wear a mask, its for your health and safety!" even though those masks are NOT biodegradeable and are cause untold environmental damage.
Its fabulous the see in this gorgeous vintage store that everything, if needed gets restored to their former glory. If only I (Miko) had space to fit them all in my suitcase. I honestly had to drag myself away!
Flight to Bogota, Colombia
Over the weeks we had checked prices to Bogota, Colombia, and they were shockingly extortionate for only a 4 and a half hour journey. We waited and waited some more for a better deal, kicking ourselves that we'd missed the best price at around £550 total for two. We ended up going for a price £780. The decision only being made a day and a half before the flight date. The delay did allow us to amend our route back into Mexico, as well as enabling us to consider the plan better.
Arrival in the big smoke – Bogota, Columbia
As previously mentioned there are no Covid entry requirements in Colombia, such as testing, jabs, quarantine, only a Mig health form, which made the booking process more smooth. Some internal regulations are a bit off putting but we will manage by standing our ground as much as possible.
Immigration
The queue at immigration was long, and not the fastest, as other flights as well as ours jumped in the line at the same time. However, once at the counter, it was unfriendly, but efficient, with the normal questions, such as, 'Where are we staying?', 'How long are you staying', 'What's the address and telephone number?'.
The usual questions that were already answered on the MIG Check form, filled in before the flight, were just repeated. Don't forget, they state you will need to show proof of an onward ticket. Although, we were never asked for it.
Currency
If you think Indian rupees are bad, think again. Colombia pesos make your wallet fat, but not in a good way. £1 equates to just over 5000 pesos. Easy to be a millionaire here!
Do first impressions count?
After the unfriendly immigration officer and then an unfriendly Uber driver, we weren't going to let the two sour bakes bring us down. Their attitudes seem to go with the grey sky and tsunami of blue face nappies (Remember the oceans)? Luckily we weren't told to put one on, as we had our exemption ready and waiting in Spanish just incase.
Accommodation
It seems Airbnbs are back for us, as we found they are great value here. You get more for your buck as the saying goes.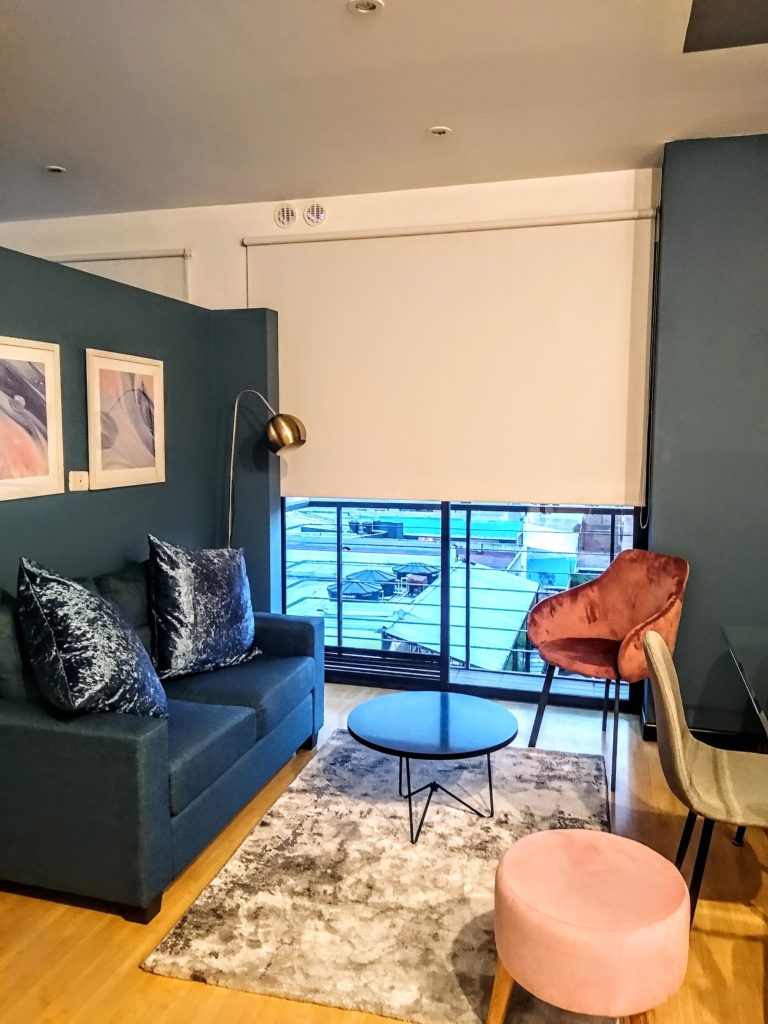 For approximately £38 we found a lovely little chic, modern apartment, with kitchen facilities, a washer, and a small balcony looking out over the city. You could say that the cloudy skies and redbrick buildings, along with the modern office and apt blocks, was like taking us back to our homeland in Belfast city. The apt was situated in the northern Chico area. Do not underestimate how massive Bogota, Colombia is. Taxis are needed to get to the majority of places unless you want to walk for hours!
Weather
The weather surely wasn't what we have been used to over the passed several months. It wasn't freezing though, approximately 17 – 20 degrees C but enough to bypass the summer gear to items more appropriate, especially since the rain was on and off during the afternoons. The mornings we got were generally bright and sunny. During the evening it would go down to 12/13 degrees.
Homelessness and begging in Bogota, Columbia
There is an extreme amount of poverty in Bogota, Colombia. We have never seen so many people hoking in bins for their next meal. You will also get a lot of beggers, mostly pushing children in prams, to pull more on your heart strings. Remember, a little help goes a long way. 2,000 Col Pesos is only approximately 38p or 5000 col is only 95p but will be greatly appreciated. I also like to gather toiletries from hotels to pass on to the most needy.
What to do in Downtown Bogota, Colombia?
Bogota, Colombia a big swirling mass of life. There are loads of different districts from the shanty feel of housing near the airport to more swanky apartment living along the Eastern hills of the Altiplano Cundiboyacense and areas such as Chapinero.
Historical Centre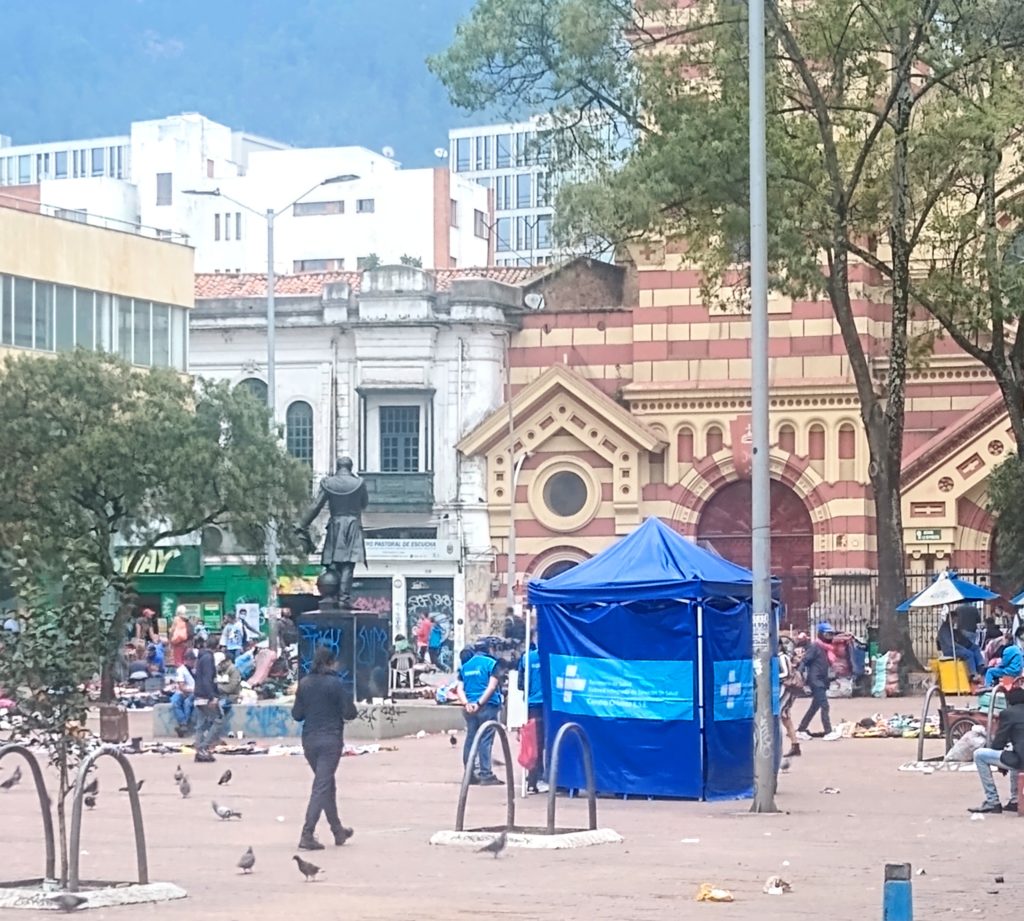 It was approximately 45 minutes in a taxi to the historical centre from the San Patricio area of Northern Chico, where we stayed.
I have to admit, as I waited for over 40 minutes while Knox was in the Claro shop for phone business, I didn't get a great feel of the place. There was an edge to it. Gritty, rundown, and heaving with lots of unsavoury characters. My bag got eyed up a few times. I reserved judgement though, and glad I did, as we took a walk further towards Rosario Plaza.
Plazoleta del Rosario
Rosario Plaza is a historical place in Bogotá, Colombia that is an important part of the Universidad del Rosario, one of the oldest universities in the country with more than 350 years of operation.
It was definitely a more pleasant area, where we sat with a beer at Cafe Pasaje, under an umbrella to shelter from the downpour.
Cafe Pasaje was a cosy establishment with a friendly welcome. Two beers cost 9,600 pesos which is approximately £1.85!
You certainly get more for your money in Bogotá, comparing it with Mexico and even Costa Rica!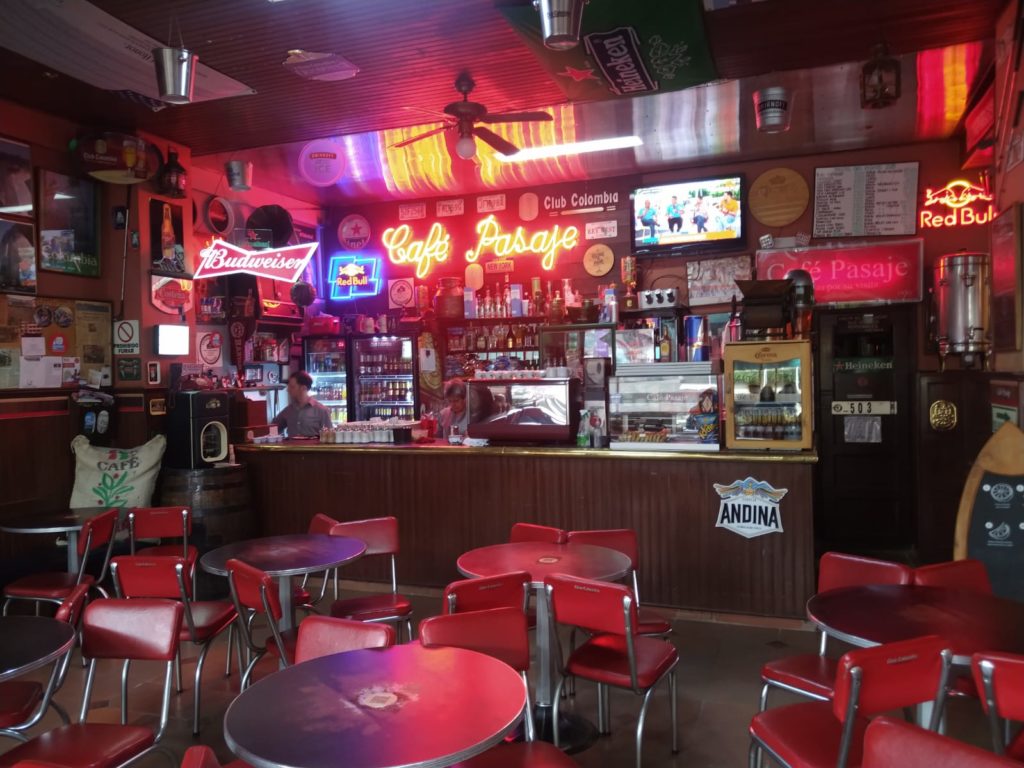 Gold museum
The Gold Museum was a must see. It doesn't look particularly impressive from the outside. However, it has the largest collection of prehispanic goldwork in the world.
The museum has 34,000 gold pieces, each of which has its own incomparable beauty and historic value. Many of these items were used in the daily life or sacred rituals of indigenous peoples like the muisca and tayrona.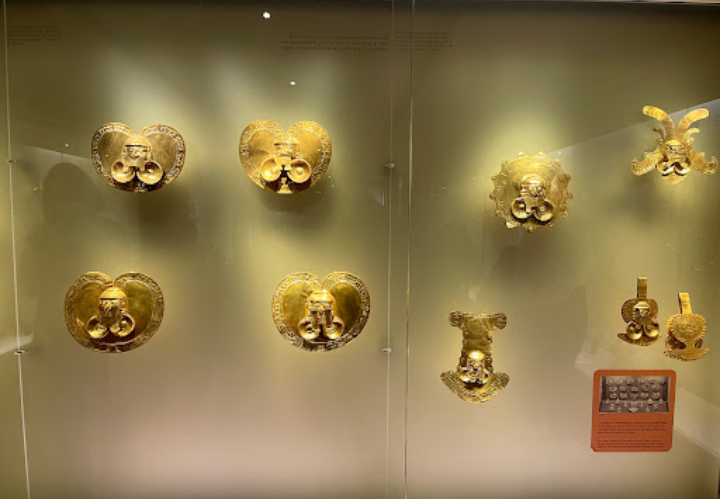 It is very informative and fascinating to see some of the wonderful handcrafted gold artwork from an ancient time.
Entry FREE!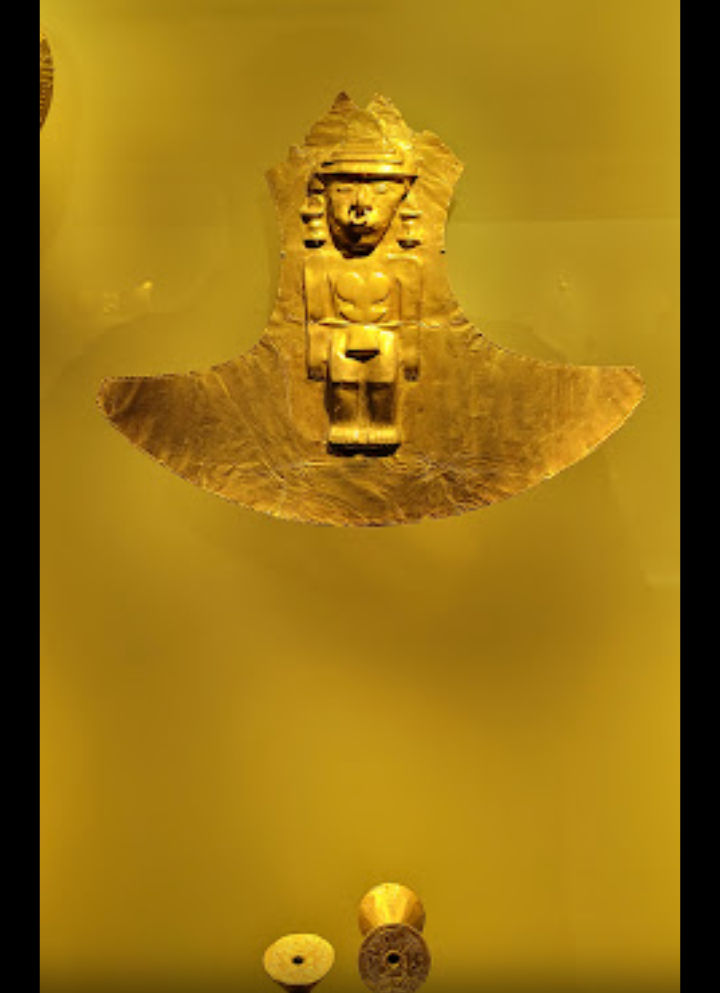 La Candelaria area
A must see when in Bogota, Colombia is the vibrant area of La Candelaria. It was, infact, our favourite area in Bogota.
Aswell, as the narrow streets offering drinking attic dens, stores selling handmade artifacts, and cute cafes, it also has the famous landmarks like the colonial-era cathedral and neoclassical Capitol flanking Bolivar Plaza. It certainly has a charm and a buzz about it. The streets look up at the dramatic, spectacular views of the Montserrate mountain.
The Cathedral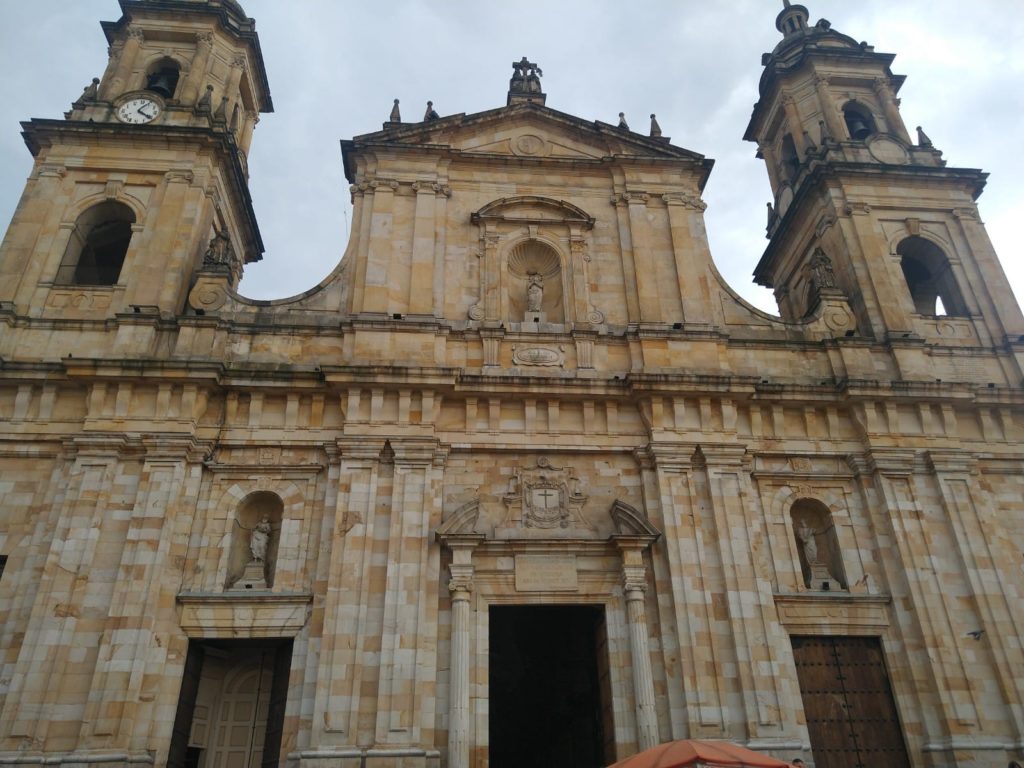 The Cathedral Basilica Metropolitan & Primate of the Immaculate Conception & Saint Peter of Bogotá, is a Roman Catholic cathedral located at the eastern side of Bolívar Square. The cathedral is full of history, art, and the architecture will make you feel you traveled in time to colonial times. The cathedral began in 1807 during Spanish rule & completed after independence in 1823.
Bolivar plaza
Bolivar plaza was a hive of activity with streets sellers selling sweetcorn to feed the pigeons, whom would come and cheekily sit on people's hands to get fed.
There were even Llamas in the square and the sellers would use them to make money from tourists for a photo op. Street sellers also sold colourful balloons and some traditional Colombian food and drinks. As any big touristic city, be careful of pick pockets.
Check out an attic bar or quirky café!
You will find many quirky styled bars along the charming narrow streets.
We tried Tico Bar (Ático Bar). It was like a tiny hole in the wall, where you climb the steep staircase to an attic bar, filled with interesting furnishings, such as plastic cover settees, tiny wooden stools and a makeshift chandelier.
The walls were covered with photos of Charlie Chaplin, The Beatles and black and white pictures of the Candelaria area.
Colonial architecture
The Candelaria area on Bogota, Colombia is a photographers paradise. You will be clicking everywhere.
It is purely stunning how the shop owners make the most of the space, with a good eye for design.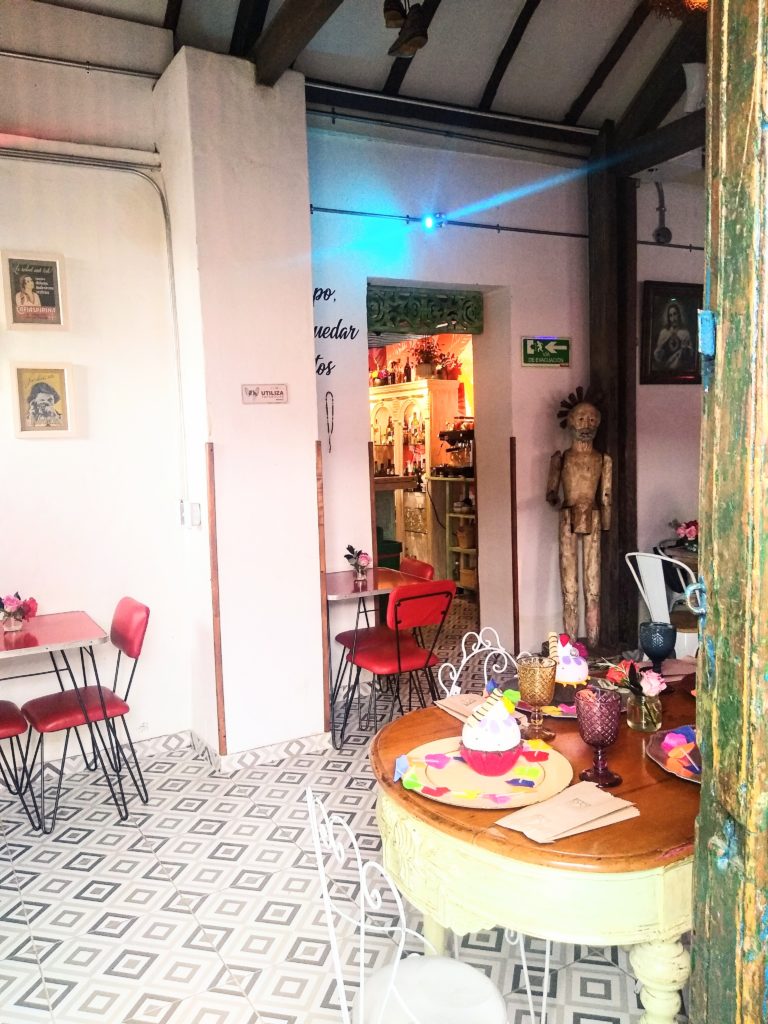 Street art
Around the Candelaria area and historical centre in Bogota, Colombia, you will also come across brilliant graffiti art dressing up the grey walls, splashing fabulous colour and talent in to the city.
Even bars and shop fronts are artistically displayed in vibrant artwork.
Market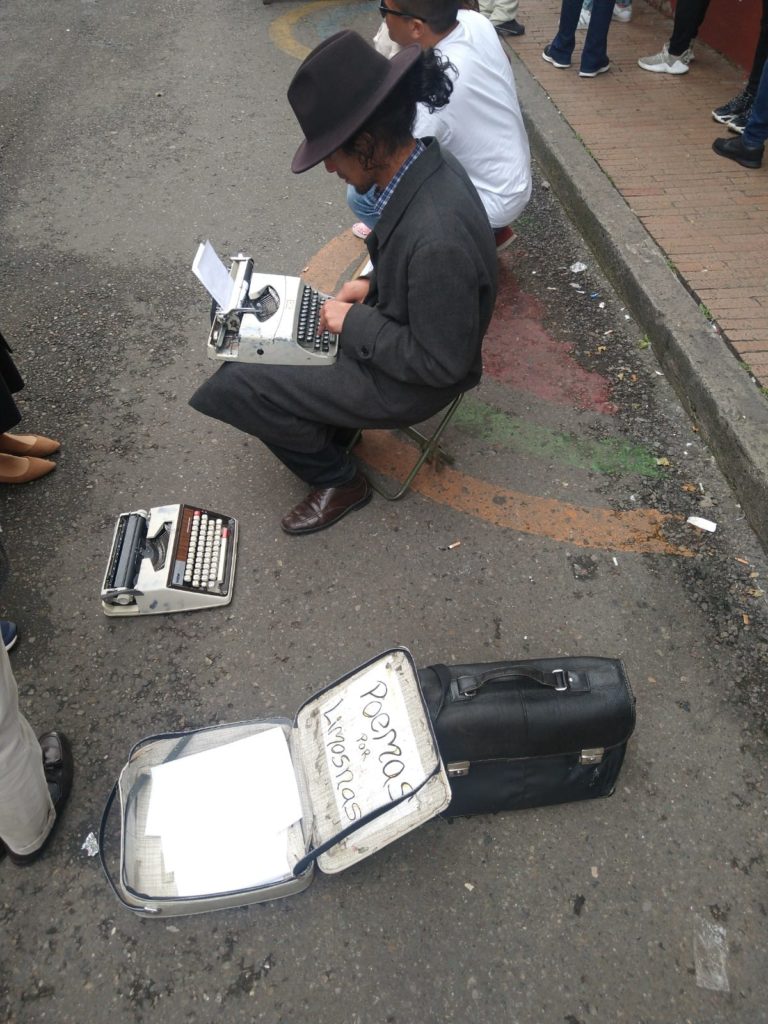 Don't forget to check out the market Street in the Candelaria area. You will find lots of interesting handmade crafts, art, aswell as eccentric individuals, typing letters of poetry.
Teatro Colon
The Colón Theater was built between 1885 and 1895 by the Italian architect Pietro Cantini. For its construction it was necessary to found a trade school that trained 162 workers in the necessary construction and decoration processes.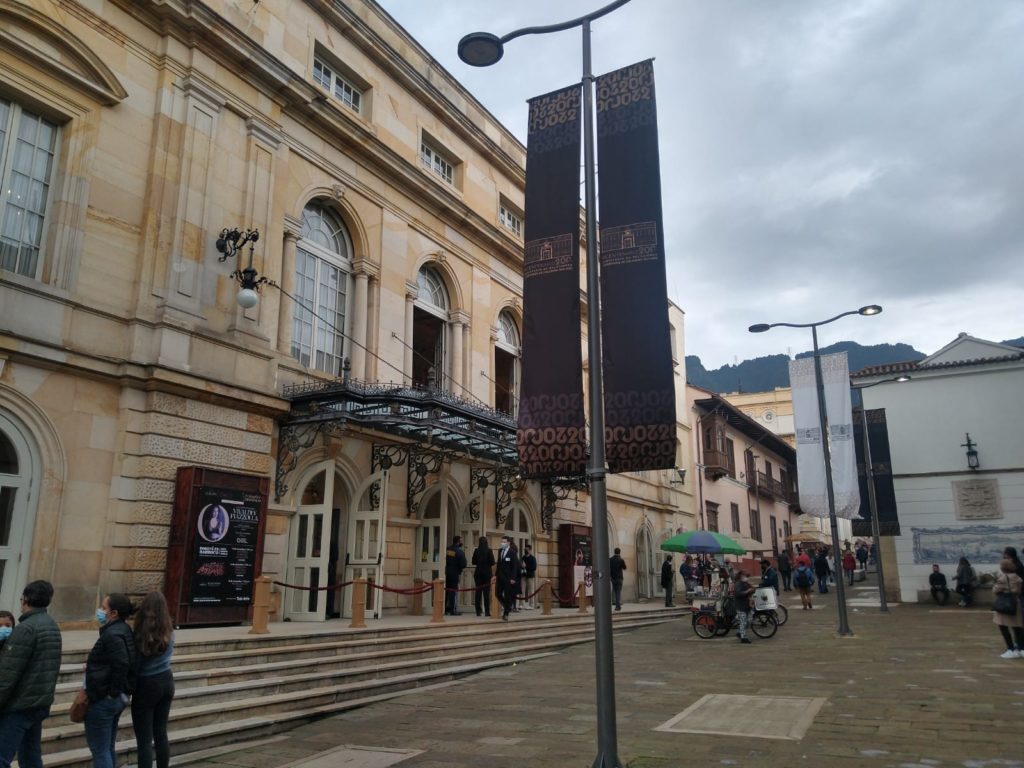 The auditorium was constructed in the tradition horseshoe-shape and modelled on the layout of the Palais Garnier in Paris, but only about half the size.
It has a broad program of performances, such as traditional Colombian shows, aswell as opera and ballet.
Botero museum
The Botero Museum houses one of Latin America's most important international art collections. It sees 500,000 visitors during a year, around 1,000 daily, and of those 2,000 students per month.
You will see Picasso's, Renoir, Monet, and many more beautiful paintings. Off the main attraction is Boteros own artwork, showcasing his creativity.
Admission is free.
Luis angel Arango Bibliotheca
Luis Angel Arangi's public library is a first-rate experience. Inside are unique works of art, a bookstore with fascinating books, and a balcony that overlooks the city. It also has a map library, newspaper library and exclusive reading rooms. Best of all the library is free to explore and enjoy.
National museum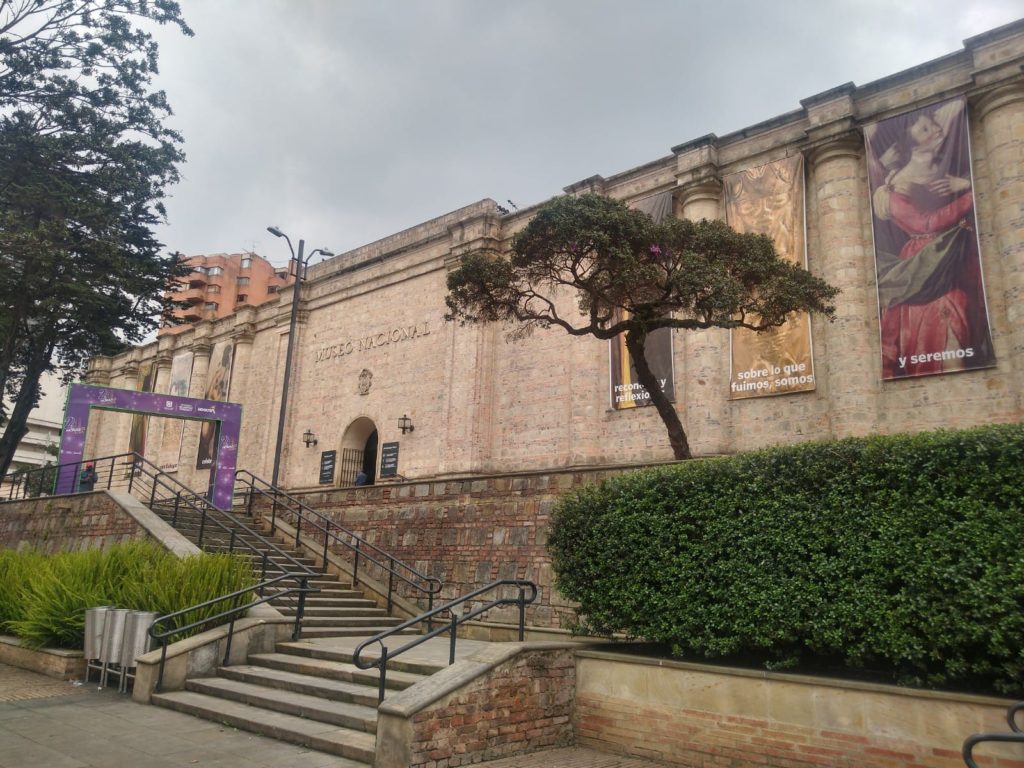 The National Museum of Colombia has built a collection of more than 20,000 objects that are symbols of national history and heritage. The collections include remains of the first inhabitants and material culture of prehispanic societies, objects from current indigenous and Afrocolombian ethnography.
It only costs Cop 3000 to get inside. Which is approximately only 60 pence!
Luna Park – Local shop / bar
After all the walking, we decided to pop into one of these local specialities to take the weight off our feet. Is it a shop? Is it a bar? Well, it's a bit of both. Luna Park, is a no frills hangout with plenty of lively fun. Efrain, the friendly shop keep sat behind the counter and ensured everybody got what they needed. The corner table had a group of well oiled woman singing and dancing to the loud Colombian music. Situated on the corner of Calle Del Perreo (Calle 12b) and Carrera 5, Luna Park bar is well worth a wee visit for an authentic taste of Bogota.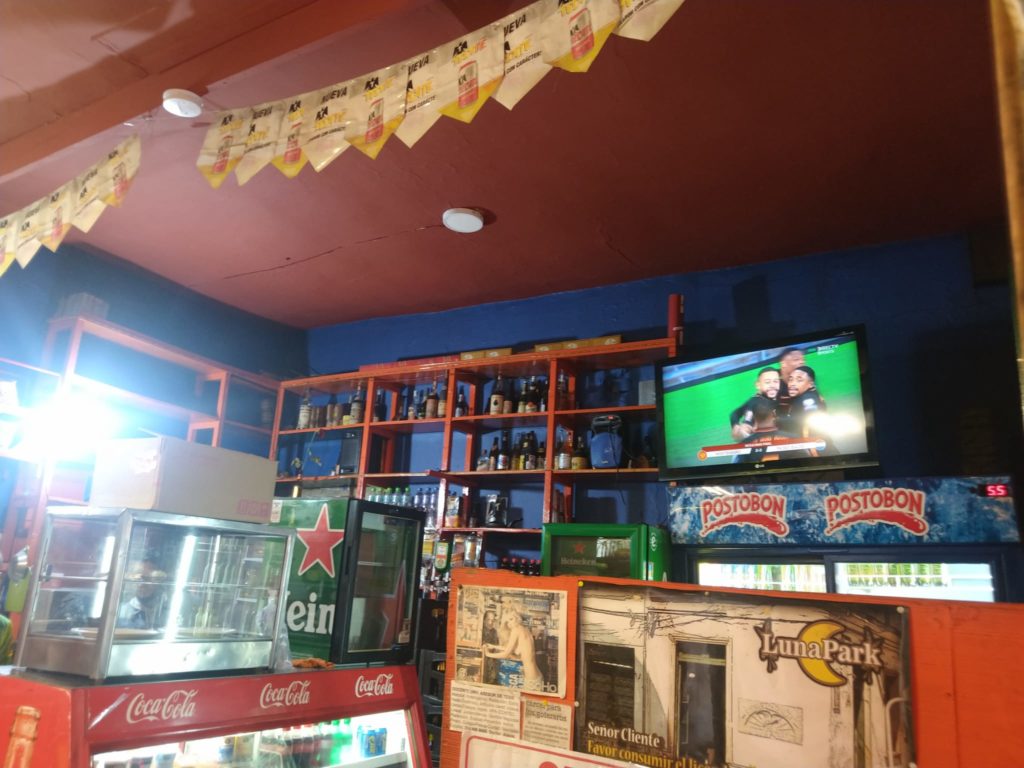 Try a traditional Colombian delicacy!
In Bogota, Colombia people often drink hot chocolate with cheese. Traditionally, usually there is actually cheese in the bottom of the drink. Gooey melted cheese inside your cup!
However, we found it difficult to find this particular tradition anywhere and even young locals found us asking about it strange. Maybe, we should of asked the older generation! The only thing we could muscle up was a hot chocolate with slices of white, mozzarella cheese on the side! I (Knox) rolled up the cheese and dipped it in to the sweet hot chocolate before munching it down. Chocolate and cheese are two of my favourite foods, but even I found the combination strange! I'm not sure if it was to do with the chocolate not being hot enough, the wrong type of cheese used, or just an odd mix but I'll not be in a rush to try it again!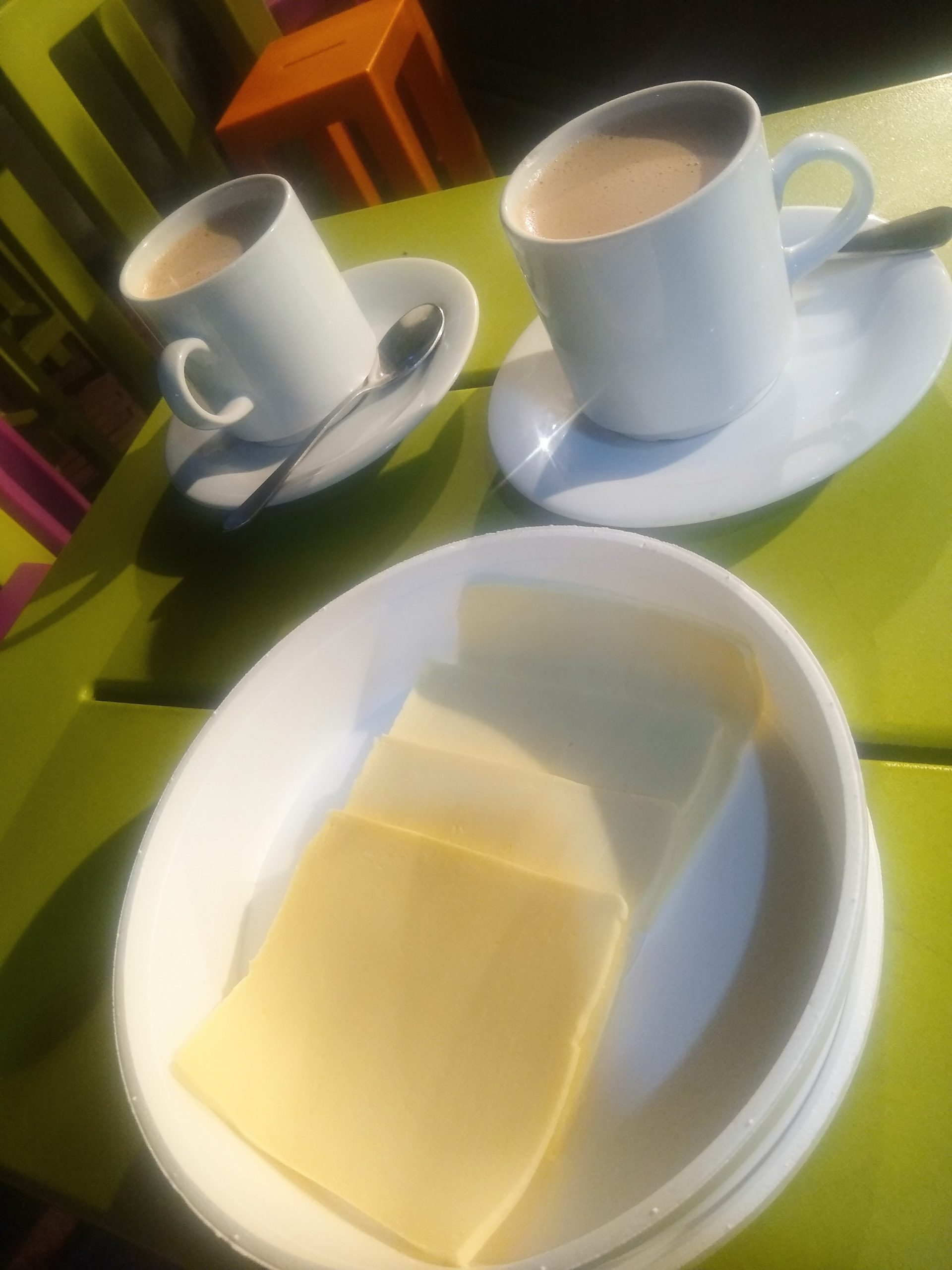 Mount Monserrate – over looking Bogota, Colombia
The hill provides exceptional panaromic views of Bogata city, Colombia. You can take the old rickety cable car up, the easy tram ride up or hike the hour / hour and a half up. Bare in mind sometimes the walkway closes early in the afternoon at around 1pm.
Zona Rosa – Upscale Bogota
Zona Rosa in Bogota, Colombia is known as the trendy well to do area of Bogota. Christmas had come early as the huge, Chanel Christmas tree showed. Zona Rosa is filled with designer shops, aswell as expensive bars and restaurants. There's nothing much to see in terms of sightseeing. It's quite sterile and at the moment masks are required in the majority of places, which stopped us from browsing and enjoying.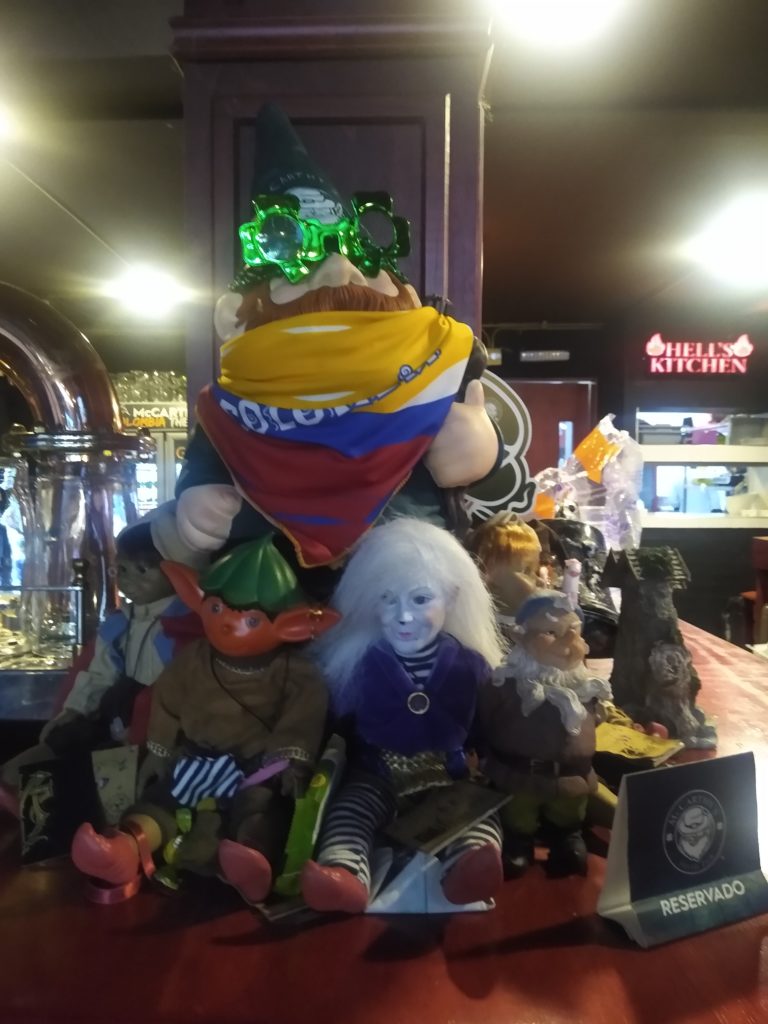 We did however manage, without hassle to have a drink in the 'Irish Bar', chain called McCarthy's, which hadn't really anything Irish going for it, except a few leprechaun's sitting at the bar. Not even Guinness on the menu but plenty of English ales!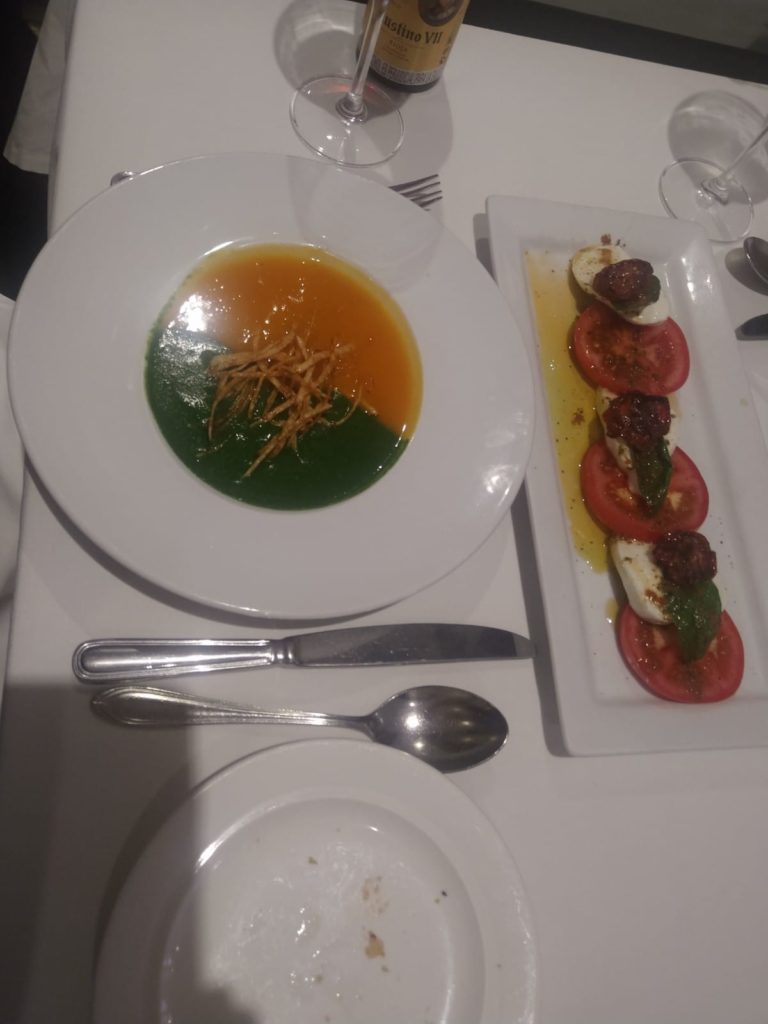 We also had a beautiful Italian meal in Bellini's restaurant. The meal consisted of appetizers, starters, mains, one (half) bottle of vino blanco and one (Half) bottle of tinto wine. The whole meal was approximately a bargain at £40. Not bad for a delicious munch.
We did enjoy seeing Bogota city however, we like to get out of the big bad cities quickly, so were looking forward to exploring what more Colombia has to offer down by the Carribbean.
If you like reading, you may also like Puerto Viejo, Bavaro, Texas or Bayahibe!