Taganga – picturesque Caribbean bay
Before we went to Palomino, we had taken a day trip from Santa Marta to Taganga and liked the chilled vibe so much, we decided to go and stay for a couple of weeks over my (Miko's) birthday.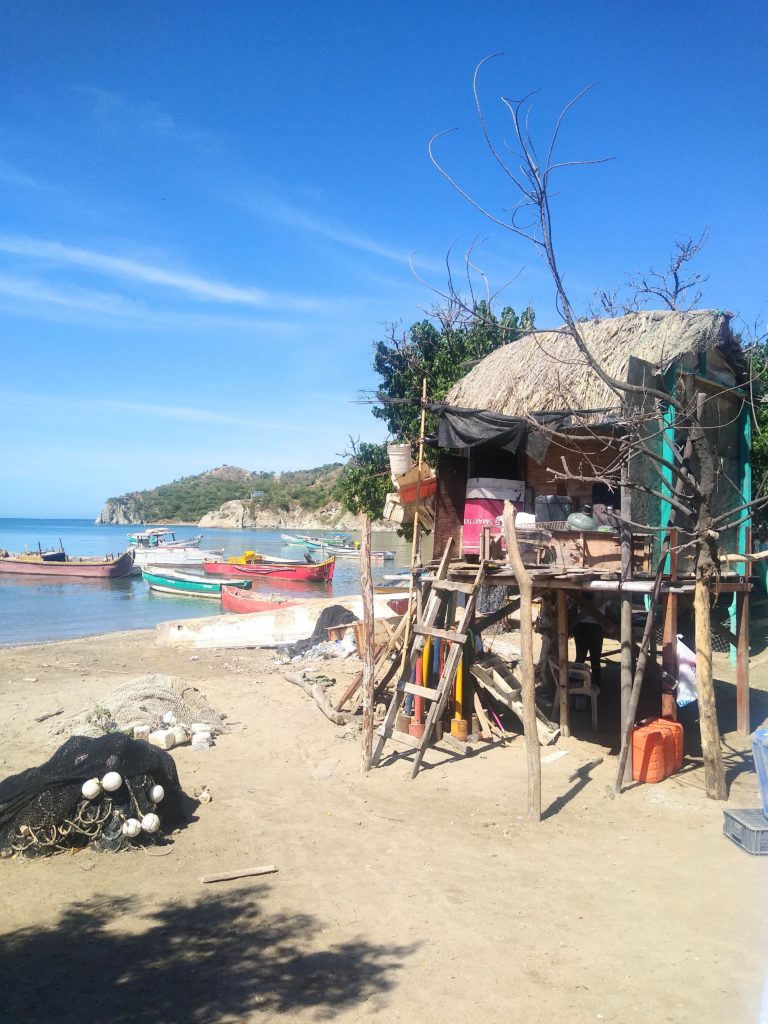 Taganga has a relaxed Carribbean feel. It is a traditional, "sleepy" fishing village, located on the Caribbean coast of Colombia, that comes alive with party going tourists as night falls. Only about 10 minutes drive from Santa Marta, makes it a convenient beach holiday destination away from the busier city.
How to get to Taganga
From Santa Marta, for the 10 minute journey, a taxi costs 15,000 COP (about £3). Although we hear Columbians get it for 12,000 COP!
Scenery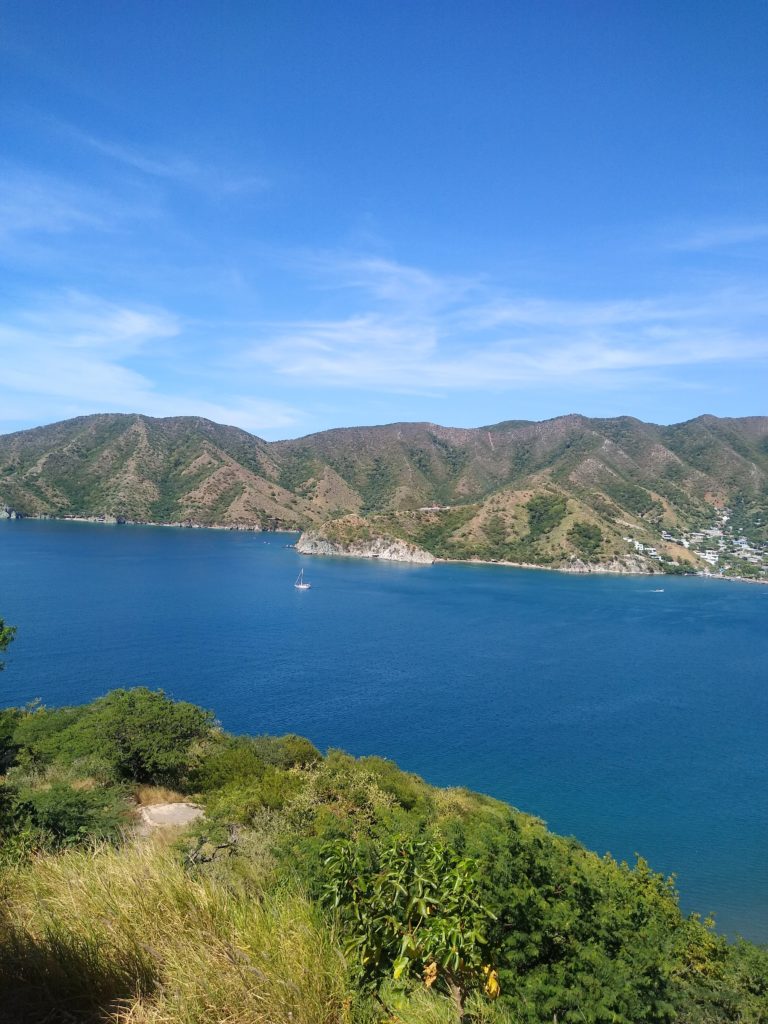 As you drive into Taganga you will be blown away by the stunning views. It reminded us of the delightfully colourful villages of Portofino in Italy, where houses sit upon the mountain side looking down to the blue sea. Various styled boats rock gently in the waters giving the look a more Mediterranean feel.
Accommodation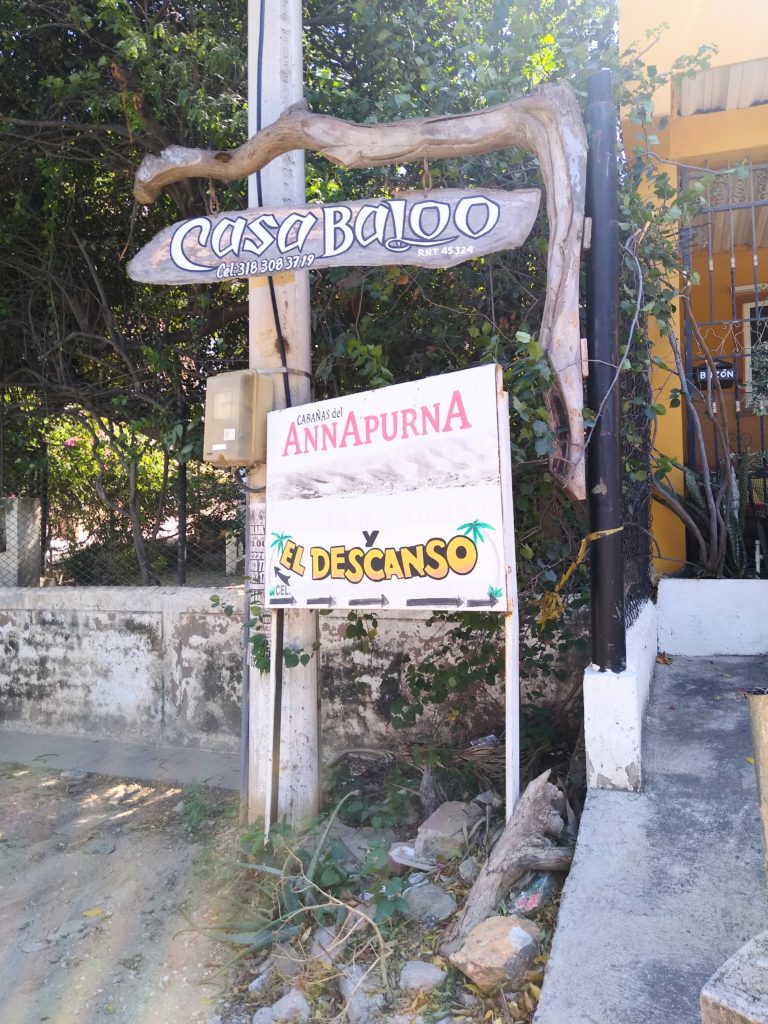 We opted for a mountainside bungalow, called AnnApurnA, Taganga with gorgeous sea views from the private roof top terrace.
We found this gem on Airbnb. Originally, we had only booked in for a week, but after seeing the place, we booked in for another week, to give us the opportunity to relax after all our non stop traveling days.
Bare in mind, if you've heavy luggage, there are many steps to climb to the top, but well worth the extra leg work!
Relaxation
We absolutely loved the terrace and would spend hours sunbathing, rocking on the hammock, dining, working, or playing board games.
The cat, Jade, also liked to keep us company and was partial to a few yoga stretches on my yoga mat.
You couldn't say no to her with food as she was an overload of cuteness.
The Vista's are outstanding, simply stunning, and you cannot help yourself but stare at the incredible scenery constantly. The sea was so blue and inviting, willing us to jump right in.

Weather
In Taganga be prepared to hold on to your hat, especially up on the hill! At night it can pick up so much, it dislodged the sticks from our bungalow roof.
It, however can be a wonderful resbite in the day from the scorching temperature's, as the breeze whizzes in while lazing on the terrace.
Birthday celebrations
I (Miko) felt very lucky to spend my birthday in such a special place and we rock n rolled with balloons and champagne throughout the day and evening.
What to do in Taganga?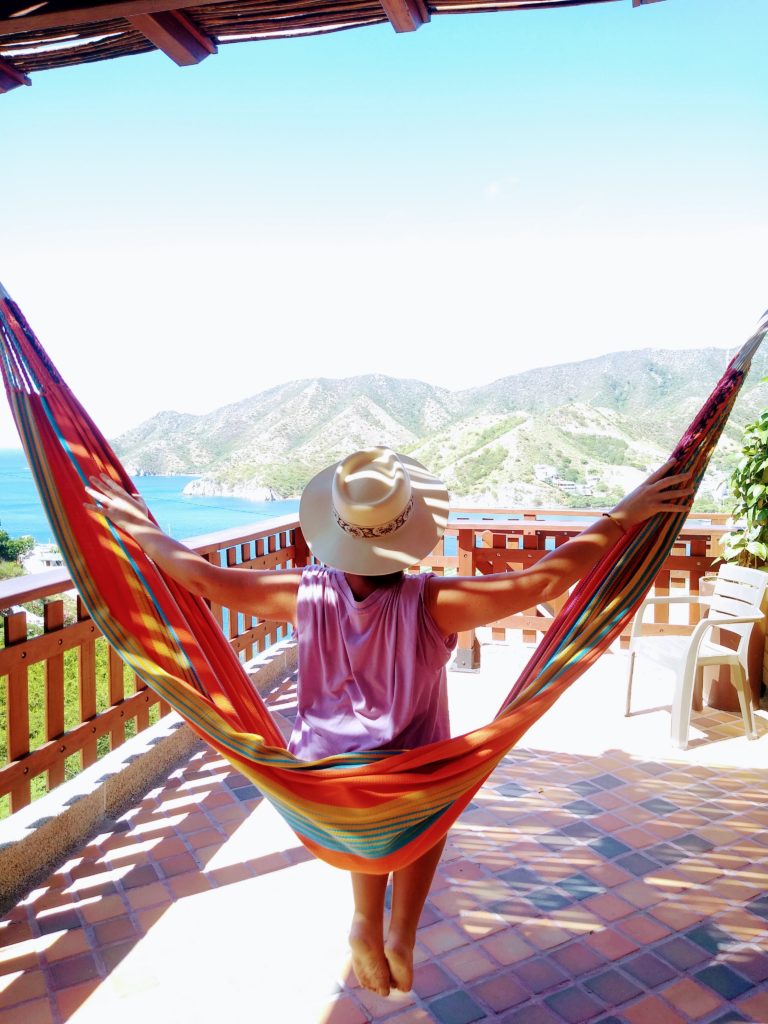 There's really not that much to do, but enjoy the easygoing charm what Taganga offers.
Many tourists also use Taganga as a base to reach Tayrona National Park or Minca.
The beach
The beach is pretty small and is shared with the harbour. It is surrounded by the picturesque mountains. Little coloured fishing boats sit at the shoreline ready to take tourists for a excursion.
It can get extremely busy, especially on weekends, but during the week you may be able to find a sunbathing spot to place your sarong.
Maybe! That was the beauty of having the private terrace, as it stopped you scrambling for a piece of sand. Don't expect privacy at this beach!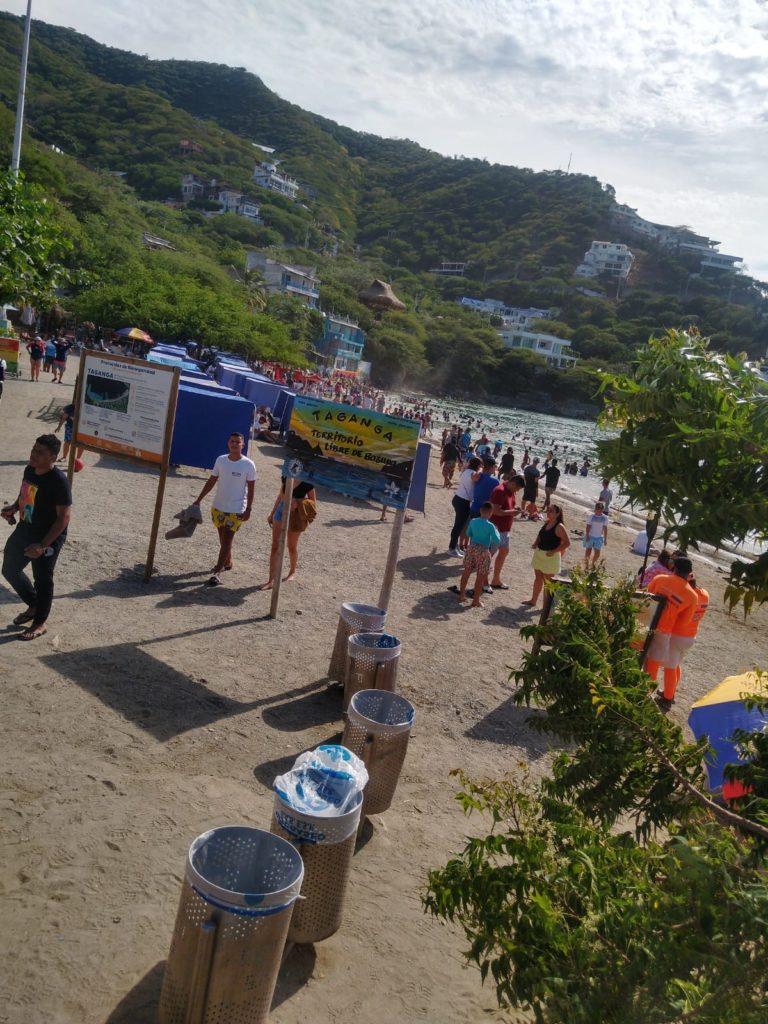 There are several restaurant's and bars located on the seafront too for some tempting drinks and snacks.
I found the blue, open ended, tent like sunshades, kind of ugly as they lined the sands one by one, all beside each other, in a row. However, once sunset rolls in, these get removed to make room for the crowds descending, to take pictures infront of the fiery skies.
Go on a hike to see the other beaches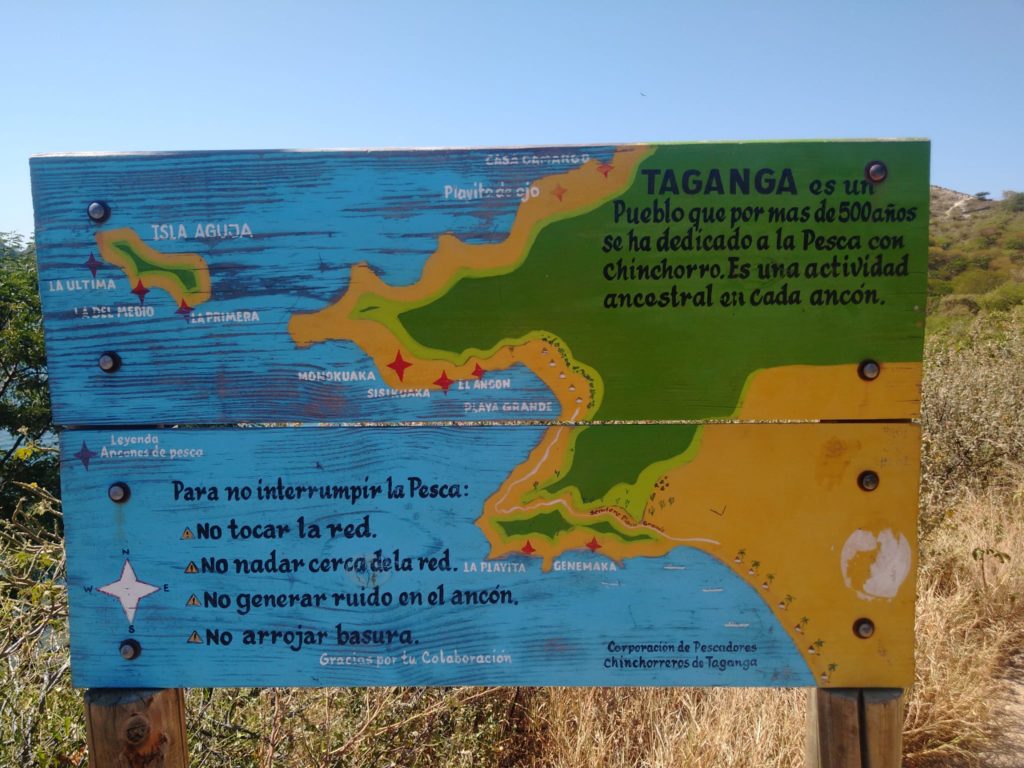 The hiking trail starts right of Tanganga beach and you will walk past many fishing men working on their boats.
From there steep steps will lead up past the Bahia hotel.
While walking the trail you will have a spectacular bird's eye views from above.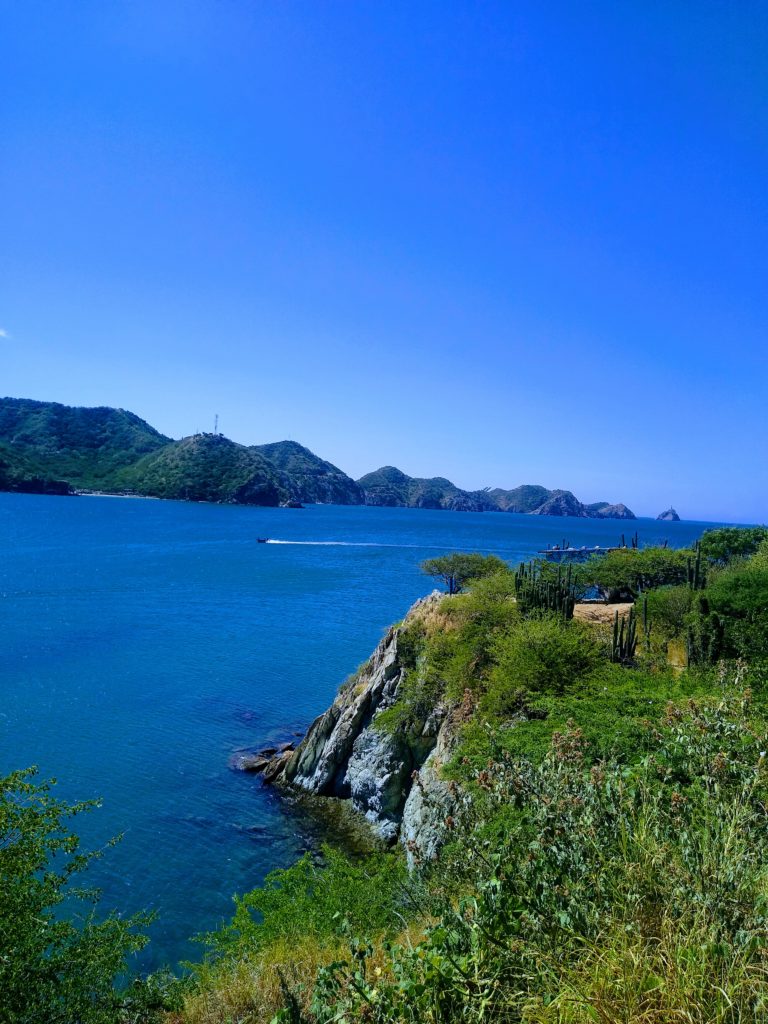 Your finger will definitely be trigger happy on the camera. Even sit down a while and take in the impressive landscape.
Genemaka beach
The first beach on the trail you will come to is Playa Genemaka. A quiet, pleasant little cove, with a few fisherman sitting in their hut waiting for their catch of the day, or an odd family enjoying the invigorating waters.
Playa Grande
It can be reached by an easy 15 minute walk that has a great viewpoint over the whole coastline.
If walking in the 30 degree heat isn't your style, then you could take a boat from Taganga Beach. It is around 7,000 pesos per person for a round trip. It can get quite busy with locals setting up for the day, with music, picnics, as well as lots of action in the sea, such as snorkeling, water skiing and boat trips.
We didn't encounter anything unfavorable, but we have heard rumours that people have been robbed along this trail, so I wouldn't be taking much money or valuables with you.
Eat in one of the many restaurants
There are some delicious restaurants in Tanganga from local crusine to the real mccoy Italian fare, such as our favourite;
Fatto in Casa, an unpretentious, Italian owned, small restaurant offering pizzas, Pastas, homemade breads, desserts.
The only downside is you can't buy pizzas until 5pm. Also be prepared to wait an hour at least for the food. However, it's very tasty when it comes. Just plan well in advance.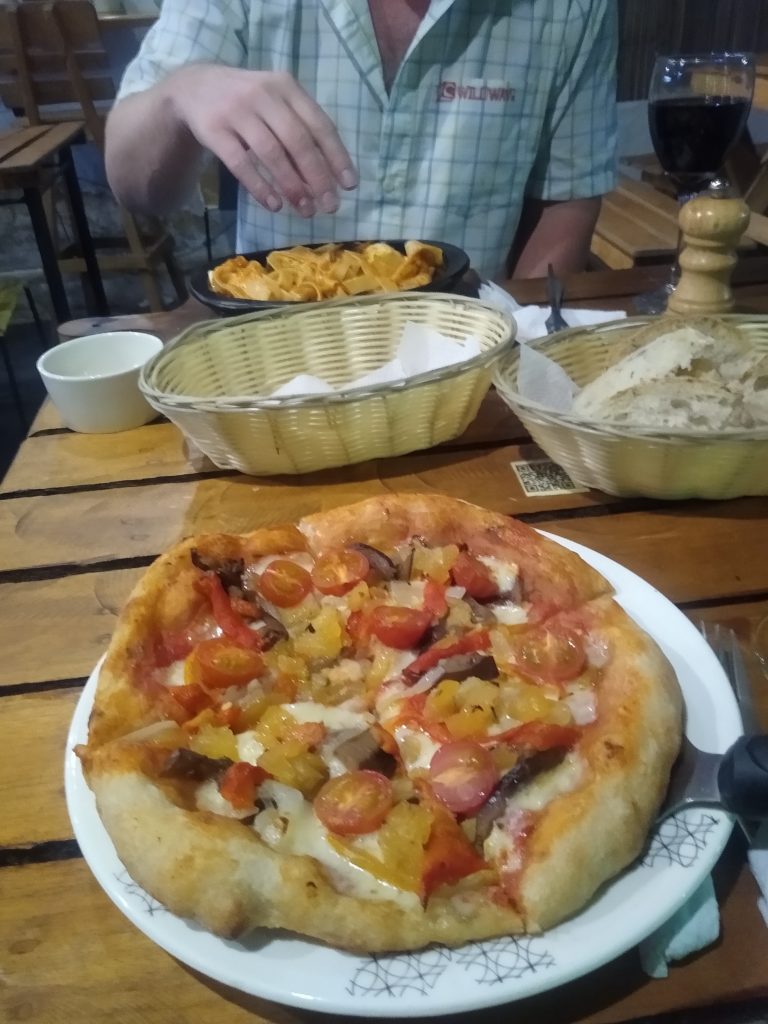 or
bakery / restaurant is also yummy, serving nutella waffles with ice-cream, or addictive fresh pastries.
And, even refreshing juices and cocktails.
Get memorized by the sunsets
Taganga has some pretty sunsets. Soft and gentle, watching them like any sunset, rids yourself of any distractions and gives you a better sense of gratitude for earth.
Mingle with the locals
Its good to mingle with the locals, brush up on your Spanish and get to know some interesting characters. Louis was a wealth of knowledge, highly intelligent, knowing a lot about our hometown Belfast. Afterwards he likes to give you a Colombian friendship bracelet / bookmark and he does appreciate some coins.
Dogs
There are many street dogs in Taganga that will pull at your heartstrings, and for that it reminded us of our times in India.
We noticed some had, had the snip, but not all, as it became apparent many were on heat.
There is Taganga Anima Aid (Animal Brigade) in the area and open 24 hours except Sundays, if you need to report an issue with an injured animal.
There is cheap sausage meat in several stores at only 10/20 pence for a chunk! The dogs will appreciate it 😊
Luckily, for some dogs, there are great mummies and daddies who have some pampered pets. Usually breeds, such as pugs or rottweilers.
Take a day trip to Santa Marta
We had stayed in Santa Marta before, however from Taganga we went a few times for a change of scenery, and food shopping at the big supermarket for items we couldn't get in Taganga village. There is also a cool little stall, just up from Bolivar Park at Carrera 4, where we would pick up some fruit and vegetables, aswell as cashew nuts.
There was a great flower stall too, just by Parque San Miguel, where Knox bought my birthday sunflowers.
Santa Marta is getting into the Christmas spirit too.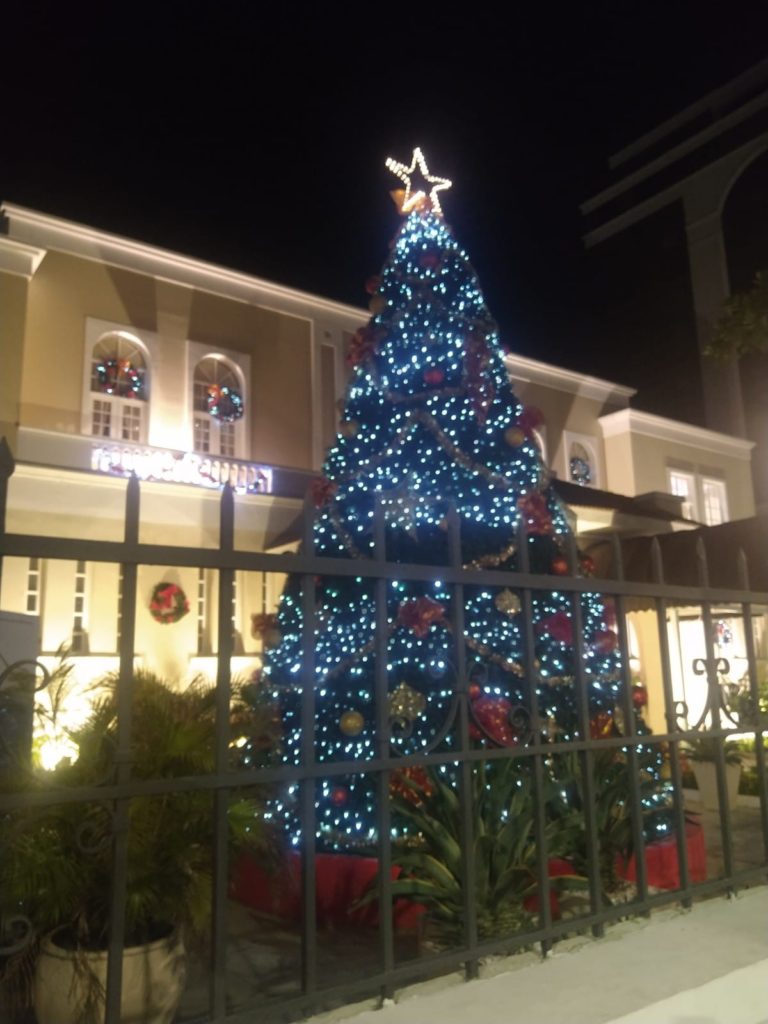 Indeed, around the city there are huge angel decoration's which light up at night.
Use Taganga as a base to visit Tayrona National Park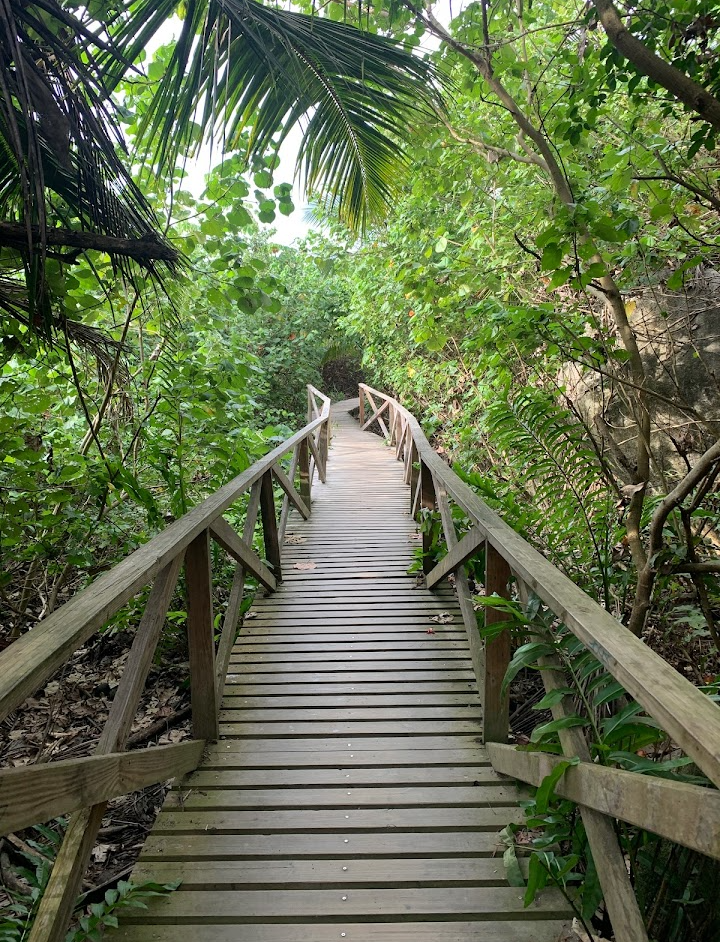 The Tayrona National Park is located at 34 kilometers from Santa Marta, Colombia Carribbean. Tayrona has remarkable biodiversity of flora and fauna within its boundaries, therefore making it a protected area. There are also, poisonous dart frogs, to giant boa's, as well as plenty of birds, mammals, and insects. And, if you're lucky you may see some monkeys. If you love hiking and nature this is definitely something to put on your Santa Marta, Columbia, Carribbean list!
How to get there?
Bus: you can catch the ride at the main bus station just outside the city or at the Mercado Publico (Market) Calle 11 con Carrera 11. It takes 1 hour and is dirt cheap at 8 000 COP.
Boat: From Santa Marta either take a bus or cab (about £3) to Taganga. From there you can get a boat. Just ask at the dock. You can take a fishing boat or a more fancier sailboat. Its approximately £15-30 depending on your preference. The journey is about 1 hour. Bare in mind that you are left off at Cabo San Juan at 10/10.30pm and not collected again until 4.30 pm.
Taxi: Our preferred option would be a private taxi, costing around 80 000 COP for a 45 min.
Entry
You need to bring identification with you to enter the park, aswell as cash. They don't accept credit cards. It is 60,000 Colombian pesos (approximately $15) for foreign visitors and less for Colombian nationals. You also need to buy their medical insurance, no matter if you have your own. It is only about £1.
The surroundings
There are two entrances to Tayrona Park, El Zaino (the main one), and Calabazo. Cañaveral is where the coastal trail of Parque Tayrona starts. The first beach you'll arrive at on the trail is Playa Arrecifes. You can't swim here though. In fact many of Tayrona's beaches aren't suitable for swimming due to them being rocky, or the rough seas. Many people have died. La Piscina, however, is where you finally get to splash around!
Cabo San Juan beach is no doubt the most popular due to the car parking facilities near by. This is a spot just to hang out and catch some rays or stroll the palm tree sands.
On the hike you will come across many other hidden beaches and photo ops. You can walk for hours here, in fact even the fittest of people say they struggle. If you don't want to do the park on a day trip, there is the option to stay over in it. There are many ccommodations, such as the traditional Ecohabs, camping, glamping or luxury hotels.
Would we recommend Taganga?
Without a doubt. Its viewpoints are some of the best in the world.
The only downfall though is loud music being played by weekenders or bars.
The views from our terrace may have given of the vibe of pure quiet and relaxation. However on more than one occasion music can be blasted from the town ten minutes away. Whichever way the wind blows, the whole complex is like a natural amphitheatre. We also had issues with neighbors partying until the early hours. Sleep deprivation and a blasé host wasn't pleasant. We didn't realize how much Tanganga was a party town, and it's sleepy Carribbean feel we saw first time around turned into one big rave on occasion. This can definitely spoil the chilled out vibe of the area.
Like Mexico, Colombians certainly like to make themselves be heard, and you just have to emerse yourself in the culture, either that or you'll go loco!
Construction
There is also the construction taking place. Tanganga is getting extremely popular and the proof is in the continued building work. Everyone seems to want a part of Taganga as every inch of space is being filled.
Next time: Minca