Cartagena – Colombia – The walled city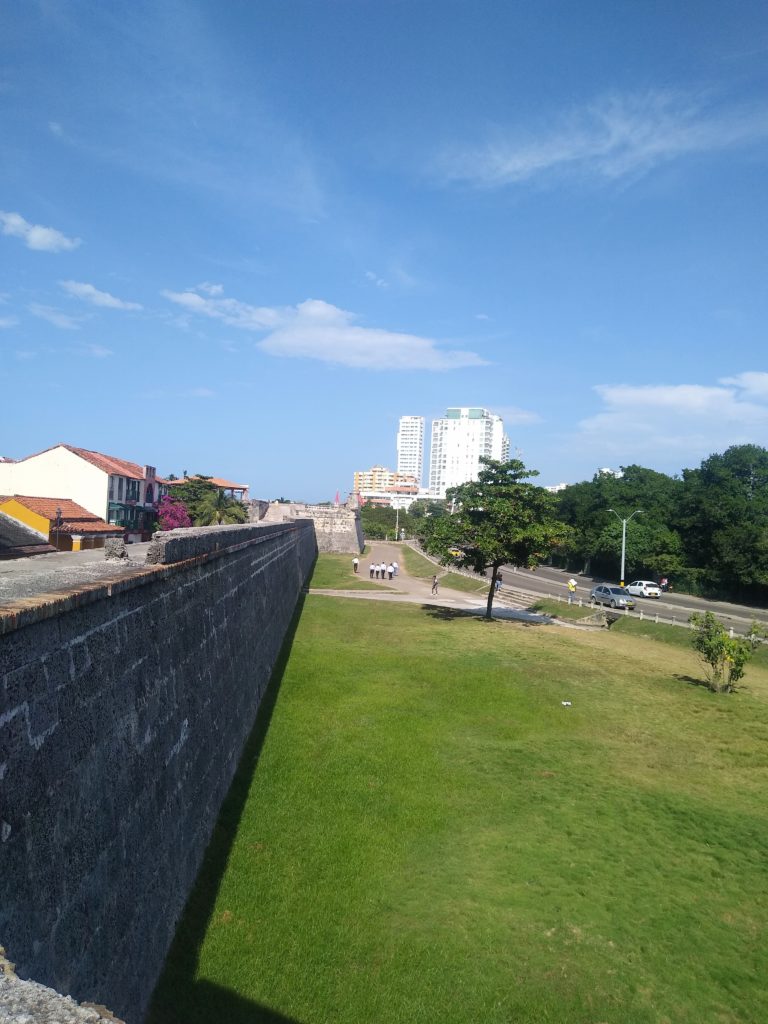 Cartagena – Colombia, is a port city on the country's dreamy Caribbean coast. It is much busier than Santa Marta and has a bustling nightlife and tourist attractions. It is the fifth biggest city in Colombia. Most visitors come to see the historic 13km of centuries-old fortified stone walls surrounding the colonial old town.
Adiós Santa Marta
We were quite sad to be leaving Santa Marta. We had a fondness for her. It had been a memorable destination, seeing Taganga, Palomino, Minca and Santa Marta town itself.
We decided to spend three last days in Santa Marta town before moving onto Cartagena.
Hotel Cactus
We loved El Hotel Boutique El Cactus so much last time, we went back again. We didn't get the presidential suite triple this time with the grand sunny terrace as it was booked up.
The only room available at the time was a double with no private outdoor space.
However we were lucky enough to get an upgrade to their presidential double with a lovely private outdoor space. We were certainly happy upgraders!
Unfortunately more shaded, but nevertheless it was appreciated.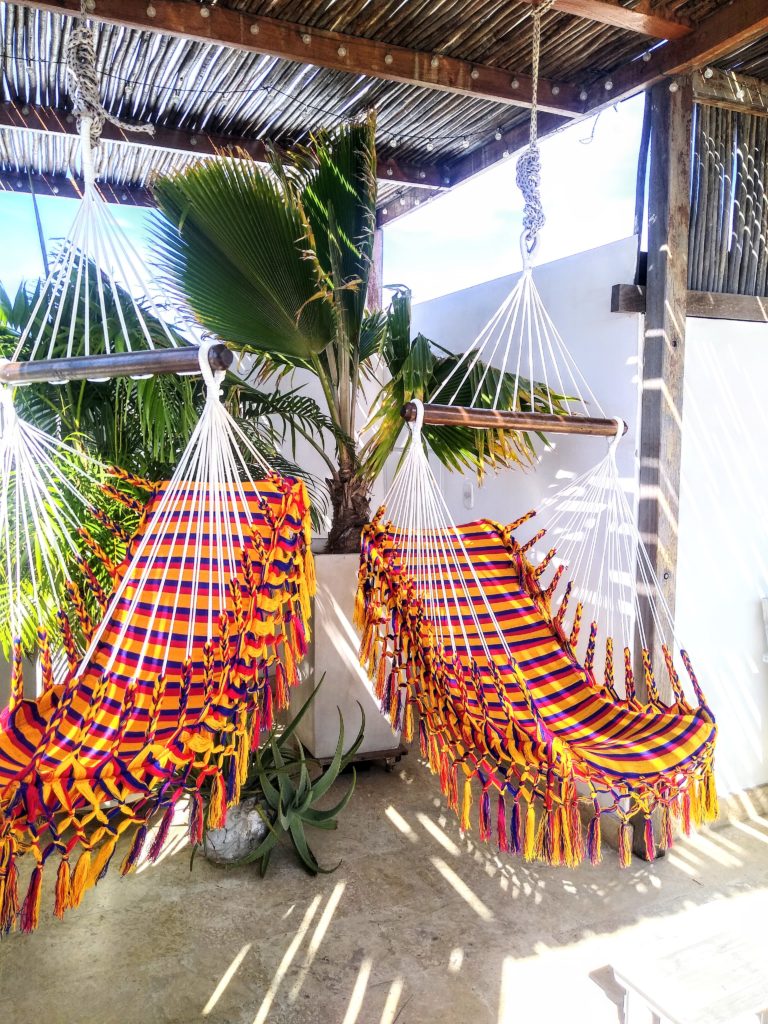 Taking a dip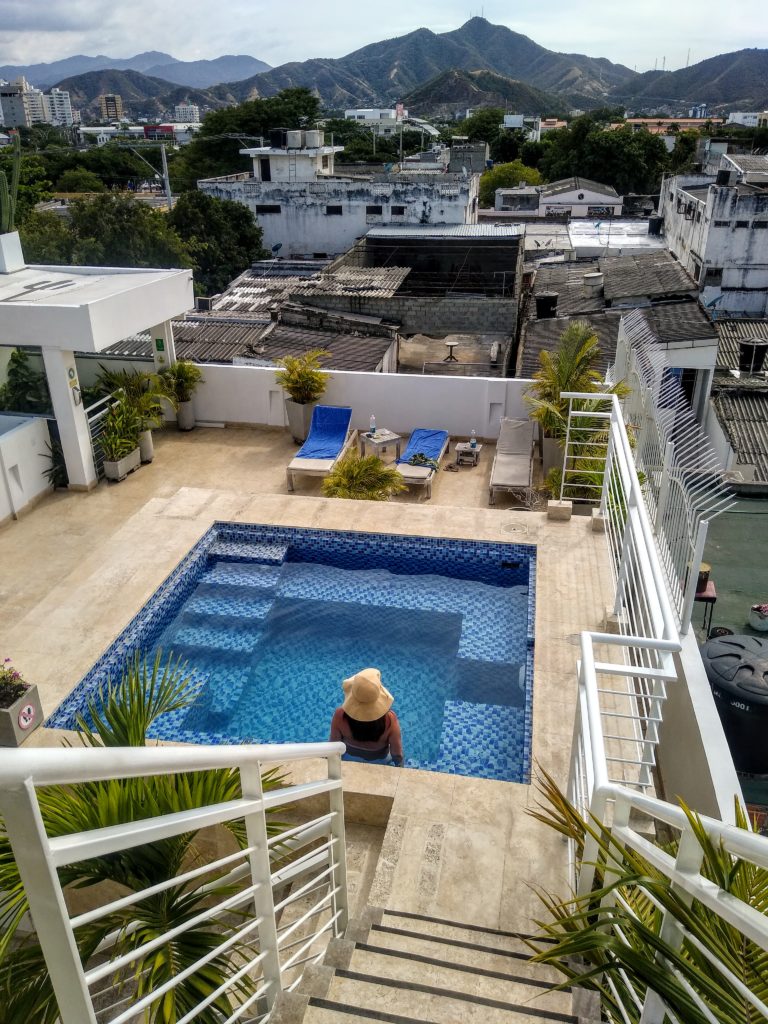 We certainly enjoyed the rooftop dipping pool, with city and mountain views which was basically our private area for the whole stay as noone else used it.
How to get to Cartagena, Colombia?
There are a number of ways to get between Santa Marta and Cartagena. It all depends on your time, budget, and preference.
Taxi
We opted for a private taxi, which cost $500000 COP (approx £95 / $125) The journey took approximately 4 and half hours. We went with Juan's father. Juan was our driver in Santa Marta. Funny guy and our Spanish language teacher lol. At the same time, ask a few drivers for a price and then haggle a bit. Our first offer from Juan was for $600000 COP.
We followed the coast, across the causeway, to Barranquilla and on along our south westerly course. The thin stretch of land to Barranquilla separates the see from the marshland. It shows a bit more poverty, yet it has plenty of beauty.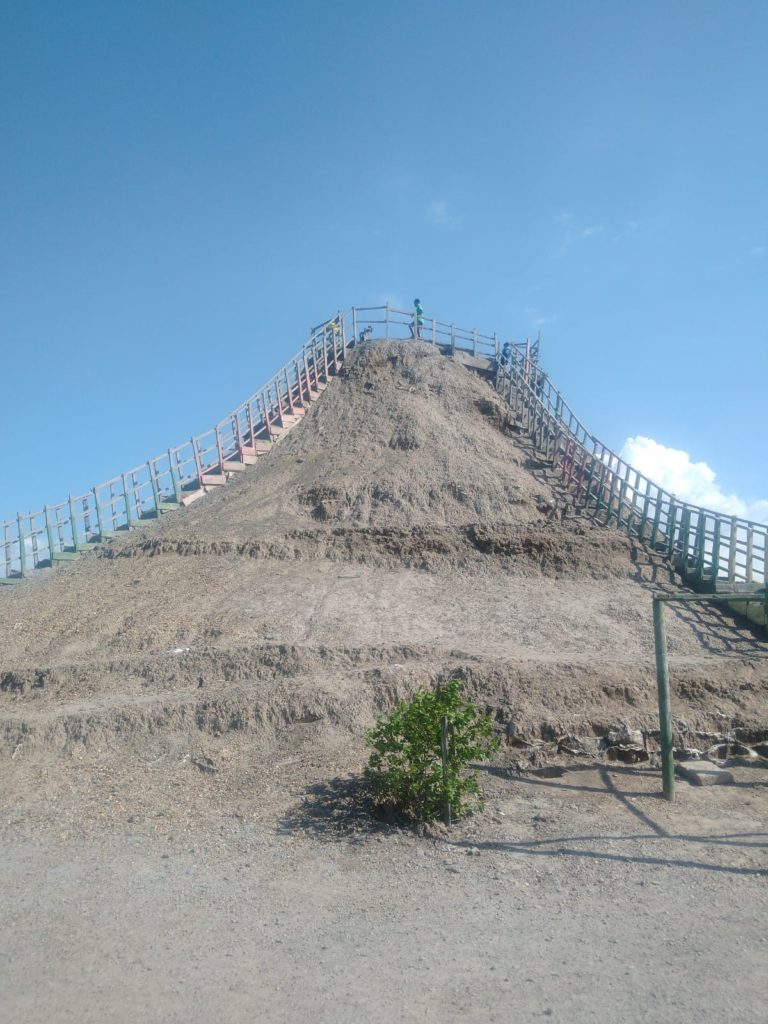 Juans father, Jimi, was cool aswell and brought us on a slight detour to see Volcán Del Tumo. A mud bath volcano, just an hour from Cartagena. Expect the descending hordes of vendors as you arrive.
There is a charge of 25 mil COP (£5), to climb to the top and immerse yourself in the warm mud. Grand if you don't have to jump back in a cab and be in your way again!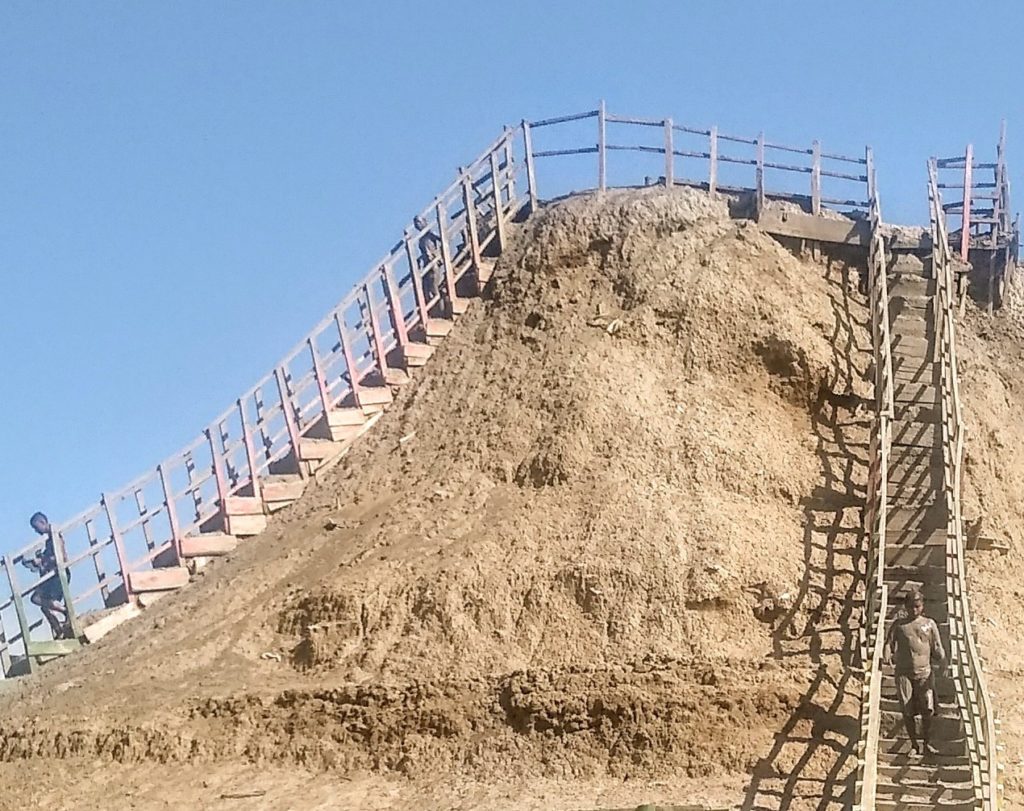 Bus
You can also travel by bus which takes 5 and a half hours. Its obviously much cheaper at approximately $14 but more cramped and with less freedom for a detour.
Flight
There are no direct flights to Cartagena, Colombia from Santa Marta. There will be a stopover in Bogota. Flights cost around £80-100. The stopover sounded like to much hassle for us, which is why we opted for the cab.
Accommodation
Prices in Cartagena, Colombia, compared to Santa Marta, are much dearer. For this stay we booked an Airbnb. We also needed kitchen facilities since we didn't know how the situation would be in Cartagena, due to the show your 'jab papers' rule, which came into effect on 16th November. A bigger city, we wondered if it would be more uptight.
The 'hotel' we read was a converted mansion. First impressions were good as we spied the joyful Christmas decorations on the bright white front door, however as our stay commenced, it really was just hostel type accommodation. The old electric stove struggled to heat, to get a sizzle, and this added a good half hour or more to the cooking time. Added to this, you weren't allowed to ask for more than one toilet paper during the staff. Really, we aren't even joking! Also the 24 hour security was in hindsight a safe touch. however, he had the TV blaring all night, giving us a sleepless night. Not to mention the other guests ringing the doorbell at all hours, that would wake up the dead.
Even the nice skylight, window shower didn't do much to appease the dark and regimented feel of the place. After three nights we couldn't wait to move on. But STOP! We weren't allowed to leave until they checked we the room was all in order! What's this say about their usual clientele lol.
Indeed, oddly they had a board with banned guests identifications stuck to it. We had no words.
What to do in Cartagena, Colombia?
There is plenty to see and do in Cartagena, Colombia. Bohemian Getsemani, the narrow streets of the old town, and the high towered Boca Grande were all on our list. We stayed in Manga near the Marina. Because of this, it naturally became the first thing we saw.
The Marina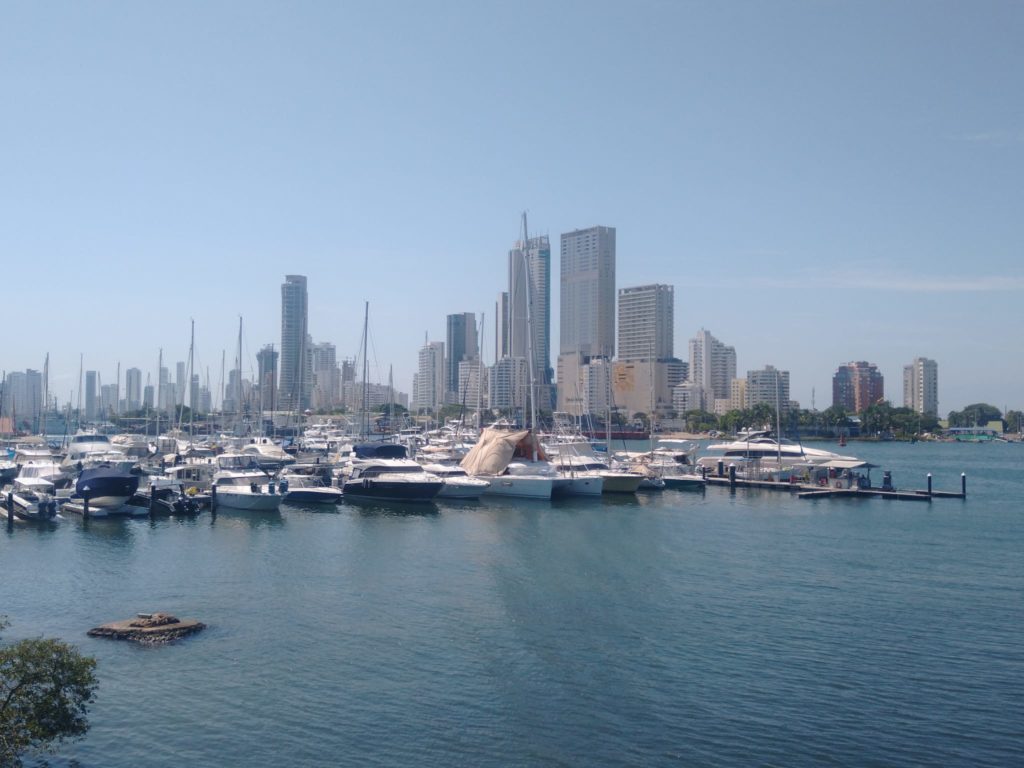 At day or night the marina can certainly be a pretty picture, especially when when the going of hour arrives. There are some decent sized yachts at sea too. Although, compared to our favourite Lady M, nothing has come close just yet 😉
Stroll around the walled city / Historic centre
The historic wall enclosing the Old Town, is a must see for history buffs. In fact, its pretty impossible to miss.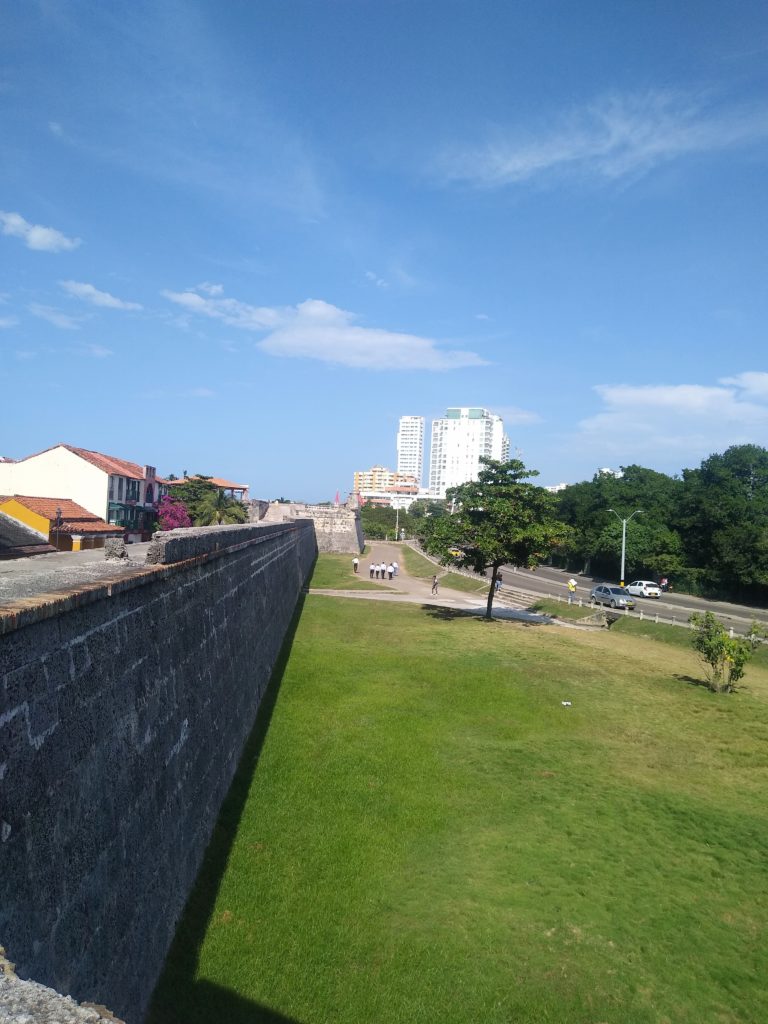 We stayed on the edge of Manga, close to the bridge to Getsemani, near the Marina. When one crosses the various bridges, the walls stand firm in front of you.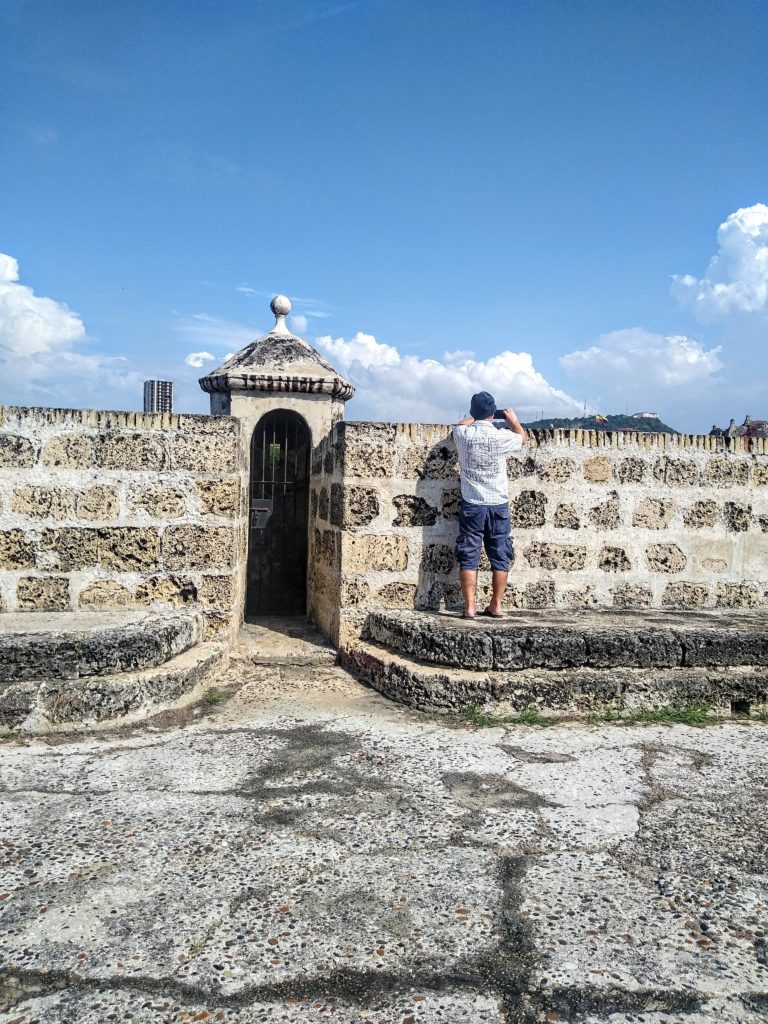 The walls of Cartagena, Colombia, were constructed in the sixteenth century by the Spanish conquistador Pedro de Heredia.
Most of the walls are still intact. We headed to the Castle first and then joined up with the walls as we headed toward the old town.
Raising ourselves up from the mayhem of the ground level traffic, we took to the blowy walls. Here you had views, over the lagoons, towards the castle, on the inside, and the colonial old town as it spread towards the Caribbean.
Castillo de San Felipe de Barajas
The huge fortress, a real landmark for Cartagena, Colombia, was commissioned in 1630, and construction began in 1657.
There are tunnels which were built for evacuation. The tunnels were constructed so that any noise reverberated all the way along them, making it possible to hear the slightest sound of an approaching enemy's feet.
Tourists have the option to experience one of these tunnels for themselves. The castle is located on the Hill of San Lázaro in a strategic location, dominating approaches to the city by land or sea.
Wandering around inside the castle is mainly an outdoor experience. We thought we would go in to have a look at $25000 COP per adult (approx £5 / $7). This wasn't possible though as, not only did they require face masks; which we saw many take off as soon as they were through the entrance, but they were also checking personal medical status as far as whether a person had been jabbed or not.
Monument India Catalina.
We followed the walls, walking through the Parque San Miguel de Chambacú, and took in the monument to the indigenous indian population. The waterside park was a break from the traffic but also was home to a few vagrants.
The bronze statue, sat atop a large plinth, was pretty lonely. Indeed, not many people take time to stop and visit, it seems.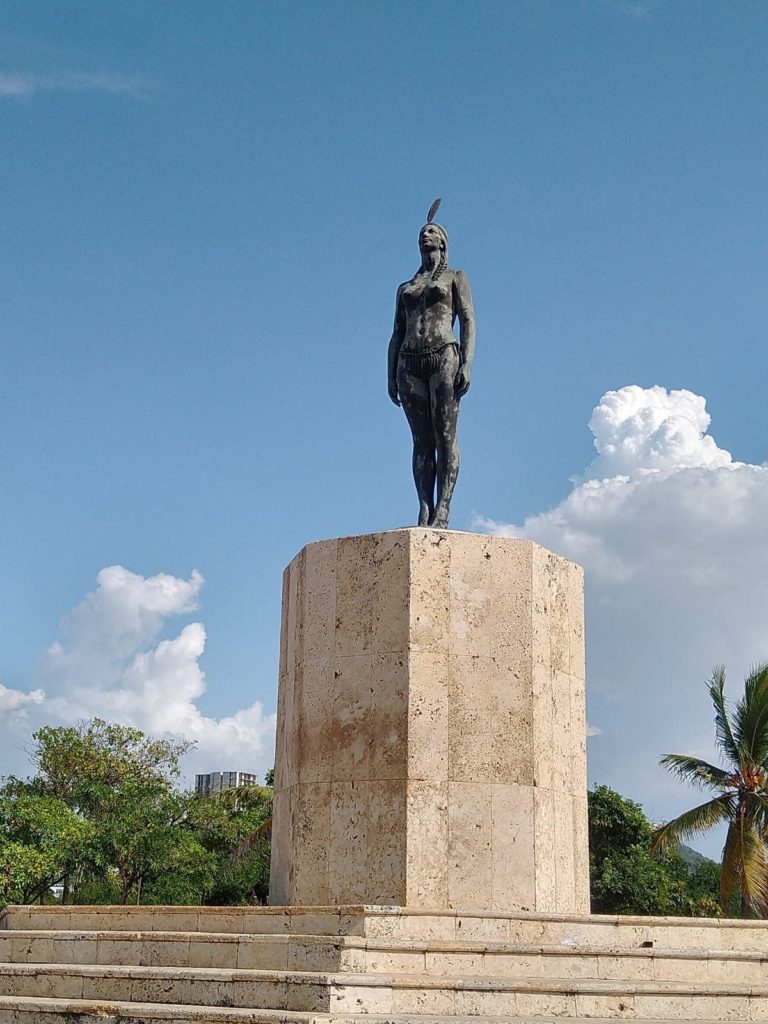 Las Bovedas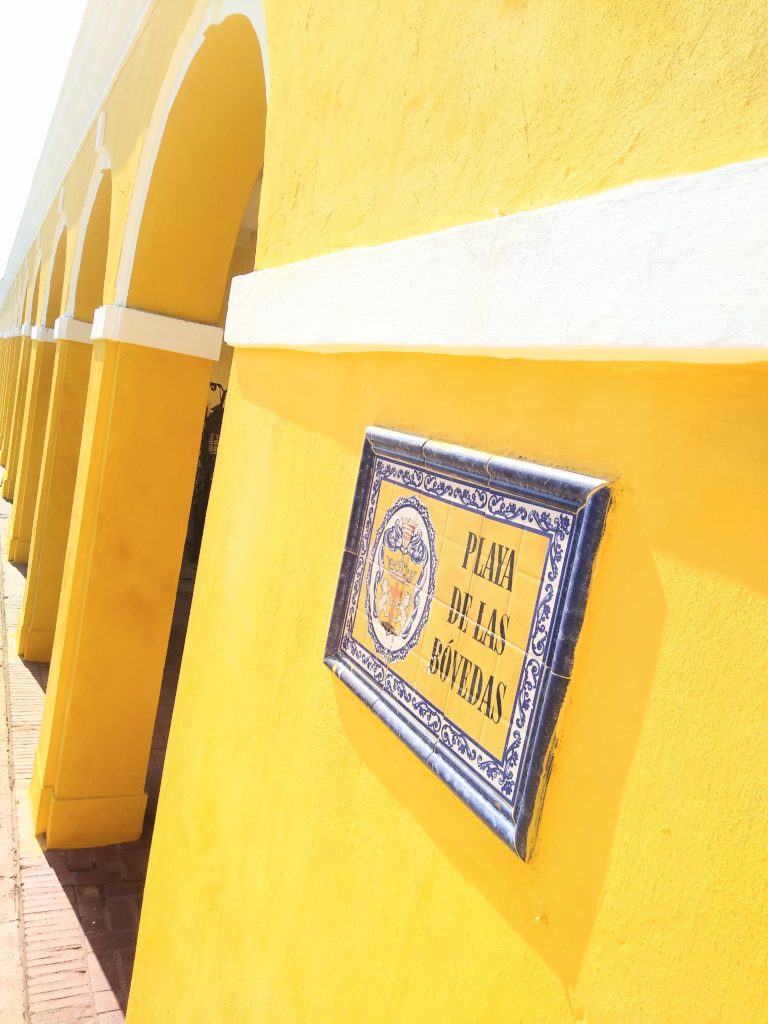 We continued to walk the city walls as we headed towards the sea shore and Las Bovedas. Indeed, the walls afforded great vistas out over the Caribbean coastline.
Shop and enjoy art in what were once jail cells or storerooms for the fortresses. Built in the late 1700 and now home to tourist trinkets and gifts of a local Cartagena, Colombia, theme.
You will also stop the local women dresses in their colourful get up, selling their wares.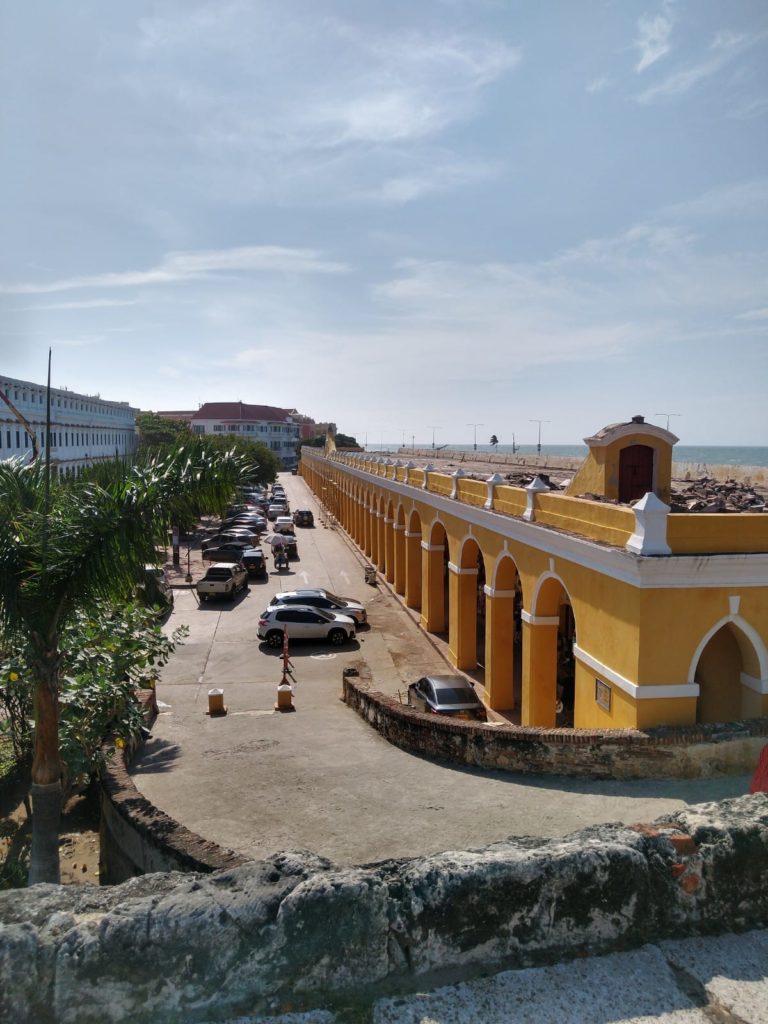 The old town / Historic centre
We left the city walls and dandered through the narrow streets of the historic centre of Cartagena, Colombia. Watch the world go by in one restaurants & bars. Its a place were buskers come to play.
Cartegena, Colombia – Colonial style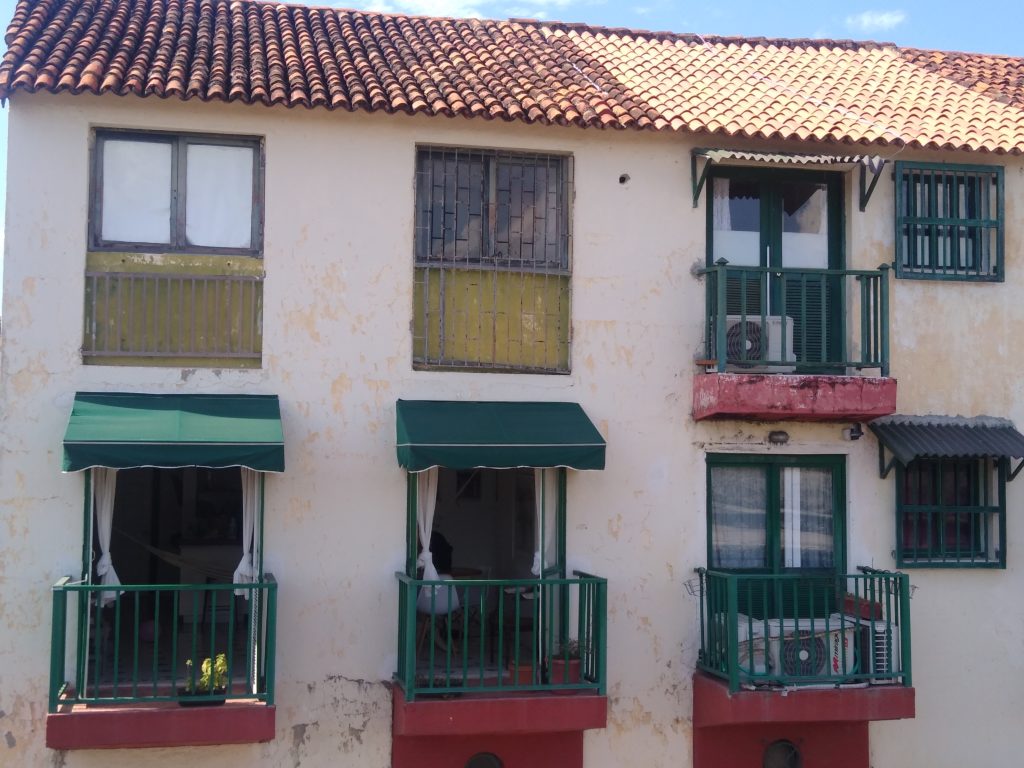 The colonial buildings gather round you as one navigates the narrow streets. Indeed it's like a warren and easy to get disorientated.
Ancient churches, government buildings etc can help mark your path as they tower over the buildings and usually facade a plaza that opens up a bit of space such as Plaza Santa Domingo or the Santuario de San Pedro Claver.
The streets' overhanging, colourful buildings, entwined with vines and bougainvillea, bring a vibrate hue to the Old town as the sun blazes down. Thankfully, they also offer plenty of shade for protection.
Thats a rap
Watch out for the rappers, though, who try to dominate the streets with their ghetto blaster in a hand and a few choice words of rap. They'll follow you down the street, very in your face, if they feel like it. Just don't look them in the eye, or you'll never get rid. Or if rap is your thing, make some shapes on the street as you bust those moves, I'm sure they would love it.
Never mind the rappers, you also may come across sale touts. Loaded with several menus in hand, they can aggressively pursue you along the tight thoroughfares and, no matter how much you say "No gracias!", will be very reluctant to let you be. Consequently, walk and ignore is probably the best advice to take so you can get back to enjoying the highlights of the area.
When I (Miko) got fed up, sweating and running from their constant, unceasing, repetition, I'd stand and hold my ground. "I work here. I'm not a tourist!" This can often work as they just don't know how to answer that.
Plaza Santo Domingo
Home of the church of the same name, the plaza is a fairly sedate open space during the day. When the sun descends, the square becomes a hive of activity. A renowned artwork, offset in one corner, depicts a rotund, bronzed, woman reclining in her birthday suit. Indeed, many of Fernando Botero's sculptures have a plump nature.
Plaza de Santa Teresa and the Navel Museum
We followed Carrera 3, past the boutique stores, cafe bars, restaurants, and a few hawkers, towards the city walls. The street opened up at the Plaza de Santa Teresa.
The Navel museum showcases exhibits on the Colombian Navy, plus the history & culture of the region. The bright yellow building is unmissable in the plaza and had some fun photo props outside.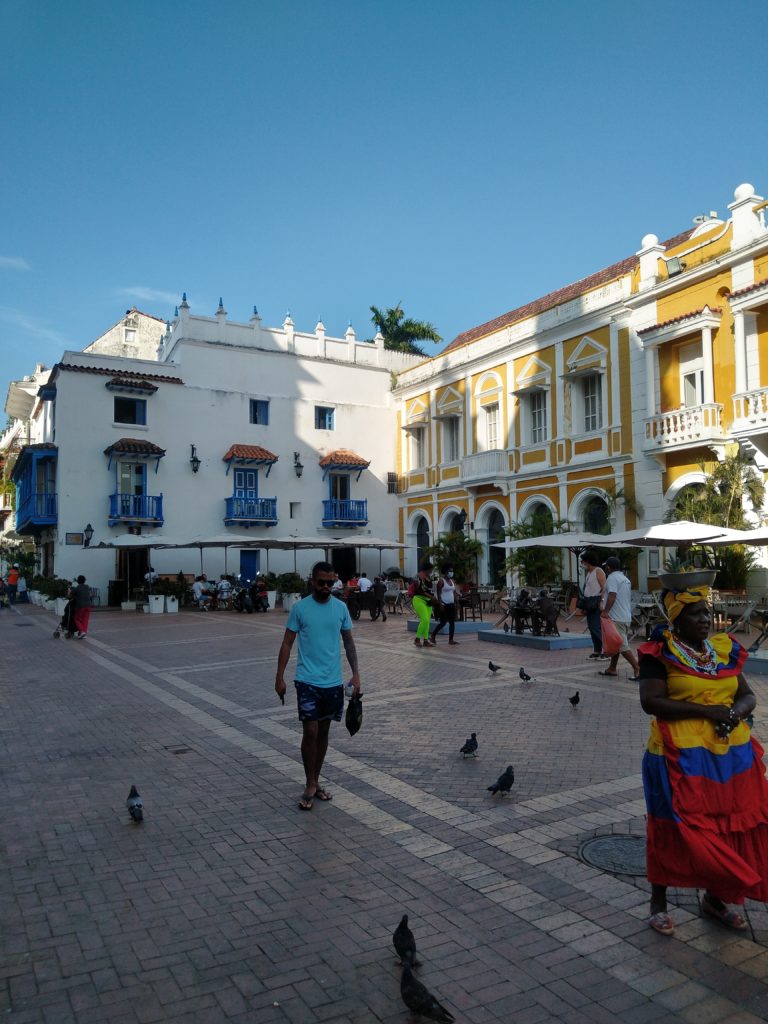 This really did become a sanctuary for us after a long walk by Boca Grande. The sun had been blazing down and we needed a refreshment.
Bring on the lovely sanctuary plaza, with its metalwork art of iron figures playing chess, fishing, fruit on the head or at a sewing machine among others.
Additionally, the church and square offered shade, and importantly, a few restaurants / cafes for a chilled drink.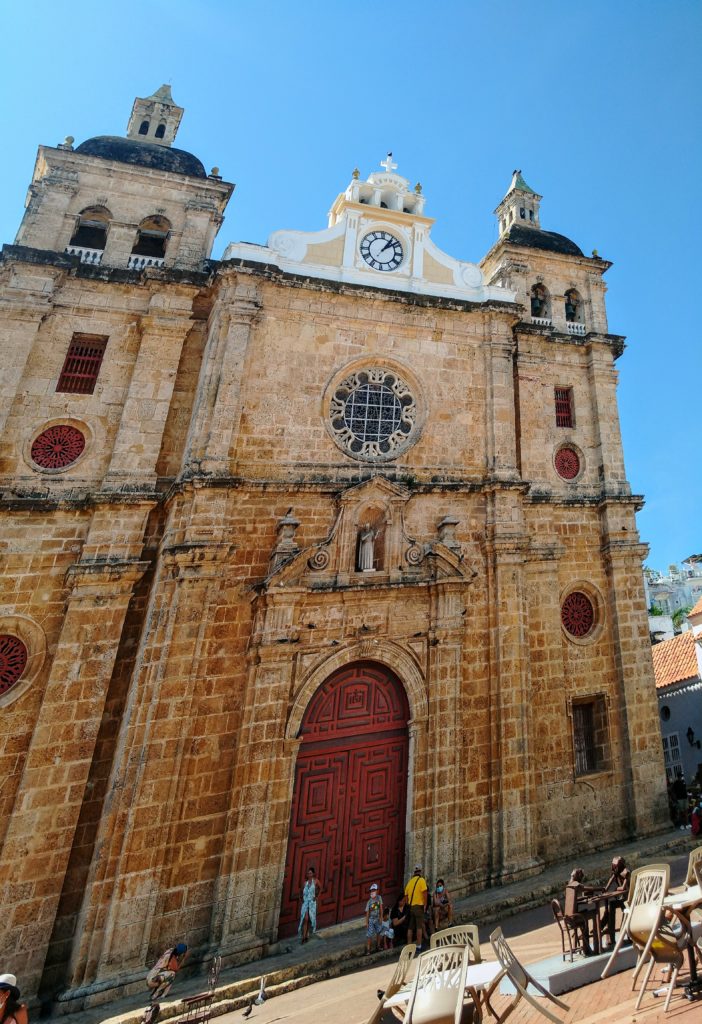 The Santuario de San Pedro Claver is a late 16th / early 17th Century church dedicated to the Canonised early abolishonist of the same name. Befitting of the area, the church is built in the Spanish colonial style
The restaurant, San Pedro Cafe Mirador, had simple tables outside, bit was more elaborate inside the colonial building. High, decorated, ceilings and plush furnishings made for a more grandeur feel than, certainly, I (Knox) felt due to our hot Trek.
Plaza de Bolivar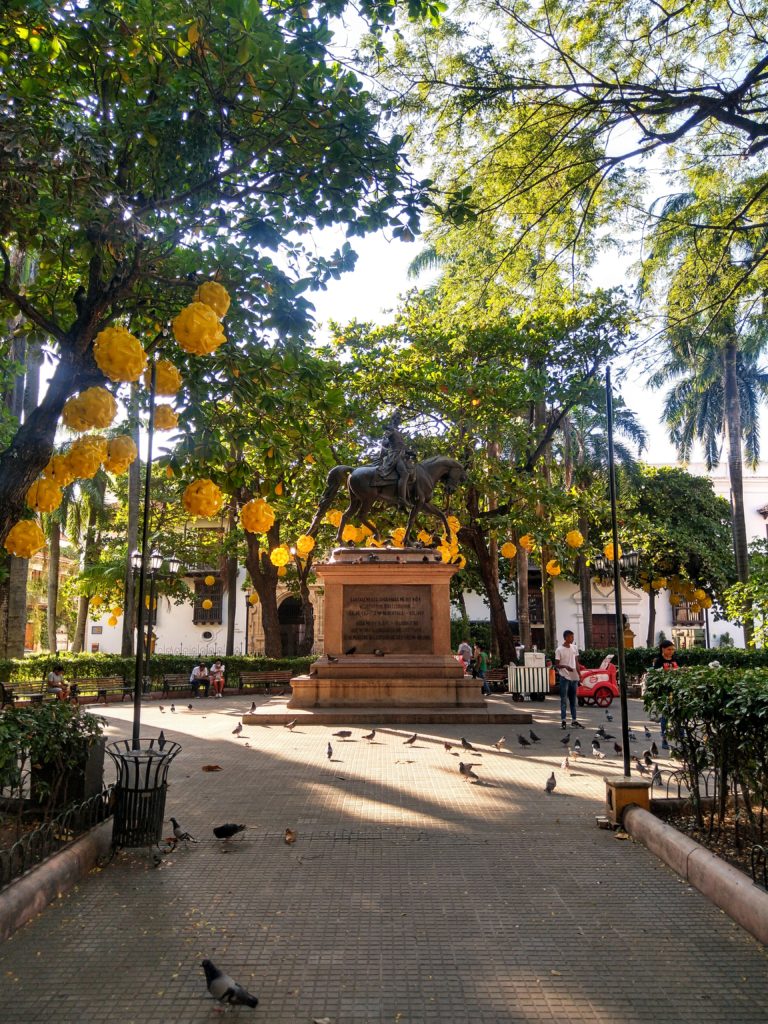 From here we strolled past Bolivar park. A recurring theme throughout Colombia. Indeed, the small park was centred by a bronze of the leader, riding a horse hero fashion. The aged trees surrounding the centrepiece were heavy with deep green leaves and in full bloom of yellow, plastic bauble decorations. Was this due to Christmas?
All along the narrow street, the cathedral dome dominated the skyline. The building work in the late 16th century must have been fierce as this Cathedral was being built at the same time as other churches in the area. It's a monumental achievement in these tight streets. The Cathedral is dedictaed to the martyr Saint Catherine of Alexandria.
Parque Centenario
Crossing Avendia Calle 24 Real, between the historic centre and Getsemani, you'll pass the Pegasus statues looking out over the marina.
Opposite the statues is the Parque Centenario. A central green area to grab some shade and relax from the mayhem outside.
Getsemani
Stroll the colourful streets of Getsemani. Reading some articles regarding Getsemani, we heard awful stories, saying it was dodgy and dangerous.
Historically it has been known for a grubby past of drugs, violence, and prostitution. Even though we felt an edge to the city, the community has built Getsemani to become a bustling visitors attraction, with its array of cool hangouts and artwork.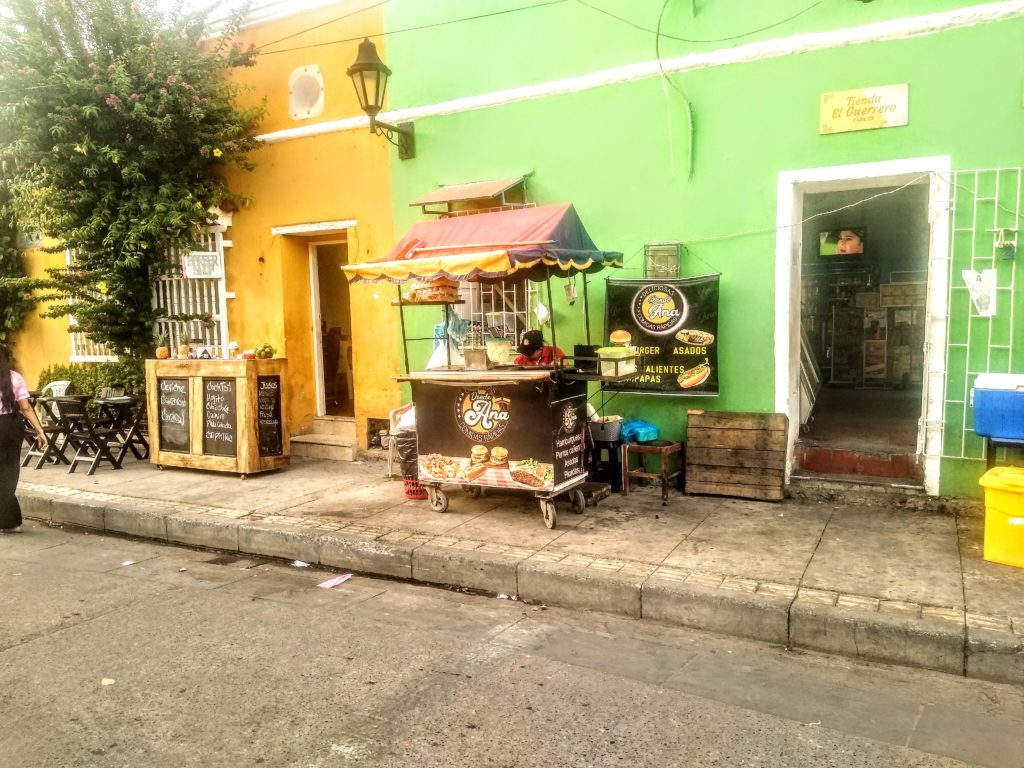 Birthday bash
Speaking of cool hangouts, we stumbled across 'Beer Lovers' bar, an ale lovers paradise, with lots of free tasters.
They were in the middle of decorating for the Christmas festivities, ripping open boxes to dust down ornaments and paraphernalia from the year before.
They even give me (Miko) a little wooden Christmas tree! As due to traveling, last year we didn't have our own tree and this year it is most likely going to be the same, this simple gesture brought a little tear to my eye. I know, even through my sometimes hard exterior, I can be a little sentimental! Lol
We had great chat with Angel, the bar guy. It also happened to be his birthday, and staff surprised him with a cake and balloons, where we joined in singing Happy birthday! Aswell as getting given a chunk of yummy chocolate cake each. The kind, Colombian hospitality was noted!
Street art
If you appreciate art, you will surely be in awe of the wonderful talent of wall murals in Getsemani. The most poignant was the homeless man sleeping under a mural of the same.
Covering the grey walls are the most amazing pieces showcasing local artists talent. A lot of the work tells a story and you can appreciate the time and effort that has gone into them.
Plaza de la Trinidad
Not as bustling as Plaza Santa Domingo, but nevertheless still a steady crowd and charming all the same with its colourful architecture and street art.
People sit in the little square infront of the bright yellow church and eat traditional food bought from the many vendors in the area.
There is also a vibrancy in the air as ladies in traditional Colombian dress, dance with fruit on heads,with other locals and tourists. The spectacle is colourful, fun and inviting.
As well as the rappers, there are great wee local sellers and singers.
You will also see the life-like spectacular bronzed statues in the plaza.
Boca Grande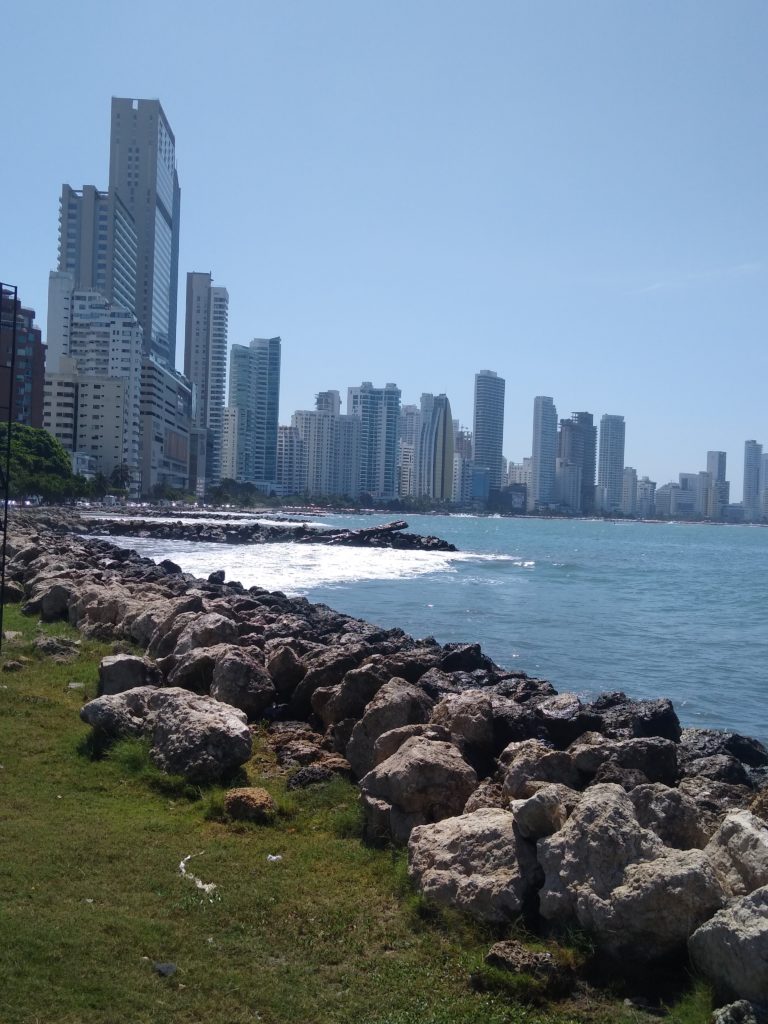 What can we say?! Locals call it the Colombian Miami. We do not see the resemblance. We walked the 45 minutes from the edge of Manga. Traffic was heavy and eyes get dusty and gritty as you try to cross busy junctions.
Indeed the traffic got more hectic and gridlocked as a protest had closed off some roads. Noone was going anywhere. We were happy to walk, even though the 30 degree heat shone down on us.
Flooded roads – infrastructure unable to cope
With so many tall sky scrapers around the beach area, it was clear that the infrastructure was struggling to cope. Indeed flooded roads, when no rain had been for a while, proved that something needs down to avert an environmental crises.
Certainly, maintenance of these buildings is not a job for the faint hearted. Maybe Spiderman should apply!
The beach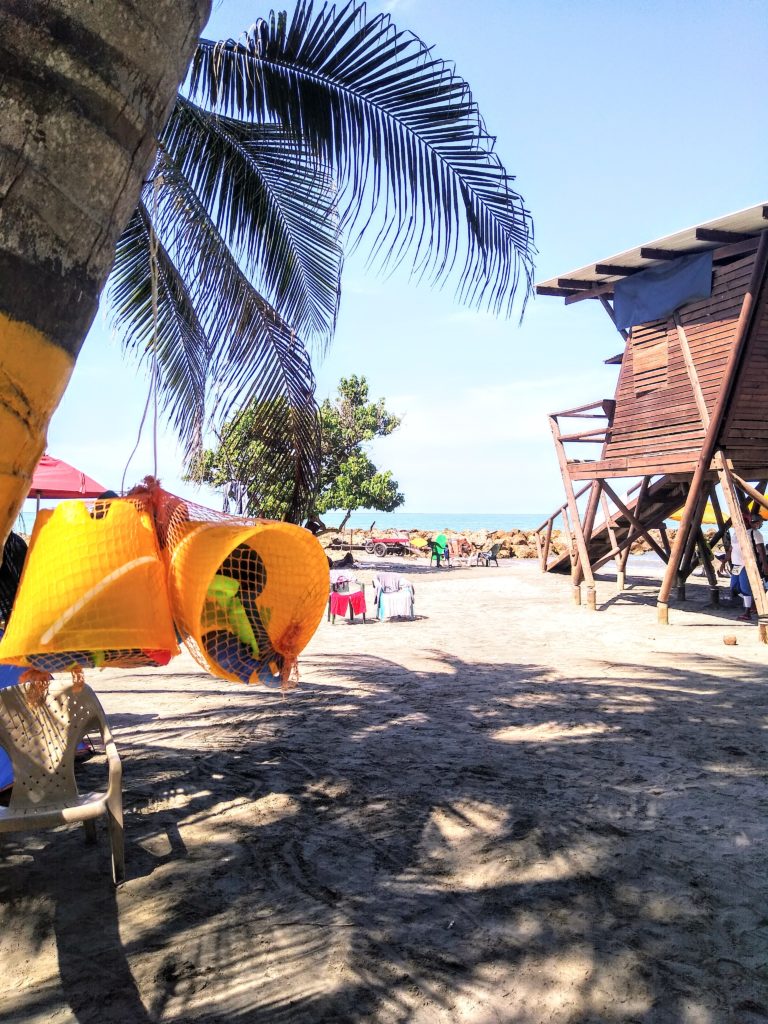 Not the prettiest with umbrella after umbrella just off the main road. There's no fresh sea breeze here! This doesn't stop the masses though, as every inch of sand is taken up for the day. Aswell as umbrellas it has plastic table and chairs with ramshackled restaurants serving food and drinks.
Christmas coming
There many not be a hint of snow in the air but the decorations abound.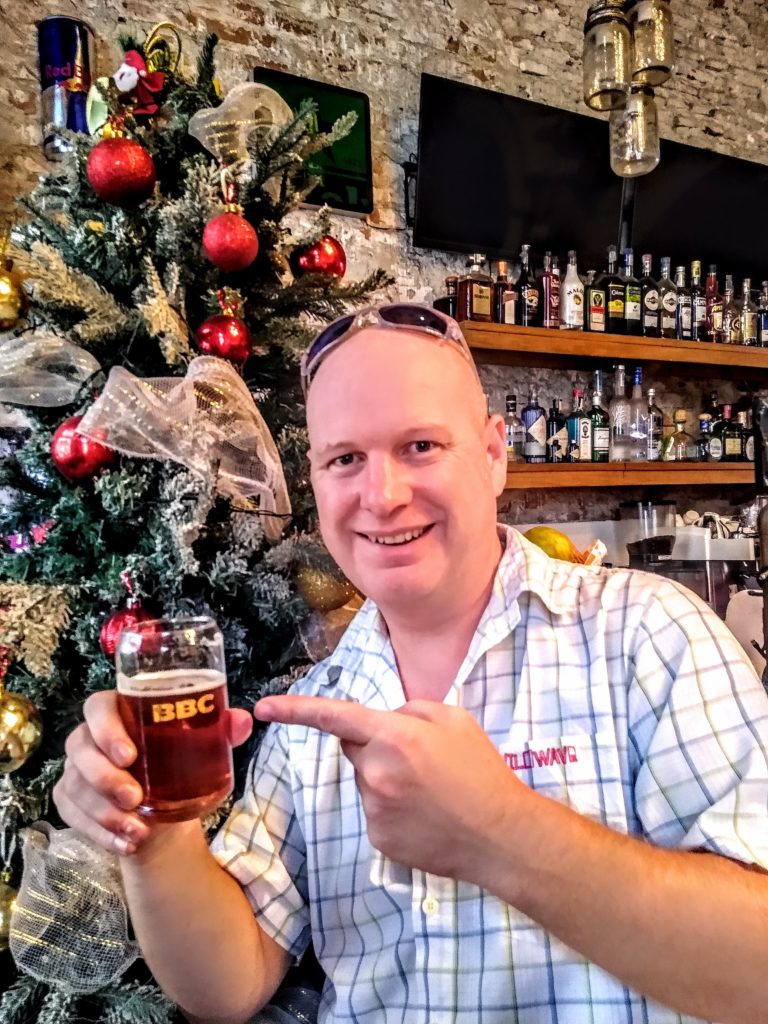 Many businesses have tinsel, colourful baubles, trees, and bright lights adorning their windows etc.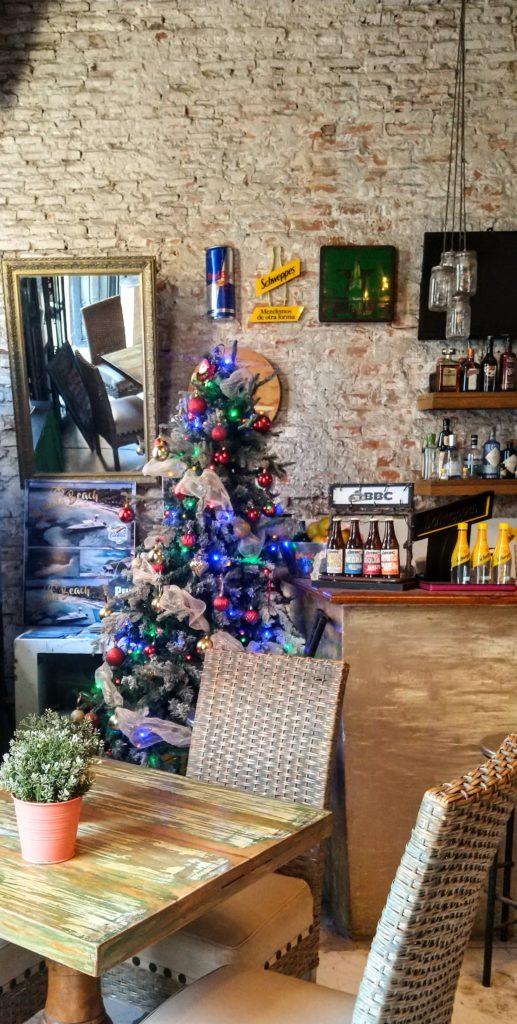 The streets were also colourfully attired with nativity and happy family scenes, including playful dog/cat (it really wasn't easy to tell which lol) playing with a ball.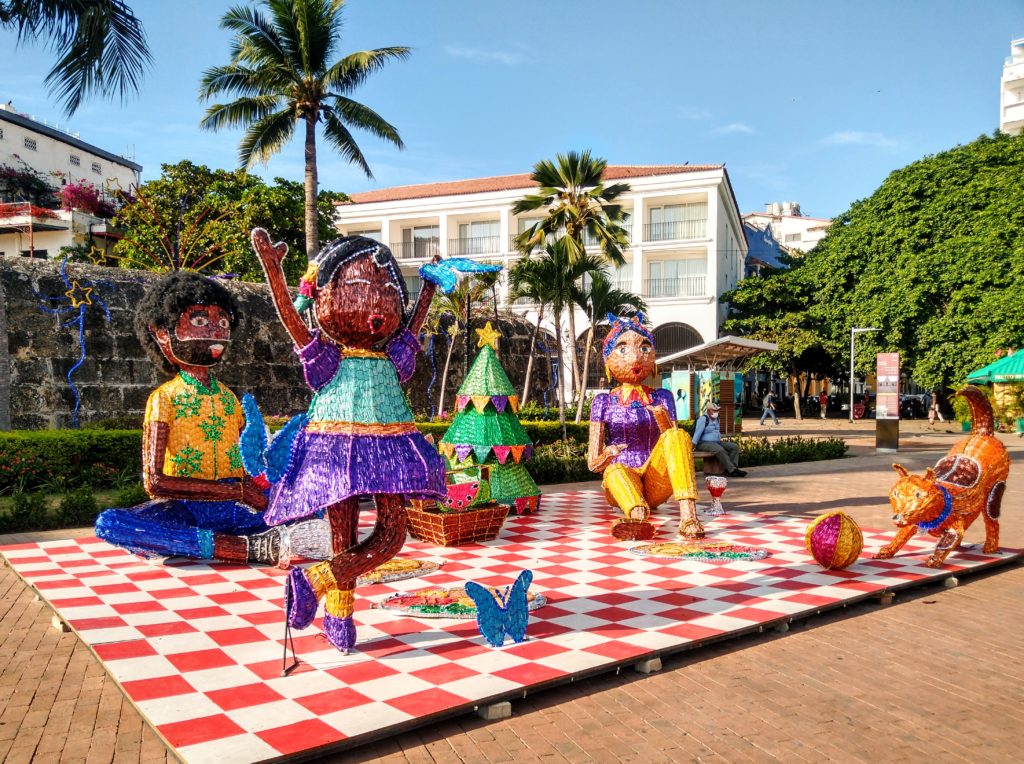 For Northern Europeans, used to a chilly December, it can be hard to get a sense of Christmas when it's 30° heat and the sun beating down. However, we have experienced a hot Christmas on numerous occasions. We look forward to another ☀️😎.
Would we recommend Cartagena?
Most definitely! With our favourite area being Getsemani. Don't let the scaremongering put you off!
Next: Medellín!
If you liked reading, you maybe interested in other cities around the world, such as;
Santa Marta Columbian Carribbea