Puerto Vallarta – City beach
After three and a half months in Sayulita, it was time for a change of scenery.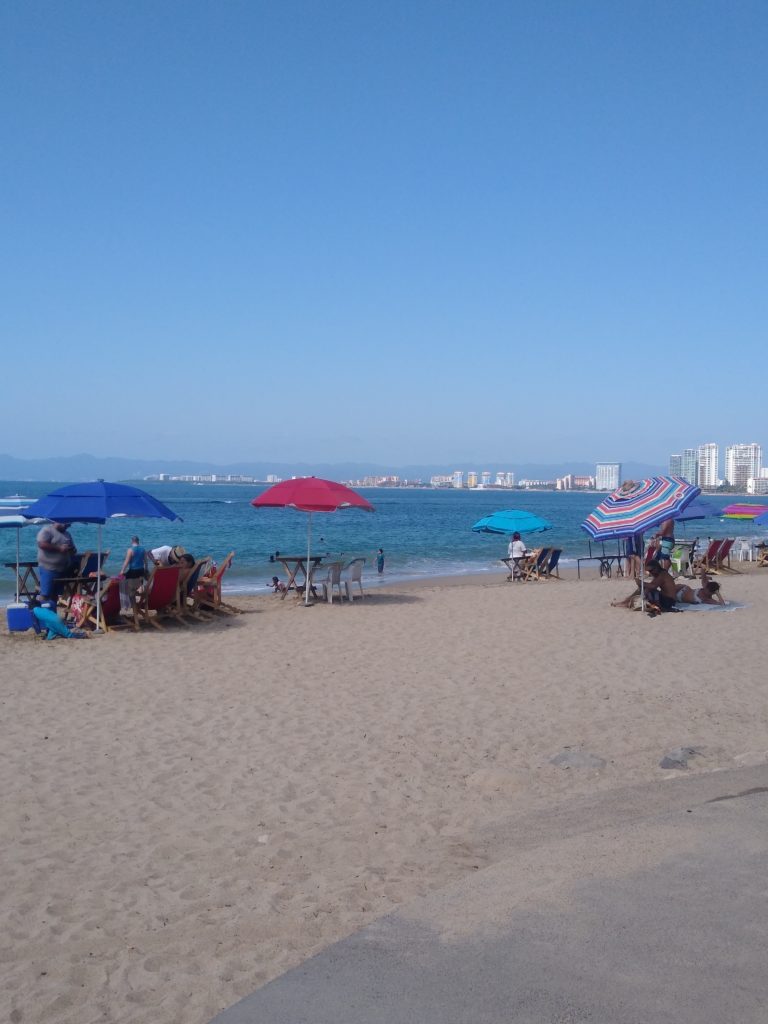 We have been to Puerto Vallarta city beach before, so have done most of what there is to see. It was still nice to kick back and spend a few days in the city before we flew the nest.
This trip was more about a weekend of chilling out as well as working on our next move.
It's also a place of steep hills where you can work on your calf muscles and see some breathtaking scenery from the top. This hills are for moderate fitness level. Sometimes you think you'll never reach the height! It reminded us of the sharp inclines in San Francisco.
Puerto Vallarta is only an hour's drive from Sayulita which makes it an easy step towards new possible destination's.
Car hire
To take us to Puerto Vallarta City beach, we hired a car from National Car Rental in Sayulita, as we have done on numerous ocassions. It was 721 Mexican pesos (around £25) with basic insurance for the day.
Before, we have never had an issue with the company. However, this time I (Knox) went down to the office, at my booked time, to collect the car but it wasn't there. Gilberto, the very good agent, was just back from vacation and he wasn't having a good day so far. In short, the car was being sent from Puerto Vallarta and would take about an hour. This was an issue as we had to check out and get on our way.
These things happen. While we were frustrated, we knew it wasn't Gilberto's fault. The issue was explained to Harry, our current landlord, and we eked out a bit of extra time if we needed to go past our midday checkout deadline. Finally, the issue was sorted and the car was delivered. we were on the road an hour later than expected. Indeed, Gilberto tried to make amends by giving us a few extra hours on the return time as well as upping our insurance cover.
Adiós Sayulita
Prisoners?
"We are all just prisoners here, of our own device"
"You can check out anytime you like, but you can never leave".
Lines from the Eagles song, Hotel California. This sums it up how we felt about Sayulita.
Restrictions
Close to two years later, and restrictions of the plandemic around the world still ongoing; with the demands of having a test or an experimental injection, travelling has been challenging to say the least. We have managed it but are feeling the discriminating pinch. In fact, we are simply unable to get into a lot of countries because we prefer to debate and listen to science and opinion from differing angles rather than an all absorbing single narrative of governmental "truth". Their script is transparent. Their leaders have revealed the true intentions as they are cocksure about their stance and control. The millenia of warnings are being ignored.
Frustrated at the countries we were suppose to see, which we can't, our original RTW is stagnant and looking further out of reach. We plough on with hope.
Love or hate her
We had a love hate relationship with Sayulita and it's really not her fault. We will surely miss her. She is one of a kind and was a place where freedom certainly hasn't been completely compromised like many places in the globe. She has been a refuge. Will she be again as we head to Puerto Vallarta city beach and beyond?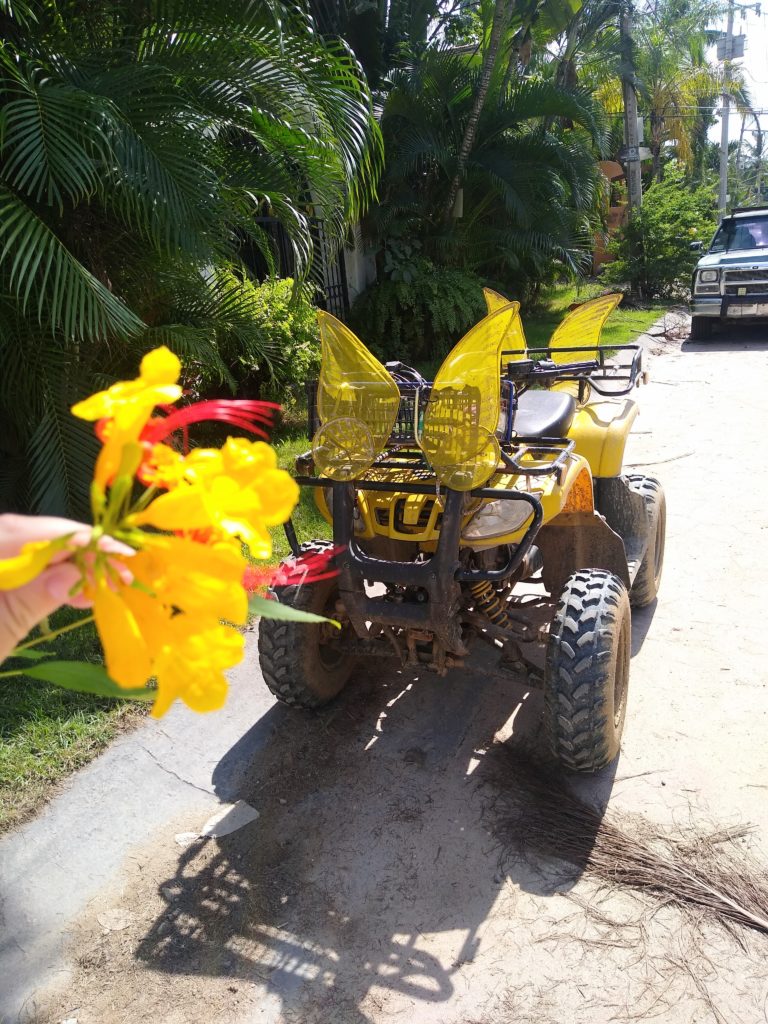 Malpaso – Sayulita
We will miss Malpaso especially, Sayulita's hidden gem.
From the North end of Sayulita beach, you can climb over the rocks, where it will bring you to a walking trail.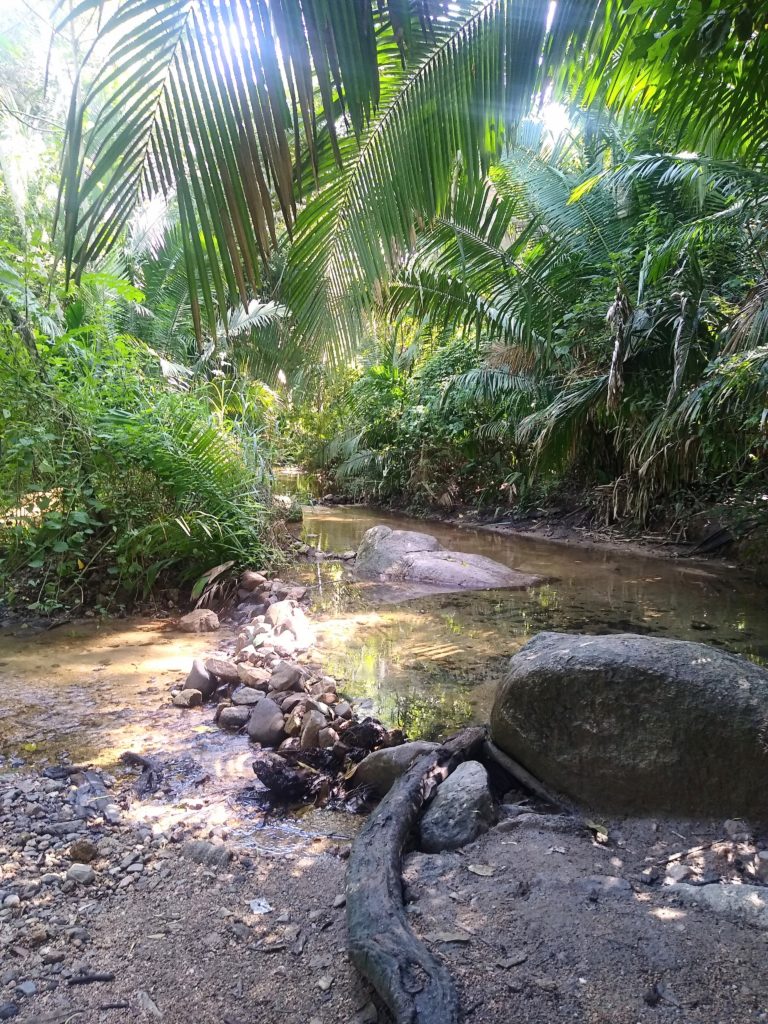 The easy jungle trek lasts for approx 15/20 minutes, before it brings you out to the beautiful tranquility of Malpaso playa. Watch out for the snakes! I (Miko) almost stepped on one, but was thankful it just slithered away.
There are no bars, restaurants, or stores here so bring water, snacks; if you plan to stay a few hours, and sunscreen.
You might see the odd stray human, but mostly it's like your own private island getaway. Feel the freedom away from the roving eye of technology as there is no phone signal here. The consequence, a wonderfully relaxing time to enjoy the sounds of your environment.
There are some awesome vistas from the top of the trail on the cliff side walk. If you have viewed it before, its a good way to see how the shifting sands have changed. A little metaphor, may be, about the world's situation at present.
Temporary accommodation
It didn't help our original accommodation, Casa Pia sold our room, without having a chat with us before. After 3 and a half months this was a kick in the teeth. We contacted the landlady, with the intention of staying longer, a month before our end date, as well as letting her know we may stay longer when we arrived. Yet, we were now left with short notice to find another, right at the start of high season.
Sayulita People, on Facebook, were useful as it gets your posts out to hundreds in the area.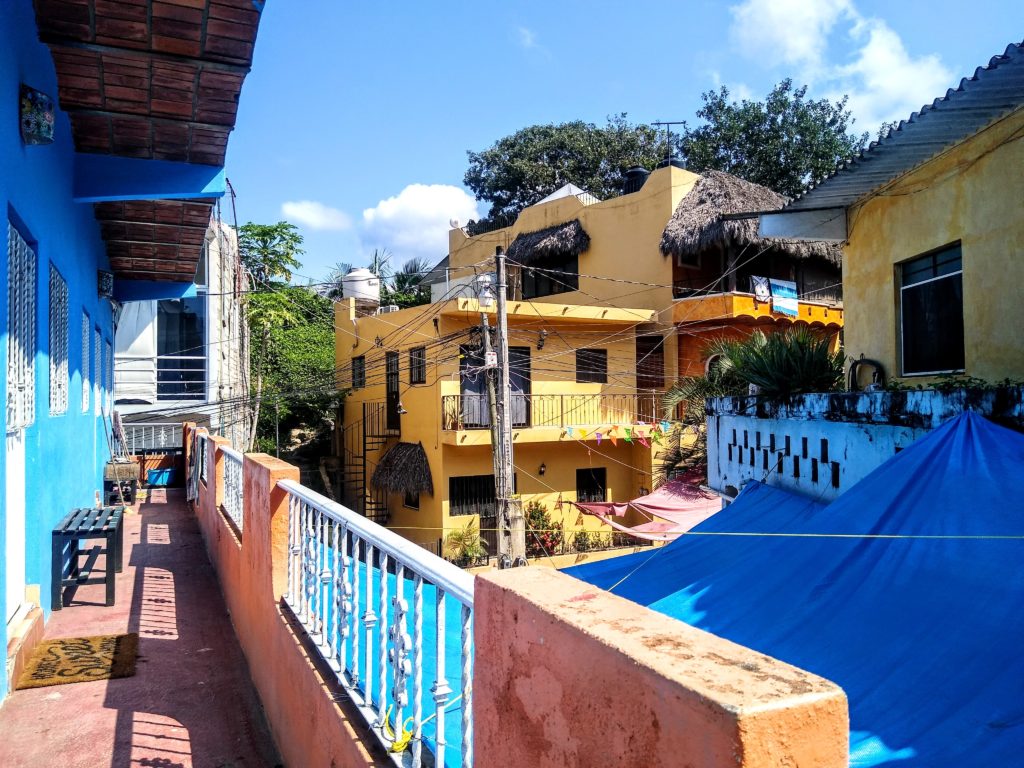 Luckily, a lady contacted us with availability for our dates. The place was slightly more expensive due to the high season. Also, it was a tad old fashioned, with a poor air conditioning unit and WiFi, surrounded by the traditional family homes, but beggers can't be choosers.
We reluctantly booked in for five days. On a positive note, it had great kitchen facilities and two gorgeous onsite dogs!
The move – Puerto Vallarta City Beach escape
Sayulita was our little freedom bubble, but the move give us a push we needed to 'try' to propel us forward again.
We are feeling the thrill of moving on to pastures new. However, there is also butterfly's on what to expect in a brand-new country. As always we will put our best foot forward and hope to be guided to a positive outcome.
As we are only in planning stages of our next destination, we will keep it a secret for now. The organization isn't easy!
We don't want to tempt fate, as in these unprecedented times, things could change at any moment. In the meantime, we are keeping everything crossed, that our travel plans will go without a hitch.
The first step is to Head to Puerto Vallarta city beach for a weekend.
Accommodation

We booked into a cute little Airbnb for the 4 nights.

Since we are still registered on Airbnb, we were lucky enough to get a Superhost $100 voucher off the stay!

The place was sparkling and also had the bonus of a spacious rooftop terrace, kitchen, and the 14 year old resident dog called Lady! She is such a sweet heart and lively!

We enjoyed sitting in the late afternoon on the terrace with a nice glass of wine and snacks, waiting for the stunning sunset.

Or just having a beautiful meal to talk about the day.
Adela, our host, has it gorgeous, with lots of blooms, greenery, various seating areas and a hammock. It would indeed be a great entertaining space.

What to see in Puerto Vallarta – City beach?
As we have said previously, we have been here on a day trip before but enjoyed exploring a little bit more.
The old town

Also known fondly as Zona Romantica, Puerto Vallarta's old town has a pleasant white sandy beach. For a city beach it was very clean and the area around it well maintained around the Malecon Promenade.
Malecon promenade
creepy sculptures
You can walk along the Malecon promenade, which is 12 blocks long. It is filled with different sculptures. They are very impressive as one strolls along. Cameras ready, there are plenty of photo ops.
Some had that Peculiar Children monsters vibe, especially the Roundabout of the Sea; constructed by the world renowned artist Alejandro Colunga.
They are a set of creepy bronze chairs, taking on humanoid form in a weird fascinating way, of long trumpet or tentacle noses, a single claw as a hands, octopus heads all exhibiting a weird and wonderful thought process.
Festive Creepy sculptures
For now, there are also different artworks in the area from the Day of the Dead festivities.
The holiday is celebrated from October 31-November 2. While October 31 is Halloween, November 1 is "el Dia de los Inocentes," or the day of the children, and All Saints Day. November 2 is All Souls Day or the Day of the Dead.
The festival, while a tad macabre to the outsider, is where families welcome back the souls of their deceased relatives for a brief reunion that includes food, drink and celebration.
Before we left Sayulita, we were honoured to take part in the festival.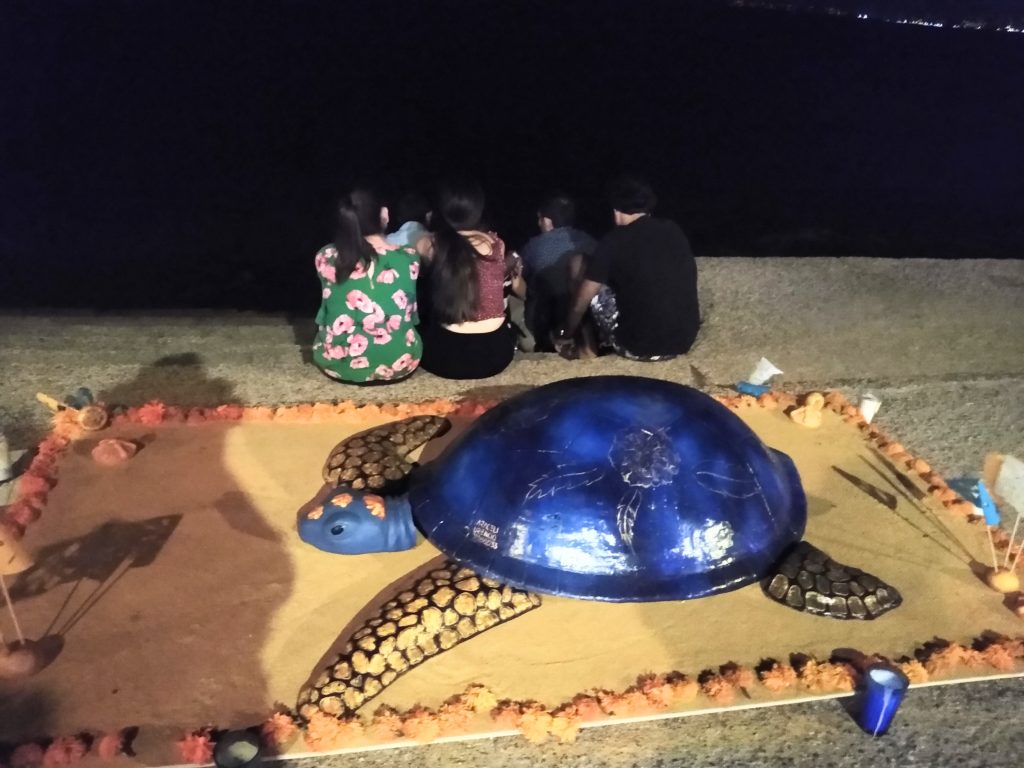 Puerto Vallarta seemed to have went all out for it too! For our experience, in Sayulita's Day of the Dead, you can read all about it here.
Rocking n rolling

There some fun random things to do along the promenade, like get on a rocking horse!

Along with being a kid at heart, you also have the performers with huge, fancy, colourful headresses, which must weigh a ton!

There is a long line of restaurants and bars along the promenade. They are quite pushy, wanting you to go in and try their place. You can avoid this by walking along the boardwalk closest to the sea or up on Calle Morelos.
Parroquia Nuestra Señora del Refugio
The church is a peaceful refuge if you want away from the maddening crowds. There are colourful murals and pretty stain glass arched windows.
The construction started in the 1960's due the generous funding of the residents in the town.
Located at: C. Perú s/n, 5 de Diciembre, 48350
Surf Shops
Plenty of surfing goes on all along this coastline. We checked out Anguila Surf & Skate Shop, (AV. MEXICO 1320 LOCAL 5,6 Y 7 P/B, 5 de Diciembre, 48350 Puerto Vallarta, Jal.), for a bit of retail therapy. There is plenty of choice in the store, maybe even too much! They also connected to another shop, in a different location, if they didn't have the correct size. This was called Squalo, housed in the Galerías Vallarta.
Playa Los Muertos
Pier Los Muertos
The pier at Los Muertos has a lively feel, with seating in the area, to take in the ocean views. We only had a second to snap this pic before the crowds descended! At night the pier is lit up and changes to all the different colours of the rainbow. Los Muertos beach is over saturated, every inch of the beach space was filled with loungers, umbrellas, and the people to go with them. A quick stop to take a photo was all we needed.

The relatively low rise buildings, and tight bustling streets behind the beach, give the Zona Romantica a vibrant feel. Colour abounds and a slightly chaotic atmosphere breathes life into the old place.
Puerto Vallarta Marina

Marina Vallarta isn't that of Monaco's standards, but does have some expensive yachts and boats to fantasize over. The area was deadly quiet when we were there and we didn't feel much heart and soul.
Markets
The farmer's market was loosely described. It is the usual mishmash of trinkets etc and very little from a farm. The security wanted people to wear a mask upon entering an OUTDOOR market. they had the usual temperature checks etc. They were just awkward and unfriendly, as when we looked inside very little people where wearing muzzles! The bad attitude didn't appeal to us so we moved on.
We did venture into a small market in Plaza Hidalgo. Thankfully, this was much more relaxed, with avoided restrictions and a lovely free smiley face for a welcome.
There was wonderful handmade items, such as artwork, jewelry, clothing and accessories.
Eating and drinking
There are plenty of places to have a tipple or a tasty morsel. We were making use of our own kitchen and dining in mostly. Yet, we did stop off in a few places.
El Faro
There is a cool looking, 110 foot high lighthouse, El Faro, turned into a cocktail bar. They don't serve food, other than peanuts and popcorn. Sip on a cocktail, listen to some live music and stare out at the amazing views.

Veggitalia

Italian, Veggitalia Pizza & Osteria Vegetariana, which sits just off the promenade in a quieter street called Calle Corona.

This Vegetarian / vegan family owned restaurant serves fresh salads, lasagna, pizzas and various pastas. Wash it down with some delicious prosecco, vino tinto, or tasty limoncello. It's very reasonably priced.

Address: Corona 172, Proyecto Escola, Centro, 48300 Puerto Vallarta, Jal

Murphy's Irish pub

Nowhere is anywhere without an Irish pub! And Puerto Vallarta is no different from many places worldwide.
The bar is filled with Irish paraphernalia. It also serves a pint of the black stuff (well a can of it anyway) as well as traditional Irish pub grub, although not good for vegetarians.
Big shout out to Jose the waiter. We had great conversation with him. He deserves a raise! Go visit, even if it's just for Jose!
The sunsets are amazing from up top. The best evening TV ever. Life is good with these vistas.

The big smoke – leaving Puerto Vallarta city beach
As we move onto Mexico city tomorrow we still have not put anything in concrete of where to next. Maybe this is just the way it should be.
If you liked reading you may like Travel decisions during restrictions American road trip review – on the open road or
Scratching under Sayulitas surface