Day of the Dead in Sayulita – Dia De Los Muertos
El Día de los Muertos is a massive celebration in Mexico and is one holiday we couldn't miss out on! Indeed, when Images popped into our minds, prior to our arrival in Mexico, many would have been of the sugar skull designs and massive parades displaying ghoulish characters. Day of the Dead in Sayulita was a must for us to tick a big box.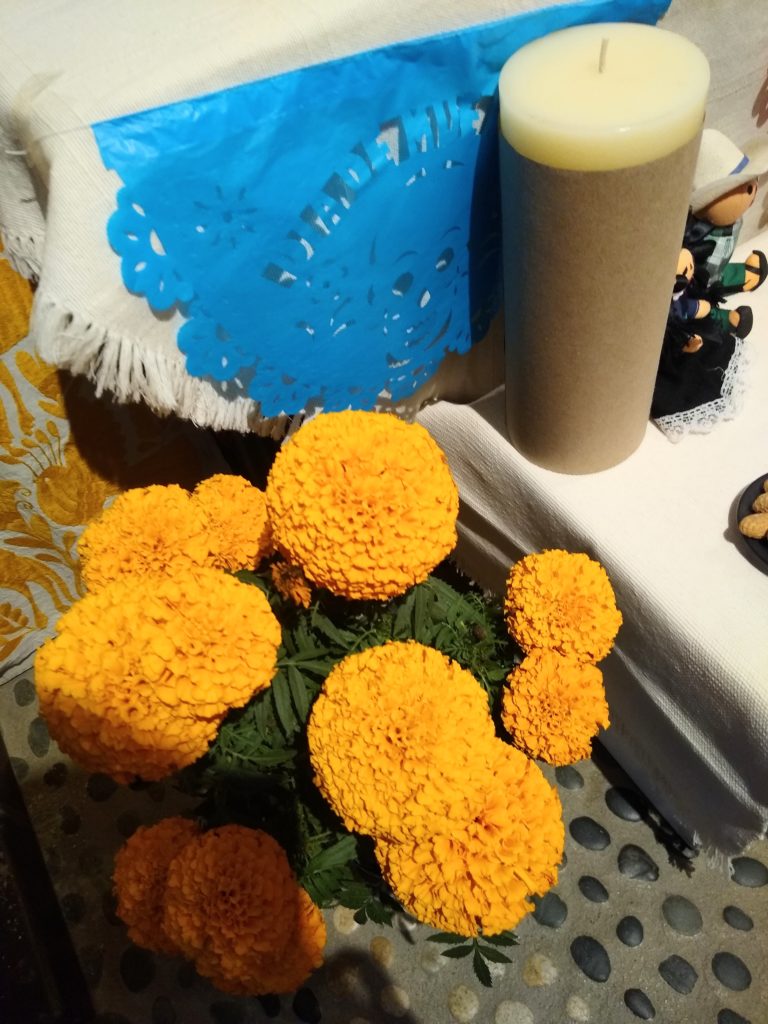 Celebrate with the dead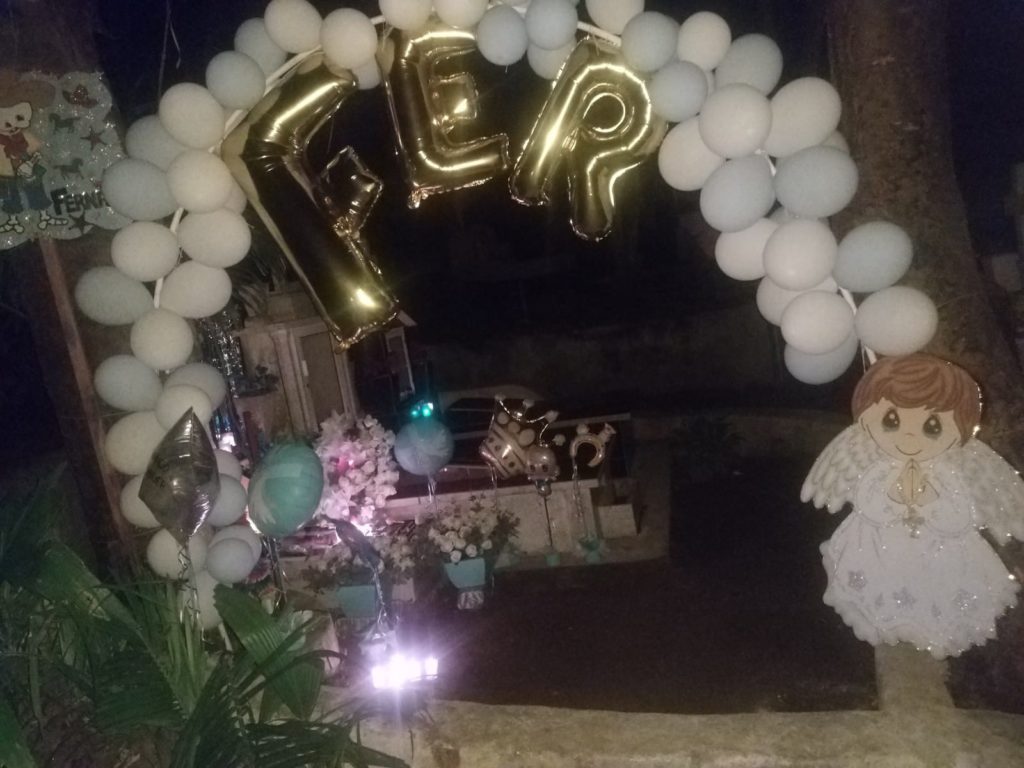 The festival, while a tad macabre to the outsider, is where families welcome back the souls of their deceased relatives for a brief reunion that includes food, drink and celebration.
It's a time to honour the ones that have passed, sharing stories, remembering good times, and joining friends and families with festivities and lively celebrations. It can, of course, be more painful if the soul that passed was of a little one.

Catrinas – Day of the dead in Sayulita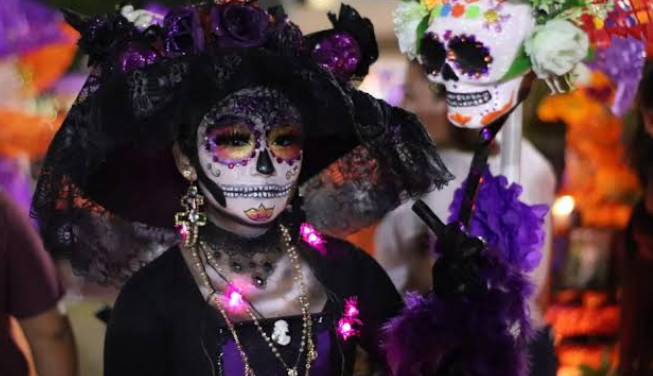 This is not a morbid affair, as people dance, and some dress up. The most traditional dress is the Catrinas. Women paint their faces in colorful make-up, sugar skull designs, and dress with extraordinary outfits evoking the famous symbolic skeleton.
Even pets get in on the action and people go as far as getting real tattoos of Catrinas!
Day of the Dead in Sayulita – stalls will be set up in the main Plaza that will make one up if you are unable to do it yourself. It costs approximately £13. They also sell dramatic floral headdresses (unfortunately not real flowers) for the same price.
Urban legend
According to urban legend, La Catrina's roots come from Aztec death goddess Mictecacihuatl. In the legend, the goddess served the same purpose as La Catrina does today: to honor and protect those who have passed and to symbolize the relationship Mexicans have with death. Obviously, these days it has been synced with the Christian Mexican, as Europeans incorporated Pagan festivals within the Christian framework.
Sugar Skulls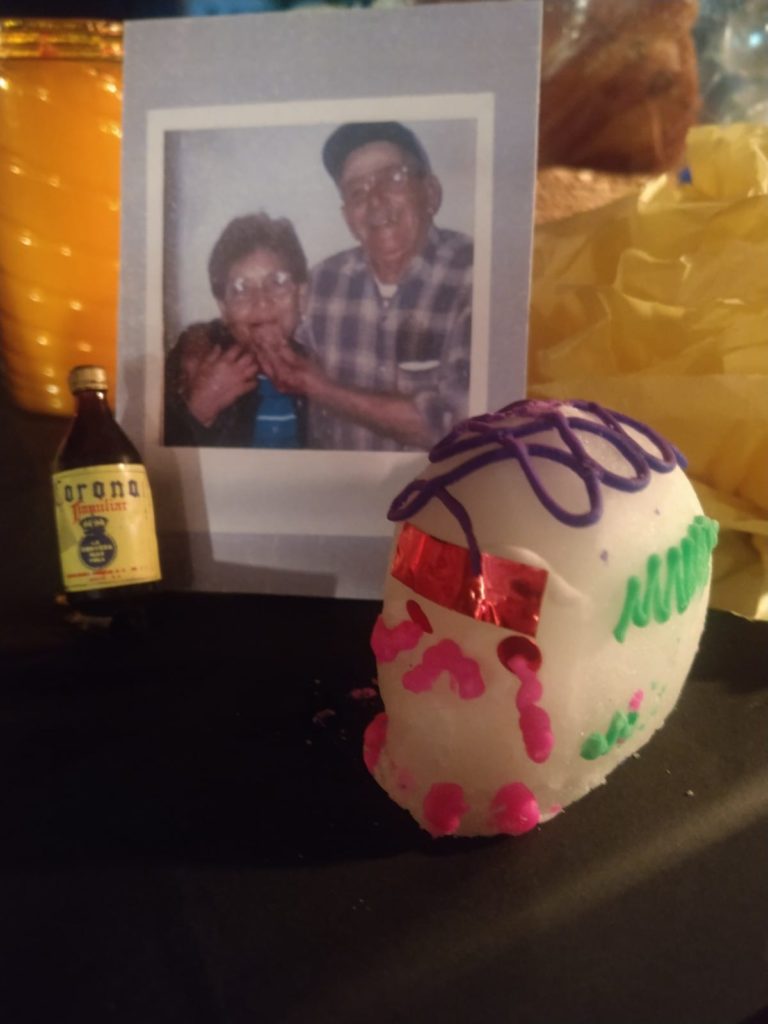 You will find market stalls, and local online vendors, selling sugary decorative skulls or cookies. Therefore, the community feel is added to for Day of the Dead in Sayulita. These Sugar skull designed candy are also given as a gift to the ones passed on. They are often depicted with a smile to symbolise laughing in the face of death!
Honour – Memorials to loved ones passed on
Mexican people also build small altars in their homes with offerings of fruit, favourite food and drink, Calendula flowers, and place them along with items that belonged to their loved ones. As well as this, a photo is added to the memorial. Thus, they believe, a loved one will come and visit them from the afterlife.
I (Miko) made a small one for my mum too.
You will see alters popping up around town as Day of the Dead in Sayulita approaches. Large and small they will appear outside homes, beside stalls, in hotels, outside shops, and then, On the 1st November, they are erected in the main Plaza.
Shops join in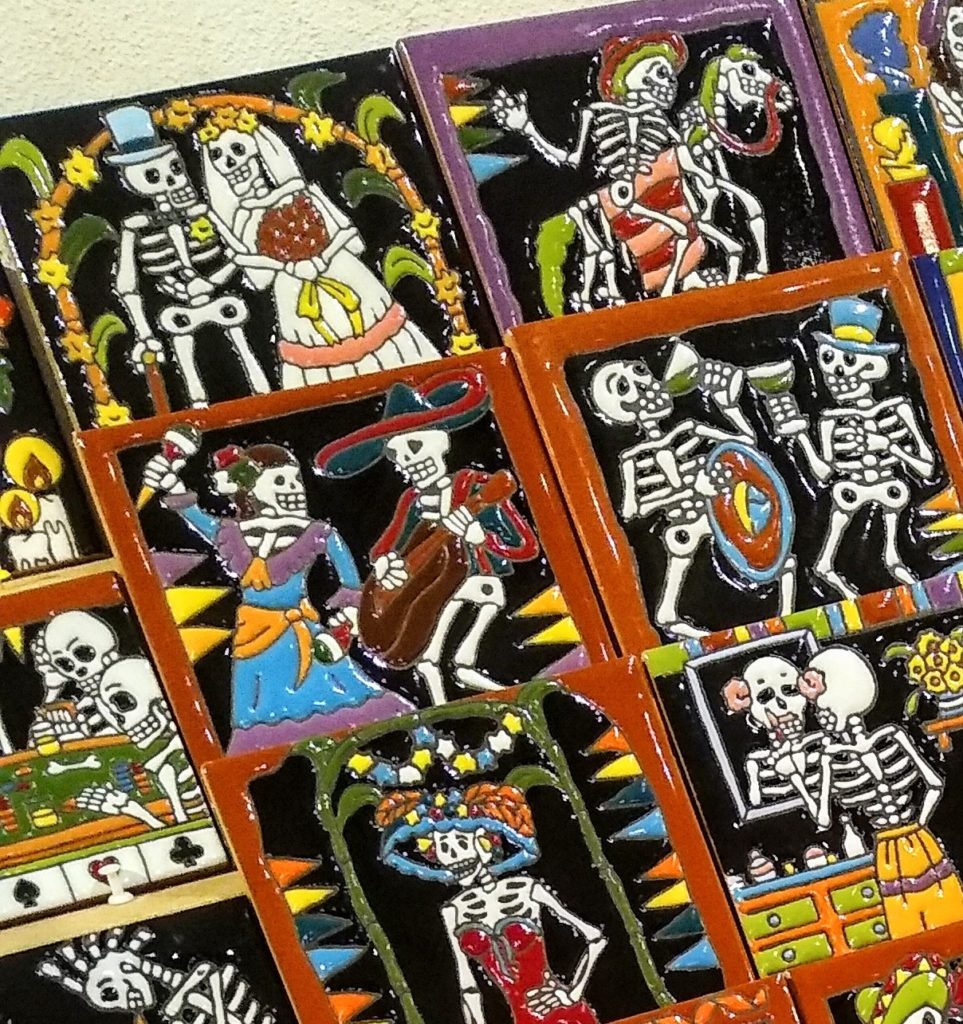 Shops also decorate their fronts in a fun spooktacular display. The consequence is that people stop and take pictures. Moreover, they may nip in to look at the wares!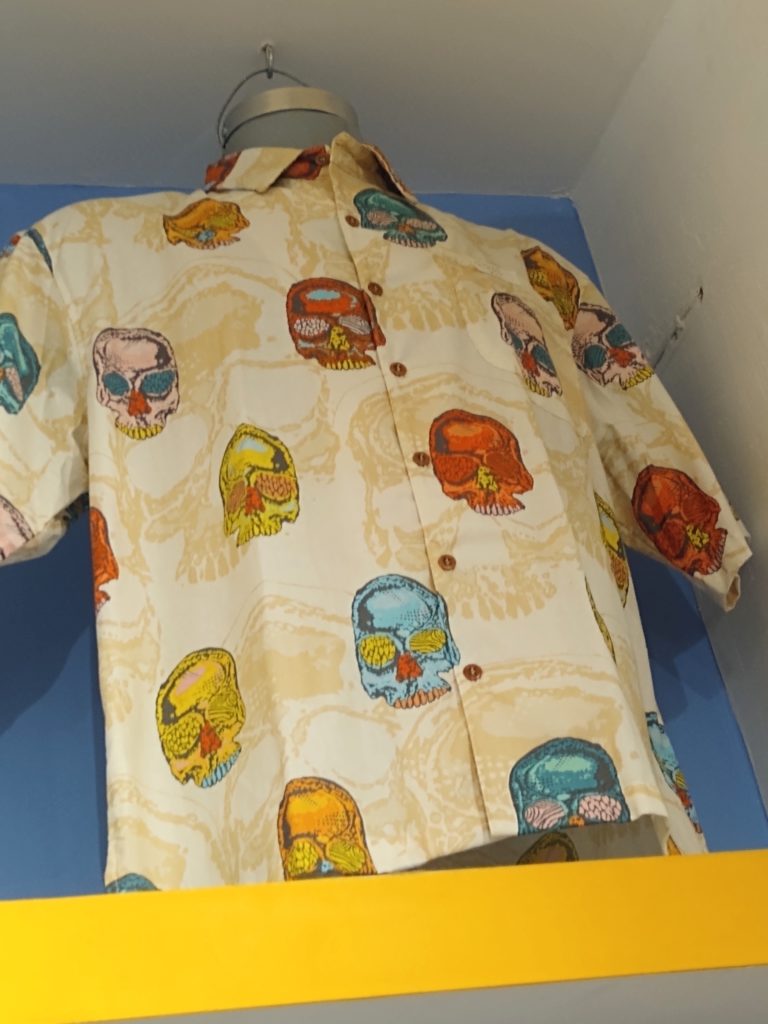 You will spot the vibrant orange calendula flower everywhere. It's believed that its bright colour and scent can lead souls back to the living.
Schools get creative
Learning about the tradition is encouraged for the local school children. That being the case, the children carefully spend their time decorating the alter.
Pet cemetery – Day of the dead in Sayulita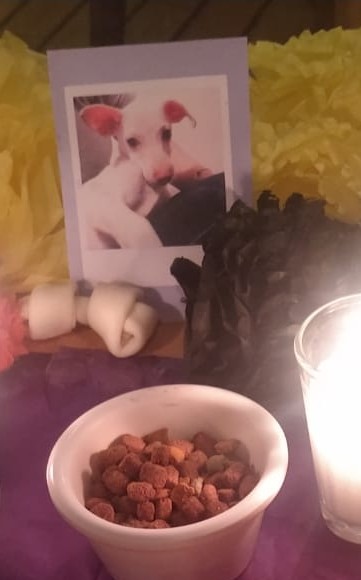 We found it amazing to see lives of loved pets also celebrated. Photos of dogs and cats were displayed among flowers and lots of treats. This seems to fit in with the generally animal friendly nature of the town.
Day of the Dead in Sayulita – Festivities!
The gathering festivities were located in the main plaza in Sayulita. Many candles and the bright orange Calendula flowers lit the place in colour. It is peaceful, and thought provoking, to wander around the Plaza.
Photograph's of loved ones passed are all around the square. There are the young and old. Some babies who sadly passed early too.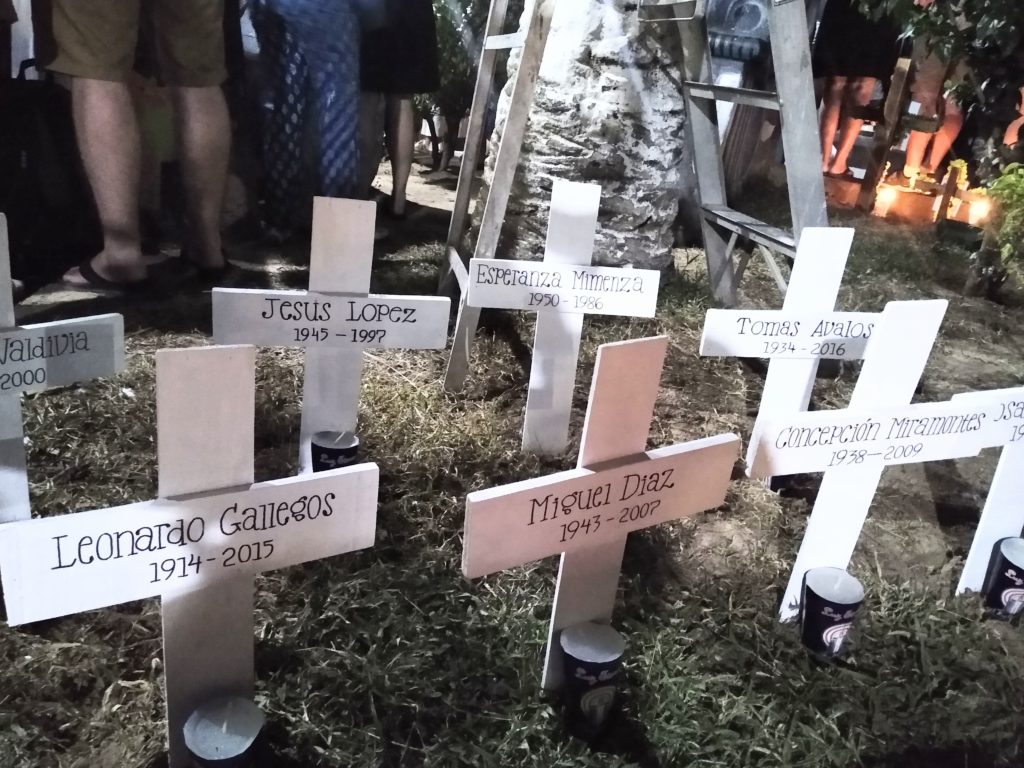 However, there is a celebratory atmosphere in the plaza with food, drink, face painting and dance. The whole place is awash with colour and a feeling of being alive.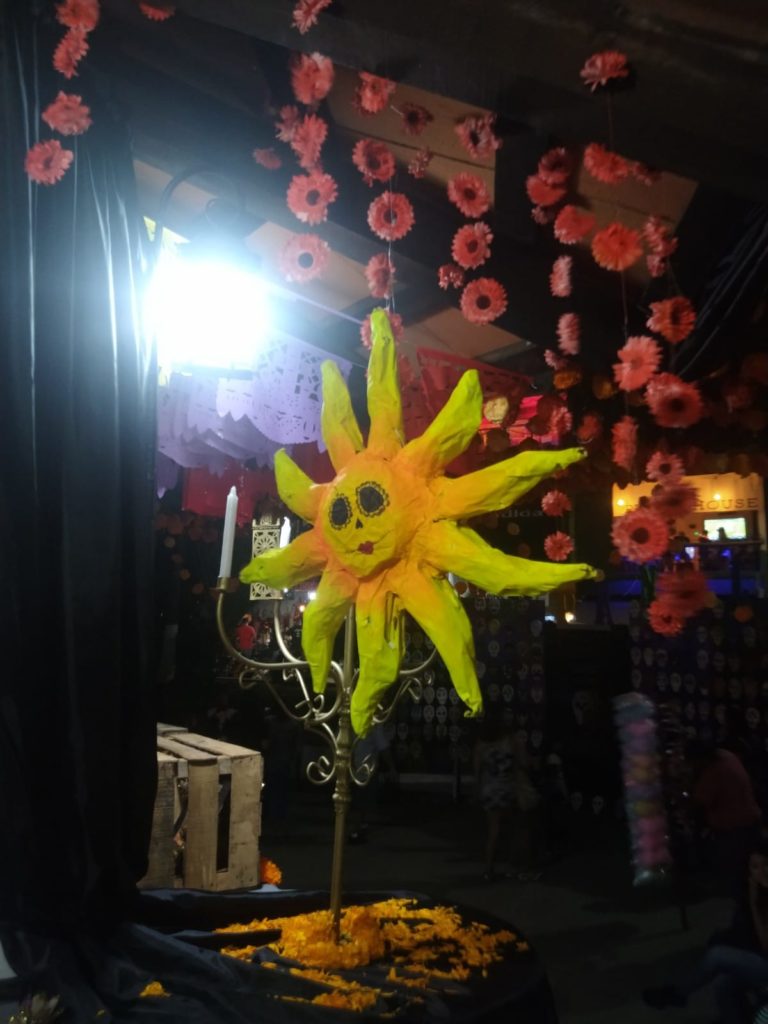 Day of the Dead certainly has become an internationally recognised symbol of Mexican culture.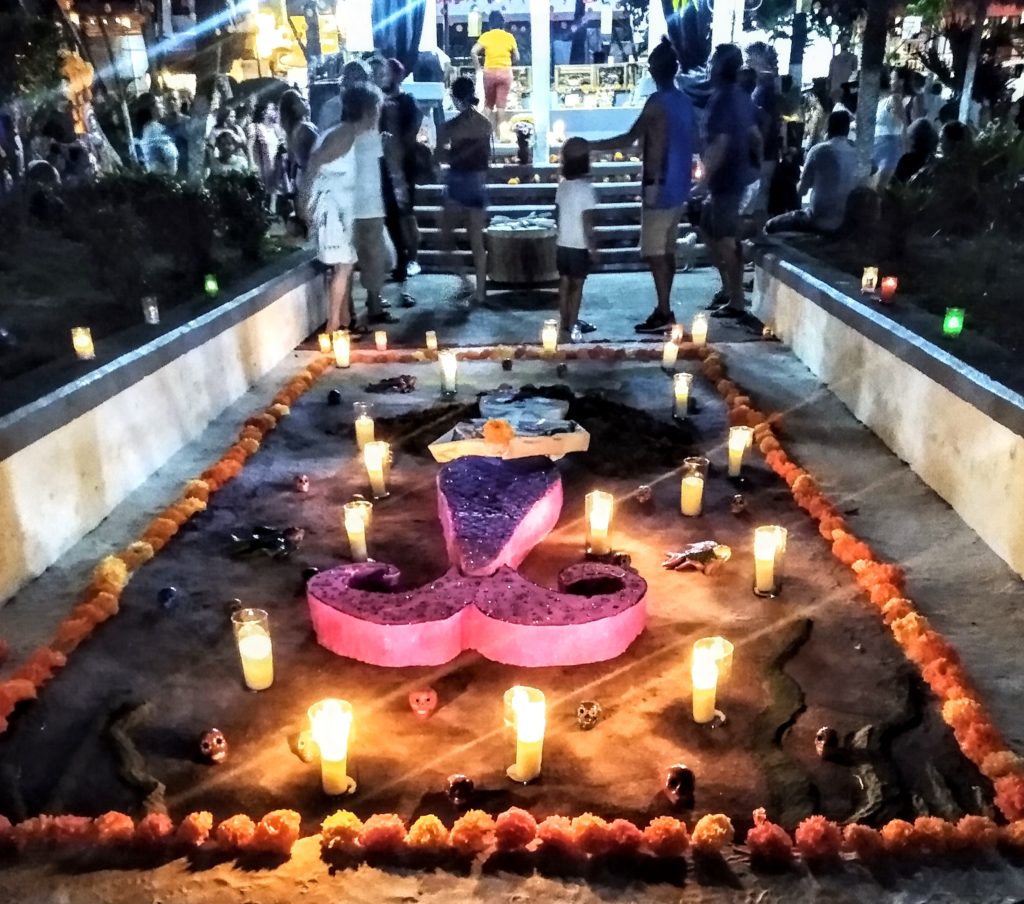 And, Day of the Dead in Sayulita definitely knows how to put on a show!
The dance
The ancient dance is a form of storytelling. During Día de los Muertos, dancing is an offering to those who have passed. While being entertaining, there is absolutely a strong connection to the ancestors that mean so much to the living.
Graveyard shift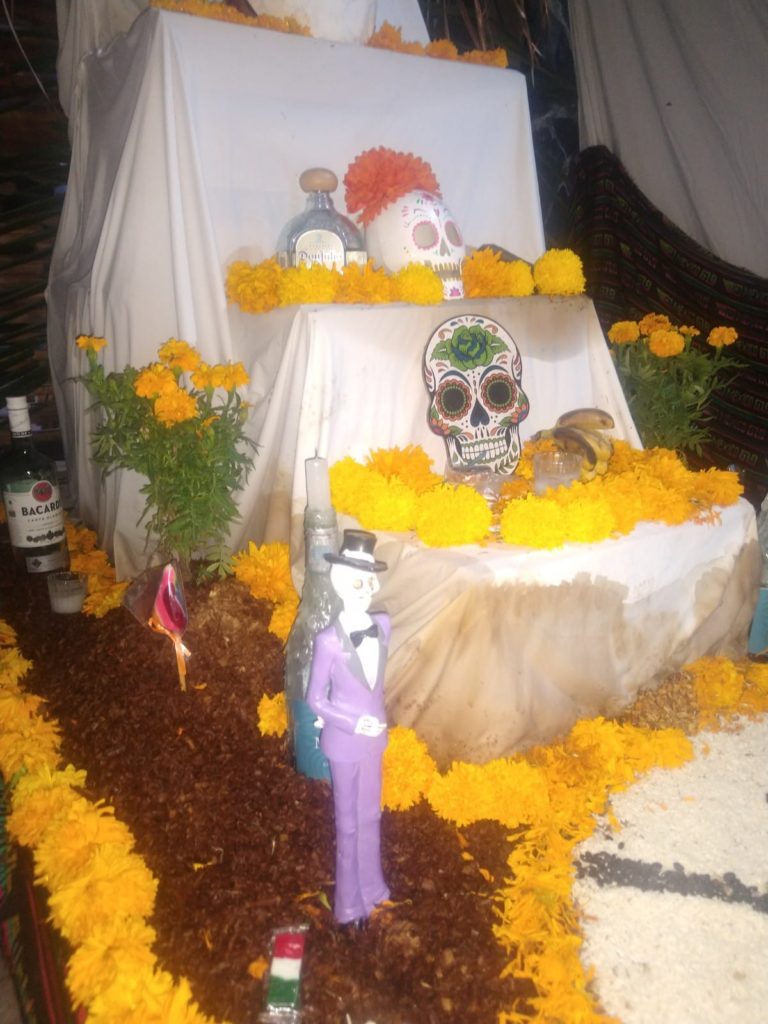 At around midnight people make there way to the graveyard near Playa De Los Muertos. Its not as spooky as it sounds. Items, liked by the people passed on, decorated the graves. These included sugary skulls, flowers, fruit. In fact, we noticed a lot of alcohol offerings!
Strolling around a cemetery at midnight was quite the experience. In fact, it makes a change from the jolly Halloween parties back in Ireland.
Sometimes musicians go from grave to grave and people sing "calaveras," songs often self-composed that range from fun to morose.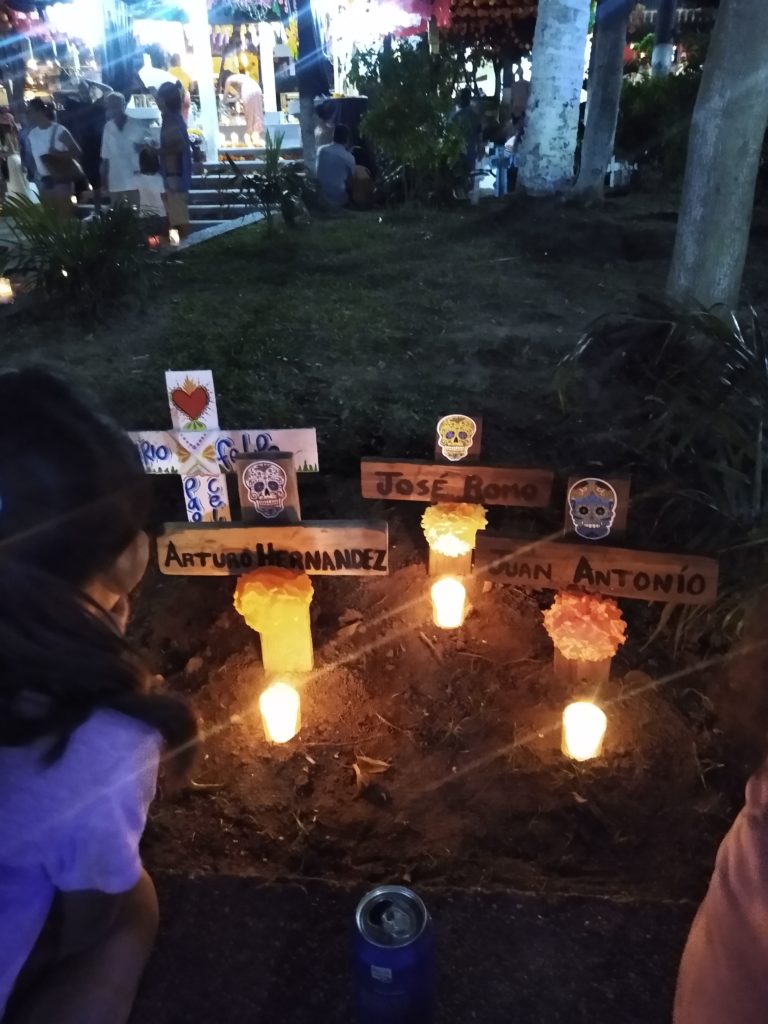 A priest may be present to pray with the families. Indeed, there were a few locals sitting and chatting at the graves of their loved ones. It is kinda like a wake in Ireland, but something that is done every year.
When? Day of the Dead in Sayulita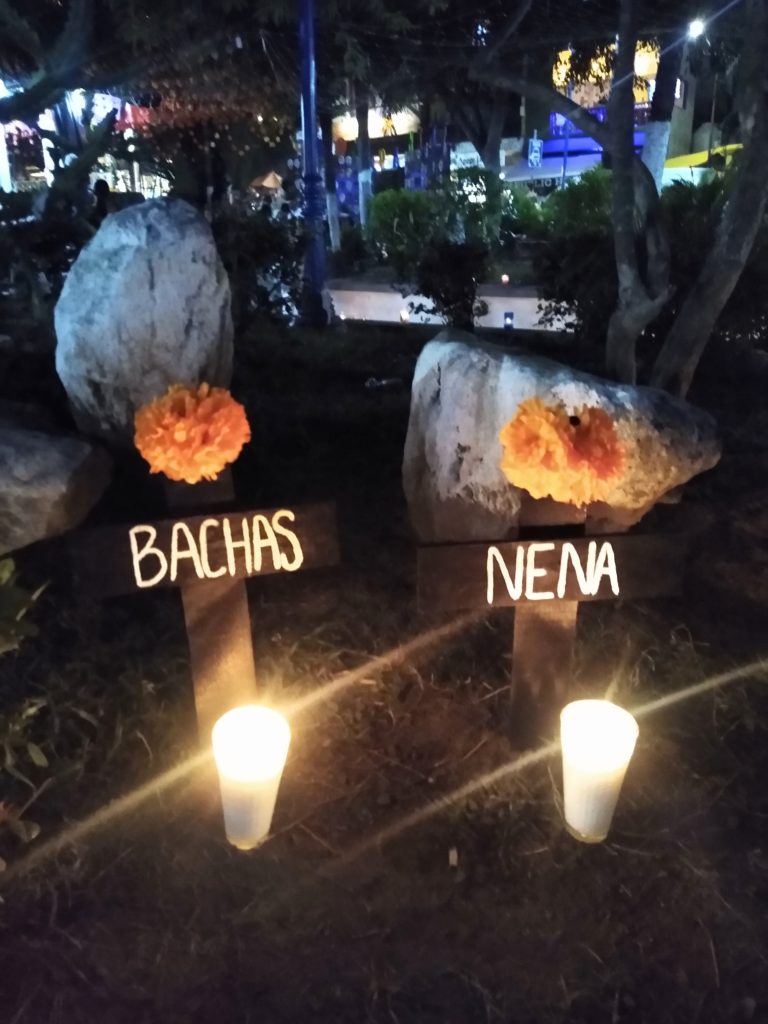 Each year, the holiday is celebrated from October 31-November 2. While October 31 is Halloween, November 1 is "el Dia de los Inocentes," or the day of the children, and All Saints Day. November 2 is All Souls Day or the Day of the Dead.
Real Monsters – Not just on Day of the dead in Sayulita
These real monster iguanas surely came out for Halloween and Day of the Dead in Sayulita! We'd never seen such humongous iguanas in our lifetime! Not even in Costa Rica!
These wonderous, prehistoric, creatures were living in the trees at the bridge on Ave Revolución as one enters the centre of town. What is more, we counted at least 10 iguanas in the tree. Indeed, its a fantastic sight to see these beautiful monsters thriving.
If you enjoyed this piece, you may like to read about our spooky visit to a paranormal museum in West Virginia. Or for more on Sayulita, check out Sayulita part 1- freedom and temptation or Sayulita part 2 – surfing, carting and sunset!