Sayulita – Surfing, Carting and Sunset.
Sayulita: Surfing dude
Surfing opportunities
Surfing in Sayulita became a must do for me (Knox). Miko suggested a lesson as a gift for my birthday and I was eager to grab the chance. It's been something I wanted to do since my teens. I could have learnt in Ireland but didn't. Why? Firstly, I played football a lot and could never find the time. Secondly, I didn't have my own transport or equipment. Thirdly, and probably most importantly, the water is fecking freezing in Ireland and I was being a bit of a wuss lol. I'm an unashamed fair weather surfer 🤣.
When in Oz, I tried to surf. I hired a big cumbersome long board and headed out to a calm wee beach with gentle waves and failed miserably. I had no clue and didn't understand any of the necessary techniques required to get near standing on a board. A lesson was a must. Unfortunately, I haven't really been in a place since that I could learn in. Sayulita was my opportunity.
Surfing the web for the right contact
Miko did some research and found me a guy, David – Surf'n Sayulita, who offered private lessons ($1200 pesos) as well as group lessons. She checked plenty of options. Miko was able to shorten the list, by sifting through reviews, and we made a choice. I felt the private lesson would be better as I had catching up to do.
We sauntered down to his shop one afternoon and had a chat with him. He was happy to take me on a lesson. My request for a small board, which I thought would be easier to handle, was met with flexibility. Using professional knowledge, he guided me through the boards and their suitability. It didn't take me long to bow to his superior mastery of the surfing subject. He looked ahead at the sea report and I was penciled in for a day the week after. I got his contact info and we would keep in touch to firm up details.
Hitting the beach for my lesson
Gerardo was my instructor for the day. Once kitted out, we hit Sayulita beach. 11am, with less people around and down a bit from the umbrellas, the surfing conditions were perfect for a beginner like me. The instruction on the beach, indicated that there could be an issue with the method used to stand up on the board. I had a discectomy a couple of years back. As an outcome, the flexibility of my hips and lower back aren't as good as they could be. Another method to stand was tried. Thankfully, this helped and we were good to go.
Surfing the waves
I had to laugh at Gerardo. Used to even warmer temperatures, he thought the water was cold. It was delightful for me, as I reminded him of the difference between here and a rather cold Ireland. We chatted more and he instructed on how we would proceed. He must have been the greatest instructor alive! Within a few attempts, I was standing on the board and riding the waves. I learnt about wave sets, being careful of currents, triangulating one's position, what adjustments were required, and so much more. I listened and enjoyed thinking it through and putting it into practice.
Focus
"There's a wave coming. Paddle hard" Gerardo would say.
I focused on a point on the beach.. With a straight board, I paddled. "Stand up" shouted Gerardo, as he gave the tail of the board and extra push. Looking directly ahead, I went through the process. Push up position. Right leg forward to the knee. Left leg forward, keeping both knees on the board. Left leg up to my chest. Stand up, keeping crouched, and turn the feet and hips, using the heel of the left foot, to face the body to the side in a traditional board stance. All the while the head facing forward in a manoeuvre that takes a couple of seconds. I was up.
The excitement raced through me. Importantly, I had to remain in the zone. I rode the wave to the shore, having the confidence to put a couple of content character (not the right word but will come to me) moves in to change the board direction. I jumped off from the back and was thrilled. Gerardo and I swapped the hang loose 'Shaka' hand🤙 motions to show our delight in the accomplishment. 🏄‍♂️
Go too fast, or too slow, and it's wipeout time. Too far forward, or too far back, and the nose dips or rises, with Speed gained or lost and balance disrupted. Small details and rectifications can mean a world of difference. Practice, practice, practice. My mind buzzed as the adrenaline coursed through my body. Woooohoooo! Yes!
Awesome surfing lesson and awsome guys
A couple of hours went so quickly. With his teeth chattering, I thought it best to give Gerardo a break and we returned to the beach. He started to warm up. If only I could have given him a bit of my thick Irish skin.
I highly recommend these guys. Both David and Gerardo were awesome. I can't thank them enough for assisting me to enjoy the thrill of riding a wave 🌊. Baby steps and lots for me still to learn. For anyone interested in surfing lessons while in Sayulita, these are the guys to go to. They are so knowledgable, give clear and effective instruction, plenty of focusing tips, yet they maintain the FUN.
Surfing bird – Sayulita animal style
It's not just the humans that enjoy Sayulita's beach. Plenty of dogs can be seen frolicking on the sand, splashing into the sea for a cool down, or just lazing in the sun
There are also the pelicans, gulls, vultures, pigeons, crows, et al that love the seaside life. A dander on the beach or a bit of Carrion for breakfast?
The pelicans particularly caught my eye. Just like us people, they enjoyed similar activities. Lounging, they just gather in groups, in couples, or singularly to bob up and down in the water while catching some rays. Wanting a snack, these guys know how to put on a fishing show as they climb into the sky before dive bombing into the sea!
Showing off, the pelicans can regularly be seen doing what this town is known for, Surfing! Dam buster style, they stealthy glide less than a meter above the surface. The building wave is caught, while the crest is ridden along the length, before they lift up as the wave crashes towards the shore.
Golf Cart / buggy Rental
Sayulita is small and walkable, however golf carts are very popular and a fun way to scoot around the town. You are stuck to circling the town, unfortunately, as a golf cart can't be taken out of Sayulita. For this reason, we only hired one for one an hour. We didn't really need it any longer than that.
Gaby Carts worked
We rented one from Gaby Carts (part of Sayulita VIP Transportation) at Calle Coral 30, 63734 Sayulita. Enrique was really helpful and renting from them was very straightforward. We didn't need to hand over any deposit, or even credit card details, and especially not our passport, which another place called (Pacific Solutions) requested, if you rent from them overnight. At Gaby's you can do an hour ($300 peso), a half day ($700 peso) or 24 hours ($850 peso). We paid 300 peso's for the hour.
Got what we needed
The charge was reasonable. Indeed, we only needed the cart for a short time and it was better to pay less rather than having it sat parked for long periods. Bare in mind a lot of places will quote in US dollars, even though this is Mexico! Off course when we said we were not Americian, they were happy to give the price to us in peso's! We scooted around town and up to Playa De Los Muertos for some photo ops. Check out the video on our way through this lively place.
Sunset at Carricitos
West of Sayulita, you'll find the small cove of Carricitos Beach, where it is great to catch the sunset. It is accessible by a reasonable road, suitable enough for cars and golf carts alike. It is about a 15/20 min walk outside of town so there may be plenty of foliage about but its not like the paths used to get to Malpaso. We had a beautiful, near full moon to light our path back. Without it, a torch would be handy so you don't get disorientated. There is a small trail to navigate from the hillside road down to the beach itself. There was a rudimentary sign.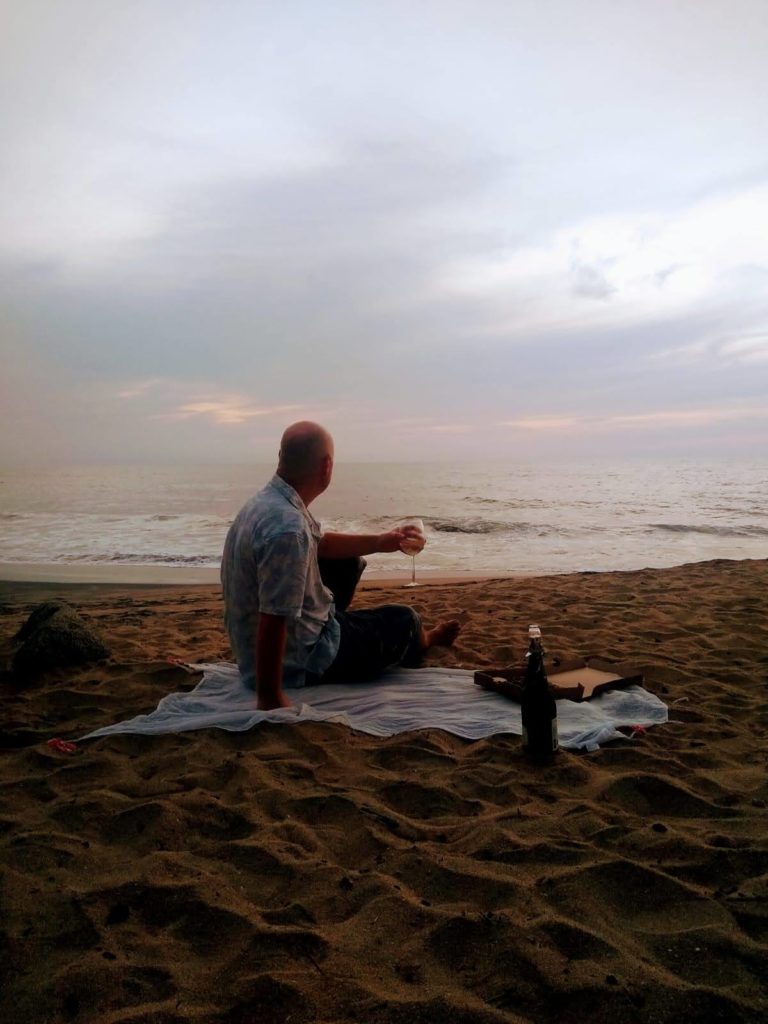 Peggy, a friendly dog we met, scented our pizza and happily followed us down the sand path. We set a wee picnic and took in the colourful view as the sun dipped below the horizon.
The couple of other groups, who had also come for the scene, didn't disturb the was a spiritual feel to the cove . A damaged and gnarled tree, with serpent like roots, was definitely worth a hug as it stretched its healthy, leaf filled, branches to the haloed moon in a hazy evening sky. The dragon rocks silhouetted as it stretched into the calm waters. Not usually a place for swimming, due to strong currents, the sea this evening looked serene and peaceful. Certainly, Carricitos is a lovely side note to Sayulita and within easy reach.
We hope you have enjoyed this post. Check out Sayulita Part 1