Florida – Welcome to Miami – The road trip begins
Miami, Florida, would see the start of our USA roadtrip. As you would have seen in our prep blog piece for Travel to the USA, we had a lot of organisation to get through. This was the fruition of it.
Leaving DR
To arrive in Florida, we had to leave the DR. After a delay in our transport, where the driver went to the wrong apartments: Villas Julia – the disastrous ones he dropped us at from Bayahibe, we were on our way to Santo Domingo airport 20 mins later than planned. All was going swimmingly at the airport. We were relaxing having our traditional airport beer, yes – it was morning (real time doesn't exist in an airport lol), when the Frontier Airlines staff member, who was dealing with us at check in, came running looking for me.
"You need to come with me for extra security checks!"
Knox thought it was both of us but it was just for me. WTF!
"It's fine, nothing to worry about." he explained as, seemingly, it was a random check.
Extra security and delay sweat.
Another couple of people were waiting outside a room with police and airport security.
It turned out it was checked in baggage they wanted to open. We had 25mins until our flight boarding would close! They weren't for hurrying and the time ticked on as I still waited outside the screening area.
Knox checked with Frontier airlines, with 15 mins to go, to see if they'd hold our flight if late. "No" Was the reply!
Finally it was my turn. In the room the guy with the clipboard was power high, glaring at me arrogantly, loving the fact I was stressed. Then they broke our dodgy zip, which luckily Knox was allowed in to fix. It only took a few minutes for the check and they barely looked or trawled through much. All they found was knickers and yoga mat lol. However, it was a totally bizarre experience and one I wouldn't want to go through again! Luckily we made the flight just on-time!
Arrival in Florida
We anticipated a long process when we arrived in Miami, Florida. The opposite was the case. Immigration was a breeze, and our front seats had us at the desk ahead of the queues, while they didn't even ask for the onward flight we had purchased (a cancel for free one (See our Travel to the USA post) just in case. We were on our way to the Hotel in no time.
Miami, Florida
We would spend a couple of nights in Miami first to get things on a roll before we would pick the car up on Monday.
Accommodation
Miami was busy when we were looking for accommodation and things were booked up quickly. We made a choice for an airport hotel. We found out later that not only was Mayweather (Boxing) was in town for an exhibition fight with Logan Paul, but Bitcoin had a conference with 50,000 attendees, and UFC also had a fight night!
A complimentary early check in helped us get settled. The room was spotless, it was cheaper (but not cheap) than anything downtown, and it was convenient enough via an uber. The room also had a kitchenette that we would make good use of.
Places to see and things to do
Miami is a big city in the heart of South Florida and there are many things to keep the visitor occupied.
Wynwood
We explored the area of Wynwood in the evening. For starters, we had a lovely vegan meal at Love Life Cafe vegan restaurant.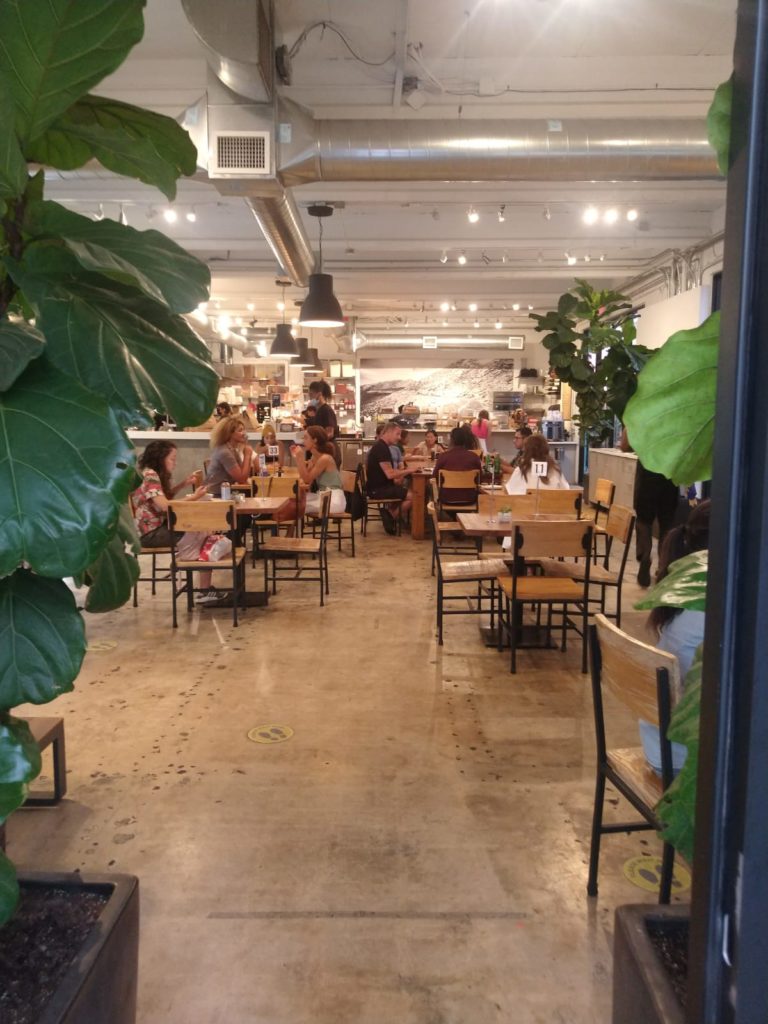 The curry burger and lentil burger accompanied with sweet potato fries and ordinary diced fries was washed down with a very good vino blanco.
The atmosphere was relaxed and we even had a chat with two vegan police men, one who had been to Belfast before! This was followed by a wander through the street art of Wynwood. It's an area that used to be rundown but has been gentrified to a certain extent.
Thirdly, with the night still young, a wee pub crawl ensued.
Well just a couple of pubs actually. We called into J Wakefield Brewing (JWB). A Star Wars inspired bar that brews its own beer. Plenty of it was sampled, including a really thick, silky porter that was 14% in strength. This was sipped like a good whisky!
Before heading home, a nightcap was had at the bustling Gramps. A bunged bar area led to the outside garden with a DJ playing a mix of music from the 80s on.
The next morning, with foggy heads, we checked out the other areas.
Miami beach
A huge expansive beach filled with sunbeds, umbrellas, and crowds of people enjoying the Florida sunshine. The beach is very clean with soft white & crystal clear waters. The colourful lifeguard stations are full of character & really pretty to look at. To bunged for our liking though!
South Pointe Pier
At the southern end of Miami Beach, the pier has some great views of the incoming boats, skyline, and the beach stretching for miles. It's pretty relaxing to watch the turquoise water washing on the rocks.
Downtown Miami
We started by getting connected. A trip to the T-Mobile store was needed to assist us on our road trip. Getting prepaid SIM cards are not cheap in the States – It cost us $107 / £77 to get us connected for the month. This was an unlimited package of Data, Calls, and texts. There are other options.
A vegan healthy lunch was then had in Manna Life Food in downtown Miami. Big city Florida is into healthy eating. Well some are anyway! A cosy, relaxed place with yummy, but expensive, veggie food and fresh smoothies cleared the haze from the previous evening.
After, we trawled the streets of downtown, finding the area a tad rundown and not much to see before padding over the river on our way to Brickell.
Brickell
Definitely a more upmarket area, Brickall is the financial hub of Miami, with tall skyscrapers, full of fancy restaurants, bars, malls and designer shops. The atmosphere is buzzing and lively. Sit in one of the yummy restaurants, or just sip a wine and watch the world go by. We had a refreshment at Candela Gastrobar. It felt like we were at home with all the latin American music
Fort Lauderdale
As we moved up the coast, we would spend a night in Fort Lauderdale and pick up the car in the morning. There is a real holiday feel here, and in typical Florida fashion, the sun shone out of a beautiful blue sky. The strong breeze at least offered a bit of a cool down to the heat.
Accommodation
Prices in Florida are way up but we economised as much as possible.
Aqua Hotel
A modest beach decor room with an onsite pool and great location to walk to the beach and the strip. We paid approximately £100 a night.
The beach
On one side of the road, you have the beach, and the parallel promenade. As usual, It's packed with sunbeds, Cabanas, and holiday makers or locals enjoying the sun. The beach has some seaweed, but not as much as we saw in Punta Cana. As with Miami beach, we saw chairs with bows and little arches to indicate that wedding ceremonies were about to take place amongst the frolicking.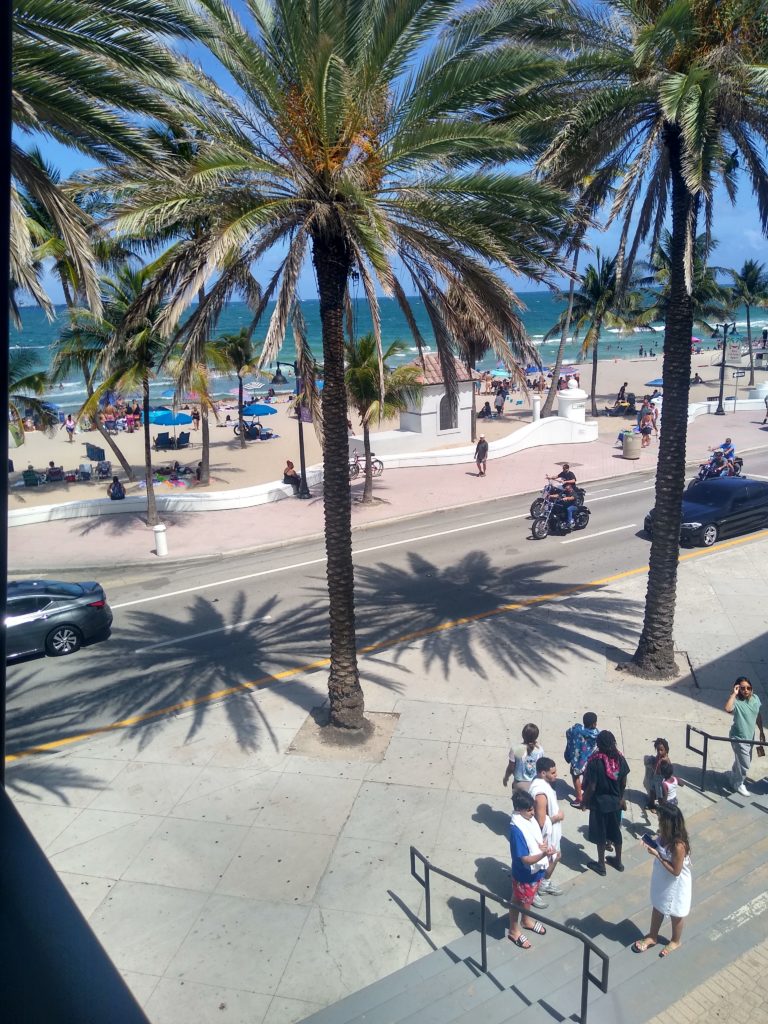 Along the other side of the road you have the strip full of bars, restaurants and shops. The place is bustling with people enjoying the lively atmosphere.
Shopping
We managed to get some new togs in Maui Nix Surf shop. It was a treasure trove of tempting surf and beach wear! We weren't too greedy though. Our already knackered suitcases wouldn't forgive us!
Bars
Con Murphy's Irishbar had amazing views over the strip and beach. We enjoyed a pint before walking down to Fort Lauderdale beach park. We would return there for some food and a few more drinks later.
Indeed, we met a guy called Al that we had shared a few drinks with in Our Republic, Los Corales!
They also do food. We tried their pizza which was massive at $16. The atmosphere is fun. They also do live music. A random saxophone player also joined the singer, which got everyone's attention because he was so talented.
More craic was had here and in Lulu's Bait Shack next door. We made sure it wasn't a really late night though lol.
Fort Lauderdale beach park
We were expecting a more floral grassy kind of park, but in reality it's just the beach with an outside gym, picnic tables and BBQ stations.
Don't forget the big blue chair, as you walk back up the beach, It's a fun photo op!
Car pick-up
The next morning, we were up early enough to get the car Picked up from Avis. We organised a slightly later check out and got the car first. This enabled us to pick up the bags after we got the car. All went smoothly enough at the rental station. We made sure of this by contacting Avis CEO office beforehand, as she had been in contact previously with our complaint regarding our car hire fiasco in Paris a couple of years before.
Everglades & the Florida keys
Accommodation
Our options were reduced by the late booking of a hotel and the season. We choose to stay at the gateway to the Keys and use this as our base.
A brand spanking new hotel, we didn't choose this because of the location as there's not much around the area, other than fast food joints. It is in Florida city. However, the cost was better by miles than staying slap bang in Florida keys and the bonus was it had a pool. The car would bring us only a half hour to Key Largo and 3 hours drive to Florida keys, although this was with stops.
Everglades
Before we investigated the Florida Keys, we had a great day jaunting through The Everglades National Park.
A massive park with an abundance of wildlife. The Everglades is so huge at 1.5 million acres! You need a car obviously which will take you to each trail.
We started off at Anhinga Trail. Here, right at the beginning of our walk, we saw a Turtle (possibly a Florida snapping turtle) basking in the sun on the grass.
It was so amazing to see, after a minute or two it stopped and hurried back into the river, with a splash, as fast as his little feet could take him.
There were so many varieties of birds and fish, as well as a huge American Alligator hiding under the bridge for his next dinner!
Our next stop was at Flamingo. Unfortunately it wasn't the season for flamingos and we were disappointed again, as we were in Holbox. We saw loads of Manatee's bobbing up and down in the water.
They liked to play hide and seek, so you had to be camera ready to catch them! Their little nostrils were so cute!
Florida keys
The scenery was spectacular driving through the Florida keys.
You also have quay points such as the pretty Duck Quay and Pine Quay. The water was so blue and crystal clear, inviting you to jump right in.
Be sure to stop in Marathon to check out Sombrero beach.
It's a really pretty strand, with calm waters. You can also bring a picnic and eat at the tables just before the small boardwalk.
Key West – What to see:
The furthest point on the Florida Keys and it's jewel in the crown, Key West is a bustling hotbed of Tourists enjoying the southernmost part of Continental USA.
Duval Street
A lively strip of bars, restaurants and shops. The main hub where everyone walks down to get to trundle on to their next sightseeing location!
This old pastel yellow sorbet house and museum is a must see when in Florida keys. Who can resist the poetry of Hemingway!
It is a $16 entry fee into the museum, or you can just take a picture from the house outside. Go early as it's a big tourist attraction! Keep a look out for the lazy cats relaxing in the grounds. You are allowed to pet and interact with them, if they please, but at your own risk!
Charming 1829 house, with typical romantic architecture.
The museum also showcases family portraits & original furniture.
The Strand Theatre
The Strand was a historic movie house. It's colourful exterior as well as the history of the architecture has the romantic old worldly style as before. The theatre has previously been used for different businesses. At present it is Walgreens pharmacy. They have kept the original balcony and restored the marquee.
You gotta try Kermit's Key lime pie! When in America and all that! Don't you just love the name!
Approximately £3.50 each pie. It's zesty, creamy and delicious. If you have an even sweeter tooth, then you can have the lime pie dipped in sticky dark chocolate!
Pan American World Airlines first office!
A cool little building to check out is Pan American World Airlines' first ever office in 1927. Their first flight was Key west to Havana.
Truman Little White House
President Harry Truman visited this house in Key West to get away from harsh winters. You will see the original furnishings of Harry Truman and hear the history of the building, including those that visited it as guests such as Thomas Edison and Jimmy Carter, among others.
The little white house used to be the naval station's command headquarters during the Spanish-American War, World War I and World War II.
San Carlos Institute
The San Carlos institute is dedicated to Cuban heritage. It was built in 1890 to support Cuban culture and values. It is located at 516 Duval Street.
Southernmost point House
Built in 1896, the mansion was owned by the rich Curry and Harris families. The mansion oozes Queen Anne style architecture, with pastel coloured exterior and lush gardens. It is one of the most photographed buildings in Key West.
Southernmost point
Down by the water, you will find the southernmost point buoy of continental USA. It's really just a huge painted concrete monument, but a very important historical landmark. This attraction is very popular as the queues will suggest. It is located at the corner of Whitehead and South street.
Mallory Square
Reading up on Mallory Square beforehand, we heard it was bustling with nightlife etc. However, it was quiet when we arrived. Maybe it would have got busy at sunset. Who knows. Seemly there are nightly sunset celebrations, but unfortunately due to our tight schedule we couldn't hang around to find out.
The district was like an old western. There were fun props as well where you can have a photo op, along with lots of souvenirs and Nik nacs you can bring back home with you.
The famous lime pie at Kermit's is on the corner.
Key Largo
Key Largo is the first of the Florida Keys.
John Pennekamp Coral Reef State Park
An easy half an hour drive from Fairfield Inn and suites hotel brought us here.
The park entry fee is $4.50 each person, including vehicle. There are plenty of parking spaces in the location.
We attempted to walk a trail. However, I (Miko) got a tad freaked out when, right at the beginning of the walk, I saw a slithering snake. Knox didn't believe me. Being brave we walked on, until I saw another only a few steps ahead. Knox finally saw this one and was in his element, wanting to get a picture. However, it was too close and seeing two already was enough to have me walking back lol
Cannon beach
Extremely busy and busy. There is a lot of seaweed also. There are cannons on the beach, hence its name. Be careful of crocodile's also. Swim at your own risk.
Far Beach
A lovely beach area albeit small, it's much quieter than Cannon beach. The water is fine to paddle or swim once you get past the spongy seaweed. There is a few benches to sit and breathe in the fresh sea air.
Shower and toilet facilities
Toilets and showers are accessible in the park. The blocks are quite rudimentary but convenient to have on site.
Eating and drinking our Florida favourites
We cooked / prepared some of our own food. When we didn't we enjoyed the pleasure of eating and drinking in these spots.
Miami Downtown
Manna Life is located in downtown Miami. A restaurant focusing on healthy eating vegan food. It's cosy, relaxed place with yummy, but expensive, vegan food and fresh delicious smoothies.
Miami Wynwood
A wonderful vegan restaurant located in the Wynwood area. The restaurant is casual with a great atmosphere. Portions are good. Prices like everywhere in Miami are expensive. There are some lovely burgers such as lentil and curry, among others. It comes accompanied with potato fries. The restaurant also sells alcohol.
A Star Wars inspired bar that brews its own beer. Plenty of it was sampled, including a really thick, silky porter that was 14% in strength. This was sipped like a good whisky! We were lucky enough to take some pictures of the bewry.
Gramps is really popular with locals and outsiders. It is usually bunged. The bar also leads to the outside garden with a DJ playing a mix of music from the 80s on.
Fort Lauderdale
Con Murphy's Irish bar has absolutely stunning views over the strip and beach.
We enjoyed a few pints of the black stuff (not authentic like in Ireland though) and vino blanco. They also do food. We tried their pizza which was massive at $16. The atmosphere is fun. They also do live music. A random saxophone player also joined the singer, which got everyone's attention because he was so talented!
Lulu's Bait Shack was great for a few drinks and to hear some live music. Right on the strip!
Homestead / Florida city
'American style' Italian pizza restaurant. Very popular for takeaway. We got two 12″ which was quite expensive at $36. Had to laugh 12″ was there small. In Ireland/ UK a 12″ is a large! Lol
Florida keys
Kermit's Key Lime Pie shop – Just on the corner of Mallory Square, this cute little place sells the best Key Lime pie we have ever tasted! It was $3.50 each slice. If you have an even sweeter tooth then you can have the pie dipped in chocolate!