Holbox – Island life in the Sun
Holbox is an island on the north coast of the Yucatan Peninsula. It straddles where the Gulf of Mexico meets the Caribbean. While many people head south from Cancun we decided to slow the pace down on this bird sanctuary island.
Holbox Arrival practicalities
Cancun to Chiquila Taxi
We opted for, and pre-ordered, a private taxi to take us the two and half our journey to chiquila. After an internet search, we choose to ride with Holbox / Chiquila taxi services. They were $80 US one way and picked us up at our accommodation and dropped us at the port. This was at least $40 cheaper than other services that we saw online. The car was modern and the ride comfortable.
Cancun to Chiquila bus service
A cheaper option to get to Holbox is by bus. Regular service available, 3 times daily, from ADO Bus Station downtown Cancun. Cost is around $120 pesos per person,and takes 3hrs 15 mins with stops on the way.
More expensive arrivals
One can also rent a car and drive but will have to park up in Chiquila for the duration of the stay.
From $500 US, a small propeller plane can be chartered to fly to Holbox. All depends what your budget is. Flight takes about 35 mins. Check Options here or here
Holbox ferry
As Holbox is a 'car free' island, the taxi / bus/ car is only able to drop at the port. One then has to organise transportation by ferry or private boat taxi from Chiquila.
There are 2 ferry companies – Holbox Express (goes on the half hour) and Transporte marítimo 9 Hermanos (goes on the hour). Price for both is $220 pesos per person each way. The other option is a private boat and the price can vary depending on the time of day, i.e. more expensive after the last ferry has gone. If sea is a bit choppy then best to get the fast ferry. Both take about 20 mins or so.
On the road in Quintana Roo
The cab journey to chiquila was uneventful and smooth. Jose was our driver and he allowed us to relax on the way. Our request for a stop off at a Santander bank (Santander bank charges less for transactions, 34 pesos, than the other banks) was easily and amiably met. Holbox ATMs are temperamental, often cashless, and cards are rarely accepted. It's advisable to stock up on cash for the duration of your stay.
Miko slept while I took in the scene. Leaving the hectic and built up Cancun coastline, we headed inland to travel a long, straight road into rural Quintana Roo. The city's buildings were soon replaced by a thick jungle of palms and deciduous trees and bushes. It wasn't a tall, heady forest as the treeline kept low for the majority. The scene was interspersed with mangrove edged lagoons and the odd ranch to prove that some of the land was arable for farming.
We passed through a few sleepy villages on the way. A far cry from the bedlam we just left. Here, dozing shop keeps swung in hammocks, sparse stalls; selling Cocos frios, other fruit, or jugos, were set out in hope of a sale rather than expectantly, while rough made motorcycle rickshaws ferried people around. Thinner looking pups, still healthy and happy enough, but not the pampered pets and street dogs enjoying Sayulita life, sniffed around. Luck of the draw where and when one is born.
When we turned off at Vicente Guerrero, heading towards route 5 and Kantunilkin; a slightly larger village that had real Indian style rickshaws, it was no surprise that the phone connection disappeared. It was sketchy, in and out, after that. This was about an hour into the journey.
From here, other highway users were few and far between, apart from the carrion eating vultures that made good of any roadkill. Luckily, there seemed to be no fatalities from a Cola delivery driver that somehow had come a cropper on this quiet road.
Holbox: leaving the mainland
Ferry to Holbox
We had just missed the 2 O'clock ferry, so we took our time at the port to get our ferry tickets; there are a few ticket offices around the port area, use the loo, and trundle our luggage to the dock. We got the Holbox Express / fast ferry.
With everyone's luggage hauled onto the bow deck, we board in an orderly fashion. We set sail 8 minutes late, but got there in 20 minutes. Knox and I were glad to sit on the open upper deck and breath in the fresh sea air.
One can see the island from the mainland and the water traffic to and from Holbox. There is a stir of excitement in the belly as we cross the calm waters. They're not so clean looking on the ferry route but also not at disaster pollution levels. Pelicans and gulls watch the goings on without much interest.
Holbox Taxi
On the other side, there was a stand with lots of yellow taxi golf carts waiting. We thought they might decline our custom, with the luggage and food shop bags we had (shopping we had done in Cancun, but the young taxi girl was able to fit it into the front rack no problem; with the bigger case sat beside her and our shop bags in the backward facing seats beside us.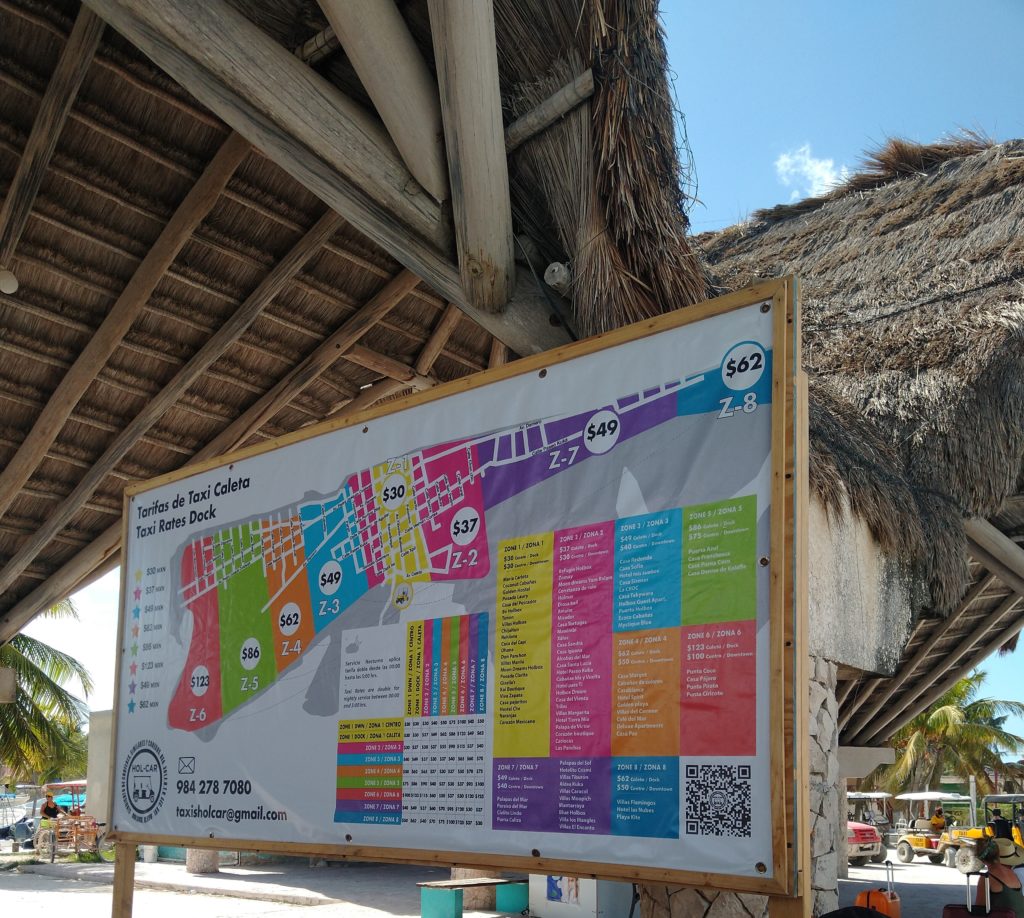 A sign board, where the taxis sit, state the prices. With forethought, Knox took a picture of it. Proven right, as when we arrived at the destination, she told us 70 pesos. showing her the picture, our journey should of been 37 pesos. Now some people would say, aw well that's not that much! But we hate being ripped off and it is something to be aware of. If one is on a long trip, and keeps paying over the odds, it won't be long before the money runs out.
We regularly tip generously anyway, but people who try to cheat leave a bad taste in our mouths. We wouldn't accept that behaviour in our own country, so why accept it when traveling. Anyway, she argued her bit until she was shown the photo of the price list. Quickly, she then backed down some, saying 49 pesos 🤦‍♂️! In the end she got her 70 pesos as she did help lug the bags in and out of the cart.
Holbox: life on the island
Island life always moves at a different pace from big mainland areas. We're from Ireland and you feel it. Holbox was no different. On one hand, it's felt more intense due to its smaller size. On the other, it's close proximity to the Yucatan Peninsula means that it's easy to access and not hugely isolated.

Modes of transport:
When researching online, a lot of people said Holbox is a car free island. It may be a 'car free' zone, but do not think you will come here and be completely free of traffic. In fact, there are some cars and trucks on the island, used to clear waste, deliver goods, owned by some locals etc. On top of that, what many other writers fail to tell is that there are plenty of golf carts, motorcycles, and ATVs motoring around! Some of the drivers have scant regard for pedestrians so be careful.
Other than waking, the other mode of transportation is a bicycle. The 'roads' are sandy, dusty, dirt tracks with potholes everywhere. Be prepared for a bumpy ride. When the rains come they are almost unusable. Think of a quagmire of gloopy cement with large puddle pools and you will get the idea.
Both bikes ($200 pesos a day approx) and golf carts (anywhere from $300 pesos for the hour up to $2000 pesos for 24hrs) can be rented but aren't cheap.
Our accommodation
As we did before in sayulita, we found an Airbnb, cut them and their fees out, and contacted the host directly via their own site. This saved us over £200.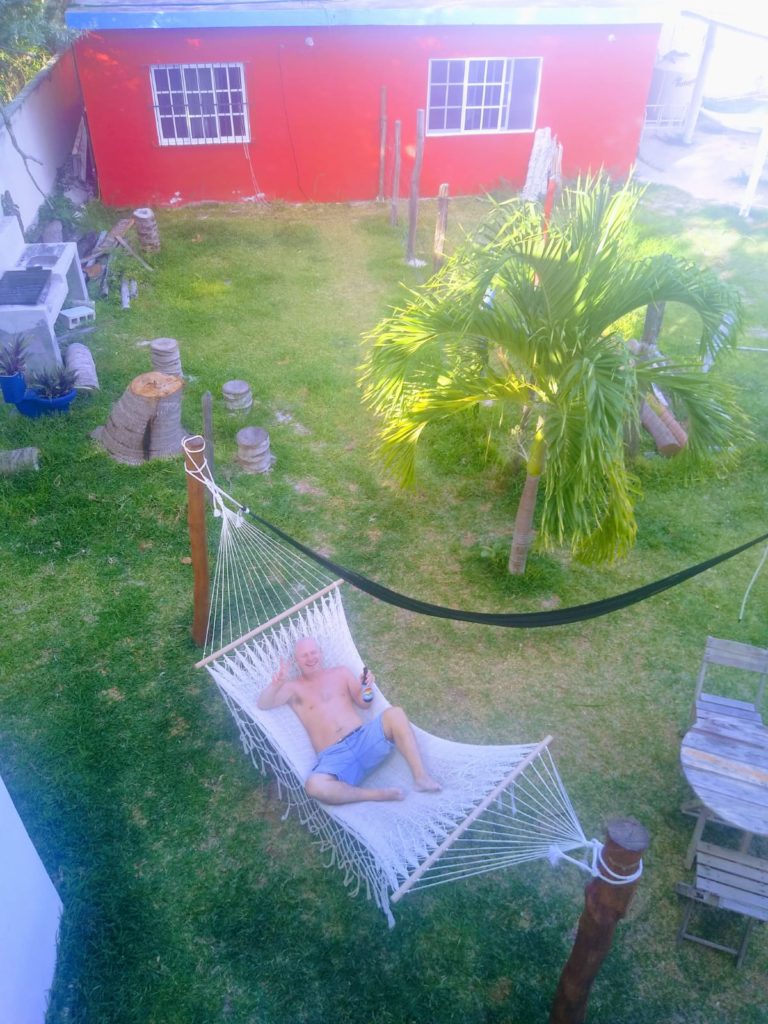 The small apt was simple, with a bedroom, kitchen and seating area, as well as a shared garden downstairs, with hammocks and table and chairs. There is WiFi but it is weak and won't work in all the rooms, especially inside upstairs rooms. To highlight the point, the host had to ask all the rooms to log out of WiFi, for a while, as he was on a zoom call giving a presentation.
The host lives next door in a simple, one storey, small, cute red casa, with his two beautiful husky dogs, Volk and Lobo. The dogs to us were a bonus! Our host, Arnoldo, was very relaxed. After leaving his home city, Merida; in the neighbouring state of Yucatan, he'd settled into Isla life.
He's a sociable butterfly and free spirit. We found it funny one morning, when he stood beside a loud speaker outside his gate, playing the tune of "Stairway to Heaven", not the Led Zeppelin version, but another fantastic version. It was blasting but only for a short time..
"Party?" we asked
There was no party at that time, it had been at his friend's house last night, but he mentioned a few will be coming! It appears the place is renowned for a wee jamboree at times.
The location
Holbox beach has undoubted beauty. We were a few mins walk away from it and the centre of the small town. The beach's crystal, calm, turquoise waters are so shallow you can wade out 50 metres or more on the white cushion of soft sand and it will still only be to your waist. If only the whole stretch of beach wasn't taken over by sunbeds, this would surely be an island paradise.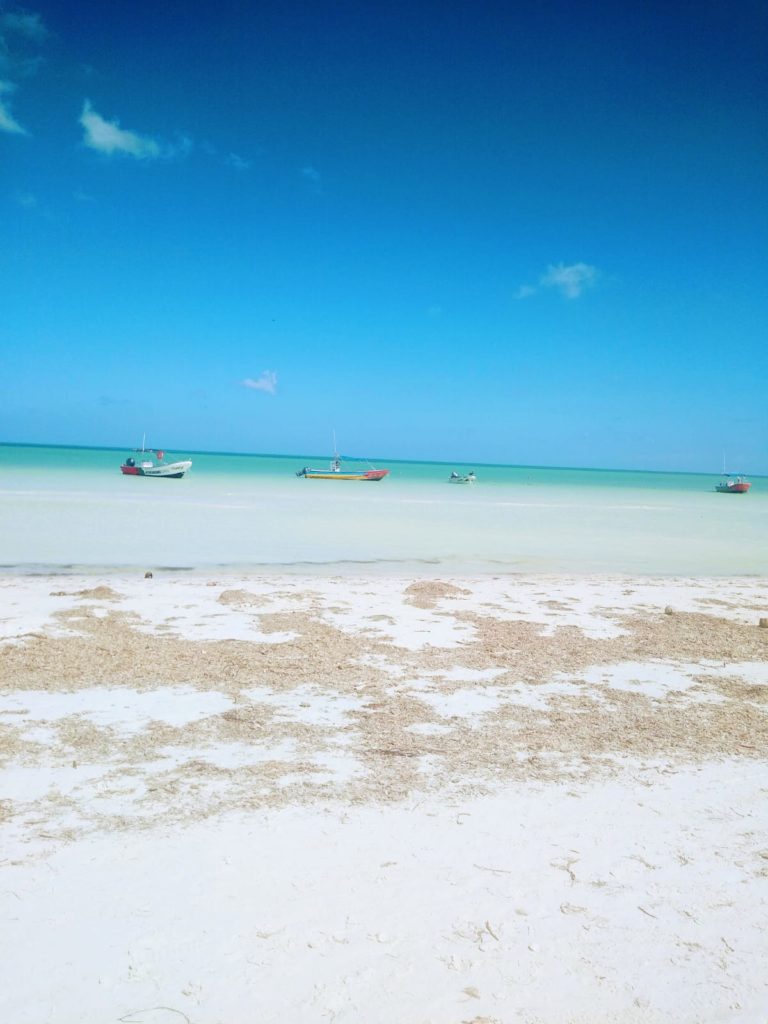 Paradise lost?
Unfortunately, there are too many tourists and expats now and there is constant construction of new hotels. The place is saturated. Those that already hog the shoreline, fill it with loungers and umbrellas because people apparently have lost the ability to throw a sarong down and lie on the beach. The road runs directly behind the beach, so you have a steady trickle of traffic, and associated fumes from the non electric buggies. Traditional hawkers of Coco Frios and mangos are great to see. It's a pity about the crowding of beach shack bars (operated by many of the local hotels), massage parlours, tour hawkers et al.
Most of the sand is compacted and hard to walk on. So much so that people can cycle on it. Sargassum, as with a lot of the area, is a regular issue. Indeed, hotel and bar staff can regularly been seen with their big orange rakes out.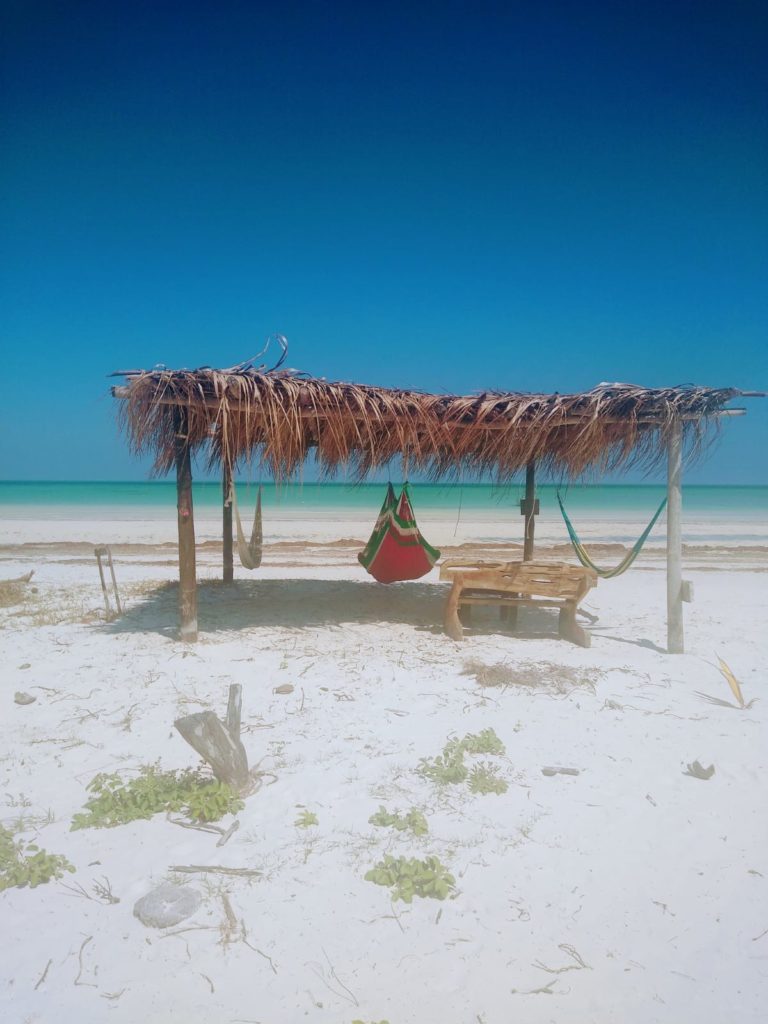 We were also disappointed to see the iconic colourful Hammocks and swings were gone from the sea. The government removed them seemingly. However, you can find plenty of swings and hammocks in Front of all the beach bars, restaurants and hotels to relax on with a cocktail. It's not a cheap place. Prices for drinks and food match that of western countries.
Again most things get quoted in US Dollars. There are even ATMs for US dollars! Also like the US, most of the restaurant/bars 'suggest' a tip while some go as far as trying to automatically add a tip. This is usually around 15% but can be more. It is best to check your bill and 'tip' as you feel appropriate.
Art work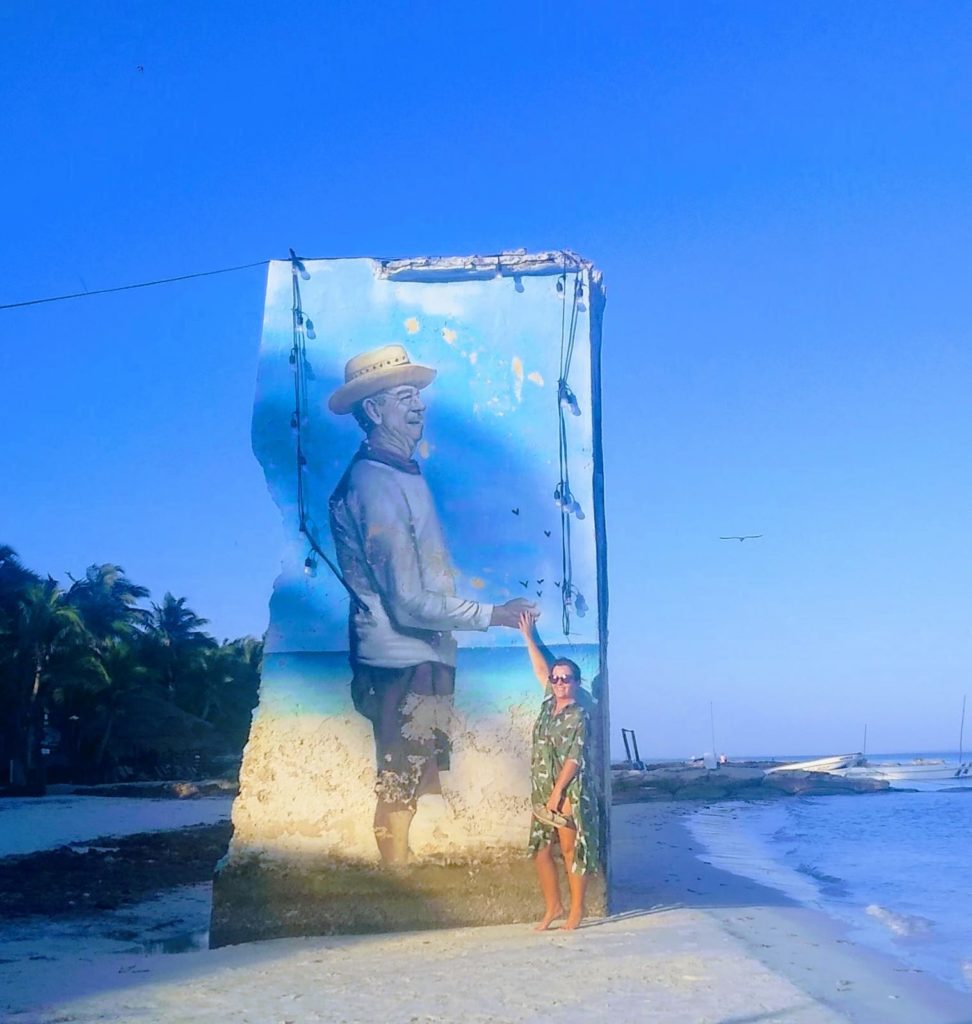 All around town, one can see plenty of beautiful artwork from many different artists. Bright and colourful, they add a vibrant cheer to Holbox
Punta Mosquito
A must do activity is wading over to the Punta Mosquito area of the island. Don't let the name put you off, we didn't see one mosquito. It takes approximately 3 hours to wade there and back. Go when the tide is low, therefore the water won't get past waist high. Depending on the tide height, a lot of the sand bar can be crossed water free.
Be careful of the stingrays! We saw a few on the way back and one circled around me (Miko)! Knox has also had a close encounter while swimming.
Luckily the sun stayed out most of the time, which made it easier to see the sand underneath, allowing better footing in the sea so as to avoid standing on any.
There wasn't much to see on mosquito island, bar a stunning beach that is home to many birds. We only saw pelicans, gulls, egrets, and little waders. Signs are placed to prevent people from wandering up the beach and into the bird sanctuary. Some still do cross into the quiet area to try for better photos. We were hoping to see pink flamingos, however the time of year wasn't right. They are usually there at the start of April so we may get a chance to try again.
The sanctuary also stretches into the backwater mangrove swamps. This is also the home of crocodiles so be careful. So far, we have not seen any!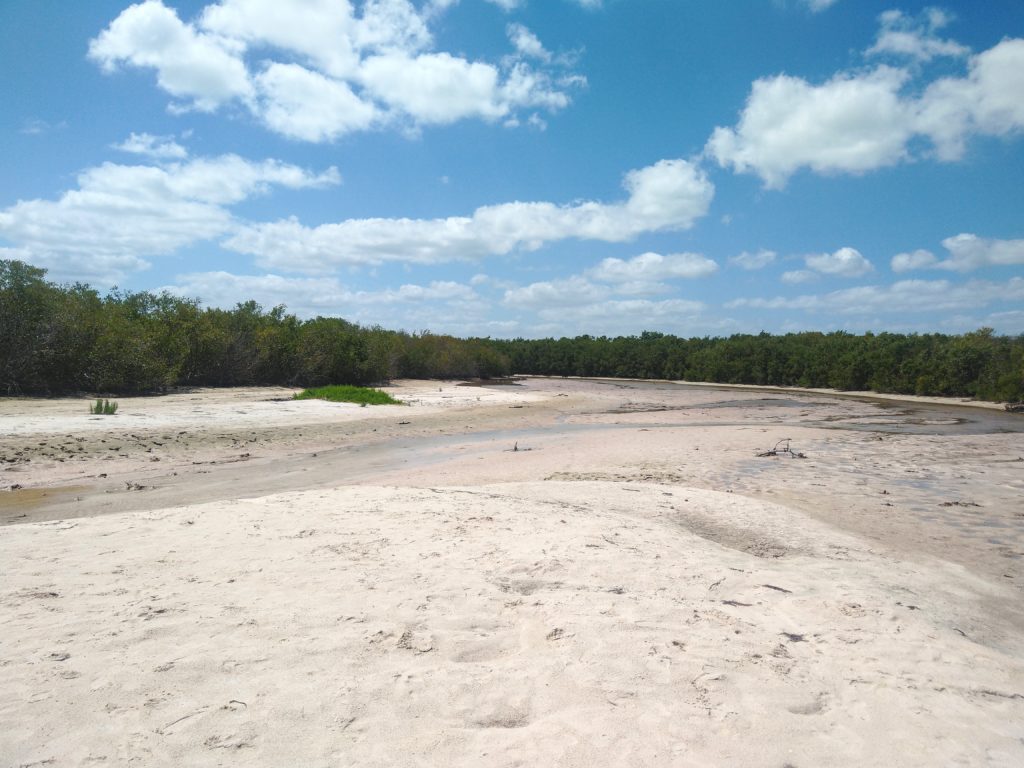 Nightlife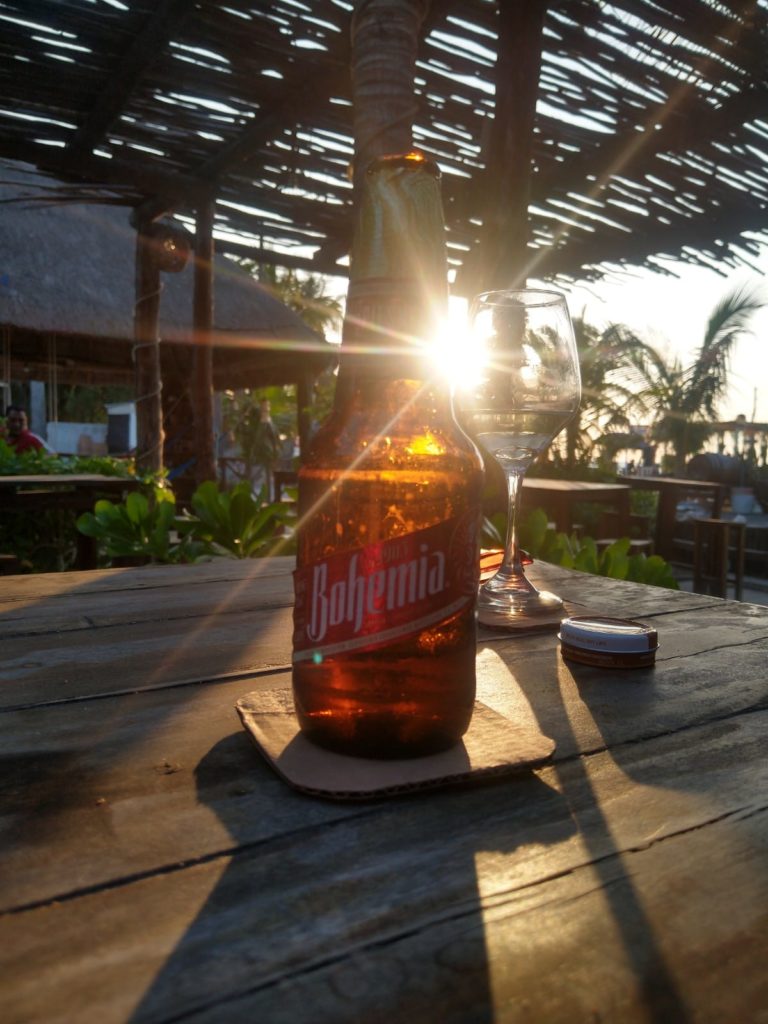 Nightlife is a slower pace here. Most beach bars close early, after the sunset, then people descend to the town. There are numerous restaurants, but definitely not as much choice or quality as Sayulita, and vastly less than a place like Cancun would offer. We are glad of our kitchen so Knox can whip up our favourite cuisine.
Restaurant we enjoyed:
La Pinsa – Italian restaurant serving reasonable pizza.
Bar scene
There is a bit of life in the bars but they seem pretty reserved compared to other places we have visited on this trip. The usual opening times are to around 12am but can stay open a bit later at the weekend.
The party can continue onto the beach, though, as revellers leave the town to dance with boom boxes on the beach. These parties can go way into the wee hours.
St Patrick's Day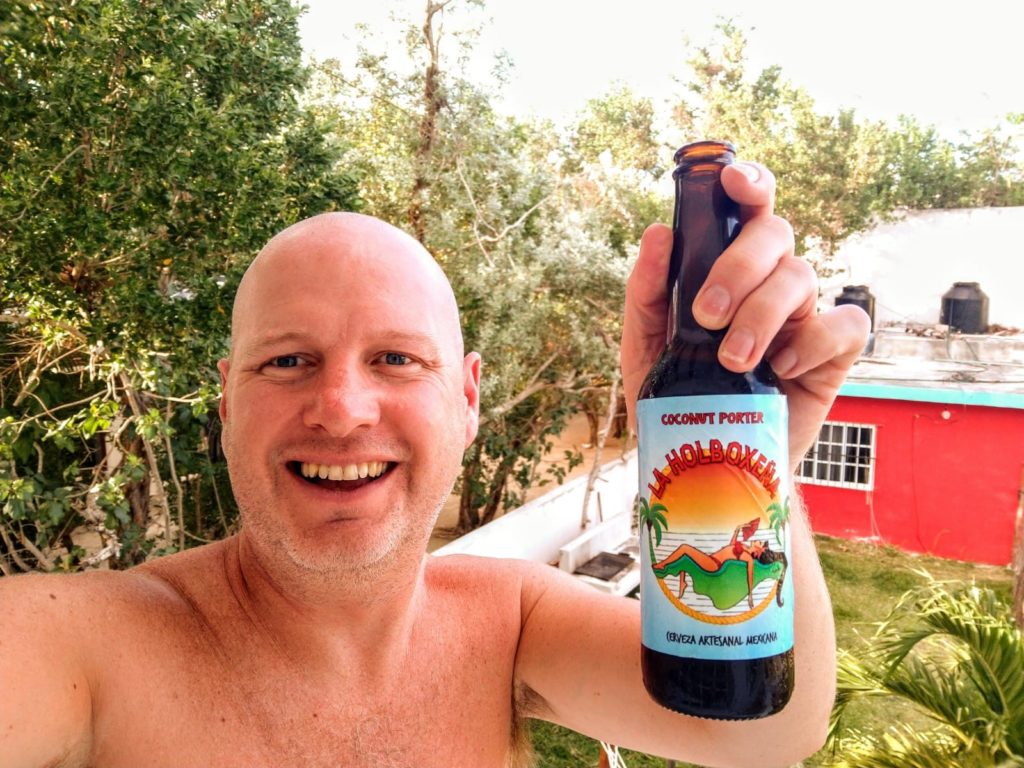 Not a lot happening in Ireland for our patron saint and not much here either. Still, I (Knox) raised a wee bottle of local made porter to celebrate. Xolo also played a bit of Thin Lizzy too!
A couple of bars we enjoyed.
A lot of places are still stuck on Electronic Dance Music. There are some places that have live music or play other styles of music.
Xolo – small bar playing a bit of rock music through the ages. Good barmen (Adrian and Alvaro). Generally a good atmosphere but can be taken over by some non local / non Mexican / non tourist, unsavoury clientele who think they own the island. Shame.
La Cerve de Holbox – Small tapas bar that makes some of its own ale as well as selling a good selection of Beers/ales/porters. All served by a couple of good guys – Ibey and Uriel.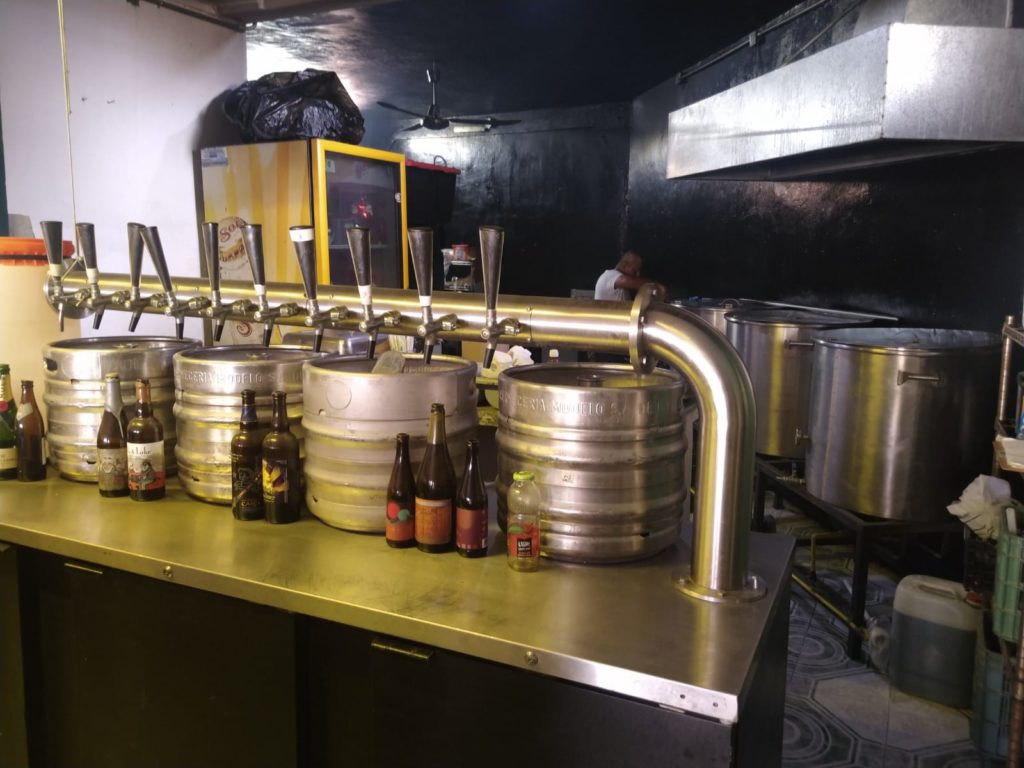 Punta San Telmo – this shore front bar/restaurant had a chilled out vibe with its reggae music. A great place to chill as the sun goes down. Live music on Thursday late afternoon too. Nestor, Ceasar, Luna and the crew made us feel very welcome. Highly recommended!
Alma Bar – delicious cocktails, the Alma Colada (made with passion fruit) is well worth a try. An upstairs poolside setting specific for beach life and sunsets. Music (house/rave) was a bit of a downside but lovely views.
Shops etc
Supermarkets and other food
Lots of mini-markets, nothing big, but selling most staples so you'll not starve. More obscure things – balsamic, cheese etc best to get before arrival.
Also plenty of small fruit and veg stores to get the fresh goods in. They'll not always have everything but one can make do and plan.
There are a number of bakeries/panaderias around, selling fresh bread, croissants, cakes etc, but produce is a bit mediocre. Island life eh!
Clothes and accessories
There are craft stalls on Calle Coldwell and plenty of small boutiques around town. Don't expect a bargain. I (Miko) found the prices extortionate! Buying depends on what's needed or how desperate one is for that "must have item". We choose to keep our money in our pockets.
The resident Iguanas
Breakfast with the neighbours!
Our lovely fruit breakfasts are shared with the resident iguanas, a big old boy and a smaller girl who has lost a bit of her tail. They know when it's breakfast time, and sit there, under our room, until we throw the fruit pieces down to them. Quite the double act.