Santa Marta – Colombian Caribbean. Back to the coast
Santa Marta, Colombian Caribbean, is a city in the northern Colombian department of Magdalena. It has the most beautiful terrain and contrast between the beaches of the Caribbean sea and the white-peaked Sierra Nevada. This makes Santa Marta a must-see destination in the region. It certainly has a more chilled vibe than the vast melee of Bogota.
In addition, it was great to be back in summer wear again, even though Christmas was getting into full swing!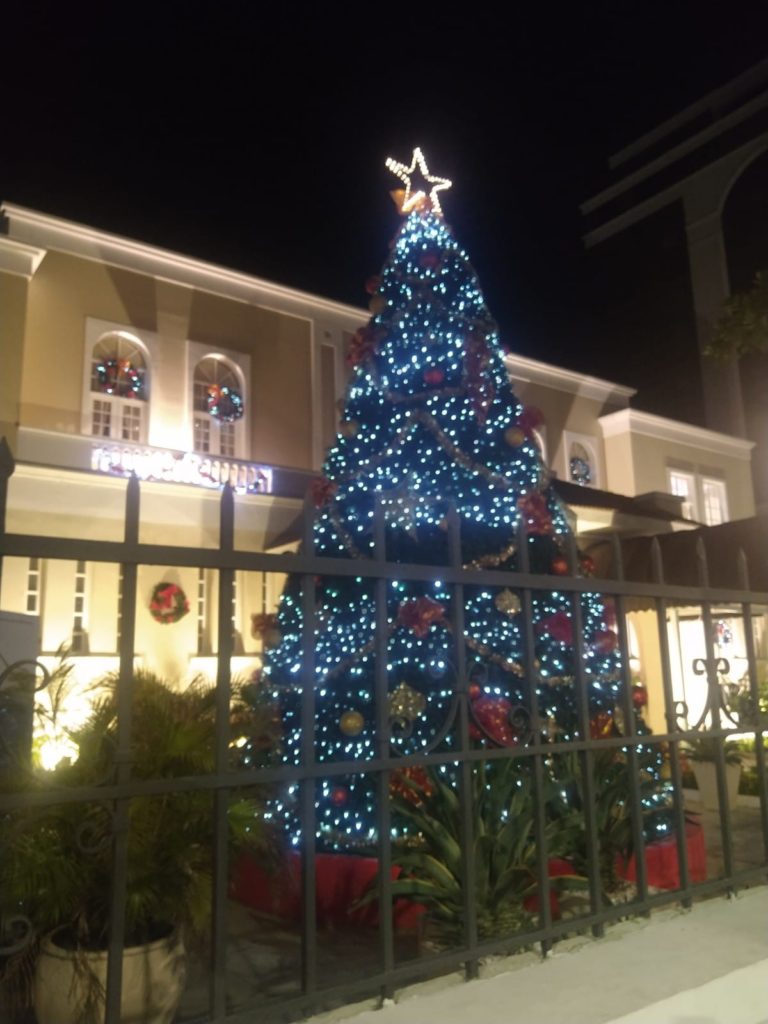 Getting there and logistics
A quick flight into Santa Marta, Colombian Caribbean, and an easily organised cab ride brought us to our accommodation earlier than expected. Luckily, we managed to get an early check in. Read all the logistical info below.
Flight from Bogota to Santa Marta
We flew with direct with Avancia for £143 ($192) oneway. Its a short hop and only takes an hour and a half. The flight over Santa Marta was a breath of fresh air compared to the craziness of Bogota. Already we could feel excitement as we peered out the plane window to the vistas of a more beautiful, natural landscape.
Taxis
The taxi from the airport cost 30000 COP (£5.65 / $7.60). There is no Uber / Cabify in Santa Marta, so we used the taxi kiosk, just to the right as we came from baggage reclaim, inside the airport, to prepay, before departing. They use a set fare system that is clearly noted on the board. The journey was smooth and hassle free, taking 25 minutes.
Accommodation – Santa Marta, Colombian Caribbean
After our stint in the states we had built up quite a few Marriott points. This would get us two free nights in the AC Marriott hotel, Santa Marta. We had a great view of the Caribbean sea from our sunny balcony on the 11th floor, as well as the glorious Sierra Nevada mountains.
We would spend 4 nights, before moving onto an Airbnb for 3 nights. Who says Marriott hotels are boring!
Airbnb digs
Our Airbnb accommodation didn't have the views or a balcony from our room, like that of the Marriott, however it did have two rooftop dipping pools and bay, cityscape and mountain views.
The accommodation didn't get off on a great start, as we checked in at the agreed check in time, only to find a bunch of rubbish bags in the hall and the cleaner still working. We looked over a string of other niggly issues, however we were grateful for the fully equipped, and clean, kitchen to cook homemade meals again, especially after food poisoning and a dodgy tummy for days.
An extra day

We had to move to a third place to allow for our schedule. Gelling everything together can be like working a Rubix cube.
As our Airbnb had no availability, we managed to get another stay in Hotel Boutique El Cactus. It was a great place and the best value.
At £38 a night you got a huge open-plan living space with an additional private terrace with loungers and alfresco dining area, so it was great to have breakfast surrounded by Knox's favourite plant, cactus!
Given the ring around – redressing the naked fingers issue!
An excellent tip, when leaving your accommodation, is to ensure you have all your belongings with you. As we left for Santa Marta, arriving at Bogota airport, I (Miko) discovered my fingers more naked than they should be. A couple of rings missing! It was too late to go back. We contacted our host and eventually got confirmation that they had been found. On arrival in Santa Marta, Colombian Caribbean, we would organise a courier to deliver them back to us. Sounds easy.
Not so fast!
It has been anything but. A day spent online trying to organise a parcel pickup and delivery would have sent my (Knox) hair grey if I wasn't already bald. DHL was the only courier specialist in town. I went to the office but they said that I had to contact Bogota.
Quicker in the 19th Century!
In this digital age, I thought a simple online organisation would work. Of course that would have been too easy! One can't make a single shipment, paying by card, online as an account was needed. I was getting exasperated through the chat system, although it was good that another human was chatting with me rather than a BOT, as they said I could pay cash in Bogota. I reminded them that if I was in Bogota then I would collect the items myself!
Cutting a long story short, I managed to converse with someone who sent me a form by email. In fact, it was the same type of form DHL had online. Fill it in, she would give me a price and DHL bank details, so I could go and pay cash into their account.
A slow process that probably could have been easier, as well as quicker, in the 19th Century. Frustratingly sluggish communication, from DHL and our previous host, led to unnecessary delays. 56 hours later the shipping was booked and paid for. It still wouldn't get picked up until the next day but at least it would appear to be sorted.
Further delays
We kept an eye on the tracking but there was no update to inform us that the envelope had been collected. Waiting until the following day, in case the system was just slow to update, but still nothing showed on the tracker. We contacted the agent in DHL only to be informed that the courier had arrived, as scheduled, but the shipping label hadn't been printed, meaning the parcel hadn't been made ready! The air in our room turned a bit blue! Juan, the Bogota Airbnb host, apologised and assured us the parcel was ready now. Once more, the courier was scheduled for pick up. This time it was succesful.
What to do in Santa Marta, Colombian Caribbean?
This is a relatively small, half a million population, city compared with others in Colombia. Santa Marta, Colombian Caribbean, has a pretty chilled vibe and we were excited to explore.
The Marina
Strategically located in Santa Marta, Colombian Caribbean coast, the new marina is a comprehensive, modern yachting destination, Set to become a sportfisherman's haven, the Marina is also within close proximity to the Panama Canal. There is also a decent sized port to the north of the marina. Large tankers can be regularly seen sitting in the bay. Not the prettiest look but it's the reality of a busy coastal city.
Playa La Bahia and Playa Los Cocos – Santa Marta, Colombian Caribbean
Either side of the Marina lie the two main beaches of Historic Santa Marta, Colombian Caribbean. Playa La Bahia is the smaller cove while Playa Los Cocos stretches south. These are city beaches that can be busy at the weekend when the party gets going, and a bit quieter during the week. While a bit of the idylic nature may be missing, they are still nice as the calm Caribbean sea laps the shores.

Historic Santa Marta
We choose to stay close to the action in the historic area of Santa Marta, Caribbean Colombia. The streets are narrow, and a bit ragged, in the colonial styled heart of the City. Yet, there is plenty of colour and vibrancy in the historic centre of Santa Marta.
Museo del Oro Tairona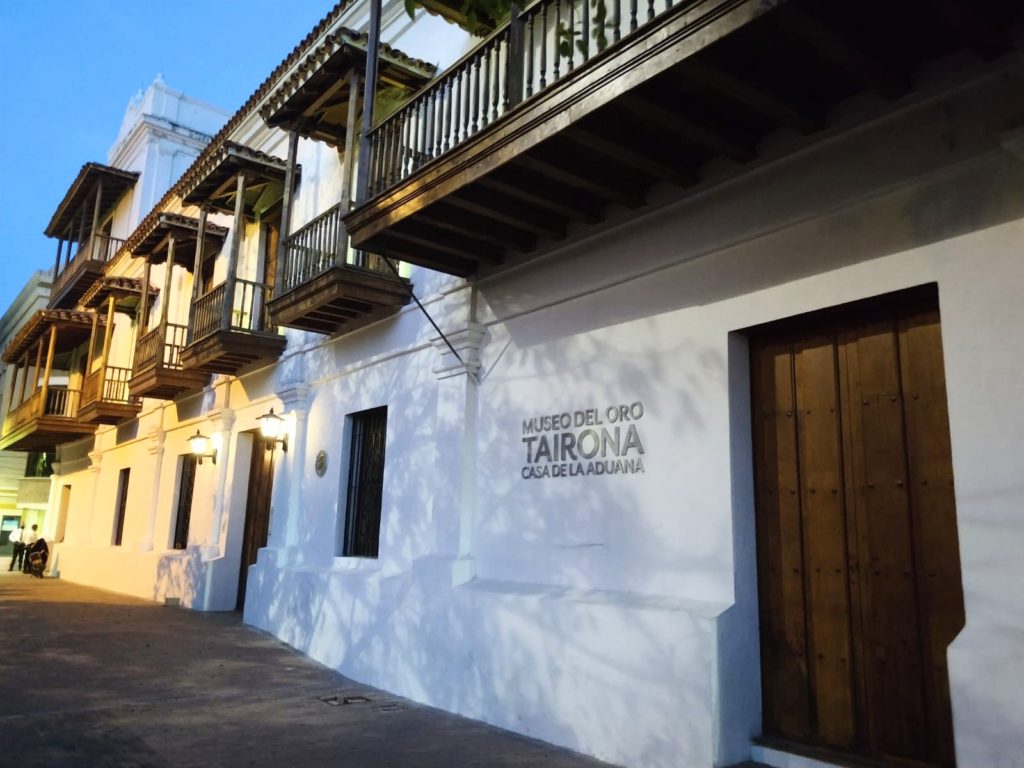 The Museo del Oro Tairona museum, Santa Marta features the life & artifacts of indigenous people. You can perfectly appreciate the different indigenous cultures that inhabit the Sierra Nevada region and their way of living: what they use, the animals of the region, the symbols, weapons, etc.
As well as learning the history of the people, you will also find gold artifacts. The museum isn't as big as the one in Bogota, but is interesting and set in a typical Spanish Colonial building.
Admission is free.
Simon Bolivar Park
A small public park featuring a monument of Simón Bolívar, with landscaped gardens. Even though a compact park, it still is worth a stroll. It also has some lovely ocean views.
You will see, and hear the name, Simon Bolivar alot in Colombia. He was a Venezuelan military and political leader who led what are currently the countries of Venezuela, Bolivia, Colombia, Ecuador, Peru, and Panama to independence from the Spanish Empire.
Graffiti art
You will come across brilliant graffiti art in Santa Marta, dressing up the grey walls, splashing fabulous colour, and talent, into the city streets. Just like in Bogota, Santa Marta is attracted by the city's booming street art culture.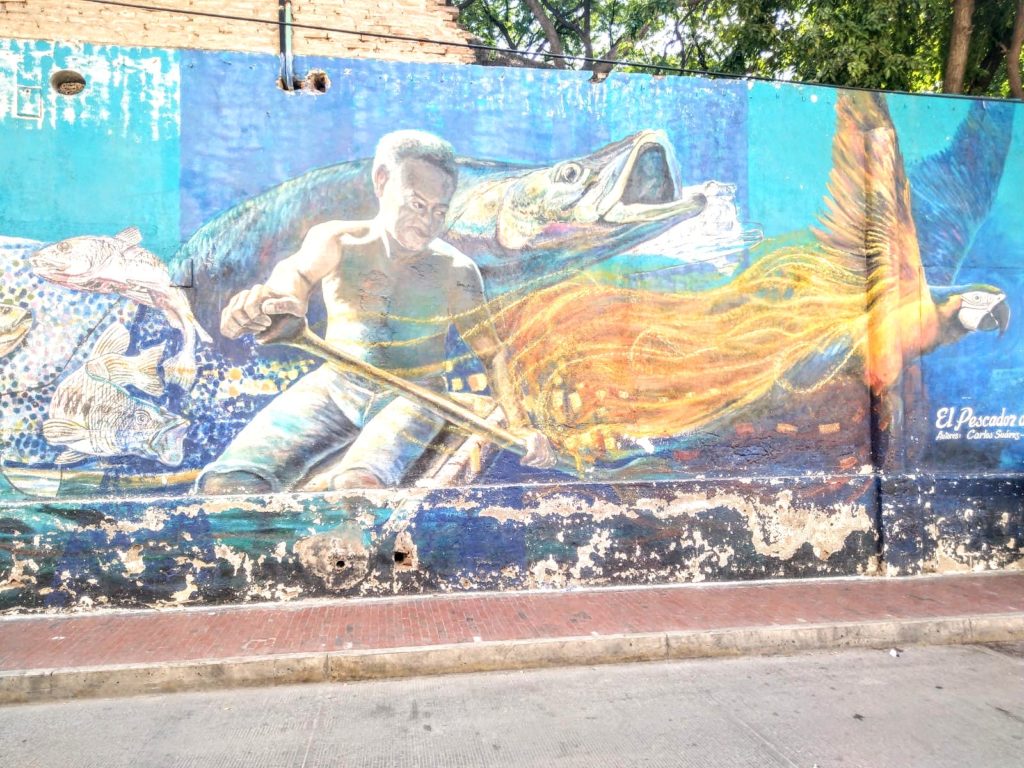 In Santa Marta, Colombian Caribbean, it is 'prohibited' (but not policed) rather than illegal to spray the walls. Ironically this means that the streets are way ahead when it comes to some talented artists. Colombia has a lot to be inspired by and you can see it in some fantastic work.
Palace of Justice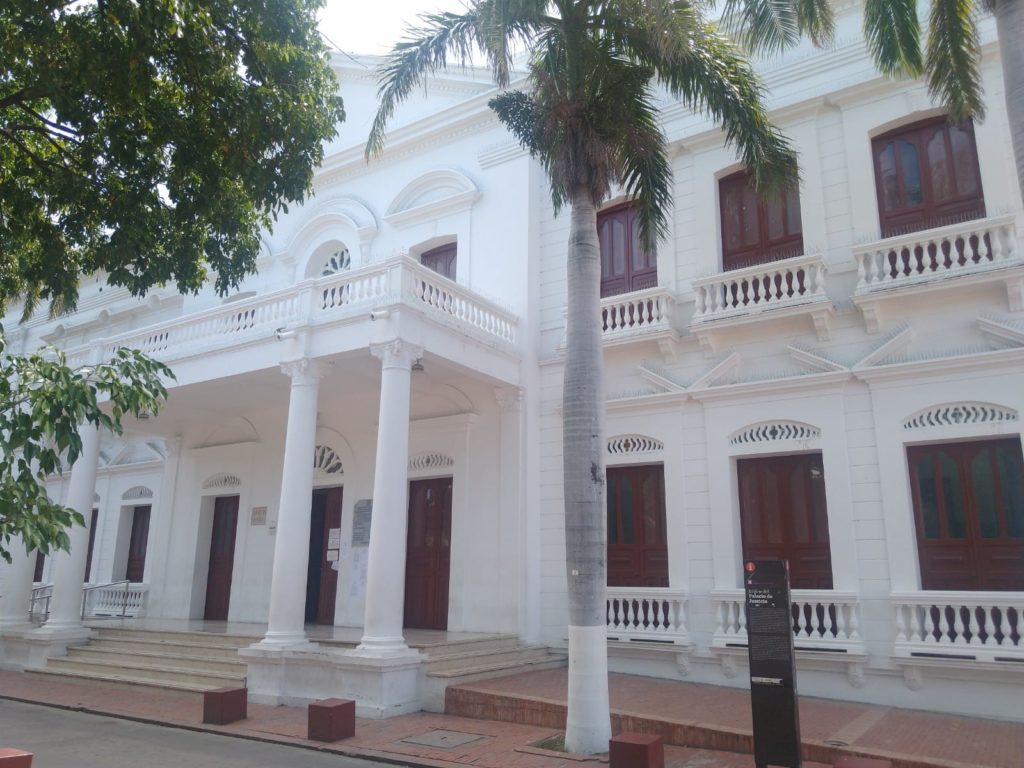 The Palace of Justice is a public building located in the Los Novios park in Santa Marta , Colombia . It houses the judicial branch of the department of Magdalena.
The palace was built at the beginning of the 20th century. The architecture is the expected colonial style of the Historic Centre. They certainly know how to put money into these grand buildings to send the poor to jail.
Enjoy a refreshment or meal along the promenade
While the actual seafront promenade was undergoing some beautification, the road side comes alive in the sultry evening. Relax with the numerous restaurants, bars and cafes.
There are also all kinds of buskers. They range from drummers, guitarists, singers, and the most heard of in Santa Marta would be the rappers. All of these people showcase their talent right outside the eating / drinking establishments. When finished performing, they go to the patrons tables with a hat for a tip.
Meeting some like-minded people always makes us happy when traveling. When we all couldn't get into a blues bar, because they asked to see 'our papers', we all sat outside an unpretentious establishment, in cute little square, in front of Iglesia San Francisco, without any discrimination. 'Hold your ground!'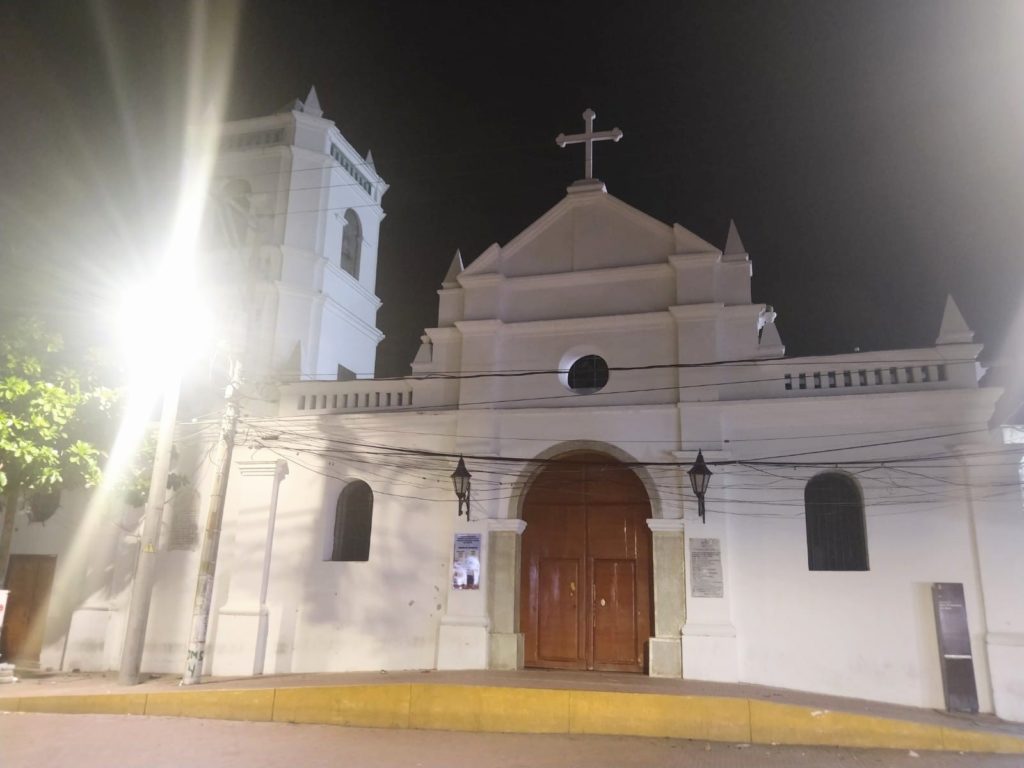 Stroll the colourful streets and market area
During the early evening before sundown (which is around 5.30 pm) it's pleasant to stroll the streets filled with colour of the traditional colonial buildings, decorated restaurant's, and lively parks.
A cacophony of noise washes over you in the heat of the bustling market streets on Carrera 5 as well as around Calles 10, 11, & 12 / carrera 9 area.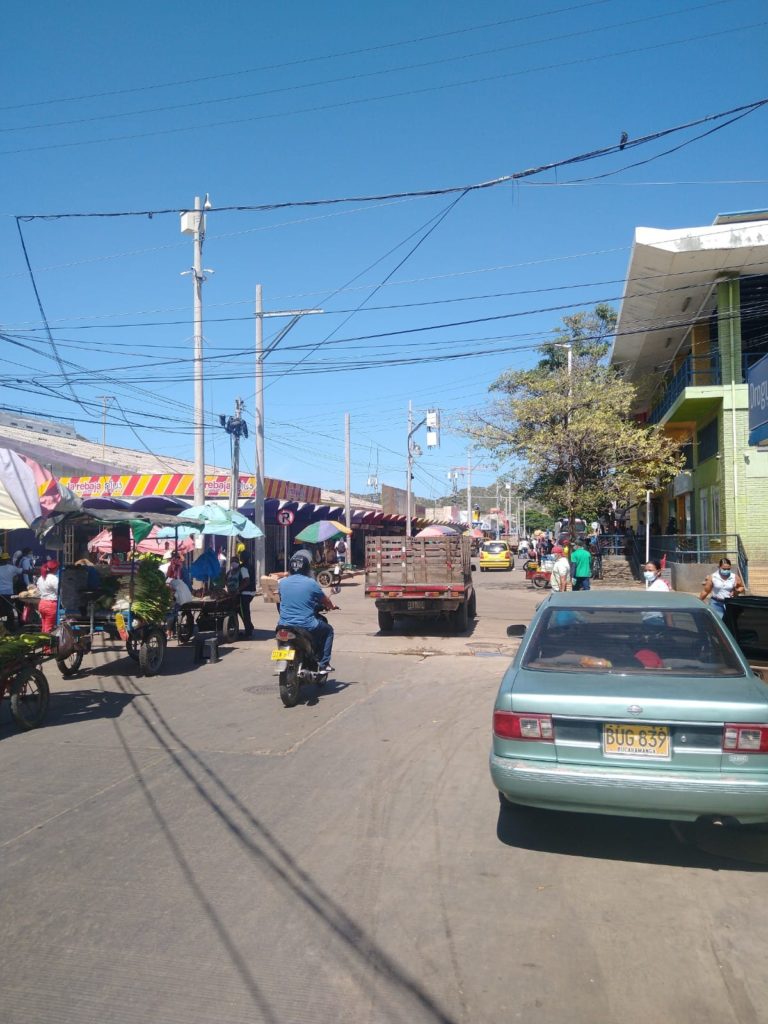 The pandemonium continues above one's head too, as the wiring gathers in a workable confusion. Health and safety is less adhered to in Colombia. At least the guy up the ladders is able to untangle the mess. It must be like working with a giant Christmas tree light tangle.
By daylight or night the streets are filled with colour.
A Catholic church with a bell tower, and an interior lined with religious paintings & statues, it's the most familiar building in Santa Marta. It was the first church built in continental America and, because of this, is considered the Mother of Colombian churches.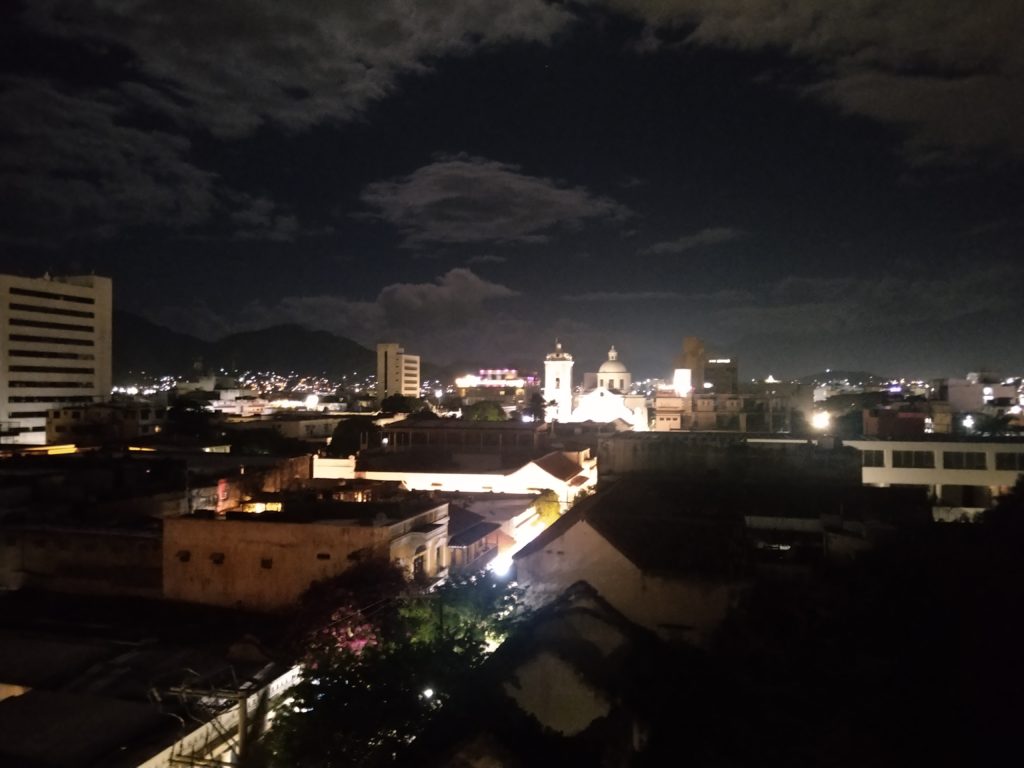 Its first foundation dates back to 1531 at which time it was made with clay, wood, and palm leaves. Its stunning architecture and bright white exterior dominates the plaza located in the heart of the historic centre.
A little bit out of the main town, but a cheap cab ride will get you there in around 20 minutes. If you're an art fan it definitely will be worth it. Especially as it's where the revolutionary hero and former president Simón Bolívar lived out his final days in the 19th century.
Today you can see some fine contemporary art from Latin American artists including paintings, print makings, drawings, water colors, sculpture, collage, photography and video. The museum also boosts a garden and a bar for refreshments.
Tayrona National Park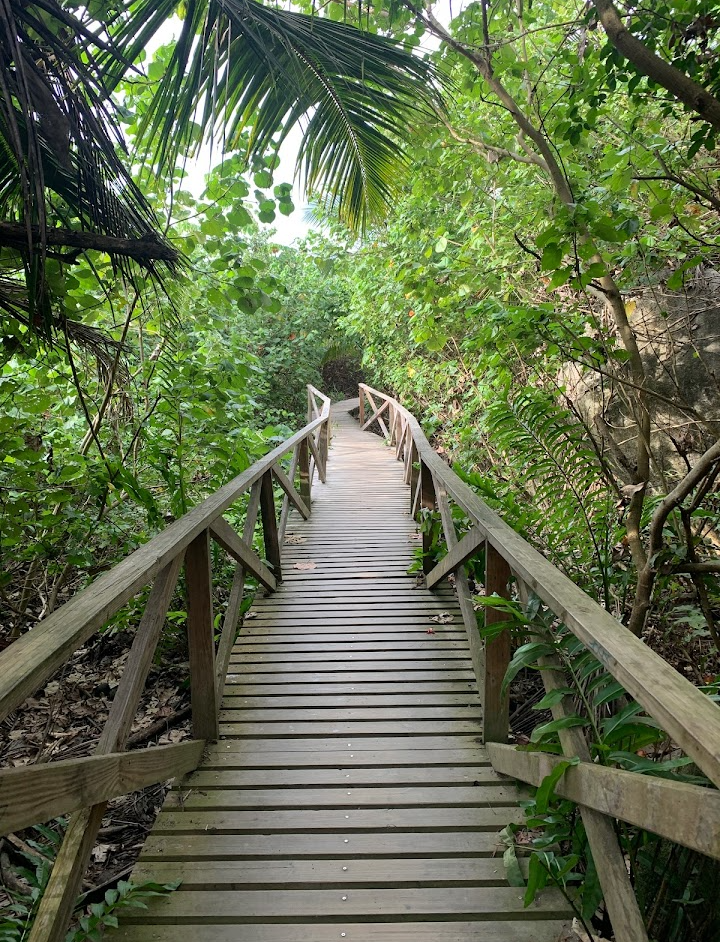 The Tayrona National Park is located at 34 kilometers from Santa Marta, Colombia Carribbean. Tayrona has remarkable biodiversity of flora and fauna within its boundaries, therefore making it a protected area. There are also, poisonous dart frogs, to giant boa's, as well as plenty of birds, mammals, and insects. And, if you're lucky you may see some monkeys. If you love hiking and nature this is definitely something to put on your Santa Marta, Columbia, Carribbean list!
How to get there?
Bus: you can catch the ride at the main bus station just outside the city or at the Mercado Publico (Market) Calle 11 con Carrera 11. It takes 1 hour and is dirt cheap at 8 000 COP.
Boat: From Santa Marta either take a bus or cab (about £3) to Taganga. From there you can get a boat. Just ask at the dock. You can take a fishing boat or a more fancier sailboat. Its approximately £15-30 depending on your preference. The journey is about 1 hour. Bare in mind that you are left off at Cabo San Juan at 10/10.30pm and not collected again until 4.30 pm.
Taxi: Our preferred option would be a private taxi, costing around 80 000 COP for a 45 min.
Entry
You need to bring identification with you to enter the park, aswell as cash. They don't accept credit cards. It is 60,000 Colombian pesos (approximately $15) for foreign visitors and less for Colombian nationals. You also need to buy their medical insurance, no matter if you have your own. It is only about £1.
The surroundings
There are two entrances to Tayrona Park, El Zaino (the main one), and Calabazo. Cañaveral is where the coastal trail of Parque Tayrona starts. The first beach you'll arrive at on the trail is Playa Arrecifes. You can't swim here though. In fact many of Tayrona's beaches aren't suitable for swimming due to them being rocky, or the rough seas. Many people have died. La Piscina, however, is where you finally get to splash around!
Cabo San Juan beach is no doubt the most popular due to the car parking facilities near by. This is a spot just to hang out and catch some rays or stroll the palm tree sands.
On the hike you will come across many other hidden beaches and photo ops. You can walk for hours here, in fact even the fittest of people say they struggle. If you don't want to do the park on a day trip, there is the option to stay over in it. There are many ccommodations, such as the traditional Ecohabs, camping, glamping or luxury hotels.
Next time: Palomino!