Palomino Treehouse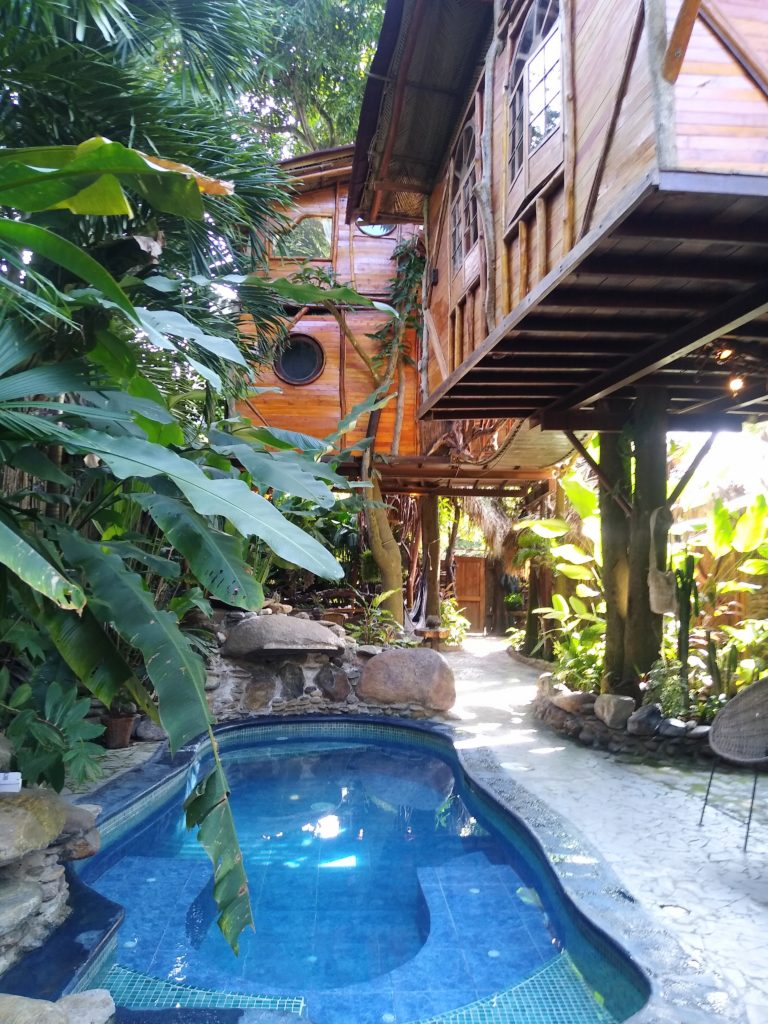 Palomino is a small town on the Caribbean coast of Colombia. Its north of Santa Marta and takes approximately 2 hours drive to get to it. We were very excitable about staying in the Palomino treehouse when we got there!
The town has got popular with tourism over the years and continues to see the developments of new businesses.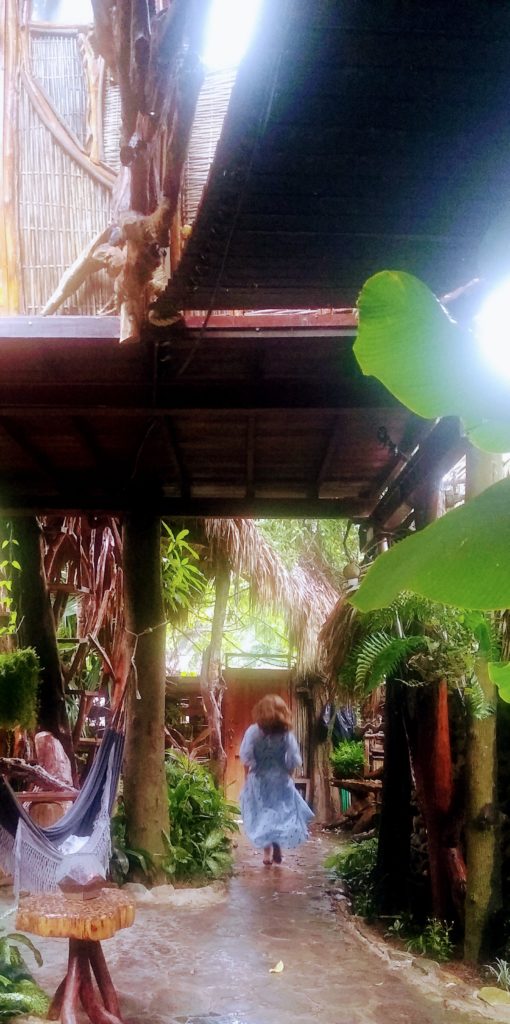 We heard it had a laid-back, hippy feel, which instantly had us putting it on our itinerary.
Getting there
With the luggage we had, and the food supplies brought also, we decided to get a cab for the 1 hour 45 min journey to our Palomino treehouse from Santa Marta. Prices were got from a couple of taxi drivers we had used previously. The friendliest one, Juan, was also the cheapest at approximately 160,000 COP (around £30/$45). He was good humoured and decided to be our Spanish teacher on the journey. Plenty of laughs were had!
Flat tyre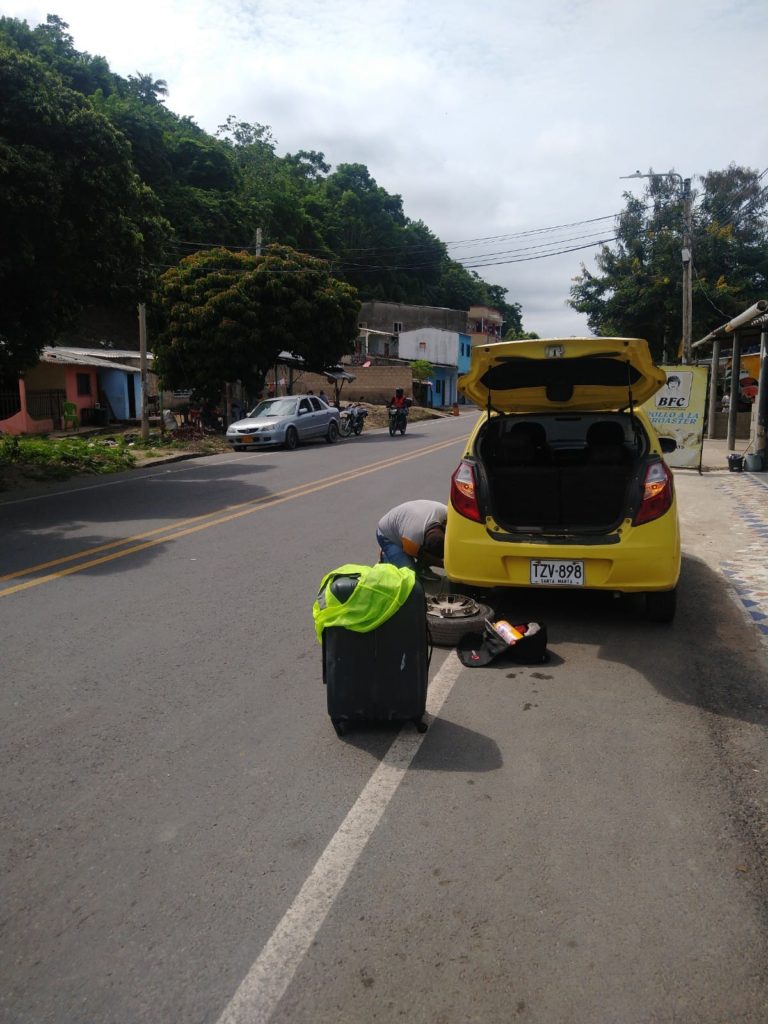 Juan got some fuel at the start of the journey and ensured some air was put in the left rear tyre. About an hour and 20mins into the journey, a rumbling sound sound had Juan open the door to check the same tyre and we promptly came to a halt. It was flat. He was able to pull over safely, in a village main street, and we all got out. Thankfully he had a pumped up spare. Juan began the process of change.
I (Knox) felt like a bit of a spare part and wanted to help. I hung a hi-viz top on to our big case and set it a few yards from the vehicle to act as a warning for approaching vehicles. Also I assisted with the loosening of the nuts, passing the new tyre, putting the old one in the boot, etc. It was hot and Juan was sweating. Nonetheless, the pitstop was complete within 10 mins we were back on our way.
Going bananas
Along the journey, Juan was a font of knowledge too. We passed many fields of Banana trees and he informed us that Santa Marta / Magdalena area was one of Colombia's largest banana growing regions.
The plantations lined large sections of the coastal side of the road, where the Sierra Nevada mountains met the arable land near the sea. Indeed, Caribbean Colombia's tropical weather creates an ideal climate for Banana growing.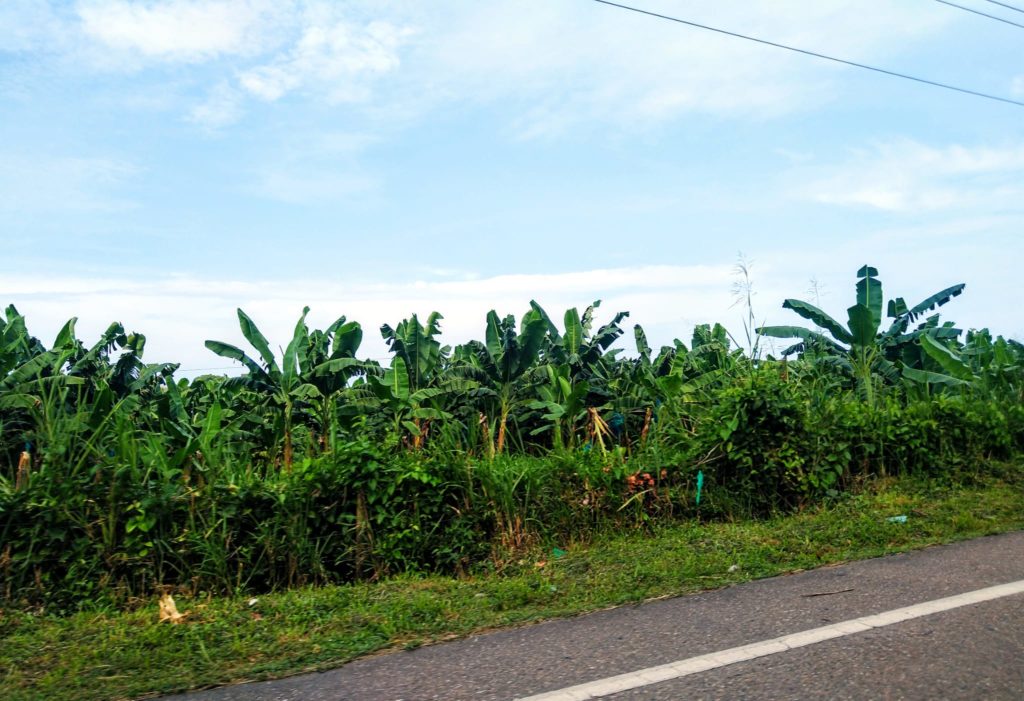 Accommodation – Palomino Treehouse adventure
Oh my, if ever did I (Miko) see a fairytale wonder! The Palomino treehouse wasn't the kind of den you had as a kid, this was something else.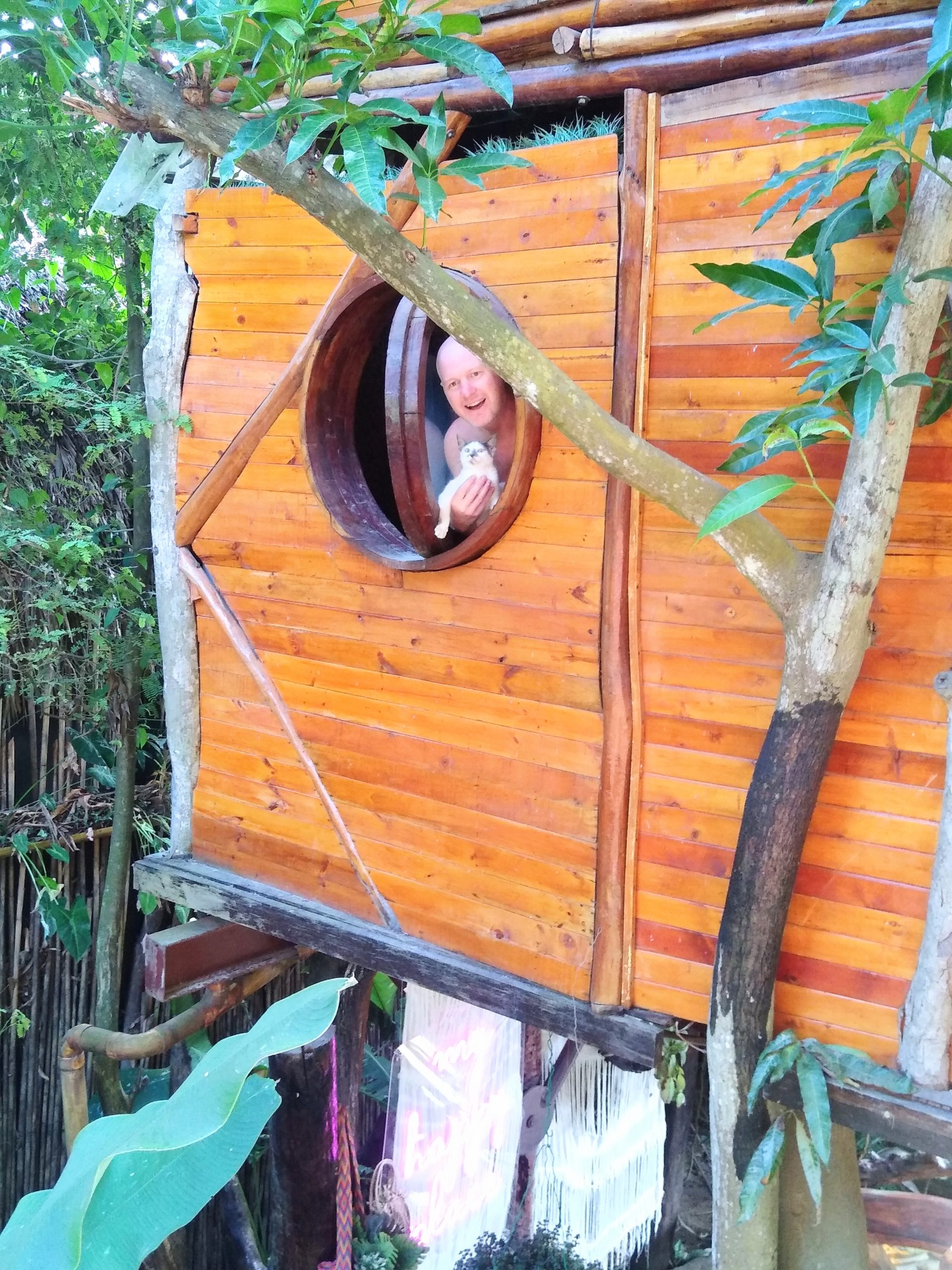 As we walked in off the dusty Palomino dirt road, we entered into a magical wonderland.
Was this really all ours? The pictures didn't do the Palomino treehouse justice. It was a place of surprises.
We were actually getting two treehouses, a pool, a kitchen suitable for a king and queen, numerous seating areas.
Our Palomino treehouse also had an outside bathroom with rain shower, looking up at the vegetation as you washed the cares away.
Inside the treehouse there was another bathroom, for those not brave enough, little hideout's and lookouts, a reading room, lots of nooks and crannies and a rickety wooden bridge, which brought you from one treehouse to the next.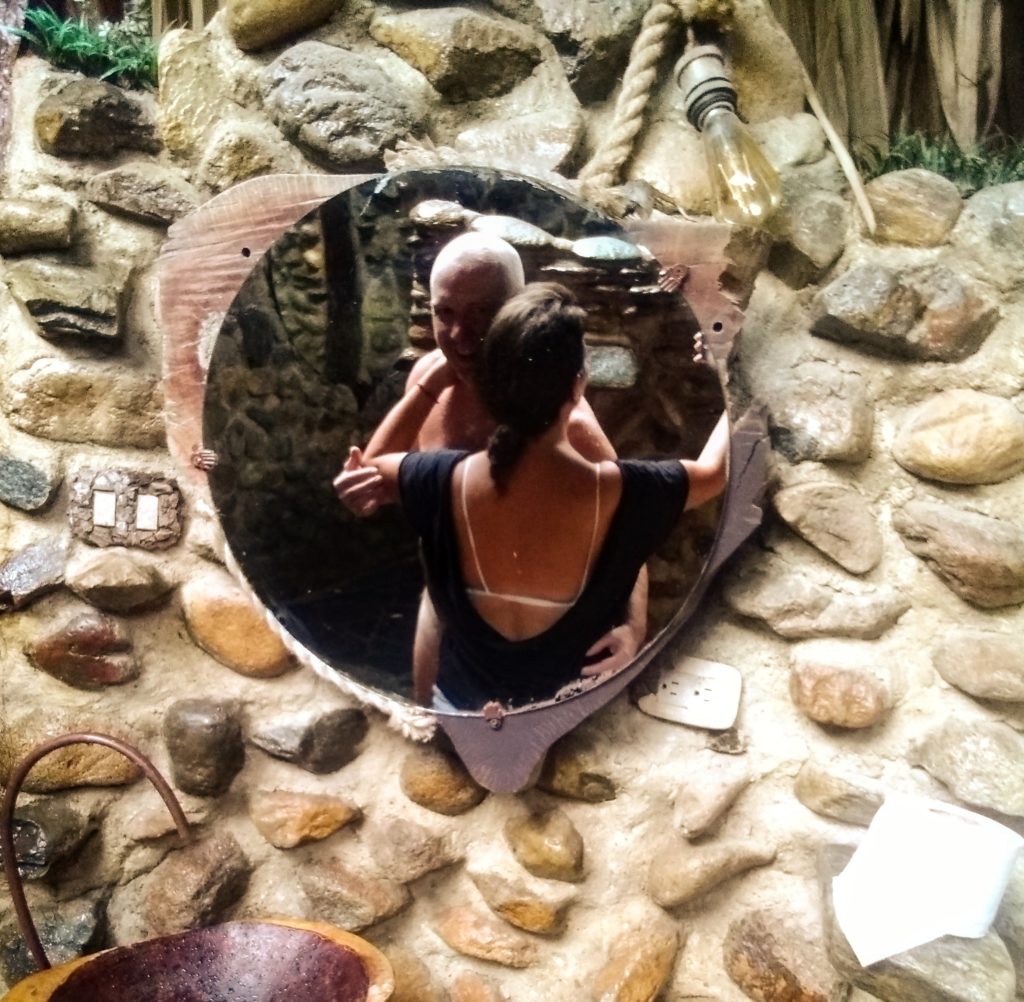 The suite
The Palomino treehouse suite was fit for a princess, with a handcrafted wooden, four-poster bed and fresh white linens.
The ensuite bathroom had a rainshower, made from coconut shells, with a perfect round window overlooking the lush landscape.
Stairs led up to a reading room and up again, will lead you to a rooftop platform.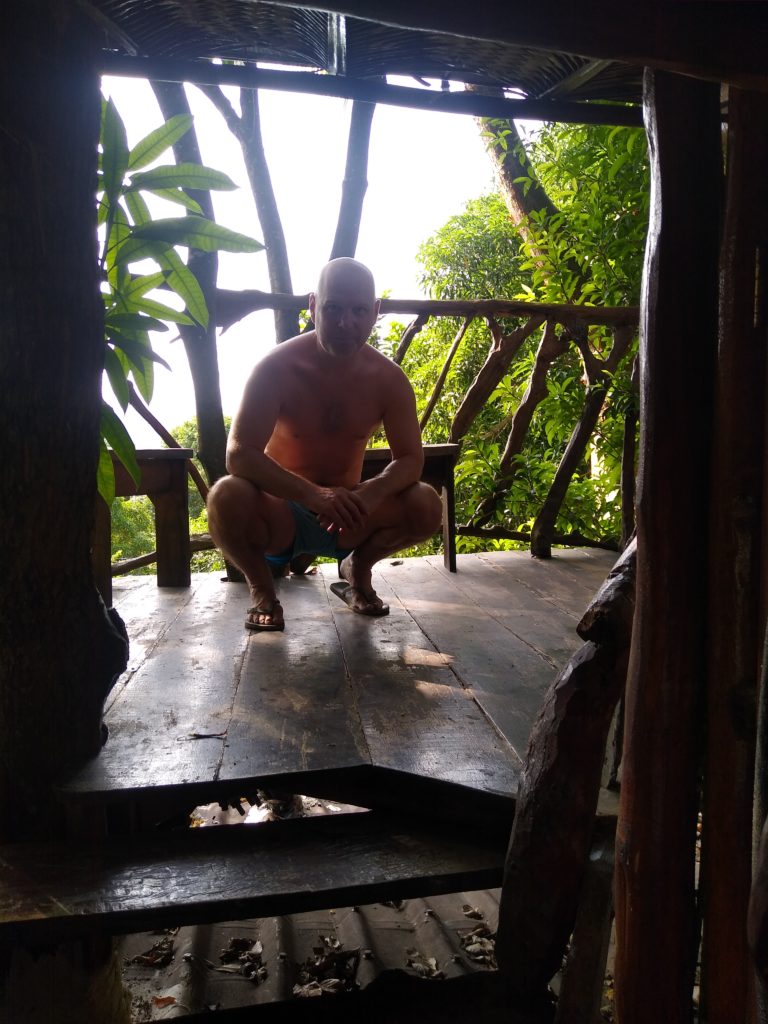 The platform had some great vistas, including the Sierra Nevada mountains from the top. A beautiful spot just to chill out for the afternoon away from it all and let the gentle breeze cool you down from the humidity.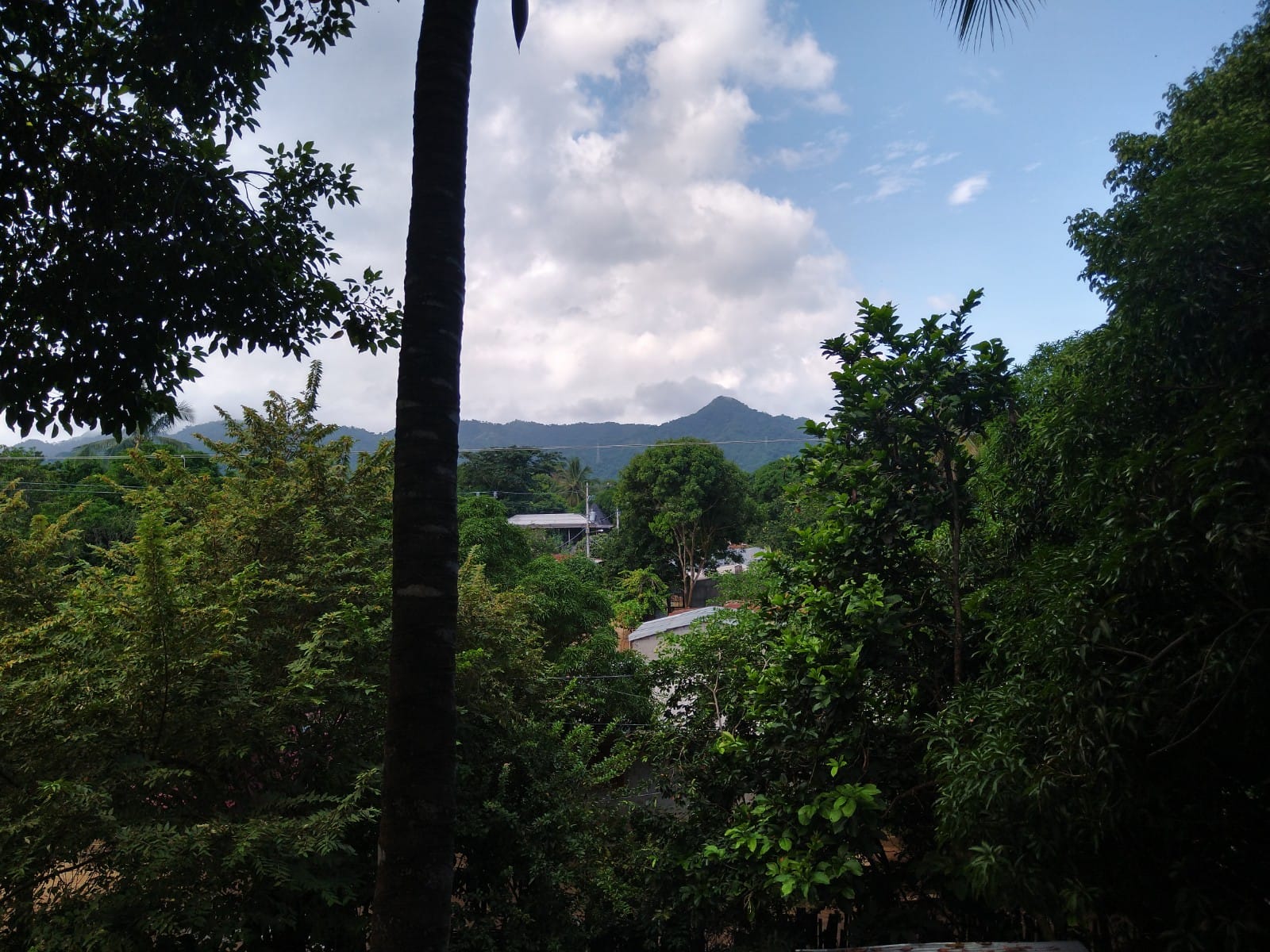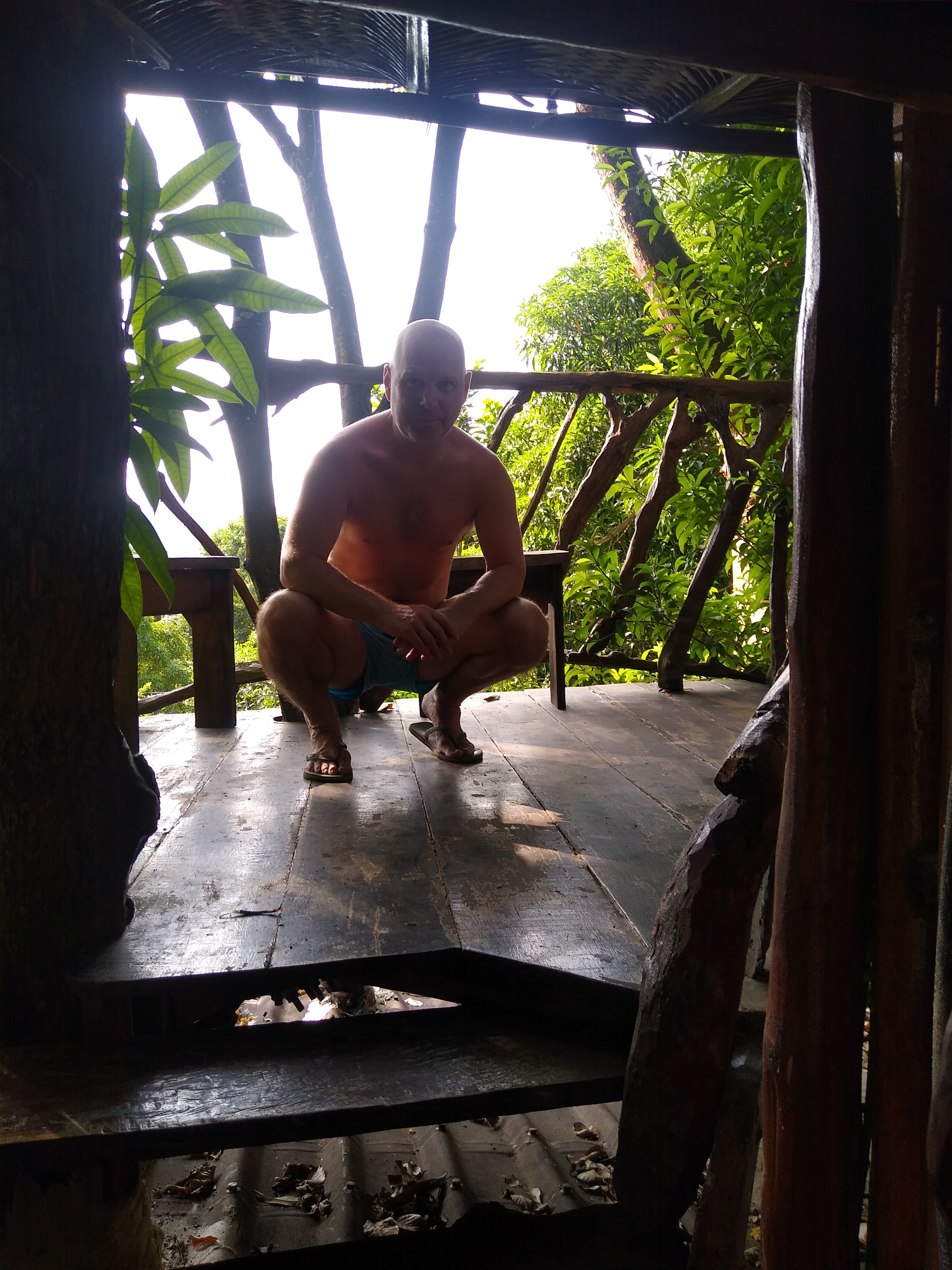 Treehouse No2
The No 2 Palomino treehouse can turnover into another bedroom, if other friends or family are staying. All in all its suitable for 8 people. For us it was set up as a living area, complete with, a settee and two rocking chairs.
It also has a separate bedroom upstairs.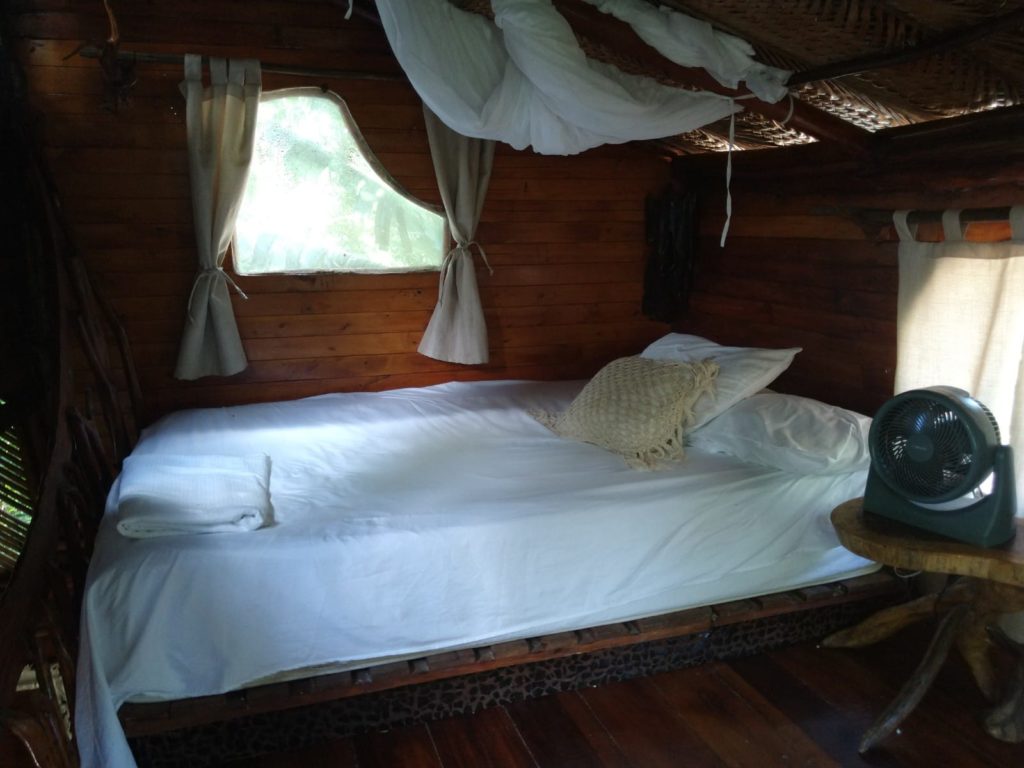 Outside bathroom
The outdoor bathroom was so beautiful and unique. All constructed with handcrafted walls with stone, and doors lovingly capturing every inch of nature's beauty. The mirrors give an illusion of an even more larger space and the open shower looking above at the jungle was spectacular.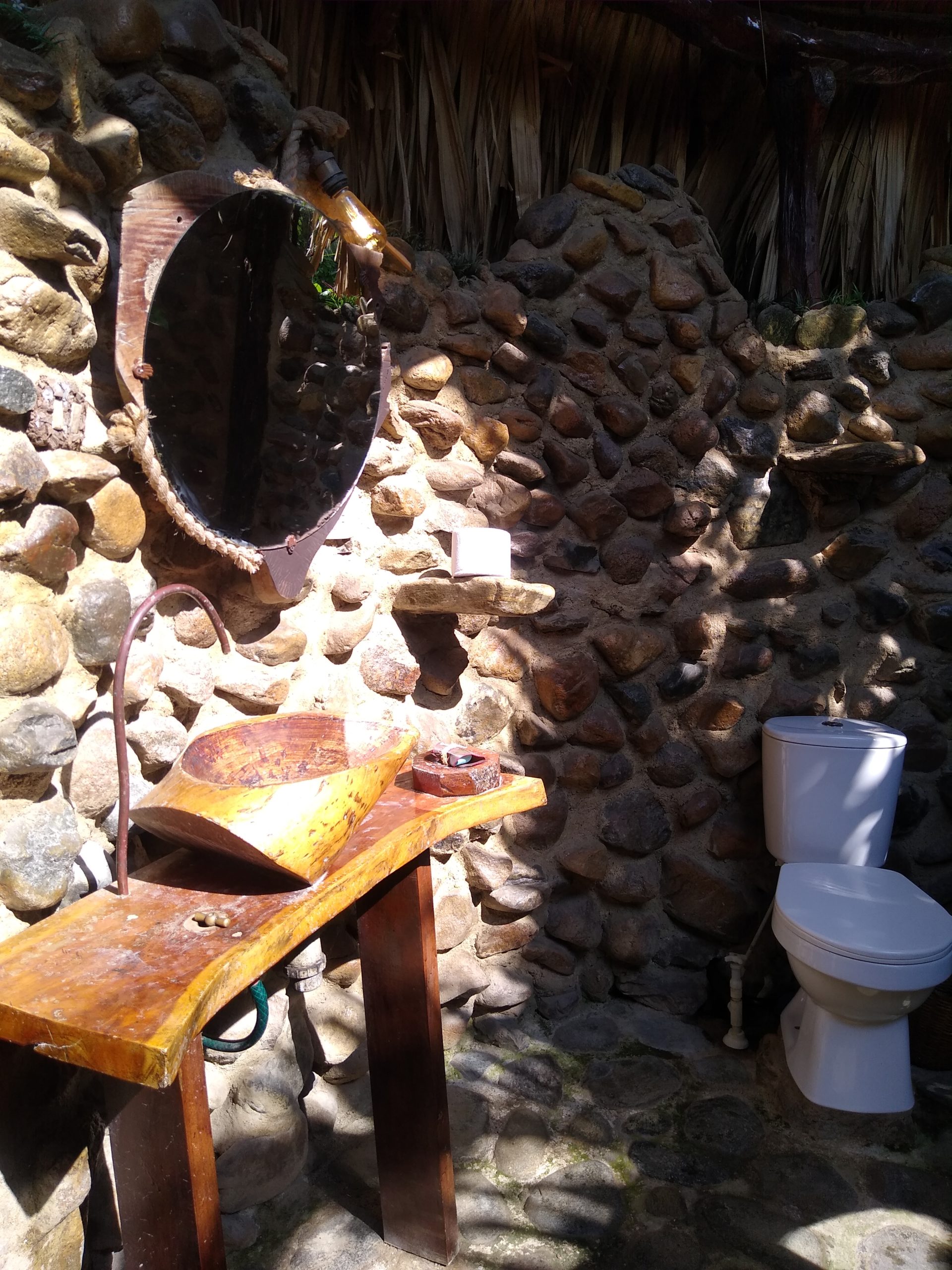 Having a shower outside is quite a unique experience. A snake-like, metal coil showers cool water in the natural surroundings of this rocky bathroom. There's something pampering, invigorating, and therapeutic about an outside shower. Don't be scared, as the even though the shower was 'outside', it was such a private complex, noone could spy on you. Well, okay maybe the birds!
The kitchen
As mentioned previously, the kitchen was fit for a king and a queen, in medieval times. The chunky wooden table and chairs were made by hand like everything in the complex. Knox enjoyed whipping up some culinary delights. Although, he said the pots were possibly, actually from medieval times due to needing a good scrubbing as well as a few handles missing off some!
The two resident cats, Melo and Missy enjoyed hanging around the dining area to.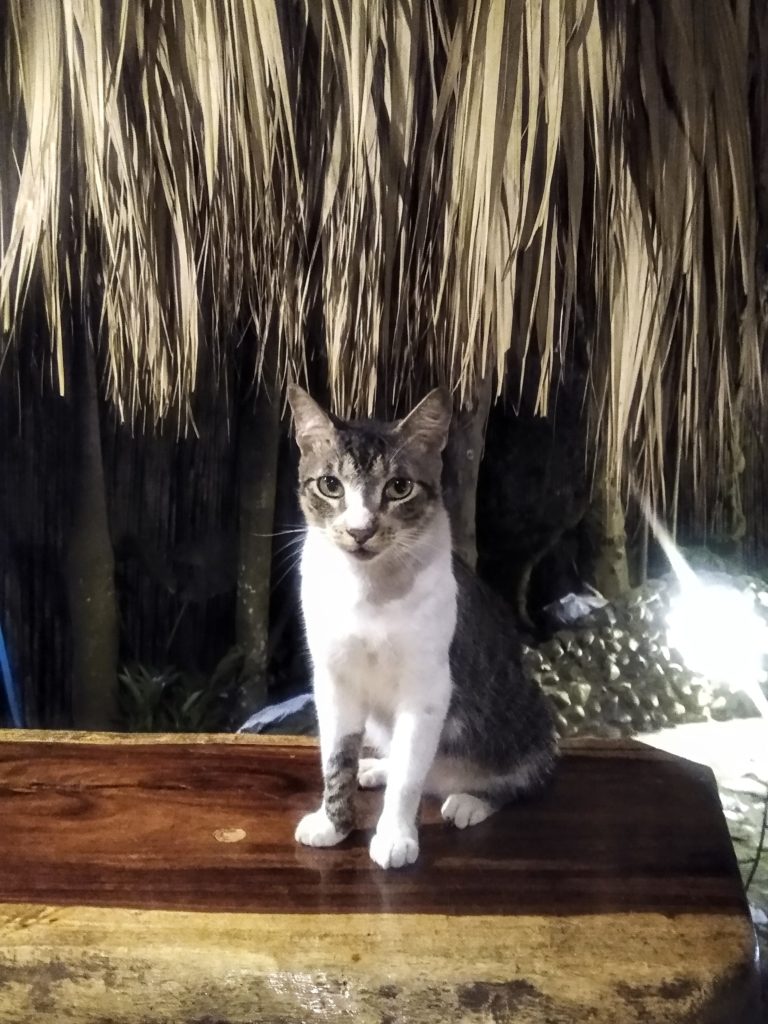 They wouldn't have been in luck with two vegetarian guests, so their friendliness had us purchasing some cat food and tuna to they could join in with the evening meal.
My happy place
The pink neon lights sign shone brightly as the night drew in. A delicious bottle of prosecco for pre birthday celebrations went down well, as we took in our surroundings in the Palomino treehouse.
There was lots of seating in the compound and we could easily imagine sharing it with friends and family. I'm sure the bar area would of been the most used!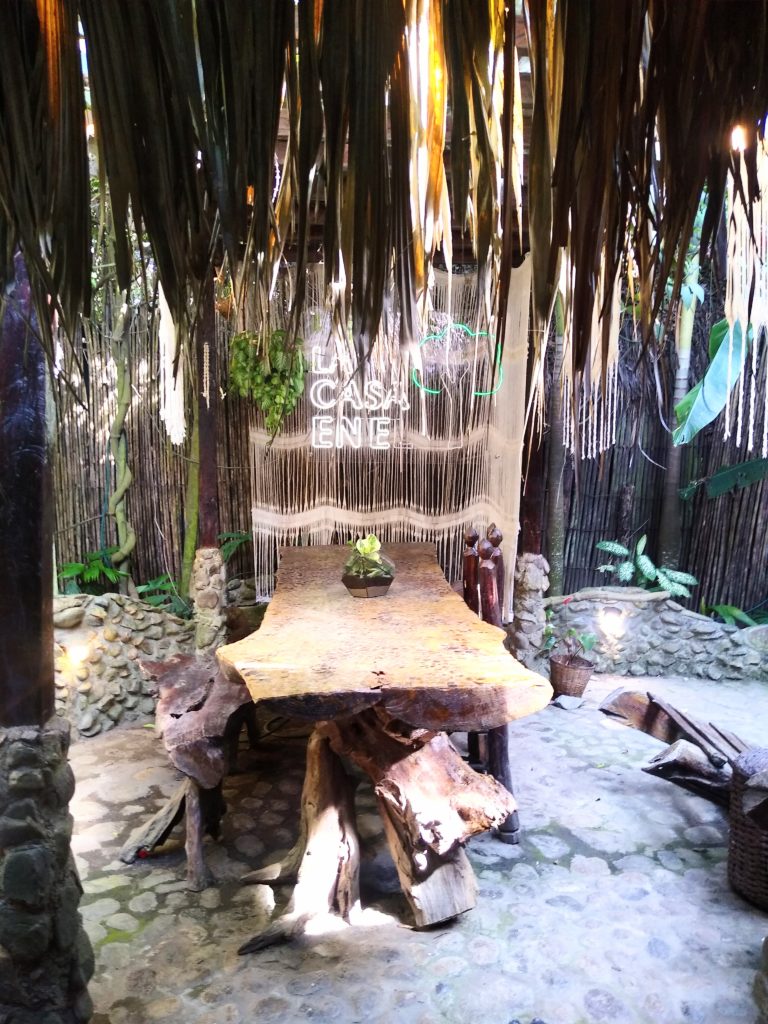 The pool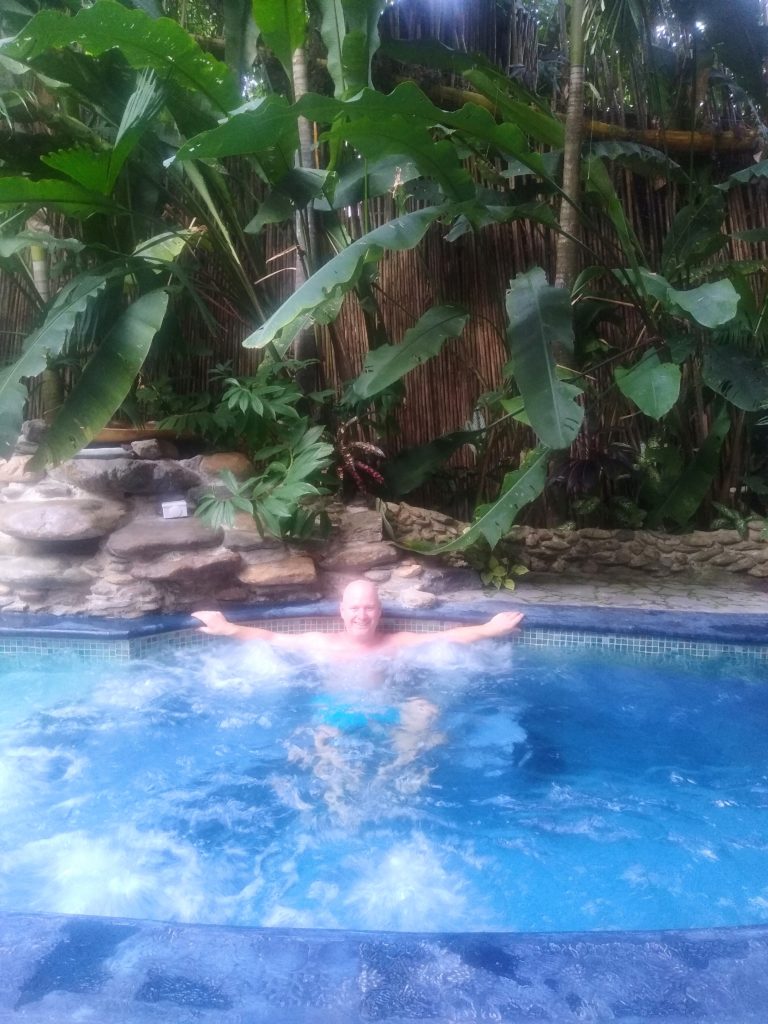 During the day, the pool was appreciated to cool down in. Especially as the air was so heavy and muggy.
Taking a dip, whether in the sunshine or rain, was very refreshing.
Or how about just relaxing on the handcrafted wooden sunbeds!
Want to experience the Palomino treehouse for yourself? Check it out on Airbnb!
What to see Palomino?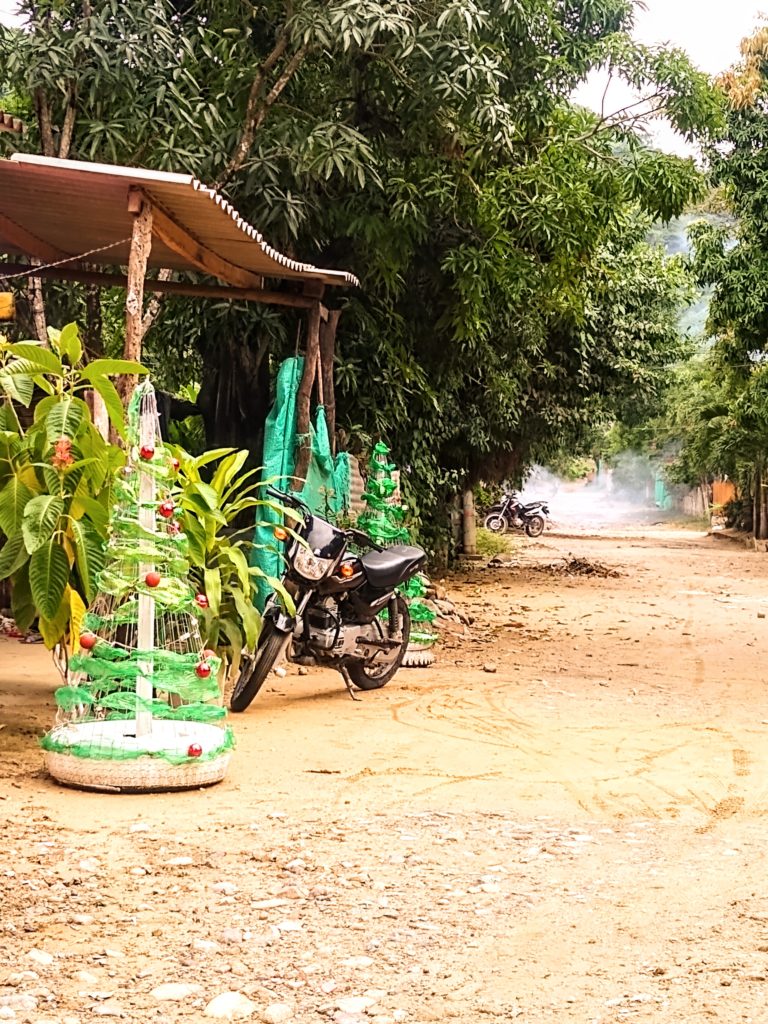 Palomino isn't a place to do very much or if you get bored easily. We were previously planning to spend about a month. However we're glad we didn't book for that long as the beach wasn't what we expected.
The beach
Talk about complete disappointment! This wasn't the same beach we had seen in photos. Why does some bloggers Photoshop? Why not just be honest?
In our opinion the beach was pretty ugly. Businesses had built broken concrete sea defences. However, in their wayward attempt to protect the beach, they have ruined the shore line. There was even a palm tree in a concrete like holder! Yuck. Natural beauty seems to have escaped Palomino. It may have a similar name, but that's where the comparison ends. It was no Palolem, Goa beach and definitely nowhere near a paradise.
I guess it didn't help that there wasn't much sands to lay on and everyone was packed in one area. The most open part would be the estuary where Rio Palomino meets the sea.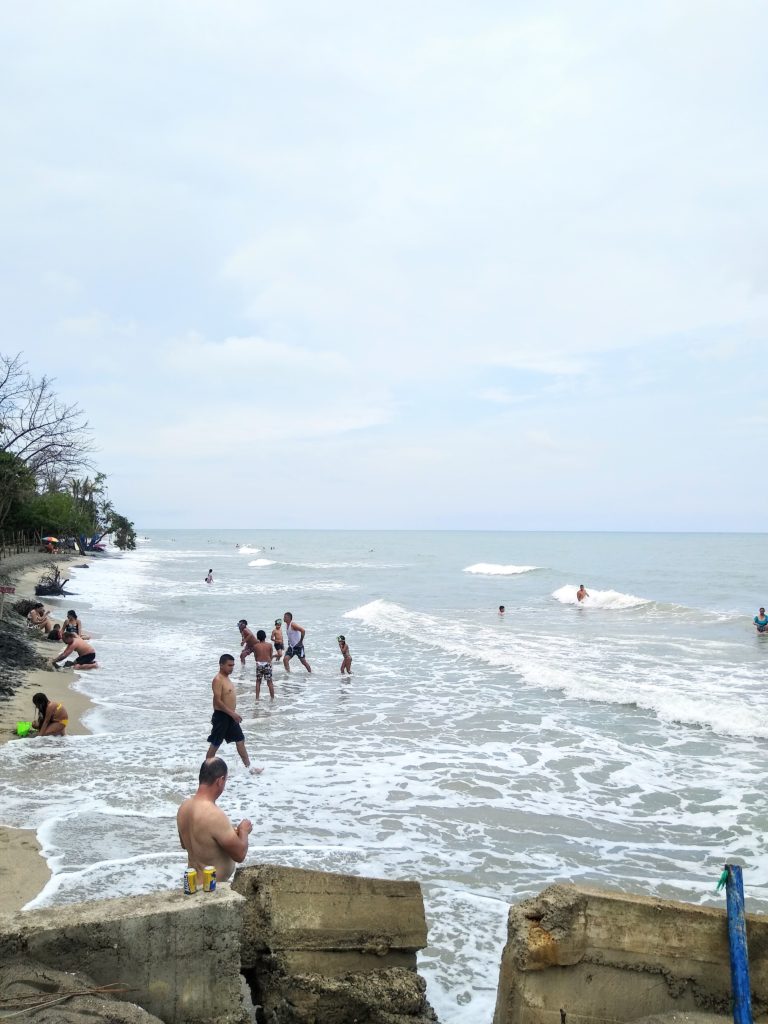 Tubing
The most 'exciting' thing to do in Palomino is tubing down the river. It is extremely popular. You can hire a tube from the tubing store! They will usually bring you on the motorbike (while you carry the tube), down to the river.
You will float for a few hours downriver until you reach the sea. Think of it, like a form of meditation, as it's not fast. Some people bring a few iced beers to pass the time away!
It cost approximately 45,000 COP per person.
Stroll the streets of Palomino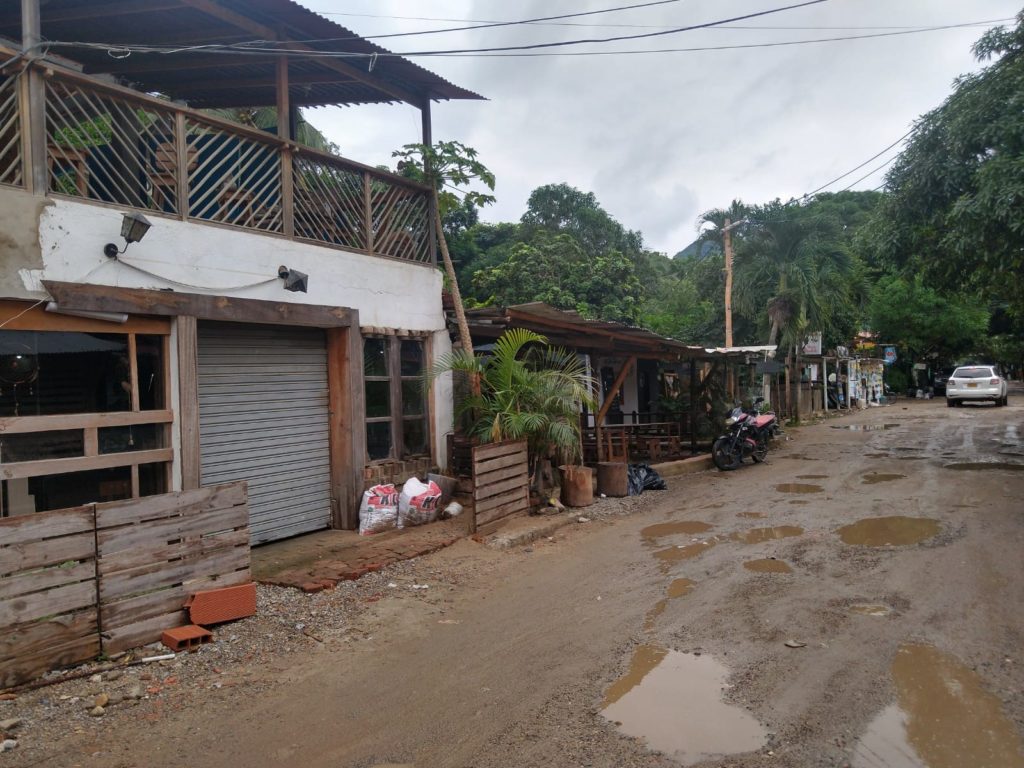 When strolling the streets of Palomino, wear old footwear / flipflops because, after the rain, the roads are slippy and mucky. It will take you a while to navigate them.
There are some small clothing and accessory stores to browse at.
You will also find several cafes and restaurants.
QUEBRADA DE VALENCIA
The Valencia waterfalls are amazing landscapes of tropical forest, bathed by canals and cascades of natural waters, wide and deep pools to have a dip.
Getting there
A cab is only 30 minutes from Palomino. However, it's expensive at £30, including an hour's waiting time.
When the taxi drops you of, it is an easy 20 minute walk through pleasant flowered paths, before you reach the waterfall.
You can also get a bus, which is much slower, but cheap at 4000 pesos (80 pence). You will have to walk further though from where the bus drops you off, about 30 minutes before the trail.
All day tours also can take you. They cost approximately 320 (around £60) per person. Lunch included.
Where we glad we went?
We absolutely had a ball in our Palomino Treehouse. The experience was something that would stay in our memories forever.
However, we found Palomino to have an odd vibe. It wasn't like walking around in Palolem, Goa, where the majority would say Namaste. It lacked that central hub and natural buzz in the air.
Maybe it was the cloudy weather that day. We don't know, but the locals we met weren't too friendly other than the folks at the small shop on the corner of our street.
Palomino builds a lot of eco type lodges, mostly owned by foreigners. Accommodation isn't cheap in Palomino by Columbian standards. Yes, more cost effective places do exist, but are mainly hostels for backpackers. You will get what you pay for.
Considering all this, we are still glad we went. Another place marked off the bucket list!
Next time: Taganga!