Minca – Sierra Nevada mountains – An adventurous climb!
After two weeks in our stunning Caribbean, sea view, cabin in Taganga, it was time to climb a winding road into Minca, Sierra Nevada Mountains.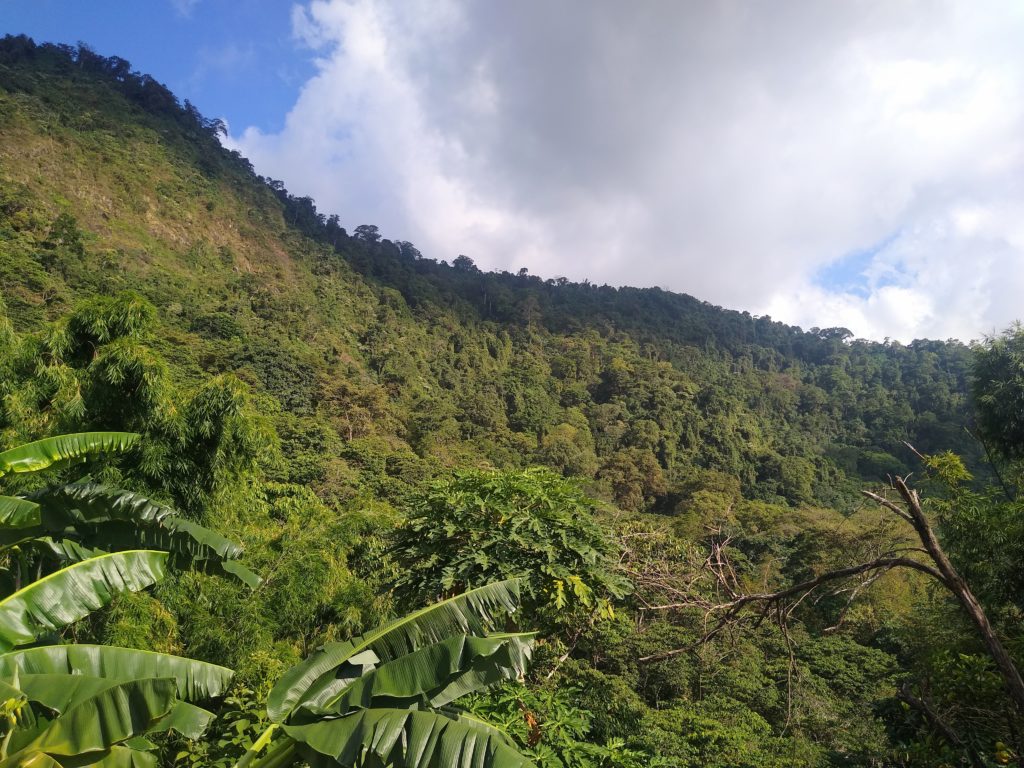 Set in the foothills of the Sierra Nevada de Santa Marta mountains, Minca is a small village of approximately 800 inhabitants, just 40 minutes from Taganga and 30 minutes from Santa Marta. Excitedly, this is were we would spend two full days exploring the area. A hikers dream, with lush tropical jungles and waterfalls, it also has cooler temperatures that drop a few degrees, at least, from that off Taganga. Indeed, this makes it a refreshing retreat to breath in the spectacular natural beauty.
Our raison d'être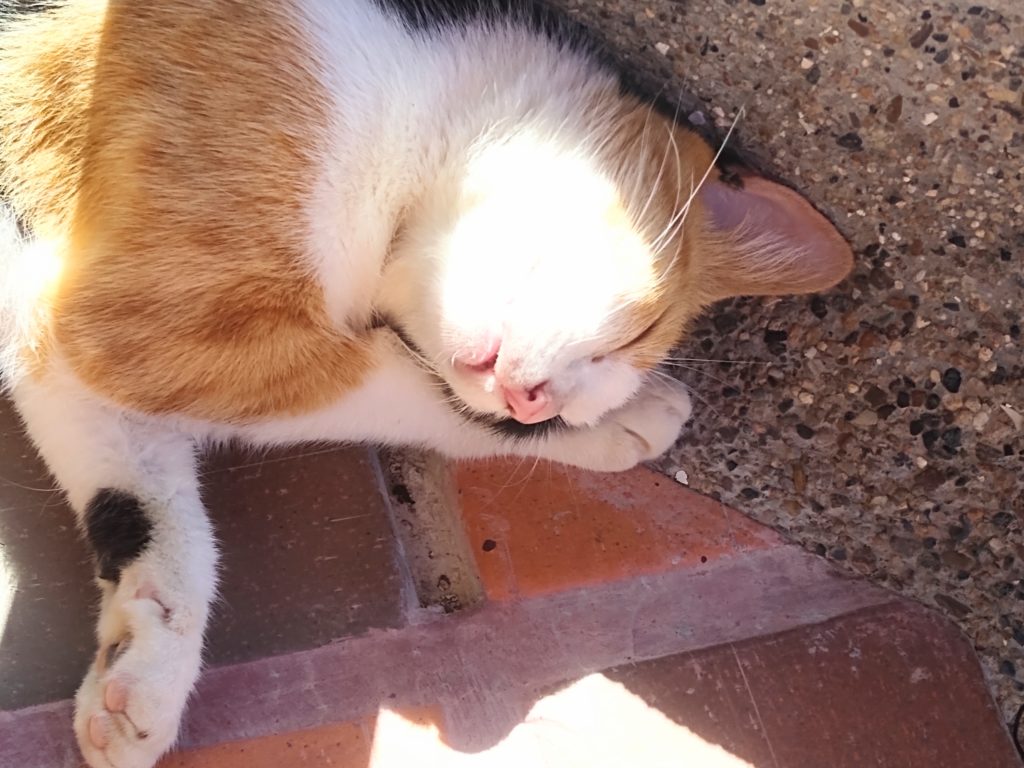 The pull at the heart, and the draw on the soul, when leaving Taganga was palpable. It was strong, especially because of Jade, and it is a feeling that grips the senses and has done for many years (Martha and Palolem is a prime example).
Yet, when we arrived in Minca, the reason for our being and travel comes immediately into focus. The beauty and the relaxed, mountain spirit of the Sierra Nevada jungle really brought life to our journey. The lush, rolling hills, filled with allure and danger in equal measure, stretch out around. The stunning scenery heads to the Santa Marta and the sea in one direction, while deeper into the flora everywhere else.
How to get there?
For us, travelling to Minca, Sierra Nevada Mountains, was accessed from our previous stay in Taganga. From there, the easy option is a taxi. It cost us $70,000 COP (about £14). You can also make your way to Santa Marta, where you can catch a collectivo bus for much less. It really is a toss up between saving time or money. It can also depend on how many of you there are. They depart, when full, from the point where Calle 11 meets Carrera 12 in downtown Santa Marta. Furthermore, they are easily identified by the small stall listing Minca attractions and the trip takes about 50 minutes.
Accommodation in Minca – Sierra Nevada Mountains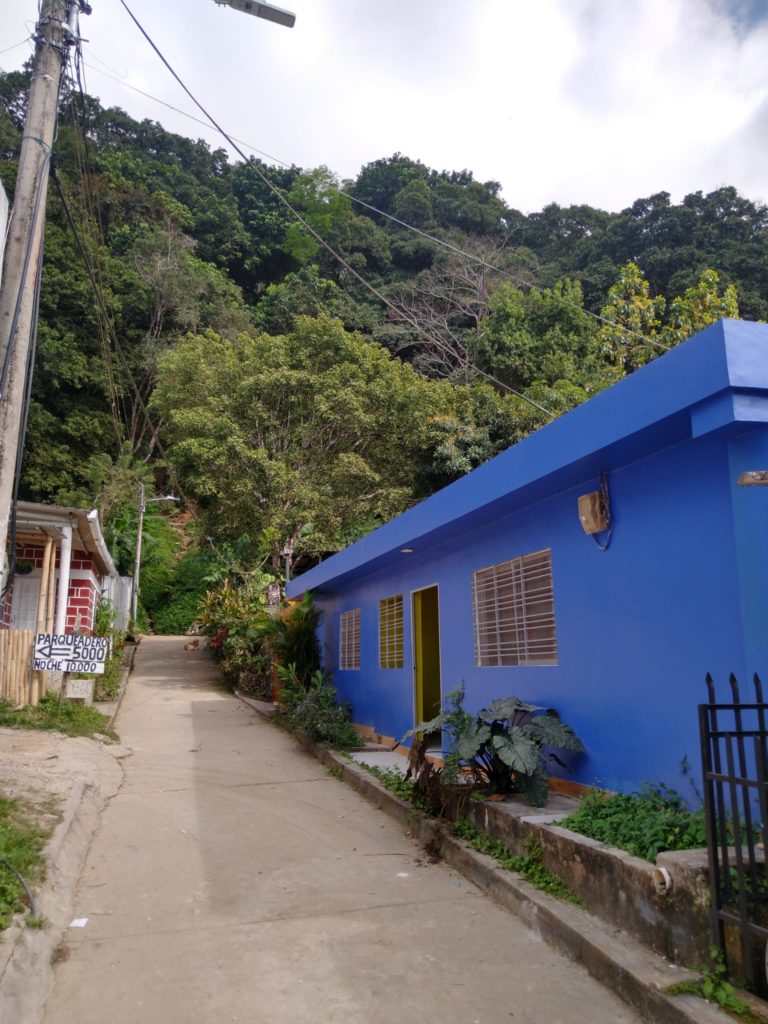 We were tempted to stay in another beautiful treehouse, like Palomino, however, we decided to go budget friendly. We found a great little Airbnb, for £28 a night in the town. It wasn't the most glamorous, but did everything it stated on the tin. A much needed washing machine had us putting a line up in the room, to air our 'clean' laundry.
Unfortunately, this time we couldn't avoid the Airbnb fees, as Alfredo, our host wasn't on any other platforms. Anyway, £28 a night was still good value, clean, with our must have kitchen facilities. The non air conditioning would be a thing we'd both have to deal with.
If you're looking for a comfortable, cheap Airbnb, right in the town, Alfredo will give you a great welcome.
The town
The town, even though compact, has several restaurants / bars and cafes, as well as shops.
Coffee drinkers will be in their element, with Cafe Costa on their doorstep!
There is also some great colourful artwork, along with some hustle and bustle.
Its a friendly place and more than likely you will find yourself stopping to speak to the locals and not just of the dog kind!
What to do in Minca?
You'll be spoilt for choice on what to see in Minca, Sierra Nevada Mountains. Breathtakingly, there is natural beauty everywhere. These are our favourite highlights.
Take a motorcycle taxi
An exhilarating way to get around the area, is by motorcycle taxi. The taxi stand is at the Junction of Calle 1a and Carrera 5a, just after the bridge into town from Santa Marta. All registered taxi riders wear blue and black jackets and have prices fairly listed.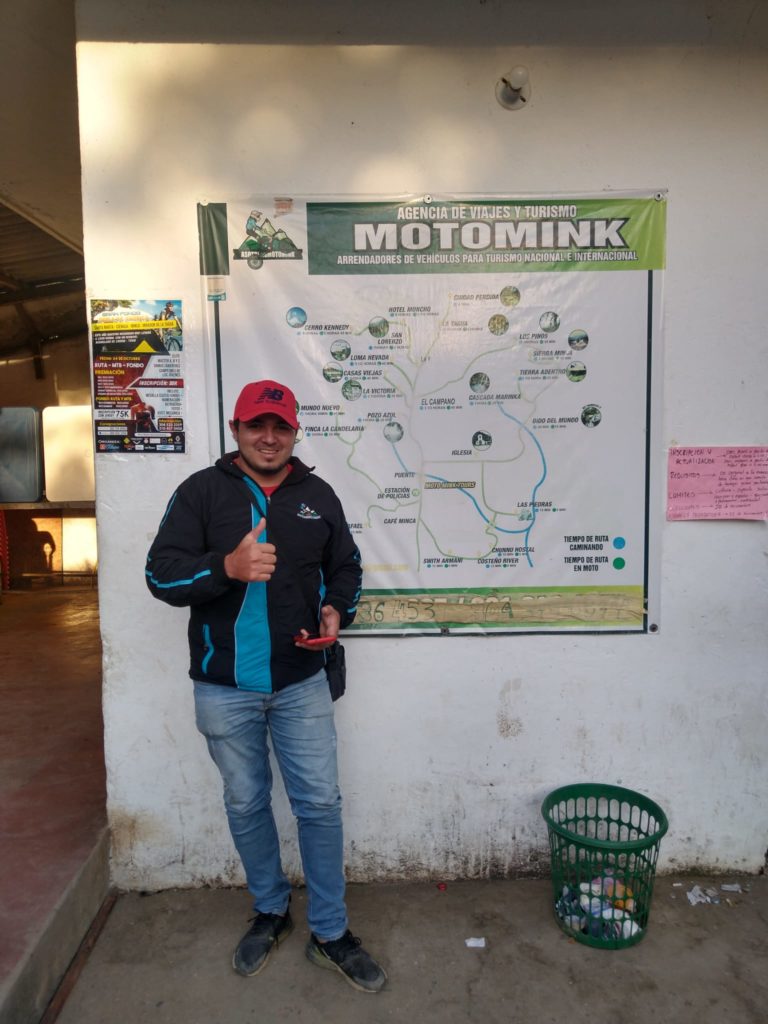 Be careful of some motorcyclists in town who are not registered, and will stop randomly, in an attempt to extract more of your hard earned cash – some charge you double or triple. The general price in the area will be $15,000 COP (20/25 mins) to $20,000 COP (30/40 min ride) for most popular destinations.
Juan, our driver on a number of occasions, is a safe rider and trustworthy. (His contact number is +57 320 8611711, call him and he will be there). If there's more than one of you, he will also call a friend. One passenger only on each bike. Its not India where they pile them on lol
The mototaxis were a great way to get around. The thrill, like on a Motocross course at times, was electric as the breeze caresses ones hair……well, Knox can only imagine! The mix of concrete trail and dirt road creates a fairground adventure that one doesn't have to queue hours for in a corporate fallacy. Up and down steep mountainsides, with stunning views, makes theme parks pale into insignificance.
Waterfalls in Minca, Sierra Nevada Mountains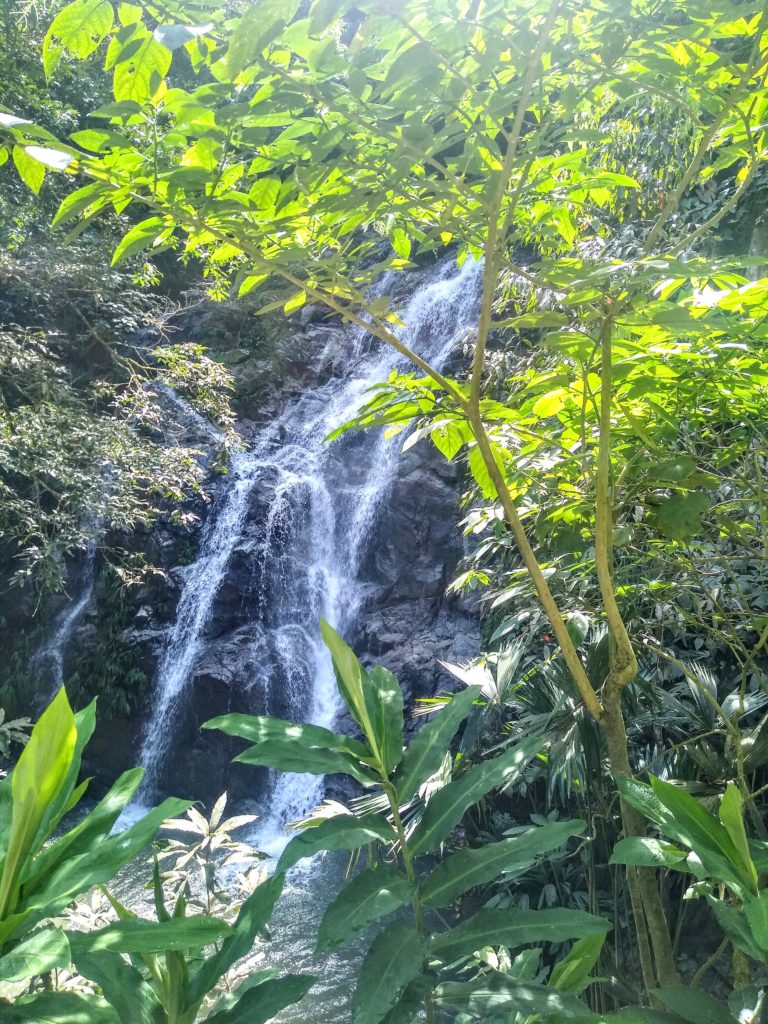 Water courses through this lush terrain. Add that to the steep mountain sides and, Violá, you will get some great waterfalls. Even outside of the wet season, May to November, you can see impressive falls.
Pozo Azul
To get to Pozo Azul from the main road takes approximately an hour to walk or 20 minutes on a mototaxi.
Its a place of shaded, lush green forest, with several, cool pools and casades of water. After the trek, the fresh coldness of the streams will refresh your body and soul.
Cascadas de Marinka waterfall
A really pleasant hike is up to Marinka waterfall. We went around 10am, and the walk was so peaceful, shaded, with insect, bird, and rushing water sounds. Once at the Cascades Marinka, we paid our entrance fee (5 mil COP each) and ventured in……. The earlier you get there the better. It opens at 9am until 5pm. Late morning and afternoon are the busiest times.
Footwear?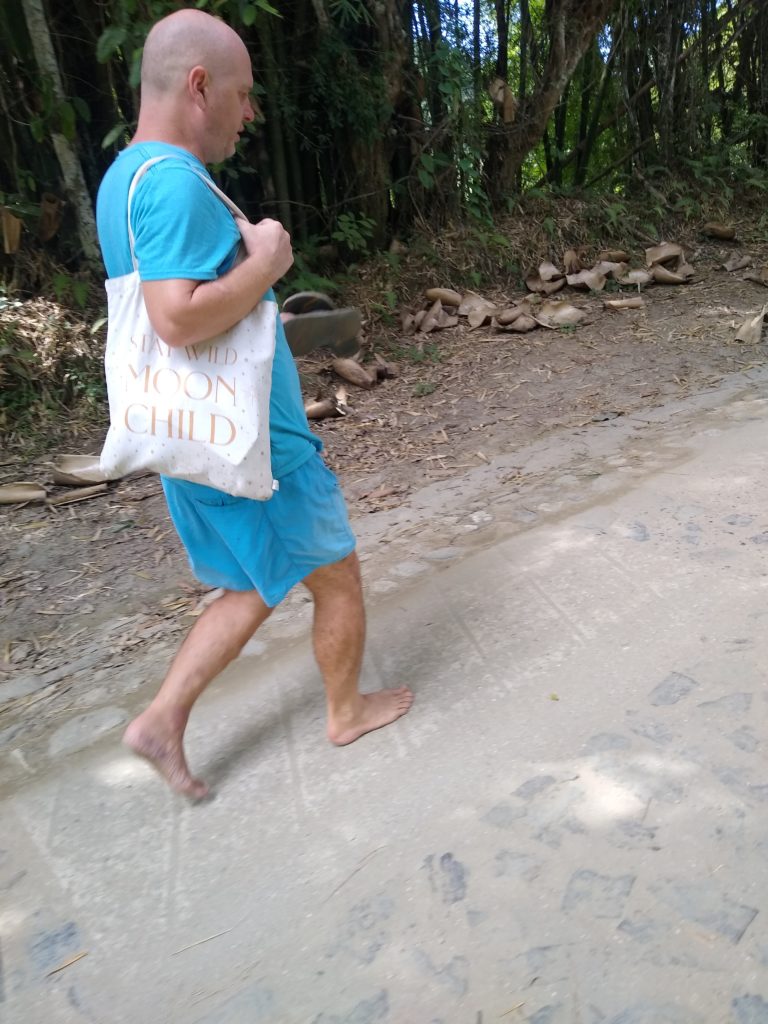 We were advised to wear hiking boots, but this was absolutely not needed, as we have walked in worse paths. Although, Knox's old flip flops finally gave way, on the return leg, so he walked 'native' style.
On a scale to 1-10 for the hiking we'd give it a 4. Only because, if some people were less able, they may find the hills more difficult on the way there, with a few trickles of water to navigate. On the way back it's mostly down hill. It took us an hour each way, and that was stopping to take pictures and also trekking down to another waterfall, (free) called Cascada Oydo Del Mundo. You will see / hear this from 30 minutes into the walk from the town.
Sit on the biggest hammock in the world!
We don't know how much this is true! However, they're pretty big and located inside Marinka waterfall complex.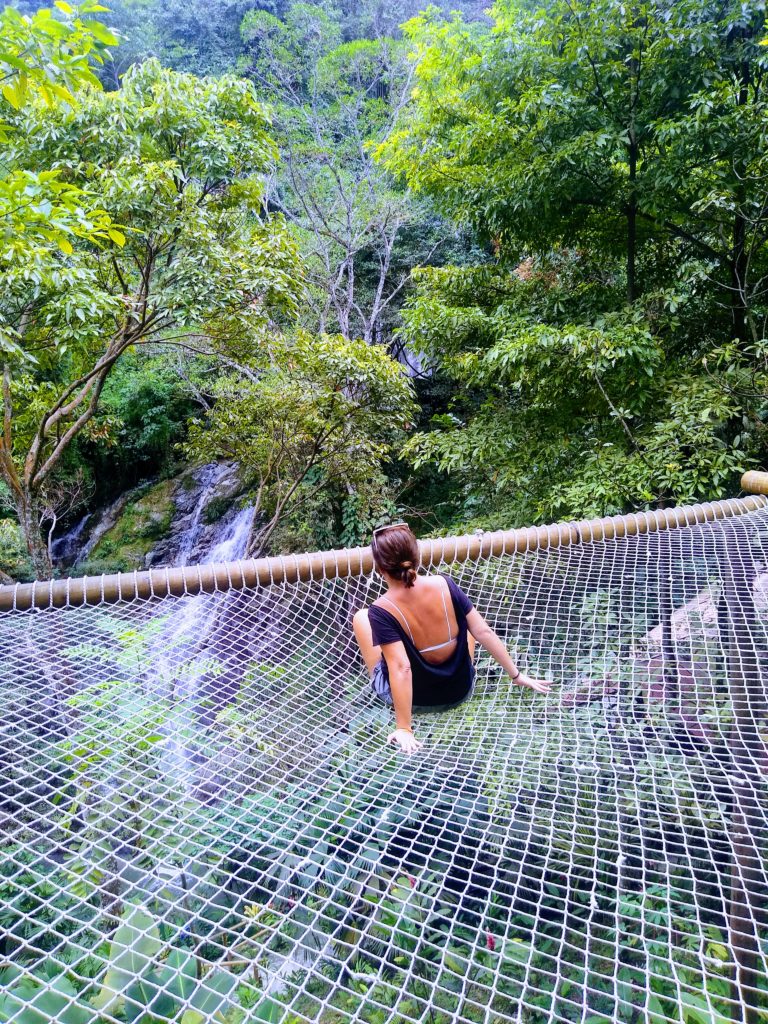 The net like structures are at a precarious height, you will most likely crawl your way to the end to take a peek at the waterfall and lush landscape.
Believe it or not, people like to picnic on the hammocks for a few hours. Once one gets a proper, comfortable seating position it can be quite fun.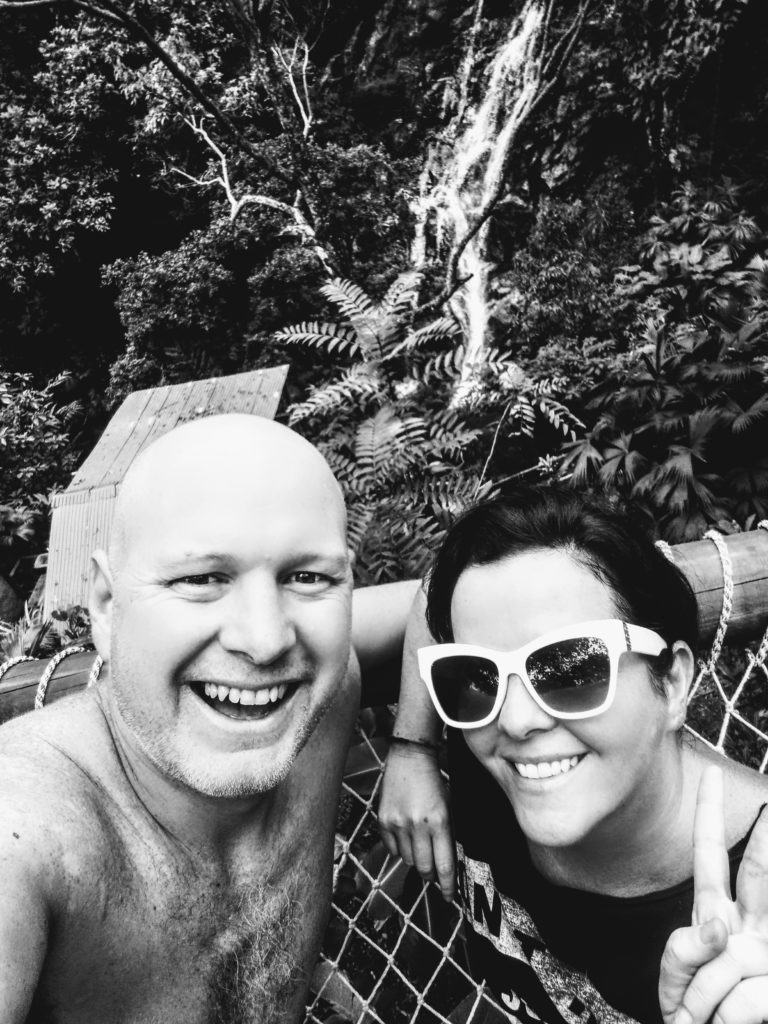 Pool complex
The falls are split into two sections. The primary one, they see as the pool complex.
I (Knox) was already in my swim shorts so just stripped my t-shirt off. Miko swooned at the sight 😂😂😂. I edged into the rocky pool under the cascading water. It was a tad cooler than the water I had been used to in Caribbean Taganga! I avoided the few other people in the water and had a quick swim. Time to get out and move to the shower style waterfall at segunda falls.
Segunda falls
Above the pool complex, we climbed steps before descending again on a 200m trail. Arriving, we came down the falls sprayed steps to the tiny shore.
Already stripped and ready, we headed under the showering water plummeting down at a ferocious rate. My (Miko's) hair was rinsed in seconds!
The whole experience was great and well worth the trek and entrance.
Bird watching
In Minca alone there are over 600 species of birds, including Tucans, Rufous tailed Jacamar, Hummingbirds, as well as many more.
There are plenty of guides in the area willing to take you on a tour. Binoculars provided! However, as we prefer to do things independently, we took a hike through the lush vegetation ourselves to try to spot some of these gorgeous species. Hearing the bird song, is some kind of meditation. However, we weren't in luck to see, only hear! Even when we got up at the crack of dawn one morning, we still couldn't get a peek. They are very elusive, unlike when we were in Costa Rica. Disappointing to say the least, so in our experience, if you're an avid bird lover, I would recommend to take a bird watching tour, or stay in accommodation away up in the hills.
Not all the birds are exotic, but can be still endangered. Please don't eat this turkey for Christmas:(
Coffee plantation
Admittedly we both do not like or drink coffee, but even we were impressed by Victoria (also known as Finca), which is one of the oldest farms in Colombia, and has been using the same machinery since the 1890s.
Here also, we didn't bother with a tour. We were lucky enough to go inside just to take photos.
There were coffee beans drying out on the sun. Drying in the sun should take between 5 and 10 days, subject to air temperature and humidity.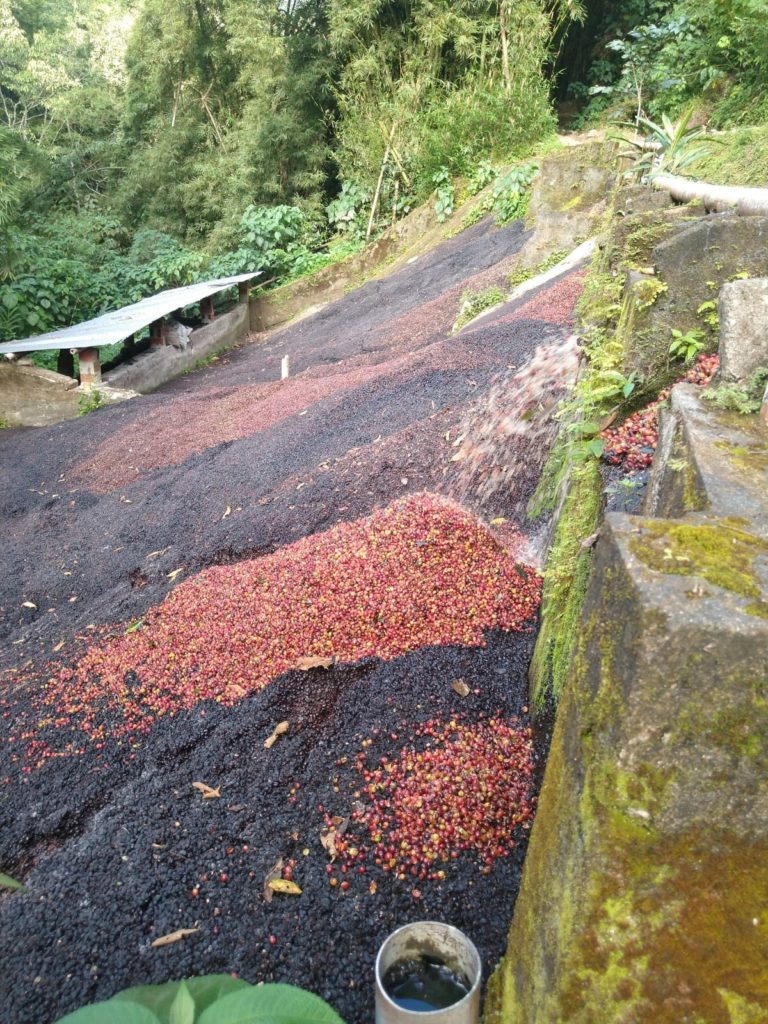 We expected to smell a strong coffee odour, but it had a more fruity smell as the coffee berries were washed down the pipe and into a big open pen.
The special thing about Colombian coffee beans is that they are grown at high altitudes. They are then processed naturally, by hand, on the small farms.
Colombian coffee uses Arabica, generally accepted as the higher-quality coffee bean. The Arabica bean is a bit lighter than the Robusta, making it slightly weaker.
On the first floor from the coffee factory you will find a large room where you can relax, have a coffee and stare out at the gorgeous vistas.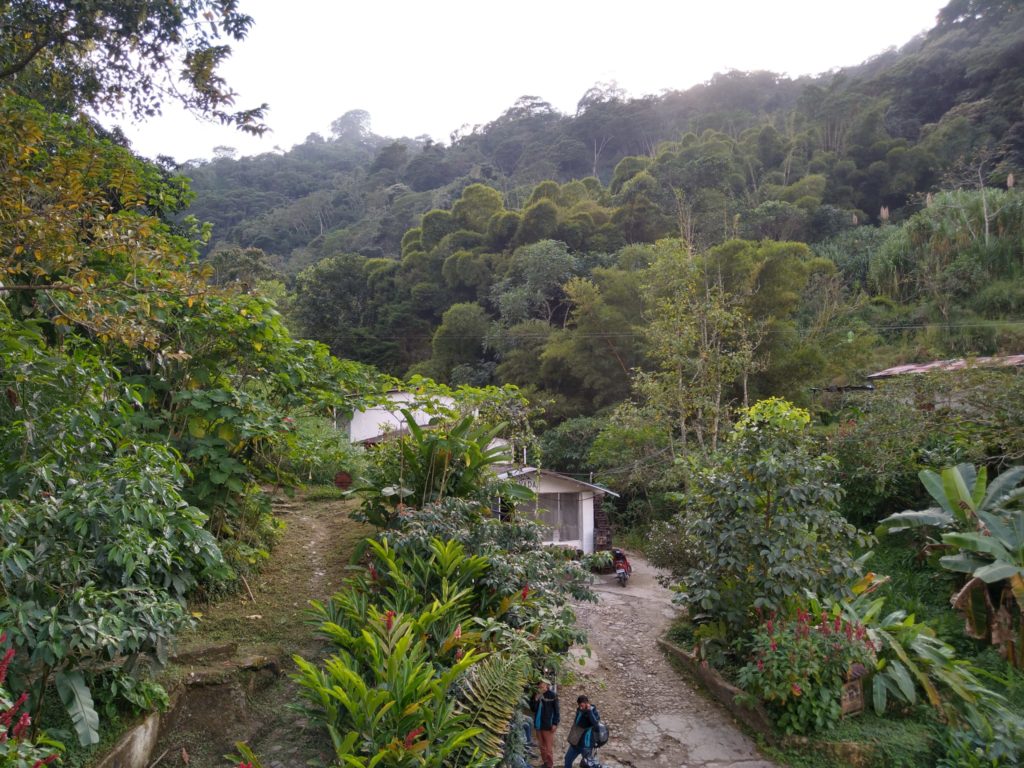 Nevada Brewery
We may be a coffee philistines, but the Nevada Brewery did it for us as we are more partial to some beer than coffee lol.
You can't beat some locally brewed ale. Therefore, we both had to see the ales that Nevada Cerveceria (Brewery) had to offer.
The back story was also very intriguing as the ale making started between friends, around early 2014 in a room of a house in Minca. Isn't this how all the great ideas of the world start?
The beer is non chemical and brewed with pure spring water which comes from the heart of Nevada mountains.
The pale ale (Happy Ayu), with a bit of Cacao, was scrummy, but the Irish red ale, Happy Tucan, was great in its depth of flavour. Top notch. They also have a pils beer that is light and easy to drink.
Since Victoria Coffee plantation is right beside the Nevada Brewery, you can also taste some ales on the first floor of the coffee factory.
Cacao farm
El Paraiso de Tuki B&B Cafe y Cacao Farm (Commonly known as La Candelaria) is an absolute gem. Set high in the mountains. Aswell as the cacao / coffee farm tours it also has a few rooms to rent.
The roads are bumpy on the way there on the motorcycle, but not hair-raising. We actual found it like a fun fairground ride. Juan and the other rider, Jimmy, where lovely and pointed out great vistas, stopping so we could take photographs.
You could see Santa Marta in the distance aswell as lush jungle, where we hoped to see Howler monkeys swinging branch to branch. Unfortunately for us, unlike our time in Costa Rica, none were to be seen, although I (Miko) am sure I heard some of their familiar howls.
Cacao tour
The tours, we hear are very informative. However, with less time we preferred to snap some pictures and just buy some produce.
At the time of arriving a tour was already on full swing. Obviously, not for the coffee aspect.
The relaxed atmosphere of the place was very appealing. The family were friendly and welcoming. Their beautiful Boxer dogs kissed and rolled over for Belly rubs.
The owners were also very accomodating, even though we preferred not to do the tour, because of time constraints, we were free to wander around the compound, enjoy delights of the cafe, and shop a little with their delicious produce.
Anna was so helpful, communicating as best we could with our poco Espanol, and she showed us the Cacao plants. The fruit comes out between February and July.
Colourful delights in her beautiful garden, including non spicy but hugely flavoursome peppers, an abundance of banana plants, orange and lemon trees, and many other species of flora all help to create a paradise far away from the distant crowds of Santa Marta.
La candelaria was truly a wonderful haven.
Anna, was so wonderfully hospitable, she let us try some of the fruits of their labour. The pequeno peppers weren't hot as expected, but sweet and crisp, a delicious addition to salads. It was fabulous to try straight from the plant. Much tastier than the supermarket variety!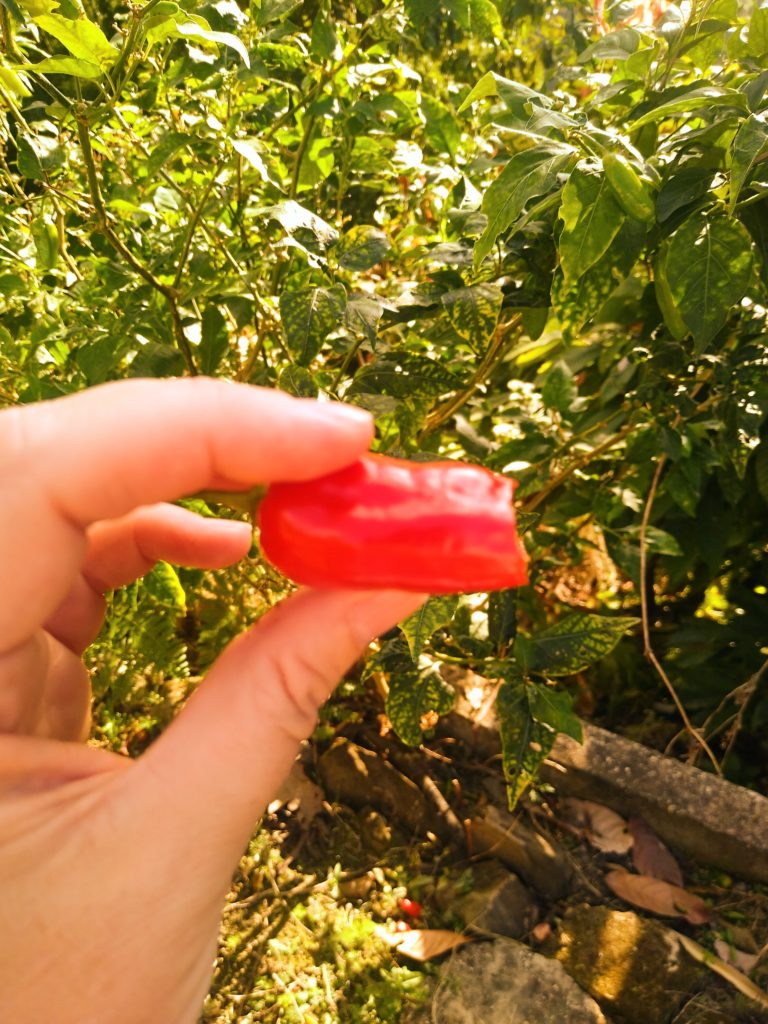 Chocolate face
We both even got the bonus of a chocolate face mask! Our kinda masks 😉
It was a fun element to end our time at the farm as well as purchasing some chocolate goodies to take home. We highly recommend you stop by at this place of deliciousness when in Minca!
Iglesia Minka
A Cute little centrepiece of Minca town, with charming architecture. At the time of visiting, a Christmas tree dressed in red and silver at the side of the building give a joyful presence to the exterior. The doors of the church were wide open, welcoming all who wanted to visit inside. Outside the church there was burnt down candles from the nights before, public holiday, of Feast of the Immaculate Conception. Also, outside the church, is a children's playpark with various peices of fun apparatus for the kids to expend their energy on.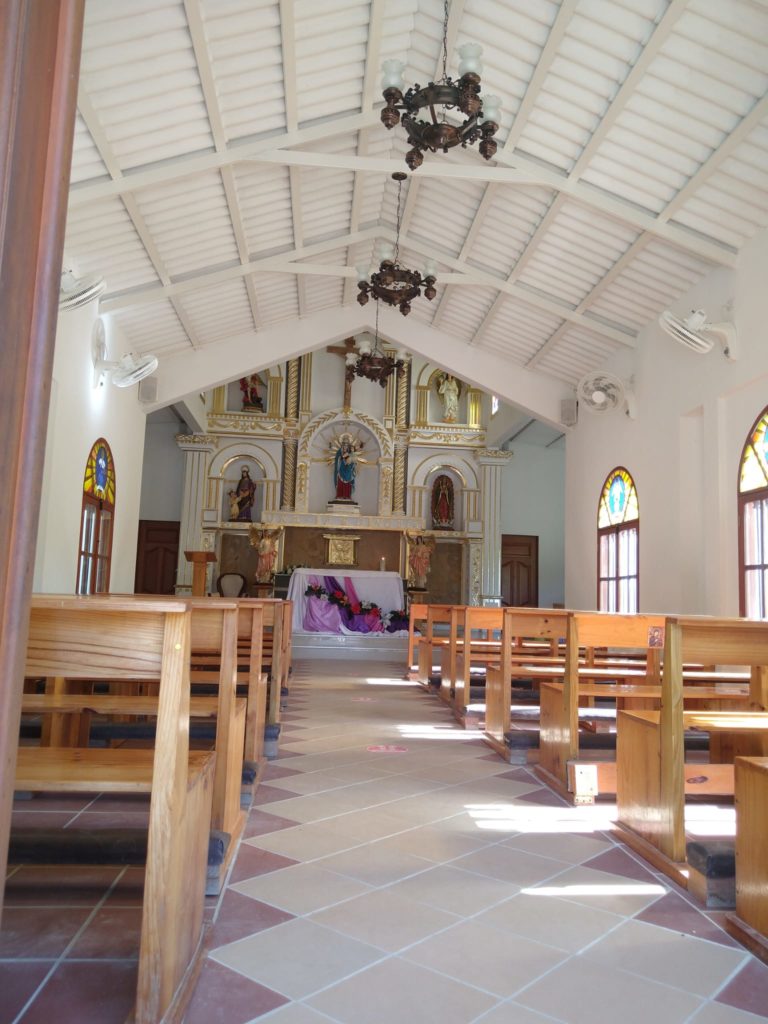 The church of Minca was built approximately 80 years ago by the peasants of the interior of the country, who at that time came to this paradise to work in the coffee farms. They, who were very religious, saw the need to build a place to praise and glorify God, so they set to work to build a place of worship.
Feed some street dogs!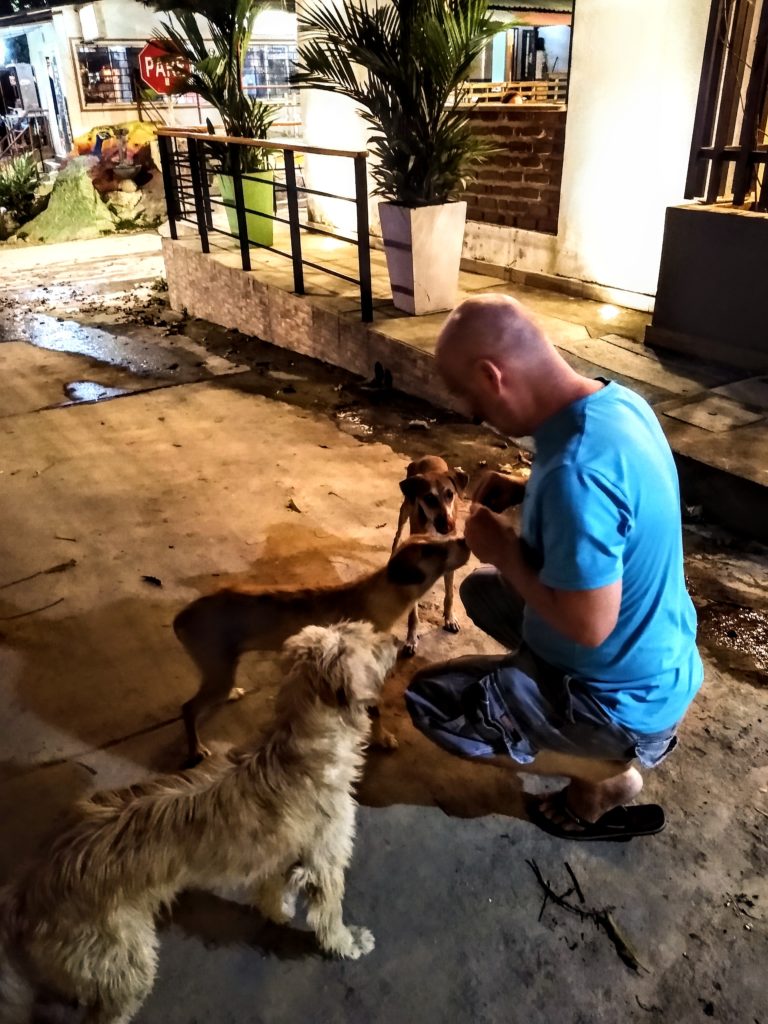 Your heartstrings will get pulled at the many street dogs in Minca. For such a small place, they have many. However, there are also many well looked after pet dogs. We saw many Labradors!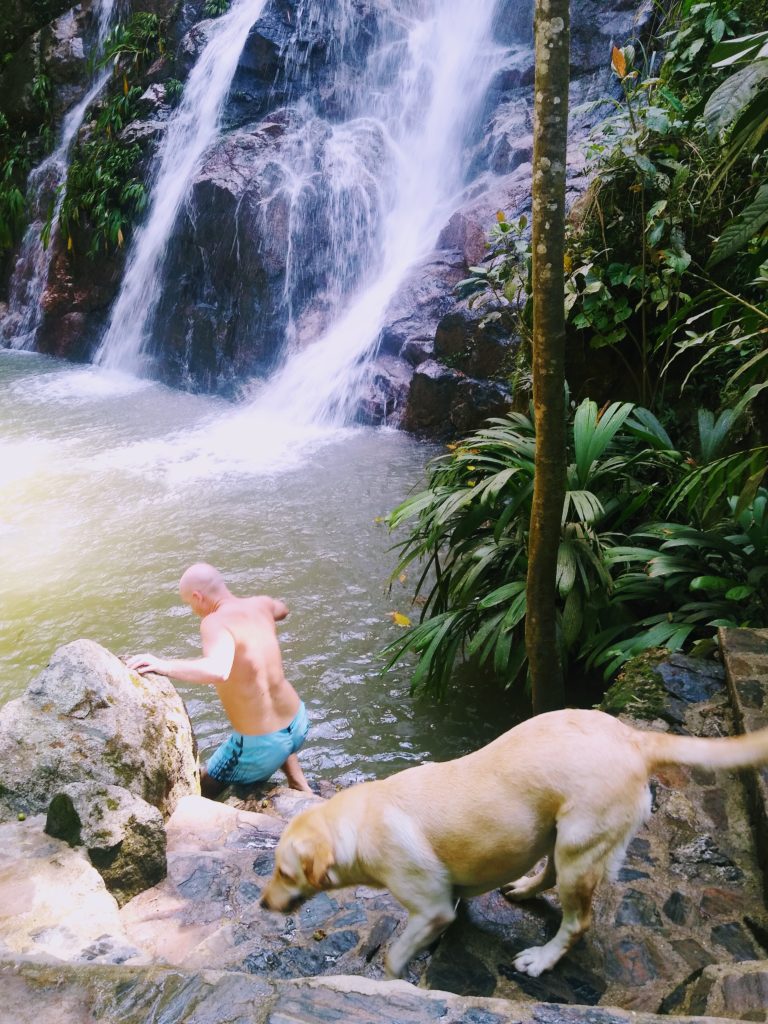 We absolutely love dogs, but one little scruffy cream one seemed to be a bit on hinged when trying to talk to it. So he / she ran after me (Miko), trying to bite at my ankles! We will never tell you to avoid the dogs, just use common sense. The majority are very lovable and just need attention and a good meal. Remember, maybe the reason the odd one is agressive, is because they have been hurt by humans before. You can buy a lump of sausage meat for around 40 pence! The dogs love it.
Steralization
As well as feeding the dogs, Patrulla Animal run a steralization clinic.
Indigenous People
Colombia's estimated 1.4 million indigenous people live in 644 semi-indigenous reserves, scattered throughout the country. While some groups prefer not to interact with visitors, you will find others whom will welcome you.
Unfortunately this is usually done with a tour. We are both very sceptical of such tours like this, as we remember in India, before Palolem was saturated, that package tourists, from their big hotels, would come along for an evening of feasts to watch the people do their traditional dance routines, while afterwards paying to stay in a 'traditional' makeshift, ramshackled hut, the 'traditional performers' seemly lived in, for extortionate prices. It was quite funny as we watched the entertainment from our room. After when the tour group had gone to bed, then the locals made their way to their 'proper houses' and ordinary jobs in the morning.
It was also the same in Kerala, India during the backwater tours. The chattering ladies would spring into action, with whatever traditional task they were doing, when they saw the boat coming. Then you'd be ushered off the boat to purchase items at silly tourist prices.
We decided not to do a tour to see the indigenous communities. We aren't saying there's a tourist circus going on in everyone, but we decided against it, due to the fact we despise long winded tours anyway. In Minca town though, we did spot an indigenous dressed person, complete with Nike trainers and a mobile phone!
Our cool hangout
Donde Raul restaurant / Bar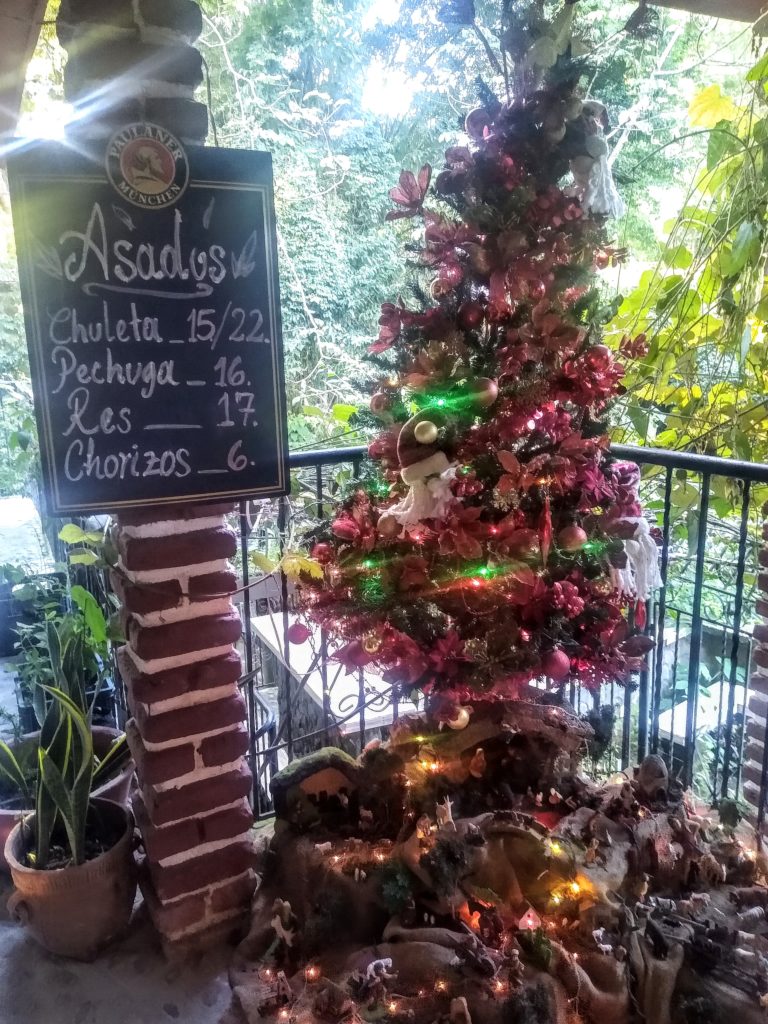 Returning to the town on both days, we descended the steps to a favourite wee hangout. We loved how cosy it was, all set up for Christmas.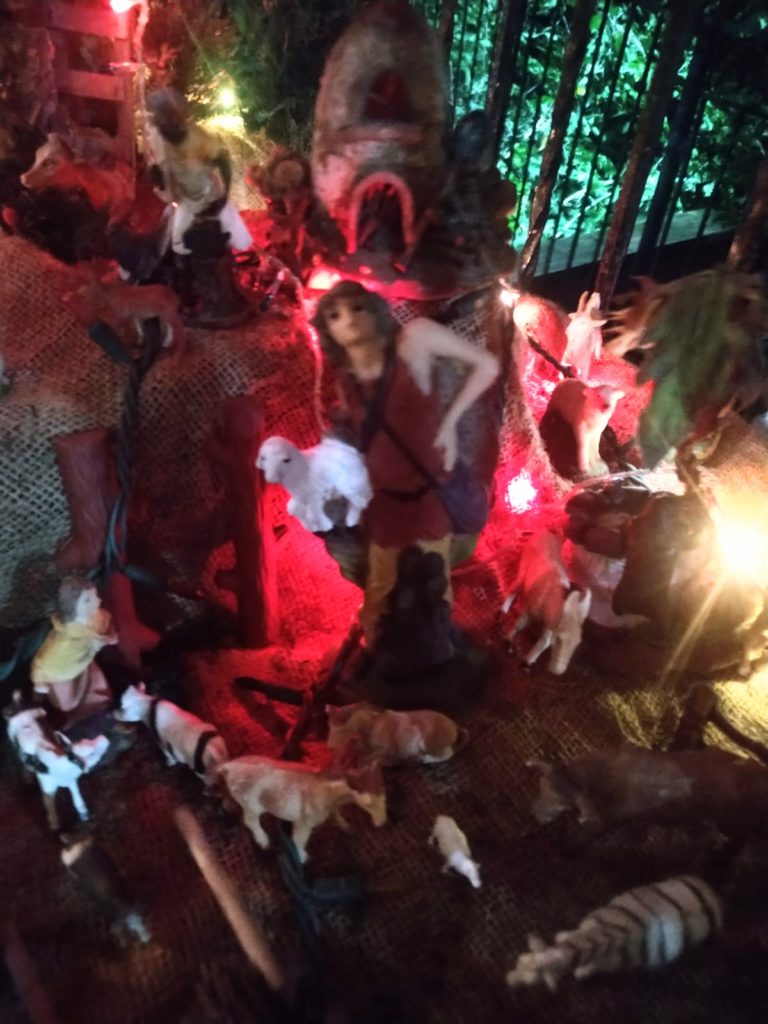 It had some unique Christmas ornaments such as Jaguars, a tarzan type doll and other amusing figurines.
The riverside bar / restaurant had a constant soundtrack of the babbling river along with chilled out vibes of Bob Marley, blues, rock & roll, and local Colombian hip swinging salsa.
The staff are really nice and welcoming too. They also didn't mind us coming in with are scary chocolate faces lol
Relaxed, we sipped on our new found favourites from the Nevada Brewery.
We could even go down and dip our toes in the refreshing river as they have steps leading into the clear stream.
Other things to note:
Bring a good big spray! Months later my bites are still not faded completely! Minca mosquitoes love to munch. Worst bites I have ever had, even compared to India!
Other than the nasty mosquitoes we highly advise you put Minca on your itinerary when in Colombia. You won't be disappointed!
Next time we go back to Santa Marta for a few days of chill time, before heading to the big smoke in Cartagena.
If you liked reading, you maybe interested in:
Santa Marta, Colombian Carribbean