Medellín Colombia – A city in the mountains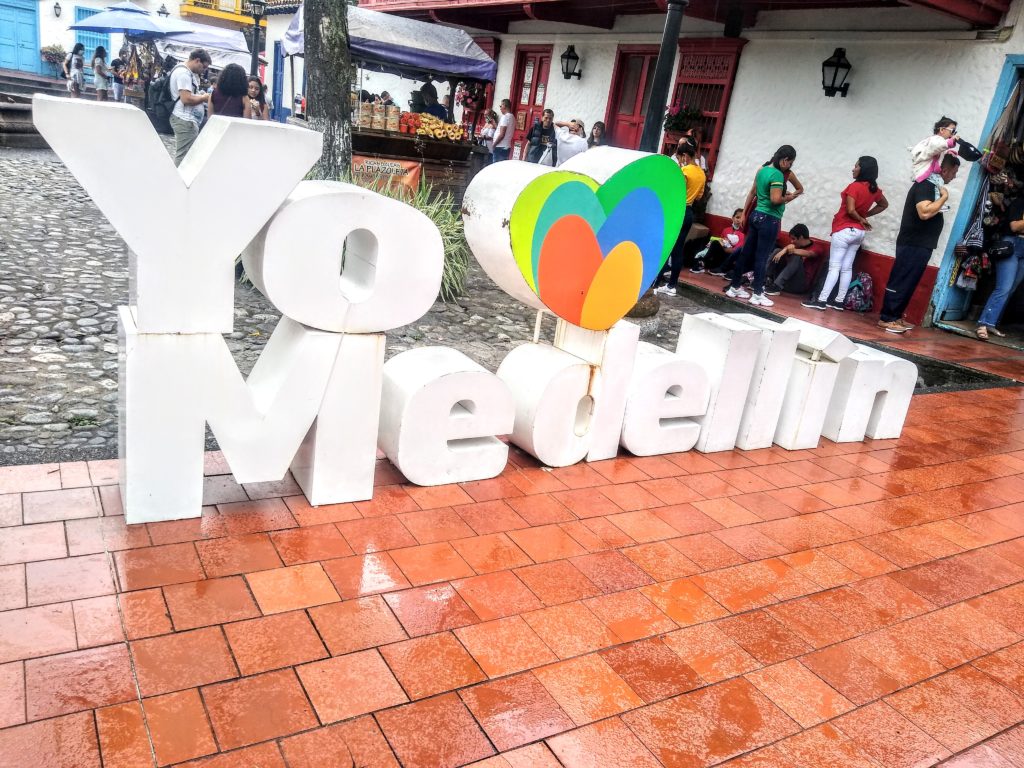 Medellín, Colombia is the capital of the mountainous Antioquia province. From the mountains that surround the capital of Antioquia you can see how the Medellín River runs parallel to the Metro, which connects various parts of the city.
Medellín, Colombia also hosts a famous annual Flower Festival. In fact it is fondly nicknamed the "City of Eternal Spring" for its temperate weather. The rain reminded us of Belfast!
Departing Cartagena
It was a mad rush to the airport on route to Medellín, Colombia after a slow start (Knox deciding to pack his carry on in the morning didn't help). We flew with Avianca at a cost of about £60 each, including 23KG of checked luggage each.
Nevermind the gridlock the day before due to protests, but we didn't anticipate the traffic jams on our way to the airport. A Congressman was seemly in town. Luckily we made it by the skin of our teeth.
Airport woes
Cartagena, considering over a year of traveling during this plandemic, has to be the worst airport with regards to masks and the Covid Gestapo. Airport staff, no matter what job title, will think they have the entitlement to stop and demand you to wear one. They do not care if you have a medical exemption certificate or not. It was a grim experience, although we held our ground. Avencia airline was little better. The compliance in Cartagena, and the dehumanising masks, would make their government proud. Empathy is dead.
Arriving in Medellín, Colombia
Even though only a 45 minute flight, we were glad to arrive in Medellin, Colombia in one piece. The situation regarding aggressive airport staff in Cartagena left us drained. Thankfully, it was uneventful to collect luggage and head out to greet the awaiting cab we booked through 'Cabify'.
Taxi
A smooth 45 minutes to our accommodation near the Parque La Frontera area. The trip cost $75,000 COP (£15, $20 US). We were surprised to see a lot more greenery in Medellín, due to it being the second biggest city in Colombia. The driver whizzed through known shortcuts to get us there quicker than imagined.
Weather, Medellín, Colombia
Not unlike our birth town Belfast, Medellín, Colombia was a blanket off grey but muggy at around 23 degrees. The flip flops would be put away once more. Medellín has two rainy seasons during the year: April to May and September to November.
Rain spells are usually relatively short, but unfortunately for us, in the month of December, it drizzled almost the whole time.
Accommodation
We couldn't have been happier with our digs, especially after the Cartagena fiasco.
We booked again through Airbnb, but the place was as expected and amazing value at £38 nightly. Bright and beautiful with an attractive colour pallate, the host also had thought of every detail what a guest would need. We even found an extra two more loo rolls (a rarety in Colombia). This host wouldn't let you get caught short! (Unlike the oddness of Cartagena)!
Also extremely happy to find my favourite book on the desk, about Christopher McCandless, 'Into the Wild'. Good sign.
There were some grey, yet terrific vistas of the city from the room. Some buildings directly infront, with tiny windows reminded us more of European properties.
After a day of trekking around the city, we surely enjoyed our sanctuary in our lovely calm room.
What to do in Medellín, Colombia?
Even if you cannot enter the castle, you can explore the beautiful well preserved grounds, where lots of squirrels will come close looking for seeds. The gardens are stunning with lots of eye-catching tall trees, plants and waterfalls.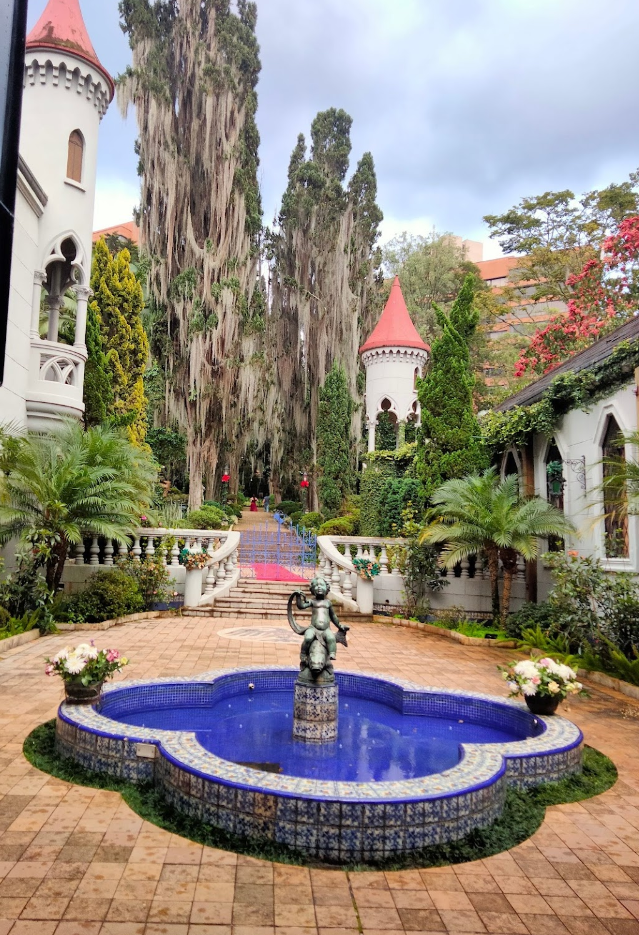 The castle is 1930s Gothic-inspired which was once the home of a powerful Medellín family. If you want to lounge in the elaborate grounds, you can bag yourself a fancy picnic for two for around 80,000 COP.
Market area – Medellín, Colombia
We squeezed through the market area / shopping streets on the way to Plaza Botero in the historic centre of Medellín, Colombia. The place was heaving with people. It seemed every local had descended to buy gifts on the last Saturday before Christmas. the jam packed streets were a complete melee and a cacophony of street hullabaloo. You just had to go with the flow in this fast moving torrent of people. Our eyes and other senses were on full alert as we navigated our way through.
There was the usual wares, such as faux designer apparel, accessories, childrens clothes, toys, technology etc. Indeed, a whole covered market area was dedicated to little shops selling trainers / sneakers. To refresh the hordes, there were vendors selling fresh juices and the well known Colombian specialty, which are a mixture of meat and potatoes in a deep-fried puff pastry.
Plaza Botero
Located in El Centro conventiently close to the metro lines, but oh my word! First of all, it's a place to take photographs of the sculptures then make a run for it. The whole place was a mess. Full of dodgy characters, druggies, homeless and prostitute's (yes in broad daylight)!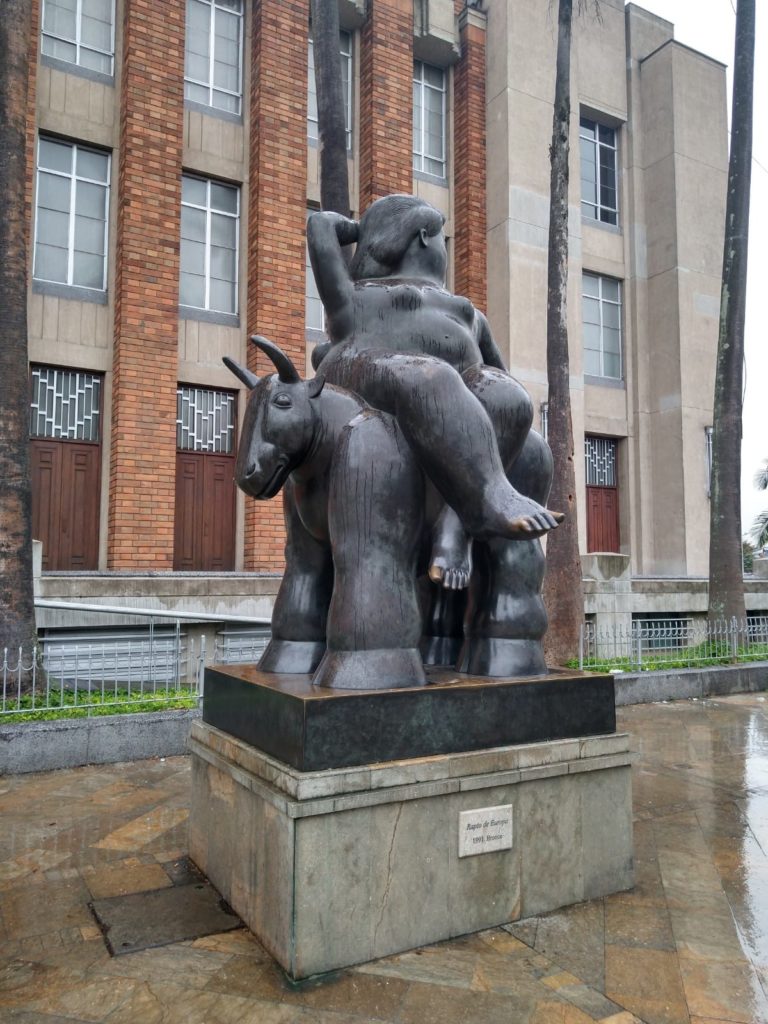 Watch your pockets here! While Knox snapped some quick pictures of the statues, I held tightly onto my bag. We didn't bother staying around too long.
The sculptures are spectacular though. Shame we couldn't study them more. There are 23 of the huge voluptuous sculptures by Maestro Fernando Botero, which were donated to the city 2002.
Botero has an instantly recognizable style that's popular across the world. You may have even seen his work in Park Avenue, New York, or the Champs-Élysées in Paris! Off course his sculptures are seen all over Colombia, especially here, his birthplace of Medellín, Colombia.
Bird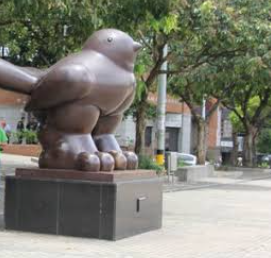 In 1995, there was a terrorist attack at an outdoor concert in Medellín, which was linked to drug lord Pablo Escobar. The bomb had been placed under one of Botero's famous sculptures. 30 people were killed and over 200 injured during the attack.
You will find poignant sculptures, related to the atrocity, several blocks away, in San Antonio Plaza. You will find a typical Botero bronze, a humorous fat and content bird, standing squatly. Then beside it stands the same statue, blasted to pieces, an enormous hole torn through its abdomen, which Botero donated to Medellín in respect of the victims; The Dove of Peace (La Paloma de la Paz).
An art museum. It houses a large collection of works by Medellín native Fernando Botero and Pedro Nel Gómez.
It tells the culture and history of Colombia through more than 6,000 artefacts. Due to the discrimination, 'show me your papers' (jab passports), we couldn't go inside
Modern Art of Medellín, Colombia
A museum of modern art, it was founded in 1978, by a group of artists wanting to highlight the importance of modern art to the public.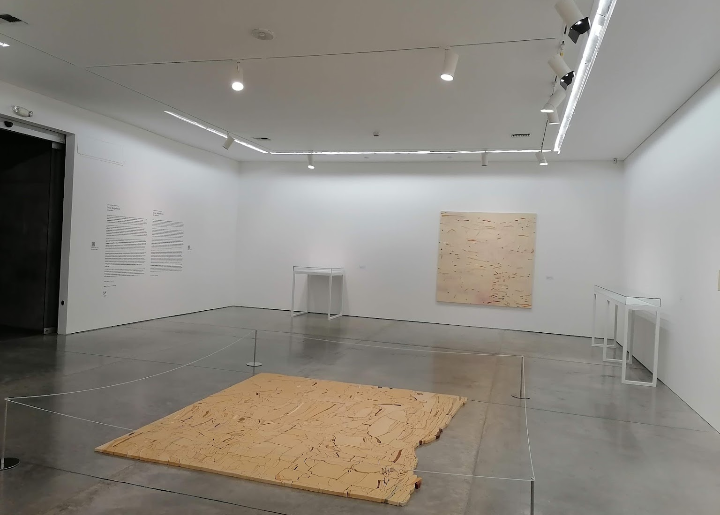 It has wide open spaces with interesting exhibitions, as well as a coffee shop and relaxing green space to sit. You will also be in luck to spot some great vistas over the city.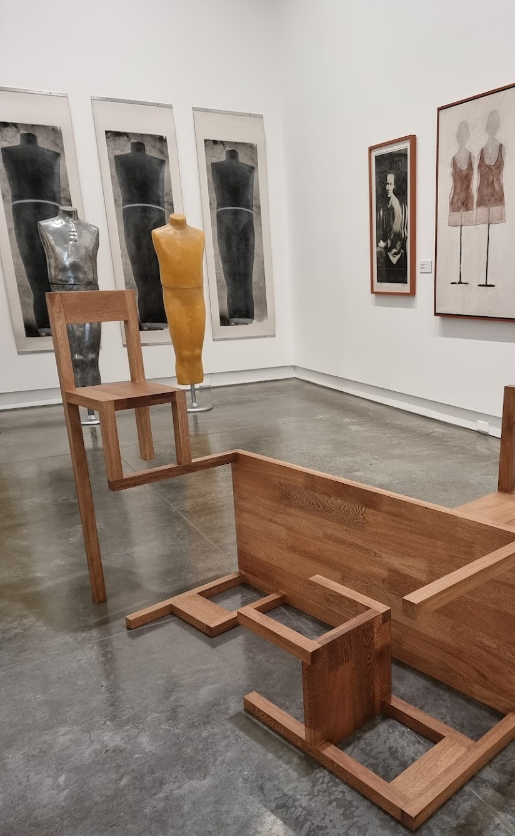 Plaza Cisneros
Named after the Cuban engineer Francisco Javier Cisneros, who led the construction of the Antioquia Railway.
The installation has an artificial forest of 300 light poles, which are up to 24 meters high. The area is busy with people going about their daily business.
There's not much around to see, only the poles, which are merely a quick snap, unless you find poles really interesting!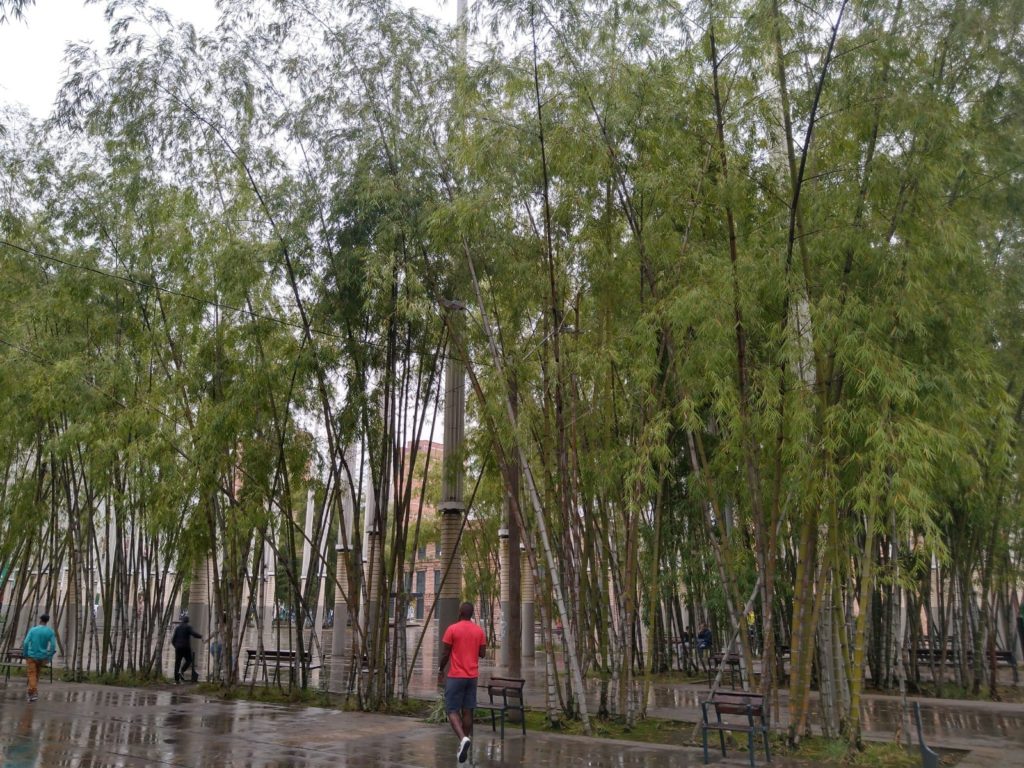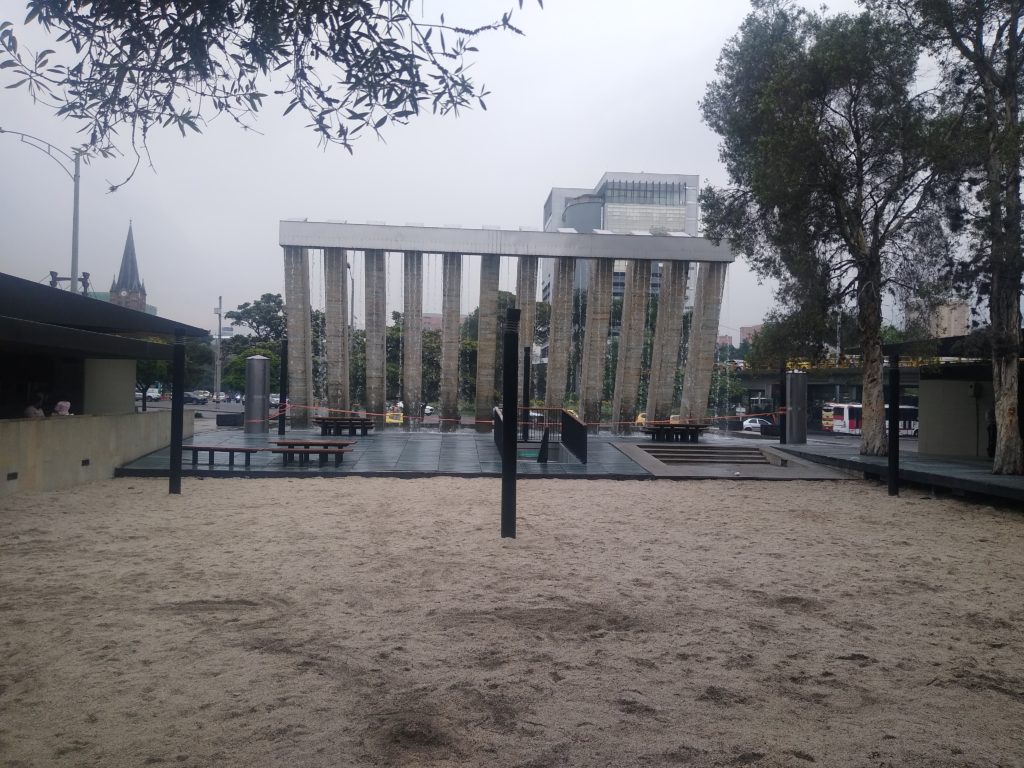 A zen-inspired park designed by local architect Felipe Uribe de Bedout. This is where people are encouraged to take off their shoes and wander through its green gardens, sandy pits, and bubbling water fountains to experience the different textures and contemplate how they feel.
The idea is to reconnect with nature in a way humans lost when we started wearing footwear. Unfortunately the waterfall was cordened off and the miserable downpour of rain made the sand pit soggy and had visitors running for shelter.
We did manage to walk barefoot through the damp trail under the bamboo trees.
Address: Cra. 58 #42-125, Medellín, Antioquia
View of Medellín, Colombia from Nutibara Hill.
This mock town atop Cerro Nutibara is like a living museum, where you can walk back in time to the turn of the century and experience life in rural Antioquia.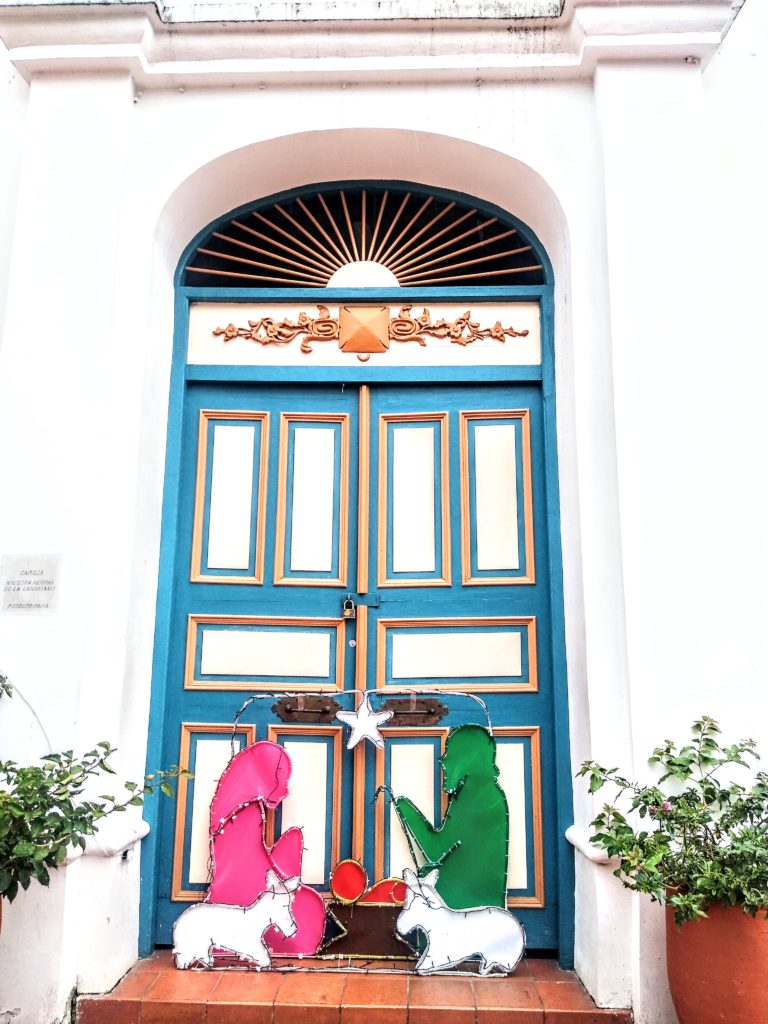 The village centers around a traditional town square with a church, mayor's office, barbershop, and one-room schoolhouse.
There was a pleasant vibe among visitors wearing their different coloured raincoats and showing their free happy faces, despite the yucky weather.
They ate icecreams, enjoyed Colombian specialties, which are a mixture of meat and potatoes in a deep-fried puff pastry, aswell as taking pictures of the traditional architecture.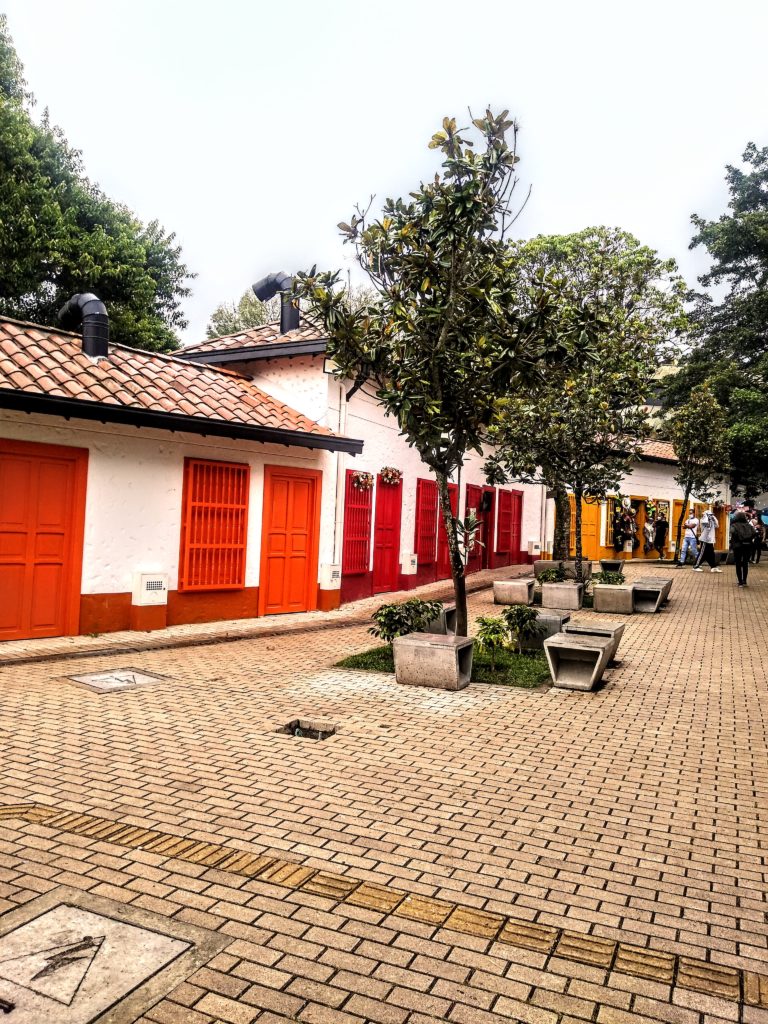 Its hilltop setting also makes it a great spot simply to get a bird's-eye view of the city below, although for us the grey, cloudy sky sort of dampened it a little.
Nevertheless it was definitely a sight you have to see when in Medellín.
Museo-de-ciudad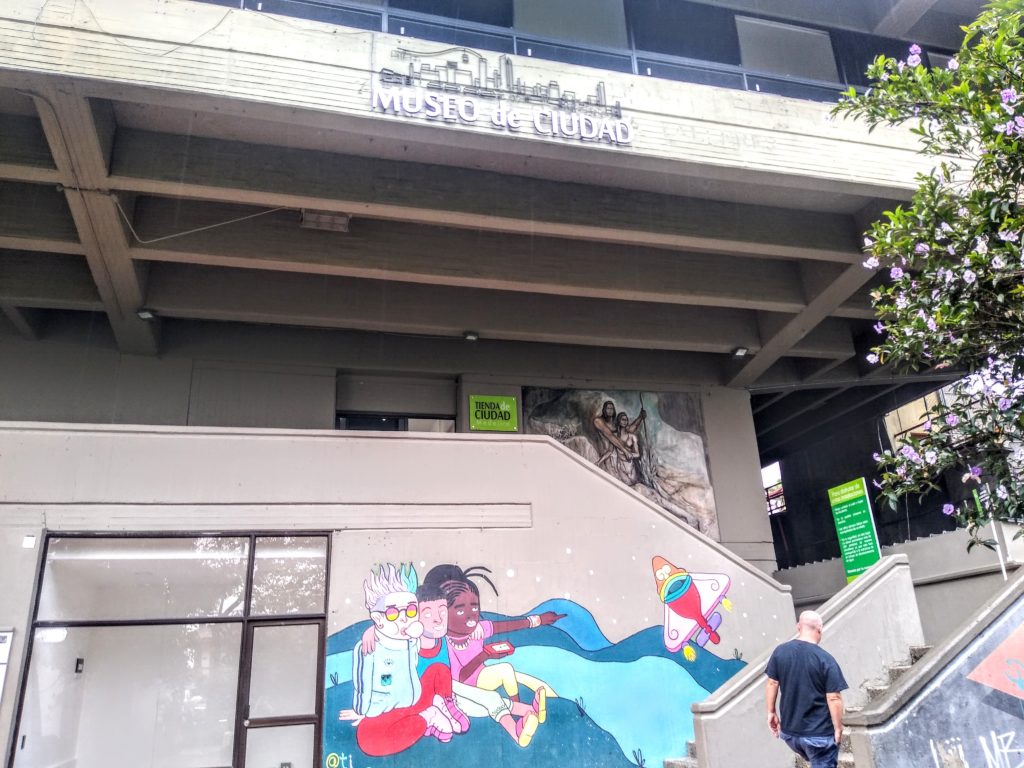 The city museum is also in the grounds of Cerri Nutibara. It shows photos and videos of the history and modern works of Medellin city.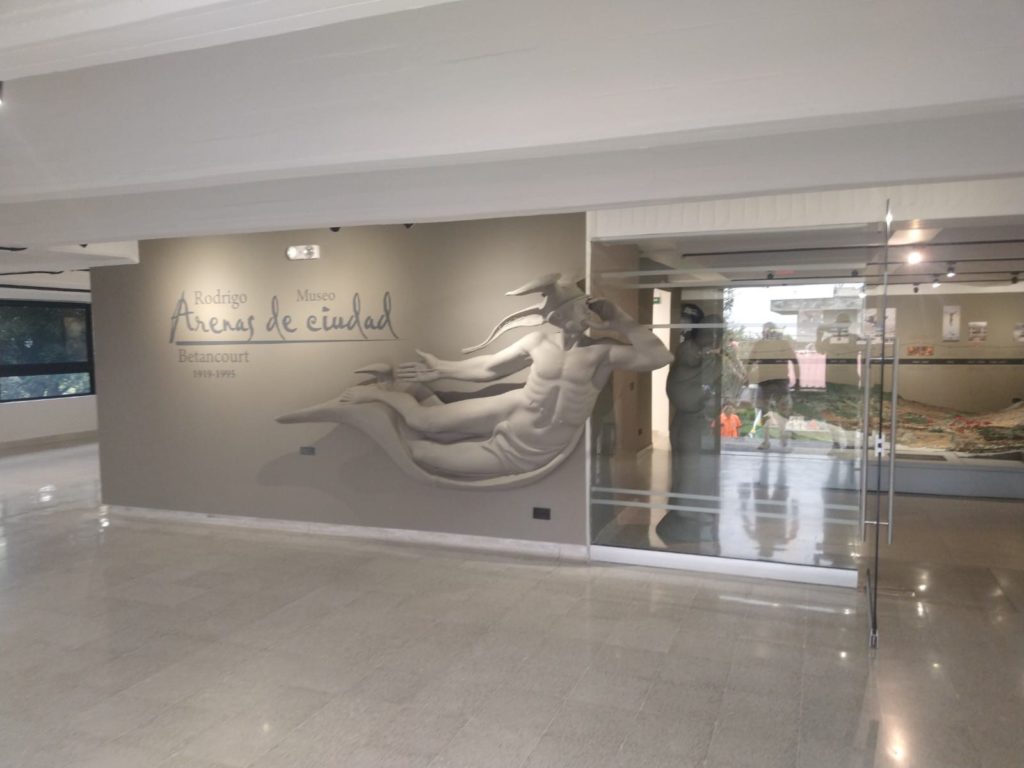 Most taxis will drop you of at the car park, from there you will have a good 20 minute walk up a steep hill. Luckily for us, our driver took us right to the top. I think he felt sorry for us, as it started to bucket down. Unfortunately the police said he couldn't wait for us while we snapped some quick pictures.
We took the opportunity to stroll around it more slowly than anticipated before moving on. There are plenty of other cabs to jump into to bring you on to your next point of interest.
Would we recommend Medellín, Colombia?
Maybe we didn't give it enough time? Two nights was a quick visit. However, in that time we saw most of the top visitors highlights and there wasn't much else to see.
Maybe it was the miserable weather we encountered?
Or maybe it was that the city wasn't walkable and you are dependent on taxis, only to sit in crazy traffic jams.
Unfortunately we didn't get a good feel for the place. Which was a shame since it was our last place before we left Colombia, after over 5 weeks. However, don't take our word for it, go see it for yourself. Indeed everybody's impression can be different!
This doesn't stop us loving the places in Colombia, which had left wonderful lasting memories with us, such as Minca and Taganga. As for Medellín, once we'd seen it, we have no inclination to come back. Hey-ho! Its the way it rolls. We look forward to a happy Christmas in our next destination!
If you liked reading, you maybe interested in: