Desert Dreams
Our Desert dreams led to trips down lonely highways with awesome scenery. Fancies created by names on the map or signs on a post, can definitely lead us to the Bizarre.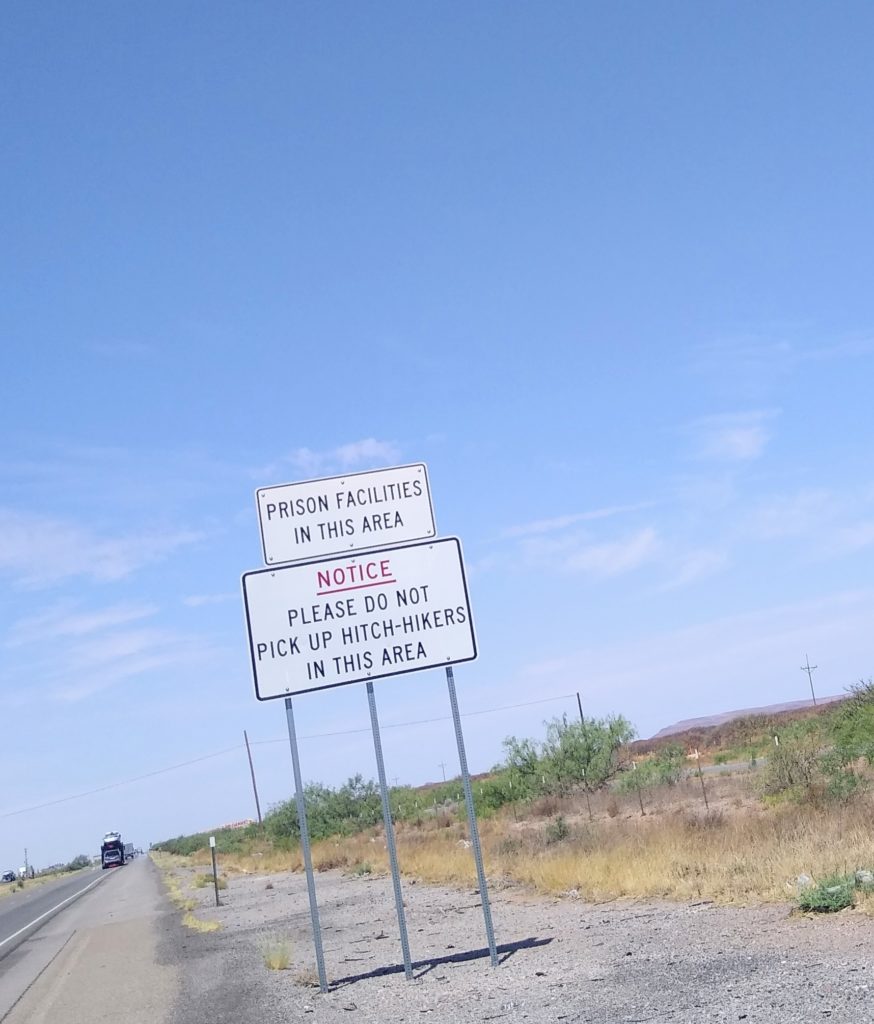 Accommodation
Drury Inn
We stayed in Drury Inn in Las Cruces. It was a clean hotel with a 1950's vibe in the lobby, which reminded me of the movie dirty dancing, with characters to match. At the hotel you got free food in the evening buffet as well as 3 free drinks each. Don't expect to relax in your room and get your partner to bring your drink up to you. You have to go yourself. Yes, they had 1950 rules to lol.
Home 2 Suites by Hilton
At the end of our extremely long sightseeing filled day, we decided to stop off at kingman for an overnight stay. We were both exhausted and just wanted a shower and sleep. Unfortunately the hotel was a pigsty! God knows how they got 4 and half on Tripadvisor. The first room we got stunk of smoke and the bedding, fridge, bathroom, carpets were filthy dirty. Immediately we complained to reception who moved us into another room. This to was a dump and hygiene levels were suspect. Speaking to the manager Trevor was a waste of time. He didn't even offer to get the room cleaned or apologize. We left. There was no other accommodation available so we drove through the night to get to Sequoia National which was a five and half hour drive. We had already done an eight hour drive prior to that.
*Update: After the grim experience we wrote to Hilton's CEOs office. We find most of the time this is the only way to get a satisfactory response. The reply was immediate, offering apologies and 30,000 Hilton honour points.
If you aren't happy with a service dispute it always. It's your good hard-earned money after all.
Roswell – a desert landing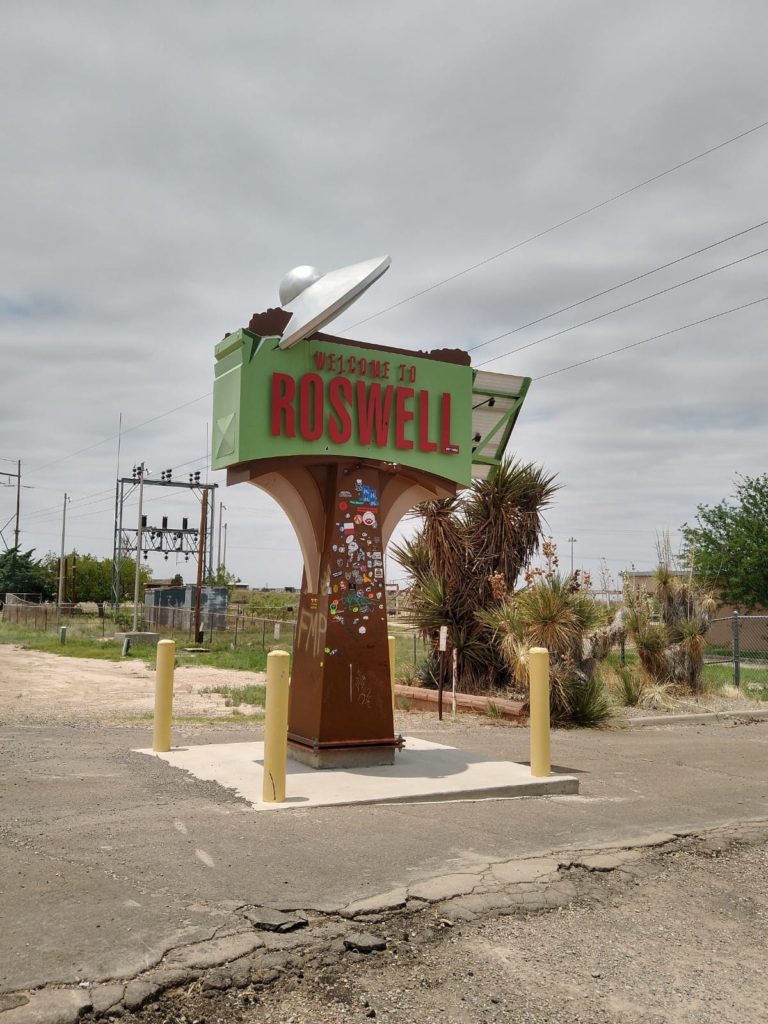 Finding our trail across the states throws up opportunities to see well known places, areas that are stamped in our minds, twilight zones that probe ours, and others, existence in the universe we live in.
Site of the famous 1947 "Incident", Roswell is about as normal as a desert town can be with a crashed UFO, plenty of military bases within a few hundred miles; including missile and space exploration sites, a host of Sci-fi fans, truth seekers, and, of course, inquisitive people drawn by its aura. Story changing government officials have only stoked the fire and enhanced its reputation.
Whatever your belief, it's a cool place to check out, and the local businesses, evening gas stations, love putting aliens front and centre!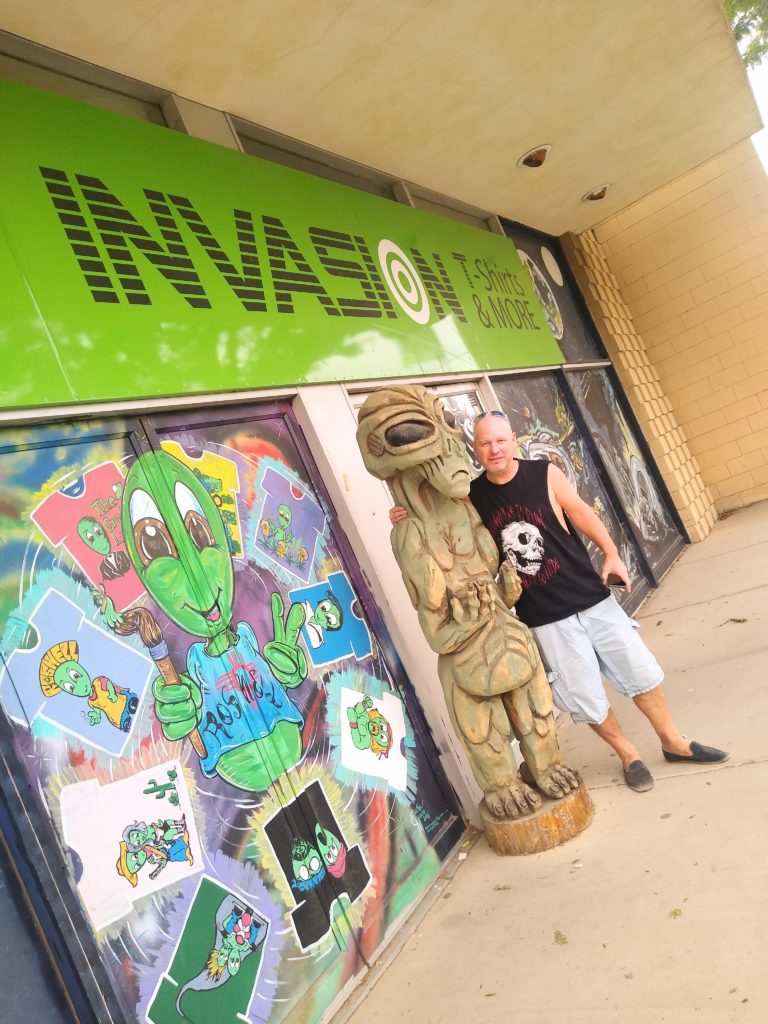 Desert trail
As we headed north from our overnight stop at Van Horn, we crossed the border into New México. Las Cruces would be our 2 night stop but a detour would take us to Roswell. The alien seekers capital of the world!
I (Knox) was over the moon to be able to visit. Miko was more down to earth on the prospect. After our Music Belt segment, I was interested to see what possibly came from Orion's Belt.
Things to do

For us it was all to do with Aliens and their invasion of the desert town.
See the signs in the desert!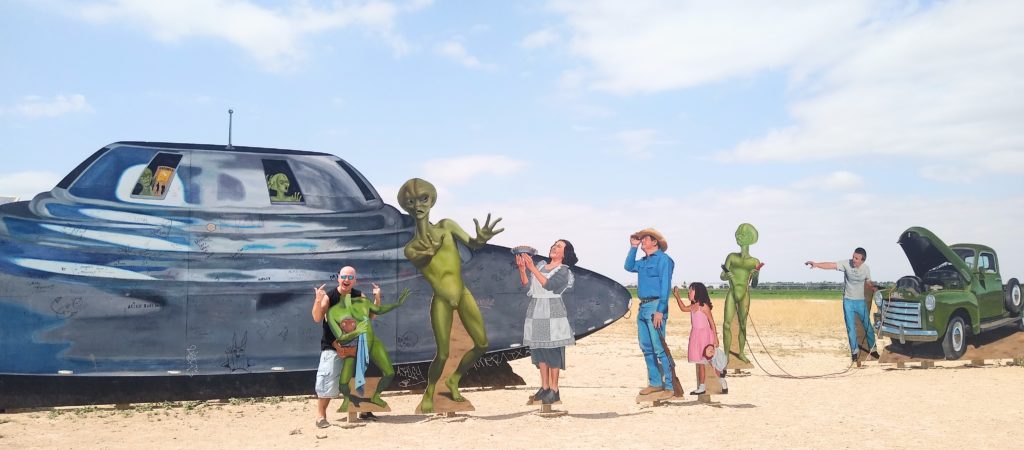 As you enter the town, from most directions, you will see an alien enhanced welcome to Roswell sign. The best we found was found on route 285, south of the city, as you headed towards Roswell, and about a mile past the junction with NM 2. Here is a collection of large cut outs depicting a spacecraft, aliens and helpfully shocked humans.
It's all very tongue in cheek. Other ways into the town will have a welcome to sign with a spacecraft embedded into it lol.
Roswell UFO Museum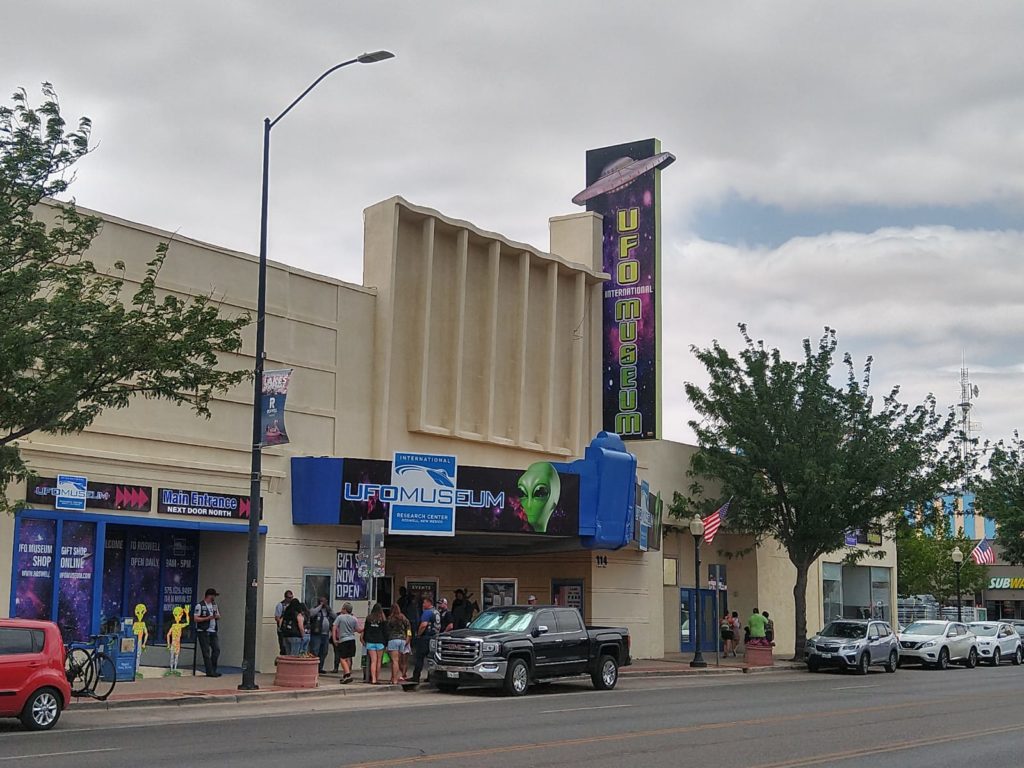 Located in a former 1930's movie theatre, gotta love the dramatic effect, the Roswell UFO museum has its epicentre in the "Roswell Incident" before branching out into other UFO sightings and alien encounters. Spend an hour or so wandering the exhibits and read the story.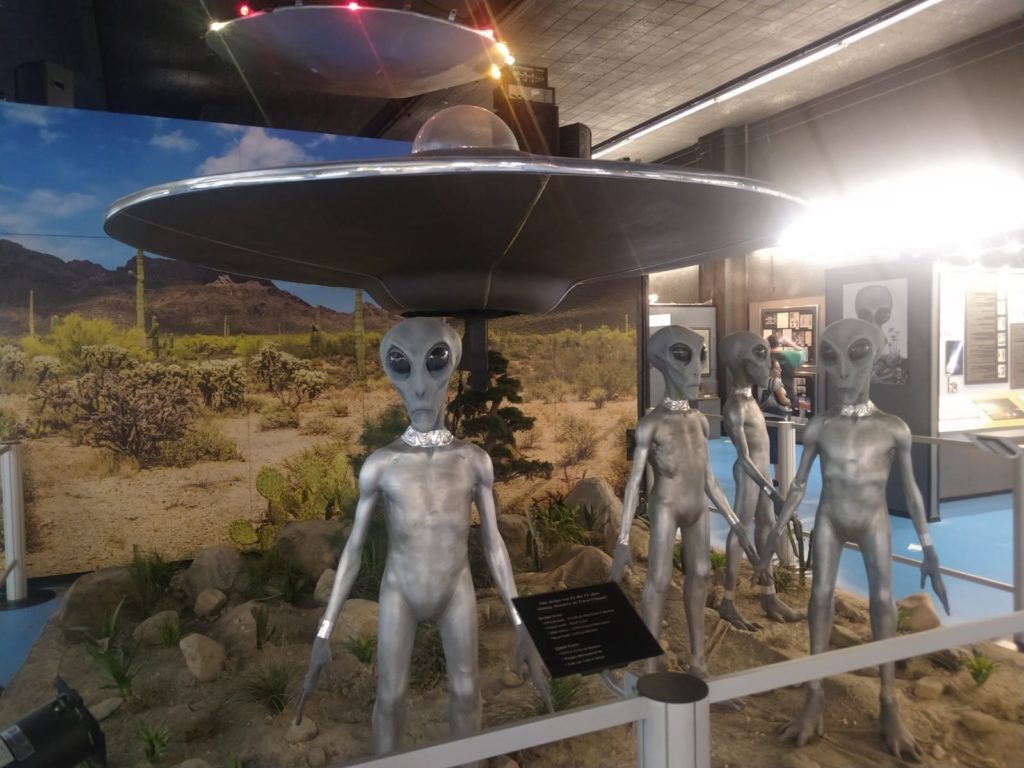 There are fun life size models of aliens, as well as life size models depicting what may have happened to the captured extraterrestrials.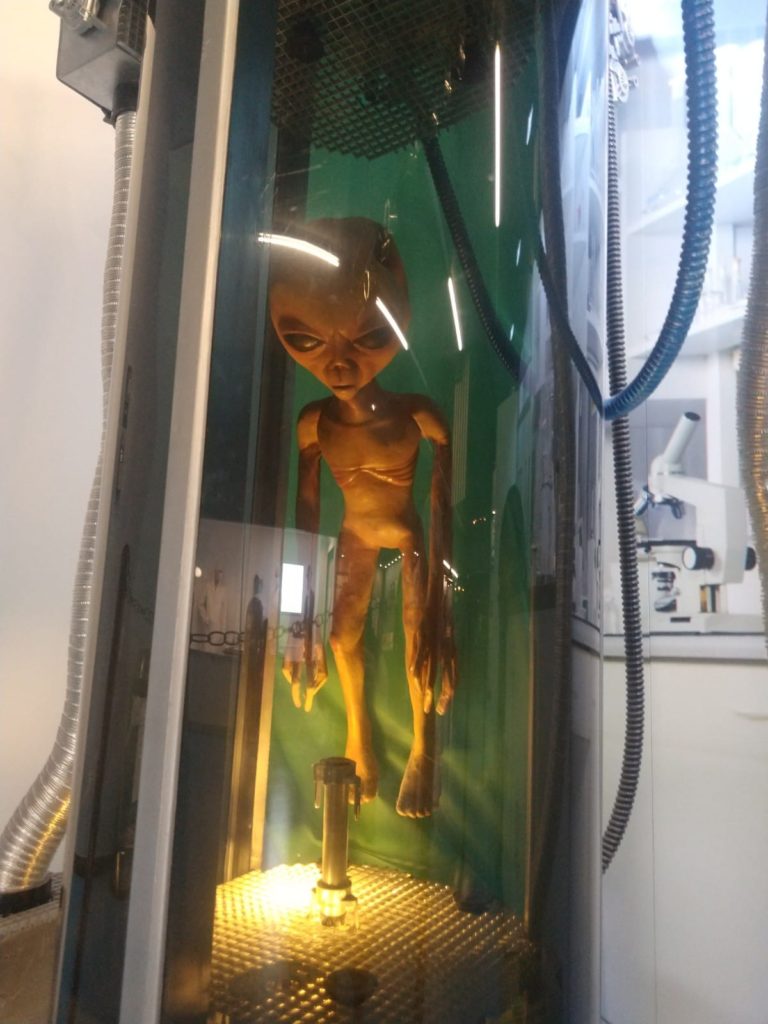 Ancient Mayan and their alien friends
The story stretches further back as the curators bring the story of travellers from out of this world to the ancient civilization, including a detailed look at the Mayans and what they have recorded.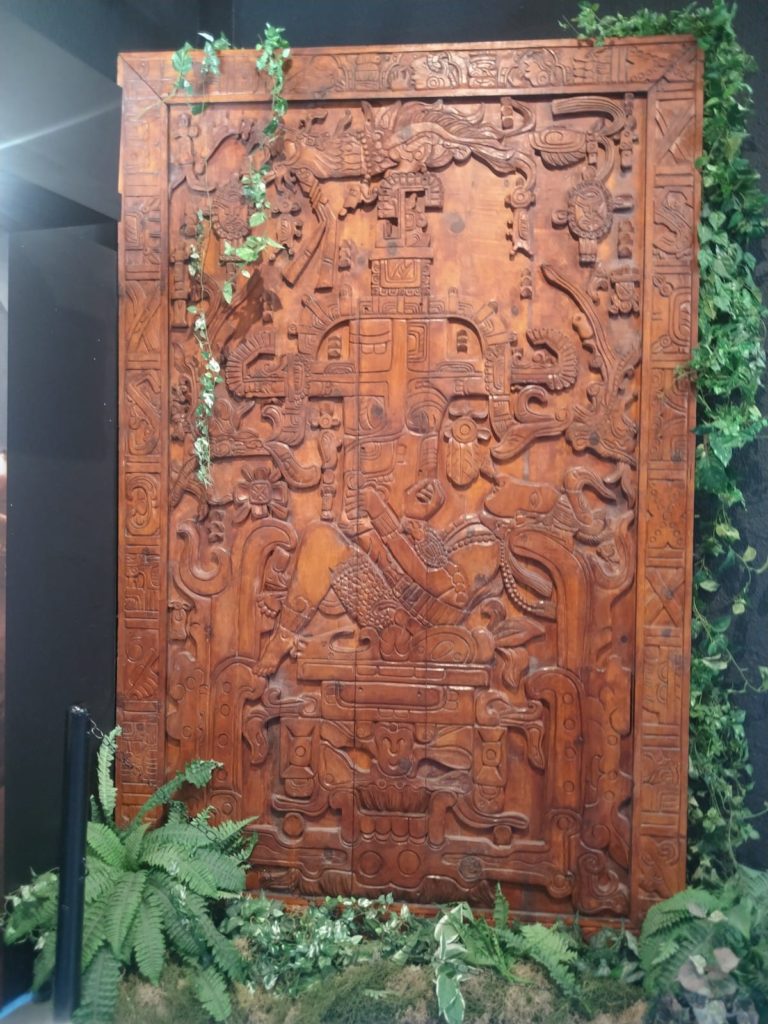 Levels of encounters
There are explanations of encounter levels from flashing lights seen in the sky right up to meetings of a more personal level, if you know what I'm probing at!
Desert abductees
This leads nicely into the stories of abductees and what they experienced. If we had of been in Roswell just over a week later, we could have got to meet some of these people at the annual UFO convention.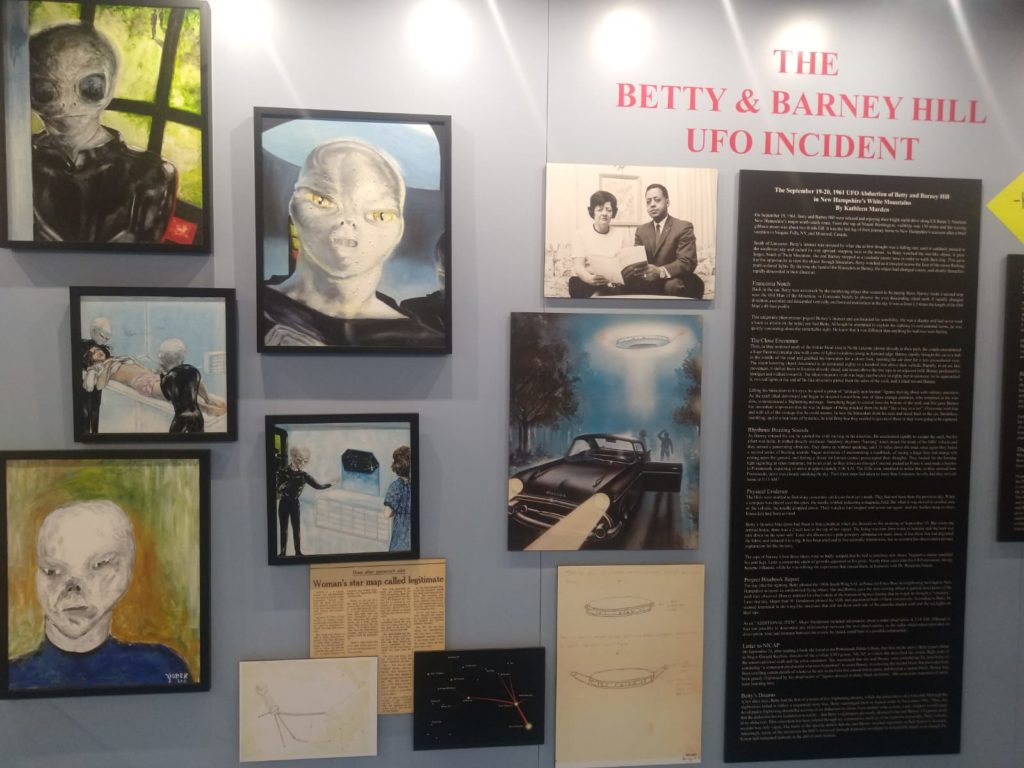 War lords and their alien connections
UFO types and possible connections to the Nazis and others are discussed.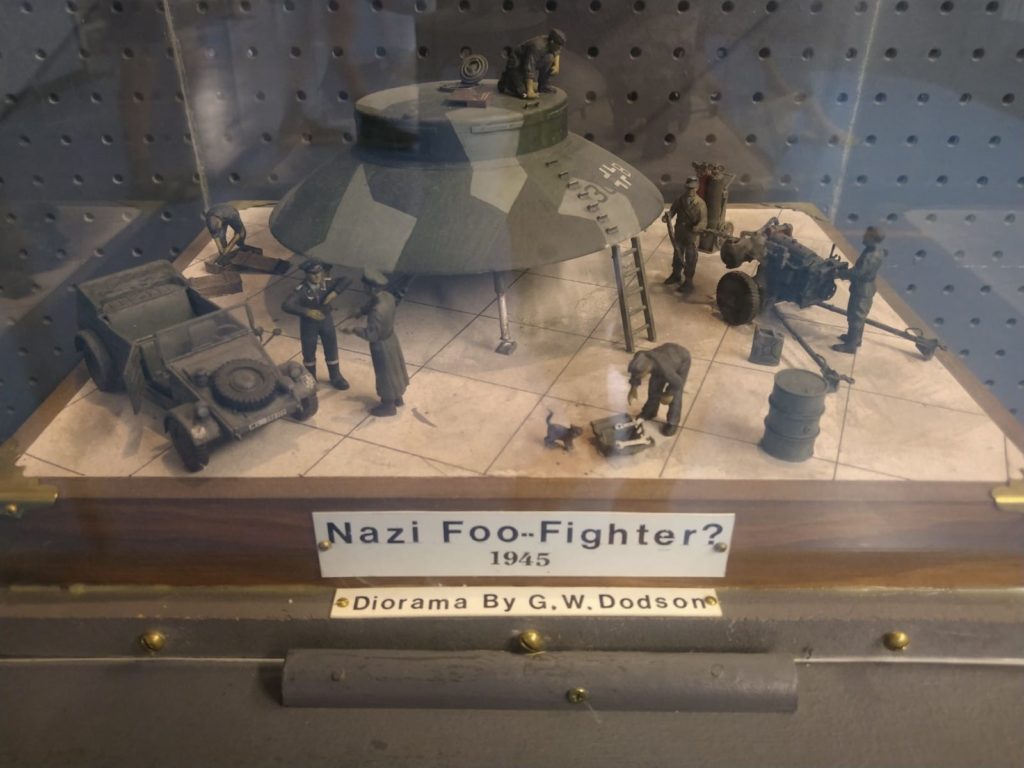 Otherworldly inspired
There is also a colourful gallery of Art work before one passes towards the gift shop.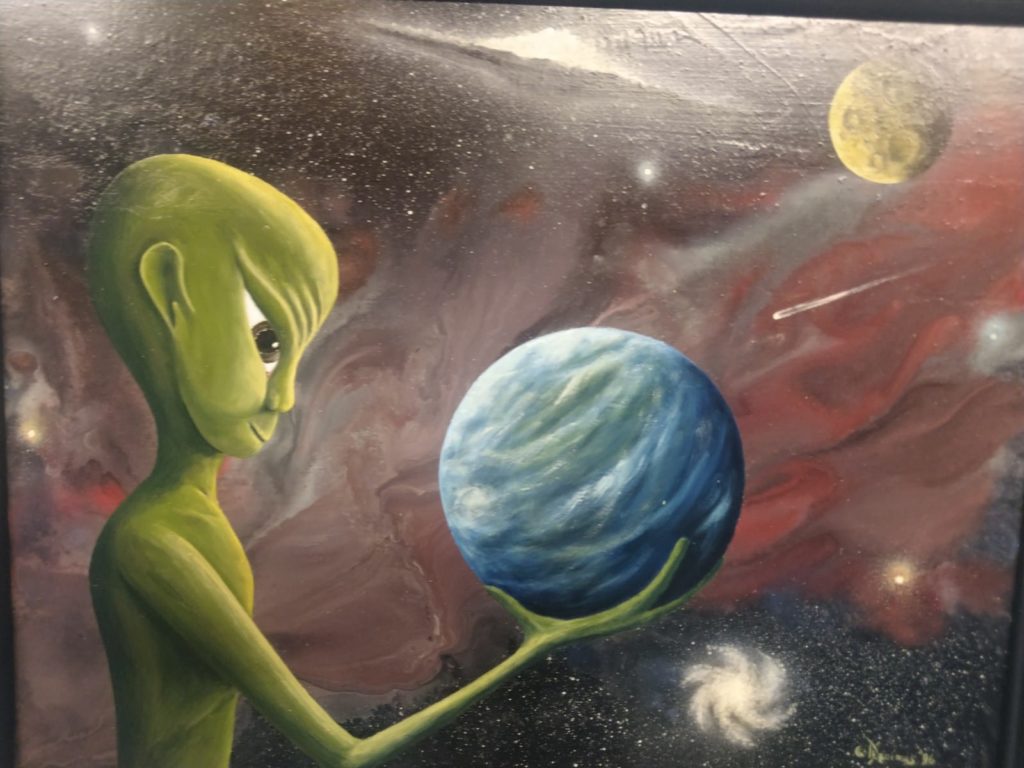 Top of the pile
Well worth the visit no matter how you understand the government coverup and conspiracy mud slinging wink wink lol!
Statues and Murals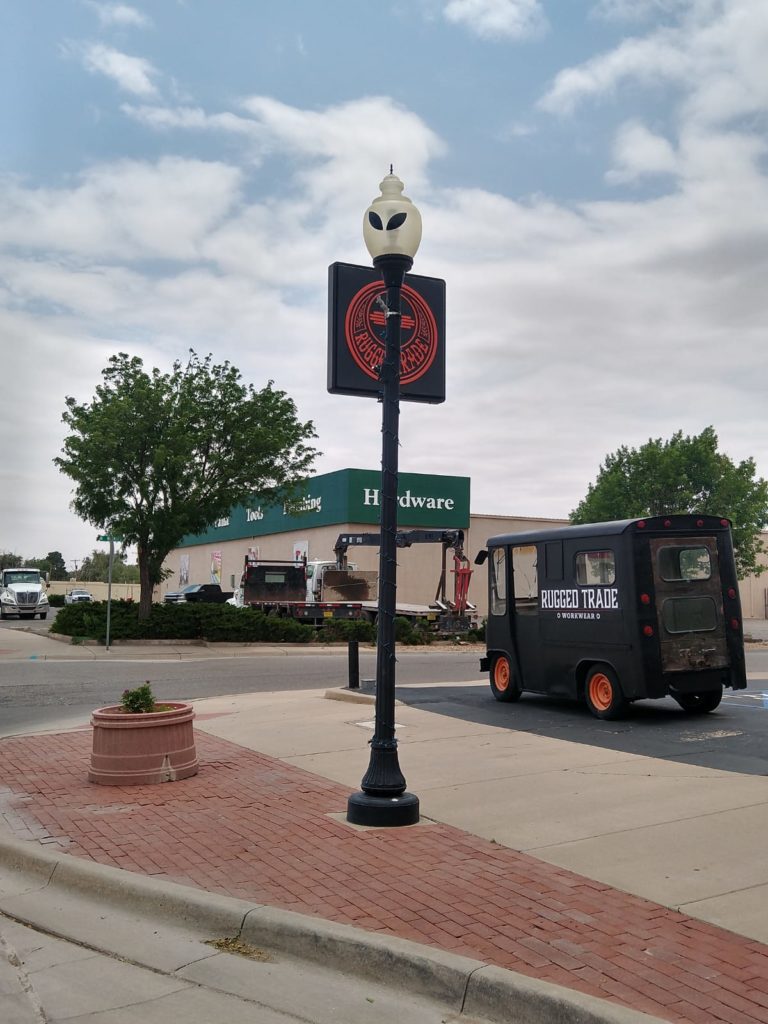 Around the desert town of Roswell, one will have alien encounters of their own as you bump into the many statues. A great chance to grab a selfie.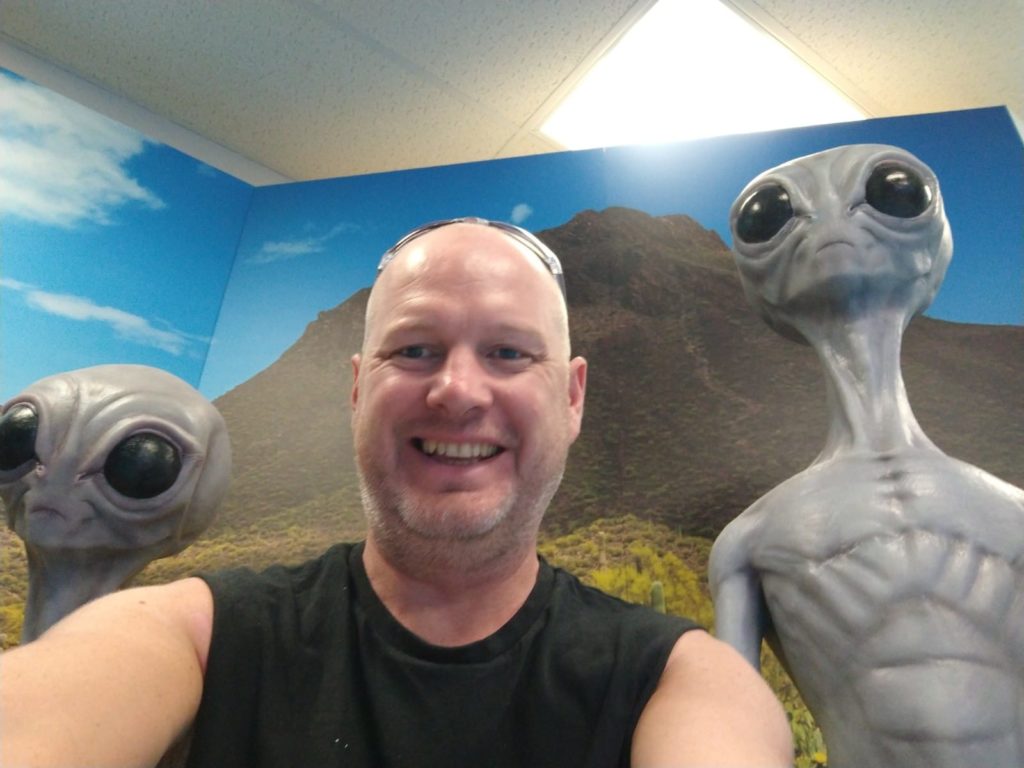 The wander will also show you plenty of murals that capture the spirit of Roswell.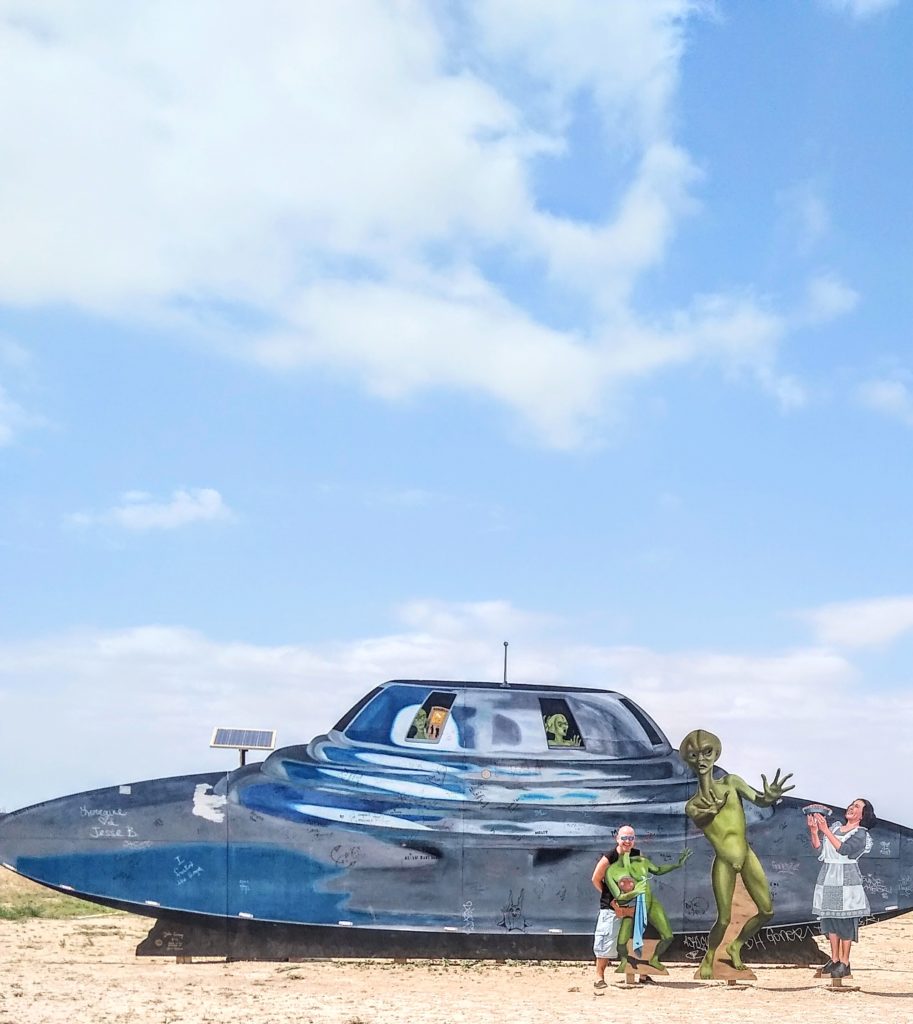 Bottomless lakes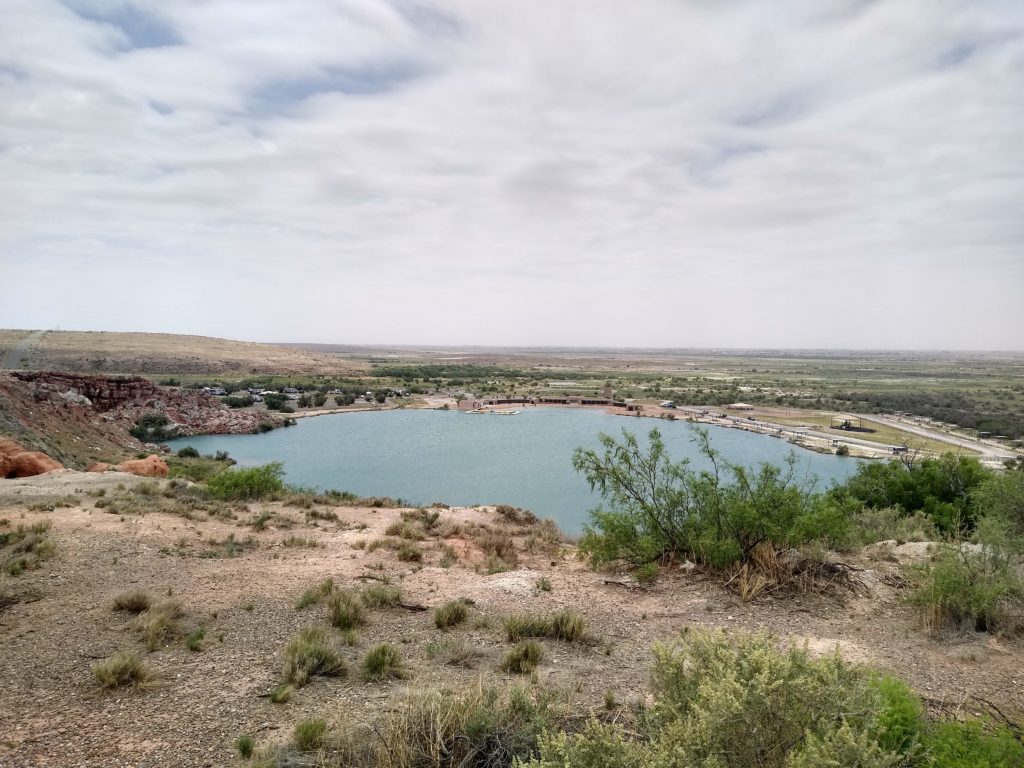 South east of Roswell Is the Bottomless Lakes State Park. The collection of sinkholes, nestled amongst red rock walls, are usually a green / blue colour when the sun is shining brightly onto them. This can help make the, up to 90ft deep, water feel like they dive into a bottomless chasm, along with the colour giving aquatic plants.
We had a wander around the rugged landscape, climbing the rusty rocks for better views. There is a campground and RV park at Lea Lake and the option for a bit of water sport activities.
White Sands National Park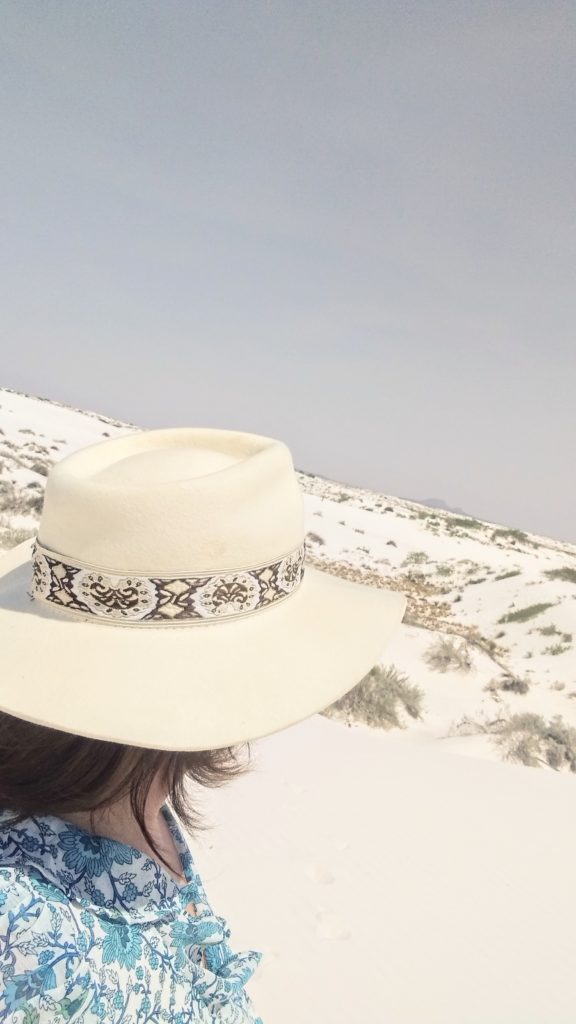 Before you begin your journey to one of the wonders of the world, be sure to have a full tank of petrol, lots of water, a hat and sunscreen. There is no wifi at the park, so be well prepared. You are in the desert after all.
Desert missile range

White Sands National Park is located in the state of New Mexico and completely surrounded by the White Sands Missile Range. Sometimes the park can shut at short notice when the missile range is in action, so be sure to check before you drive all the way out.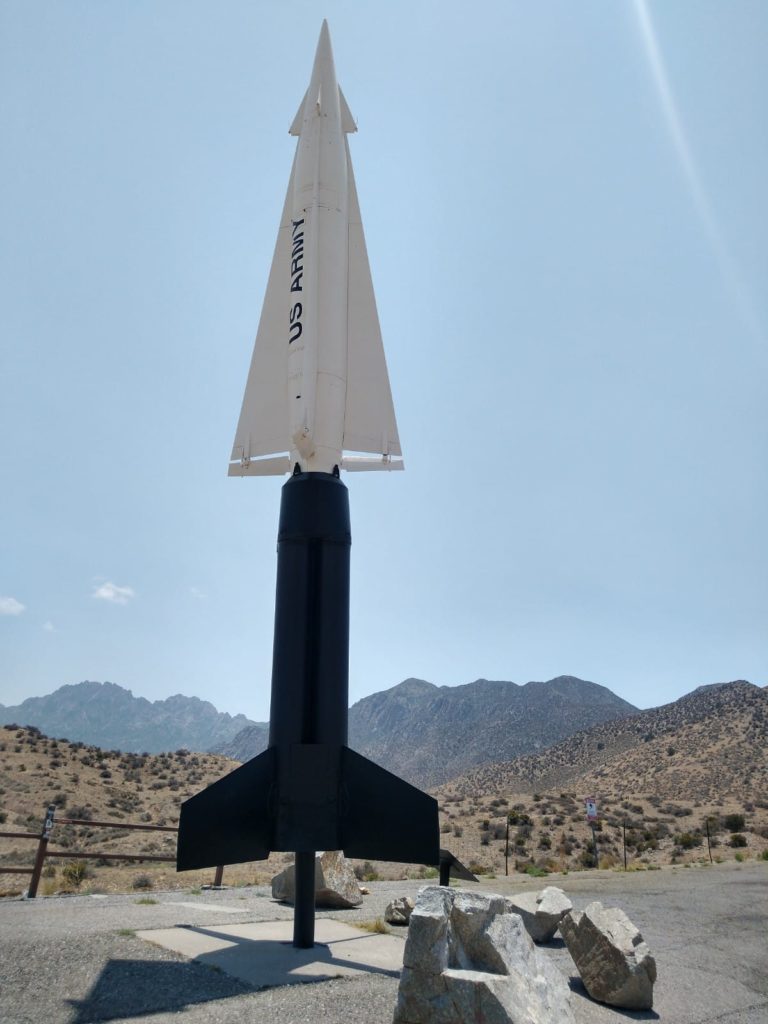 The northern end of the Chihuahuan Desert is named the Tularosa Basin. The monument ranges in elevation from 3890′ to 4116′ above sea level. There are around 275 total sq miles of dunes, with 115 square miles located within White Sands National Monument. The remainder is on military land that is not open to the public. Knox got told off taking a photo of of a 'bird' as actual photos of the missile base is prohibited! The museum was unfortunately closed.
Border control
On the way to the White Sands National Park there is border control on the highway 70 at White Sands. The army asked about our immigration status and wanted to see our passport. We actually forgot we had a copy of our passports in our phone, so instead showed our driving license. We got told to pull over to the side while they checked it. Within 5 minutes we were on the road again and told by the pleasant army guy to have a good day.
Whiter than white sands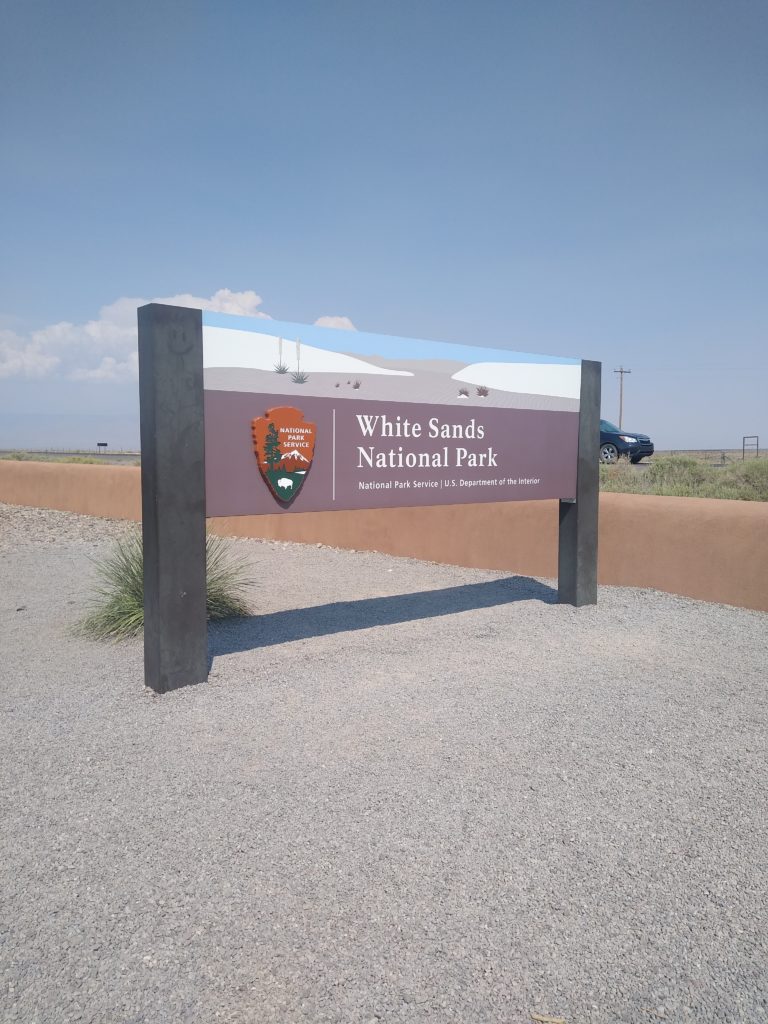 We started off at the Visitors centre to check the map trails and to use the bathroom facilities.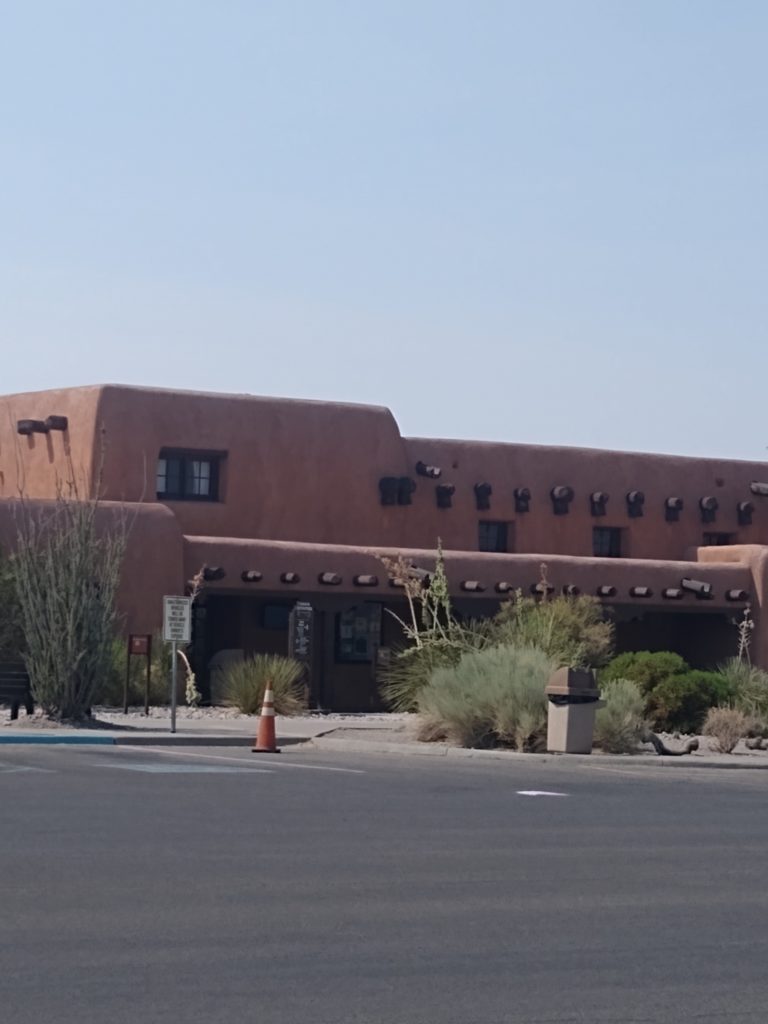 There is a gift shop onsite too, although we never bother with these.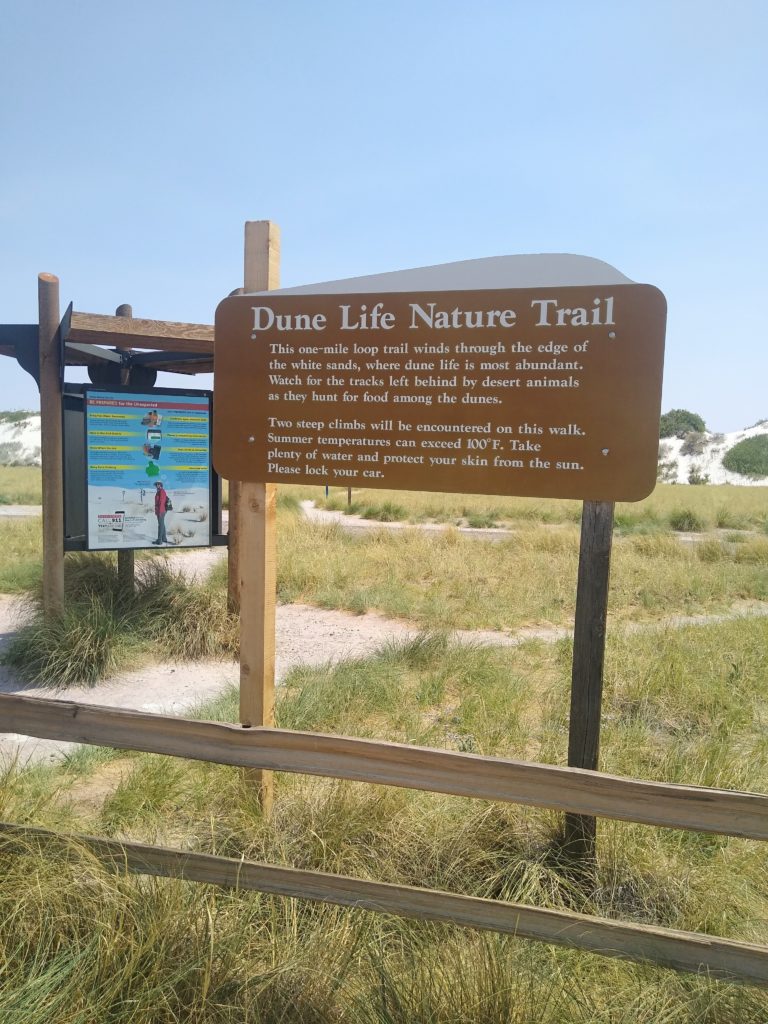 We drove to the dunes first. Entry fee is usually $25 per vehicle for the park, but there was no one in the payment station box. A few cars were just driving through, so we did too. We were surprised, but we were all happy with the freebie lol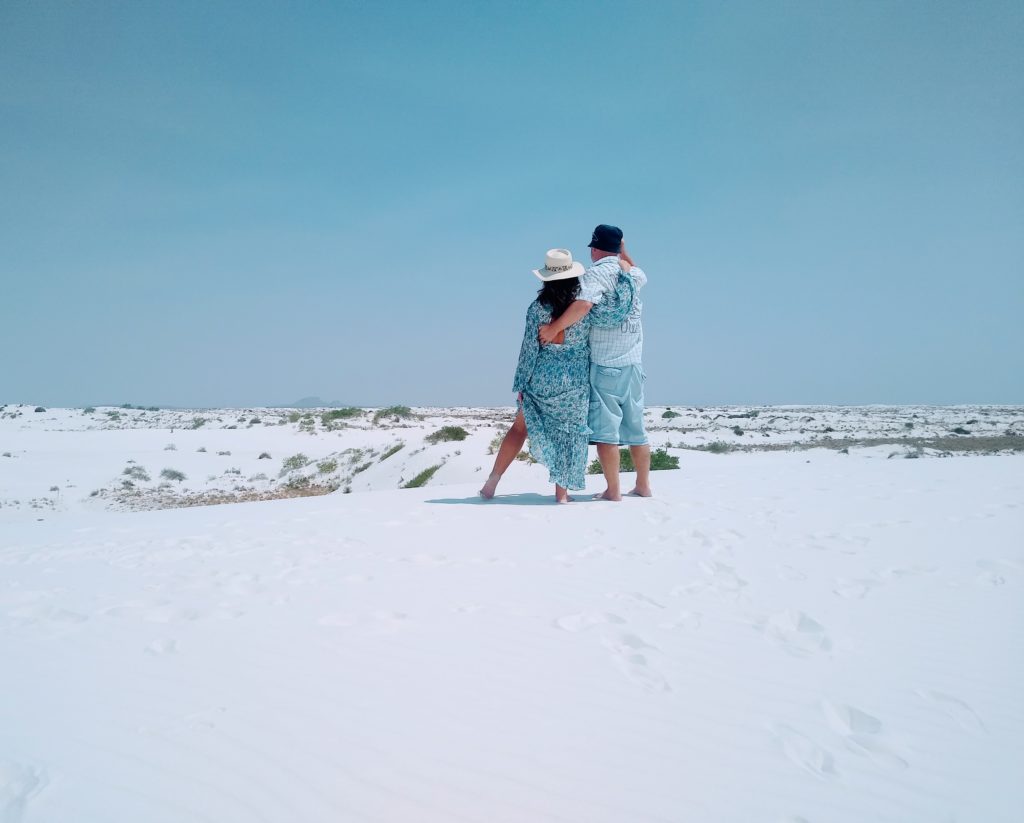 Trip into the unreal desert
White Sands Monument is very unreal, we felt like we were on another planet. There is a blanket of white sand (gypsum) for miles. It is glorious above the hot blue skies. Thankfully when we were there, there was hardly any wind. We heard when it's windy the sand can whip you hard in the face.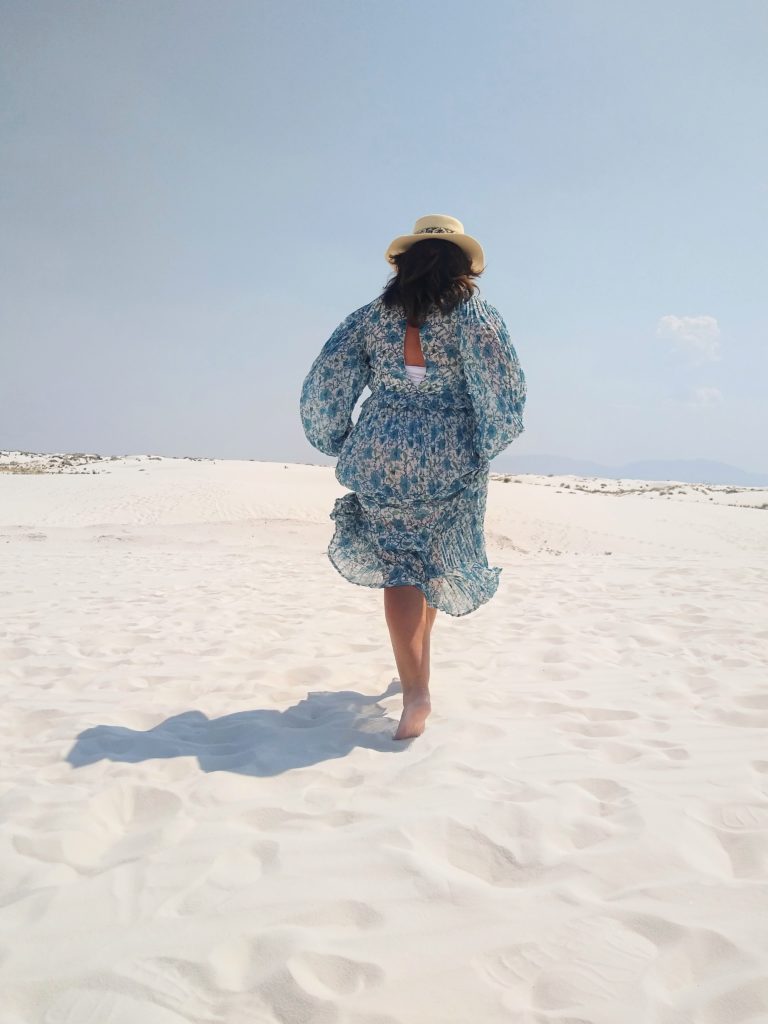 The gypsum is warm but not hot, so you can easily walk barefoot on the fine, spongy sands. It feels good. You will sink ankle deep as you climb the dunes with much effort to get to the top.
Your feet may not be hot, but the rest of your body will sweat. It is hot out there, especially when there is no breeze to cool you down.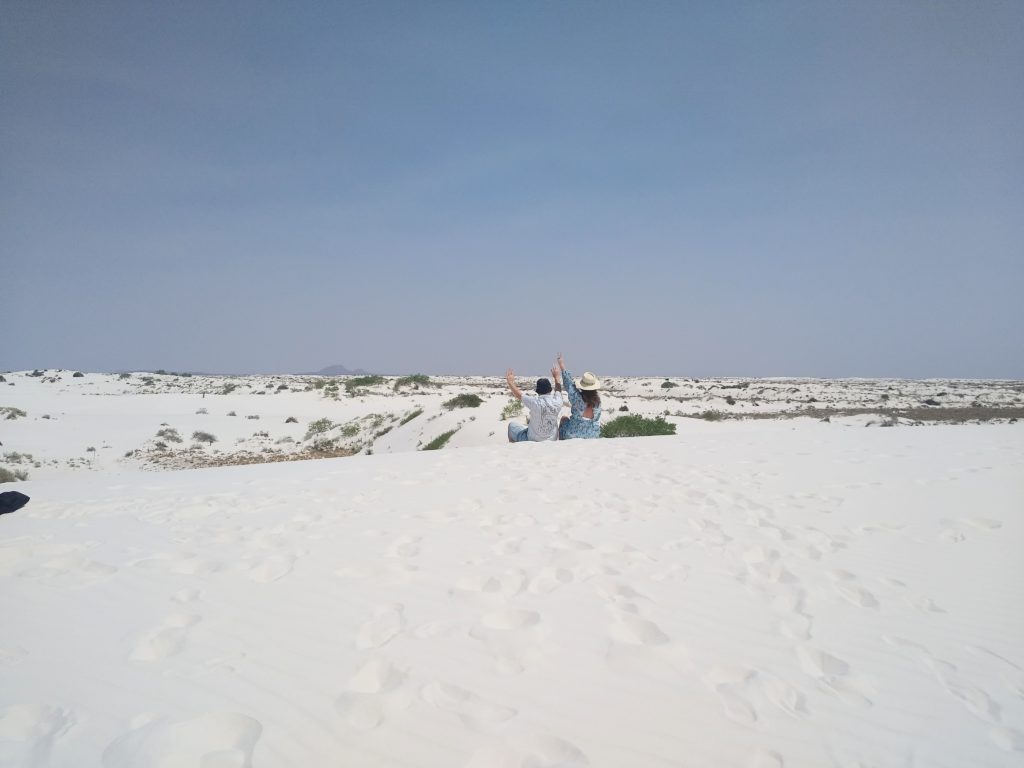 Desert Boardwalk
If you want an easier walking trail, check out Interdune Boardwalk.
It's a short trail and sturdy. It is good for the disabled, young and old, or the ones who don't like their shoes full of desert sand.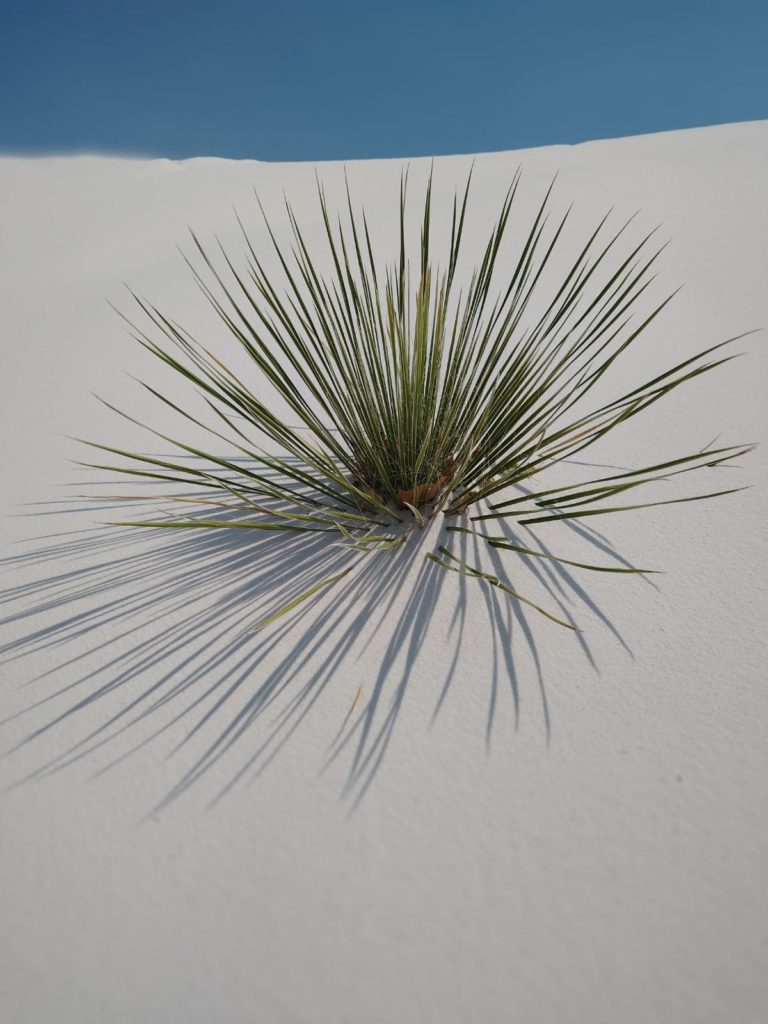 Wonderful vistas
However we have to say, we enjoyed the more dramatic dune sights away from the trail and people. We loved the freedom, the boho barefooted, of no shoes and frolicking with no one around, seeing the vistas at great heights.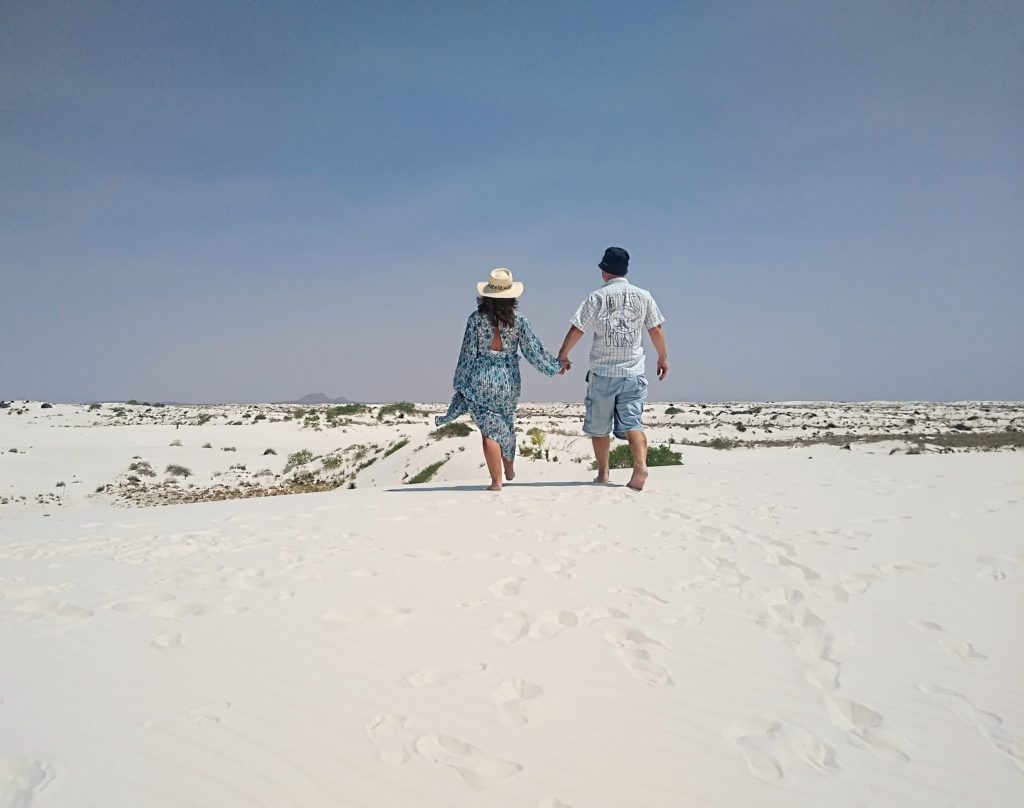 We enjoyed taking pictures and were in awe with the expansive, magnificent beauty of it all. Every angle was like a masterpiece and certainly easy for visuals.
You can also do sledding here. However as sand is not slippery like snow it can take patience and practice until you build up your expertise. You can purchase or rent a board from the visitors centre gift shop or bring your own.
Desert highway – Quirky stops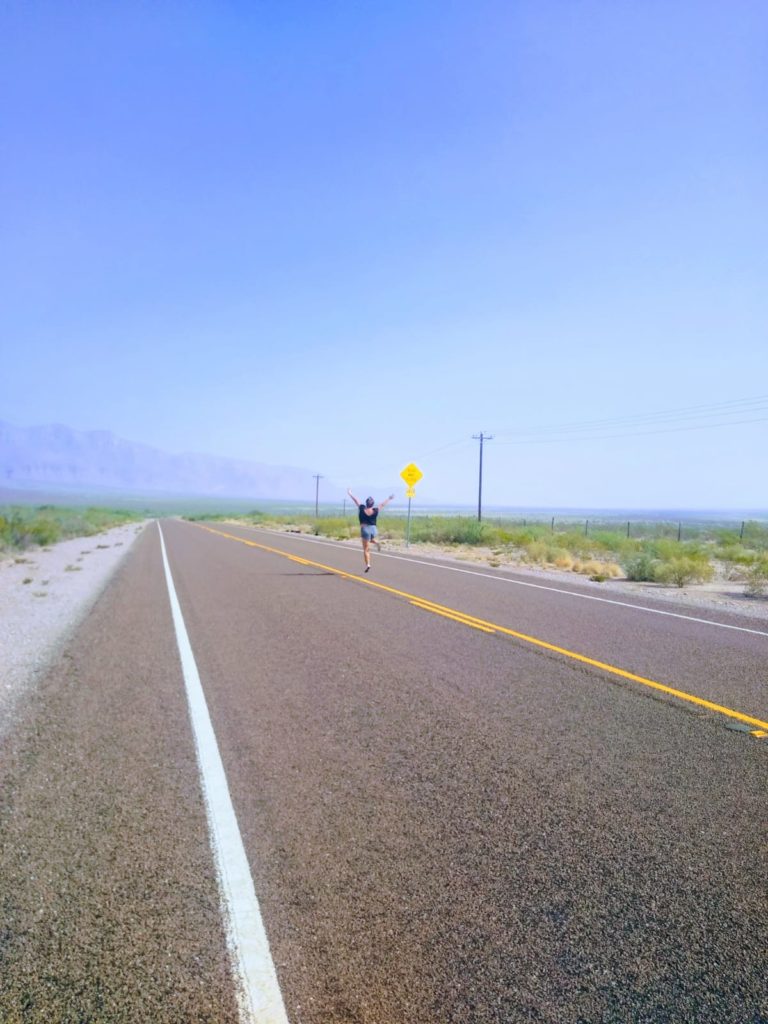 We love finding quirky stuff on the road, that we haven't planned for. The desert landscape sort of draws you in. We always wonder 'Oh what is around this corner'. If you take a short detour and not stick to such a regimented schedule, you can find some amazing surprises.
Apache Camp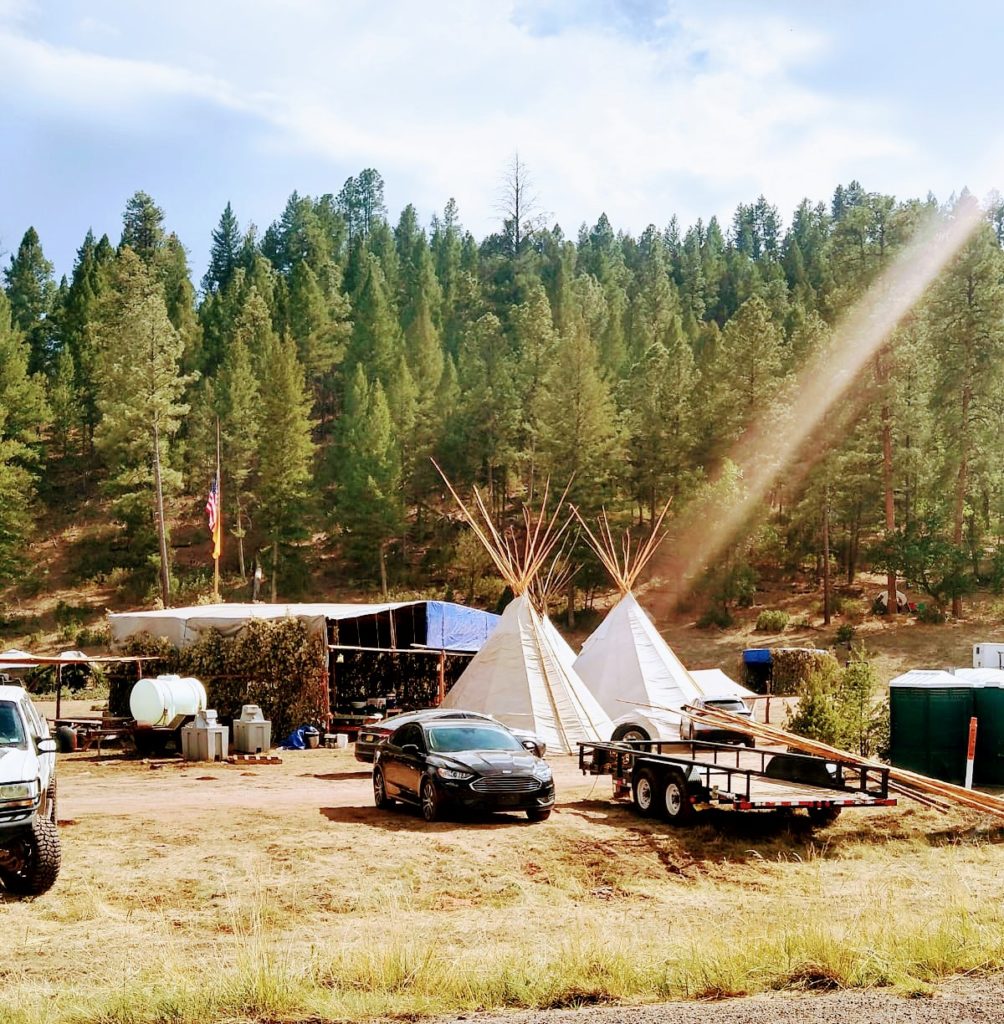 Indian learning
Passing through the Mescalero reservation on the I 70, we spotted a camp with teepees set up at the Mescalero Apache school. All about education of the local community about the ways of the tribe.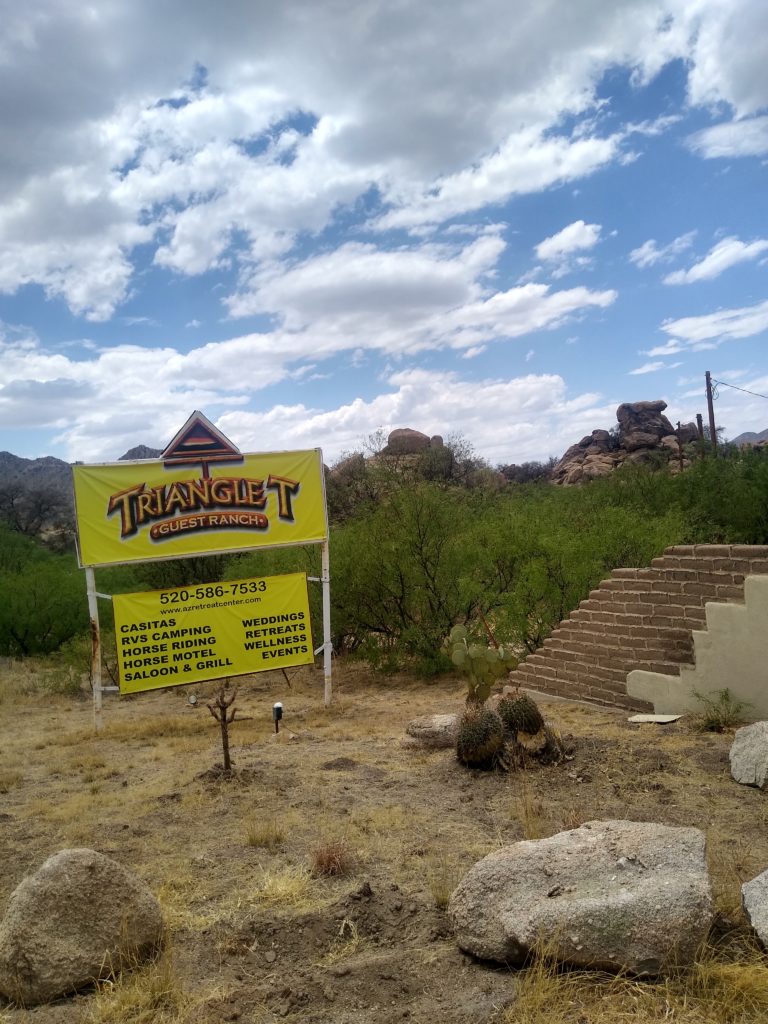 Triangle T Ranch is located just off Interstate 10 between Benson and Willcox. It grabbed our attention because of the rugged spectacular huge mountainous boulders.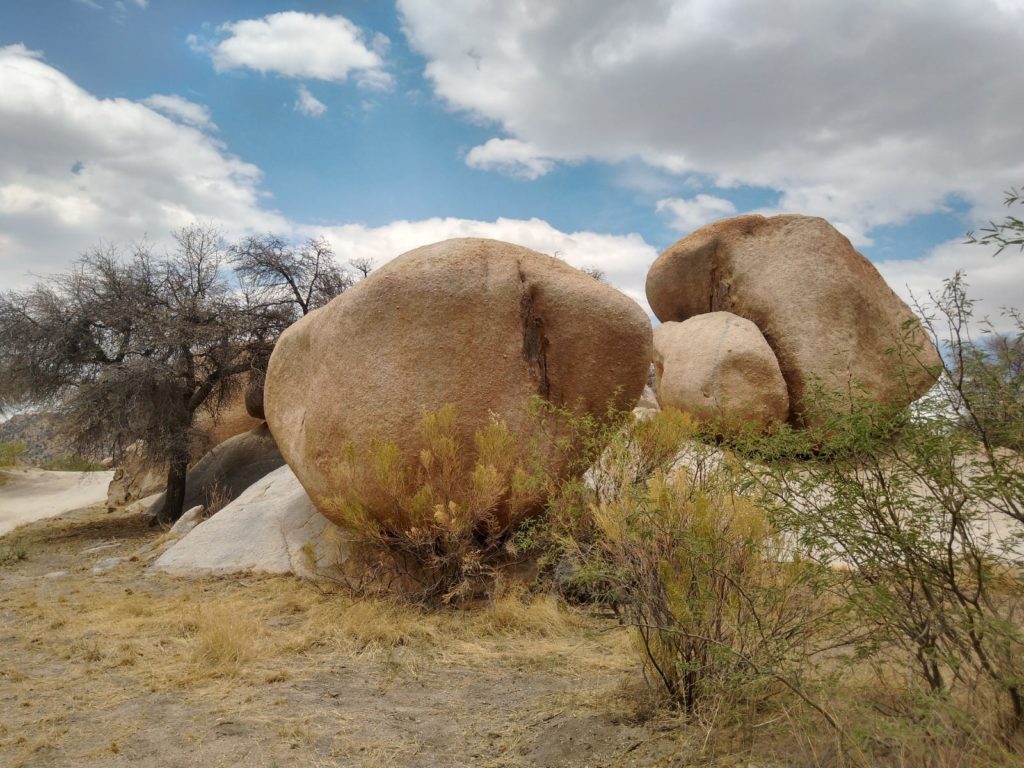 There was also a bush fire close by sparking in the area.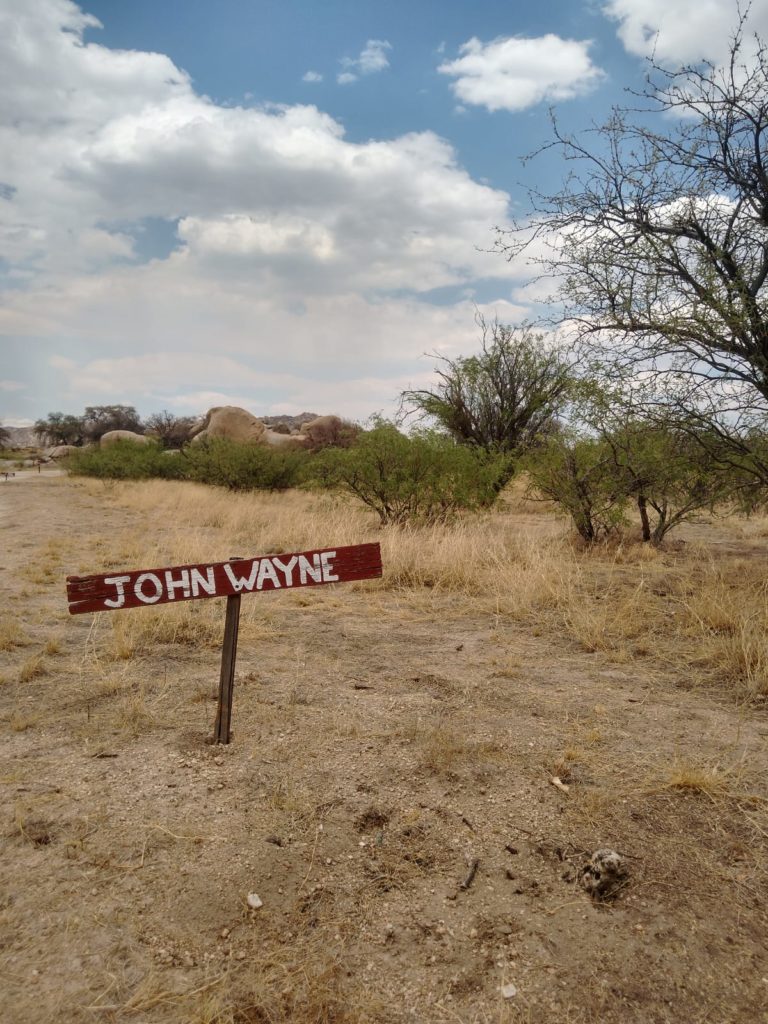 It was a pleasant surprise to learn that it had been a film set. You will see wooden plaques with the names John Wayne and Gene Hackman among others as you drive into the entrance.
It also hosted President John F. Kennedy and General John J. Pershing, and during World War II.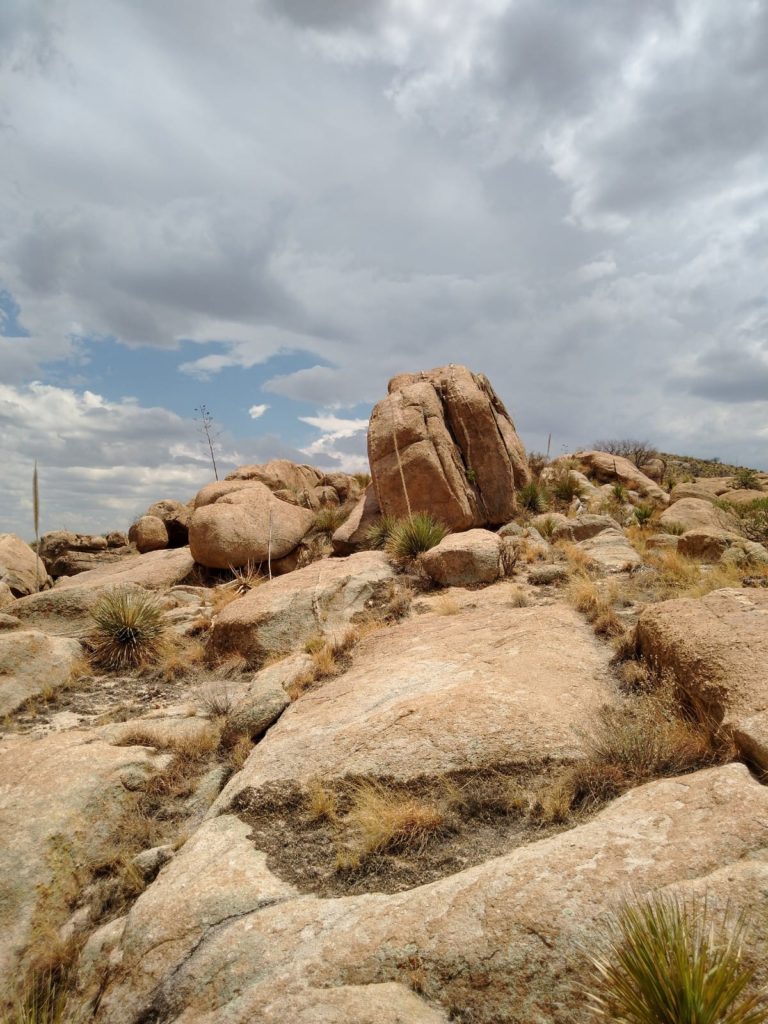 If you would like to soak up the atmosphere and explore every nook and cranny of this place, then be sure to book one of their cosy cabins.
Amerind Foundation Museum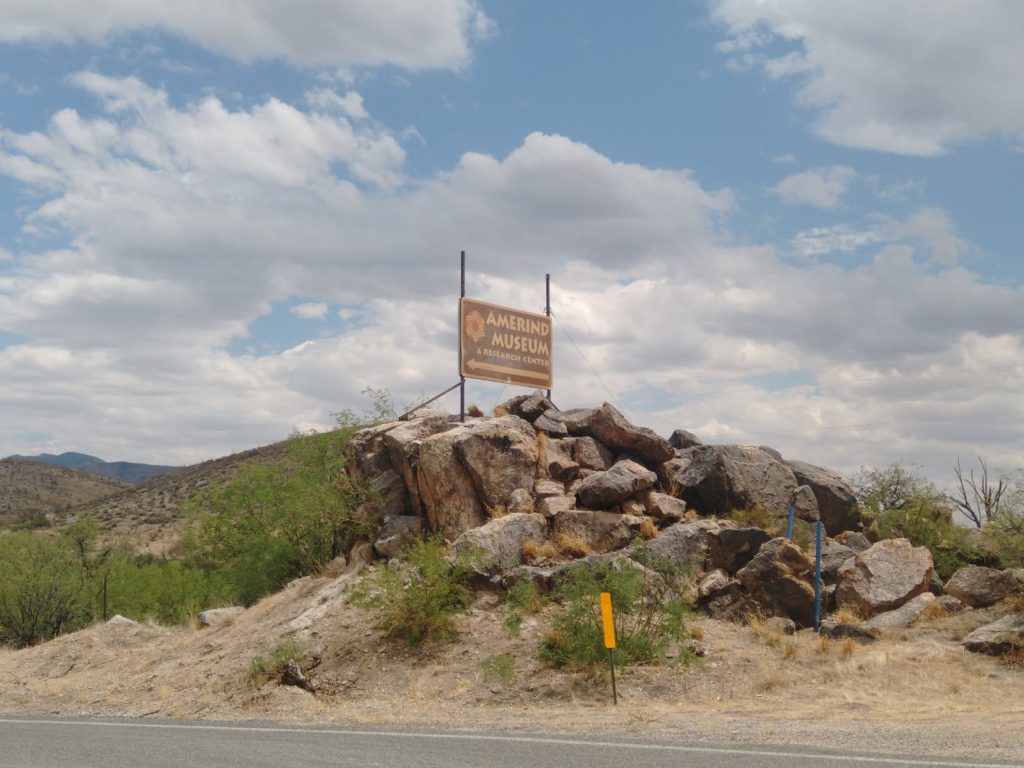 Art, history and research centre, as well as terrific scenery dedicated to the Native American Indian people. The Amerind museum was established in 1937 to promote knowledge and understanding of the Native American people in this desert land. Our luck, it was shut but we did have a walk around the grounds and take in the Dragoon Mountains. You can also hike a trail up to the bird viewing area.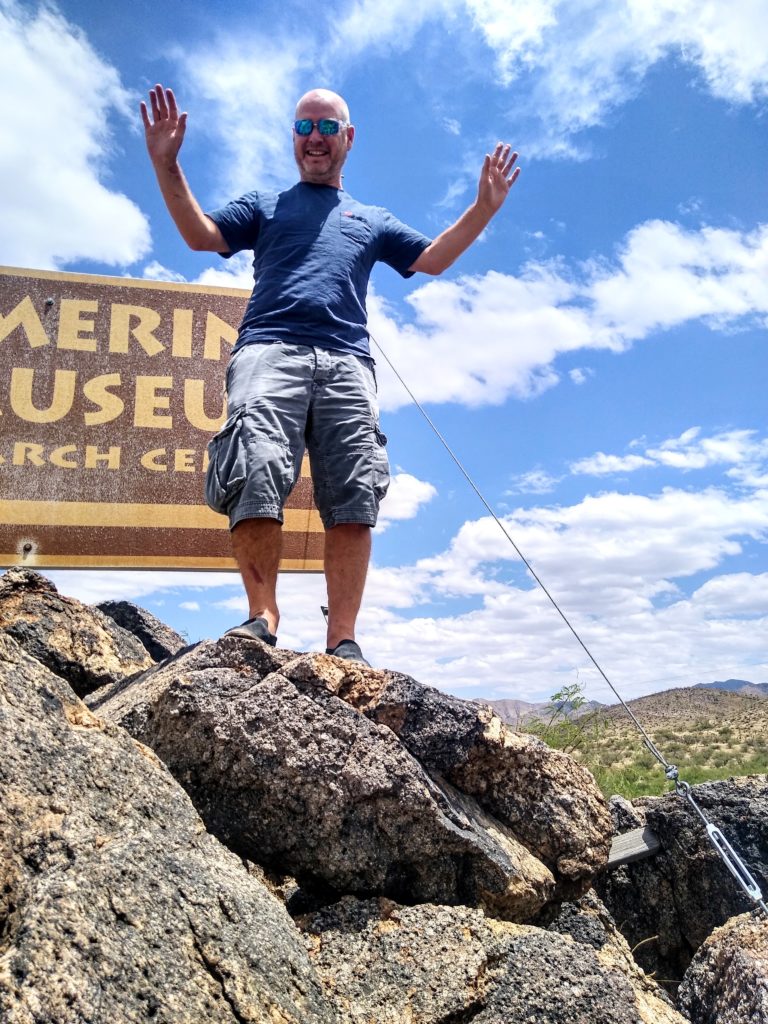 There are events that take place during the year, when you can hear about the history about the indigenous culture from the eyes of the Native People themselves. Also if you're lucky you can find Indian artists demonstrate their skills in the main museum gallery.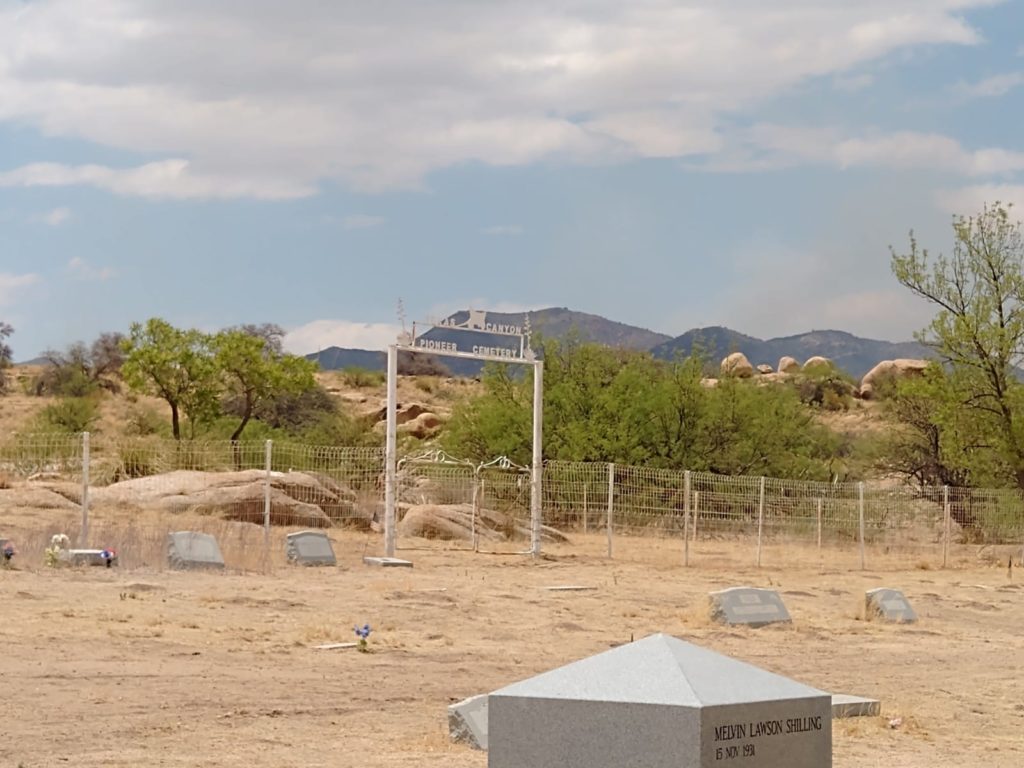 An interesting find in the grounds close to the Amerind museum, was the final resting place of Texas Canyons earliest settlers and their descendants.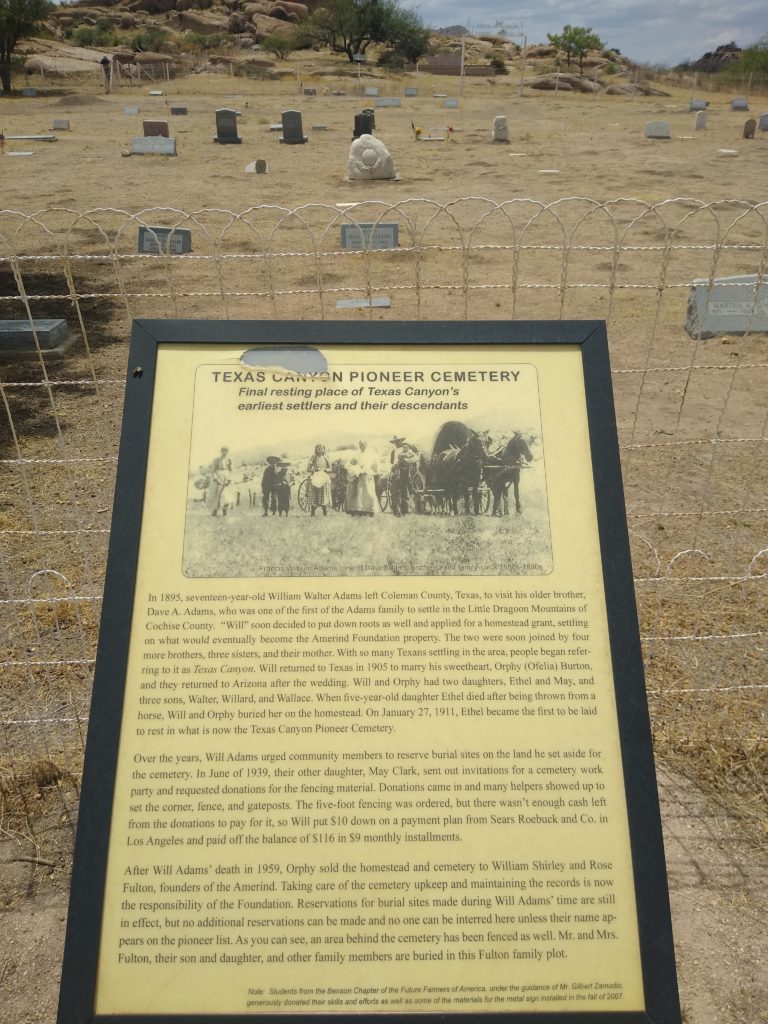 The first grave I (Miko) came across was of someone called Martha.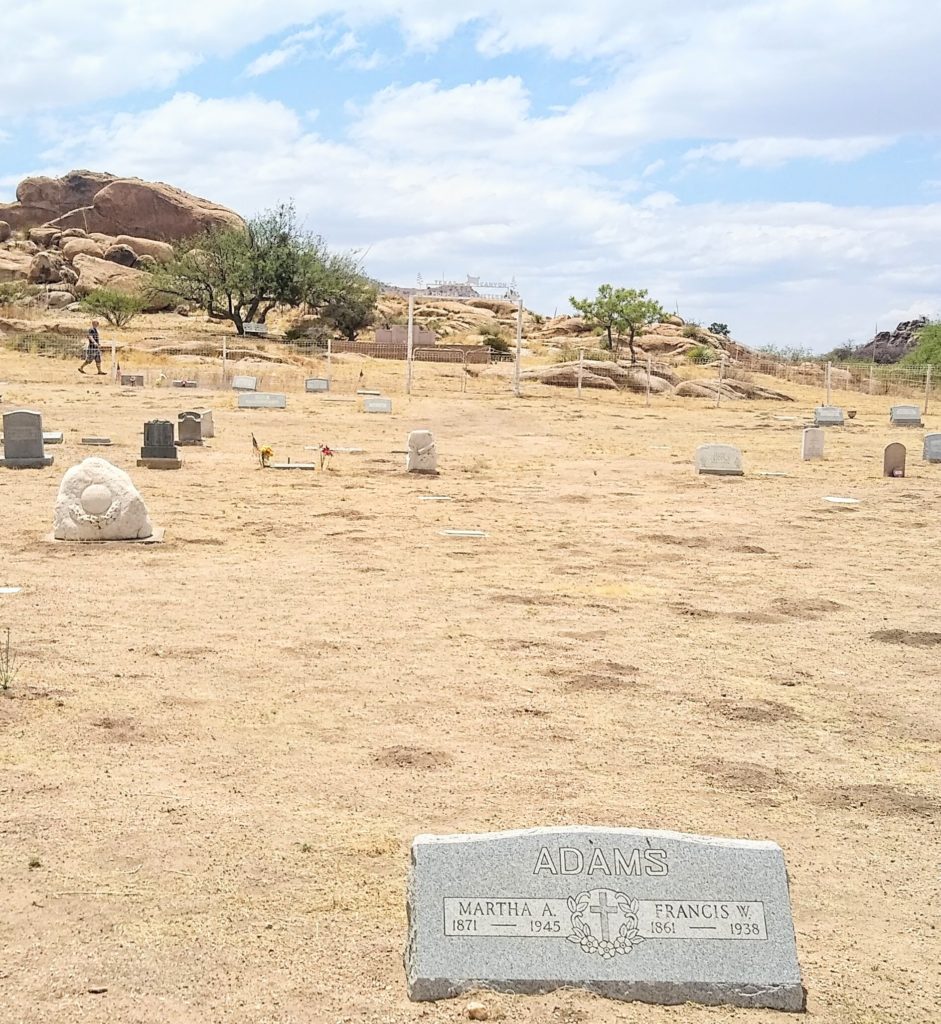 Martha was my mum's name. I'm sure she gives me a sign sometimes if I'm not up to par!
The graveyard was well kept and pretty as a picture, but in a way lonely and isolated in a tough environment.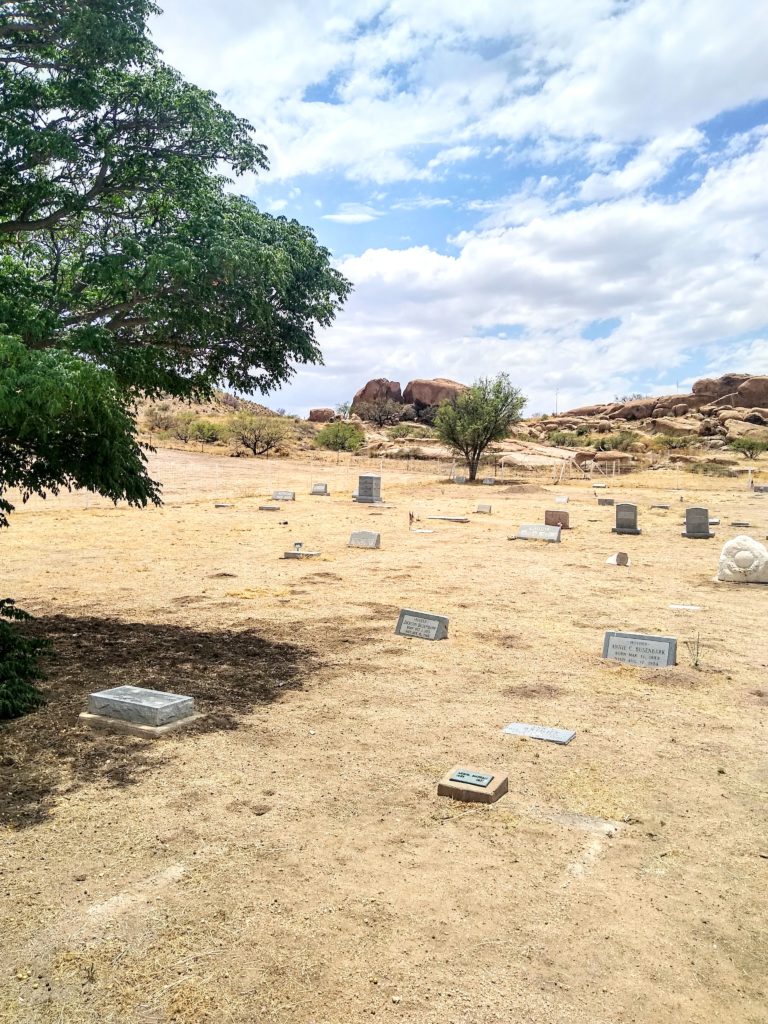 Tuscan, Arizona
Our drive from White Sands to Tuscan, Arizona was breathtaking scenery on the road throughout, it's not all desert, you will see mountain ranges and huge boulders on the way.
You are most likely here for the Saguaro National Park, you'd be a fool to pass through these parts and not go, you will see amazing cactus on your journey, which will give you taste for the bigger awe inspiring ones in the park.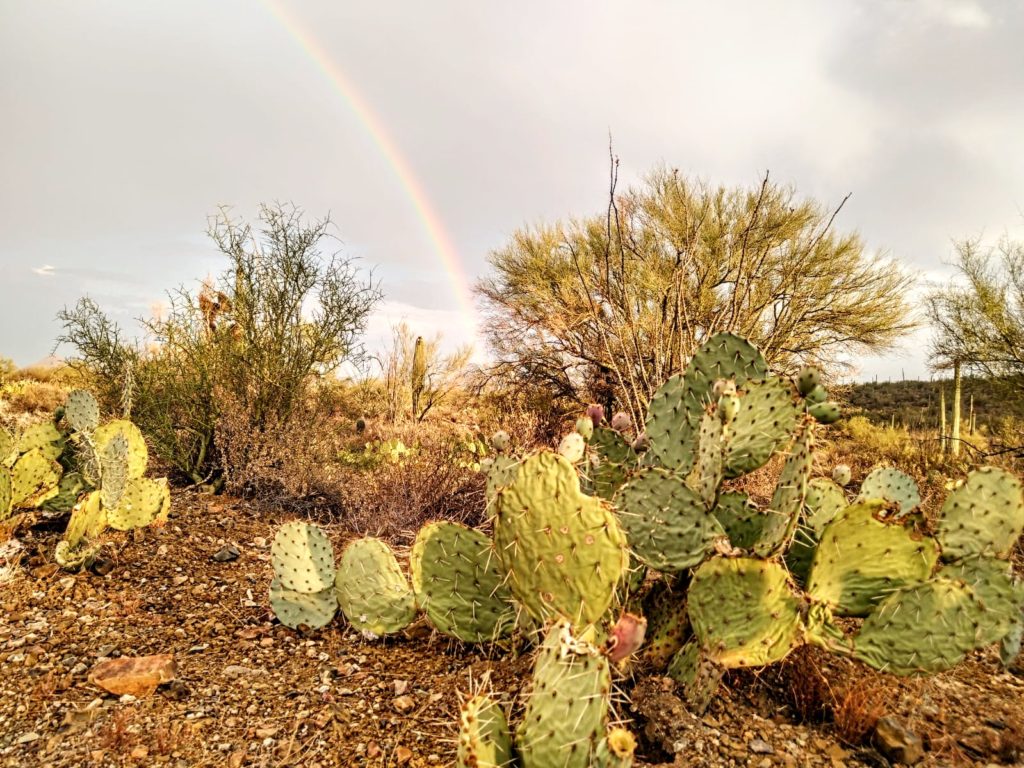 Saguaro National Park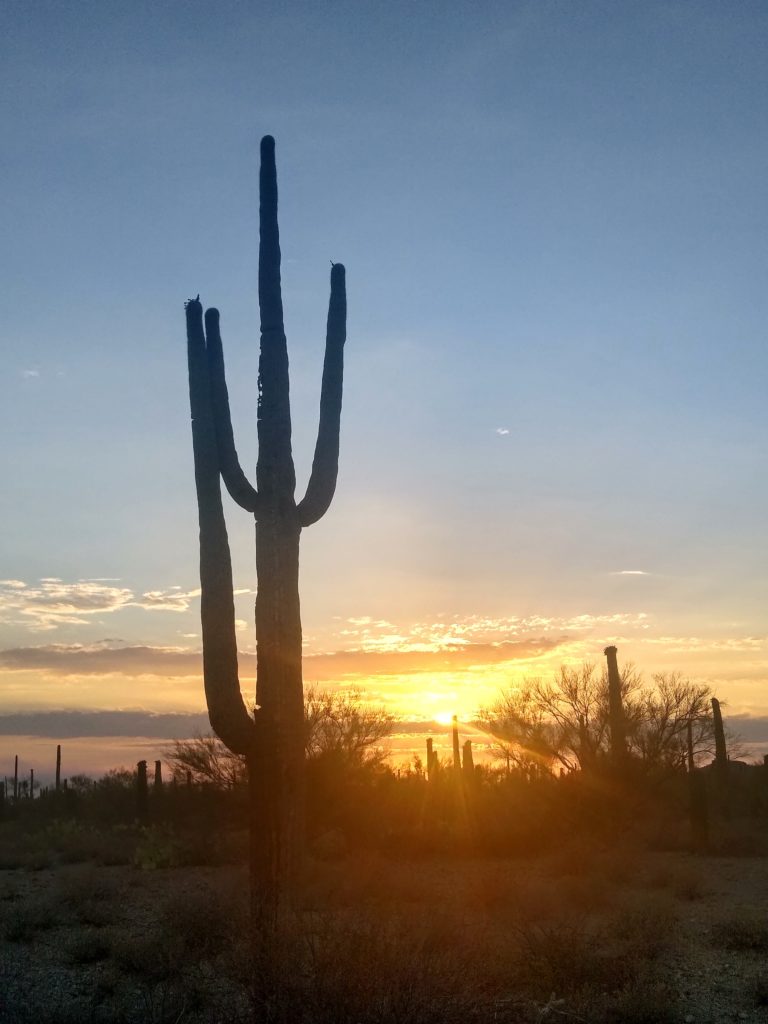 We just had to go at sunset. There was something magical about seeing cacti in the desert bathed in the fiery Orange sunset. With Arizona's wide, expansive sky the stunning sunsets are like something so unreal, you can't touch it, but yet it's there in all its glory. Nature is amazing.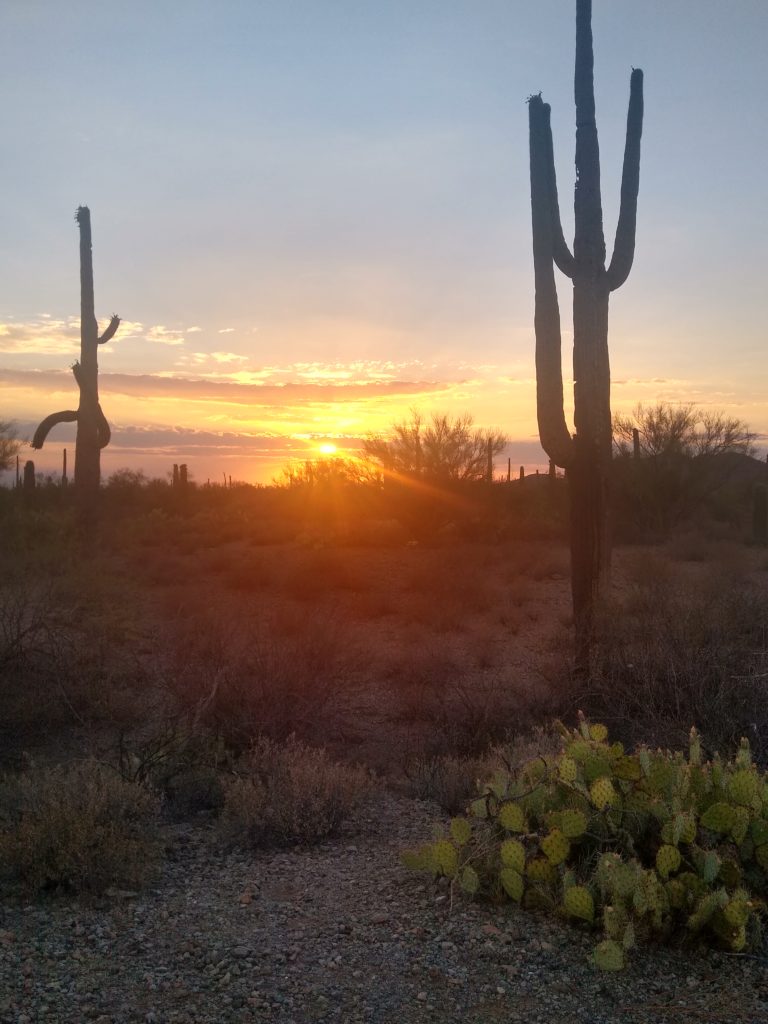 There are cacti of all sizes, some human-like, tall with arms outstretched.
Some ground level, all huddled together in a circle.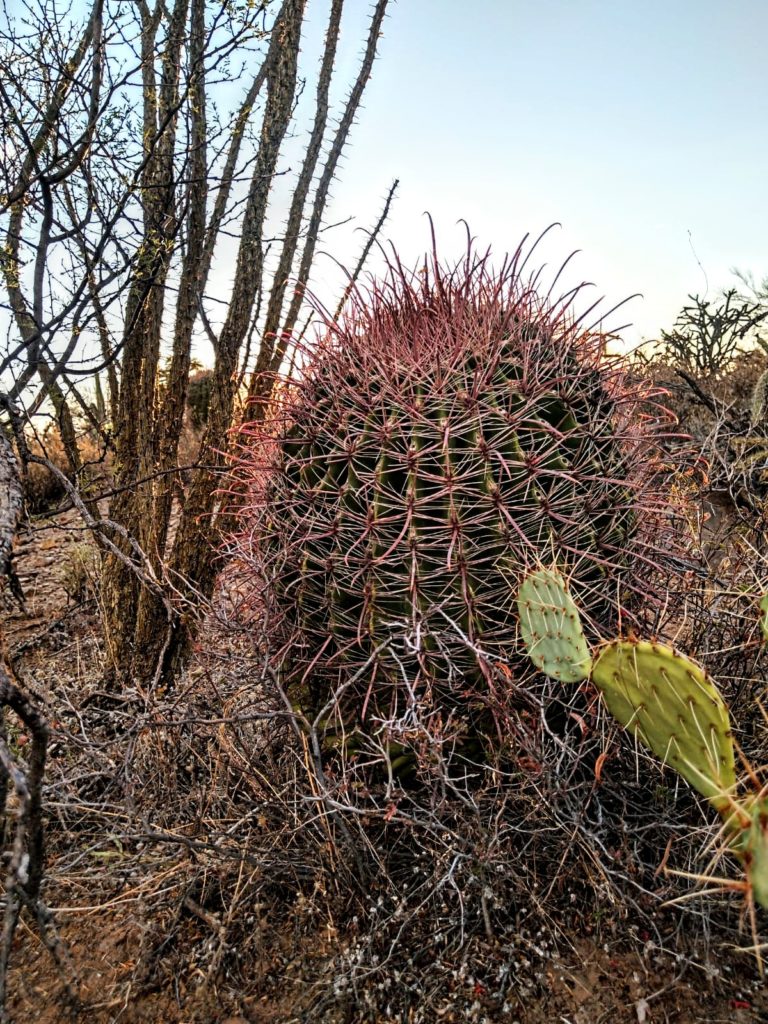 Ever hugged a cacti?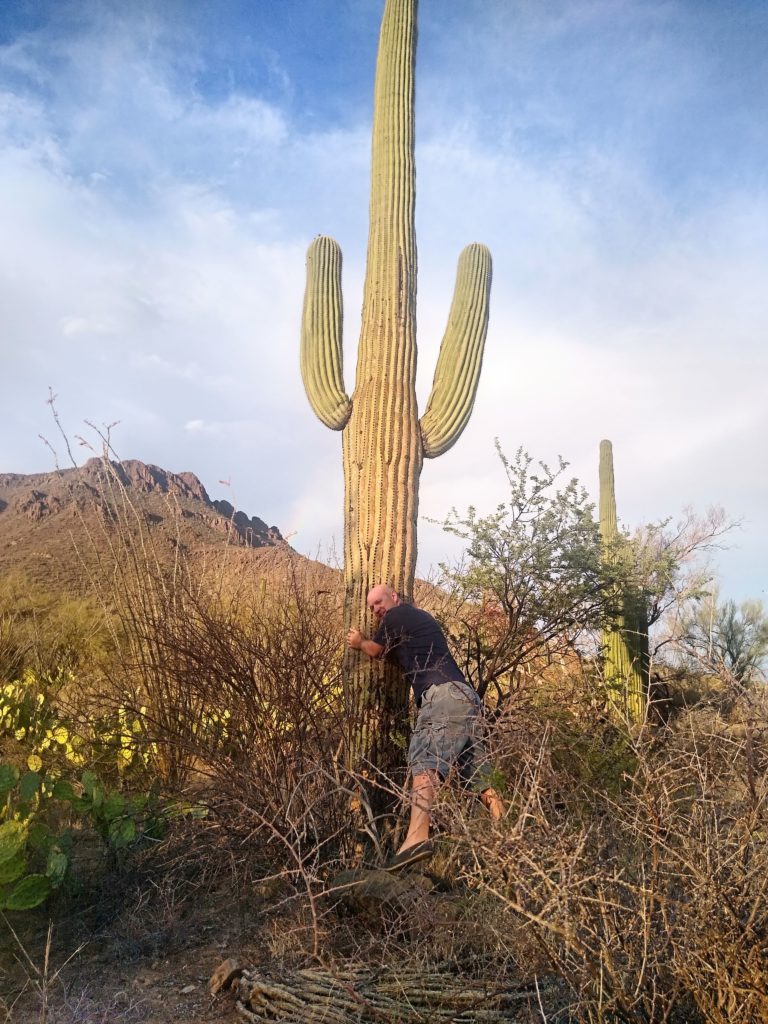 Prickly Desert
We don't recommend it, they can be quite prickly lol Be careful of the smaller ones, especially the 'jumping cholla', they can catch you unawares, drop of and attack you, sticking to your clothes or the bottom of your ankles, pin pricking you until you painstakingly pick every last little bugger of barb out of your skin.
We picked some out of our clothing, legs and arms, as we got out of there fast. However, it surely wasn't as bad as my (Miko's) time in a rudimentary Indian hospital, when a doctor used a scalpel, without a working anesthetic, to cut out a cacti thorn that was embedded in my infected ankle, after a drunken fall in a bunch the night before! The screams as the scalpel went in and the electric cut out was enough to wake the whole of India!
We parked up in a quiet spot. There are plenty to pull in on the way to the actual park. There were a few other cars in the area, we all had our own private spot, you wouldn't even know anyone else was around but us.
Life in the desert
The smell is outstanding, take a deep breath in and smell the freshness, like rainwater and ripe melon. Musky sweet. Do you know cacti in the wild can live for hundreds of years! Right on top of the Saguaro cactus, will produce snowy white flowers from April to June. They have got such a fragrant scent, that they attract bats, who poke their nose into the blossoms for nectar.
We stared in awe at the sunset as it sat behind the cacti in the desert sky, giving hope for another day tomorrow. The glow radiated it's glorious energy all around and for once we took time to stand still and take in our surroundings. That's until…
Car problem?
Just as the sun was going down, we noticed a drip from under the car. S*#t! Costa Rica memories came flooding back. We both haven't a clue about car mechanical issues, so a quick Google search brought up the worst case scenario, as Google usually does!
'Oil leak, do not drive the car, highly dangerous, it could ignite!'
We had no option to drive,so we kept going until the nearest garage, we were low on fuel too, but at the same time we noticed an auto parts shop at the back of the station.
O'Reilly Auto Parts
A good old Irish name for the shop. Sam had no hesitation in helping us. He got under the bonnet, straight away he said, 'Compensation'. We both laughed with relief lol
Knox had a cheek to ask him to check a few other things out that could be an issue.
Sam was definitely our wee angel, as it saved us a sleepless night and hanging on the phone to Avis assist all night. Sam got beer money. Best tip ever spent lol
Montezuma, Arizona
This was real life in the desert
Montezuma Castle National Monument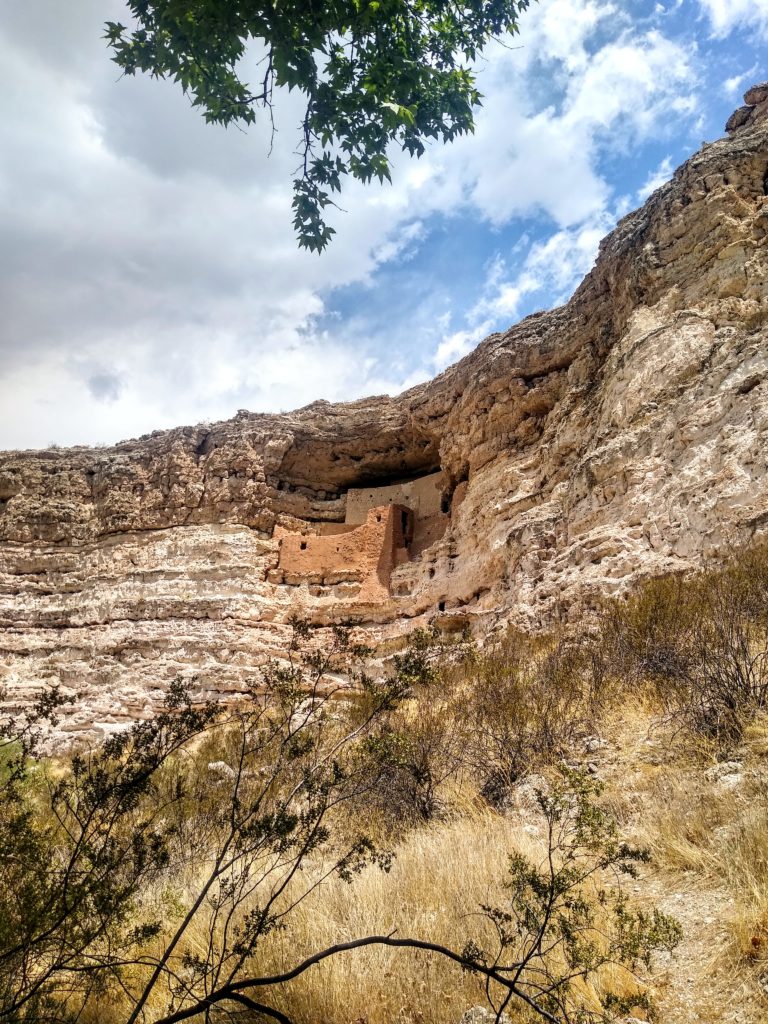 Located in Camp Verde and built by the Sinagua Indians, indigenous people in approximately 1100 and 1425 AD. The ancient building is very striking, built into a recess in a white limestone cliff about 70 feet above the ground.
Entry
It is $10 per person entry fee. Even though the structure is fascinating, we found this a bit over priced. We were told that it takes 30 minutes to look around in, when in reality it takes 15 minutes max.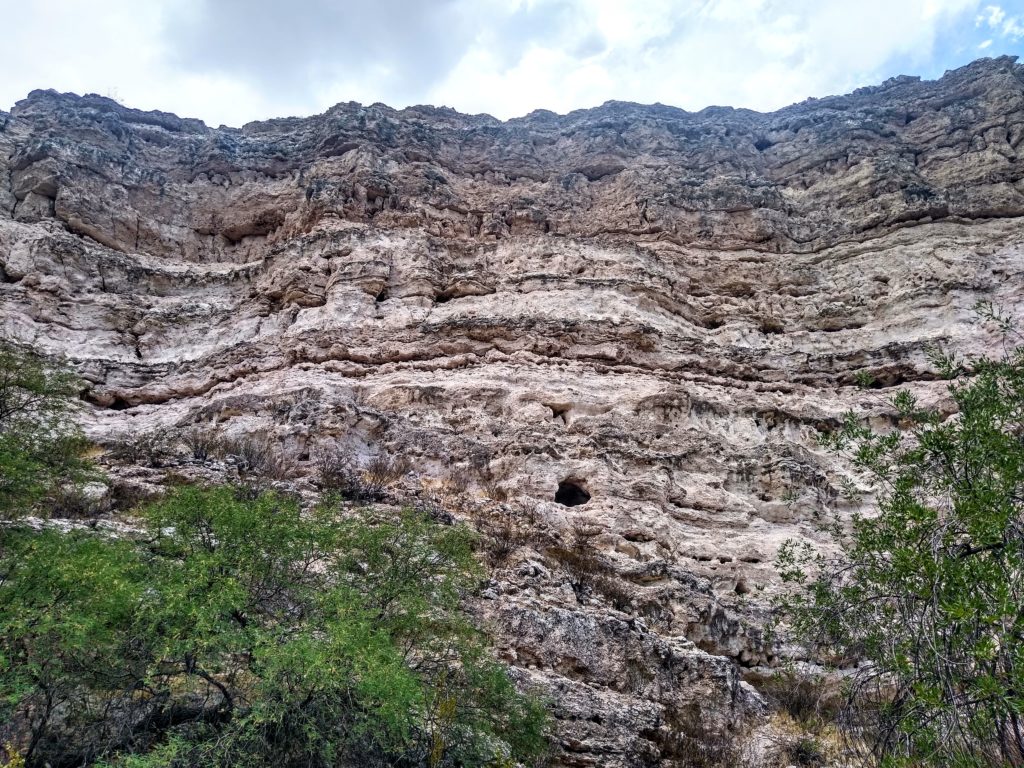 Montezuma Well
The national monument also includes a well, a flooded limestone sinkhole, a few miles northeast of the ruins. Due to lightening, the well was closed off, but we did manage to get the surrounding area.
Sedona
Whether you believe in the power of vortexes in the spiritual energy of this place, you will still be in awe of the breathtaking surroundings.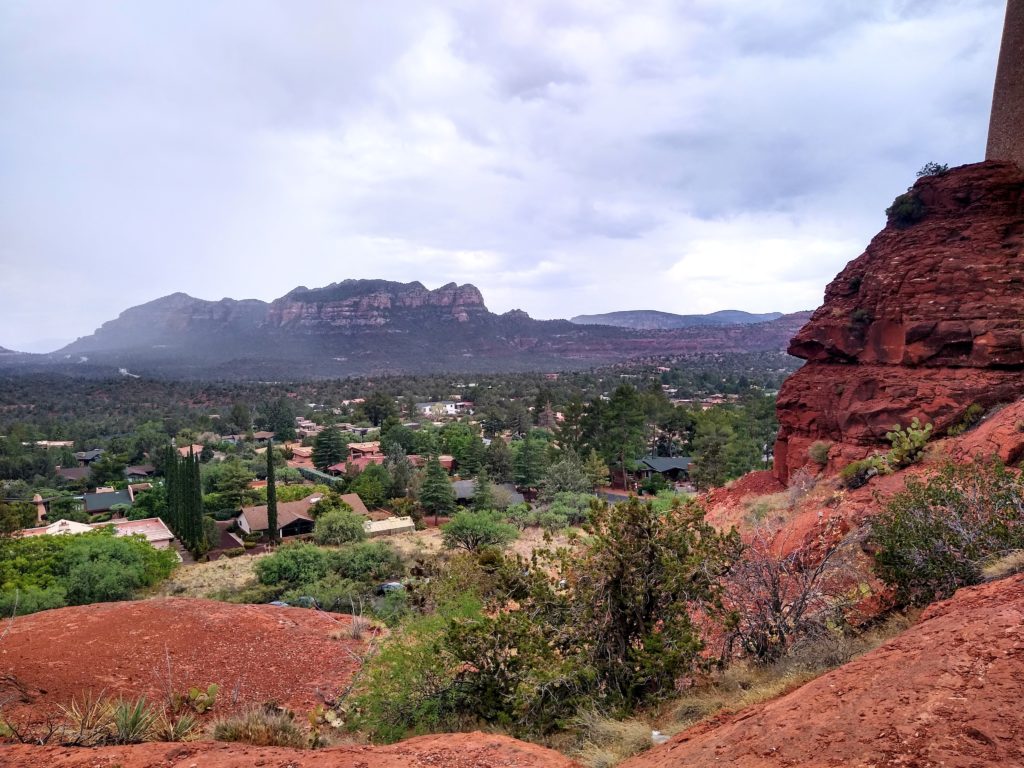 Sedona is not only about visual beauty, there is a spiritual feeling there also. You may come with worries on your shoulders, but leave lighter, recharged and revitalised. A place like Sedona makes one put everything into perspective. So once here, switch off and embrace the powerful force and vigor.
Vortexes
The main vortexes are Cathedral Rock, Airport Mesa, Bell Rock and Boynton Canyon, each special in its own right and radiating positivity, healing and energy. Visitors can enjoy miles of hiking to each point. You will be rewarded with sweeping vistas all around.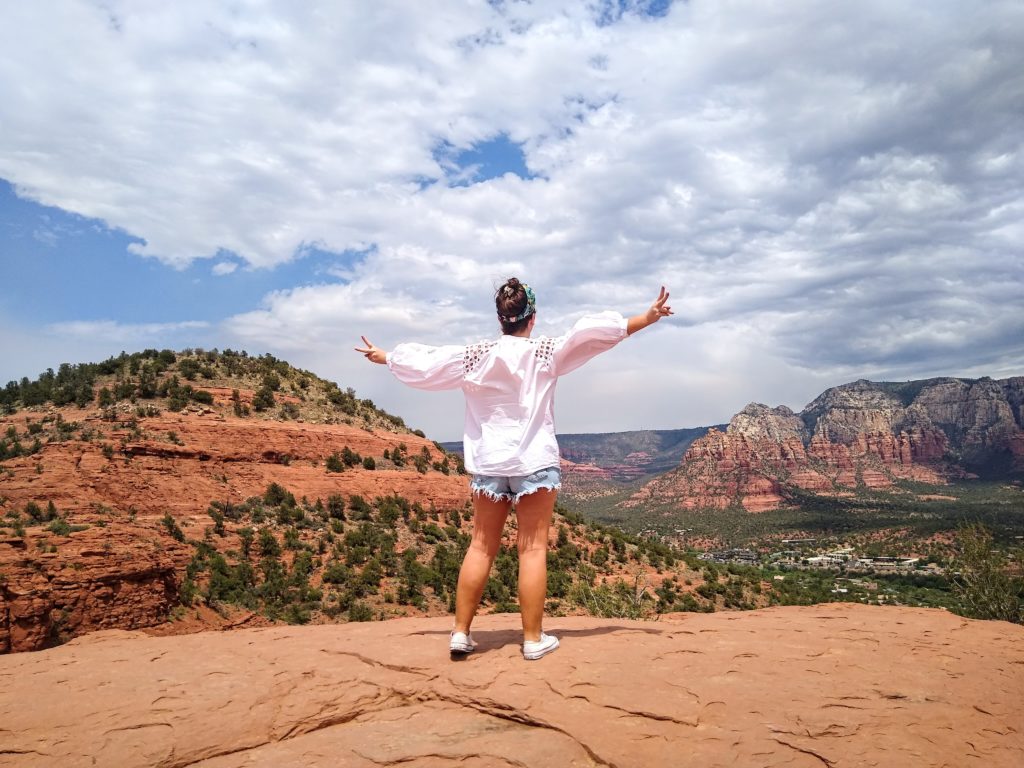 Vortexes are said to heal the body and mind,to help you think more clearly and get clarity. A lot of people flock here for spiritual enlightenment.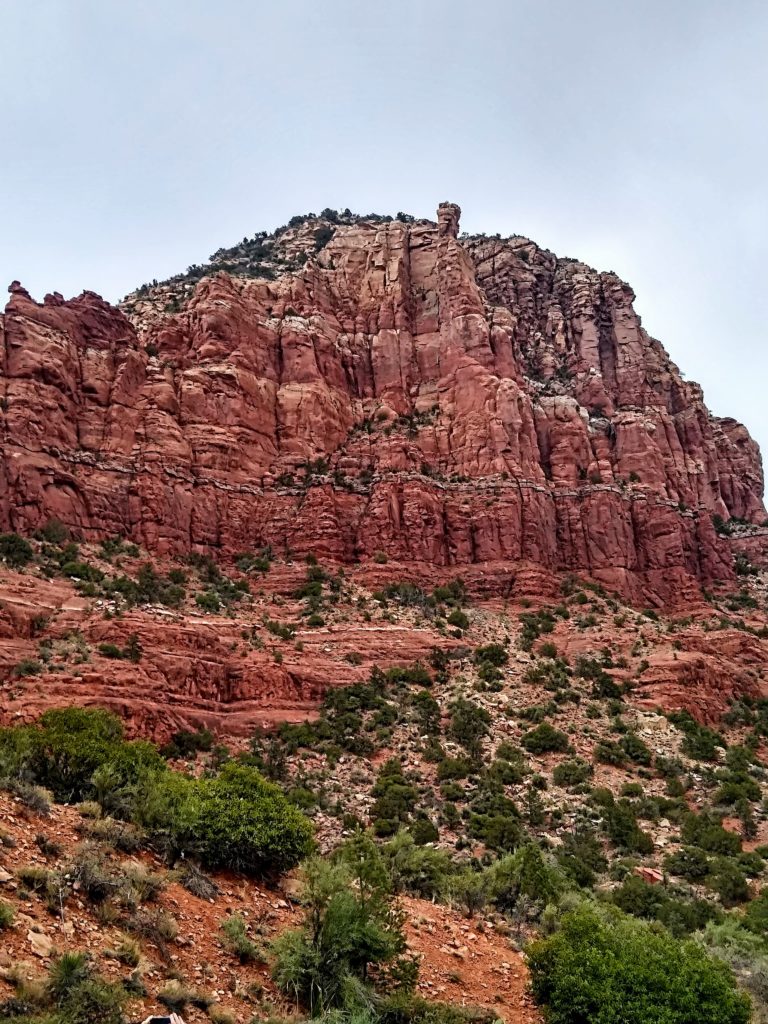 You will find many, meditating, doing yoga, praying or just walking, hiking, taking it all in. You can find quiet time too, away from the crowds. Take a moment and see.
Chapel of the Holy Cross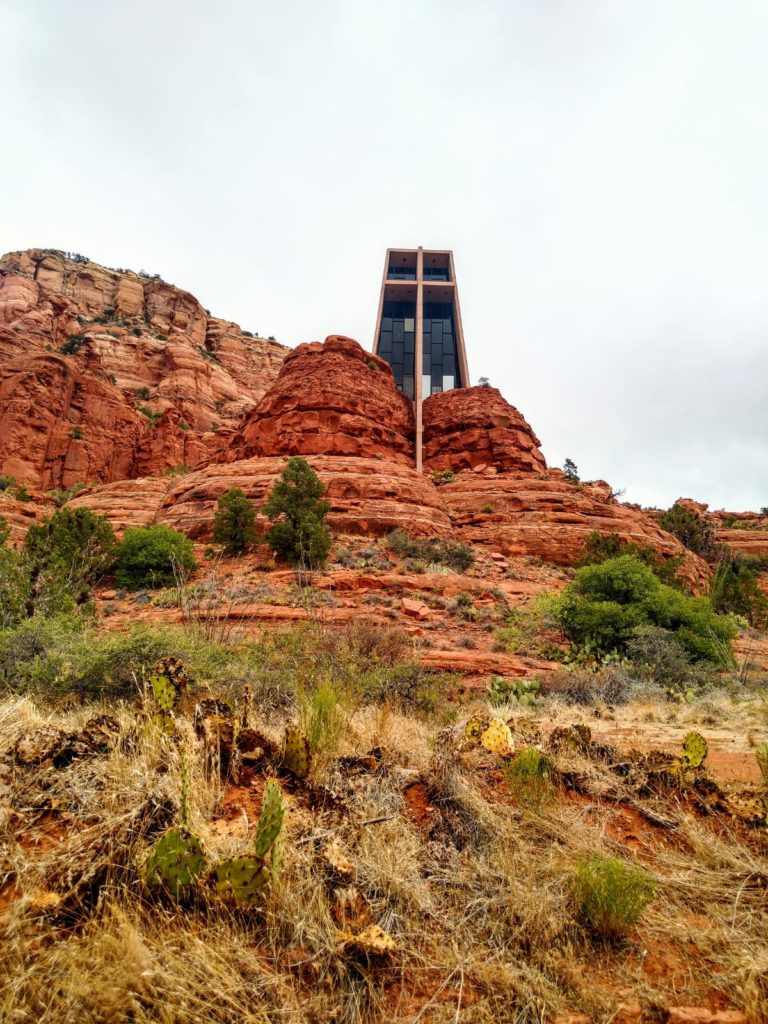 Completed in 1955 the Chapel off the Holy Cross sits atop of the dramatic red rocks. It has a charming, architectural design looking over the most extraordinary Vista's.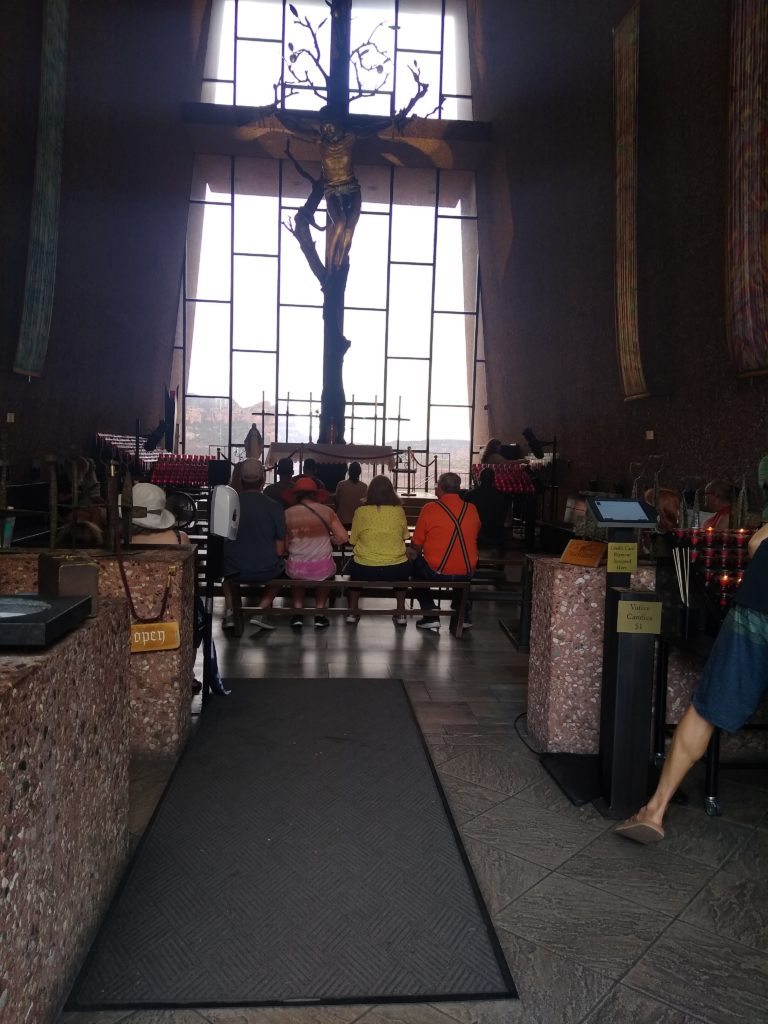 It can be busy with tourists but somehow it's still got a hushed atmosphere. Inside the chapel is peaceful and tranquil. If you like you can light a candle and remember the ones you love or just give blessings.
The chapel was commissioned by sculptor Marguerite Brunswig Staude, who worked with project architect Richard Hein and architect August K. Strotz to complete this architectural delight.
Our only negative gripe is that there was a gift shop, down the stairs in the chapel! Really?!
Amitabha Stupa and Peace Park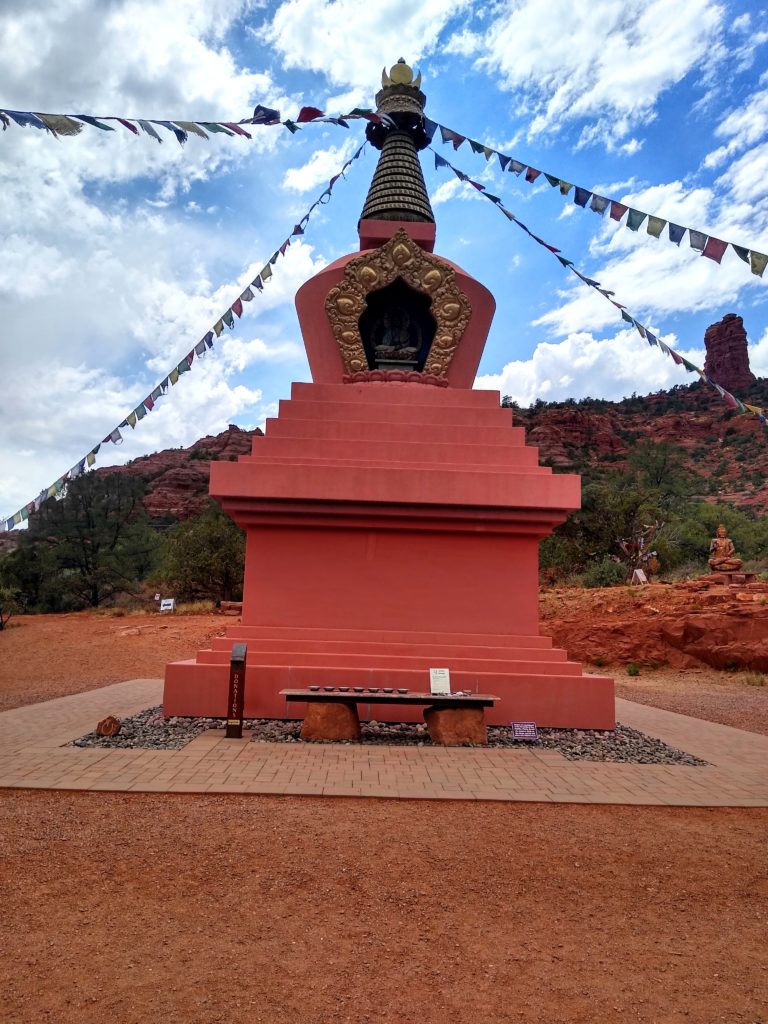 A short trek brings you up to Amitibha Stupa and Peace Park. It is a Buddhist park for meditation and reflection. Buddha Amitibha means Buddha of infinite Light.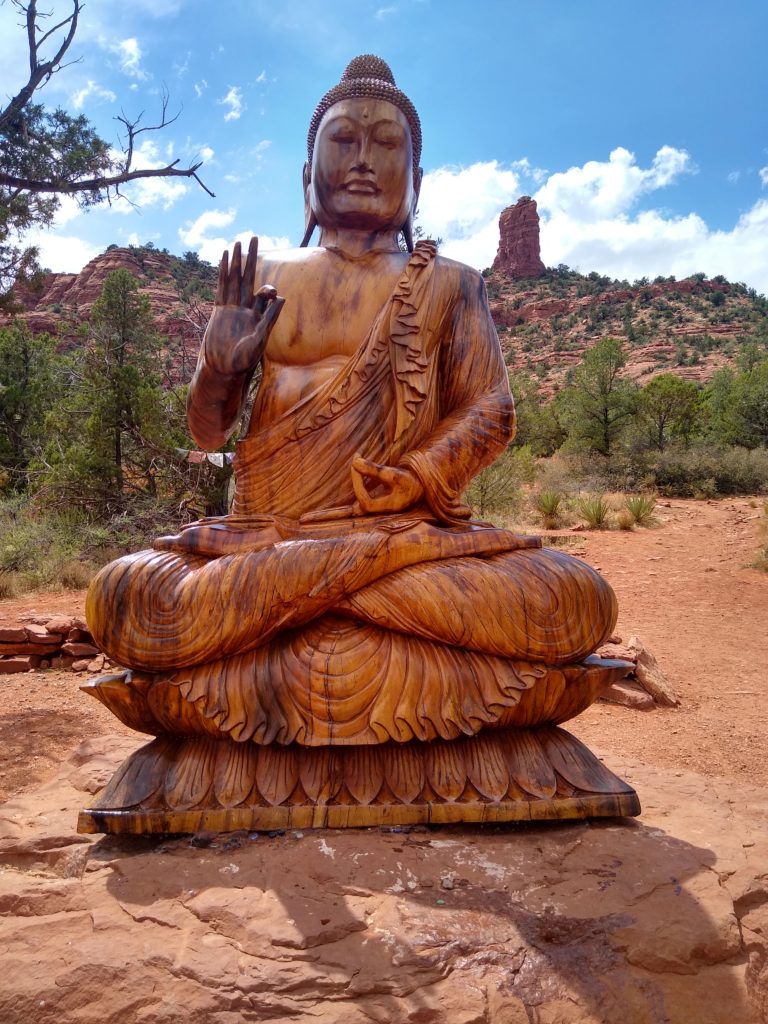 As you go onto the park, you will come to the 36 foot Amitabha Stupa and the smaller Tara Stupa for prayer, meditation and healing.
Prayer Wheel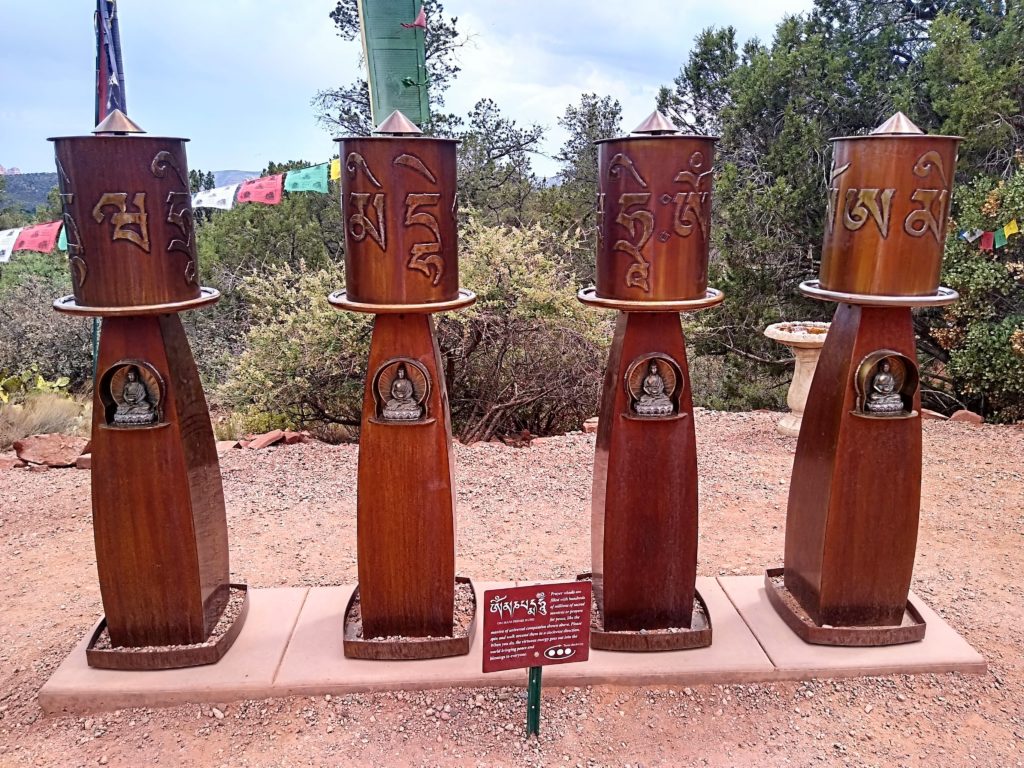 To the right you will also see the Prayer Wheel, which is filled with millions of prayers and mantras. Spin the sacred wheel and walk around them clockwise, three times, bringing blessings. You can fill in a prayer request personal to you as well.
A Path to Peace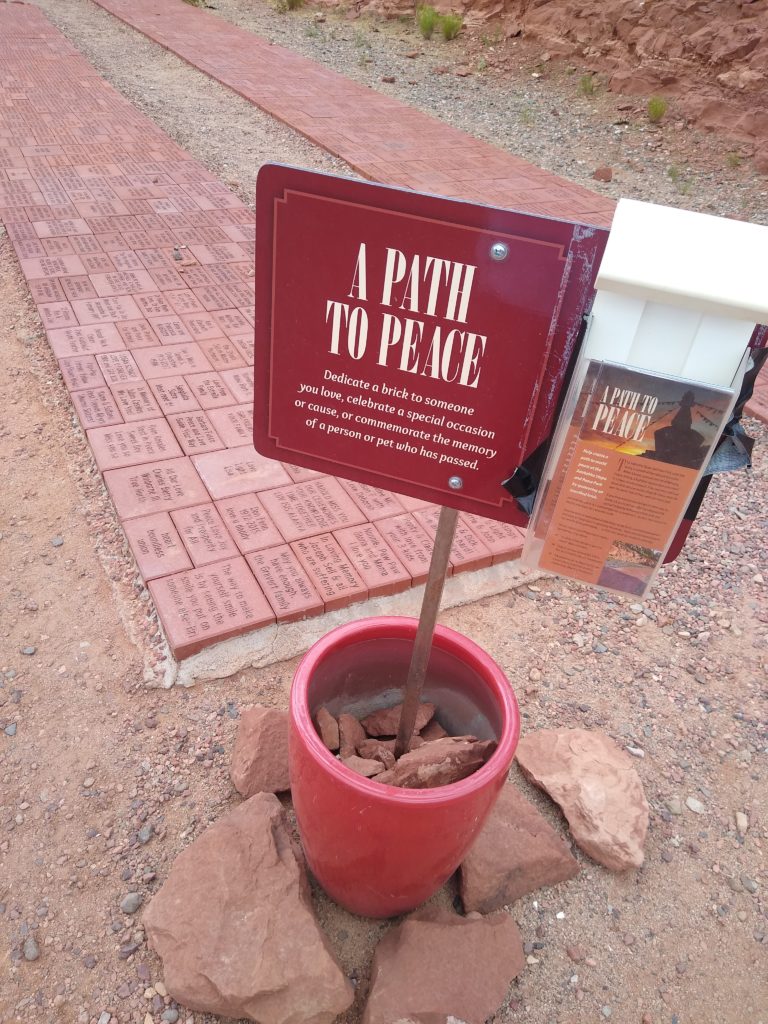 Dedicate a brick to someone you love, celebrate or someone who has passed. Whether that's a person or pet. Each little brick has a message, which will make you think of your own loved ones.
The Medicine Wheel
The Medicine Wheel is the cathedral of the Southwest. A powerful sun dial and it marks the seasons and the movements of the sun.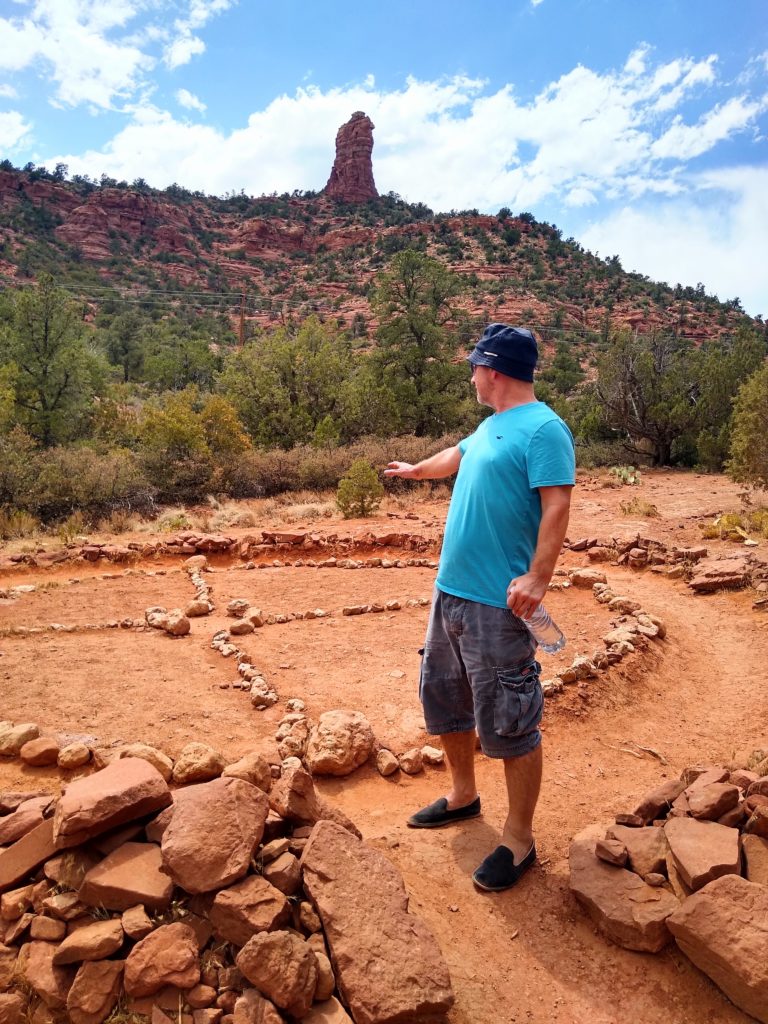 A scared space for prayer and meditation. Focus on your spiritual growth, healing and rituals with good intentions.
The town
Sedona town is quirky and relaxed. It's got a new age vibe, with lots of crystal stores, fortune telling, well being establishments, gift shops as well as restaurants and cafes.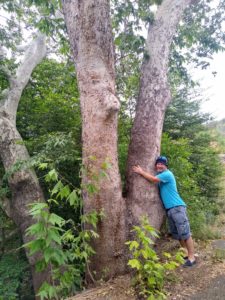 Sedona also has its very own tiny airport.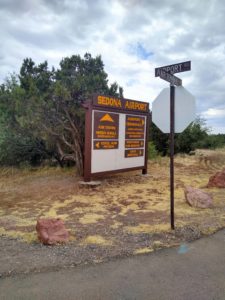 In this area you can also get helicopter and private plane rides.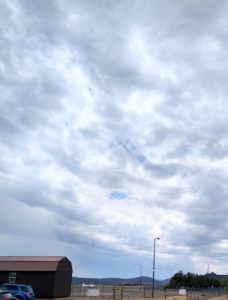 Sedona is definitely a place that should be on everyone's bucket list. It will certainly leave you feeling reflective.
If you liked reading, you maybe interested in our trip through Texas