Island Pace – Punta Coco & Dog walking, Sunsets
There's not much to do on Holbox island, but sunbathe, nap on a hammock, or stroll the short distances to the other beaches. If you're feeling adventurous you can paddle board or kayak. However, don't expect too many thrills, as the calm waters are more relaxing than exhilarating Lol. There can be a bit of wind, which affords kite surfers a raise in the heartbeat!
Punta Coco
From the town centre, a 30 minute dander brings you to the less developed Punta Coco. Although for how long we do not know, since plenty of construction is clearly evident. The mangrove trees are meant to be protected but rules are bent for money and progress.
You can reach here, walking along holbox beach, but you will have to turn inland as the end of the beach is impassable. There are signs pointing you in the right direction, so it's easy not to get lost. A main road, Calle Coldwell, from the town will also bring you straight out there.
The beach is lined with Mangrove trees, giving a more wild and natural setting. These trees are vital to the intrinsic organic habitat here and around the world. There are also a couple of beach bars / shacks. Walk to the top of the beach and you will come across a lagoon, which is easy to wade across.
There are flamingos on the Island from April. You can kayak or paddle board in the lagoon's still waters, but beware of the crocs!
On the way to, or from, Punto Coco, sit at the bar Las Fridas with swings. Refresh yourself with a cold beer, grab a cocktail, or have a doze in their hammocks. This island is for those that want to switch off.
Dog walking
Our host's two husky dogs have stolen our hearts. Volk the youngest, at 2 years old, is playful with zestful energy. He keeps his big brother, Lobo, who is 10 years old, active and young. Volk is very mischievous and ducks and squeezes himself under the fence to come to see us. Although, we can't blame him for all of it, as a click of the tongue and a lot of lovey dovey talking, gets his attention lol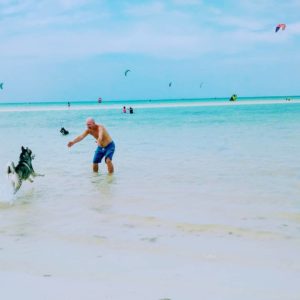 Arnoldo, let us take them a walk. In the case of Volk, I think he took us one! We took them to the top end of Holbox beach, where the mangrove swamp estuary and nature reserve is. They loved it as they frolicked and swam about in the sea for a good hour, under the brightly colored flying kites.
Volunteer at the animal centre
A simple email sent to the lady owner of the island shelter, arranged a time, when we could go.
Morelia Montes opened the sanctuary after someone brought her a baby racoon, which she nursed back to health, and it all started from there. Unfortunately, we didn't get to meet this amazing woman on our visit.
We enjoyed the dog walking at the Holbox animal sanctuary, and it reminded us of our times volunteering at Arc (animal rescue centre) in Goa.
It's recommend to go early when it's not too hot. We were there at 8am (opening time).
Lola and Miguelito were our companions for the morning, as we took them a walk along the beach.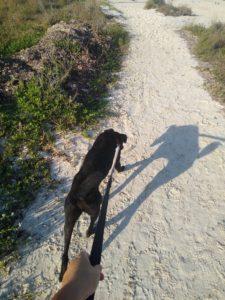 Unfortunately, the grumpy, unsmiling man onsite kept us outside the gate. He wouldn't let us go into the open air complex to look around, or even use the toilets, because we didn't have a 'people muzzle'. (Ironically he wasn't wearing either)!
He lacked a welcoming vibe and he didn't reciprocate the thanks we gave him. Disappointingly, this meant that another couple of dogs missed out on vital exercise.
The animal sanctuary relies on volunteers and donations. You would be doing the dogs a big favour to get them out for a walk for a while. (Just ignore Mr grumpy lol). Shame we didn't get to see more of the work they do.
Paddle boarding
We enjoyed a bit of a splash around with a paddle board. A bit unsteady at first, we soon got the hang of it with the help of David, our instructor. Not the rush of surfing, but the relaxing paddle, across the pool like water, did give a connection to the sea and breeze around.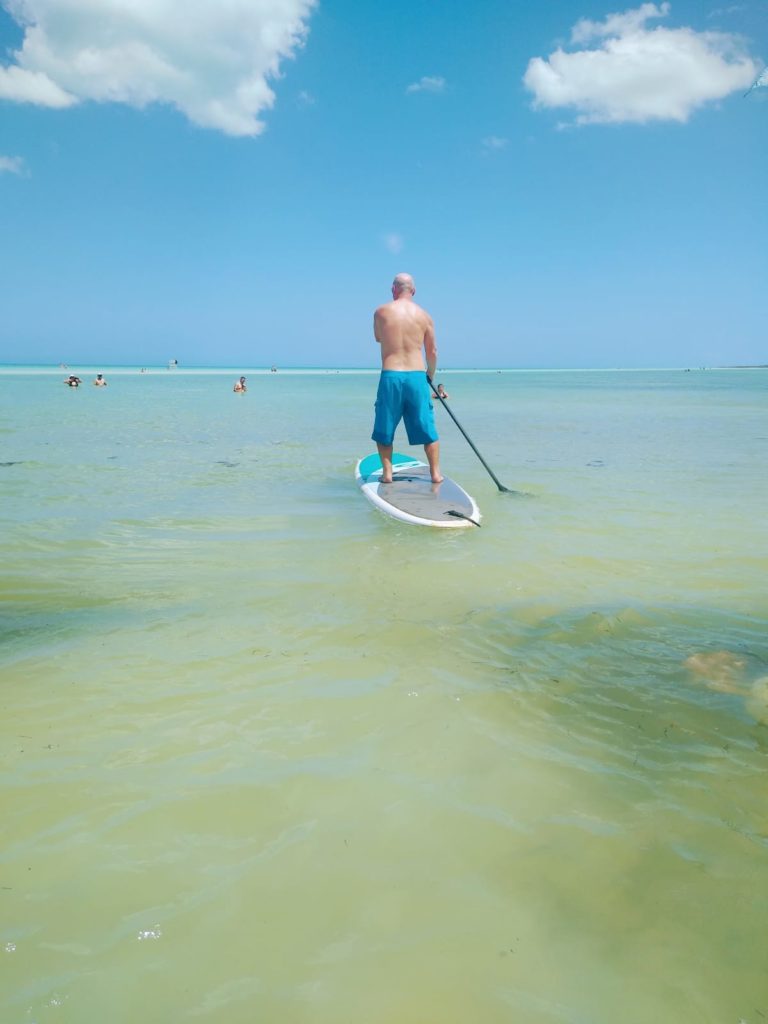 The Sunsets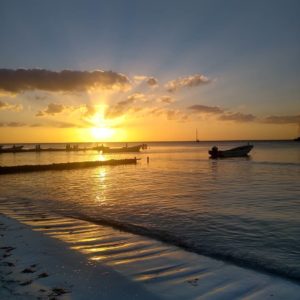 The favourite pastime of locals and tourists alike is to get to the beach for the 7pm sunset. People gather in crowds to sit on the sands, take a dip in the sea, play football, or just frolick around. We threw a sarong down at 6.45pm and settled in. We ate dinner of pizza from La Pinsa and sipped on a vino blanco, surrounded by an orange glow. One of our favourite traditions. There's always something about a sunset that makes you dream and gives one hope.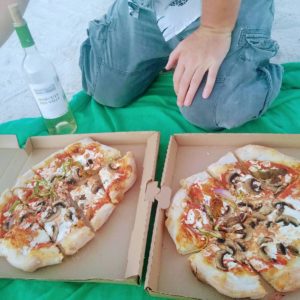 Island life coming to an end
Our few weeks on the Island is coming to an end as we plan to move on to new adventures. It's a shame we heard the awful news of the local 29 year old female taxi driver, whose body was found along with her taxi cart, emerged in the sea, close to Punta Coco. Murdered by another local, a male who had a grudge against her. He was arrested. In an island of only 2,000 people, the community was shocked to the core. Along with this we heard of a murder of an El Salvador woman, who was killed by the police in Tulum in another George Floyd style attack. After they realised she was dead, they threw her in the back of the van. There was no attempt to resuscitate the woman.
Everywhere in the world, I guess, has their bad sides, no matter how small a place. I hope these women rest in peace.
We are looking forward to getting on the road again. We have one more place to visit in Mexico, before heading to a brand new country, which we can't wait to see!
Leaving Holbox
A kiss goodbye from Volk lightened the mood as our journey from Holbox began. A strained relationship with Arnoldo, the host, appeared to stem, we think, from angst that we informed him, and his host partner, of the dogs howling as they were locked in his house for more than 12 hrs, and other long periods, over a weekend that he was away.
Anyway, our concern was for the welfare of Volk and Lobo. They were gorgeous, social beings. A strange experience and, to be honest, we were glad to leave his premises, which was sad.
Thanks for reading. Check out our previous Holbox post to read more of our adventures.