Mexico City: From the Aztec's Tenochtitlan to CDMX
Getting there:
We used Aeromexico but others like Viva Aerobus fly between Acapulco and Mexico City (CDMX).
We had a close shave when heading for the airport for Mexico City. Bag woes are getting tougher, as even though we have used creams etc, we seem to be having more trouble shutting the cases. I had to fix a zip malfunction. These issues wasted our time while sorting the lot out.
Taxi stress
Then our cabbi, that i spoke with the day before, let us down and didn't answer his phone. I had to run out and managed to grab a beat up cab, with a helpful and lovely driver, off the street. The price was cheaper but he deserved his tip. The pedal was put to the metal and we rushed into the airport.
Airport stress
"You're late" said the woman curtly at the bag drop.
We thought that was going to translate into a missed flight. Thankfully, even with her brusque manner, it didn't.
Then, while standing sweating, we needed to fill in the online Risk Identification Questionnaire that all airline travellers to and within Mexico need to complete at the moment. We weren't the only ones beavering away on their mobiles lol. Security and the rest of the flight was a breeze. We were ready to enjoy Mexico City.
Mexico City: An historic and modern capital
A city of over 20 million for Greater Mexico City, we chose a central area. CDMX (Ciudad de México) has many districts with plenty of variation in style. Roma Norte and La Condesa compliment each other as the thriving bohemian and artisan heart beat of Mexico City.
Surroundings
We loved the ambience of Colima and the relaxed nature under the cooling canopy of the trees that stretched up towards the blue sky and draped the avenue in shade. One would never have suspected that it was 27 degrees.
Cute cats adorned windows while bike sculptures were artistic bike stands.
Architecture
Chic side street cafes, bustling bakeries; where a cellist can just sit and start playing, stylish hairdressers, and individualistic boutiques all among the Art Nouveau and Neo-Classical buildings of the 1900s that have regenerated the area over that last 20 years into a hip place to be.
We felt the exciting tingle of the buzz as we ventured to the local supermarket (Sumesa Colima) for supplies.
Accommodation
Our room was very Bohemian, with large, multiple paned, windows that folded open to reveal a wide sill perfect for sitting on, with a cool beer, and watching the world go by.
Pampering session
My (Miko's) hair needed cut. The last time was 3 and half months ago. After a good search, Mexico City seemed a good choice to end the wait. I intrepidly ventured into the appointment with Pretty Bitches.
I (Knox) chilled in the open air restaurant bar (Huset) next door. Natural materials complimenting the trellis garden courtyard setting with its green vine creepers, loose stones underfoot, wood furniture, and a bespoke bar with various craft beers to choose from. The eclectic mix of blues, jazz, multiple poetic singer songwriters all adding to the laid-back energy.
The service too was impeccable. When asking about the beer, I got an impromptu beer tasting session. I choose a dark Hercules followed by a Cerveza Jabalí Hellesbock.
Beer happy
Mexico city hadn't even crossed my mind, or indeed the rest of the country, as craft beer country but, with my discovery, I was loving it. People ebbed and flowed around me.
The waiter busily poured others Mezcal, as laughter and chat ensued. I wrote and became happy. The waiter took my order of a roasted veg dish, to tide me over to dinner, as my stomach felt a bit empty. The alcohol had to soaked up somehow 😎👌🤣
A shot glass with a cross embossed in the bottom was what my Mezcal was served in. I wasn't sure whether it was meant as a warning or an encouragement to pray lol.
Getting carried away
I was drunk anyway and delighted in the spiced orange segments that were served with it. I was reminded of sunny days in our favourite Belfast restaurant, Coppi. When Miko arrived over an hour and a half later, I was a tad tipsy. Resplendent, with her gorgeously cut hair, she joined me in a tipple.
Update Nov 21: Huset bar. Unfortunately not as impeccable service, or as friendly as last time. So much so we walked out. It seems much more stifled and unrelaxed compared to Feb 21 when muzzles were not required.
Mexico City – A whistle stop tour
We scraped ourselves out of bed in the morning to get going with our Mexico City sightseeing. Along with plenty of rehydrating water, a trip to the Panaderia Rosetta sorted us with delicious vegetarian quiches and set us up for our tour.
We are renowned for listing our must sees, creating a route, and getting the job done. In Paris, we scooted around on our Vespa and saw so much in such a short time. In Mexico City, we would be a little more sedate at the start.
Roma Norte and La Condesa:
We walked our local area first with a visit to Plaza Río de Janeiro to see a fountained statue with no water. Still it was an appetizer. Hungry for more, we cut across to the Parque Espania in La Condesa.
Doggie heaven
Here, to our pleasure, our eyes feasted upon a canine heaven.
Obedience training was the aim of the game and there were plenty of players lined up on the park's path looking eager to both please and disobey 🤣. You could see the conflict welling up in their minds when we appeared on the scene saying hello and how gorgeous they all were.
Good doggy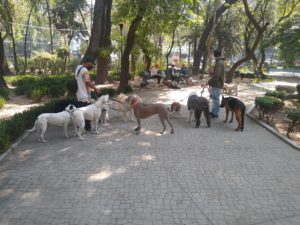 The eyes lit up, tails wagged, a few sat up, and there was the odd cry of "oh, I'm trying so hard to be good but it's so hard when all I want to do is have fun" 😂. The Teachers would order the dogs to sit back down again if they got up. Luckily, we were able to pet a few that were on leads and away from the 'Sit and stay' exercise.
Handlers walked others amongst the tall trees and green foliage. It appears that Mexico City has a real affinity with dogs. Some renegades sat staring up at the trees.
The red squirrels, happily ensconced in the branches, ably teased the poor pooches below. The whole scene is a regular activity and a real happy place for animal lovers. If I had a tail, it would be wagging furiously.
Miguel Hidalgo and Coyoacán:
Alas, there was more of Mexico City to see so we reluctantly dragged ourselves away. We walked to Castillo de Chapultepec (the castle on the hill), set in woodland and parklands. On a normal Constitution Day, we would suspect the place would be heaving.
No entry
On this beautiful sunny day, we had so much space to ourselves. We walked through the park, towards the entrance. A police woman stood at a barrier. In the grounds behind her, the army mulled around, and we knew that our path would be politely blocked. It was the same for the few other tourists that also approached.
With Mexico City in the red on their traffic light restricted level, we kinda of knew that some places would be closed. Other places, like restaurants and bars could open but only to 6pm for serving sit-in customers.
Closed
So we walked to a quiet city street to see Luis Barragán House and Studio, the famous Mexican architect, but it was closed with nothing to see.
A ride down to Coyoacan brought us to the Frida Kahlo Museum. The museum was closed. We managed to take some photos of the colourful exterior.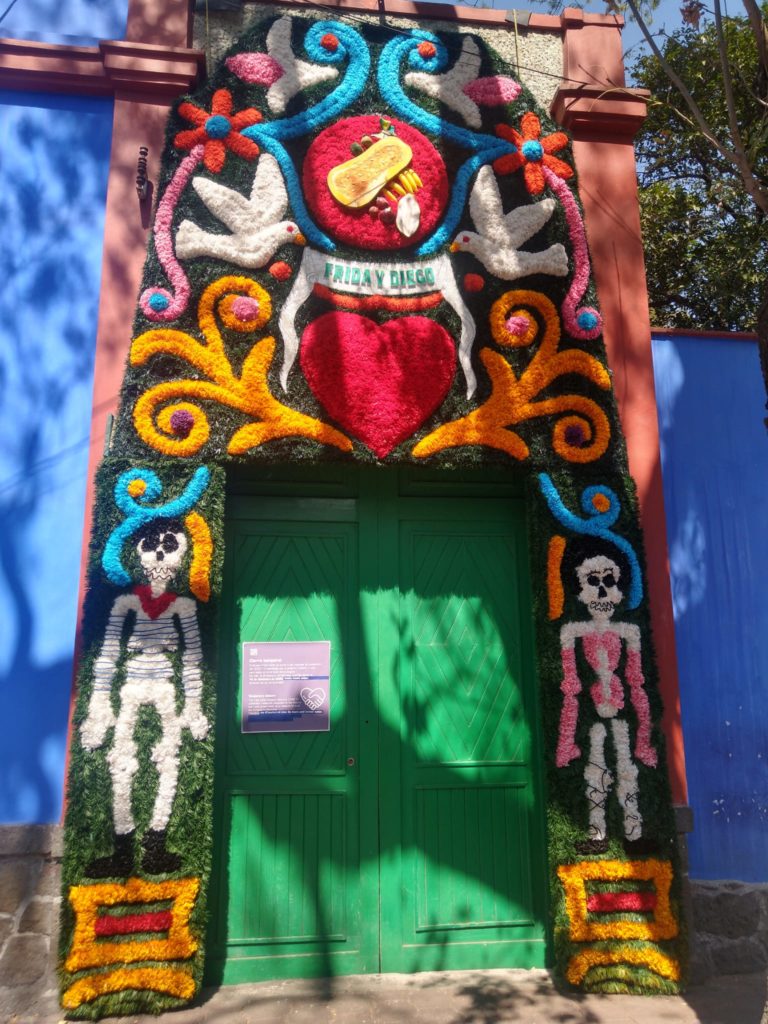 Moving on
Our driver then took us to the Jardin Centenario. Mainly, to see the sculptures of coyotes that the area is named after. Unbelievably, the park had blockading tape all around it preventing an entrance even though there were many tourists cafes, bars, and restaurants open all around it. Only a distant photo of the coyotes was managed.
Historic Centre and Jaurez: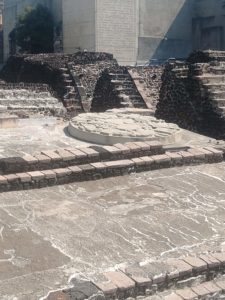 Another driver drove us back north in México City to the historic centre and the world's 2nd largest city Square, Plaza De La Constitucion. Here, one could see that CDMX had tighter restrictions than other areas of Mexico. Not withstanding this, the square had life about it.
Protests
This included several protests, where people had been camping out for quite a while, and this breathed life into the bustling touristy area of the Historic Centre. I think there were different themes to the protests. Mostly, they appeared to surround equality and respect for various groups such as indigenous people, women etc. Of course, the main exhibits of the square such as the Mexico City Metropolitan Cathedral and it's base of the Templo Mayor, the Aztec temple the cathedral stamped on, were, you guessed it, CLOSED.
Beyond the square, heading towards San Rafael, the Palacio de Bellas Artes was also closed as was the Hemiciclo a Juarez (Hemiciclo a Benito Juárez). It even had colourful boards around it to prevent walking into it.
Again, closed
You couldn't make it up. After coming all this way, we still got some photos, and considering the hangover along with the sweltering heat, we were glad to have completed our tour.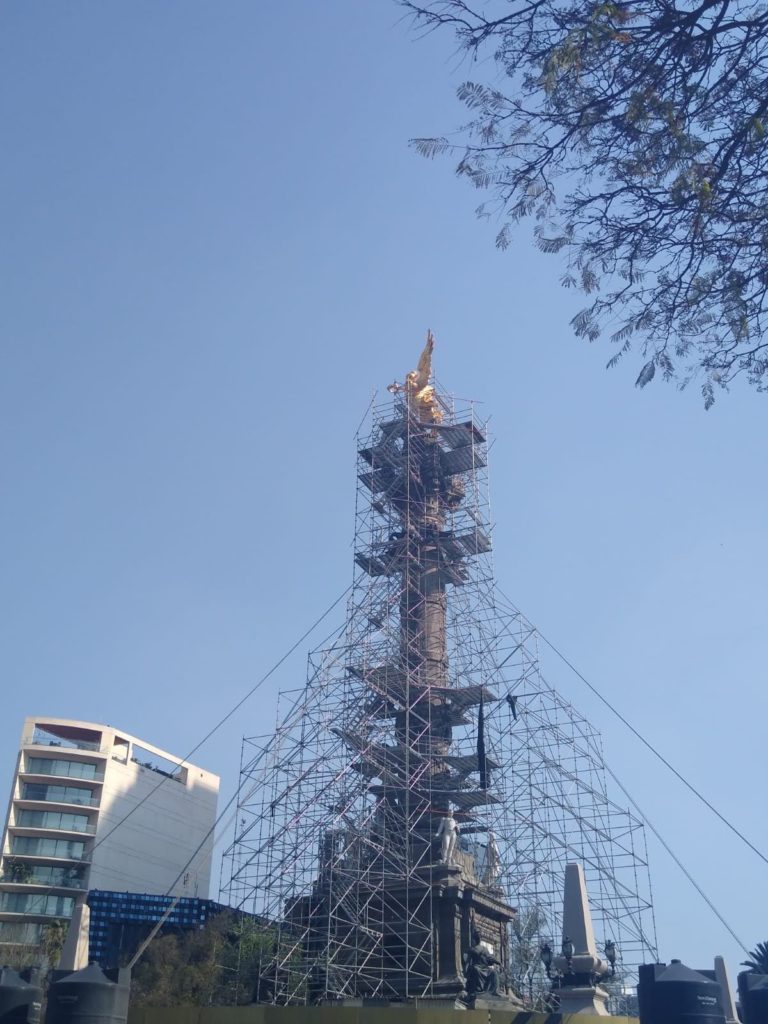 We headed for home. On the way was another monument on our Mexico City tour list, The Angel of Independence. An iconic monument of CDMX, the Angel sits on a busy roundabout in Juarez/Reforma district and it is open for public view.
Tourist nightmare
Woe unto us. Scaffolding covered the monument all the way to the top and blue builder's hoardings formed a circle around the base. Our driver did all he could to help us get some form of photo.
Time to call it a day
It was in vane and the final disappointment on our whistle stop tour of Mexico City.
We settled for the night and prepared for take off the next day. Thankfully, ForeverVegano, was open for delivery and served us a couple of wonderful burgers with desserts to follow. After running around Mexico City, we were pretty exhausted. The day had been enjoyable, even with the closures. Tomorrow would be a new chapter.
Check out our other blog posts. We also have stories to share about Previous Trips and a RTW extravaganza.