Playa Del Carmen – The buzz of 5th Avenue
Playa Del Carmen is one of Mexico's most popular hotspots. Not just for the buzz of 5th Avenue, but for the white sandy marshmallow feel, beaches, the refreshing cenotes, a base for exploring Chichen Itza, the 18 hole Gran Coyete golf club, as well as many other things to keep you entertained. We decided we needed a holiday away from Cancun for a couple of weeks and Playa Del Carmen was conveniently placed for our first vacation, (yes we actually said vacation. It must be the American influence in Mexico lol) for some r&r, where Knox could put away his chef hat and be released from kitchen duties.
Getting to Playa del Carmen from Cancun
From Cancun airport it is approximately just under an hour to Playa Del Carmen. However, as we were already staying in Cancun downtown, we got a taxi, which took just over an hour, and that was including our time popping into our other accommodation in the vicinity. Actually, we would split our stay in Play Del Carmen over two differently styled places.
Taxi
Firstly, we would stay in a smart, modern hotel close to the 5th Avenue action. Then, we would stay in somewhere we hoped would be completely different with a chilled vibe. It was here that we stopped to pay cash for our stay. May seem like a hassle, but it was pretty smooth actually and in the same direction. We also saved over £50, cutting out the middleman, by paying directly! (Was the saving worth it? Well, we will explain that below!)
We used a taxi app that connects local taxis to customers in a similar way to other ride sharing apps. It's called Cabify, and is prevailant in many central and south American countries. It cost 700 Pesos (£25), not including tip we gave. Booking a taxi is way cheaper than flagging one down on the street. Additionally, it is a good alternative to the big multi-national ride sharing companies/apps. It was also significantly cheaper than booking online at one of the private transport companies that work out of the airport.
Bus
An alternative mode of transport is by bus. Catch it from The ADO station in Cancun (they run an airport service too) and arrive in Playa del Carmen just over an hour later. The second class service, run by Autobuses Mayab, went around the top of the hour. It cost me MXN$43 (about £1.50 / $2) when I had to make a quick trip back to Cancun. The bus works out of the ADO bus station and tickets can be bought at the counter or with the driver. The trip can be fun with rock and roll singing onboard!
Accommodation
We had trawled through hundreds of hotels for weeks, but finally choose the Balkon Boutique hotel.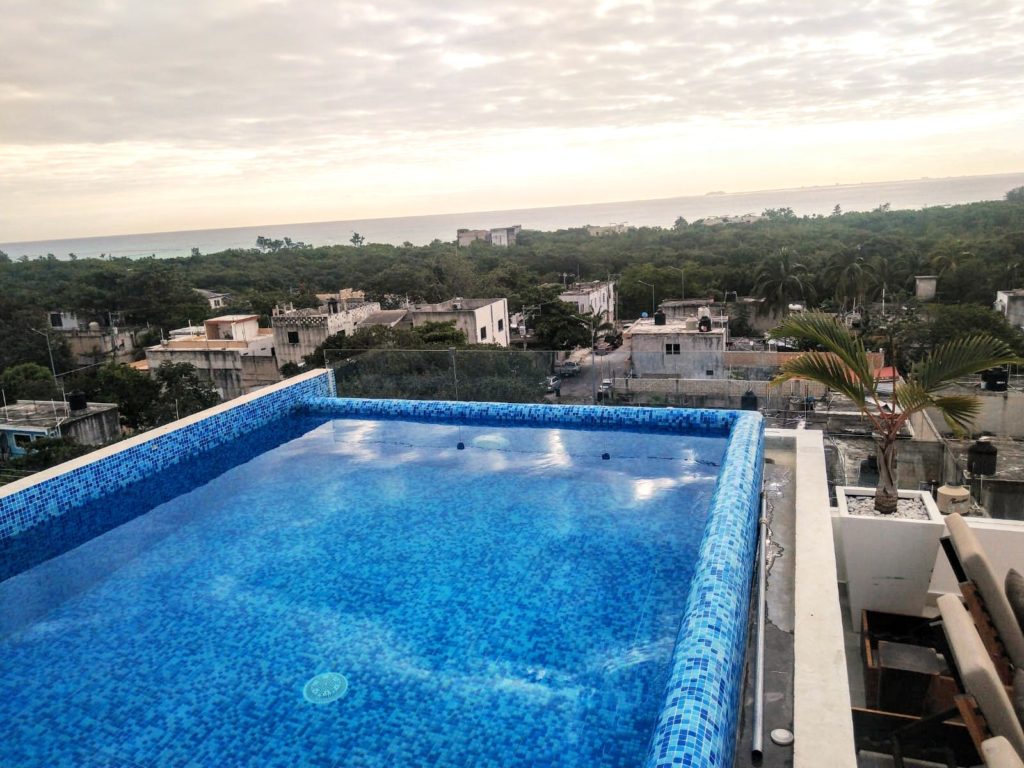 Compared to others it was reasonably priced, at just over £40 a night.
It is located on 10th Ave, one away from 5th Avenue North (yes the numbers jump in 5s), just as it starts to get busy. Therefore, the area a lot quieter and still conveniently placed. Indeed, there is a more laid back, bohemian, feel to the 5th Ave business down this end.
The Balkon also had a rooftop pool and comfortable, spacious seating area with views over Playa Del Carmen.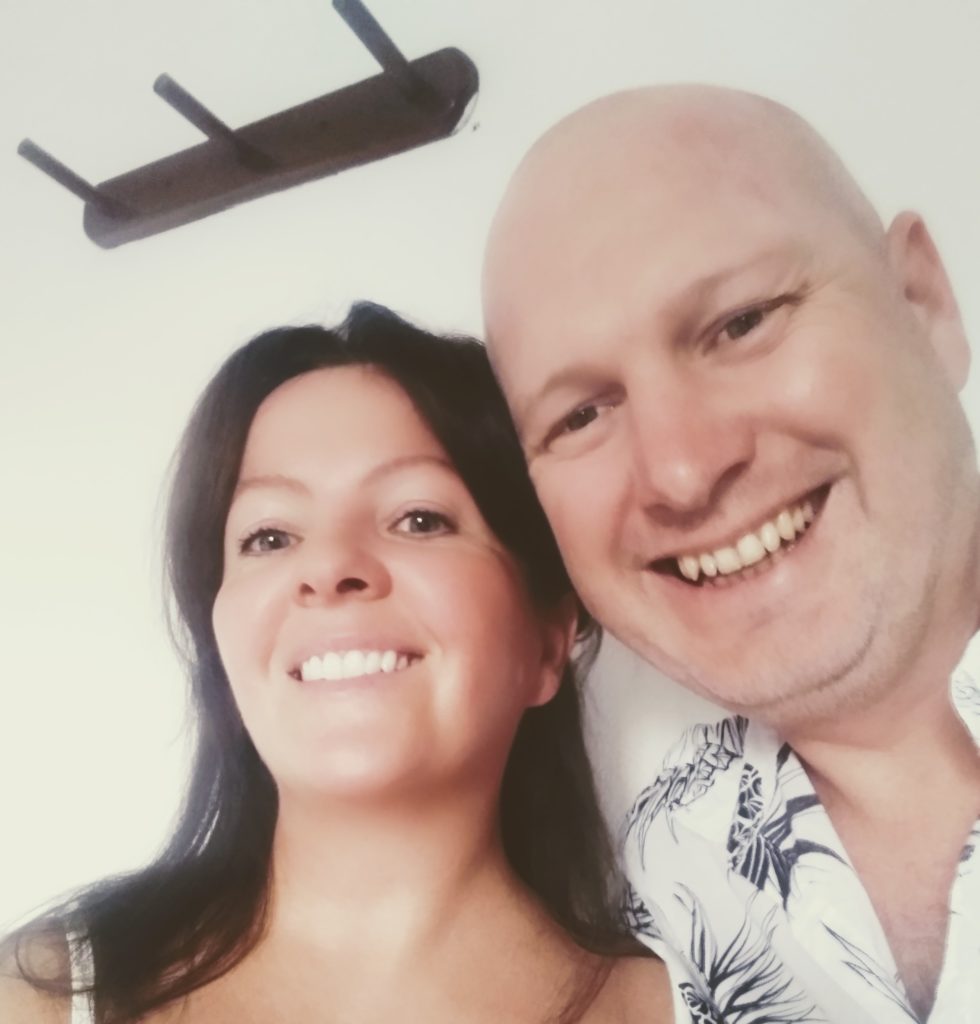 It was a cool place to chill out for an hour or two over a glass of prosecco.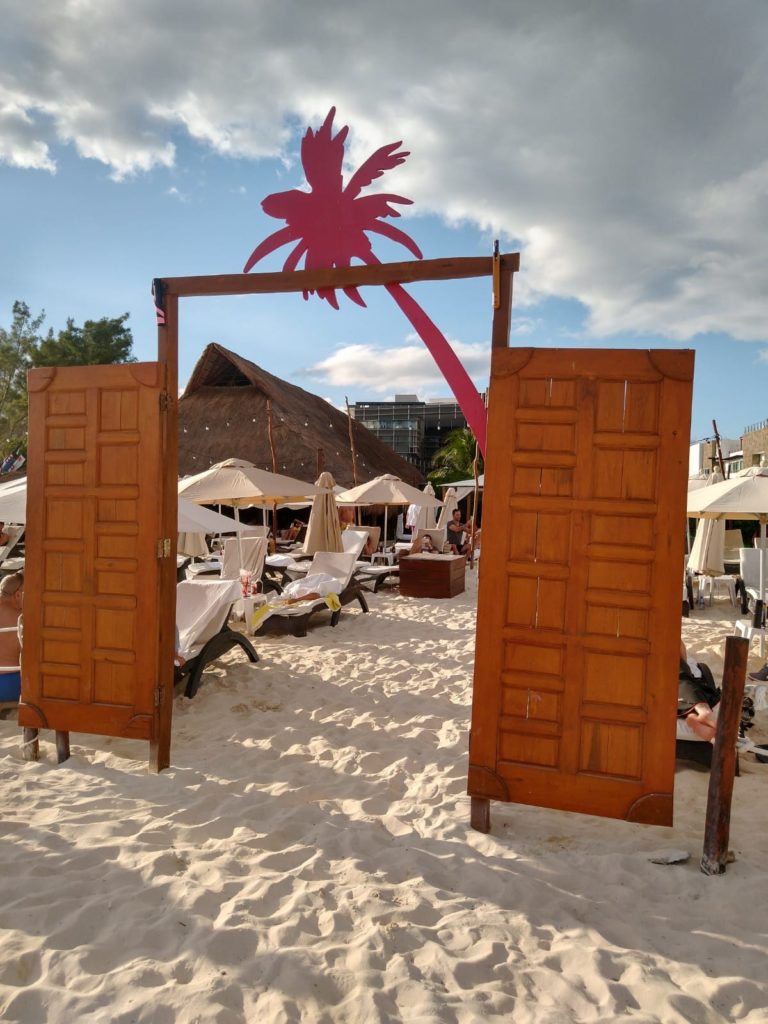 As well as this, it also offered you a free pass to Martina beach club 10 minutes walk away.
Our highlights of Playa del Carmen
Playa del Carmen, being one of Mexico's premier resort destinations, has plenty going on around it's beach setting. There are art galleries, fine dining restaurant's, bars, fancy hotels such as the Carmen, souvenir shops, aswell as street performers. In some ways it reminded us of the tourist hotspots in Europe, such a Torremolinos, Marbella or Tenerife, as it can get a tad tacky. That said, it can be fun!
5th Avenue – shopping, eating, and drinking!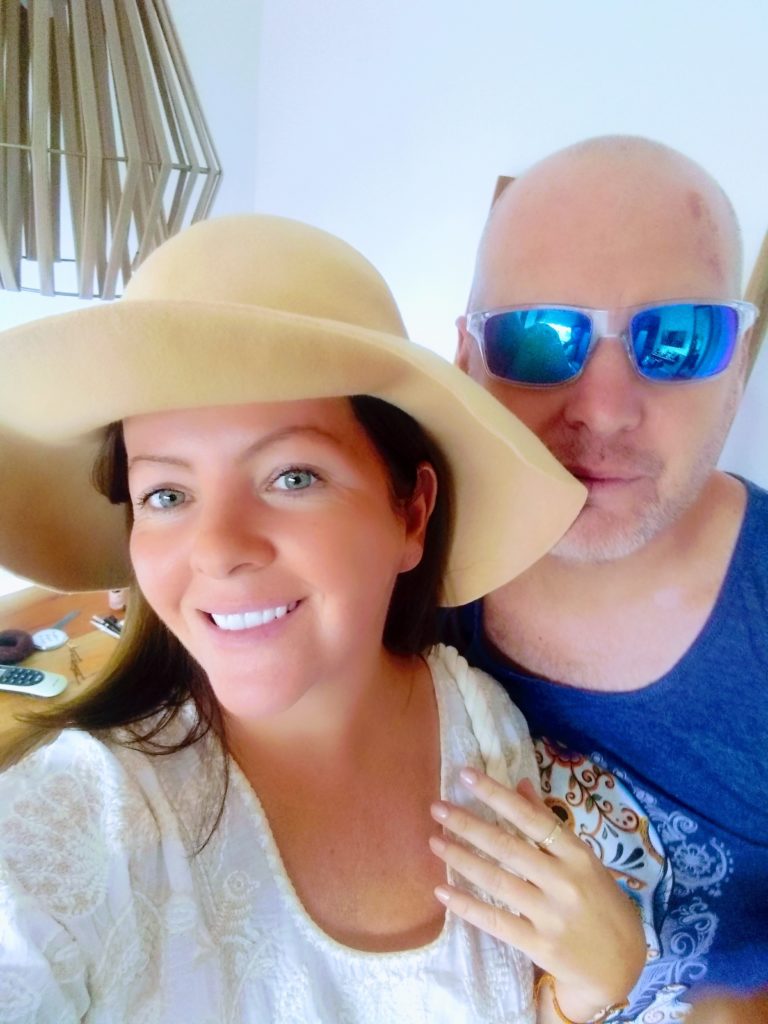 La Quinta Avenida, 5th Avenue, is where most of the action happens in Play del Carmen. On Fifth Avenue's three-mile stretch of pedestrian walkway, although considerably quieter at the far north end, the main strip is buzzing day and night!
Shopping
You will find familiar high-end stores like Sephora, (very handy when you run out of your Benefit make-up!) side by side chic, small, independent clothing boutiques too.
Browse and discover some stunning, unique items at reasonable prices, especially at Mar del Agua. Or if buying a Candy skull vest top is more your thing, then you'll not be disappointed as a there are a plethora of tacky t-shirt shops lol!
Continuing the tacky shopping theme. There are plenty of 'Tequila Museum' type shops. Moreover, they will entice you in with a free tequila offer.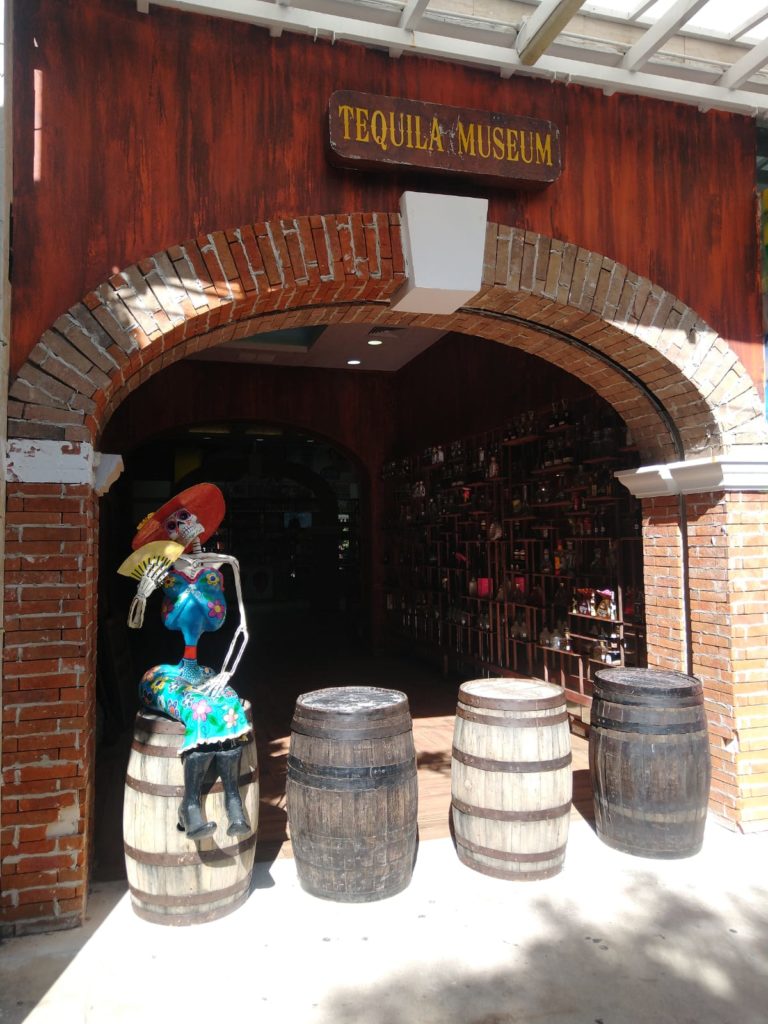 You could easily spend a whole day here, browsing in the interesting boutique stores or sitting alfresco with a crisp glass of vino blanco, or a healthy smoothie, watching the world go by.
In fact, after a long day walking the beach sights and doing a bit of shopping, we dropped into a hotel bar, Hotel Banana, and did exactly that!
Nightlife
As darkness falls, it can also get pretty noisy and frantic, but the energy is high. There are offers of certain illegal substances as you dander along, but it is easy just to ignore as if it was just a whisper from the breeze.
There is quite an eclectic mix on offer. There are some really trashy, 'spring break' type party bars and plenty of dance clubs, but these loco places are distant from our thing. For us, there were some live music venues playing a mix of rock & Roll, reggae, ballads etc.
One of the places we enjoyed a party at was Baton Rouge. A small venue on the strip that staged live music everyday. Indeed, it was an easy encouragement for us!
Another option, grab a few beers and chat with some holiday makers on the street. All the while, taking in the street performances happening all around.
Eating
Make sure you leave enough time to eat. There are plenty of options.
Our favourite restaurant in Playa del Carmen, by far, was Trattoria del Centro. A fine dining restaurant which serves the most delicious food from pizzas and pastas dishes as well as yummy desserts.
Their homemade bread is the best we have ever tasted. All washed down with some bubbly and brilliant live music on the side, the atmosphere was fantastic.
Other places of mention, were a couple of vegetarian / vegan options that we tried. It was a bit hit and miss. We ate from Bio & Natural, an organic restaurant / market. The food was a bit burger joint rather than particularly healthy. We did have a good munch from Fresco Habito. The meal from here was fresher and althogether of a more healthy nature.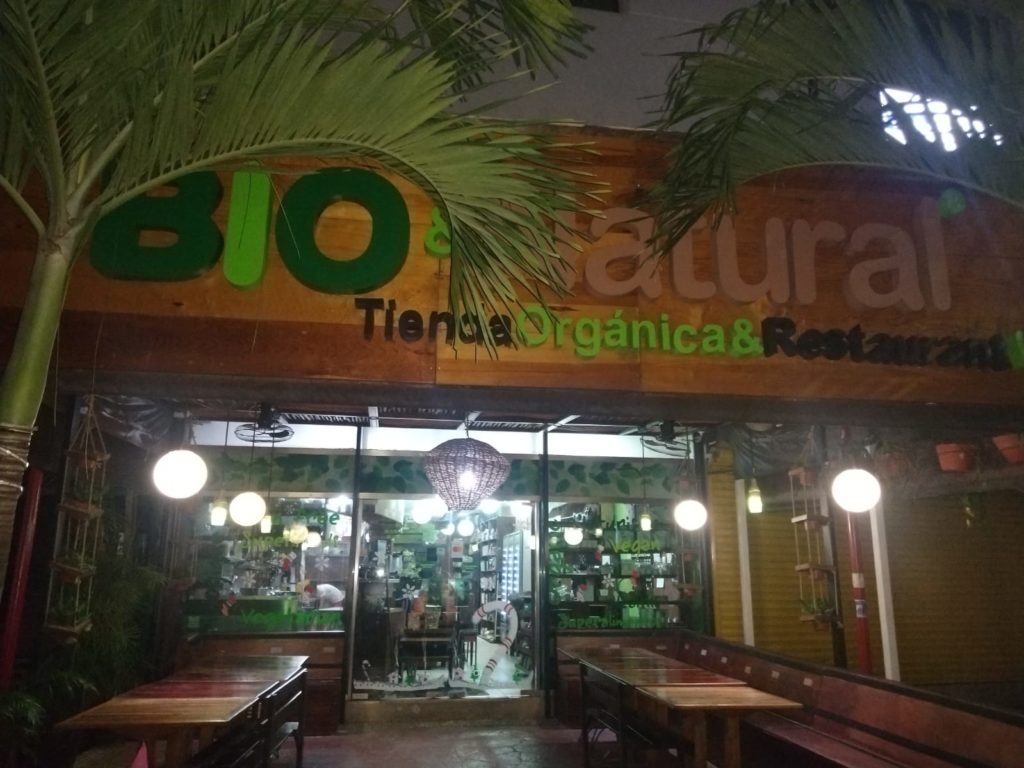 We also popped into Le P'tit Shoux, a bakery / cafe, close to our hotel for some morning croissants. Delicious!
A darker side to Playa del Carmen
While there is plenty of tack in Playa del Carmen, one can get past that. What is very disgraceful is when humans traffic baby animals to be used as tourist attractions. We saw this at one 5th Avenue business. Indeed, they were just so blatant about it and obviously the authorities don't care about the exotic animal trade. Drugged up baby tigers, jaguars etc, under the banner of "we saved them" should not be presented as photo ops for anybody. We got told where to go when we tried to take a picture from the outside. Obviously unconscious tourists enable the business to continue!
The central beaches of Playa del Carmen
You can't come to Playa Del Carmen without checking out the glorious white sandy beaches!
Here are just a few options to choose from:
1) Parque Fundadores Arch
Other than the town's namesake main sandy beach, conveniently located close to 5th Avenue, you will also come across the iconic bronze sculpture of a man and woman clasping hands as their bodies form a 52.5 foot high archway. The artwork is by Arturo Taravez who is from Guanajuato, Mexico.
It is a tribute to the Mayan communities that dotted the Yucatán Peninsula before the Spaniards arrived in the 16th century.
The beach is covered with loungers and too much people for our preference, but it's conveniently positioned near stalls selling coconut water and lollies to cool you down!
There are also bikes in the area which you can hire for the day.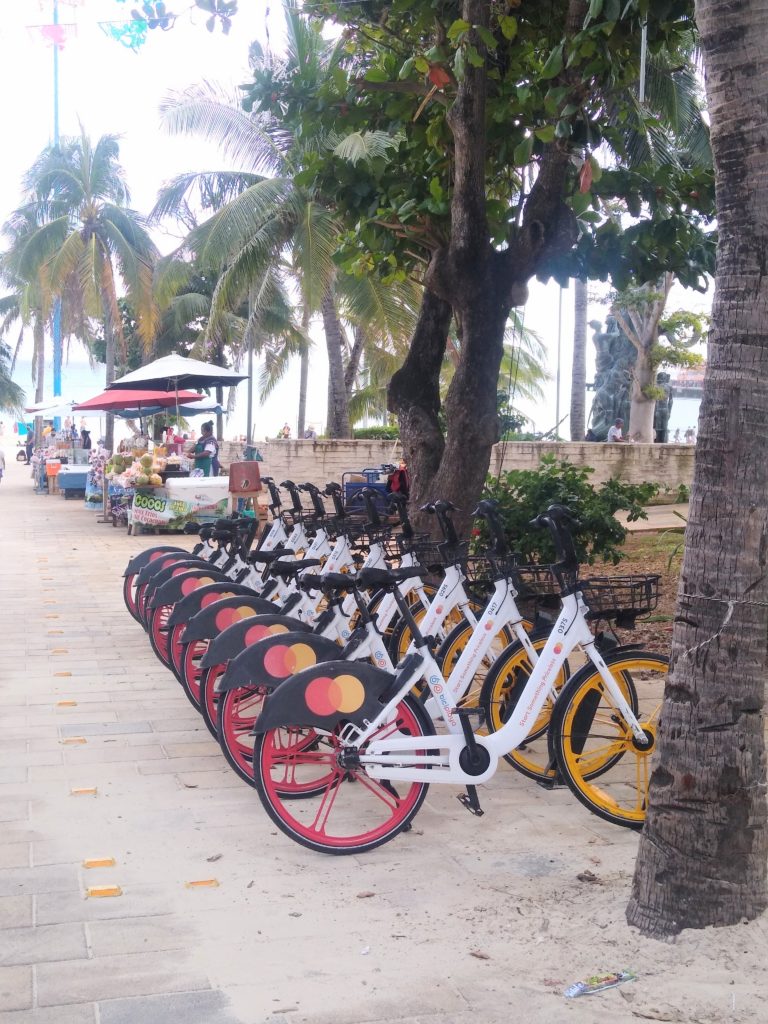 2) Mamitas beach
Filled with beach clubs, party animals flock here with their beachclub pass, which gets them access to a lounge chair or day bed, and usually a credit to use towards food.
DJs will pump out booming tunes to make your ears sting and mind numbingly thump lol. All in the name of chill!
Even though the beach has beautiful white sand, Mamitas beach is not for the fainthearted or someone who wants a more tranquil setting. It is very tacky and in your face. Our free pass for Martina was wasted on us. We moved on pretty quickly.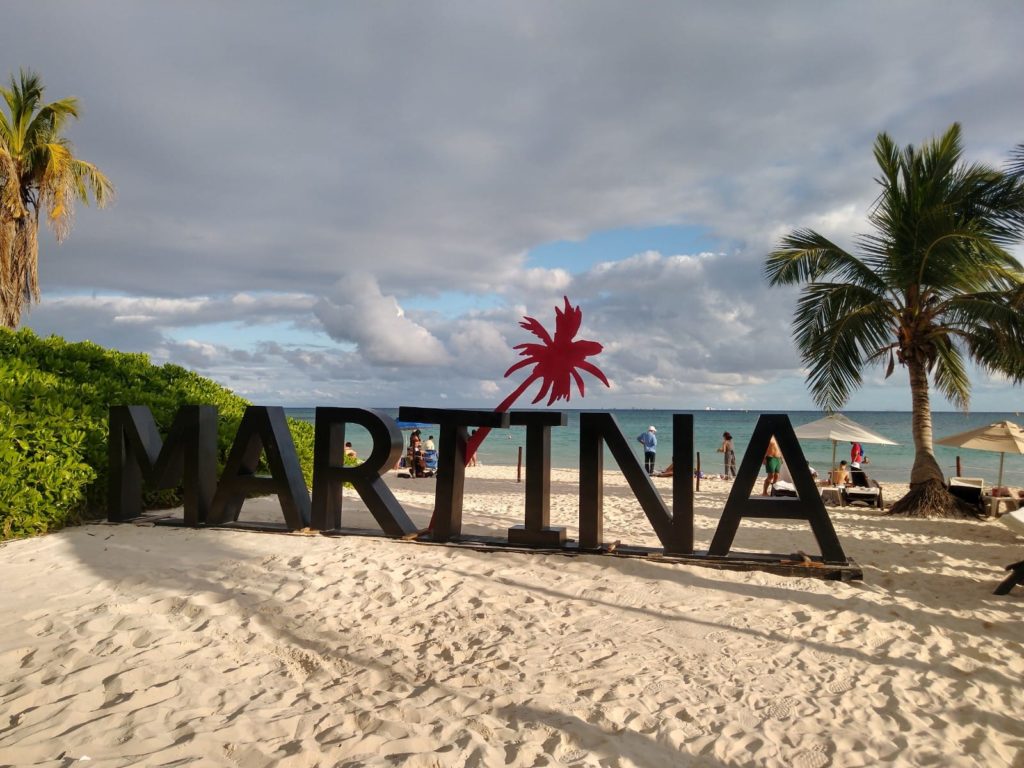 3) Playacar Beach
A stunning, clean stretch of beach with clear blue sea. It's right at the Mayan ruins in a quiet residential area. This was actually my favourite beach as it just seemed so much more sparkly than others.
Be wary though, this is becoming Playa del Carmens secret haven, so go early morning if you prefer a less busy beach.
One thing great about this beach, it doesn't have lounger after lounger like it's neighbours, which makes it a lot more prettier. There are, however still resorts sea facing, but don't fret as the Playa is wide enough to get a free space to plonk.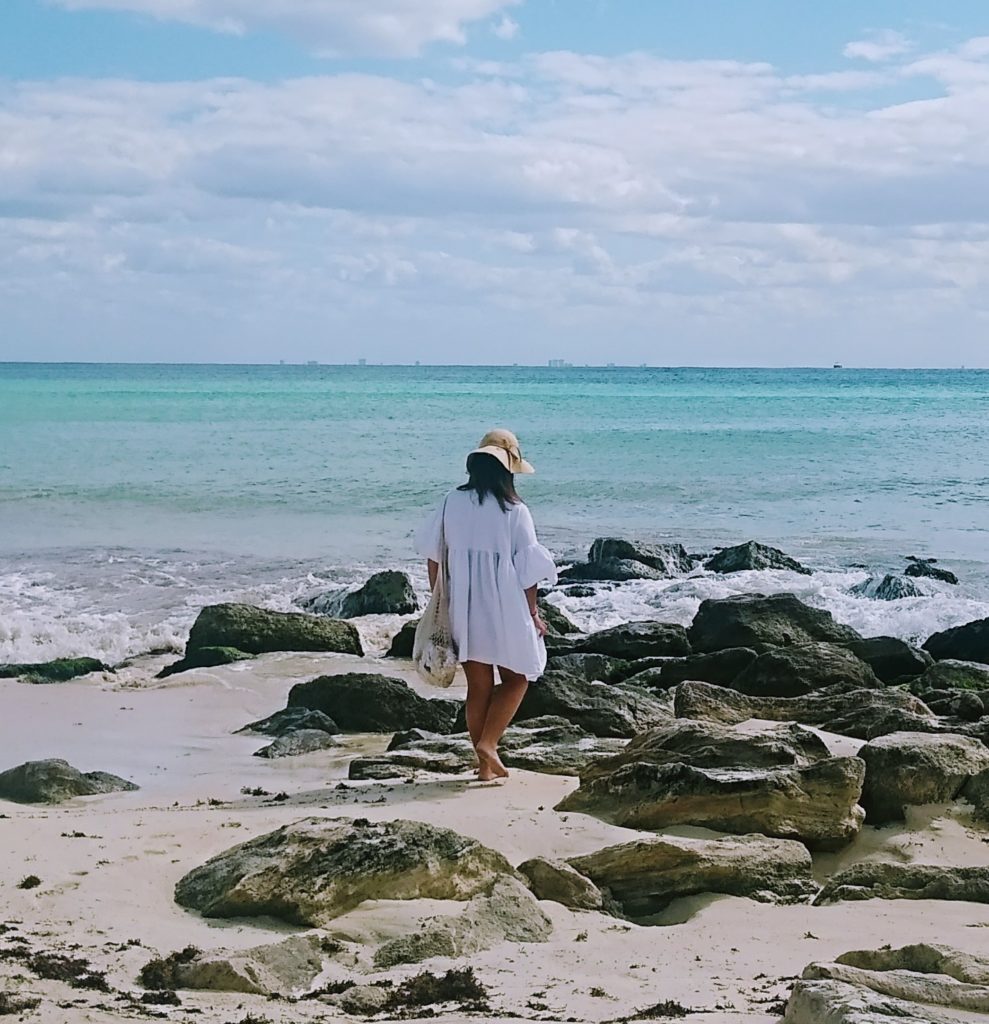 Strolling along in the cloudless water, shell picking, or climbing the rocks was my favourite pastime.
Mayan ruins
The Mayan ruins is right at Playacar beach, just a short walk from Quinta Avenida, located in a lovely grassy park amongst this leafy, upscale, residential area.
They are free to visit.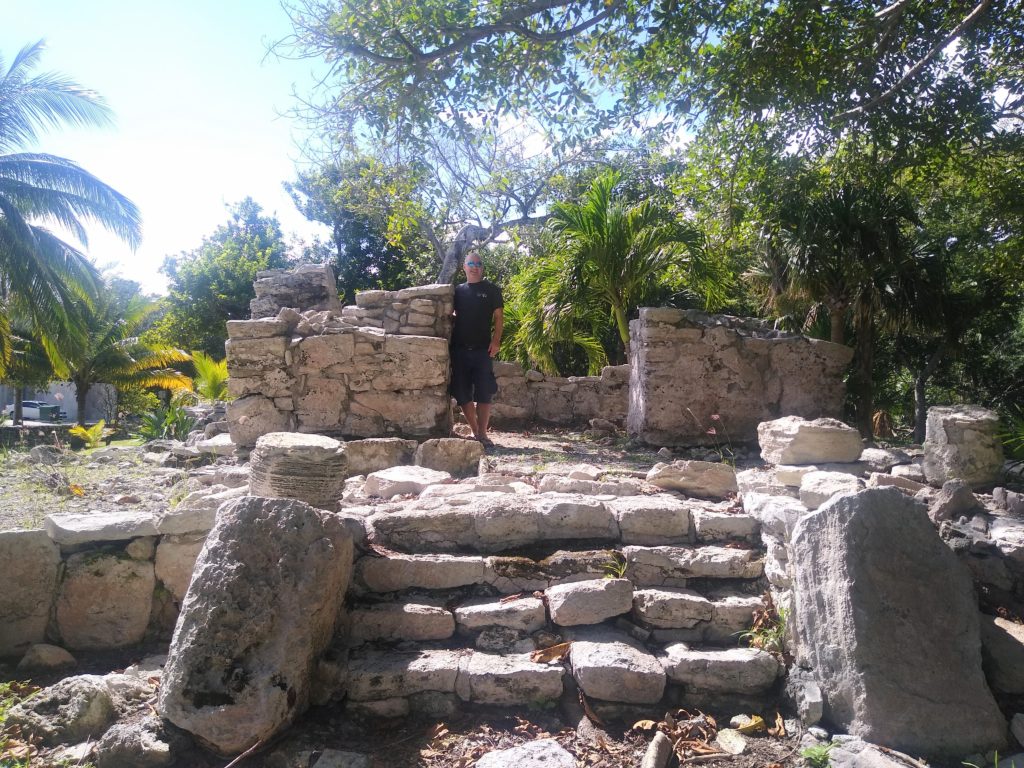 Xaman-Ha meaning 'waters of the North'. The ancient ruins are where people would travel to (may be on their holidays?) and where the goddess of Ixchel, the moon, love, happiness and fertility. Ixchel (eek-Shell) was adored.
Lounge on a rooftop pool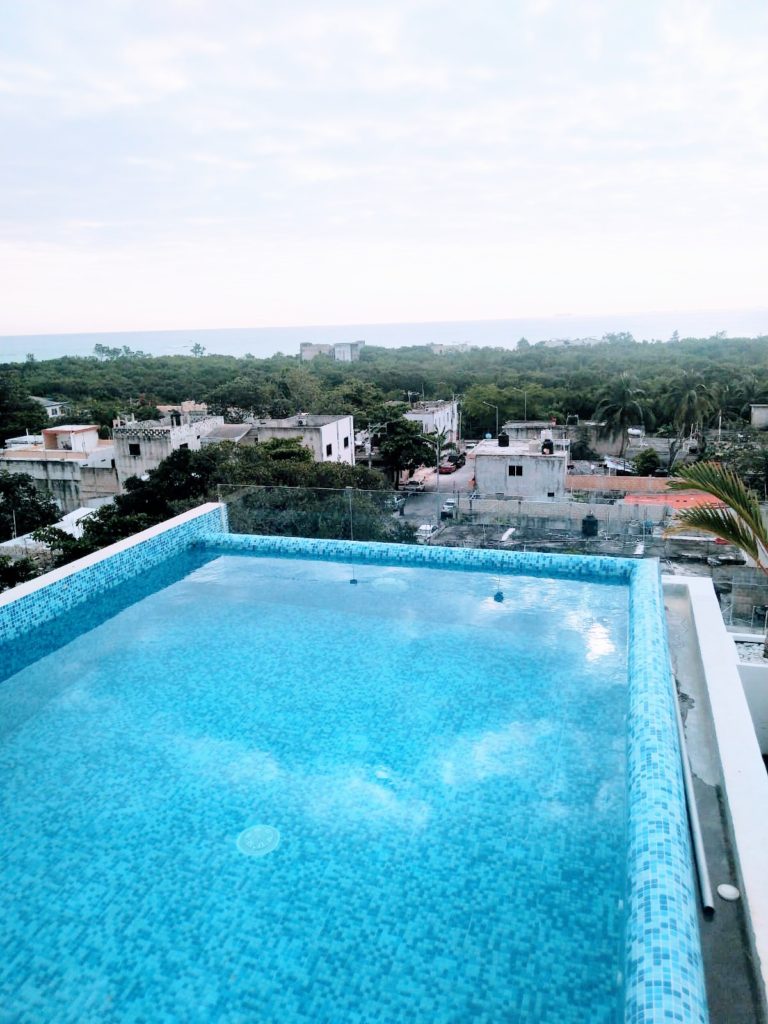 If you don't want sand between your toes why not book a hotel with a rooftop pool.
There are many to choose from, all varying in prices. Sometimes you can also use hotel facilities you aren't staying at for a daily fee. Luckily we had our own roof top pool looking over the town and relaxing lounge area.

Cenotes
As well as the Esmeralda cenote (which is free and cooling, but a bit green) you will come across many others in Playa Del Carmen. Sometimes to get to these you will need your own transport, cab, or your own feet. The most popular cenote is Cristalino which is about 18 minutes north of central Playa del Carmen off the 307 Highway. We personally avoid the most popular though, as you will find these over crowded, and because Cristalino is part of a 5 star hotel, we didn't fancy paying their extortionate US$100 entry fee, especially, since in Tulum last year we saw the most beautiful cenote ever at Yaxchen cabanas, for a mere bargain of 50 pesos. And, it was even better we had it all to ourselves!
There are also two other cenotes in a row in Playa del Carmen just off the highway. They are El Jardin Del Eden and Azul. All three sinkholes have crystal water for an invigorating dip.
Rio Secreto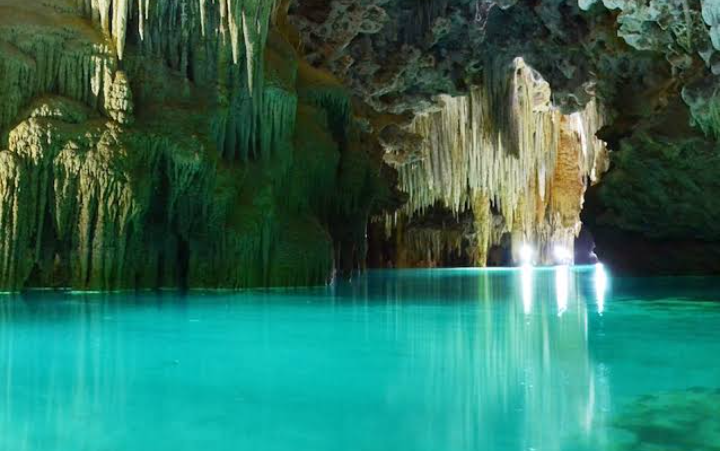 Discover the memorizing underground river and ancient cavern of Rio Secreto and experience the thousands of dramatic stalactites and stalagmites. The caves are up to 78 feet below the surface. Be careful of rocks as slippey. You do need a guide. No camera allowed, a little scammy due to the extortionate prices they charge for photos.
Frida Kahlo Museum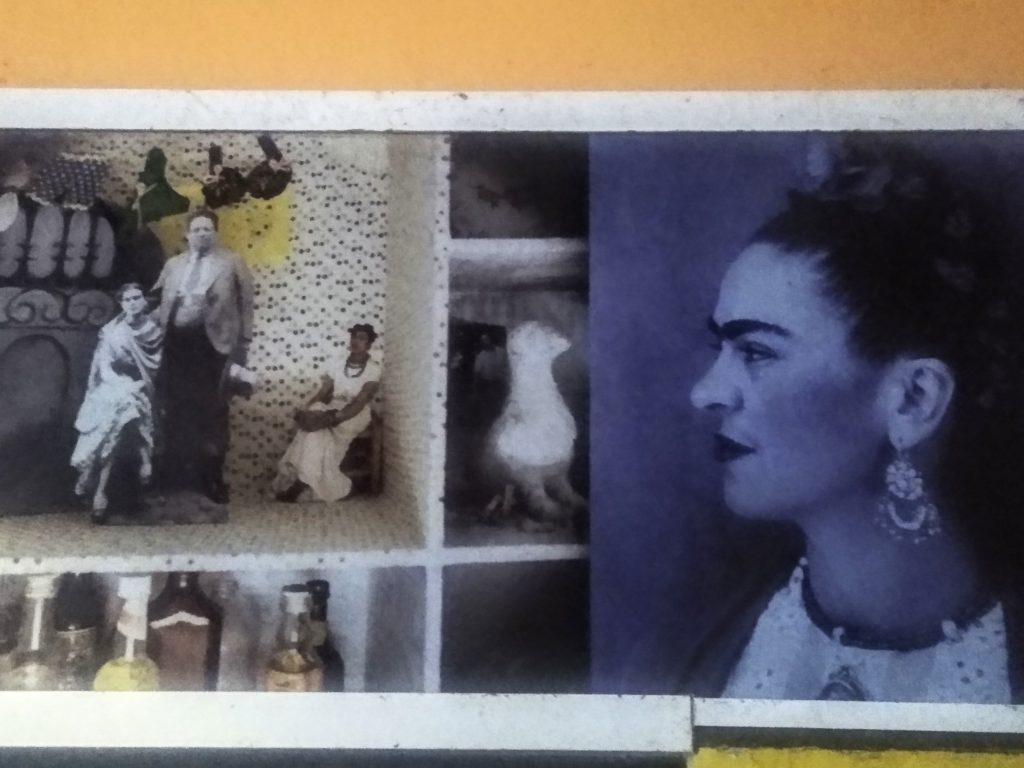 Fancy some culture away from the mayhem? You don't have to go to Mexico City to soak up the beautiful vibrant colors and enigmatic history of Frida Kahlo as Playa Del Carmen has its own tribute to one of the most passionate and talented icons of Mexico. Or so we thought!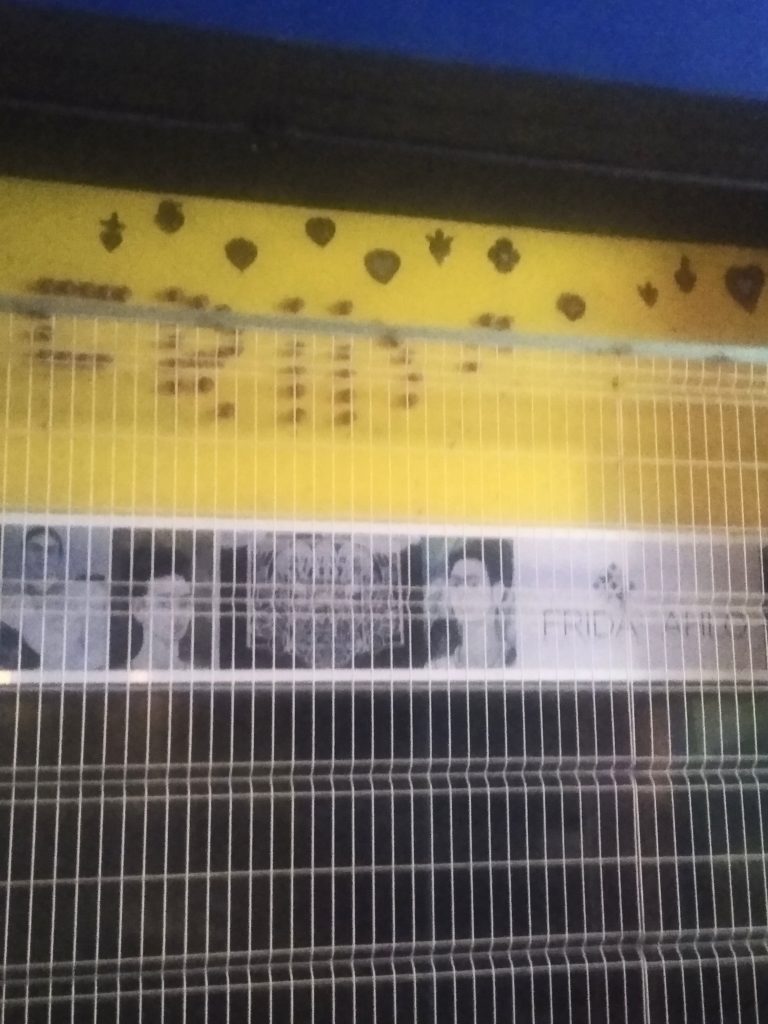 The museum is located on Calle 8, entre Quinta Avenida y el mar, Gonzalo Guerrero. Hidden in a side street, it's easy to miss with only a few photos of Frida Khalo outside. We went round in circles before we found it. When we finally did, we realised the reason it was so difficult to locate was that it is now closed. It seemly is closed permanently due to Covid or just before. Maybe there's no use for culture in a party town like Playa del Carmen! There is a page on the web that is still selling tickets for it. Don't be fooled! Luckily we weren't.
3D Museum of Wonders
Immerse yourself in the magnificent 3D illusional artwork by DaVinci, Michelangelo etc. The 3d effects here looked amazing, everything from sitting inside bubbles to falling pictures. Loads of photo ops for fun and giggles.
However, we personally thought it was overpriced for just a museum so decided not to be £50 lighter in the pocket and gave it a miss. If you do want desperately to see it, don't forget socks, as shoes are not allowed.
Explore an art gallery
Art lovers will be in their element. There are some great galleries in Playa Del Carmen, such as Riviera Art Gallery for contemporary art from young and emerging artists from all over the world, or how about Gastón Charó´s unique artwork, which gives you the opportunity to purchase some of his originals.
(No photos allowed in this particular gallery, but we managed to sneak a few lol).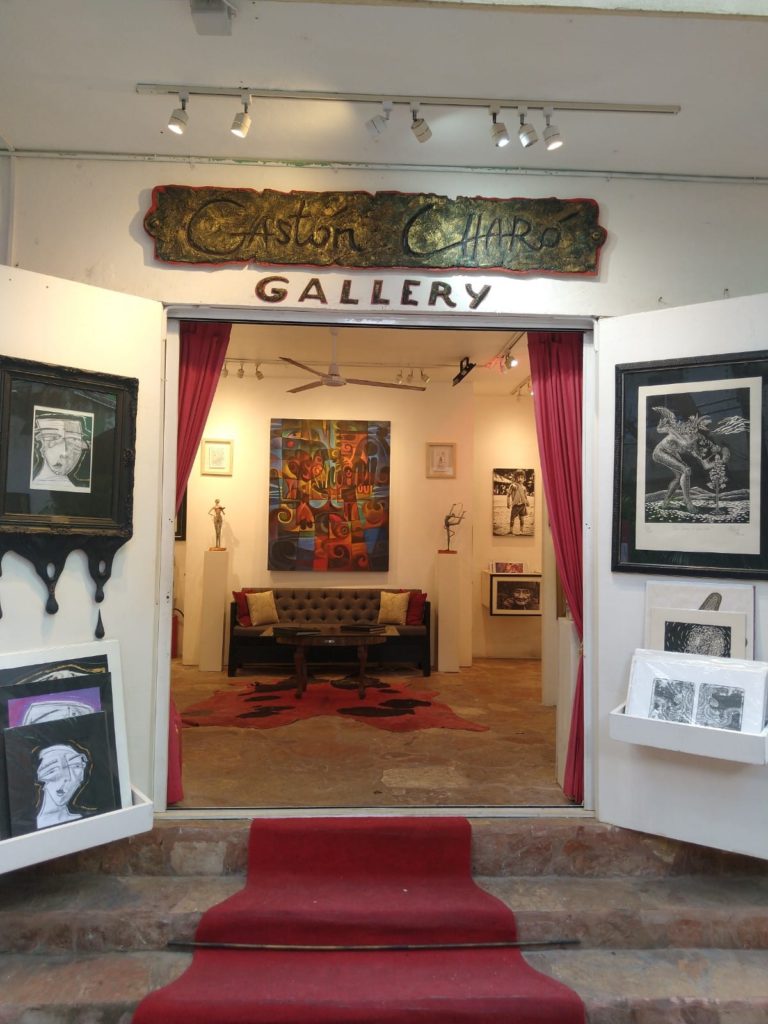 If that doesn't grab your fancy how about the Huichol land gallery which specialises in Aboriginal handcrafted work and if you're lucky you will get a back story of the the artists who made them as well as information what the symbols mean. 50% of profits goes to native tribal communities who originated the artform in Western Mexico.
A favourite of ours was the Galleria. A simple gallery where artists worked in their onsite studio. The paintings were full of colour and vibrancy which matched the artists, such as Manuel Zardain exuberant personalities! Buy online, you will pay double the price, such as $3,000. Buy direct and you will get a piece for half the price. They also sort packaging and shipping for you.
Had enough of the crazy 5th Avenue? Why not try some glamping?!
Well they looked more like huts than glamping tents! But we decided to go for it anyway and when we checked out the place, while dropping off the money for our stay, the gardens looked peaceful. Although our instincts told, the area may be a bit of a miss. It was right next to a noisy condo building and facing a huge army base.
We have tried camping before many moons ago, but sleeping in a two man tent these days, is something you'd have to pay me (Miko) well to do!
We also poopooed glamping on occasion, but with the hectic vibe of the main Playa del Carmen town, we decided a bed in a more 'done up' cabana, surrounded by relaxing flora and fauna, might be just what we needed to connect again with nature.
They even had a pool.
Our digs
We found our cabana home for three nights (or so we thought) on Airbnb and Booking.com, however for a hut we still thought it was overpriced.
So we contacted the accommodation owner, an Italian expat, directly via WhatsApp to negotiate a better deal and got a relative bargain, £75 for 3 nights.
Tip: By the way, Mexican businesses love using WhatsApp, sometimes you can only get them to reply through WhatsApp. We have found messaging various hotels etc through email, most of the time doesn't get a response.
The cabana itself was very rustic. On closer inspection it also needed a good spring clean. Holey sheets and manky, threadbare, towels don't do it for us. WiFi was poor to non existent and no hot water as advertised / described by Andrea on arrival. Still we had paid so no going back now.
Anything to do close by?
You are still a bit of a walk to the hullabaloo of 5th Avenue. If laying by the pool or beach, with nothing to do drives you crazy. It'll take you approximately 40 minutes to walk to the start of the buzz. You can also get a taxi at the stand at Esmeralda beach just a 15 minutes stroll away or alternatively call one. But we had planned to enjoy the respite of the cabana and garden, welcoming the chance to recharge our batteries.
Eat out? No cooking facilities at the glamping
We did find ourselves at a bit of a loose end though with no cooking facilities at Secret Moon 'glamping', there are basically no restaurants nearby (except at a couple of big hotels at Esmeralda beach or very meaty local taco stands). However, our host Andrea helped us out with a pizza that did delivery on the second night. We had already covered ourselves for dinner on the first night with a bit of forward planning!
Playa Punta Esmeralda
This used to be a little secret, but the secret is getting to many ears fast.
However, it's still a respite from the main Playa Del Carmen beaches, so get there and escape the crowds before it loses its charm.
It is approximately 15 minutes walk from the Secret Moon glamping site. Also if you are in 5th Avenue it is approximately a 45 minute walk.
It's well worth to find a lovely little oasis, with even its own spring water cenote where you can cool down after your stroll. There are also some water sports you can take part in, which a beach club organises, along the calm waters of the coastline.
At the beach, take some shade under a palm tree, soak up some sun, swim in the turquoise waters, and take in the wonderful nature of Esmeralda.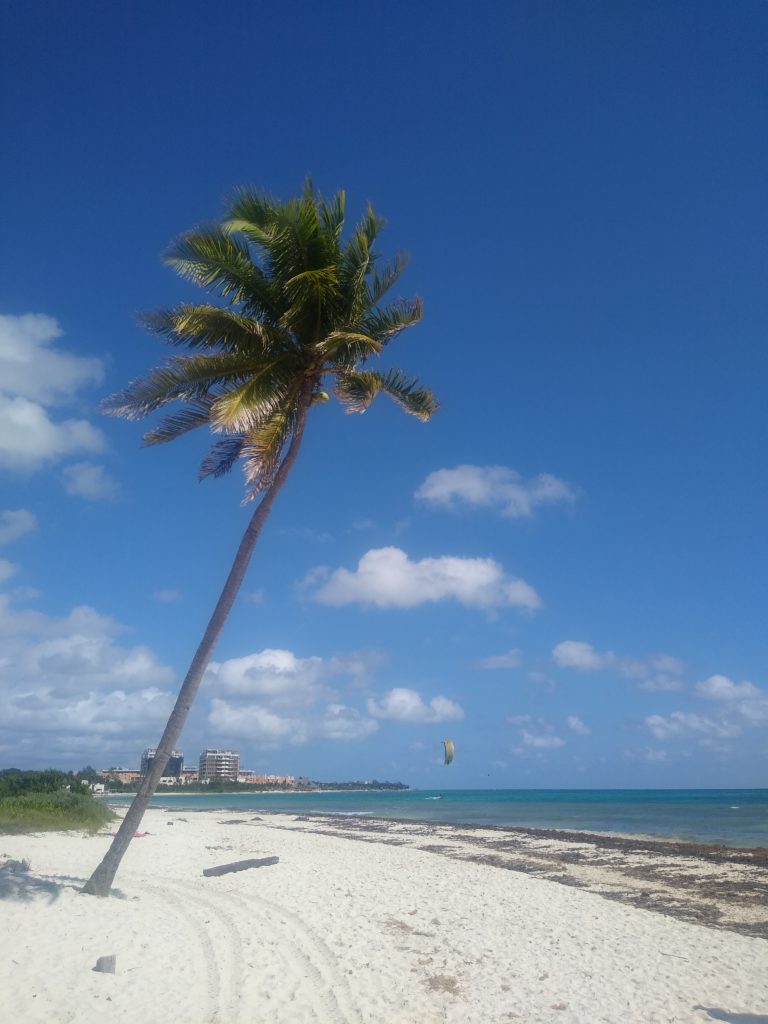 Our early morning wake up call
Unfortunately, on the 2nd night at the cabana, our sleep was rudely interrupted at 2am with yelling from two of the neighbouring Cabanas. One woman accused the other couple of adding to her thoughts of suicide! It went on for a while, before we went to investigate.
After going to tell them to be quiet, and finding the doors closing as we opened ours, we went back to bed. However, 10 minutes later, the girl next door, whose mind was obviously not in a good place, began shouting about demons outside our own door. We hadn't had any contact with this girl previously so we were confused when she chose to target our cabana. It was all a bit disconcerting, especially when we saw a shadow creep around the small glamping site for the next couple of hours. When someone's mind is in an uneasy place, then anything could have been on the agenda. Little sleep was had as we were concerned about our safety as well as the safety of others.
Early departure
It was time to leave. We spoke with our host the next morning, asking for a refund for the last night, as we didn't feel safe staying. Finally, after to and fro messaging, we agreed half the money back would be fair.
We couldn't wait to leave. The relaxing retreat turned out to be more like a hostel on steriods!
We moved on a day early to our next destination. Thankfully, the following booked accommodation had availability so we were looking forward to a decent sleep!
If you liked reading, you may be interested in articles on: