Isla Mujeres (Island of women)
Isla Mujeres – island of women, was dedicated to Ixchel, the Mayan goddess of the Moon, love, happiness and fertility. Mujeres is the Spanish for Women. The island was fondly named 'island of women' in 1517 by Francisco Fernandez de Cordoba. He found the island and saw the sanctuary with a representation of Ixchel and all the women clay statues that the Mayan used to offer to their goddess.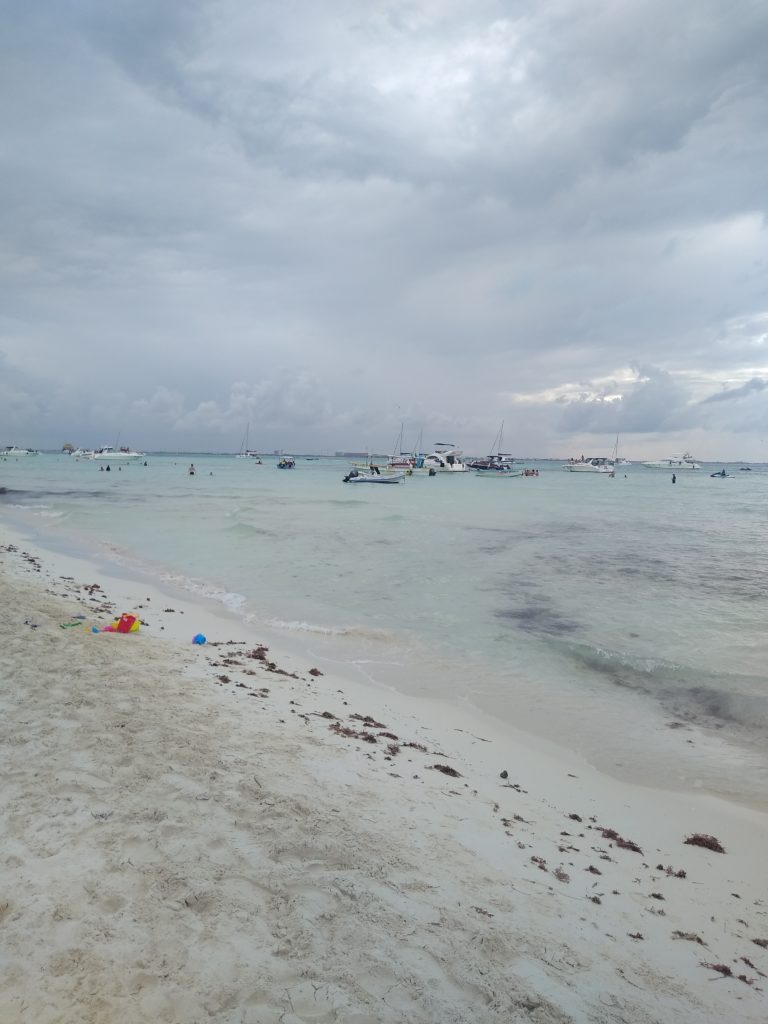 Island getaway
Isla Mujeres – Island of women, is known for it's crystal clear ocean and white sandy beaches. As a result, the island's sales pitch centres around all matter of water activities, such as snorkeling, boating, scuba diving, kayaking and parasailing. On top of that, lounging at the beach is also a favoured (in)activity.
There's a slow, chilled out vibe here during the day. However, at night, the party vibe kicks in, where people dance the night away. So whether, you go to Isla Mujeres to lay on a hammock, or socialize with the locals, put all technology away so you can switch off and relax. Anyhow, WiFi is pretty lousy on the Island!
It's definitely much bigger than islands we have been used to, with around 12,642 residents. To us, it was more like a town rather than island life, compared to that of Holbox, Mexico, with only 2,000 permanent residents.
Getting there?
Isla Mujeres island of women is only a 15 minute ferry ride from Cancun making it a convenient holiday trip for some island life. Sit on the top deck for some lovely ocean views and to spot Isla Mujeres ahead.
You will also have entertainment such as the pipes or ukulele musician! Or a lady coming around offering shots of tequila! You get the Ultramar ferry from Puerto Juarez. The price for ferry was 450 pesos each return. Or 240 pesos oneway. Additionally, there are ferries sasiling from points in the Hotel Zone, Cancun. Check out Ultramar's routes and prices here.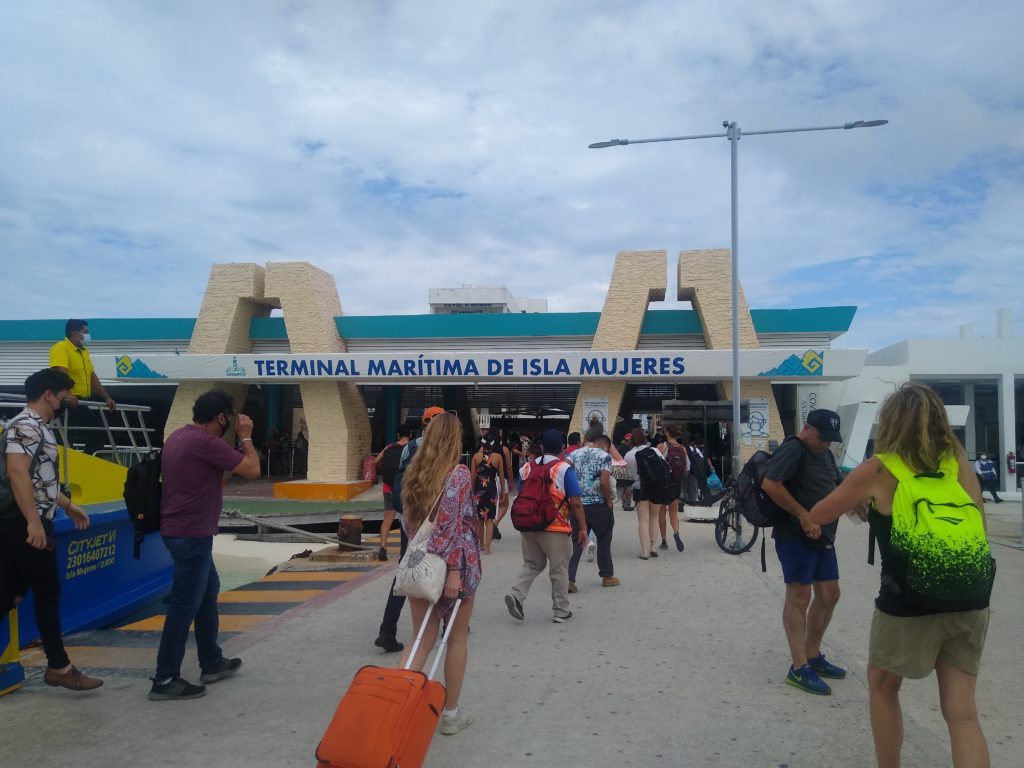 Weather
The weather in Isla Mujeres, island of women was pretty miserable for the first couple of days there. If it wasn't grey and cloudy then it would rain constantly. However, we did get a couple of glorious days, so can't complain too much. Seemly rain happens alot in January. February, we are told, gets better, with more days of sunshine and less rain. We carried on regardless with our plans even in the inclement weather. Indeed, growing up in Ireland prepares one well for precipitation!
Accommodation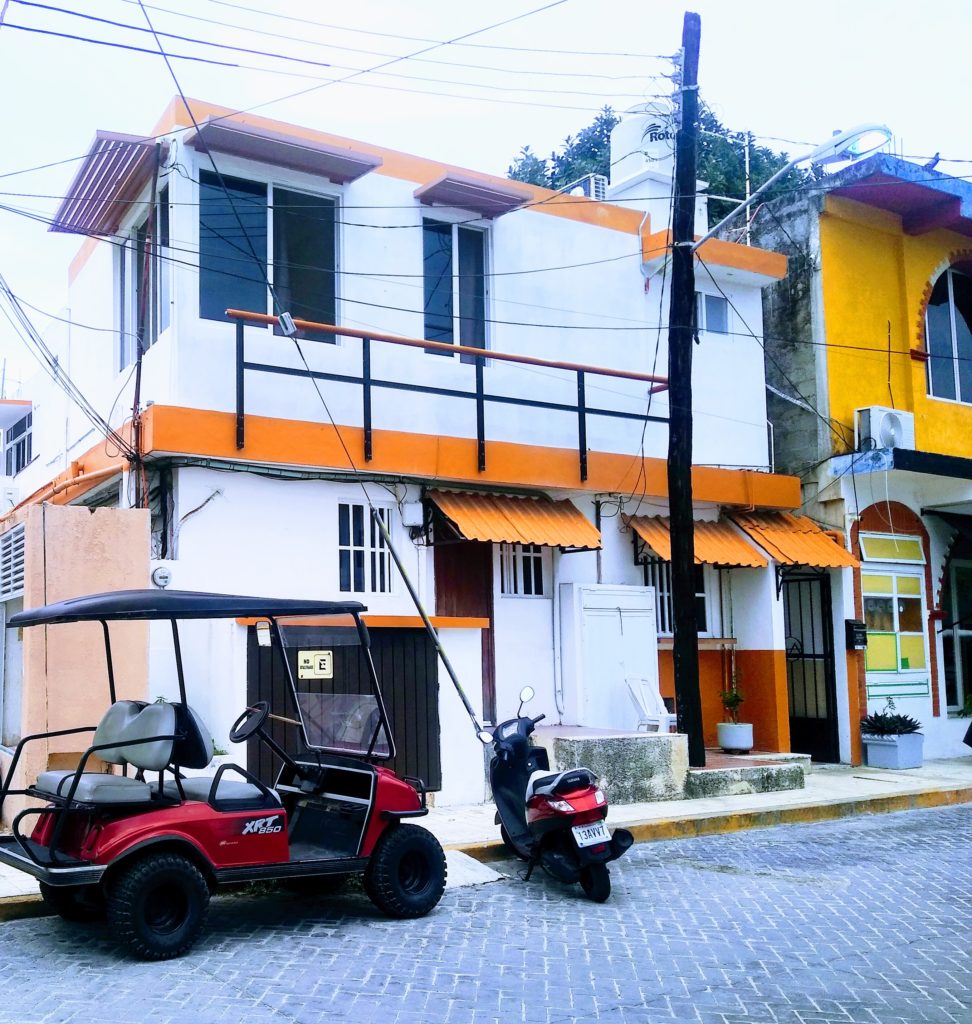 There is muchas accommodation choice in Isla Mujeres. Anything from high class luxury to simple guesthouses. Even then, prices are well up the scale. We decided not to go mad, so stuck to a budget and opted for more down to earth Airbnb digs. Patience and flexibility is definitely needed while searching for the right stay.
Simple but effective
Our choice was a simple style accommodation set in a small residential apt building. The complex was shared with many expats who had set up a winter home here. We had a kitchen/living area, a bedroom, and an ensuite bathroom. No frills but everything we needed. Most importantly, the place was clean.
Escape to Isla Mujeres – Island of women.
We were left with a dilema after our 'glamping' escapade on Playa del Carmen! Escaping there left us needing to find a night's stay somewhere else. Luckily the apt was available a day earlier than we'd booked. Someone was definitely looking down on us. Unfortunately, the accommodation wasn't on any other sites for the 4 days originally booked, so we couldn't avoid paying the Airbnb fees. However, we did get a better deal on the extra night as we paid cash directly.
Friendly resident
As well as the added bonus of having cooking facilities (there's only so many times you want to go out and eat), we connected with the friendly resident cat called Poncho! He had certainly been round the block a few times. In fact, we nicknamed him tongue as the pink licker poked out of his mouth due to a number of teeth missing lol.
The vibe
The vibe in Isla Mujeres, island of women, is relaxed. Although, a party atmosphere permeates through the chill due to the heavy tourist influence that come here from Canada, USA, Argentina, and a small few from the UK or Europe, not to mention the plentiful Mexican tourist influence.
Beach life on Isla Mujeres – Island of Women.
In the day, visitors flock to the beach, indulge in water sports, or shop in one of the many souvenir stores, artisanal jewelry stalls, and clothing boutiques. Or, depending on the celebrations the night before, just nurse hangovers with some decent food in one of the many restaurants serving anything from Vegan delights, Italian, Argentinian, or off course Mexican food etc.
It's noticeable around the island, that money being pumped in by the tourists is often not put back into the infrastructure. This can show in some of the rubble and rust.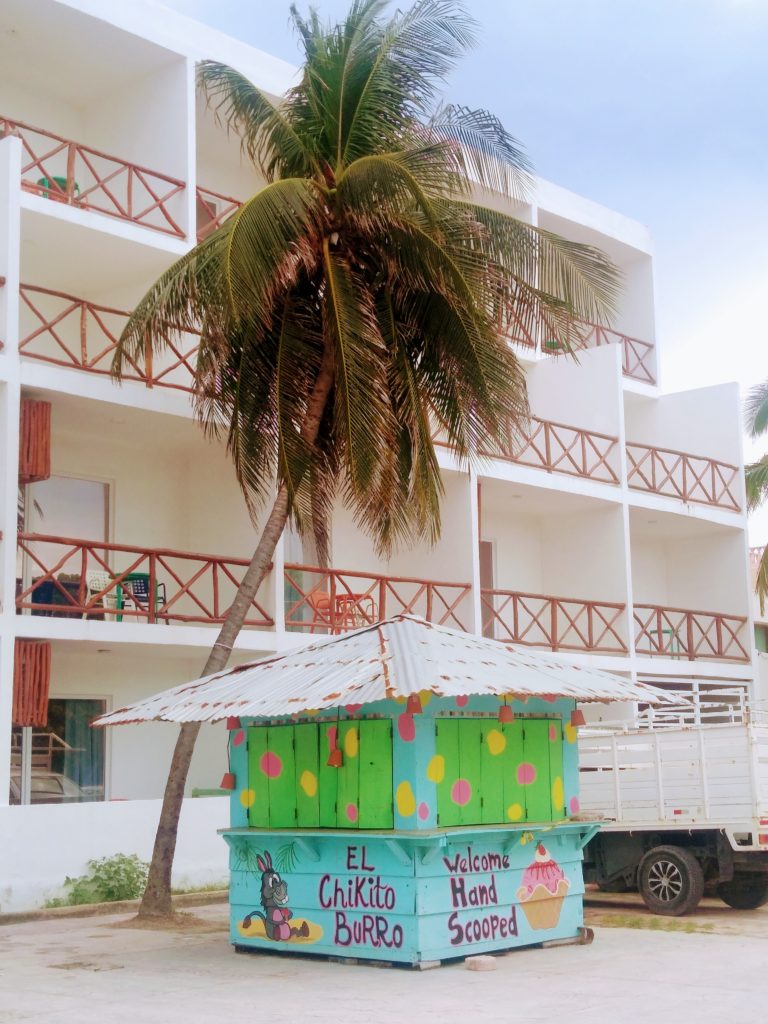 Cost
Isla Mujeres is not cheap. With accommodation, it was difficult to find somewhere for good value for money. Eating and drinking out can also be expensive. Expect to pay European / American prices in many places. Accomodation can be anywhere between £40 to £300 +++ a night. A simple glass of vino will set you back £4/6. Again, this price can increase greatly, and not necessarily due to quality, depending where you choose to imbibe.
Cash or card on Isla Mujeres (Island of women)
Some places will only accept cash so be prepared. There are some ATMs on the island. I found that the CIBanco, near the ferry port, was reasonable as it allowed for a decent amount (at least MXN$9000 pesos) to be withdrawn and only charged a MXN$58 peso commision. There are some ATMs offering US dollars. If this is your thing then expect a double whammy. Here, you will get charged a commision to withdraw from the stand alone ATMs. Then, you will get a variable rate of exchange in the restaurant / bar / shop that is often not great.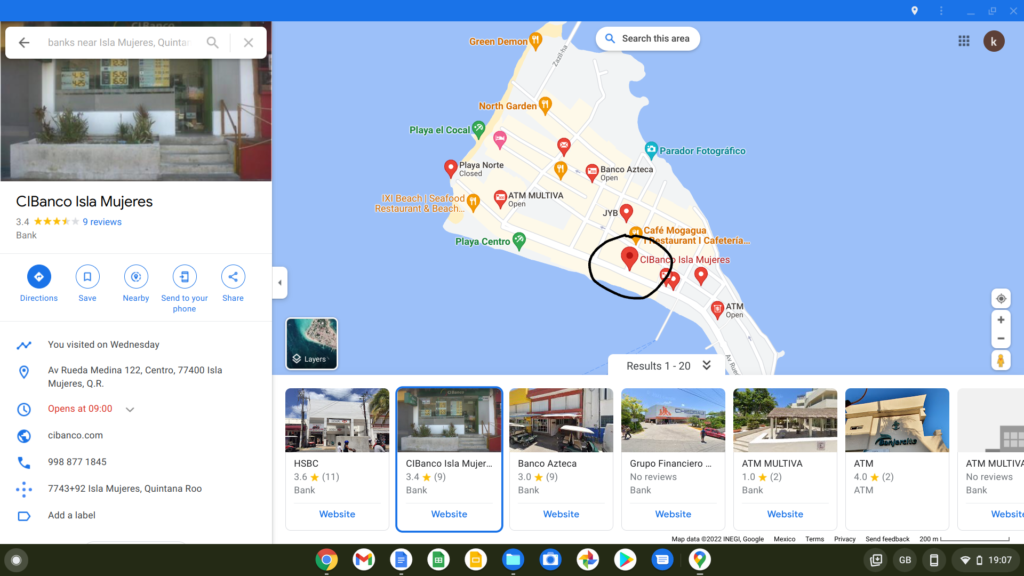 In establishments that do accept card payments, there are two things to watch out for. Firstly, some have a minimum transaction amount; be prepared to have more than one drink each. Secondly, some businesses will also charge a commision percentage on top; usually around 6%.
What to do in Isla Mujeres – island of women?
Isla Mujeres is not a big Island. Certainly, anywhere in the north of the island, around the ferry and Play Norte etc is within easy walking distance. Beyond that, some form of transport is useful whether it be bus, taxi, bicycle, golf cart or scooter. That being said, it is fairly simple to get around and enjoy what the island has to offer.
Rent a golf cart
We rented a cart from Golf Cart Indios, which was 1300 pesos (approximately £46) for 24 hours. Unfortunately it was pink and no' 13, not my (Miko) favourite colour and number Lol! The company itself have been going a long time and have the best track record. They do ask for your driving license as insurance. No other deposit was needed. Just make sure you take photos of the cart, ie scratches etc before driving off. Map apps seem to bring you to the wrong location. Therefore, it is better to put the actual address in and follow that.
Since we were in Playa Norte, it was a necessity to hire the cart to get to the other side of the island as that's where most of the sightseeing is.
Unfortunately, the first day we hired it, the weather mixed between lashing down, constant drizzle, and continuing to spit rain drops during any rare breaks in the cloud. Consequently, our touring was a much more unpleasant experience. However, we did see the funny side, even though we got drenched.
The next day was so much better Caribbean island vibes, as the sun came out to play! Hip hip hooray!
Chapel of Guadalupe
The church was an impressive site with stunning vistas over the ocean.
Gaudalupe invites worship and meditation.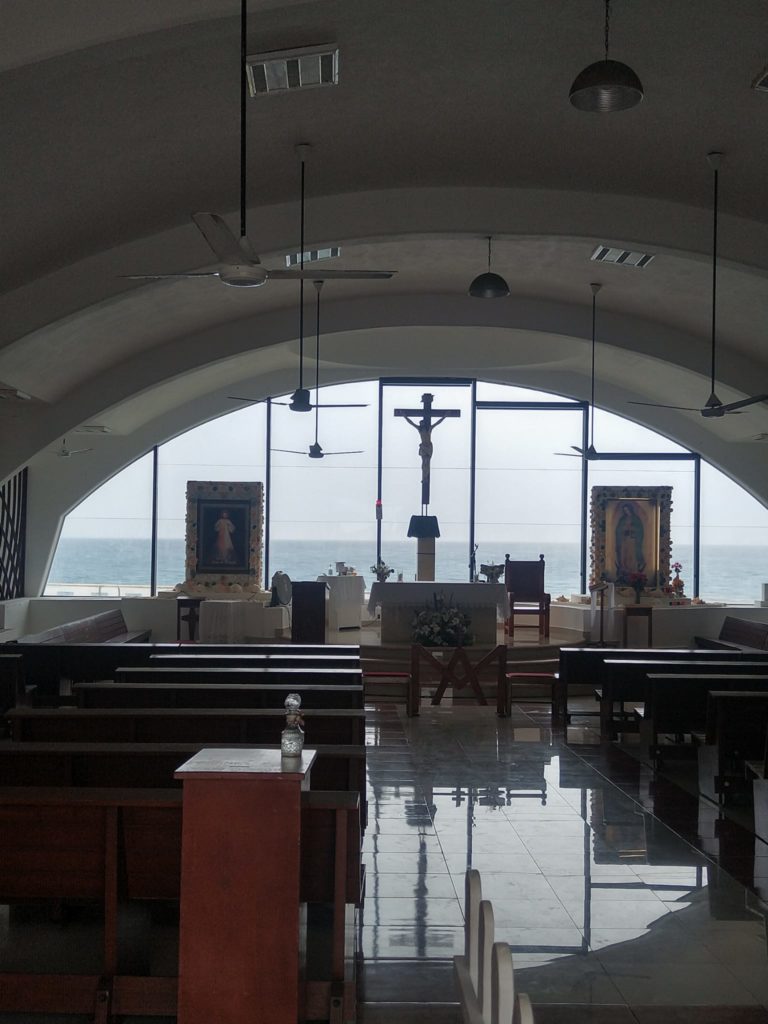 Since the church sits on the edge of one of the most beautiful beaches, Casa Cural y Galería Guadalupe offers you its halls to celebrate all kinds of events: congresses, seminars, weddings and baptism etc.
This cute private casa is worth it to take a jaunt to. You may need transportation if staying outside of this residential area.
The owners keep making this place better and better, telling us, it's still a working progress.
We loved the bright and beautiful colourful design of the huge crayon like pillars. If you appreciate art, you will love the vibrancy of this random place.
Most people see it as 'just' a bright House, but look closely at the detail and you will see the love that has been put into the place.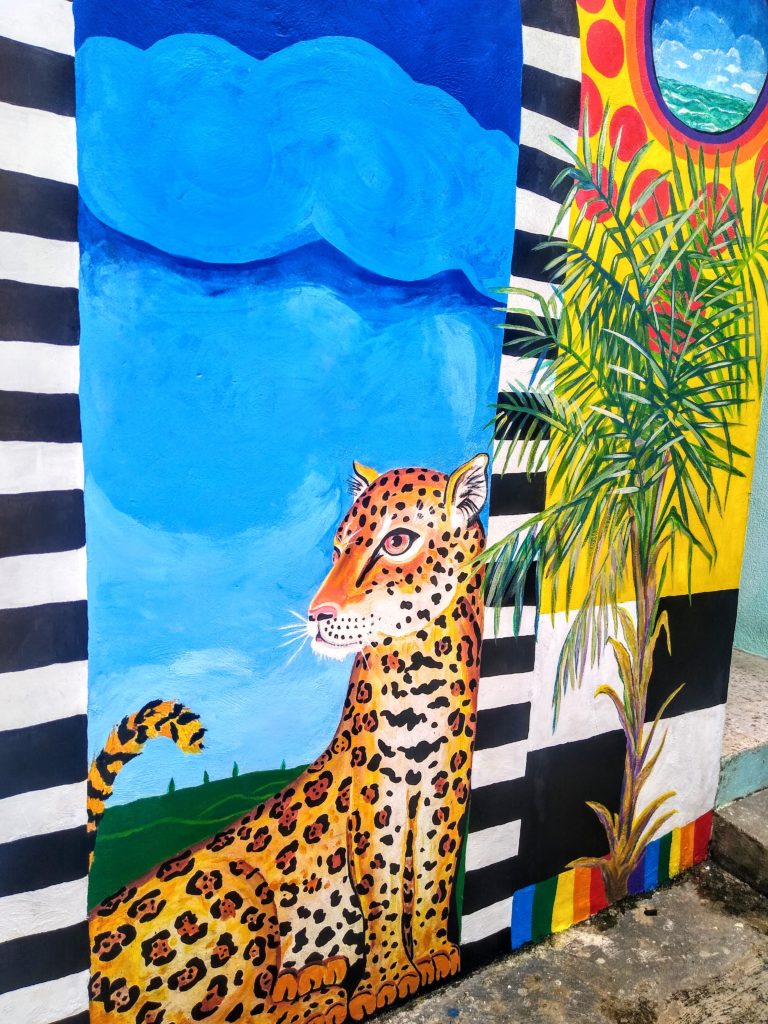 Located at: Josefa Ortiz de Domínguez, Meteorológico, 77400
Visit Punta Sur Park
We got up at the crack of dawn for our visit to Punta Sur. It is the portion of Mexico that receives the first rays of sun light and we thought this alone would be a special reason to get up for.
It was pitch black when we got on the road at 6.35 am in our Barbie pink cart! However, soon the pre-dawn light started to emerge in the clear, eastern sky. It was a beautiful morning.
Getting there early meant we beat the crowds.
As you walk into the park you will come across various statues such as being greeted by the goddess of fertility Ixchel and a huge iguana etc.
The sculptures in the morning light were spectacular as they sat with the views of the ocean and sunrise behind them.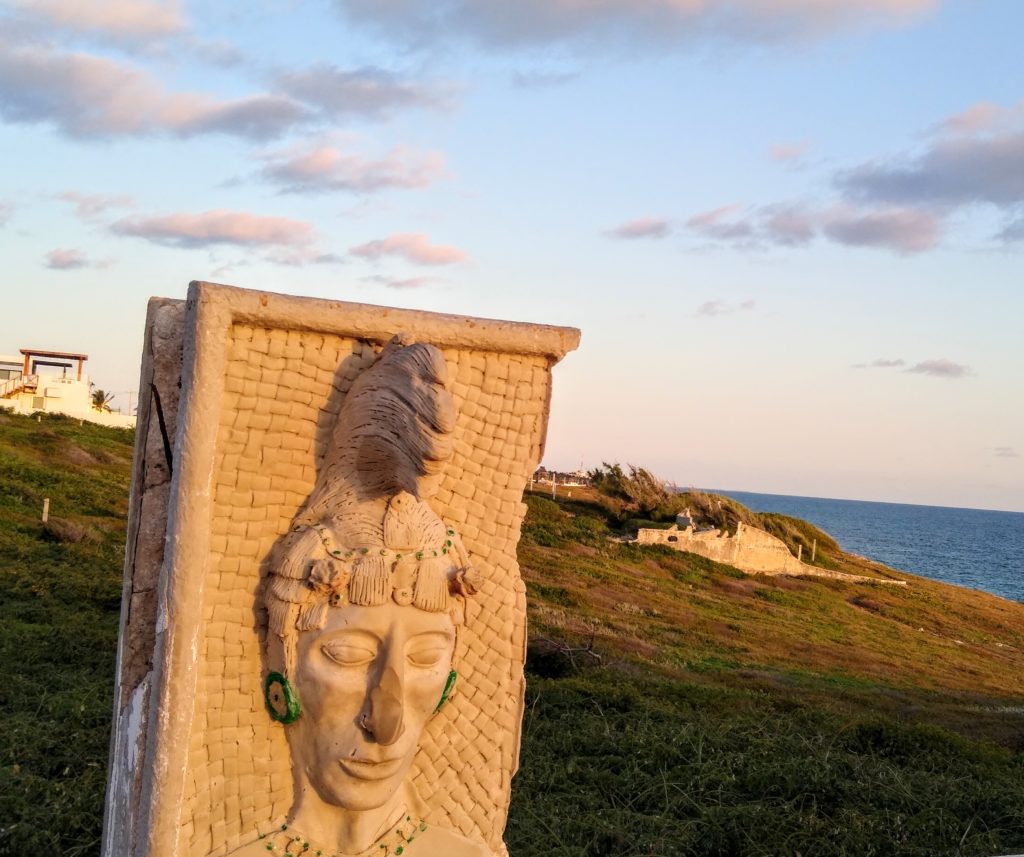 A lighthouse overlooking the Caribbean sea also welcomes you in these fascinating, calm surroundings.
Already we felt we had entered a zone free from disturbance away from stresses of life's noise. This surely is a wonder of the world and a true beauty spot.
Ancient Mayan ruins Temple on Isla Mujeres – Island of Women
The ancient Mayan ruins temple is also in Punta Sur park, on the island's southern-most point, and it awaits to greet the sunrise every day.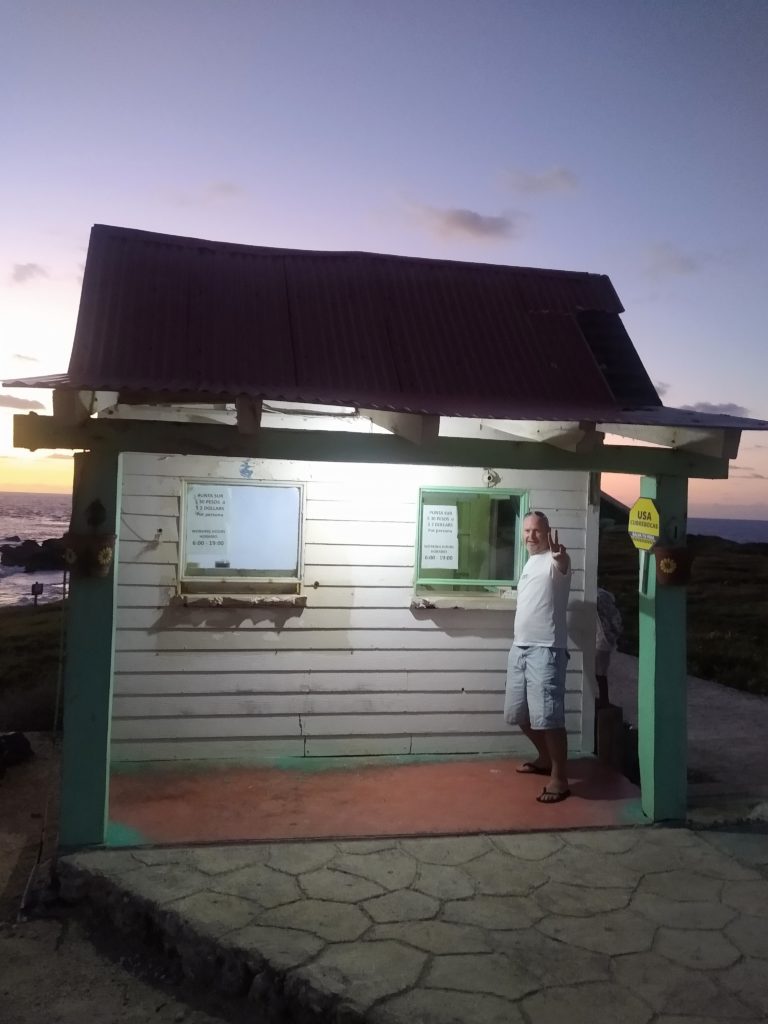 To enter the ruins you need to pay a small sum of 30 pesos per person. There's no need to book in advance. There are toilet facilities just before the entrance to the paying hut.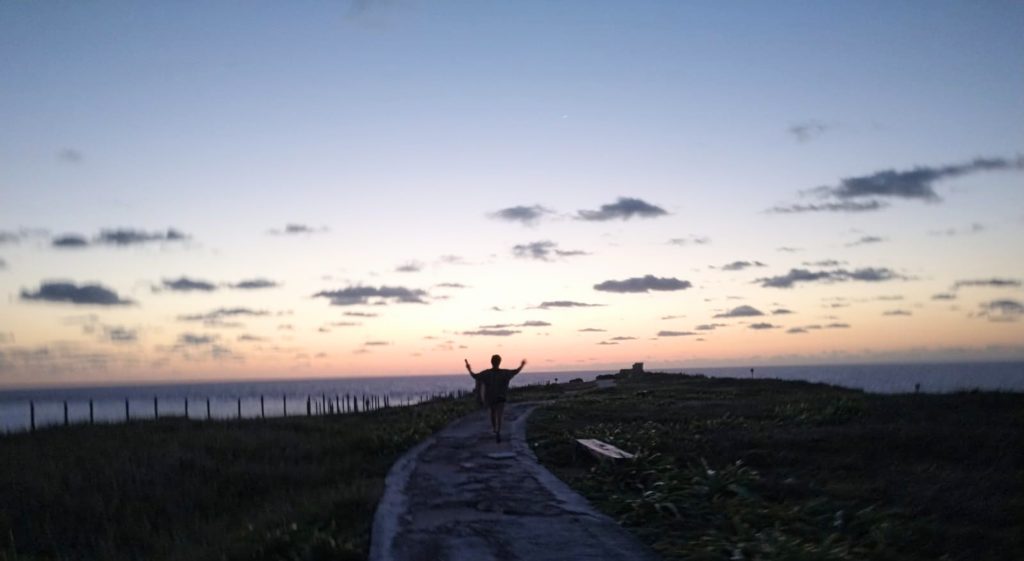 In New Years Eve people gather here to rid themselves of the past. Some say this tradition began well before the 1800s when remaining awake all night was necessary to keep watch of the horizon for any incoming invasions.
Unfortunately this has been cancelled two years in a row because of 'covid'.
Watching the sunrise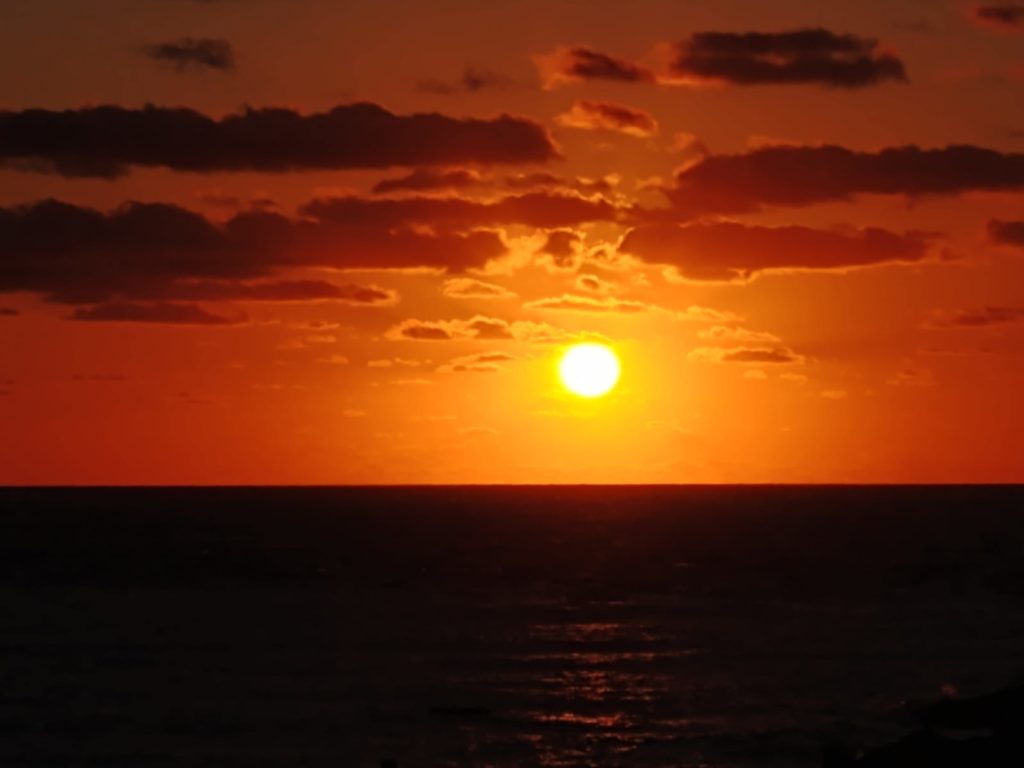 There's something very enchanting about a sunrise.
It brings purpose, a sign of new beginnings, hope and it seems to give a new sense of vigour.
It certainly was a blessing to visit this extraordinary site and sit watch the sun rise, just like the Mayans did 2000 years ago.
To think Isla Mujeres receives the first rays of the sun in Mexico made us feel very lucky to experience it.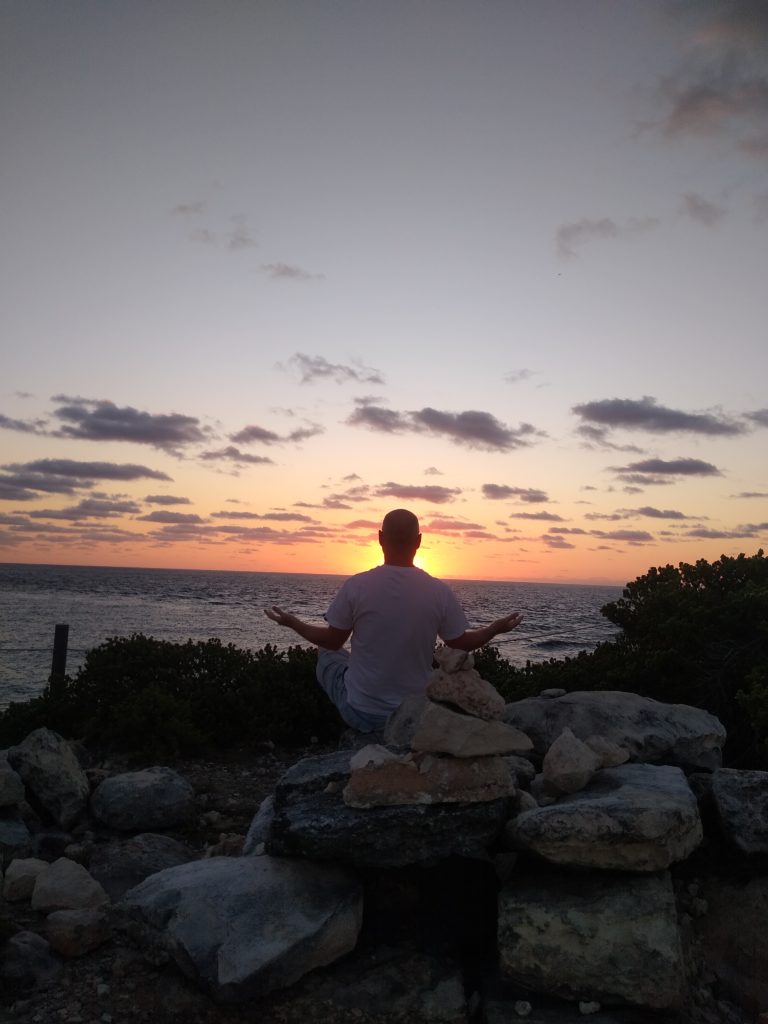 After sunrise
After the wonderful awakening of sunrise, if you aren't to tired from your early morning start, why not explore the rest of Punta Sur park?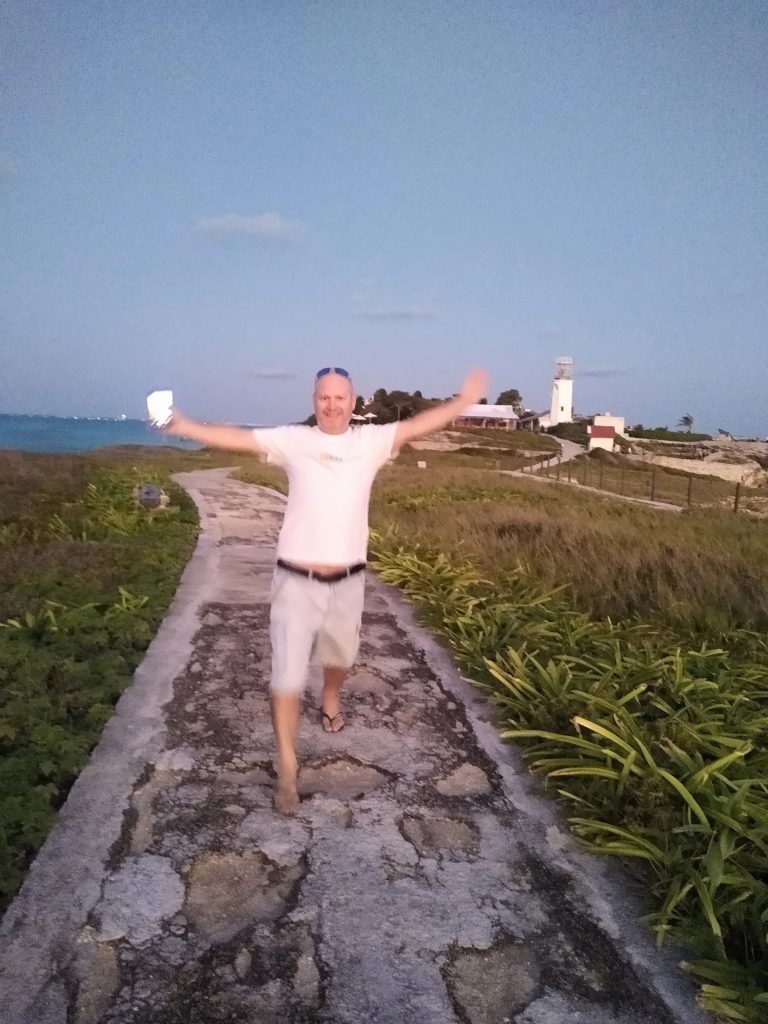 Personally we had a renewed spark of battery power after our meditation session, so we were eager to delve into more Punta Sur had to offer.
There's some interesting trails and caves to duck in and out off to bring out the inner kid. We thought some of these particular trails looked very familiar to the ones in Ireland we have traversed many times, especially the one with the little house.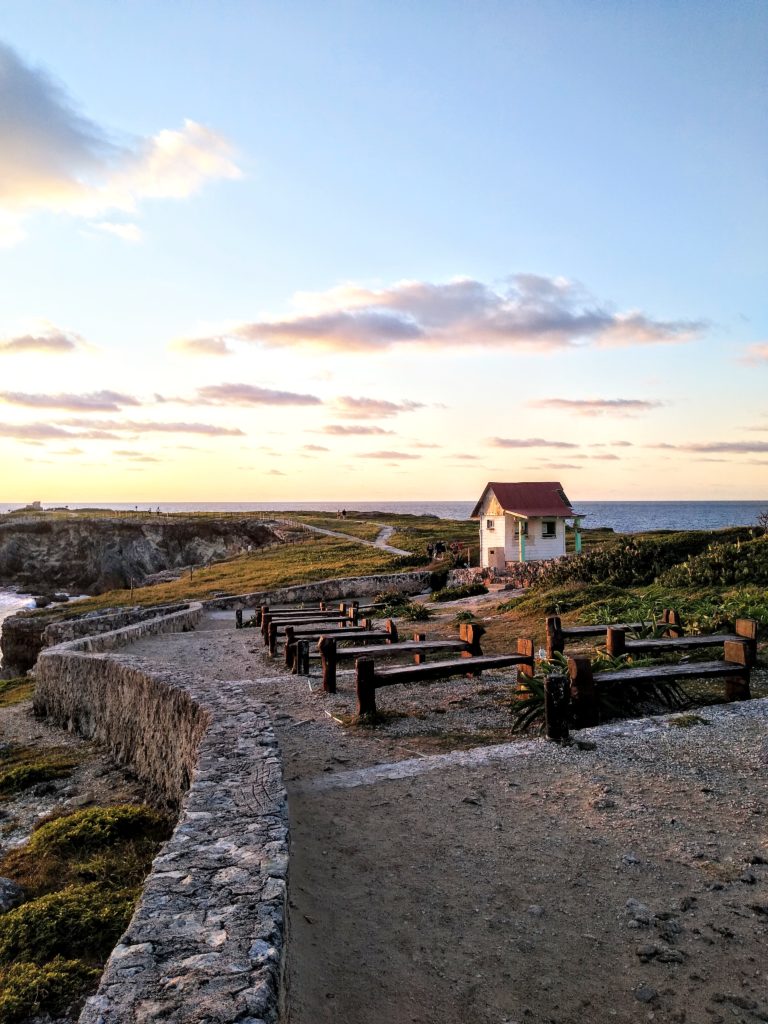 On the bright day you could also see Cancun in the distance, with the sun glinting off it's glass, beachside, monstrosities. It was hard to believe we would return there, to our temporary home, when we got back from the island.
Caves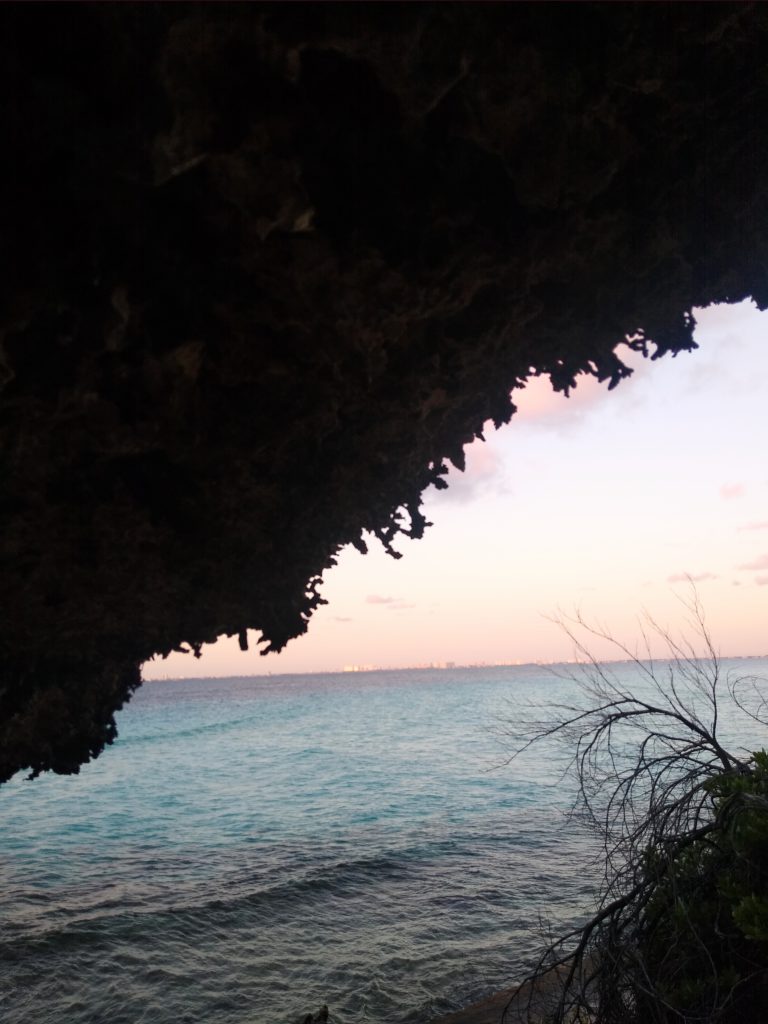 The sheer majesty of the deep wall, caves, caverns is breathtaking.
One of the larger caves, called the Devil's throat, opens up into an underwater room with four passageways, one of which leads to the Cathedral which makes it a great diving experience.
Punta Sur is really a true gem of Mexico and was a highlight of our time in Isla Mujeres. Highly recommended!
Hacienda Mundaca's Plantation House
Hacienda "Vista Alegre" is the place that pirate Fermín Mundaca built with houses, wells, gardens and arches. inspired by the love he felt towards a native islander known as "La Trigueña". You will find a sculpture of her down at the Malecon.
The heritage is a historical site now known as Hacienda Mundaca. Unfortunately, it is temporarily closed at the moment, so check opening hours before hiring a cart to go out to here.
Underwater Sculpture Garden
Dive into the Caribbean Sea off ​​Isla Mujeres and you will find incredible sculptures at a depth of 30 feet. There are various dive centres on the island. They offer scuba diving and snorkling trips.
Or if scuba diving isn't for you, why not take a trip on a glass bottom boat?
There are extraordinary pieces in the underwater art museum as well as the exotic marine life to spot.
The glass bottom boat is approximately $47 per person.
Women's Beading Cooperative
A group of local women creating one of a kind handcrafted beaded jewelry. Each time you buy piece of jewelry from the Co-op, 80% of your money goes directly to the woman who made it, and the rest is put towards purchasing materials.
You can buy anything from purses, statement necklaces, bracelets and earrings. It's approximately about 5/10 minutes from El Centro. Transportation of some kind maybe a must depending where you are located on the island.
The Malecón
Stroll down the Malecón and check out the various different artistic sculptures in the area. Some are quite impressive, such as the unabashed La Trigueña.
However, I think our favourite had to be the turtles!
It's usually a quiet stroll, away from the busy main streets.
People come here, to gather their thoughts and to meditate looking out to the sea.
There's a small beach at the top end of the Malecón, an extension to Playa Norte. Certainly, it is a lot more quiet than its neighbour and a little less brash.
There are some great rocks for climbing and some crystal clear rock pools. It was only a minute away from our accommodation, making it a great find.
Just between that and the busier part of Playa Norte you also see the long stretch of boardwalk walking towards the Mia Reef pink hotel.
You can wade across the turquoise waters to take in some colourful marine life.
It's amazing what you can spot, in the rock pools and shallow waters, without even needing a snorkel!
Playa Norte beach
Playa Norte was busier than we dreamed. It wasn't the island paradise we had hoped, especially at the weekend. It would be a nice white sandy beach if quiet, however there are too many tourists, as well as locals, and umbrellas / loungers taking over the sands. You can also hear party boats from the sea, moored just off shore, giving the Playa more rave style location rather than an idyllic getaway.
Isla Mujeres sign
The colourful famous Isla Mujeres sign is down at the Malecón near the Playa Norte end. It's a must see for a quick photo op!
Street art
The mural art in Isla Mujeres is colourful and unique.
There is even a festival of street art that invited artists from around the world to contribute murals in the ocean conservation theme. Sea walls, artists for oceans, commenced in 2014.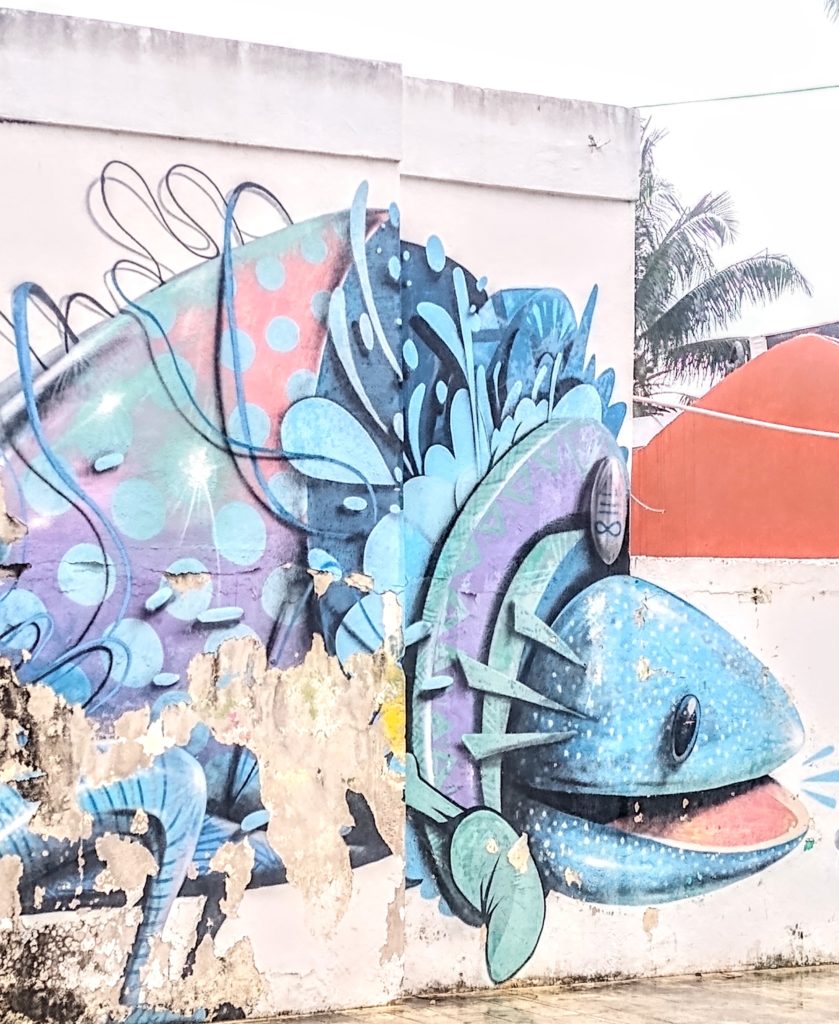 Now approximately 300 plus murals decorate walls in 12 countries around the globe, with the goal of presenting the message of the necessity of our oceans, and dangers to them, into the public eye.
There is also other interesting graffiti art that tells a story in pictures.
It is so much brighter for the soul to see grey walls so colourful.
Each artist showcasing their talent as well as painting their own message.
Immaculate Conception church
The Catholic church is surrounded by swaying coconut palms. It's quite understated and overlooked as a tourist attraction, but attractive with its clean white wash look and it's very peaceful. Moreover, it's open to the public so you can visit and admire the simple interior.
Shopping
There are many shops for every taste in the area. Eye catching goods such as handcrafted jewelry, hammocks and souvenirs.
Eating and drinking – our faves
Really friendly, welcoming staff. We went for drinks (great vino blanco btw and I'm fussy)! Ended up eating here to. Tried the French fries first as a snack and had more after, as they were so good, as well as pizza. The kitchen guy even came out to us, before cooking, just confirm about our allergies and vegetarian diet. How lovely was that?! Highly recommended.
Isla Burger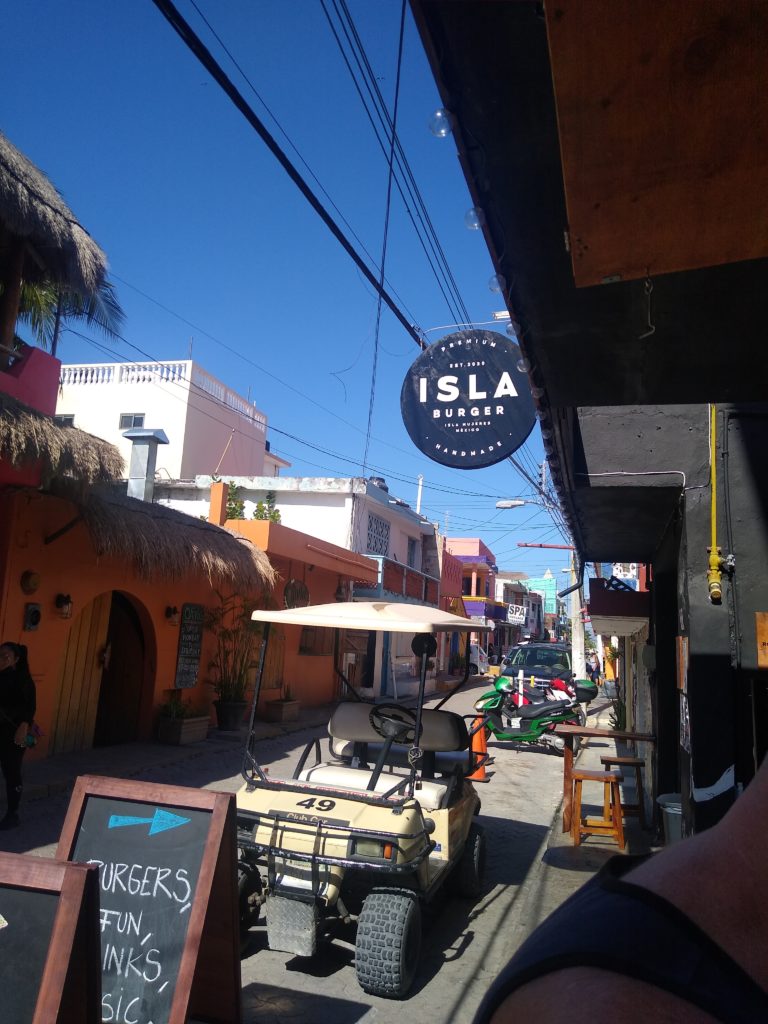 Isla burger is a relaxed bar / restaurant with a roof terrace where you can soak up the sun. Unusual to see two vegetarians in a burger joint, but they do a pretty mean vegan burger with chips on the side. Brian, the waiter / bar tender from Argentina, is very welcoming and friendly.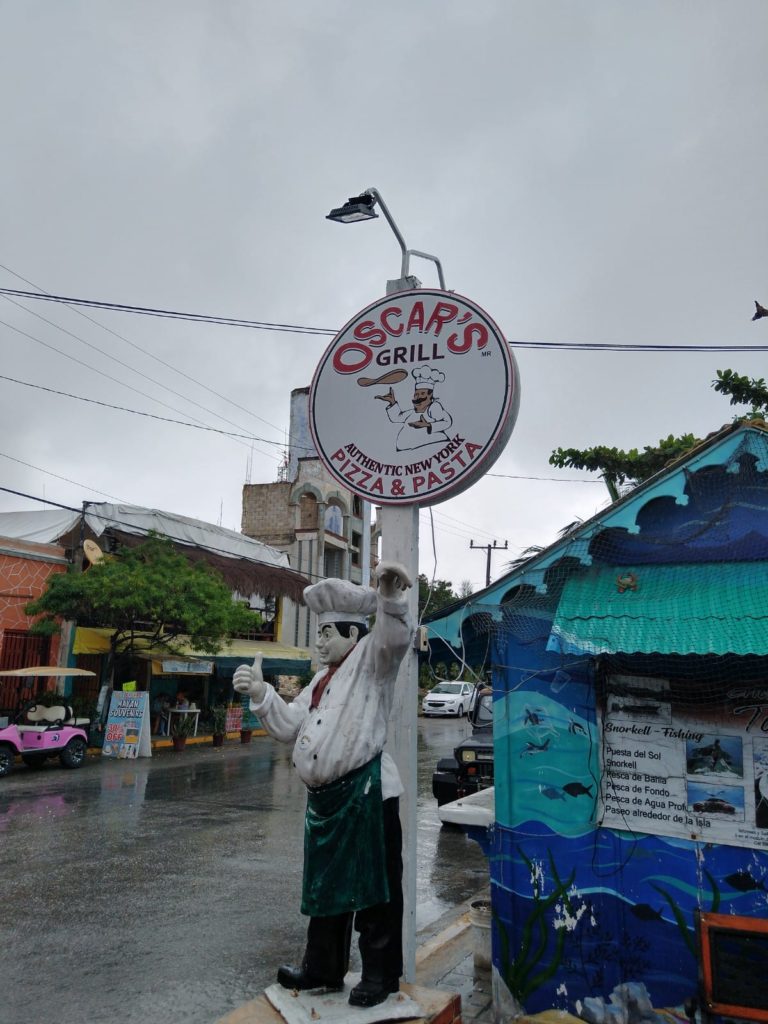 We stopped off for drinks here to shelter from the lashing rain. It had a relaxed atmosphere, waiter was friendly and welcoming and beer was chilled. The big wooden chairs and tables are beautifully handcrafted and heavy! There was cute, tan dog that popped his head in. He loved getting a pet. Please feed him if you see him. He's very lovable.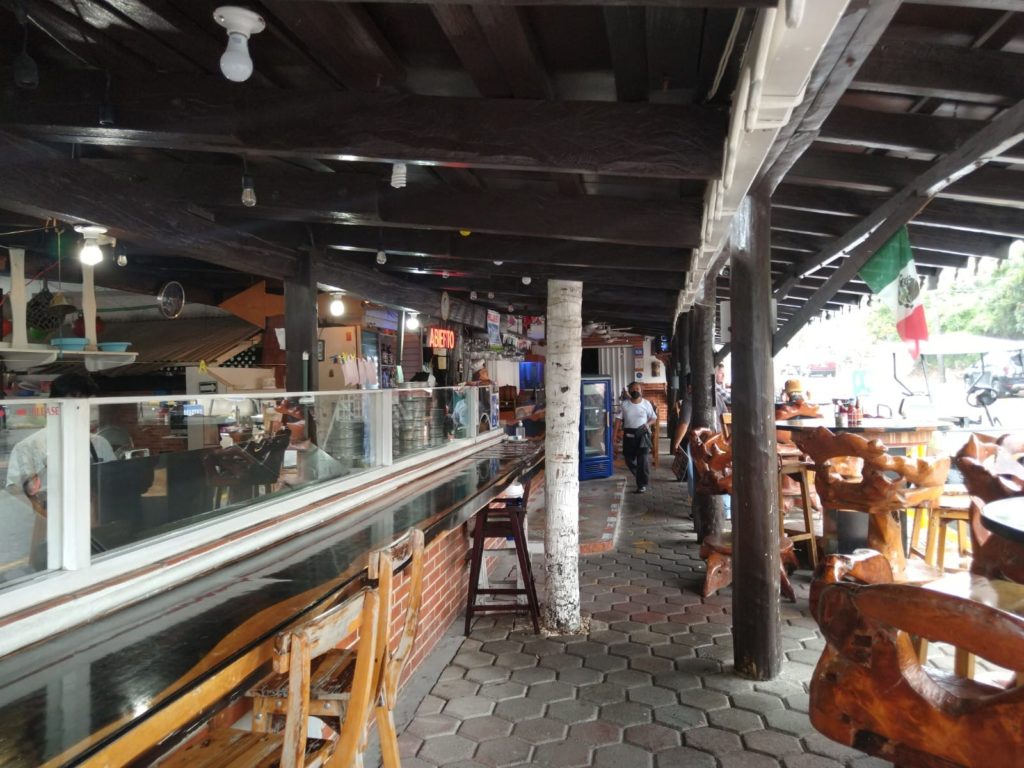 If you liked reading, then you may like: