Puerto Morelos
Puerto Morelos is a port town on the Caribbean coast of the Yucatán Peninsula. It's between Cancun and Playa del Carmen at the start of the Riviera Maya.
Puerto Morelos has kept its charming, original fishing village soul for now. You won't find any big chain restaurants or bars here, just quaint roadside taco shacks, small restaurants and bars with ramshackled character.
It's a sleepy little place. A place to switch off all technology and relax. A world away from busy Cancun, even though only 30 minutes away! Yes, there is definitely tourism but its on a much smaller scale and lower key to the vibe of the resorts around them.
How to get there from Cancun
Since we were going from Cancun, we only had a short distance to travel. It took approximately 30 minutes in a taxi. We used cabify which cost MX$415 (£15 / $20). Therefore, it's generally cheaper than flagging a taxi down on the street or using the likes of Uber.
The aternative is to get the ADO (or other companies such as Mayab) bus from the station in Cancun. The hassle with this is that the bus will most likely leave you up on highway 307. As a result, you will then have 3km to navigate to get you to Puerto Morelos beach.
Accommodation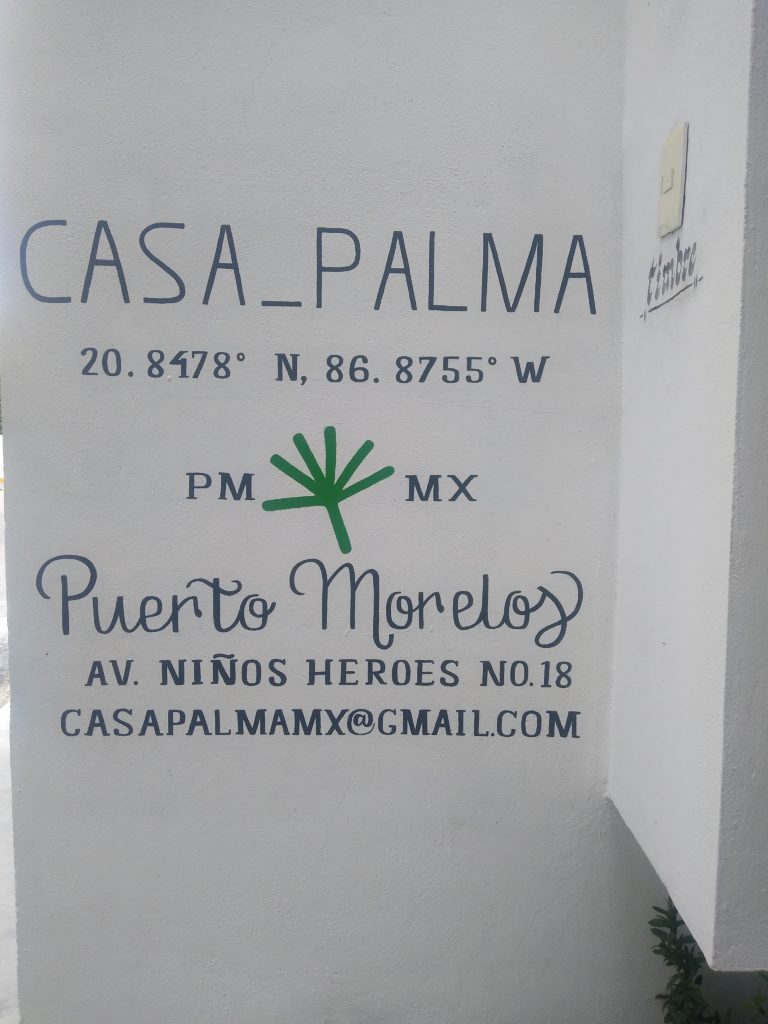 We found Casa Palma on Airbnb first, but also searched off it, to try to get a better deal.
We sent the owner a message from their website as well as a WhatsApp message. Dinorah gave us her bank details and we paid a deposit using a local 7-Eleven. With the rest, she was happy with us to pay cash on arrival, which knocked £70 of the room price! Making it a great saving, only paying £180 for our two night stay.
Everything was fresh and modern. There was a bottle of wine, beer, coconut water and a huge bowl of fruit welcoming us!
We made use of the juicer for the fruit, making fresh juices each morning, getting in those natural good vitamins!
The studio also had a great kitchen and breakfast bar, as well as a lovely relaxing balcony.
You also had use of the garden downstairs, deckchairs and bikes. It was a fabulous place to spend two nights over Knox's birthday. Highly recommended!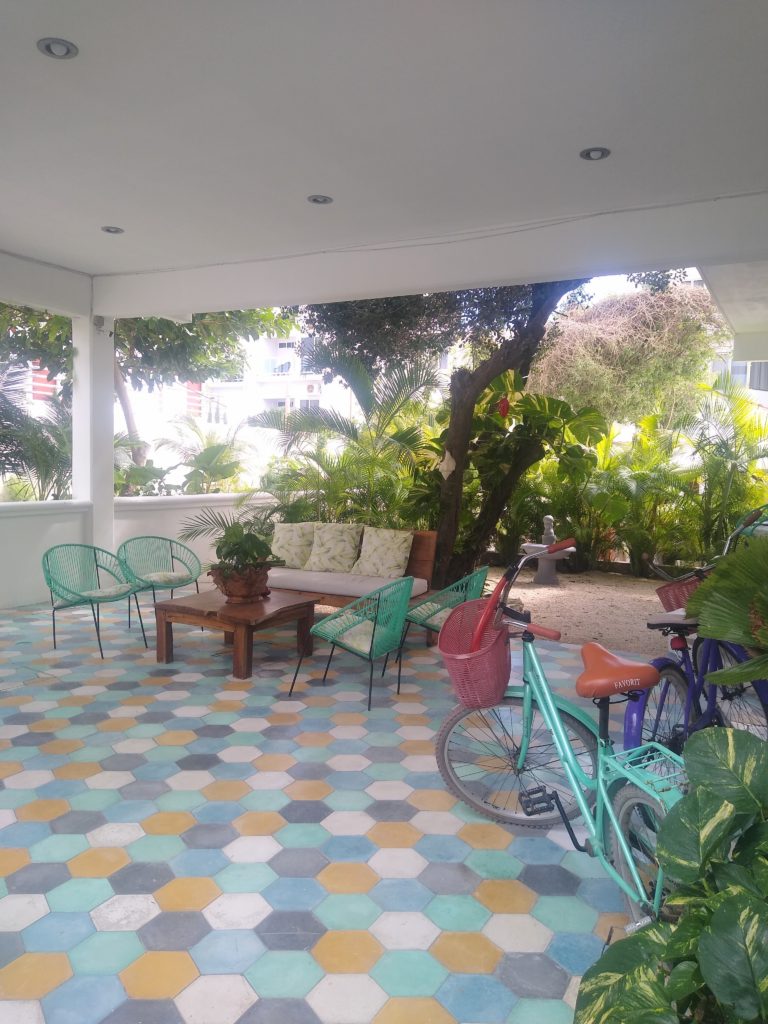 Our highlights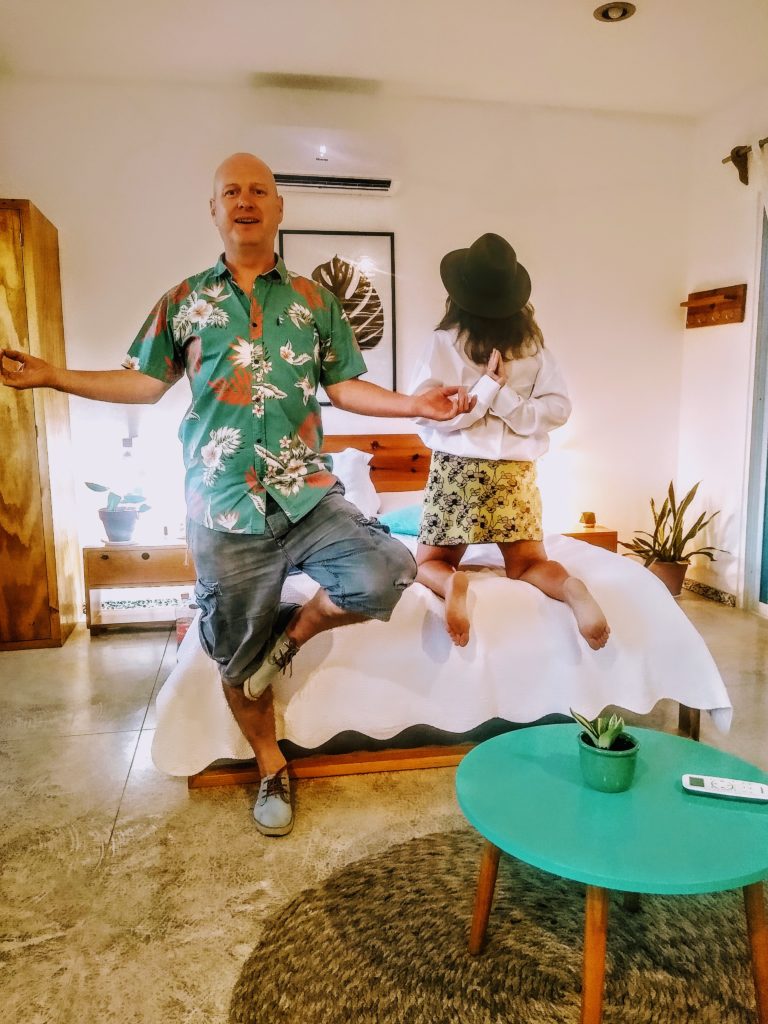 Since we were only in Puerto Morelos for two days, we had lots to pack in for Knox's birthday celebrations. We chose carefully on the things we wanted to see and do. These were our best bits!
Playa de Puerto Morelos
The proximity of the National reef park, to the beach makes its beaches calm and with gentle waves. It's a long, wide beach with lots of activity. The beach can get too busy for our liking so go early morning!
Colourful deckchairs and big umbrella's is a Puerto Morelos thing as they take up the beach as far as the eye can see. There are also some beach clubs and hotels lining the sands.
Glass bottom boats take tourists out to the reef to check out the bright marine life. We had booked one, but unfortunately it fell through, due to miscommunication about us wanting a private tour, not with a bunch of other people. Disappointing, and it left us at a loose end that afternoon. Next time!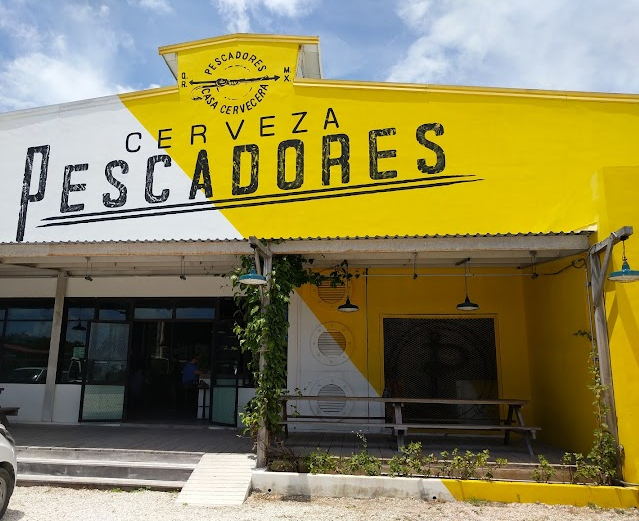 You can taste a natural craft beer that does not contain chemicals or preservatives and is made up of 85% pure well water.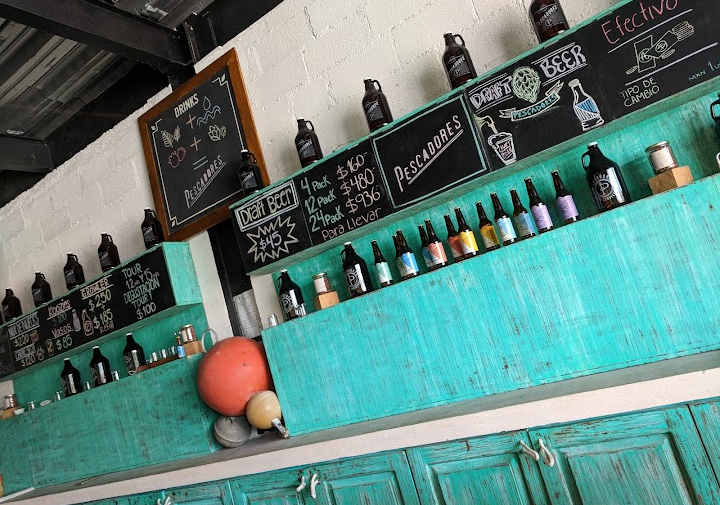 Try anything from Habanero, blonde or mango flavored fresh brewed beers. Delicious!
The brewery is on the major N/S highway in the area (307), so you will need some kind of transportation to take you there.
Address: Carretera Federal Cancun Tulum. KM 316.5, Puerto Morelos 77580 Mexico
Faro Inclinado – Leaning lighthouse
The falling concrete lighthouse is an iconic structure in Puerto Morelos. It was built with stones from two Mayan buildings that were destroyed.
The lighthouse built in 1946 represents strength for the town, due to being hit by several hurricanes, especially hurricane Beulah in 1967, but it still stands proudly at the pier, even though in a slant!
The historic lighthouse is quite the tourist attraction, and of course the tilt may be the main draw for photo ops, as well as the symbol for resilience. The lighthouse is so iconic, you will see pictures all over Puerto Morelos of it, as well as being on postcards, you can also find plenty of souvenirs.
The station was started in 1905. Before the 1946 incarnation, not much is known about the first Lighthouse, so famous is the inclined tower. There is a working lighthouse, built in the 1980s, that has also faced the wild weather that can batter this coastline. Indeed, you can see it not far in the distance from Faro inclinado.
The marina
The marina is a hive of activity, with boat tours coming and going throughout the day. From the dock you can arrange a snorkel tour out to the barrier reef ~400 yds off shore.
There are huge pelicans swimming in the water, and because the sea is so clear, you can also spot fish and even Manta rays so close the the boardwalk!
It's has such a laid-back out vibe, lots of smiley faced holiday makers and happy tour operators.
Street art
As with a lot of Mexico, and the Americas we have visited, the walls are adorned with vibrant street art in Puerto Morelos, especially that of marine life.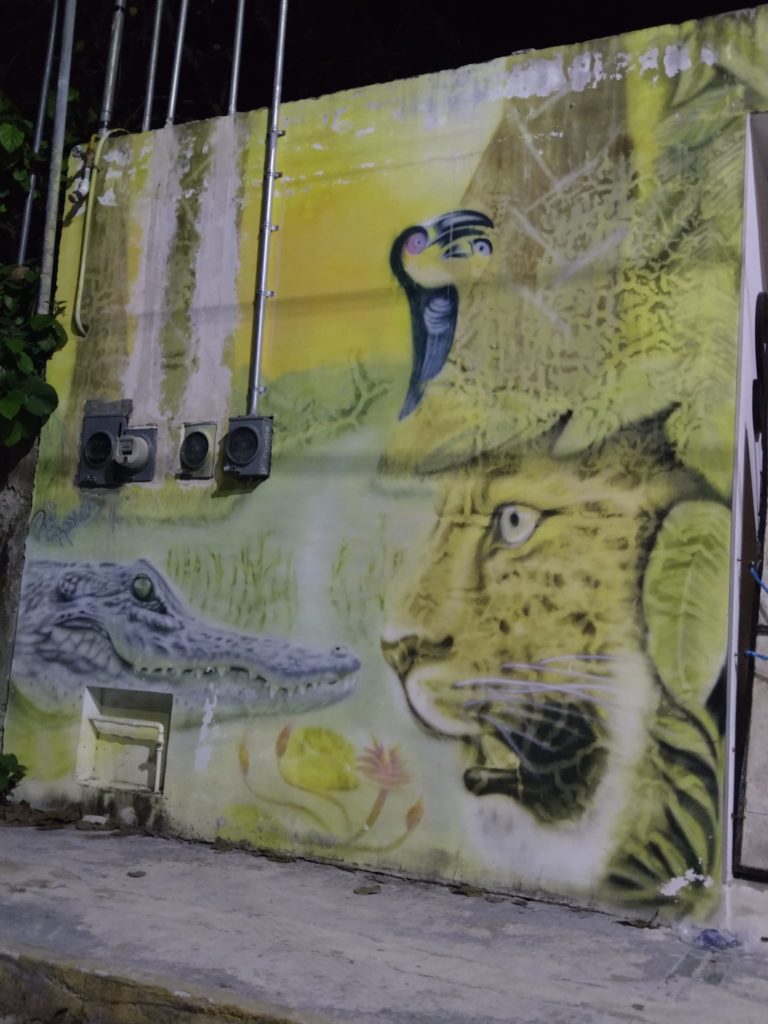 The eye catching murals highlights the importance of the sea creatures and taking care of our oceans.
The images are fun and colourful yet have an important message. Indeed, the street art adds to the charm, which is that of Puerto Morelos.
Parroquia Catolica de San Jose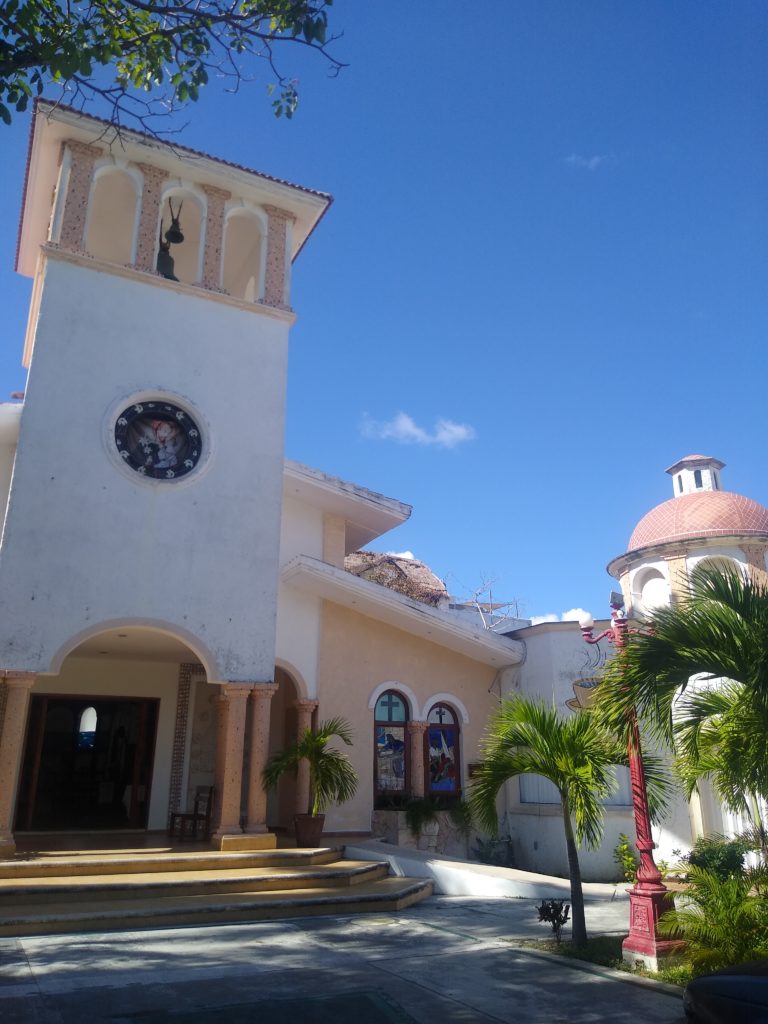 A small, but charming and welcoming Catholic church, with free classical music or opera concerts on a Friday evening.
It has the typical style characteristics of the old Hispanic colonization.
It's also a nice resbite to shelter from the afternoon sun as you listen to the waves washing on the shore.
Very peaceful.
There's some beautiful architecture, which is so colorful, picturesque and borrows its mosaic craft from the sea. Indeed, its tranquility is touching that lends an indescribable peace to the soul.
There's an ice-cream shop right next the church, where you can enjoy an ice-cream while sitting in the grounds of the Parroquia.
Puerto Morelos colourful sign
I think every place in Mexico has there own special colourful sign! Indeed, Puerto Morelos is no different. Their sign is filled with all the colours of the rainbow creating a focal point where visitors come for a quick snap!
Big red heart
Another fun photo op, is the big red heart down at the marina! Who can resist the opportunity to be silly and share the love!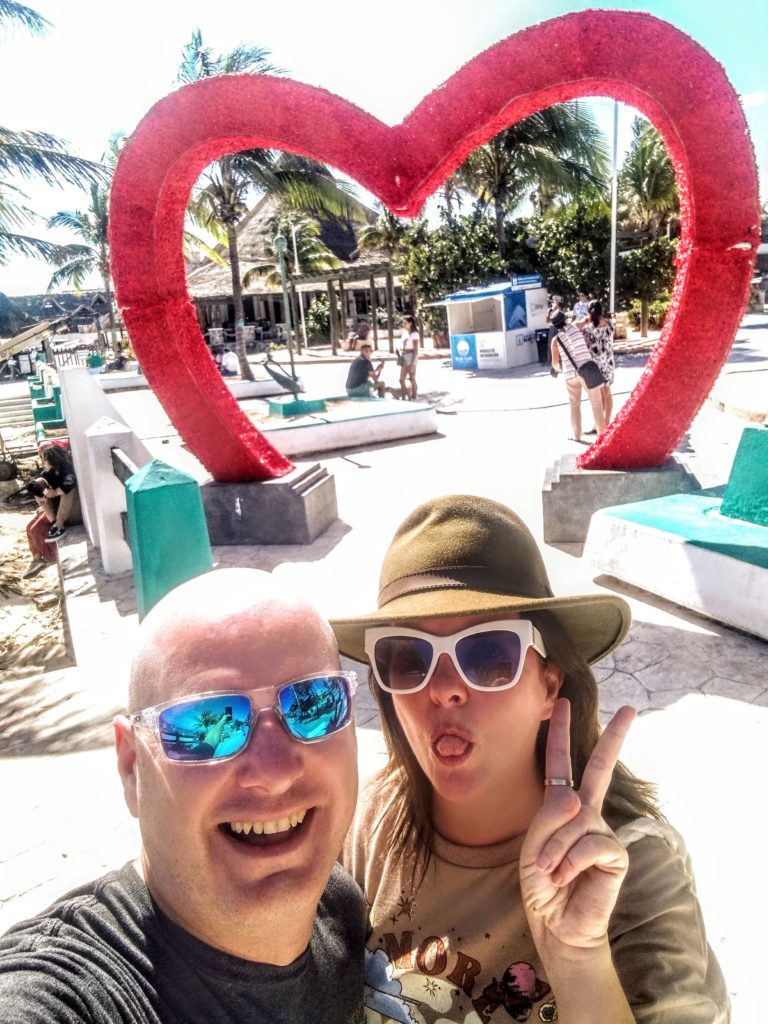 Shopping
There's plenty of shops / stalls for the shopaholic's in town. You will find everything from clothes, sarongs, beach wear, jewelry and souvenir stores.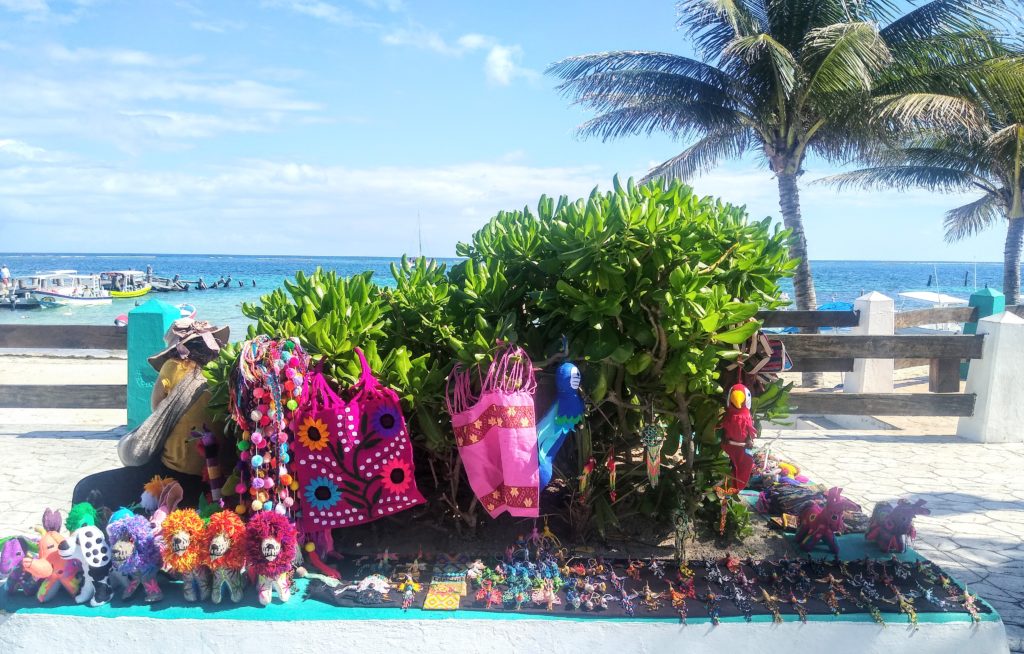 Alma Libre Bookstore
A cute English and Spanish bookstore, for adults and children, with a selection of new and secondhand books, aswell as handcrafts, maps, souvenirs and gifts.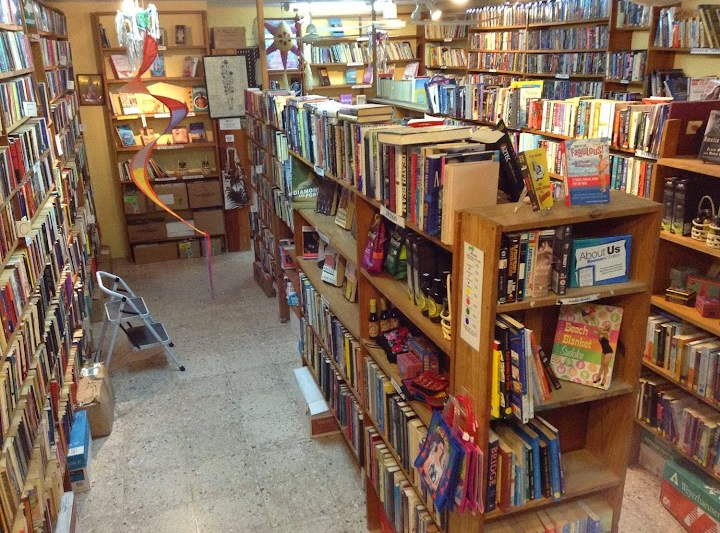 They even have outdoor seating where you can read the afternoon away.
Located at: Avenue Tulum south side of the square, 77580
The kindness of strangers
As a tropical rain shower lashed one afternoon, we hid in a ramshakled restaurant/bar, with a dripping roof. If we were to brave the teaming down precipitation, we would have got drenched. Therefore, we waited and waited, but it wasn't for subsiding.
By some bizarre reason, Puerto Morelos taxis stop running when it rains! Isn't this is when plenty of money can be made?! All we could do was laugh.
By chance we got talking to a few American's, who had a cart! One of them, Jill, decided to take us back to our hotel so we had time to make it to our dinner reservation.
The rain pelted in as we drove through the puddles. As we got to the hotel, the cart unfortunately ran out of battery power! Poor Jill! After her kindness, she now had to run back as the heavens continued to pour. We felt so bad for her but thankful at the same time!
More good vibes!
As we got ready for our dinner reservation, we still had no luck with taxis. We sent a message to the restaurant saying we may not be able to make it. Well, what did the Italian owner / chef do? He came and collected us! No act of kindness, no matter how small, is ever wasted.
Eating and drinking
For Puerto Morelos being small, it certainly has some yummy restaurants in town, that would be on a par with many top chefs in the world!
These where are favourites.
Where do I start?! We had an amazing experience here, and it's not just because owner chef Enrico collected us, when it was lashing down!
The food is heavenly. Mamma Mia! They had an already booked vegetarian lasagna waiting for us, as well as our bottle of prosecco in the fridge chilling!
The veggie lasagna was so yummy, as was the pizza! We enjoyed every bite.
The staff, especially Sebastian, were friendly too. Moreover, they help create such a great and welcoming atmosphere. We loved it. Highly recommended.
Address:
Av.Javier Rojo Gomez Puerto Morelos, 77580
We really enjoyed this simple restaurant. The pizzas and pasta are very good, tasty and fresh. We spent Knox's birthday meal here. They also helped me to surprise him by lighting the candles on a chocolate brownie dessert cake. Yummy!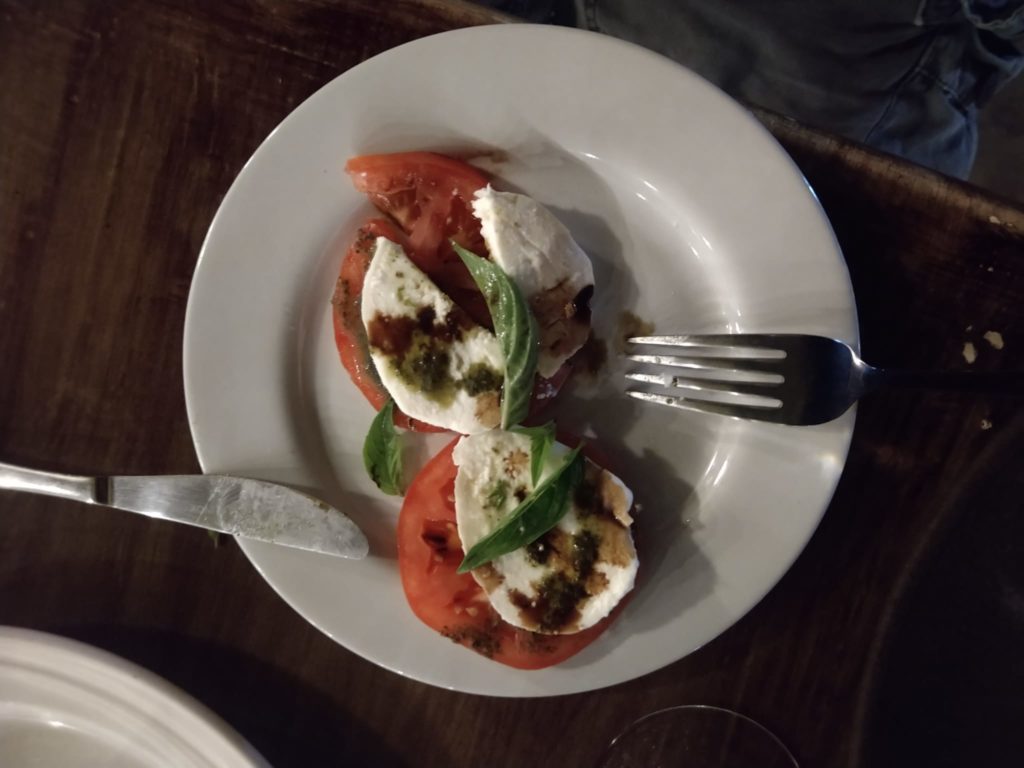 Address: Javier Rojo Gomez 5a, 77580
We didn't eat here. It's a local Mexican restaurant / bar which doesn't have great vegetarian options, but meat lovers will enjoy it. However, we did have refreshments and the live acoustic singer in the evening was excellent fun!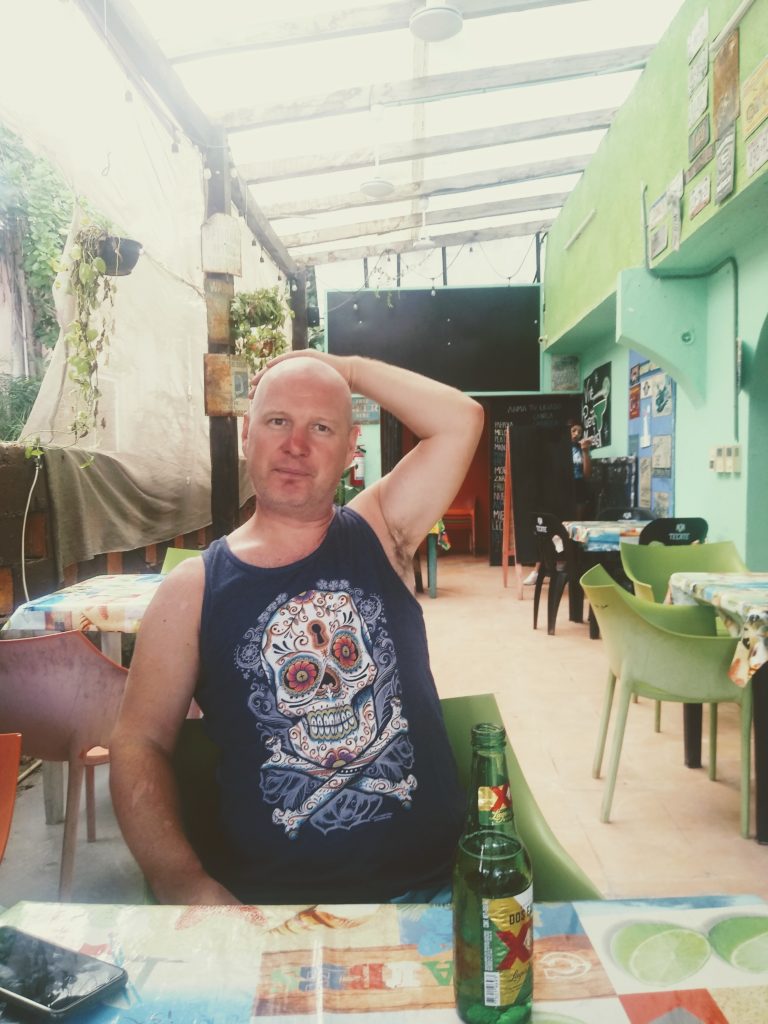 Don Mexkat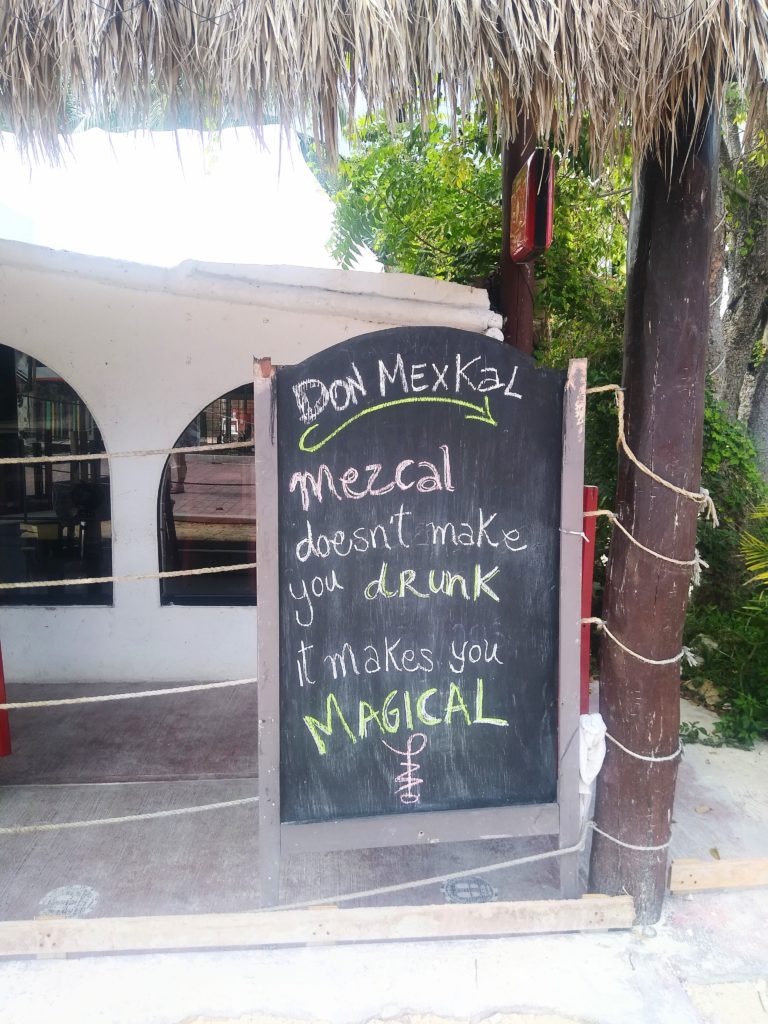 A chilled bar setting, serving what Mexicans do best; tequila shots, Mezcal, margaritas and beers! They can also whip you up some tacos or burritos. No live music when we were there, but good background sounds.
If you liked reading. You may like: