Krakow – birthday trip
It wouldn't be a birthday without the traditional getaway to a pastures new! We decided on a city break in Krakow, Poland.
A country that always held an interest with, off course, the main point being that of Auschwitz. Other than Auschwitz, we always heard Krakow was a beautiful city, full of quirky bars, restaurants, shops, museums and much more. It was one of those countries always on our list, that we wondered why we hadn't been yet, and now it was time.
Getting there – a long journey to Krakow
My excitement waned slightly when realising backward Belfast airports didn't have any flights to Poland in the winter. Ridiculous! The only option was a private jet or to fly from Dublin. Unfortunately, all the private jets were all booked up for the hop, wink wink, so Dublin it was. Knox decided a bus to Dublin airport was the way forward. I couldn't have been more peed off. A bus journey on the Queen's birthday, how dare he lol. However, hire cars going over the border were not cheap, so I reluctantly gave in to a 2 hour, cramped, noisy stinking £16 return bus ride.
Keep positive Miko! lol
Flight cost
Ryanair flights cost £270 total for return flights to Krakow. Awkwardly, we had to book separate as we only wanted to bring one larger cabin bag on board. Stupidly, for money making reasons, Ryanair won't let one choose separately when booking more than one person on a ticket. If one chose cabin bags then both got it, and charged for it. Therefore, we booked individually.
Thankfully, the flight went smoothly on the way to Krakow, with only a 30 min late; not bad for Ryanair. Unfortunately, on the way back, we were delayed more than an hour due to fog etc. That meant missing our bus back to Belfast when we arrived in Dublin. We managed to get the next coach back.
Car rental
We used Hertz and picked up from the airport. It cost £105 for the 4 days. The bright orange colour would mean we'd stand out like a sore thumb lol, however it did what it said on the tin and got us to A to B.
Again, we had our own excess insurance so didn't have to use the more expensive comprehensive insurance offered by the rental company.
Accomodation – comfortable, and affordable, living in Krakow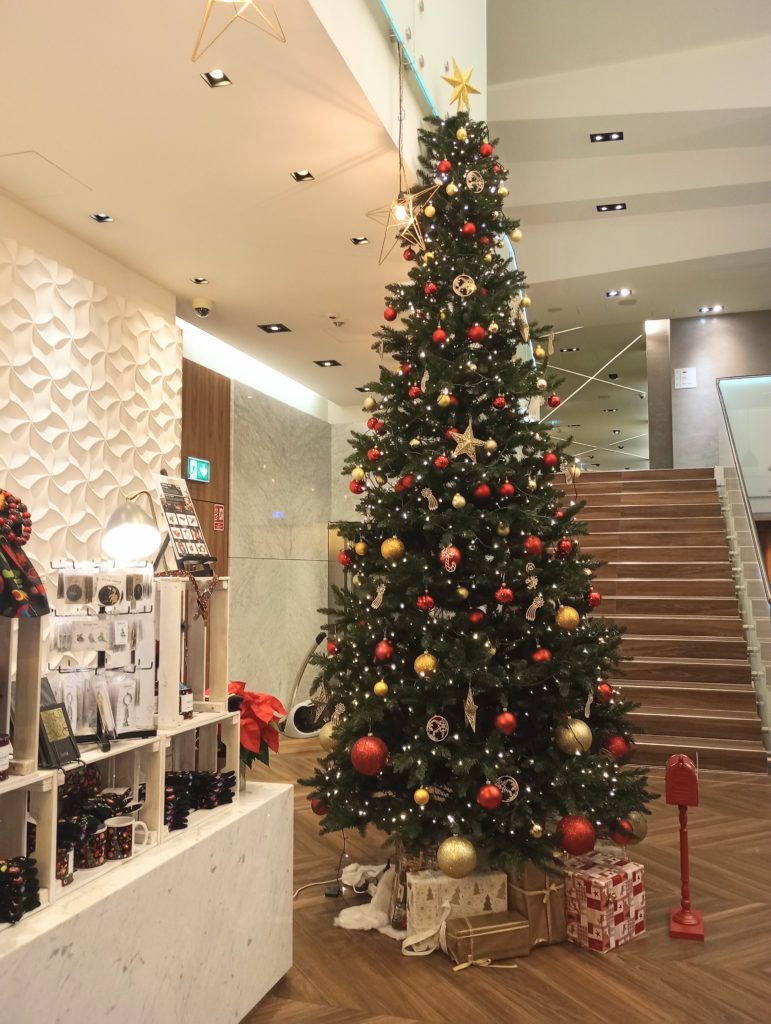 When researching accommodation options, we found the majority where excellent value, with lots of choice. We opted for an Accor hotel, Mecure Stare Miasto. It cost £260 for 4 nights and was located just on the cusp of the old town. It was right facing a large shopping centre, therefore there was a lively buzz in the area.
It was very clean and modern with a big welcoming reception all set up for Christmas.
Sightseeing
Auschwitz was top on our itinerary. Since it was a huge draw, we decided to write a post about it all on its own. You can see the post here.
Schindler's Factory – A hero of Krakow
A cheap entry fee of around £5 each, the Schindler Factory is definitely worth seeing. We booked online before arrival to secure a slot and paid when there. We arrived earlier than planned but were granted to go inside before our allocated time. This was more flexible as we opted to do the tour independently, rather than with a tour guide.
Well organised and put together, you can walk through the factory as each room tells it's story.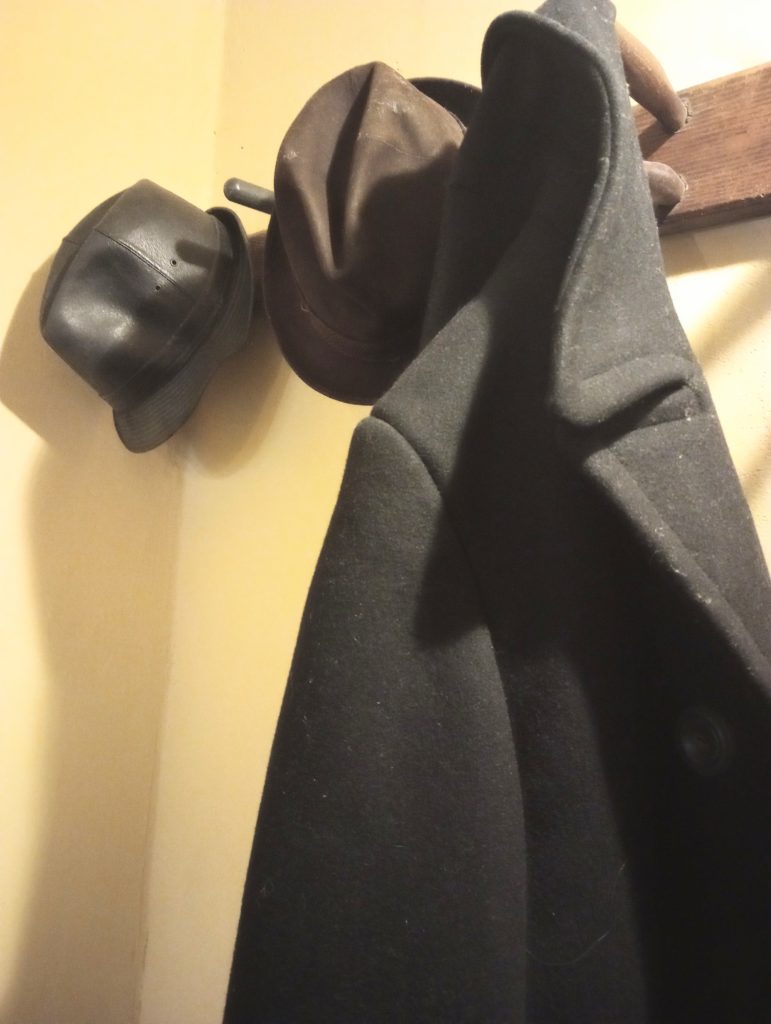 The enamel factory was where Schindler, part of the Nazi party, saved 120 Jews who worked for him.
Although as Niusia (Bronislawa) Horowitz-Karakulska mentioned that he saved even more than that, due to each of those 1200 people having children, creating generations to come.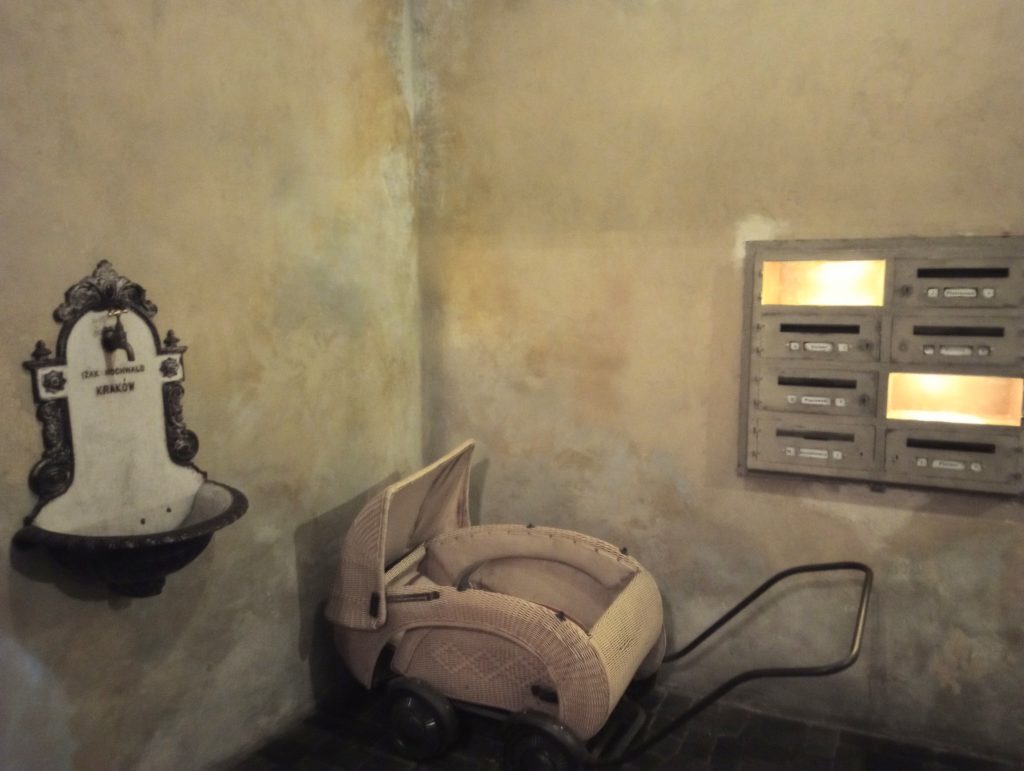 The exhibition of the museum presents the tragedy of the 2nd World War as well as every day life of the whole city of Krakow in a personal and collective dimensions.
It is very educational and it was nice to wander around on a self guided tour without the constrictions of a group guide.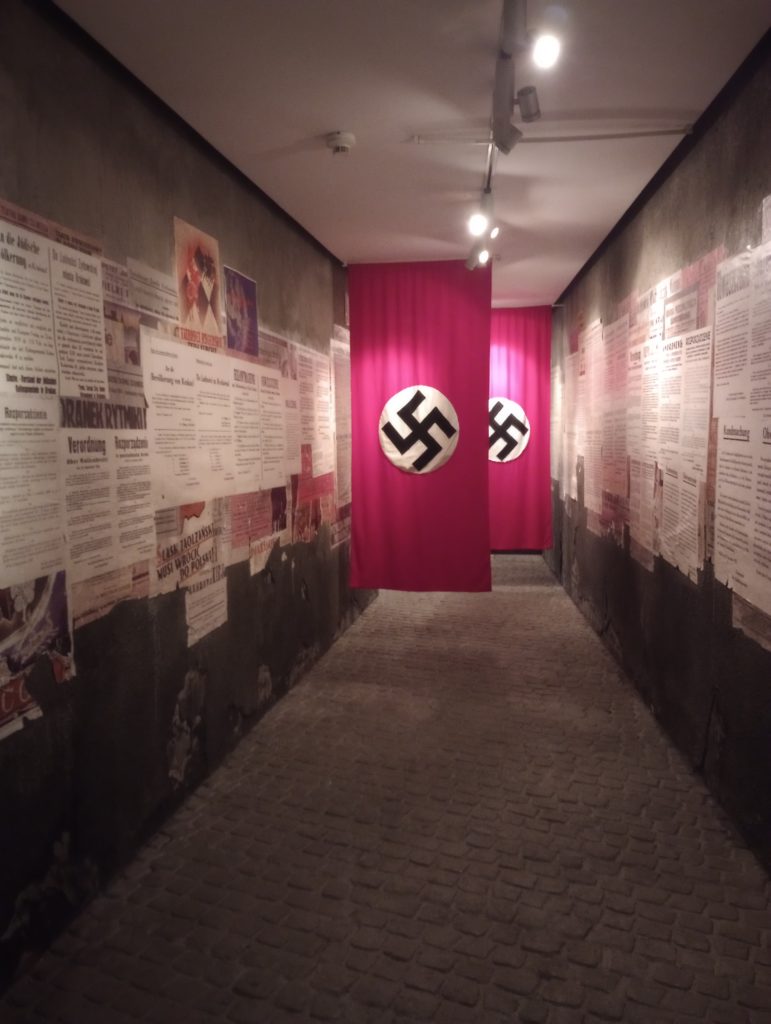 At the end there is a Jewish type memorial wheel which is hundreds of names and testimonies of people's regrets or memories of that time.
Old synagogue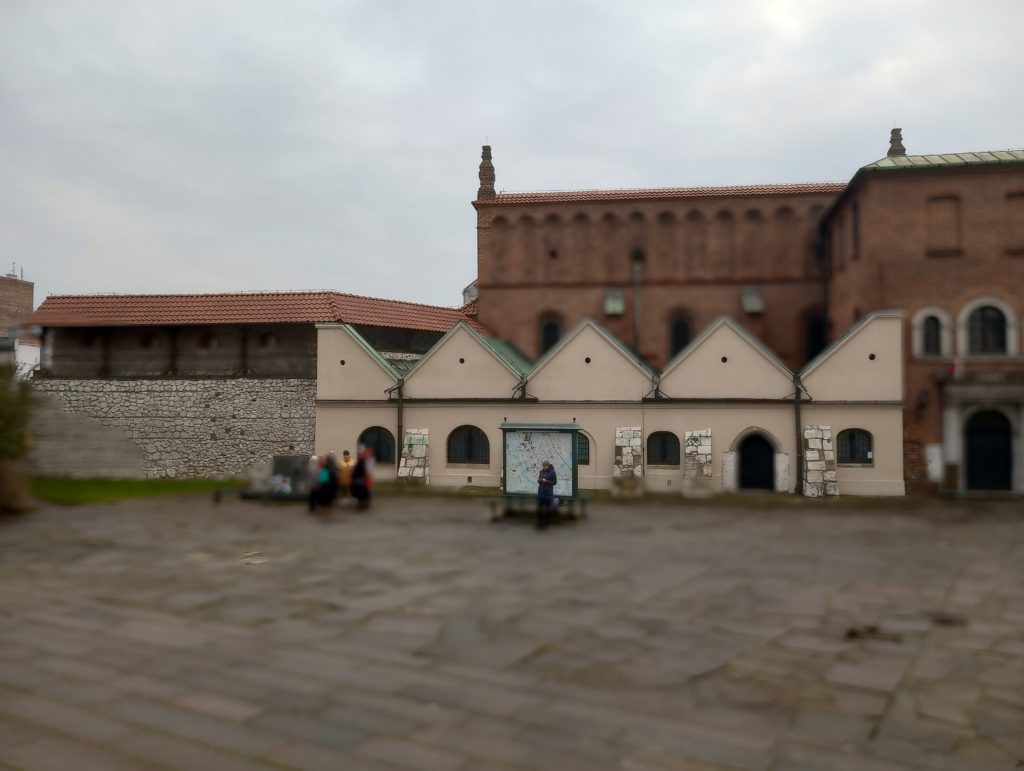 The Old Synagogue was an Orthodox Jewish synagogue situated in the Kazimierz district of Kraków. It is the oldest synagogue building still standing in Poland, therefore being one of the most precious landmarks of Jewish architecture in all off Europe.
Old Town (Stare Miasto)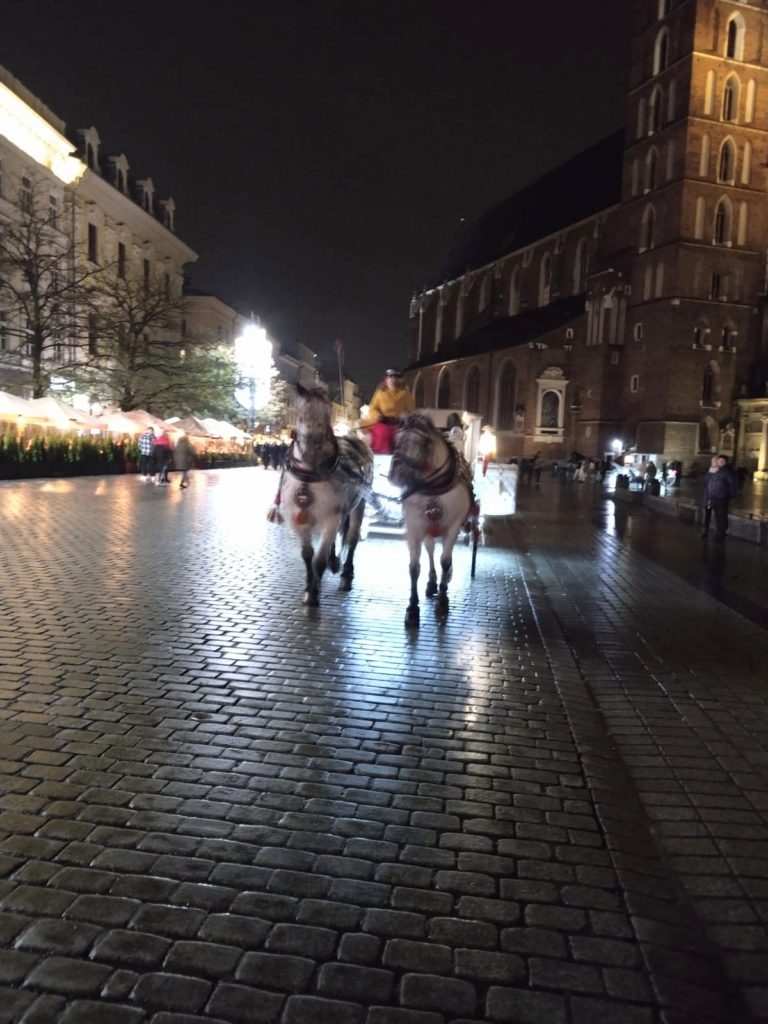 The old medieval town had a quaintness about it. Very oldie worldly, with cobble streets, old gothic architecture and even horse drawn carriages.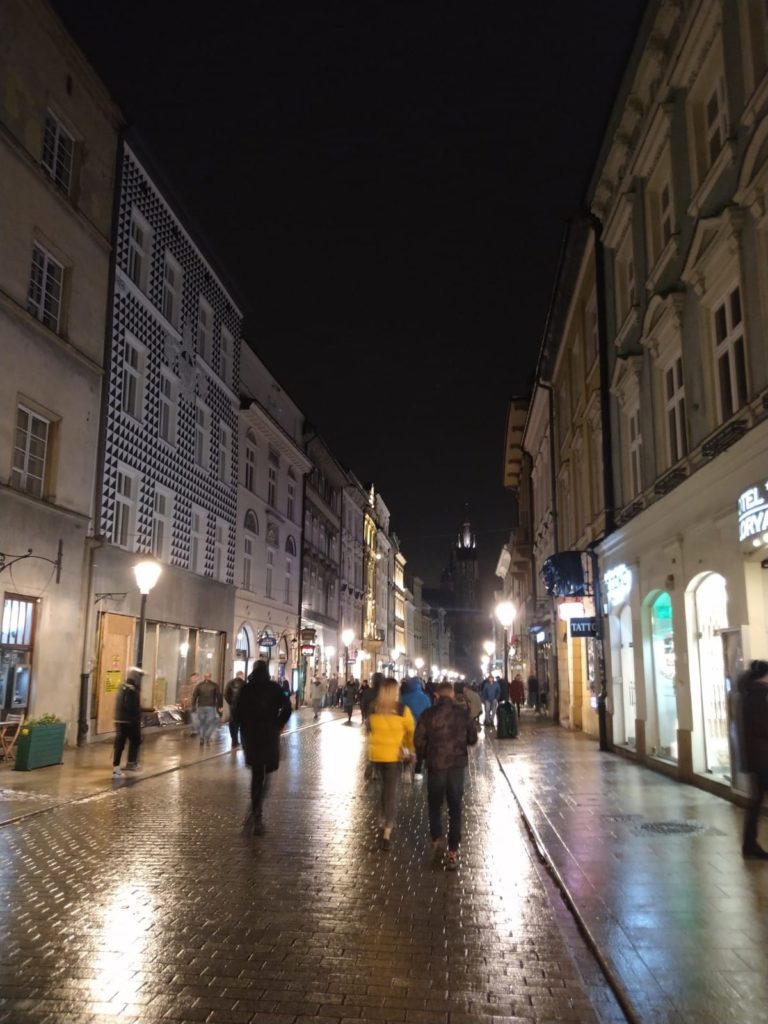 It's like you have stepped back a few hundred years. We where glad we chose winter to come here as it made it even more atmospheric, with it's overcast skies. It kind of matched some Poles personalities, as they are quite a serious bunch. The Old town though, certainly is the beating heart of Krakow.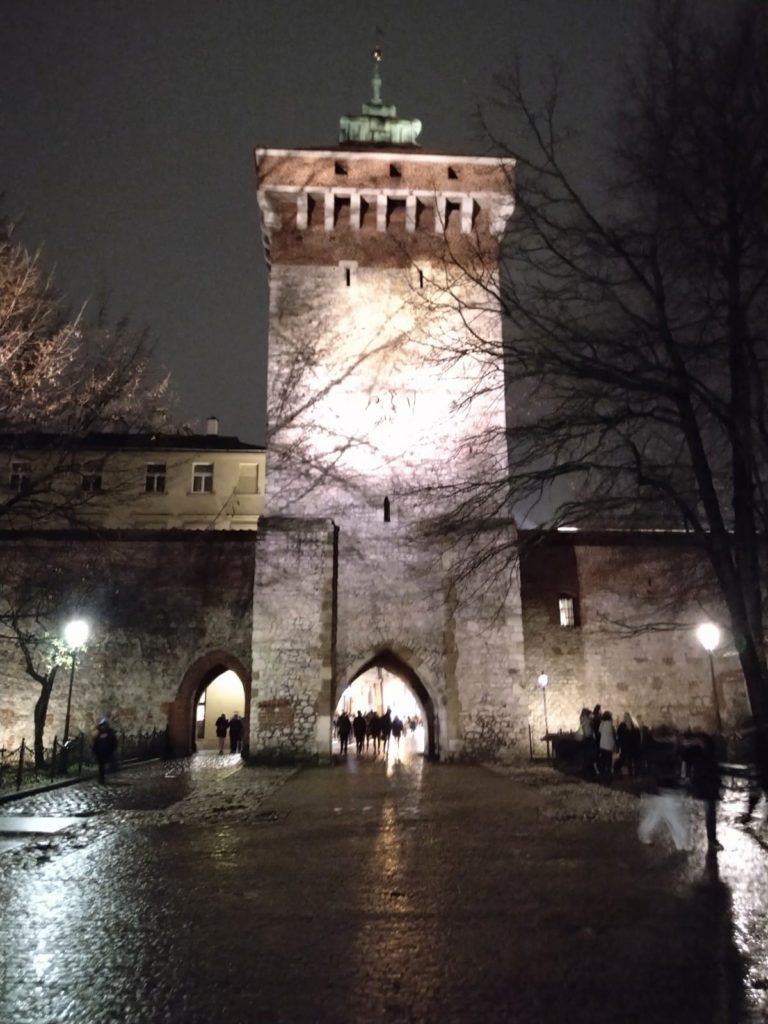 Krakil Museum of Illusions
After the somberness of Schindler's and Auschwitz we needed some lightheartedness, so what better way to spend part of my birthday, the next day, in an historical mansion, which was a former palace of the Potocky family built in 1836.
This now museum of illusions invites you to see the illusions through the eyes of the rich Polish szlachta family.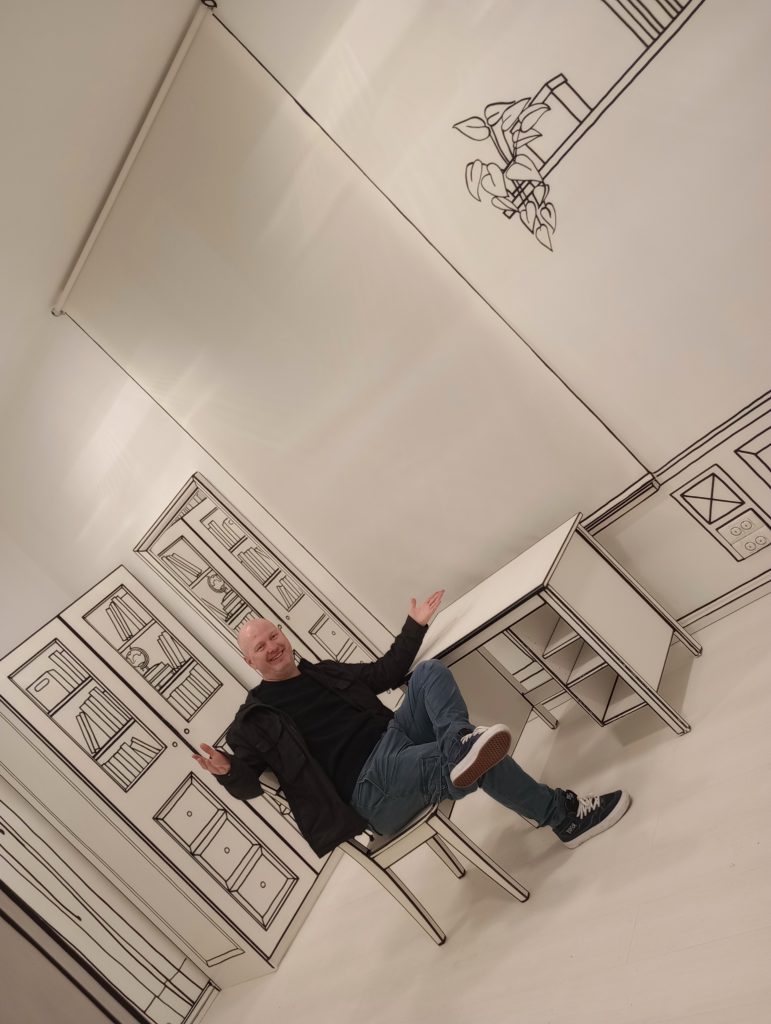 A fun-filled hour of merriment was had as we made our way to each room interacting with each of the displays.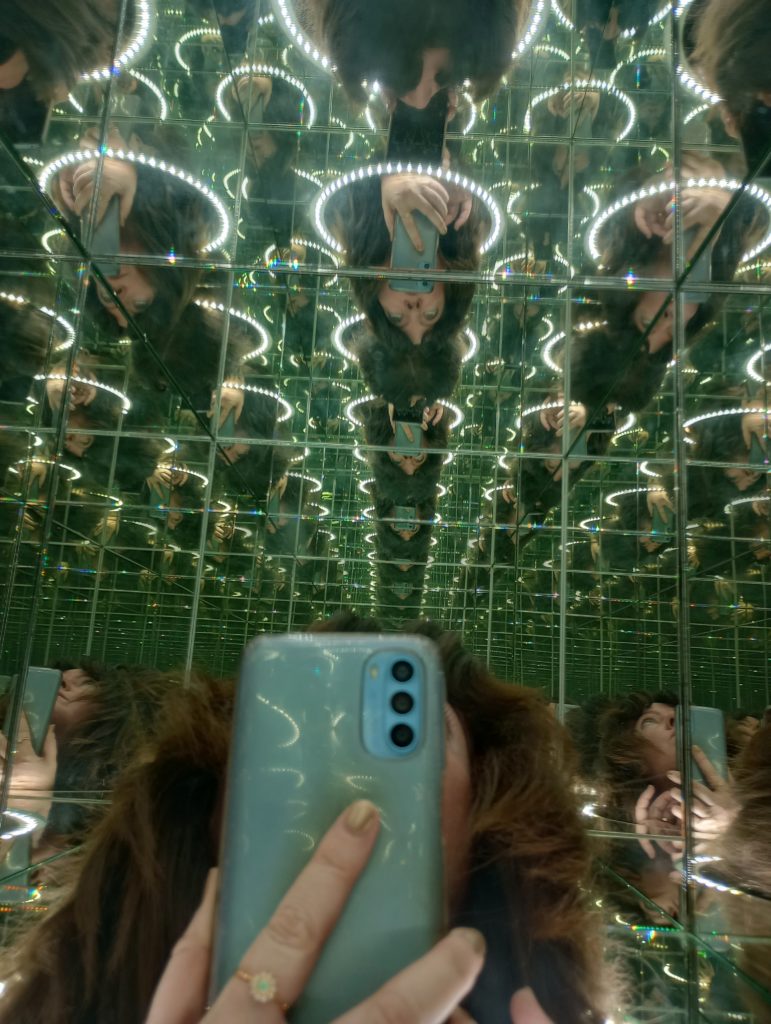 There was everything from bubbles, upside down rooms, funny mirrors, which reminded me of the time as a kid in Blackpool, changing faces, magic balls and much more!
Do yourself a favour and visit this great, well run place. It will sure put a smile on your face!
DŻOK THE DOG MONUMENT (Pomnik Psa Dżoka w Krakowie, Smocza 10, Krakow)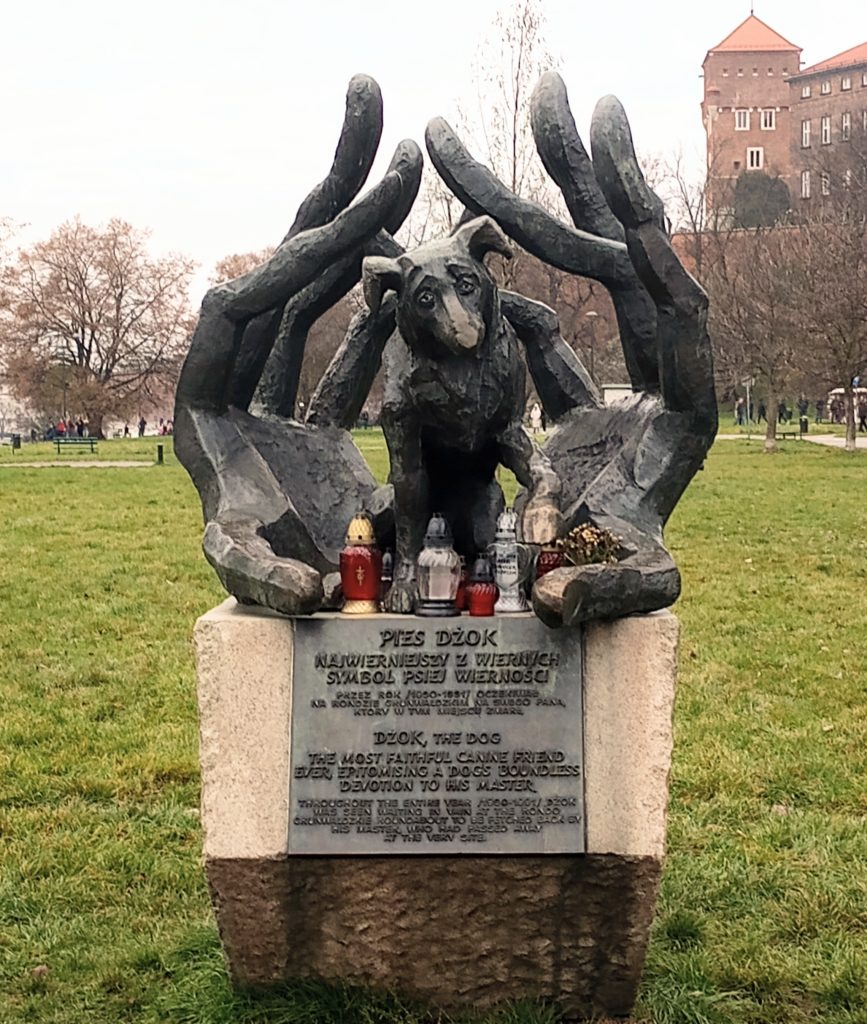 Dżok the Dog was a black mongrel whose owner died of a heart attack near the Grunwaldzkie Roundabout. A similar story to that of the Scottish one about Greyfriar's Bobby.
Over the months that followed, the dog waited for his owner to return, surviving on snacks supplied by local residents. After about a year, he allowed himself to be taken in by a new owner; when she passed away, he wandered off, listlessly, to meet his unfortunate end under a train.
The sculpture by the Cracovian artist Bronisław Chromy was unveiled in 2001 by a German shepherd named Kety. The caption proclaims, "Dżok the dog. The most trusty of all; a symbol of canine loyalty. He spent a year (1990-1991) at the Grunwaldzkie Roundabout awaiting his Master, who had died there."
Cat Café Kociarnia
A simple cafe with a dash of cuteness thrown in. Enjoy a cake and a drink with a few furry friends for company. Purrrrrfect.
Town hall tower
The Gothic style red brick Tower is the only remaining part of the old Kraków Town Hall demolished in 1820 as part of the city plan to open up the Main Square. Spookily It's cellars once housed a city prison with a Medieval torture chamber.
Wawel cathedral
The Cathedral sits in the heart of the royal palace and castle complex that dominates the hill on the south side of the old town. It's a prime example of medieval Polish architecture.
It's 1000-year-old history and numerous treasures, makes the cathedral arguably one of the most interesting places to visit in Krakow.
Wawel Royal Castle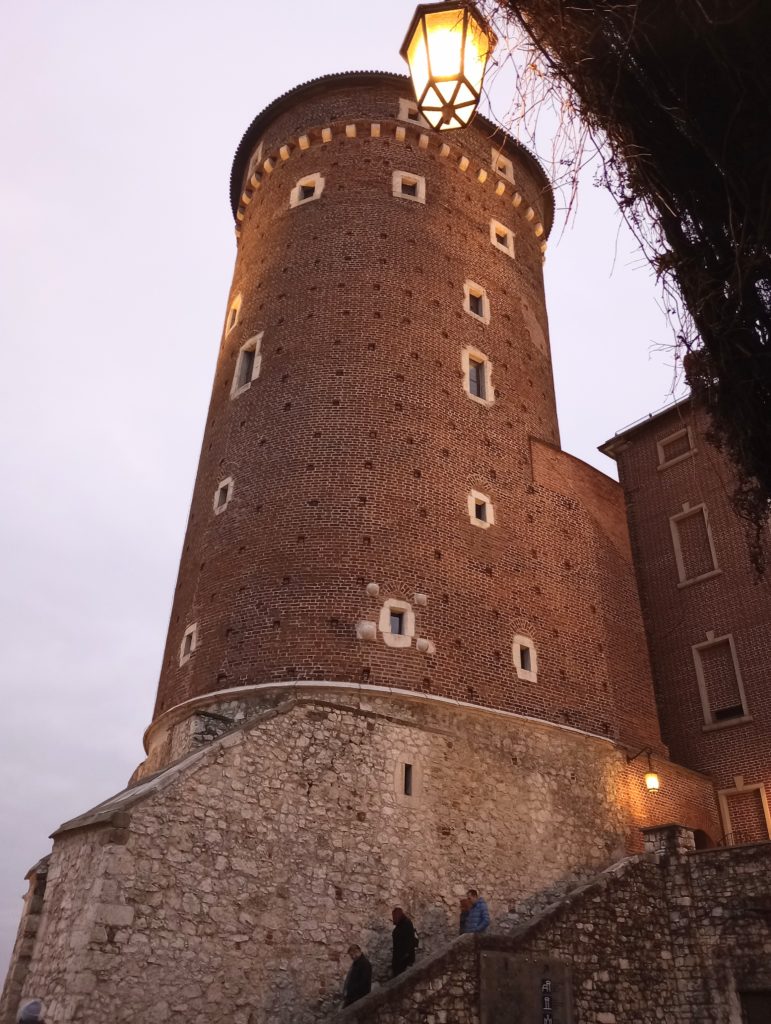 The 14th-century walls shelter a great variety of top-class objects of art, from Gothic to Renaissance, to Baroque, to Classicist, and to Modern.
It is also the burial ground of Polish royalty, as well as the greatest national heroes, two poets, four saints and countless Krakow bishops.
In the grounds there was also sparkly lights of two big cats!
There are some amazing views from the top of the castle too!
St Mary's Basilica
Saint Mary's Basilica is a Brick Gothic church adjacent to the Main Market Square in Kraków, Poland. Built in the 14th century, its foundations date back to the early 13th century and serve as one of the best examples of Polish Gothic architecture.
It is seen as the jewel of Kraków's old town, and stands as a symbolic architectural reminder of the long history, medieval beginnings, and religious zeal that are the characteristic backbones of this Polish metropolis.
Krakow's Rynek Glowny Central Square
The centre of the city's medieval Old Town. A hive of activity at a whopping 40,000 square foot. It has as you could expect, café's, museums, clubs, pubs, music bars, souvenir shops, historical landmarks and hotels, as well you will spot some magnificent middle age architecture the city has to offer.
Eating and drinking
We loved this delicious place so much that we are twice in it! Yummy hollumi burgers, vegan lasagna, fries etc. Very filling and wholesome with not a dead animal in sight!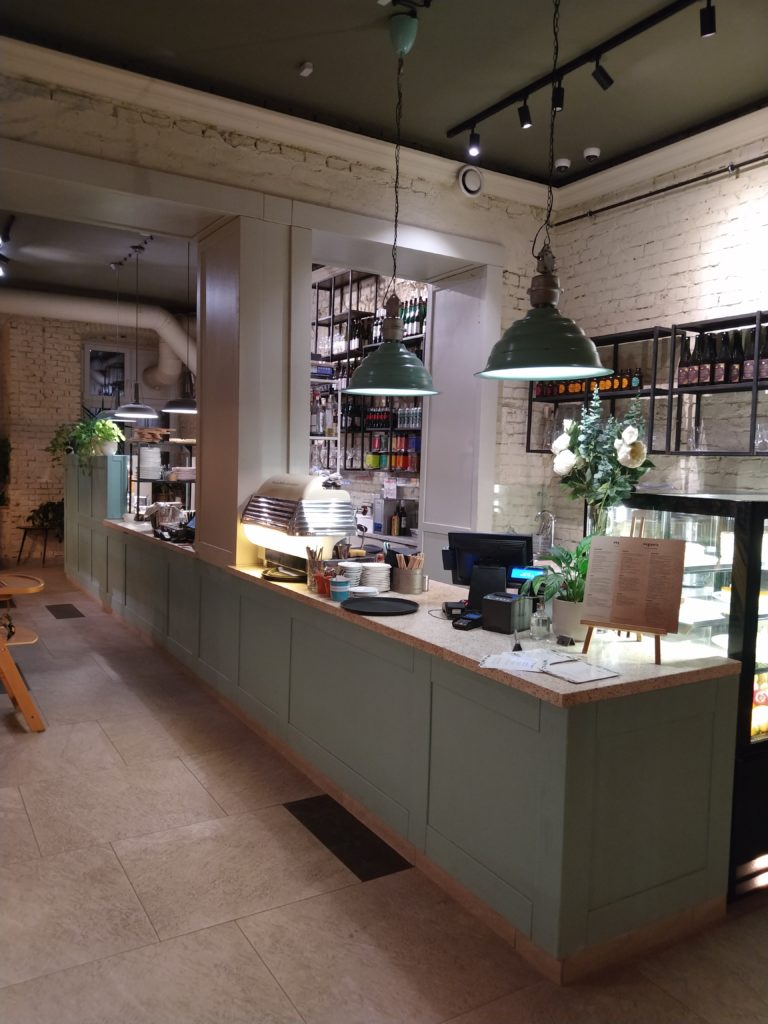 Pinos Italian restaurant
We booked a table here for my birthday. It was nice enough with a good option for vegetarians. However it's not the most romantic of places and it reminded me of chains like Pizza Express. The pizza was good enough but I have to admit I have tasted better ravioli. It's ok if you don't want anything fancy.
Bars
There are plenty of bars to choose from. On the Saturday evening we chilled at a couple in the old town while on the Sunday, we ventured into the Jewish quarter to sample some of the quirky options on offer here.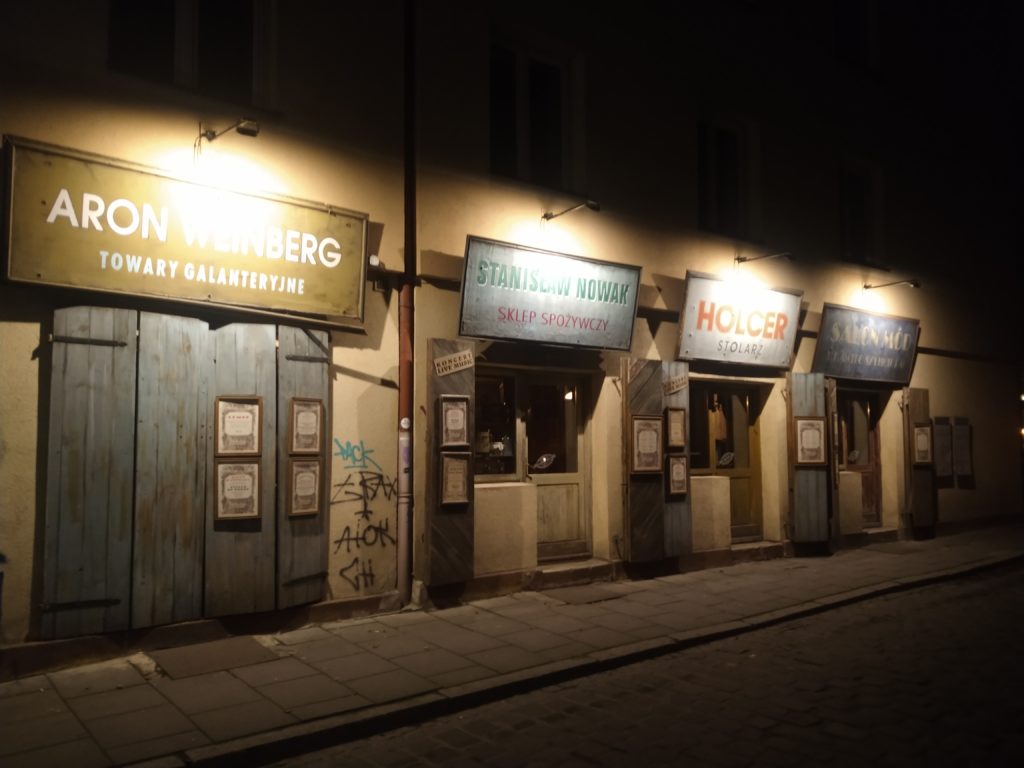 Translating as "Once upon a time in Kazimierzu", this delightful bar transports one back to 1930s Jewish Quarter.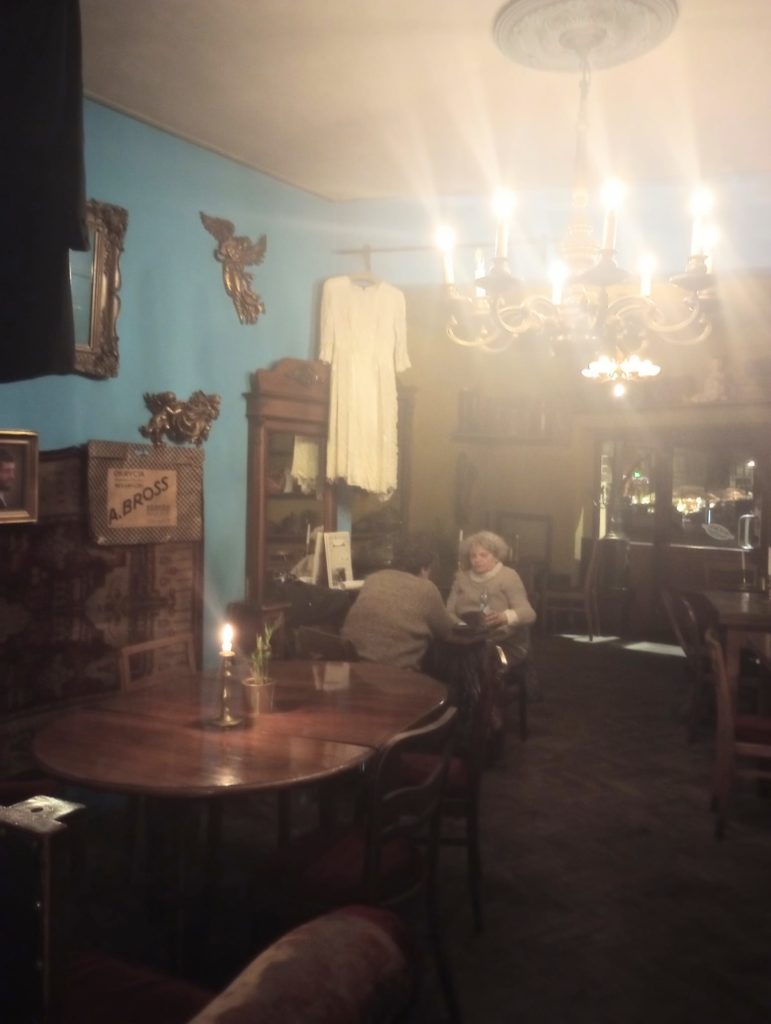 Close to the old synagogue, the relaxed feel of the place is captivating. Unfortunately, we missed the live music that had played here earlier in the evening.
A punk feel from the minute one walks up to the battered door. The grungy atmosphere continues inside. The drink flowed and a few laughs were shared with a number of the clientele that drifted though the door.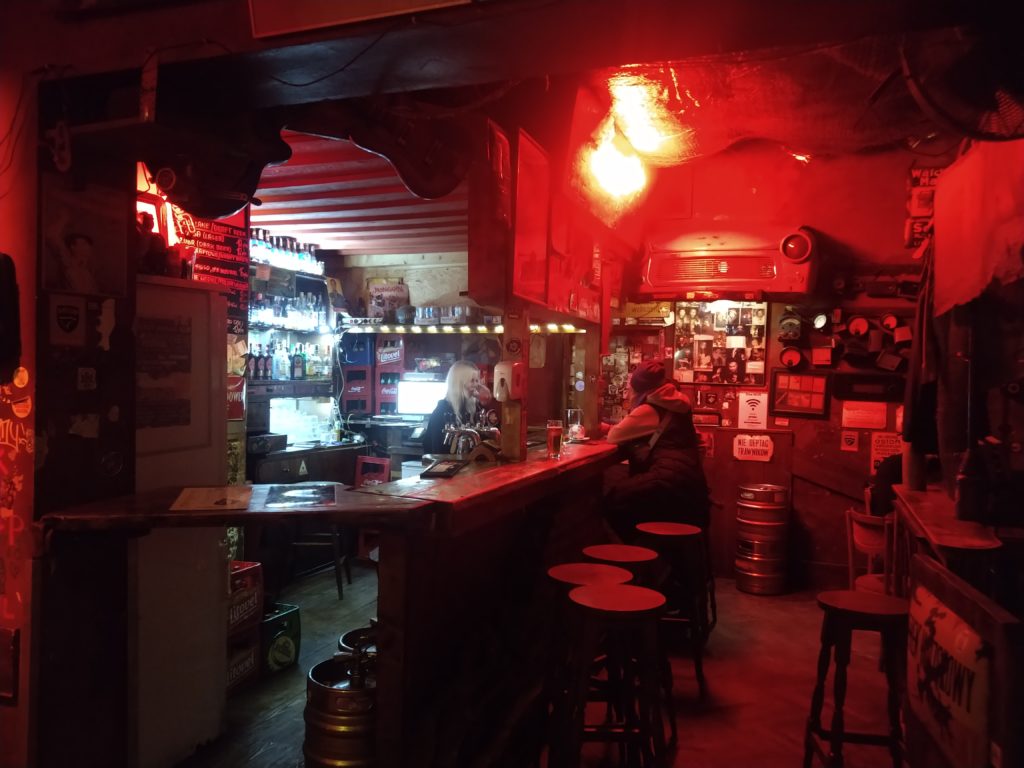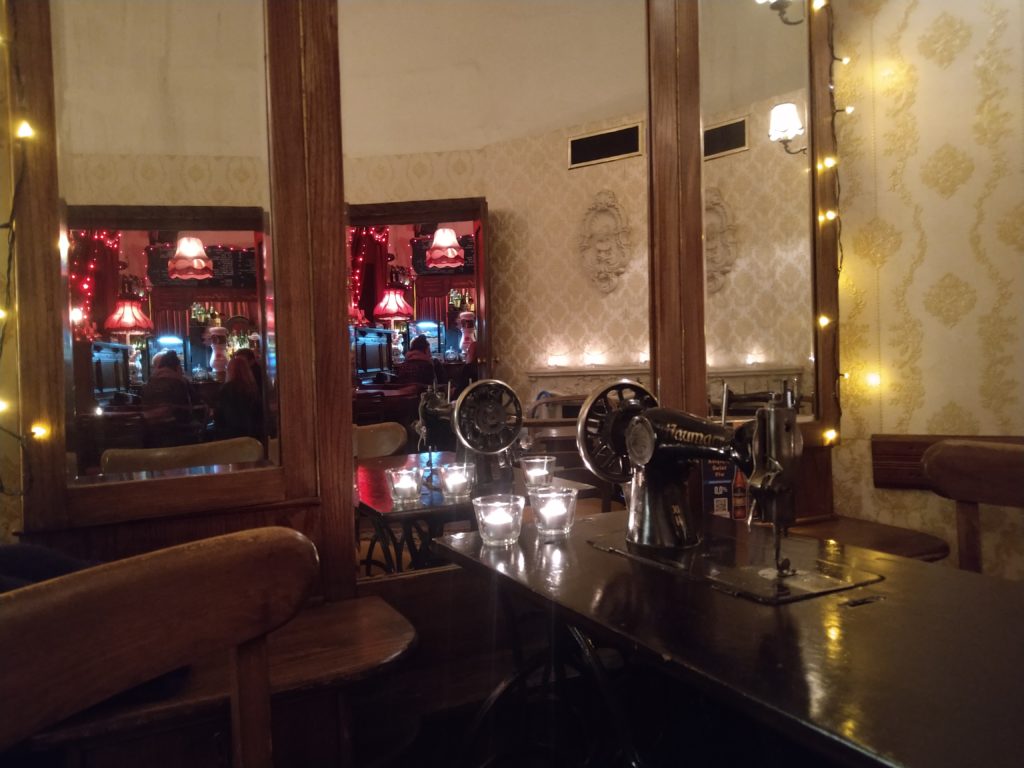 A stylish bar, themed on the old sewing machines that decorated the interior. We stitched ourselves up with the last drinks before jumping in a cab for home.
Cafe Europejska
Cafe Sitting on Main square, the cafe takes its tradition from the great cities of Europe. Food is served and plenty of good wines. Cafe Europejska has a relaxed atmosphere with a hint of the upscale life of a bygone era.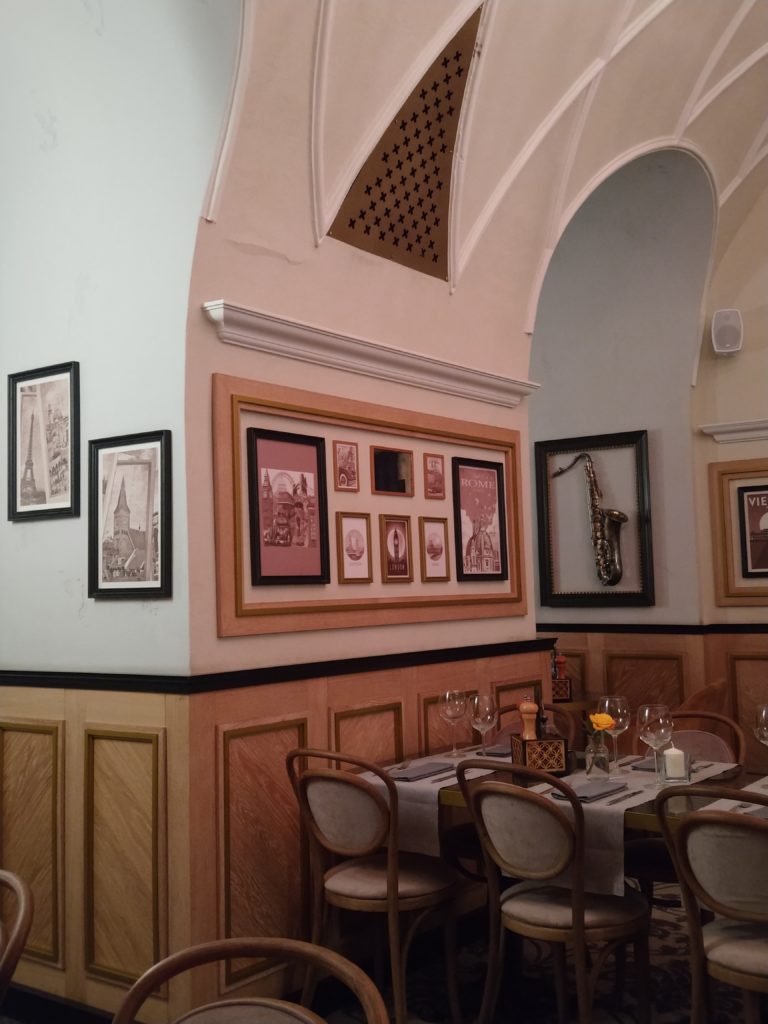 A traditional cellar bar of the old town. We actually tried a few but were put off by the heavy, smokey atmosphere in others. Here, was smoke free and we chilled as a local duo wailed out a few tunes. A decent enough wee spot to see the night through.
A typical modern style Polish joint, near the castle, that was handy for a quick refreshment. No frills but was fine for the job.
Enjoyable Krakow
We enjoyed Krakow and would recommend it. It was notable that we saw no homeless on the streets like in some well known cities around the world. There also seemed a good flowing economy with no empty shops. It certainly had a good vibe.
If you liked reading, you may like: