Speed travel – 6hrs in Lisbon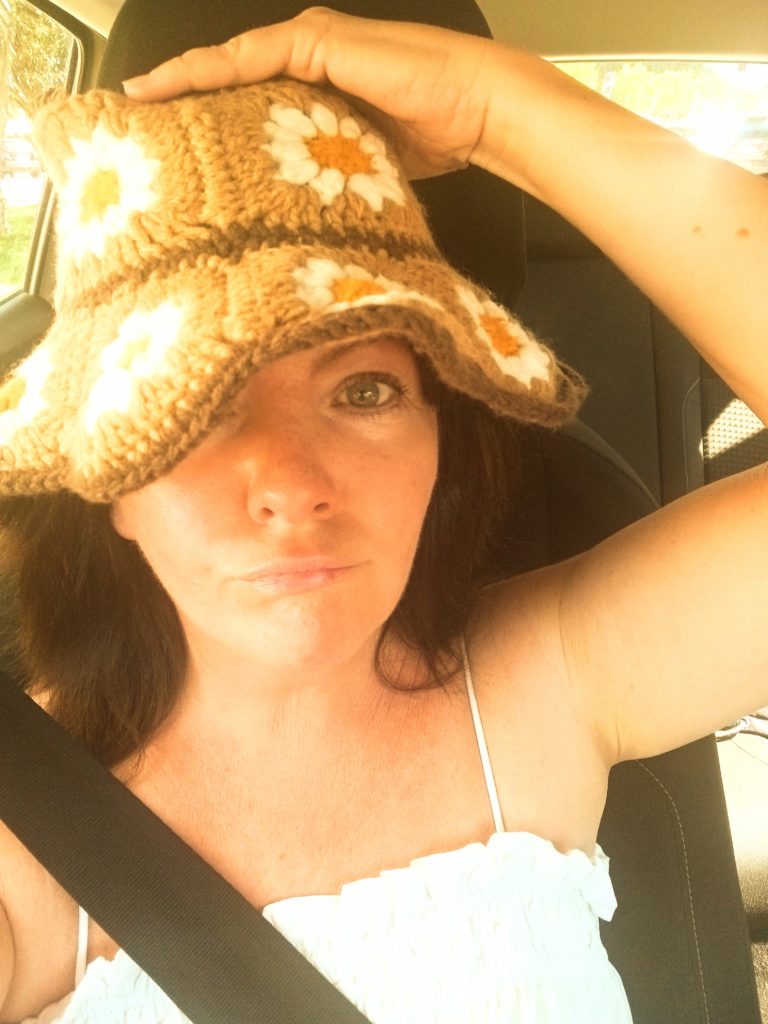 We could not go to the Algarve without stretching to a trip to Lisbon, Portugal. We opted for a day trip that would mean a 2 and a half our drive, there and back, from Alvor. Indeed, it would be a whirlwind visit, allowing for 6hrs in Lisbon.
Getting there
We avoided the tolls as we travelled along the coast of the Algarve. However, to expedite our journey, we hit the main highway, and therefore tolls, as we reached the A2 junction not far from the Albufeira turn off. The toll road cost about £21 each way. It was the only viable option to leave us out 6hrs in Lisbon.
Lisbon's urban area extends beyond the city's administrative limits. A population of around 2.7 million people makes it the 11th-most populous urban area in the European Union. We would cross the Ponte 25 de Avril suspension bridge, that spans the river Tagus, as we geared up to check as much off our tourist list as possible. It would be a mammoth task on our 6hrs in Lisbon.
Crossing the bridge reveals Lisbon's very own Christ the redeemer statue.
What to see?
There is so much to see in Lisbon and we knew we were pushing it, trying to fit in our long list of attractions in one day. In addition, we understood that city parking may be difficult, that the task may put the blood pressure up, but we would just have to cope. We managed though, just about, and this is a list of our top 20 things to see! (Disclaimer, not in the order)
Benfica Football stadium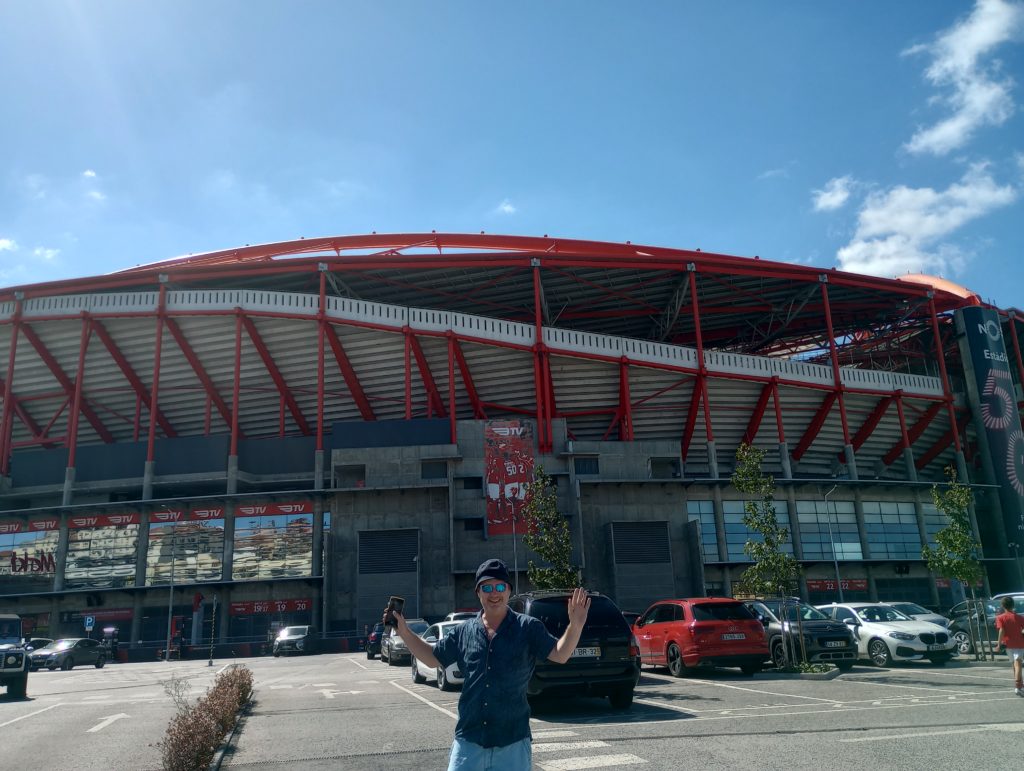 The Benfica Stadium/Estadio do sport Lisboa e Benfica was top on Knox's list to see as it is one of the most famous football clubs in the world, with its club origins dating back to 1904. Stupid international week meant that Unfortunately we weren't there for game time, but it was an opportunity to quickly explore the most widely supported football club", with a total of 160,398 paid members, in Portugal!
LX Factory
The industrial factory complex dating back to 1846 has become one of Lisbon's hottest addresses, when the space was turned into cool haunts.
Its a colourful street full of street art and chic bohemian shops, cafes, bars and cool artsy people. I wish I (Miko) could have spent all day just here.
We even got a glimpse of memories from our time in Mexico, for Day of the Dead, with the artwork in some cafes. Highly recommended area to see if you like alternative attractions.
Bare in mind most places don't open till after 10am and some maybe later. We actually started our 6hrs in Lisbon here as it was just opening up.
Alfama Quarter
A maze of narrow, winding streets, Lisbon 's Alfama Quarter is the oldest and most historical part of the Portuguese capital. It is one of the cities appealing neighbourhoods with photogenic opportunities on every corner. There are many points were you can climb stair cases to take in the colourful views over the city. Indeed, some of the steep climbs even have outside escalators to assist tired legs. When on a 6hrs in Lisbon speed travel then a wee lift really helps!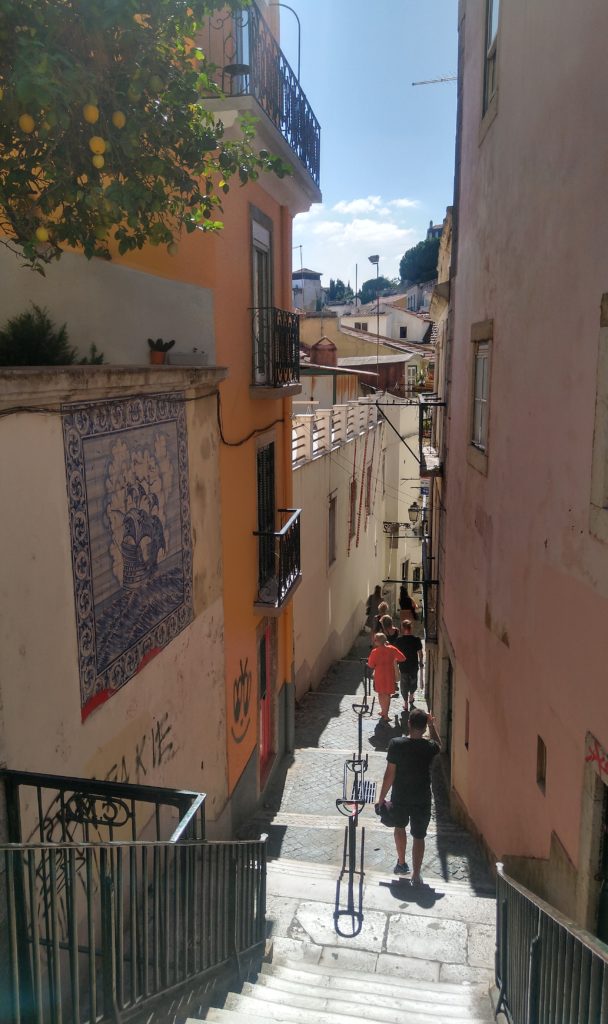 View points of Senhora do Monte, Portas do Sol, São Pedro de Alcântara and Santa Catarina
Explore the cobble streets and hills which will take you atop some of the most spectacular vistas. Certianly, the views will have you in awe. Go early to avoid the midday sun and the swarms of tourists.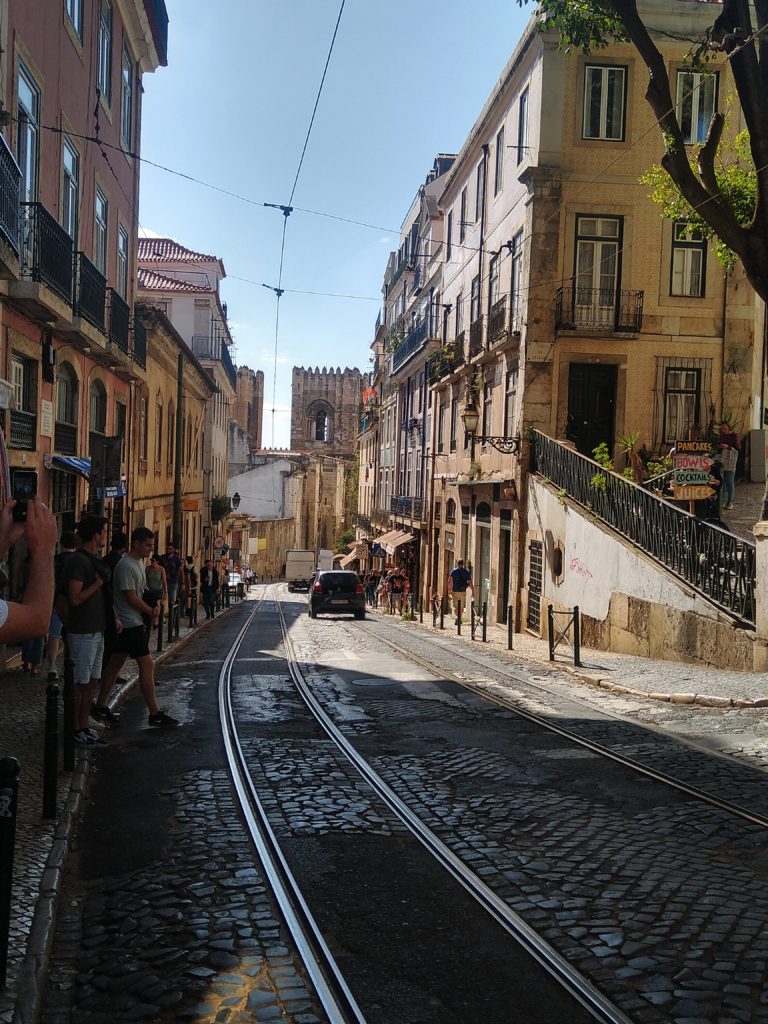 Tram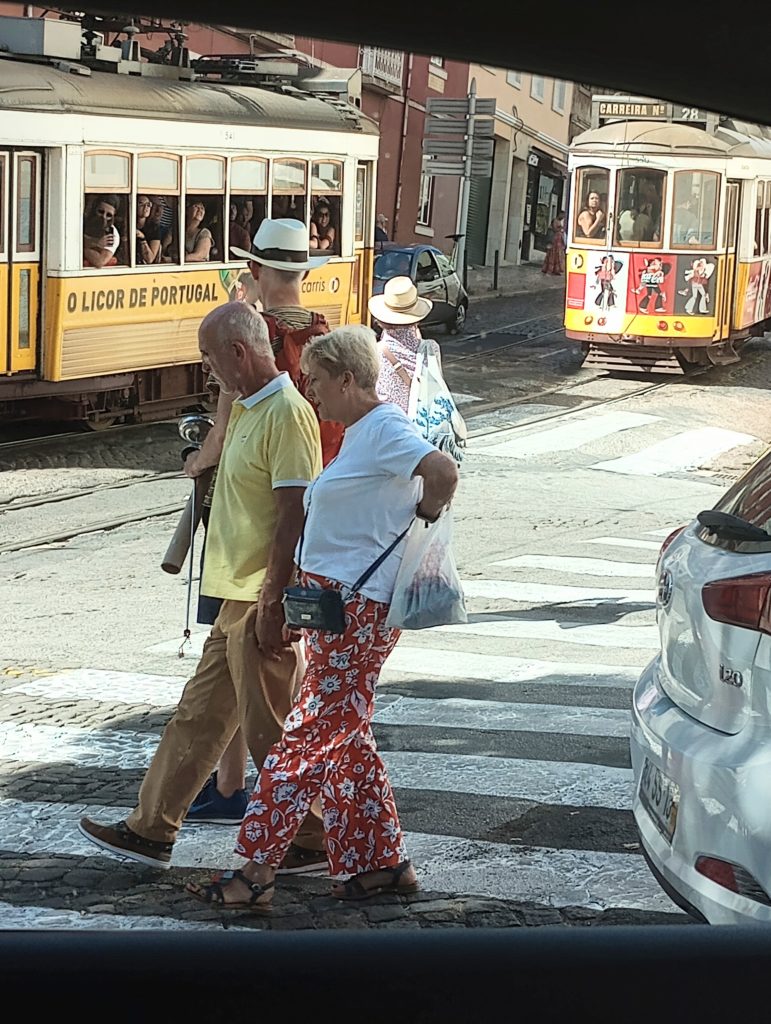 Take the quaint tram ride across the city. Portugal's capital currently has five different routes and 58 trams, of which 40 are vintage streetcars. You can't walk past a souvenir store without seeing a postcard of the famous yellow #28 tram. Its certainly a novel way in getting around the large city. Handily, most stop off close to all main sightseeing attractions.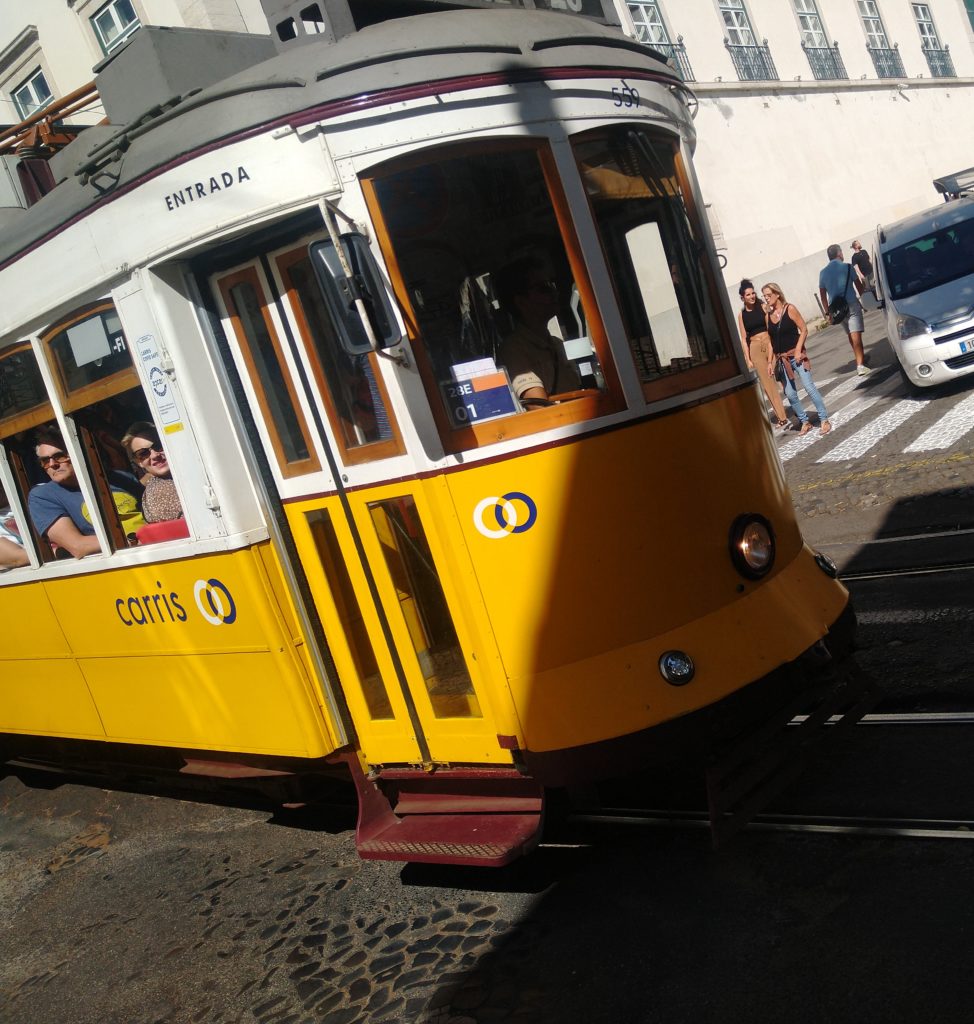 National Pantheon
Before it was called the Church of Saint Engratia, when it was built in 1682, but became the National Pantheon in 1916. Its large dome was only completed in 1966. This 400-year delay originated the proverb "Obras de Santa Engracia" meaning any work that never ends. The grand Baroque building houses the tombs of the country's most distinguished figures. If you've got ahead for heights, climb up to the roof terrace, which is the top of the domb for some breathtaking views.
Lisbon Cathedral
The Cathedral of Saint Mary Major, often simply called Lisbon Cathedral has interesting, various kinds of architecture, due to it being restored several times due to earthquakes. Built in 1147, it is the oldest church in the city, it is the seat of the Patriarchate of Lisbon.
Carmo Convent is located in the Chiado neighbourhood, on a hill overlooking the Rossio square and facing the Lisbon Castle hill. The convent was built in 1389 and it was dedicated to Nossa Senhora do Vencimento do Monte do Carmo. It is a part-ruined medieval structure which is now used as an archaeological museum.
This 16th century monument (now a world heritage site) was erected for the purpose of serving both as a gateway to the city of Lisbon and as a defense against possible invasions and attacks from the Tagus. Located on the northern bank of the Tagus River in the civil parish of Santa Maria de Belém, accessible at the western end of the Avenida de Brasília by a small bridge.
St George's castle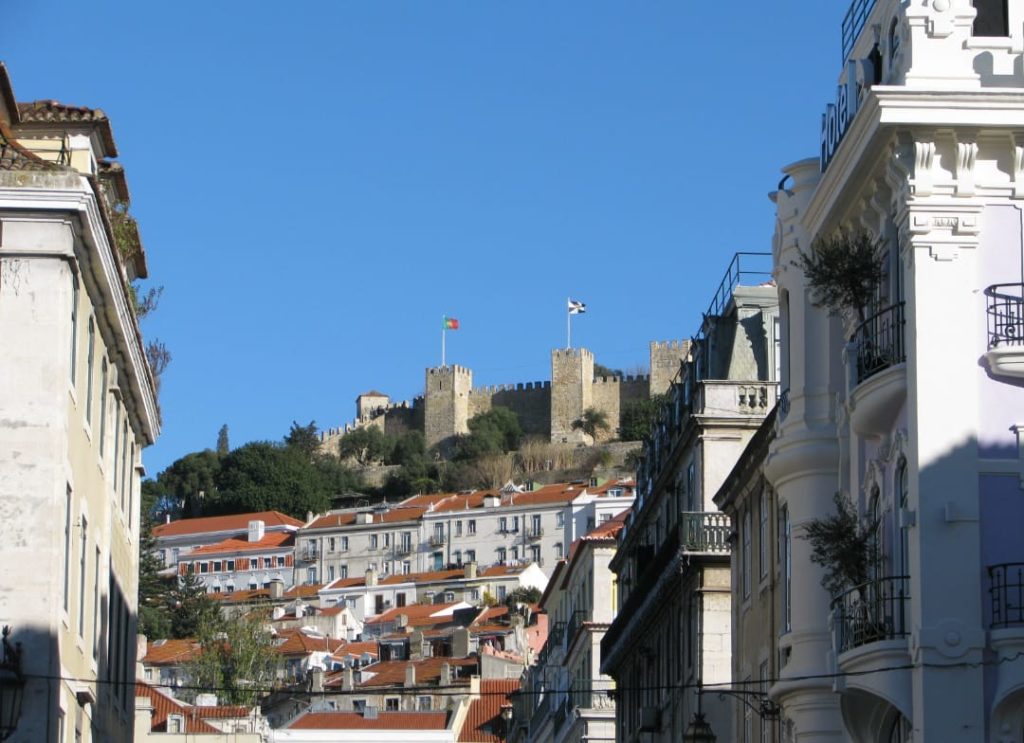 The iconic St George's Castle is a medieval citadel resting on top of the city's highest hill, overlooking the Tagus River. There are heavily fortified battlements, medieval royal quarters and stunning seaward vistas. It is possible to take the tram to this archeological site if walking the length is not for you.
Discovery Monument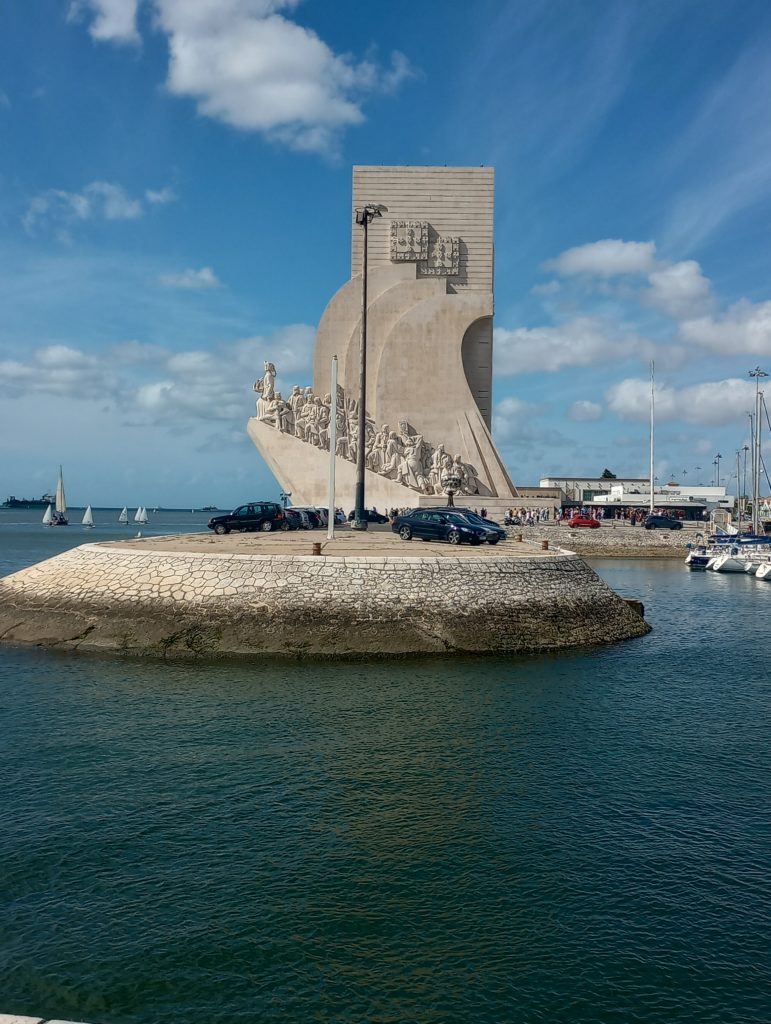 The Discoveries Monument is one of Lisbon's famous landmarks. It's shaped like a ship, with 32 figures lined up on a stylized prow, representing personalities from the 15th and 16th centuries following Prince Henry, who is the tallest on the structure. The monument goes to 56 meters (184 feet) tall, 20 meters (66 ft) wide, and 46 meters (151 feet) long. It stands on the waterfront, close to the Belém Tower, from where many of the explorers' ships departed for their voyages.
We had a good walk along the waterfront as our 6hrs in Lisbon got into full swing.
Santa Justa Elevator
If you haven't had enough views over Lisbon, there is another to do! Why not take the landmark Santa Justa Elevator old iron elevator that links downtown to the Chiado district up on the hill, which is accessed through a walkway at the top. This was built primarily for public transport but now mostly used by vista loving tourists. Expect long queues.
Jerónimos Monastery
The monastery is an excellent example of the late Portuguese Gothic Manueline style of architecture in Lisbon. It was one of the first monuments in Europe to be listed as a World Heritage Site, which was built in the 1500s.
The big bridge
Vasco da Gama Bridge is the longest bridge in Europe. Indeed, it measures over 10 miles (17 km) long and connects the northern and southern parts of Portugal. Moreover, its quite a site driving over it. One must remember to keep eyes on the road.
Triumphal arch
Commonly known as Arco da Rua Augusta, the arch was completed in 1875. A centre peice, it connects Commerce Square, the Praca do Comercio, with a pedestrian street that links to Rossio Square. It has a clock and statues of Glory crowning Genius and Valor. Additionally, there are statues of Vasco da Gama, the Marquis of Pombal, and others.
Commerce Square
The square is the most famous in Lisbon, with its triumphal arch, Bridge, river and great restaurants in the arcaded buildings all around.
Palace of Ajuda
Palace of Ajuda is a neoclassical monument in the civil parish of Ajuda in the city. Initially, it was built on the site of a temporary wooden structure that was constructed to house the Royal family after the 1755 earthquake and tsunami. Subsequently, work was originally begun by architect Manuel Caetano de Sousa, who planned a late Baroque-Rococo building. Indeed, A walk through the palace reveals the life of absolute luxury enjoyed by the royal family in the 19th century. Putting it mildly, the majority of their subjects were far worse off.
MAAT Museum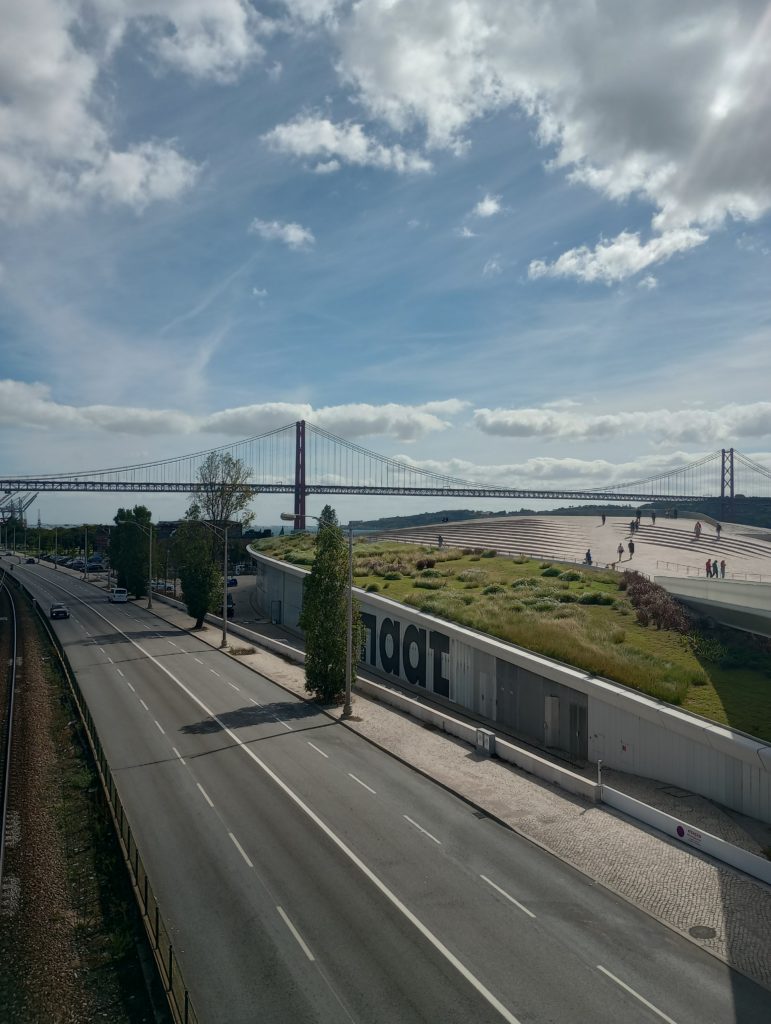 The MAAT Museum is an impressive building of Art, Architecture and Technology. Combining these three fields makes a space for debate, discovery, critical thinking and international dialogue. It is the new cultural centre for the city.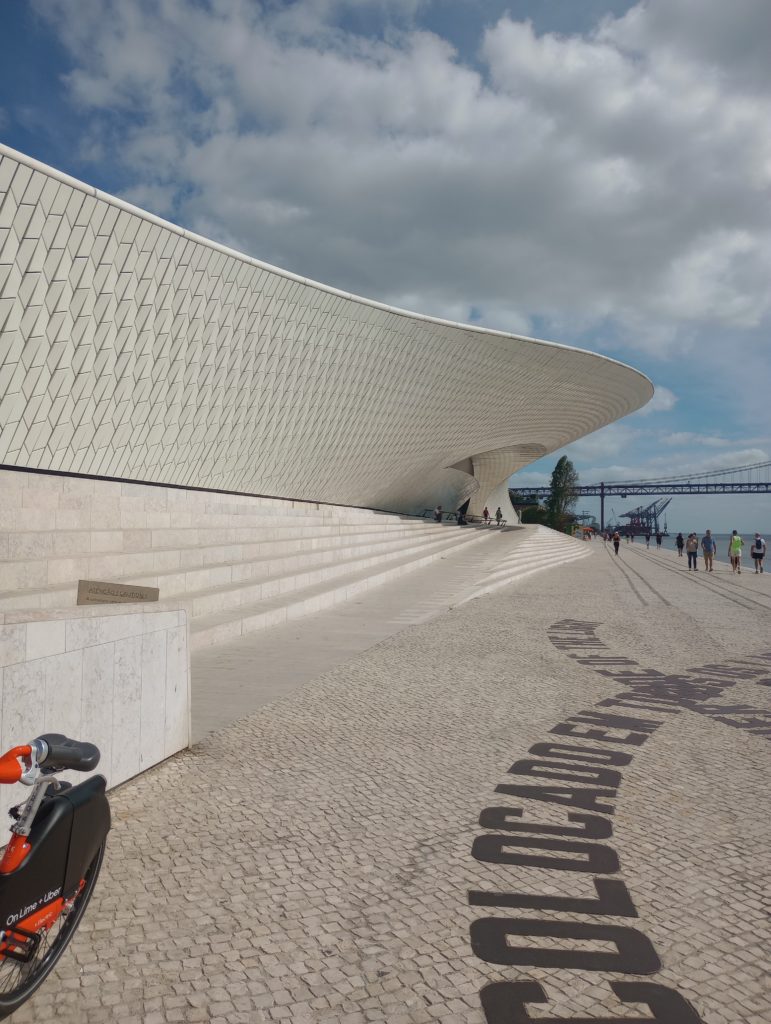 Parque das Nações
Parque das Nações is a wonderful open air museum, with pieces of public art by local and international artists. There are many interesting sculptures, tile murals, water volcanoes erupting, wave-shaped benches, and even modern interpretations of Lisbon's traditional cobblestone pavements. It is currently the most modern, chic neighborhood in Lisbon. Furthermore, contemporary design infrastructures helps life thrive in this riverside location. Indeed, immense spaces, around an open air setting, suppliment the tranquil environment that lives here.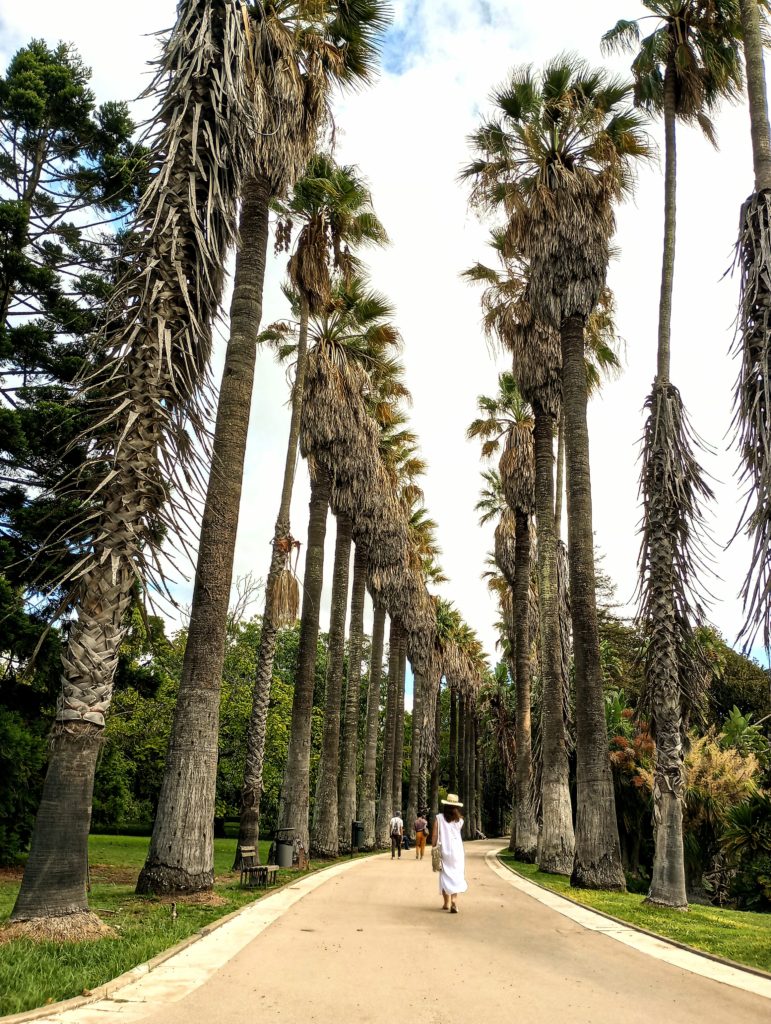 The botanical gardens were definitely a respite from the hustle and bustle of big city life. Absolutely, it was what we needed during our 6hrs in Lisbon, so we headed for a dander around this beautiful, Tropical garden, which was created in 1906.
There's a small fee to enter. 4 euro per adult and 2 euro per child. Cheap enough, however some people may feel green spaces should be free. We made a joke, that we could never imagine people paying into Botanic gardens in Belfast!
First of all you see a huge lane of palms, which shade you from the hot sun.
Ducks, geese, peacocks, swans and chickens roam around the gardens unperturbed by visitors.
The gardens are approximately seven-hectares in size.
They feature a lake, greenhouses, hundreds of exotic species of plants, as well as some interesting sculptures.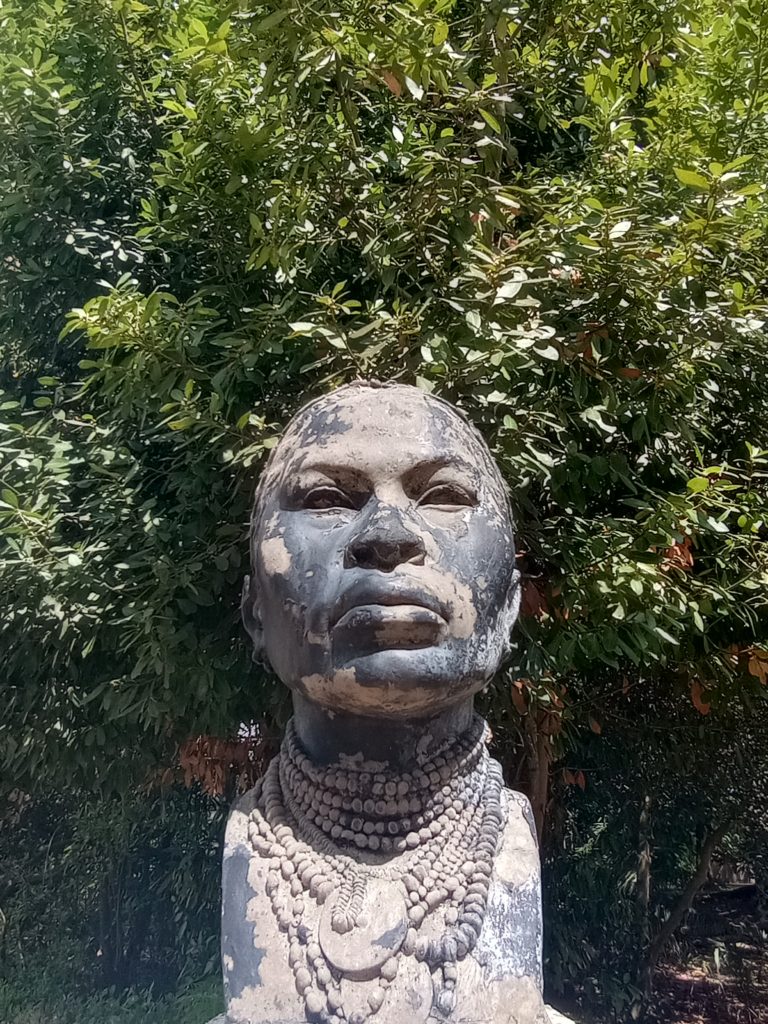 We were glad we came here as it blew the city dust off a bit. In fact, this was especially true since it was very quiet with not many people around.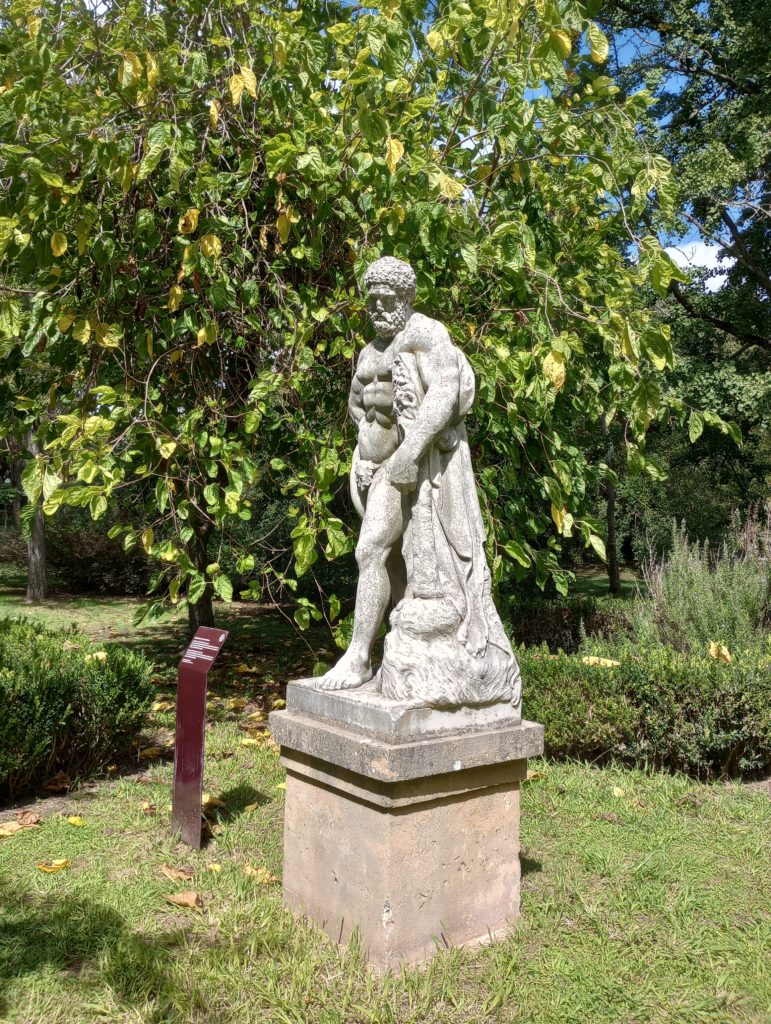 Maybe it would be busier in the height of summer. Who knows, maybe it's just not a priority on most tourists itinerary.
Give Lisboa more time
The concensus, at the end of our 6hrs in Lisbon, was that a city of this size deserves a bit more time. Certainly, I (Miko) would have loved a full afternoon in LX. Additionally, I (Knox) would have loved to have caught a game at Benfica's ground. Time constraints meant that we had to make the most of it. However, we think we did pretty well with our sight seeing, all things considered.
If you enjoyed this, check out the other part of our Portugal trip: