Heading West – Donegal Road Trip
A Donegal Road Trip is the perfect remedy for our blues. Being back in Northern Ireland, over 3 and a half months, after our year and a half adventure around the Americas, had us craving another big trip. The novelty of being back, seeing family and friends, wears off very quickly. Sorry people we do love you but not the grey location lol. Our feet are more itchy than ever as we plan our next move.
In the meantime, a Donegal road trip called. Indeed, its one of our favourite places in Ireland. Moreover, Donegal is a very special place for me (Miko) due to mum's ashes being scattered there. We hadn't been down for two years. Murvagh to me is good for the soul.
How to get to Donegal
For our Donegal road trip we normally travel across from Belfast and often head to the south of the County around Murvagh Bay / Donegal Town area. Consequently, our route takes us along the M1 and through Fermanagh. There are various options, this way, for the exact point of crossing the border. It all depends where you are going. If heading further north in Donegal, then it is better to take the route towards Derry.
The other way we travelled up to Donegal was from a further south. From Galway, we followed the N17 (great song also by the Saw Doctors), past Knock, Sligo, and then up the N15 into Donegal.
We usually hire a car for our road trip Donegal, but with prices through the roof, costing £100 a day, we were lucky enough to get a lend of my sister's car, costing us a mere £20 to get on the insurance.
Where to stay during our Donegal Road Trip
To lay our heads for our Donegal road trip, we opted for the Gateway Lodge hotel just a quick 5 minute stroll from the main centre. It cost £100 a night, approximately; without breakfast. Rooms are clean and comfortable in the main hotel. They also have a motel like property on site, which aren't as nice but are a bit cheaper.
The two main hotels, in the diamond, are Central Hotel and the Abbey. The location mean you're in the heart of the action. They sit side by side in the main square and are usually bustling as both have in house bars and restaurants. The back of the hotels have views over the bay to help you escape from the hustle of the square. The rooms feel a bit dated, in their classical styling, and both are a tad pricey for what you get. They are comfortable and location is important.
Donegal town
Donegal town is a busy shopping and tourist place in south Donegal where the River Eske flows into Donegal Bay.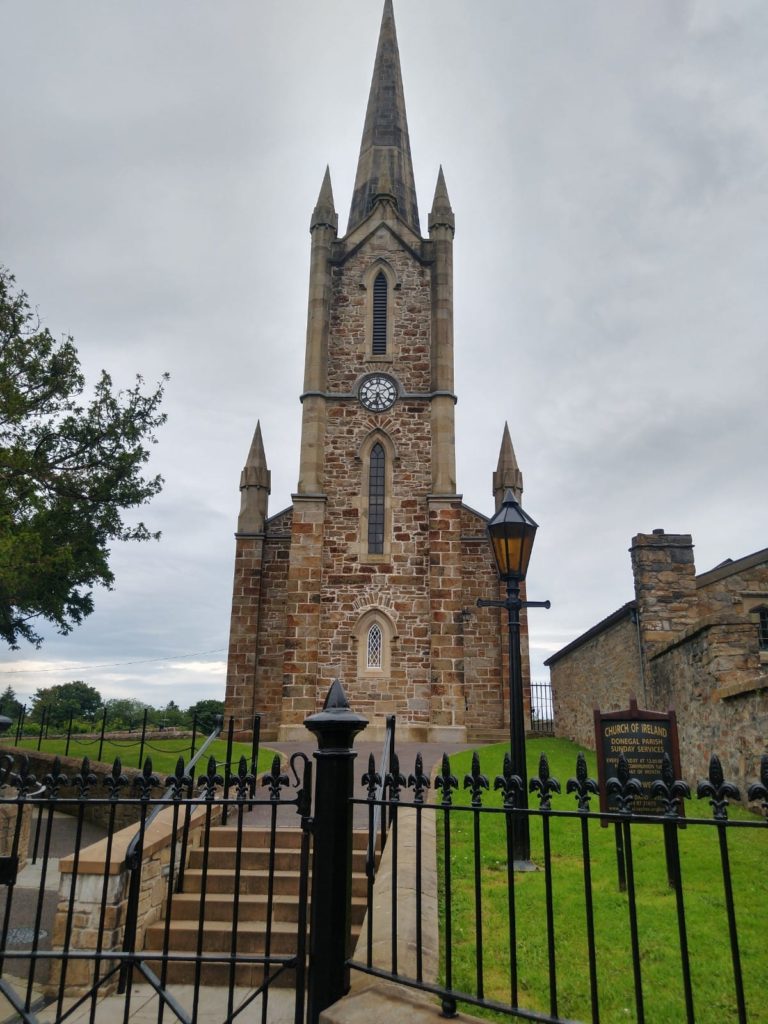 Surrounded by the vista of wild countryside, the area offers visitors a rugged beauty, with a backdrop of the Bluestack Mountains on the Wild Atlantic Way.
The centre of the town is fondly called 'The Diamond'.
It's charming and friendly with a handful of pubs, restaurants, hotels, bnbs, churches, as well as shops.
Murvagh Beach – always a stop on our Donegal Road Trip
Murvagh Beach has golden appeal, when the sun shines 🌞, with mounds of white sand dunes, along the left side of the coastal lane.
The flowering plants of beachgrass and bentgrass spike up through the powdery, sandy earth, waving back and forth through the whistling wind. It has the look of wild unkept hair that fits in with the free flowing environment.
The golden sands and Atlantic ocean blankets out beyond the dunes.
Typically ocean blue and fresh, its wild waves crashing on the shoreline when the weather is inclement.
The west coast's usual tempestuous, blustery wind spits white foam into the air. Park up and cross the dunes to enjoy a healthy walk along this gorgeous stretch of unspoilt heaven. On nicer days, the sea is a tad more peaceful.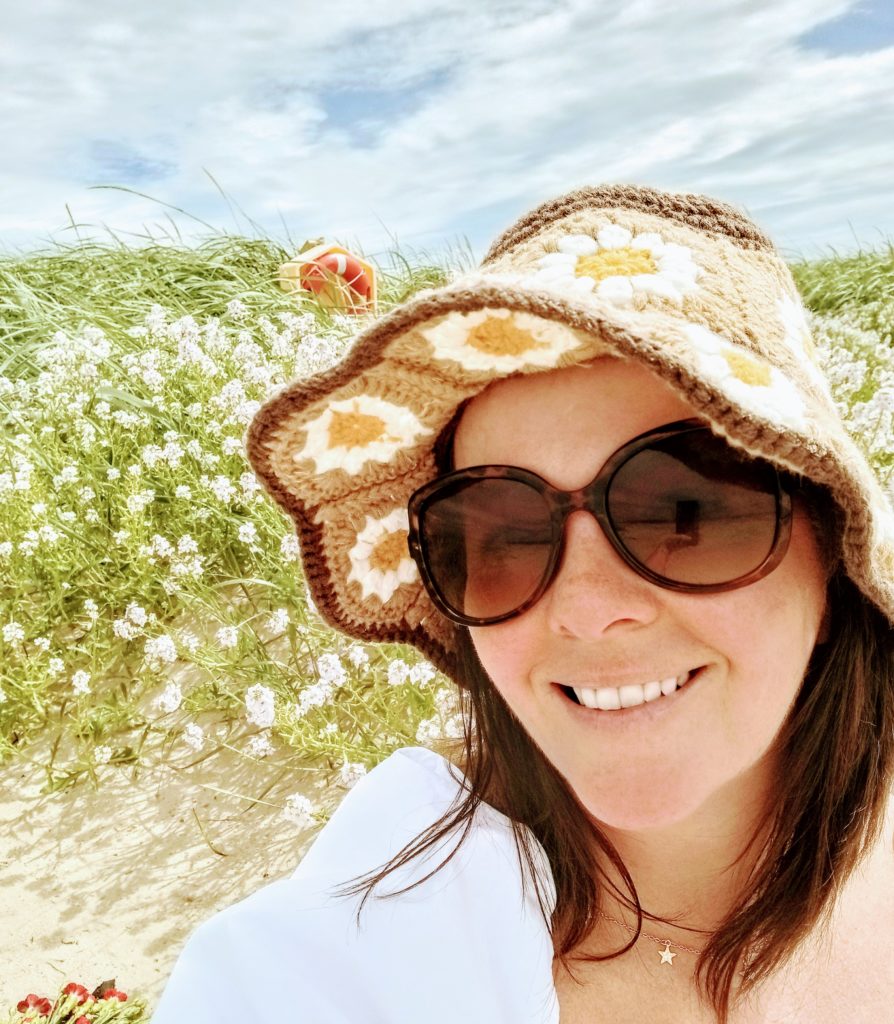 On the right side of the lane from the coast, a thick green, magical, fairy like, pine forest sits in contrast to the opposite dunes.
The sky seems to turn a darker, moody blue and black as ancient trees planted in dark rich soil marvel in their surroundings.
Our first point of interest was to find the tree the memory ribbons were placed. After 4 years, it was amazing they were still around the trunk, and the writing still in place, even after rambunctious storms.
We were blessed with great weather for Murvagh compared to her usual blustery temperament.
The sun surely shone down for our Donegal road trip.
After a picnic and laying some of my mum's favourite carnations, we took a walk bare footed along the expansive stretch.
Even managing to take time for a paddle!
And, stripping down for a brave dip!
What else is there to do during our Donegal Road Trip
Other than the gorgeous Murvagh Bay you can find lots of activities for all tastes and ages in Donegal town.
Live music
Ireland is not Ireland without music, whether that's traditional fiddly Dee times or modern rock, you will find entertainment 7 nights a week in the diamond.
The castle
The castle was built by Red Hugh O'Donnell in 1474. It was built on a bend on the Eske for defensive reasons, the river protecting it on the two sides. Red Hugh O'Donnell himself built it as his personal fortress in the fifteenth century.
There are tours of the castle, which have been presented to outline the different styles and times of its two sets of previous owners. Details Opening Times Mid March – End October Daily 10:00-18:00 Last admission 45 mins. before closing. Groups must be pre-booked. Visit Length 1hr Admission Adult EUR 3.50 Child EUR 1.25 Student EUR 1.25 Senior EUR 2.50 Family EUR 8.25 Group EUR 2.50.
The first Wednesday of every month from April to October is free!
Donegal craft village
Established in 1985 the Village is a showcase for contemporary arts and crafts in Ireland. A small community of skilled independent handcrafters with works such as glass, hand-woven textiles, painting, jewellery, printmaking and handmade felt art.
There is also the Aroma cafe onsite serving delicious cakes and breads.
Bluestack mountains view
Check out the Bluestack mountain scenic route. It's a stunning drive and has streams and waterfalls coming from these magnificent mountains. Ireland also wouldn't be the same without sheep traffic jams, which you'll most likely spot along the way!
Famine graveyard
This site is the burials of victims of the Great Irish Famine 1845-1849 and of the poor generally. There are no marked graves. There are probably hundreds of people buried here, possibly a thousand or more. It lay nearby the old Donegal Town Workhouse. A lone cross and a few plaques commemorate the burials as well as a famine pot. These large iron pots were used during the famine to cook soup for the starving masses.

Shopping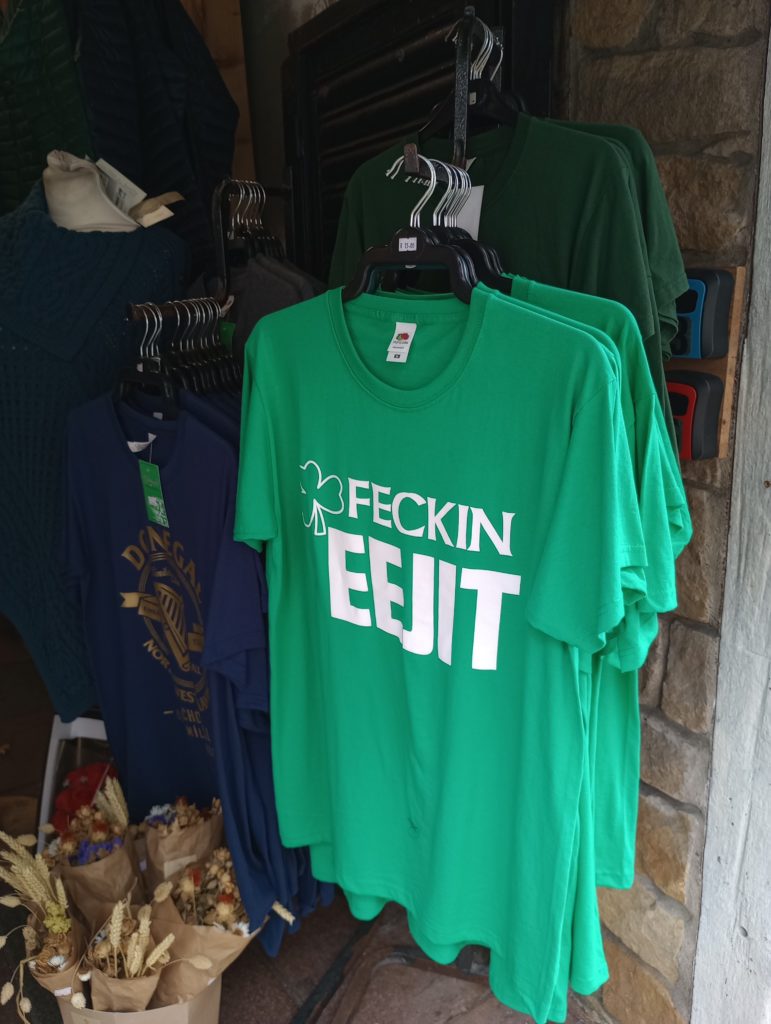 Why not browse the stores in Donegal town and pick yourself up a humourous tee shirt, celtic jewelry or a nice iron sweater!
Where to eat and drink
Our Donegal Road Trip favourites
The Olde Castle bar
The Olde Castle Traditional Irish bar / restaurant has been welcoming guests since the 1700's. It's cosy with a warm welcome and hearty food, with good vegetarian options, as well as serving up great beer, wine or spirits.
La Bella Donna restaurant
Always out first choice, La Bella Donna is a fine Italian restaurant serving yummy pizza, pasta and meat / fish options. Bare in mind they aren't open on a Monday, so we missed out this time!
Mc Caffereys – a break from driving on our Donegal Road Trip
Mc Caffereys is a hive of activity with locals and tourists enjoying the almighty good old craic and pints. You'll always meet new friends here, down to earth and welcoming. The music is pretty good to!
Bundoran – Stop off on our Donegal Road Trip
When on the road we can't help to call into other towns. So on this Donegal road trip we just had to make a stop at Bundoran.
It's a proper seaside town. Vibrant and alive with many bars, restaurants, hotels, bnbs, surf shops, surf lessons, funfair, seaweed baths, amusement arcades and not forgetting the beach and the mystic fairy bridge!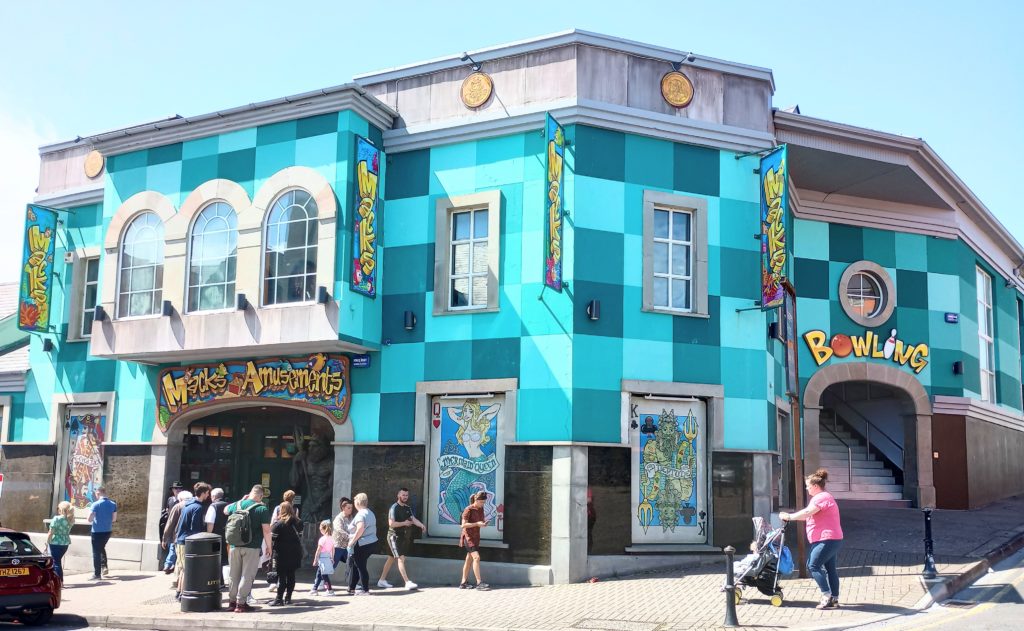 Bundoran, or Belfast by the west coast (a lot visit from the norths big smoke), is south of Ballyshannon, and on the border with County Leitrim.
The winter months can be harsh and quiet as the storms batter the west of Ireland. Come Easter, the town comes to life as people descend on their caravans and holiday homes.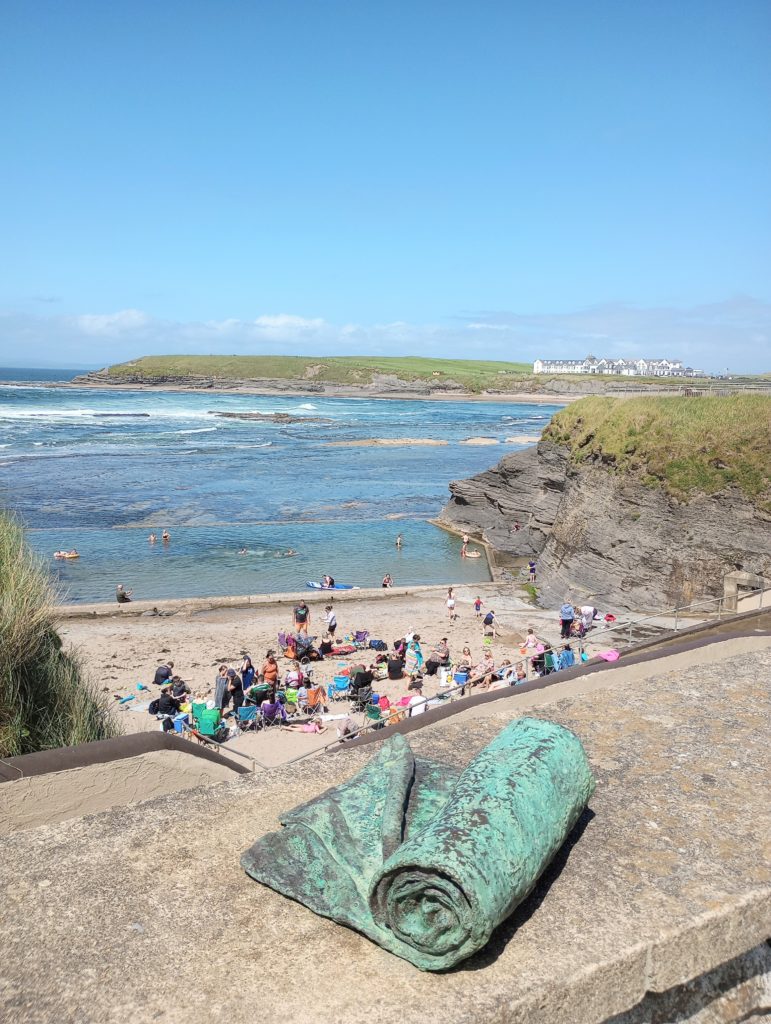 There is a great strand and dune section for some beachy horse riding. We rode out from Donegal Equestrian Centre. On top of this, there's lots of other seaside activities to keep you occupied.
Don't forget to visit the Legendary Fairy Bridges and wishing chair. There's a whole ritual to get the luck.
We highly recommend Donegal. It is the most magical place and it won't be long before we are back again!
If you liked reading, you may be interested in more of our adventures in Ireland below!
Donegal – a place close to our hearts
Cork – family ties and so much blarney