Wicklow – Escaping South
We thought it was high time we took a road trip to Wicklow. Amazingly we had not been there yet. Indeed, a Belfast July was a good excuse to escape south and visit an area that my mum (Knox) knew well as a little girl.
Wicklow is best know for its mountains, crowned by the majestic Sugarloaf, which dominates the skyline as you drive south from Dublin into Wicklow. This unique mountain stands apart from the rest of the upland and is instantly recognisable by its conical shape. It maybe a nice mountain, but if we our honest, the main reason for visiting Wicklow, was the resident Sammy the seal. And, also strawberries, although that's for across the border in Wexford, which in Knox's mum opinion is the best in the world!
We constructed an agenda of sights to see and developed our brief, but packed, surjourn into God's Garden. However, before the Wicklow mountians, our road trip went slightly early as we made an evening first point of call to the seaside town of Bray!
Belfast to Bray – South to Wicklow
It took us approximately 2 and a half hours to reach Bray, with a short pit stop on the way. Be sure your rental car allows you to cross the border. In many cases, a charge will apply. Luckily, our Hertz rental didn't as we're gold members. It is best to check how each rental company deals with the tolls, if using motorways. The M1 toll was left to us to pay at the booth. However, with Hertz, the M50 toll automatically gets charged to you, via the rental payment method, a few days later.
Where to stay
We opted for an Airbnb. It was all very last minute. The BnB was 20 minutes walk outside the centre, set in a residential area. The self contained unit was clean, fresh and functional. The weather was atrocious. Frustratingly, but unsurprisingly, it was the typical Irish summer climate . We aren't known for green for nothing! Thankfully, the host was very kind to offer us a lift into town.
Our highlights on what to see in Bray
Just south of Dublin, Bray historically is a lively, get out of the smokey city, seaside town. Moreover, the age of steam and railways, enable the Victorian style seafront to blossom. The rain bounced and detracted from any notions of reminiscing about bygone eras. Still we made an effort.
Promenade
The childhood home of James Joyce, the promenade is a mile long and ends at the base of Bray Head. It was a miserable rainy, windy evening when we attempted to walk its length. We'd heard good things about this usually lively promenade. However, all the smart people where inside! We could imagine it's life when the sun was out, with some restaurants and bars across the lawn and road on one side. While on the other, the pebbly beach and Irish Sea.
Bray beach
The beach isn't the prettiest I've seen, narrow with pebbles it's not really a sunbathing beach although I'm sure many do, weather permitting! Everything looks more inviting, and colours brighter, when the sun shines.
Bray Head
The mountain trek takes no more than an hour. The views from the top are awesome and worth the climb. You don't really need hiking boots, ordinary walking shoes are fine.
An historic house of Ireland, which today is home to three generations of the Brabazon family, the same family who have been living here since 1618. It's set in an 800-acre estate which is pleasant to walk around especially on a dry sunny day.
Where to eat / drink
Our stay was brief but we still enjoyed a meal out, and a pint next door, before retiring for the night. At the weekends, these places would be teaming with life and rather than just the rain.
A hotel, restaurant and bar all in one. Facing seawards, it was a night to be inside. We found a cubby hole seat and sampled their vegetarian cuisine. The service was okay and the food was mediocre. At least they tried to give varied options for non meat eaters. There was a reasonable crowd in and life music was due to start as we were leaving.
Dashing next door, after dinner, we enjoyed a quiet pint in the Palm. Nicely decorated and peaceful, it was just what we needed for a nightcap. The barman was friendly and the pint decent. A local eejit had the manager's eye when we were finishing up. It was a good time to leave.
Local Transport
Local taxis aren't cheap. It cost us €12 to go 5 mins up the road. In all honesty, a wise person would walk if it was an option.
The town is just south of Dublin and has a rail link through the heart of it. If you wanted a more relaxed setting than Dublin, but still wanting to see the big city, the DART allows easy access. There are also regular buses but they meander for a longer time towards its destination.
Wicklow
Once in the county, it easy to traverse in a car. Most things are within 30-60 mins away. One can head to the mountains or hang by the coast. We saw a bit of both.
Where to stay in Wicklow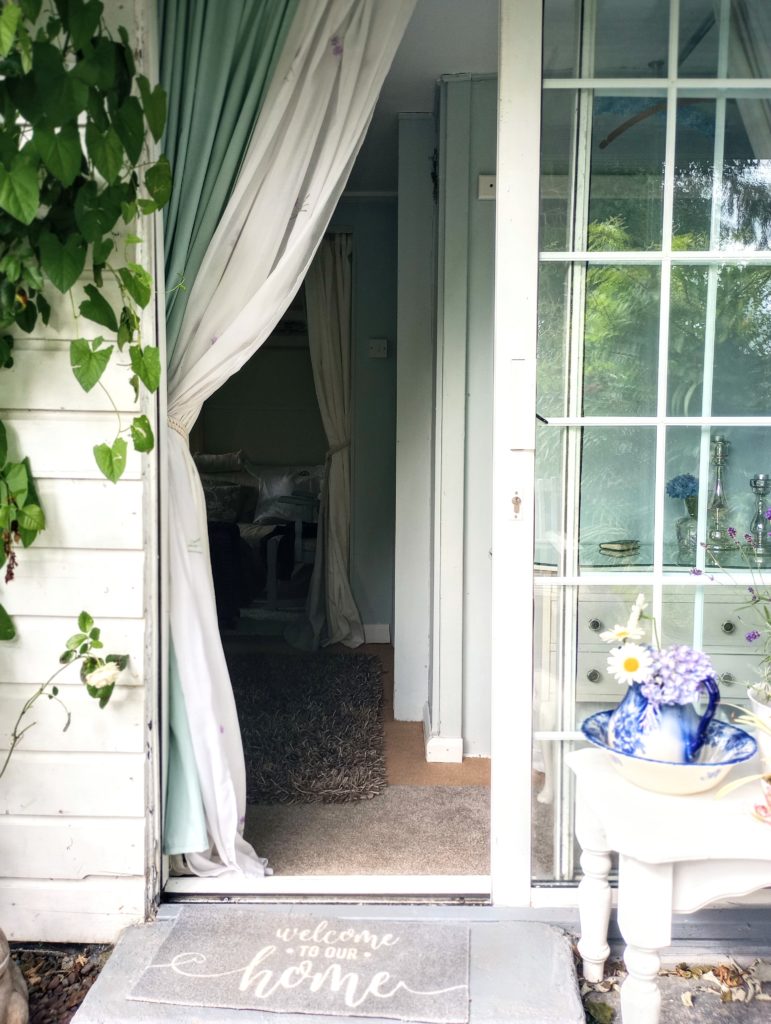 We actually opted to stay outside Wicklow in Wexford. Another Airbnb brought us to a pretty little cottage in the countryside not far from lovely town of Enniscourthy.
We just wanted a quiet base out of the Towns and this was perfect, and also in good distance to a farm shop to pick up some Wexford strawberries! Green Farm shop was delicious!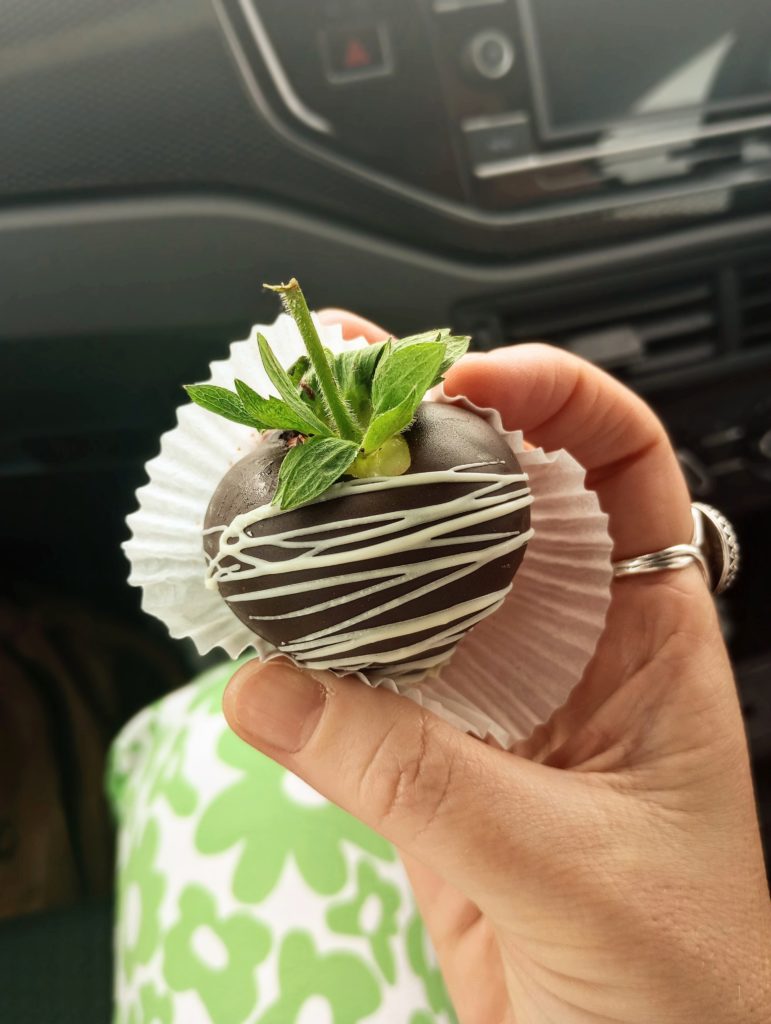 The quaint airbnb was run by Donna, who was a a character you'd never forget in a hurry. A one of a kind is Donna! She holds no airs and graces and her stories had us all ears and in fits of laughter.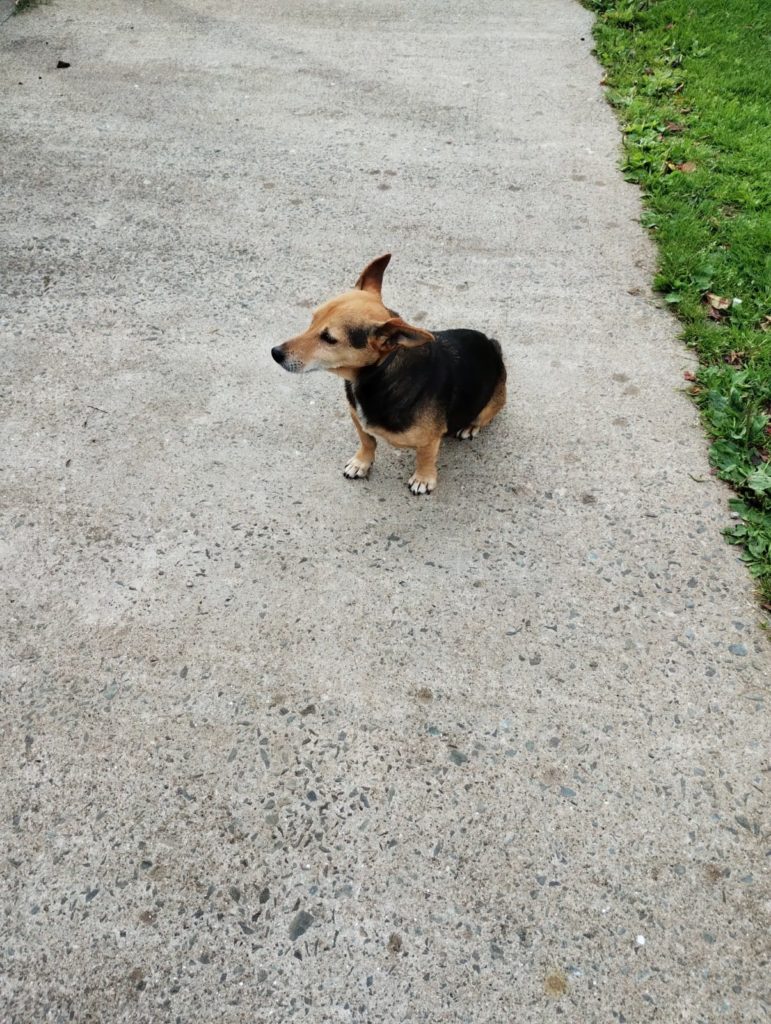 She and her paw perfect pooches, Charlie and Bailey, gave a great welcome on arrival.
Donna was a generous host and the self contained cottage was filled with everything you could ask for. A great breakfast set up, with a perfect wee kitchen, helps set one up for the day.
It smelt fresh and clean with handpicked flowers from Donna's beautiful garden.
What to do in Wicklow
God's garden is picturesque and has plenty to keep the soul happy. We left the coastal town of Bray and started in the mountains.
Sugarloaf Mountain
Sugar Loaf overlooks villages of Kilmacanogue and Delgany, and is just north of the Glen of the Downs. one of the most iconic natural attractions in the region, not only for its beauty and excellent hiking opportunities but also because of its clonical shape dappled sugarloaf top.
Admittedly we weren't in the mood for a wet hike up Sugarloaf, as God's tap was on and off all day, but we did admire the loaf from Victors Way!
Round Tower at Glendalough & Graveyard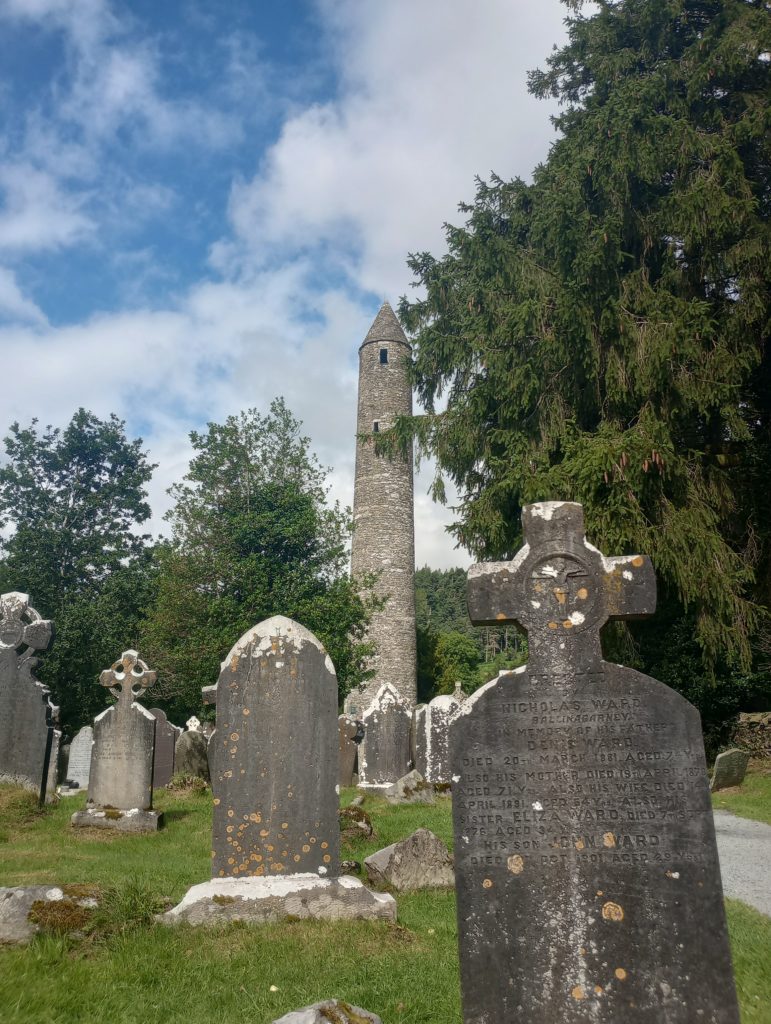 The most famous of all the landmarks in Glendalough is the Round Tower, which stands 33 meters above the ground. It was built almost 1000 years ago by the monks of St. Kevin's monastery.
The towers were sometimes used as a place of refuge for monks when the monastery was under attack. They also served as both as lookout posts and as beacons foe approaching monks and pilgrims.
All the way to Wicklow to see Sammy and we were sorely disappointed. The Fishman, who feeds Sammy was closed until the next day. My fault, I didn't read Alan's Facebook message correctly.
Is sounded a great story too and I wanted to see Sammy in all his glory!
Alan Hegarty, from the Lighthouse Restaurant and the Fishman shop once said in an interview:
"Sammy arrived in 2012 when we opened the fish shop and he has actually trained me into feeding him 3 times a day at 9 o'clock, 1 o'clock and 4 o'clock.
We were there at 1pm, but no sign off Sammy, maybe he sensed it was Alan's day off who knows, but it wasn't to be.
We even asked some locals as we parked up beside the Fishman shop. However, we were met with cold disdain. One local mechanic guy who worked right across from the river, where Sammy seemly popped up, grunted he hadn't seen him in a while. We got the impression they despised tourists.
Brittas Bay
We were lucky enough for the weather to turn dry for our hours walk.
A 5km stretch of beautiful white sand dunes. This beach has won a European Union (EU) Blue Flag for five consecutive years. The day we arrived despite the bipolar weather, several people still sat on deckchairs or swam in the chilly waters. The rain returned as we put our shoes back on at the car. Luck was on our side.
Back up in the hills, a 10 euro entry fee each (including parking) found us inside this magnificent sculpture park. This was right up our street with a love for India. One is meant to pre-book, but we managed to get into the gardens as it wasn't full.
Many of the sculptures brought back good memories from our time in India. Ganesh has always been our favourite.
Walking through the grounds and forest was peaceful and thought-provoking. The sculptures themselves are stunning pieces of art right down to the fine detail. I was engrossed in them. They felt life like in some ways.
As well as the glorious artwork, there is also humorous information boards and also you need to check out the signs in the loo. Hilarious.
Go with an open mind and heart and you will enjoy this amazing place as much as we did.
Carnew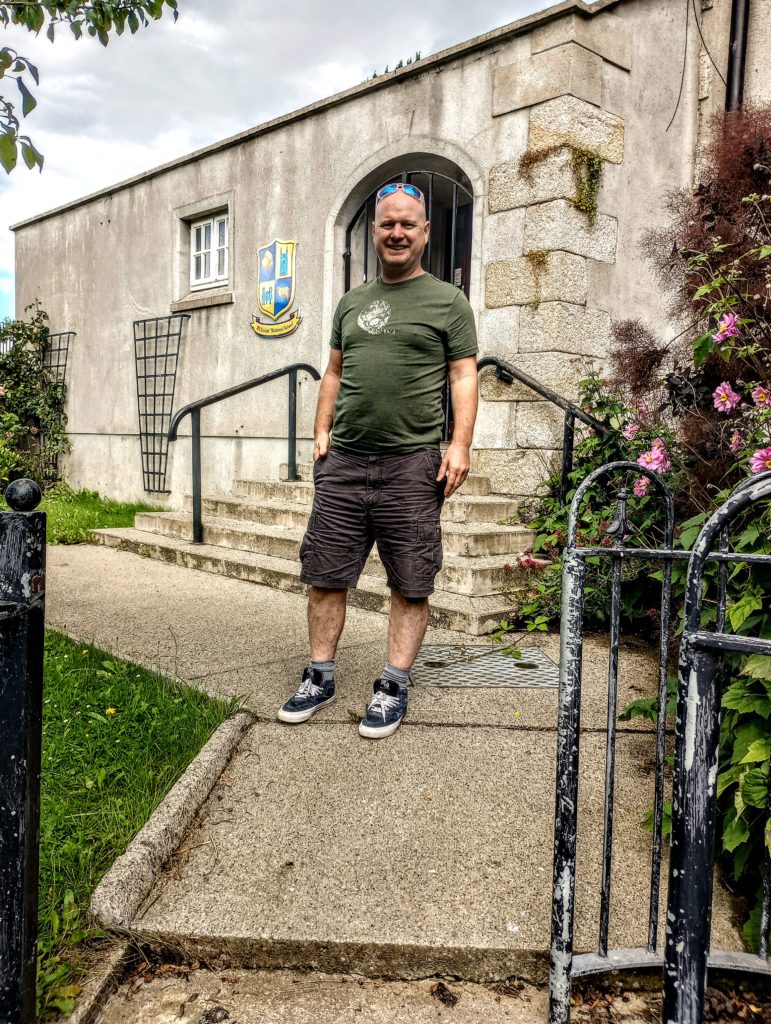 On the way towards the Wicklow / Wexford border, we walked down memory lane for my (Knox) mum. She had regaled us with stories of her early childhood in Carnew and the surrounding areas. Faded, old, photos of the school and old rectory were brought to full modern colour as we walked in mum's footsteps. Thankfully, the old charm still existed and I got a real sense of my mum's childhood. It brought both of us closer to her.
A call into Bettystown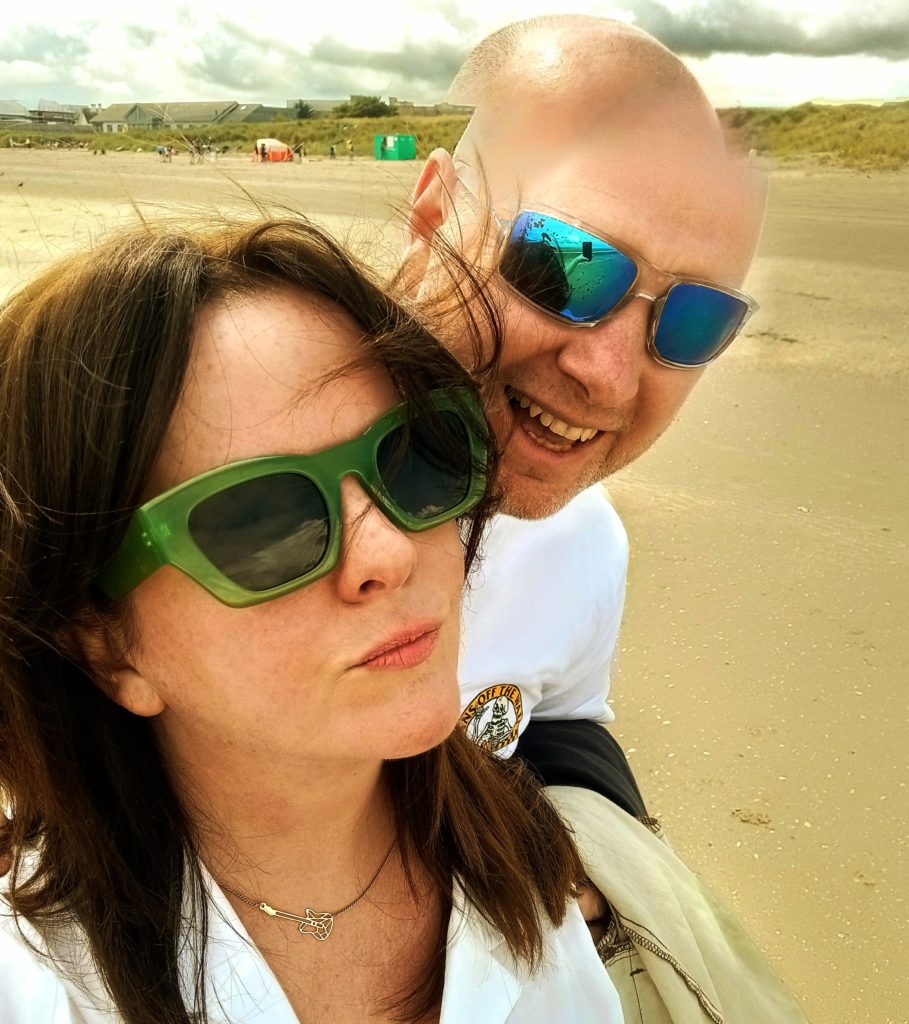 This was a flash in the pan trip but very worthwhile. On our way back home, we could not pass Bettystown without stopping by. The beach is located only 35 minutes from Dublin airport, or 20 minutes from Drogheda, therefore this seaside town is very popular in summer. Although, it seems the dreary weather has kept most people home on this occasion.
This beach has some great roadtrip memories for us. Barefoot walking on Betty's golden sands is surely good for the soul!
If you liked reading, you may like our other road trip adventures in Ireland ☘️
Donegal – A place close to our hearts
Cork – Family ties and so much blarney